Download
You can get going with Putler in 5 minutes. Here's how:
Install Now
Please upgrade your Flash PlayerThis is the content that would be shown if the user does not have Flash Player 6.0.65 or higher installed.


Click on "Install Now". That will download and install Putler on your computer. Choose to launch Putler after installation.
If you don't see an install option above, click here to download the latest version of Putler directly. You will also need a recent version of Adobe AIR for Putler to work.
Open Putler
When you open Putler for the first time, it will ask if you'd like to sign up. We recommend you sign up for the free Basic plan if you want to try Putler with your own data. You can also directly sign up for any other plans.
Login to Putler with the email and password you chose during sign up.
Putler will automatically import sample data for you. This is great to explore Putler.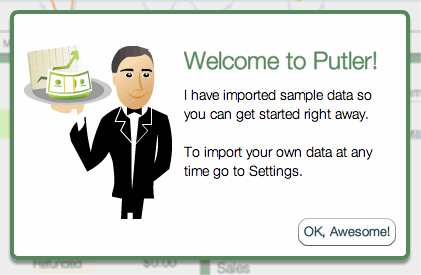 Configure
Remember, the free Basic plan shows you data only for past 7 days. Premium plans show all data
Click on Settings and then Accounts.
Click on + sign to add a new account.
Select your account type: PayPal, 2Checkout, Shopify etc.
Select whether you want to allow Putler to access your data (preferred – simple and safe method) or enter your own API details (for advanced users only)
If you want to use your own API details with PayPal, click here to learn how to find your API information.
Select period to get data for – 1 month to 3 years range available. (You can always import more later…)
Click Continue then Save
Let Putler import your data. Putler will import one week's data initially, and download the remaining data in the background (which can take a while if you have lots of transactions)
That's all. Go ahead discover the hidden insights in your sales data!
BTW, if you have a PayPal CSV file, you can import it after saving the account once. Here's a detailed guide on getting and importing PayPal CSV file into Putler.
Upgrade to Premium / Max
Go to Settings, click on Profile. Then Upgrade.
That will bring you to checkout page on our site. It will also bring Putler to a sign in screen.
You will be able to create an account during checkout. After a successful purchase, you need to use the same email address and password to login to Putler.
If you are the only person using your computer, or if you wish, you can always let Putler remember the login information so that you don't have to enter it again.