When my team asked me if we should build a Chrome extension for Putler, I said "what's the use"? Putler is already a desktop application, and (as it stands) you'd need to keep the desktop app running to publish updates to any Putler Now client. So if I wanted latest summary of my business, I would simply switch to Putler desktop and see it there.
Turns out I was wrong.
But before I explain why, take a look at what the Chrome extension shows you…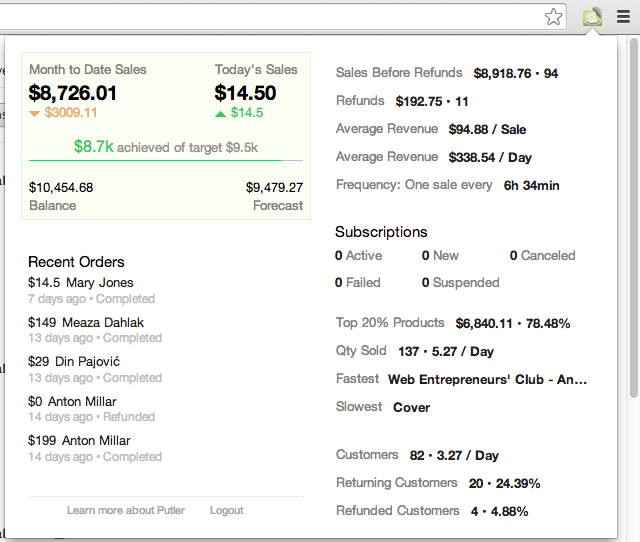 I still use Putler's desktop app as my main sales tracking app, but I've found myself using one of the Putler Now clients (Web, Android and Chrome) more and more… Here are some reasons why…
Putler Now shows a lot less information. This is actually good and allows me to focus on the critical pieces.
It also shows all key performance indicators in one screen. (in fact, only one fifth of screen size…). I don't have to switch between different dashboards in Putler anymore.
I can review my stats from anywhere now. I can keep my desktop app running in background, and know that Putler Now will keep in sync. So I can run through stats in little more details when I have time…
I can share my stats with someone else – without giving away my password. I can set up a Sharing token in Putler, and then give my email address and sharing token to someone else to login to Putler Now. They can only see the latest summary of my business…
I have setup a keyboard shortcut for Putler Now's chrome extension. So I can pull it up with "Cmd + Shift + P" and will get the stats in a neat popup.
I think you would like the Chrome extension as well..
[dt_gap height="20″ /]
[dt_button size="medium" animation="none" icon="" icon_align="left" color="" link="https://www.putler.com/now-chrome-extension" target_blank="true"]Click here to install Putler Now's Chrome extension[/dt_button]
[dt_gap height="50″ /]