We've been working on this for months… Subscriptions support is finally here!
Putler now recognizes PayPal subscriptions as subscriptions and not just individual transactions. You will see the Subscription Profile ID with each subscription / recurring payment. Clicking on that (and expanding date range as needed) will show you the full history of that subscription. And guess what, you can cancel / suspend / refund a subscription right from Putler now. No need to go to PayPal's recurring payment profile page and manually dig through a subscription to cancel it. You will save at least a minute each time!
Screenshots from Putler v2.0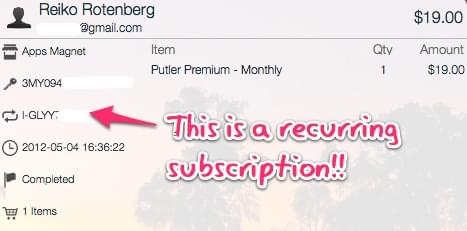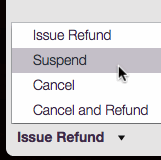 There are lots of other enhancements in this version. Here's the full changelog.
Changelog for Putler v2.0
NEW: Better support for Subscriptions / Recurring payments. Can Cancel / Suspend subscriptions and also see full history
NEW: Multiple selection for Products and Customers listing. Shows summary for selected items on right.
NEW: "Clear Database" option in Help menu – quickly resets Putler data
NEW: Address added to Sales detail card
NEW: Icons in detail cards
NEW: Putler now shows an understandable message for non shopping cart transactions
Update: Performance and stability improvements in data import process
Update: Improvements in refunding a sale where payment was received in non-default currency
Update: Date range limits in Importing Additional Data – no future dates, To date after From date
Update: Do not allow refunding already refunded products
Update: Renamed "Velocity" to "Frequency" – this makes it easier to understand
Update: Unavailable contact names will now show email address instead of "Account Owner"
FIXED: Same Transaction ID across multiple PayPal accounts caused problems.
FIXED: De-Authorize this computer option not working
FIXED: Date format not applied on Comparisons dashboard
Feedback Welcome
Got something to say? Post a comment below and share your feedback with us and other Putler users!