Extensive Ecommerce Analytics & Reporting For Your 2Checkout Orders
2Checkout users encounter low sales due to the absence of strong business growing insights. But, with Putler; an in-depth reporting and analytics software, users can now surely take their business to new heights.
Why in-depth reporting for 2Checkout is a must?
The traditional 2Checkout reports provides only transactions data that is not enough to grow your business.
To accelerate business growth, you must get acquainted with in-and out-of your business and hence, you must stick to in-depth reporting always.
---
2Checkout highlights
2Checkout is a worldwide leader in payments and ecommerce services. It bundles a gateway and merchant account into one single offering with no need to contract with a merchant bank or manage separate agreements. Other notable features includes:
Multiple payment methods support – credit cards, debit cards and even PayPal
World-class fraud prevention service on secure and reliable PCI-compliant payment pages
Translatable in 15 languages and 87 different currencies
Integration with 100+ shopping carts, three customizable checkout options, recurring billing services
2Checkout built-in reporting – sales & transactions data
2Checkout traditional reporting gives you complete details about your transactions and payment activities with some insights into your sales. Here's the details of various 2Checkout or 2CO reports:
Monthly financial statement

2Checkout provides this reports on the 5th of each month in all seller accounts. This report includes the following:
Account financial summary
Payment amounts funded to seller
Total gross sales you submitted
Refunds & chargebacks
Chargeback summary
Transaction fee summary
Adjustment summary
Detailed listing of transactions
Billing activity download
Billing activity report lists all account sale information including both deposited and non-deposited sales for the date range specified. The report downloaded will include each sale's:
Sale number & sale total
Date of placing & shipping order
Customer details – name, billing address, email, phone number
Date of payment
Refund date if any
Whether or not it was charged back by the customer's bank
Chargeback date
Merchant order id
Product id and product name
Other transactions reports
Pending invoices report – lists all sales currently in approved status and have not yet deposited
Affiliate sales report – provides a list of your account's affiliate sales
Recurrings to bill report – lists the upcoming billing dates for your active recurring sales
Unshipped orders report – will include all of your account's unshipped sales
2Checkout reporting limitations
2Checkout has done a solid job in bringing up the transaction data. But just transactions data is not enough for growing business. Here's where 2Checkout reporting misses out:
Complete sales look-up
Metrics like revenue comparison, growth in sales as compared to previous period, hourly revenue breakup, times and days when you experience high/low sales, etc. are not reported in the 2Checkout reports.
Product metrics
Sale velocity, month/week/day wise breakdown of sales, revenue and refunds for each SKU, revenue contribution from top 20% products, product leaderboard, and other product metrics are not covered up in 2Checkout reports.
Customer insights
2Checkout also misses out on customer insights like – new vs returning customers, customers list with top paying customers, their last transaction date and number of transactions, customer lifetime value, customer order history with day/week/month wise grouping of orders, refunds and net amounts, etc.
Visitors data
Top search terms driving traffic to your sites, number of people using those search keywords, and their bounce rate, visitors categorisation – hot lead, lead from social media and organic search leads, number of sessions and other traffic related insights are also not available in 2CO reports.
Is Putler The best 2Checkout reporting tool?
Putler is the perfect reporting and analytics solution for 2Checkout users. Connect your 2Checkout account to Putler and you will come across instantly useful insights and metrics to grow your business.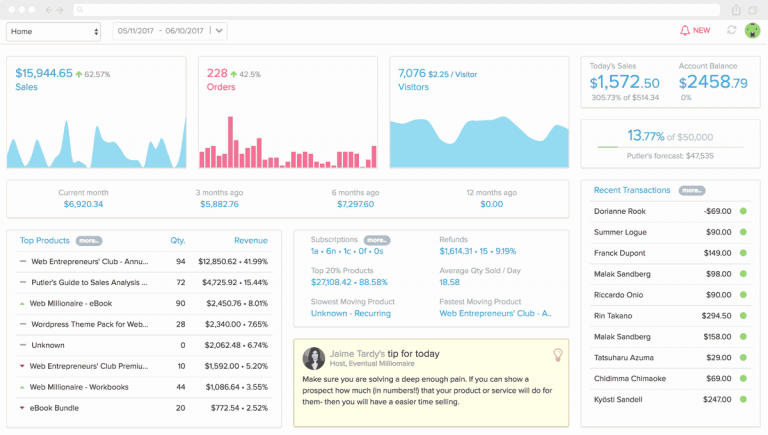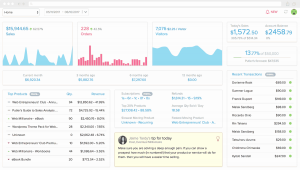 Winding up
2Checkout reports are good if you just want to look at your transactions data.
But, if you want a complete picture of your business and track it in real-time, Putler is your go-to solution anytime.