In-depth Authorize.net Analytics & Reporting

Get accurate metrics, reports and insights for teams
from your Authorize.net data within seconds.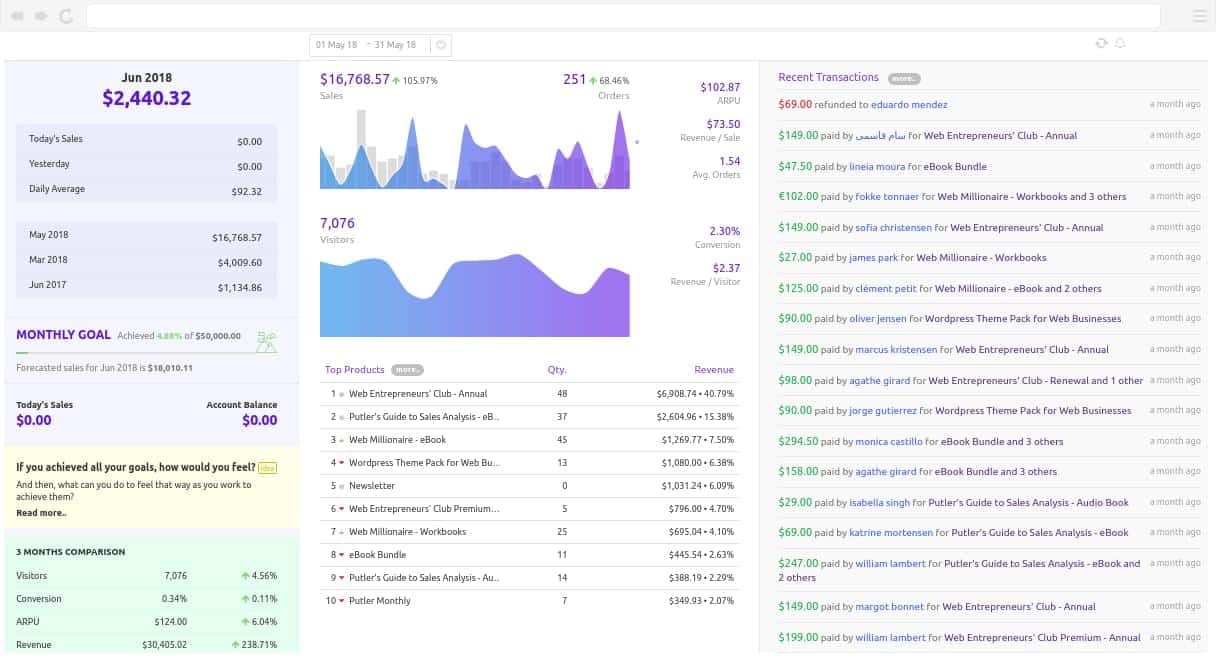 Why in-depth reporting for Authorize.Net is a must?
The standalone Authorize.Net reporting is basic and provides you reports on transactions alone. But in order to grow your business, you need to analyse your entire business.
If you want to succeed, you need reports that give you an insight into your products, sales, transactions, customers as well as website visitors.
---
What's Notable About Authorize.Net
With 4,00,000+ merchant customers and over $88+ billion in annual transaction volume, Authorize.Net is one of the oldest and most trusted payment processors in the world. Some of its top features include:
Simple checkout and powerful integration with shopping carts
Apple pay support – currently available for US based merchants
Automated Recurring Billing
Customer Information Manager(CIM)
Authorize.Net built-in Reporting – Only Transactions Data
Authorize.Net reporting gives you only transactions report for your business. To retrieve it, you need the Authorize.Net API and before you can use the Transaction Details API, you must enable it in the Merchant Interface.
If done properly, you get the following transactions data:
Settled batch list – Batch ID, Settlement Time, and Settlement State for all settled batches with a range of dates.
Transaction list – summary details for each transaction.
Unsettled transactions list – data for up to 1000 of the most recent transactions
Customer Profile transactions list – details for each transaction for a specific customer profile or payment profile
Transaction details – complete transaction information
Batch statistics – statistics for a single batch, specified by the batch ID
Merchant details – setup and configuration details for a merchant's Authorize.Net account
---
Authorize.Net Reporting Limitations
As Authorize.Net reporting focuses just on transaction details, it misses out completely in this cases:
Sales Metrics
All important sales metrics like revenue, time when maximum and minimum sales occur, number or refunds, number of orders, order frequency, etc. are not available in Authorize.Net reports.
Product Metrics
Insights like total sales for each product, best -sellers, product leader-board, product vise refunds, etc. are missing from Authorize.Net reports.
Visitor Metrics
Audience insights like which are your website most visited pages, top search terms, bounce rate, etc. aren't available.
Customer Metrics
Authorize.Net reports also doesn't provide customer related metrics like total customers, new vs returning customers, most profitable customers, worst customers, customer profile details – like email, name, avatar, phone, address, etc.
Subscription Metrics
SaaS reports in Authorize.net are limited. Putler has one dashboard devoted to SaaS reporting. Here you can get important SaaS KPI's like MRR, ARR, ARPU, LTV, Churn etc. Know the pulse of your subscriptions business and take important decisions to grow your subscription revenue.
---
Is Putler The Best Authorize.Net Reporting Tool?
(See it for yourself!)
Putler is a wholesome Authorize.net reporting and analytics solution for Authorize.Net. Connect your Authorize.Net account to Putler in under 5 minutes and you will come across instantly useful insights and metrics to grow your business.
Putler will instantly pull in all your Authorize.net transactions, process it and give you actionable insights about your products, customers, sales and tons more.
Take a look at Putler's dashboards…
What Authorize.Net Users Love About Putler
Connect multiple Authorize.Net accounts: You can connect any number of Authorize.Net accounts to Putler and can view individual as well as combined stats of your business.
Integrate multiple platforms: Not just Authorize.Net, you can accurately combine multiple eCommerce platforms, payment gateways and view your business stats for each one of them.
Google Analytics Integration: Putler integrates with Google Analytics and fetches instantly useful data like top webpages, bounce rate, traffic sources to your site, etc.
153+ business metrics: All customers, products, sales and subscription insights missing in Authorize.Net are covered up in Putler. Plus a lot more.
Multiple currency support: Dollars, Euros, Yens, Rupees… Putler supports & automatically converts currencies to give you a global, single currency dashboard.
Issue refund: Using Putler, you can issue refunds directly to customers in seconds.
Directly integrates with major service:-If you have Authorize.net Shopify/ Authorize.net WooCommerce/ Authorize.net Google analytics on your store, don't worry. Putler directly integrates with 17+ top service and allows you to connect them instantly.
Checkout Putler – You will surely love it
Other Benefits of Putler
Multiple currency support
Subscription metrics – MRR, LTV, Churn, etc.
Visitor insights
Personalized insights and expert tips

And a lot more..
What Authorize.net customer had to say after using Putler…
Putler's reporting is top-class. Matter of fact, my whole team uses Putler. It gives us key insights which help us take quick profitable decisions.It's a must have for anybody who aims at growing their business. Larry Andrews, Avion Solutions
Grow Your Online Business Using Putler
As mentioned above, since there was a dearth of reporting tool for Authorize.Net, online businesses didn't got the much needed insights to grow their business.
But, now with Putler at your fingertips, getting those in-depth reports and growing your business is a child's task.