#1 Reporting & Analytics
Solution For Your
BigCommerce Store
BigCommerce users face the problem of viewing aggregated data in reports and aren't able to get insights from individual payment gateways. But now, with this exhaustive reporting from Putler, it won't be the same anymore.
Why in-depth reporting for BigCommerce is a must?
The traditional BigCommerce reports will provide you only combined data for multiple payment gateways that too for your single store.
Hence, for a better aggregated view of multiple stores as well as data from individual platforms at a single place, you need a better solution.
---
What's notable about BigCommerce
BigCommerce powers over 85000+ online stores and has processed over $9 billion in transactions. That itself shows its worth. Here's a scan through it's features:
One of the easiest-to-use online store builder with a very intuitive interface / CMS
Built-in product review functionality
Very easy to add appropriate keywords to your products and site pages
Built-in blog allowing you to use inbound marketing techniques directly from your store
Good set of reporting tools
BigCommerce reporting & analytics
BigCommerce provides you a total of 11 Ecommerce Analytics reports for your BigCommerce store.
BigCommerce has done a pretty job in bringing out some strong store insights. Here is a quick run-down of its reports:
Store Overview Report
Real Time Report
Merchandising Report
Marketing Report
Orders Report
Customers Report
Purchase Funnel Report
Abandoned Cart Report
Abandoned Cart Recovery Report
In-Store Search Report
Sales Tax Report
Important metrics to look-out in BigCommerce reports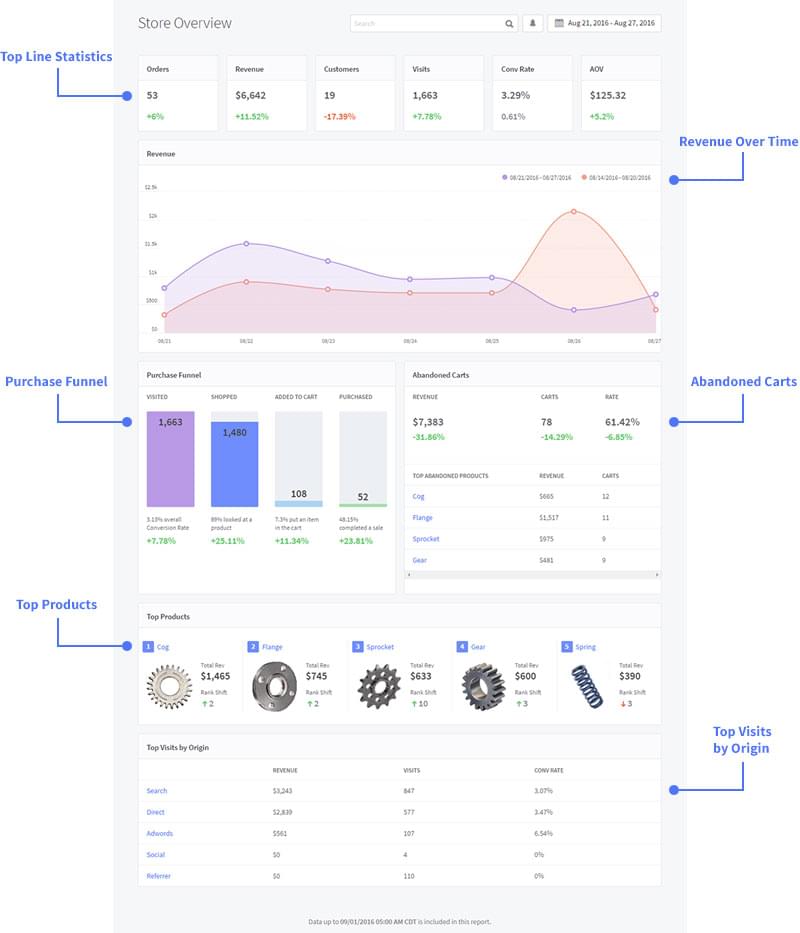 Purchase funnel & Abandoned cart stats
Analysing your sales funnel gives you data on the number of visitors who gets converted at each stage and how many fall-off at each stage. You also get the count of how many carts get abandoned.
Abandoned cart recovery graph
This graph gives you a visual representation of the number of abandoned carts versus the number of abandoned carts that were recovered. This is only if you have enabled the Abandoned Cart Saver feature.
Revenue and orders
Here, you can select a particular date range and compare revenue performance. Same with orders.
Product metrics
Keep a track on your best and worst selling products, fastest and slowest moving products, etc.
Customer data
New vs returning customers, customer profiles – what product they purchase, their name, email, address, cohort analysis, etc.
---
Limitations of BigCommerce reporting
BigCommerce analytics brings up some useful metrics but there are few cases which don't get covered:
No multi-store data
All the stats you see in your BigCommerce reports are for your single store/website. For multiple stores, you need to connect them individually and view separate reports.
Aggregated store data
Since, you can view data only for a single store and that store has multiple payment gateways to it, you will see aggregated data in the reports and not individual data for each of your payment gateway.
Example – If you want to see customers paying money via PayPal & Stripe separately, you won't be able to do so.
Multiple currency conversion
You can only set different currency to appear on your store for customers. But if you have multiple BigCommerce stores accepting different currencies, the individual transactions won't get converted into the desired currency.
Subscriptions metrics
BigCommerce reports also fails to provide metrics like MRR, LTV, ARPU, etc. for subscription businesses.
---
How Putler makes BigCommerce Reporting even better?
Putler is a complete analytics and reporting solution for your BigCommerce business. Be it any store builder like BigCommerce, Shopify, WooCommerce or any payment gateway – PayPal, Stripe, etc. Putler can aggregate all your stores and payment gateways and provide you with meaningful insights for your business.
It's unique feature of consolidation, deduping and generating insights has made it a crowd favourite.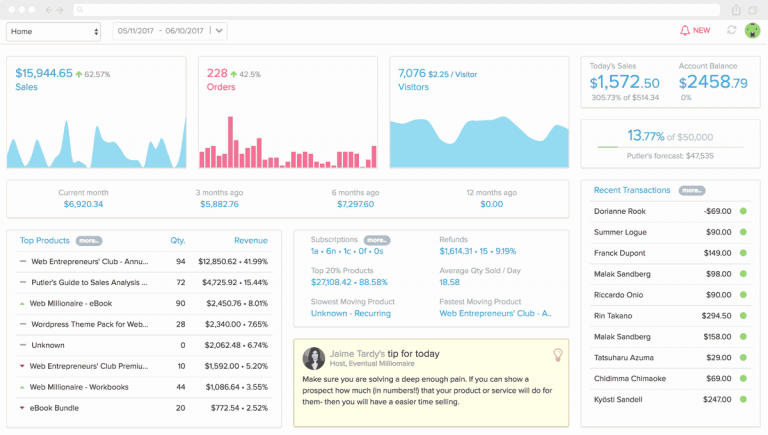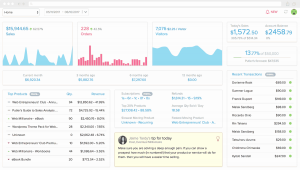 Final Verdict
BigCommerce is a strong platform and so it's reporting. If you just need to monitor your data and are satisfied with traditional BigCommerce reports, you can stick with it.
If you want to grow your business and need advanced reporting unique insights, Putler is the best choice for you.