Insightful Reporting & Ecommerce Analytics For Braintree

Deep insights and business KPI's help Braintree users grow their business effortlessly. Putler directly integrates with Braintree and provides metrics, forecasting and insights that speed up business growth.
Why a reporting solution like Putler a must for Braintree users?
The standalone Braintree reports provides you transactions data. Putler takes this data a notch higher. It processes transactions from Braintree and provides strategic insights and reports.
Braintree users can then use these reports to take important decisions and grow their business.
---
Braintree highlights
A subsidiary of PayPal, Braintree has smartly carved its name as one of the popular payment systems. Here are it's few awesome highlights:
Supports over 130 currencies
One-touch payment, support for digital wallets
Customization options for failed transaction management, pricing plans, discounts, automatically prorated subscriptions
Search and reporting capabilities
Braintree reporting
The built-in Braintree reporting gives you an in and out reporting about all your transactions. Here are the 5 categories that makes up the Braintree reports: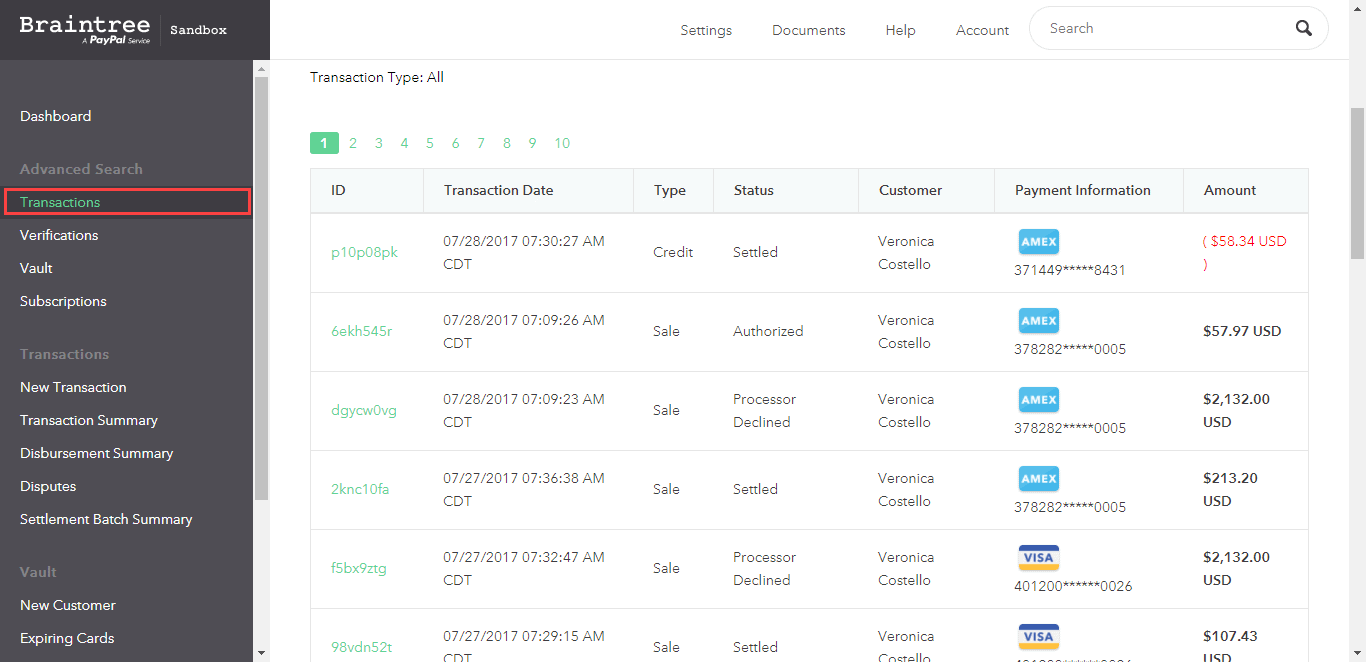 Settlement batch summary
The settlement batch summary report displays the total sales and credits of each batch. Here, each batch are the credit card transactions that have been submitted for settlement. You can click on the link for each settlement batch to view its individual transactions.
Transaction summary
This report gives you a high-level overview of transactions currently categorised as successful or unsuccessful within a given date range. A further drill-down into transaction summary reveals the following transaction statuses:
Authorized
Authorization expired
Processor declined
Gateway rejected
Submitted for settlement
and a lot more..
Decline analysis
The decline analysis report gives you a list of declined transactions that helps you spot out fraudulent transaction early on. Collecting cardholder names or email addresses with transactions can help spot fake ones easily.
Expiring cards
The expiring cards report is useful for business with recurring billing. This report generates a list of credit cards that have expired or those that will expire within the next month. This, in turn helps send out email reminders to customers to update their information.
1099-K
This report is for tax purposes. It includes the gross sales volume coming from credit/debit cards. It doesn't include credits, refunds, or chargebacks.
How Putler and Braintree work hand in hand?
More useful reports
As you can make out from above, Braintree gives you amazing transactions reports and sales overview. However, there are no insights regarding products, visitors, customers. Putler fills in this gap. It processes the transactional data and shows reports on products, customers as well as online visitors.
Fast search
The basic search feature loads up transactions very slowly. Also, searching by a PayPal account payer email will not yield any results. Right? Putler provides an advanced search option for a quick transaction lookup. It saves you time, energy and lets you run through multiple records within seconds.
Advanced product & customer insights
Braintree only provides transactions. Putler builds upon these transactions. It processes this data and gives invaluable reports on products and customers. It provides metrics like
Most and least selling product
Product leaderboard
Top 20% products revenue
Complete customers details
RFM segmentation of customers based on their buying behavior
Sales, Customer, Growth Forecasting
Putler can also predict data. It takes into account your transactions from Braintree and plots a forecasting graph about your sales, number of customers and growth metrics for a period of 1 year.
In short, Braintree and Putler work great together and help you achieve remarkable results!
Is Putler the best reporting solution for Braintree?
Is Putler the best reporting solution?
Now that's subjective. But here are some facts..
Putler is an exhaustive reporting and analytics solution for your Braintree transactions.
It provides insights and KPI's missing in traditional Braintree reports and assists you to grow your business.
Connect your Braintree accounts to Putler and you will come across instantly useful insights and metrics to grow your business.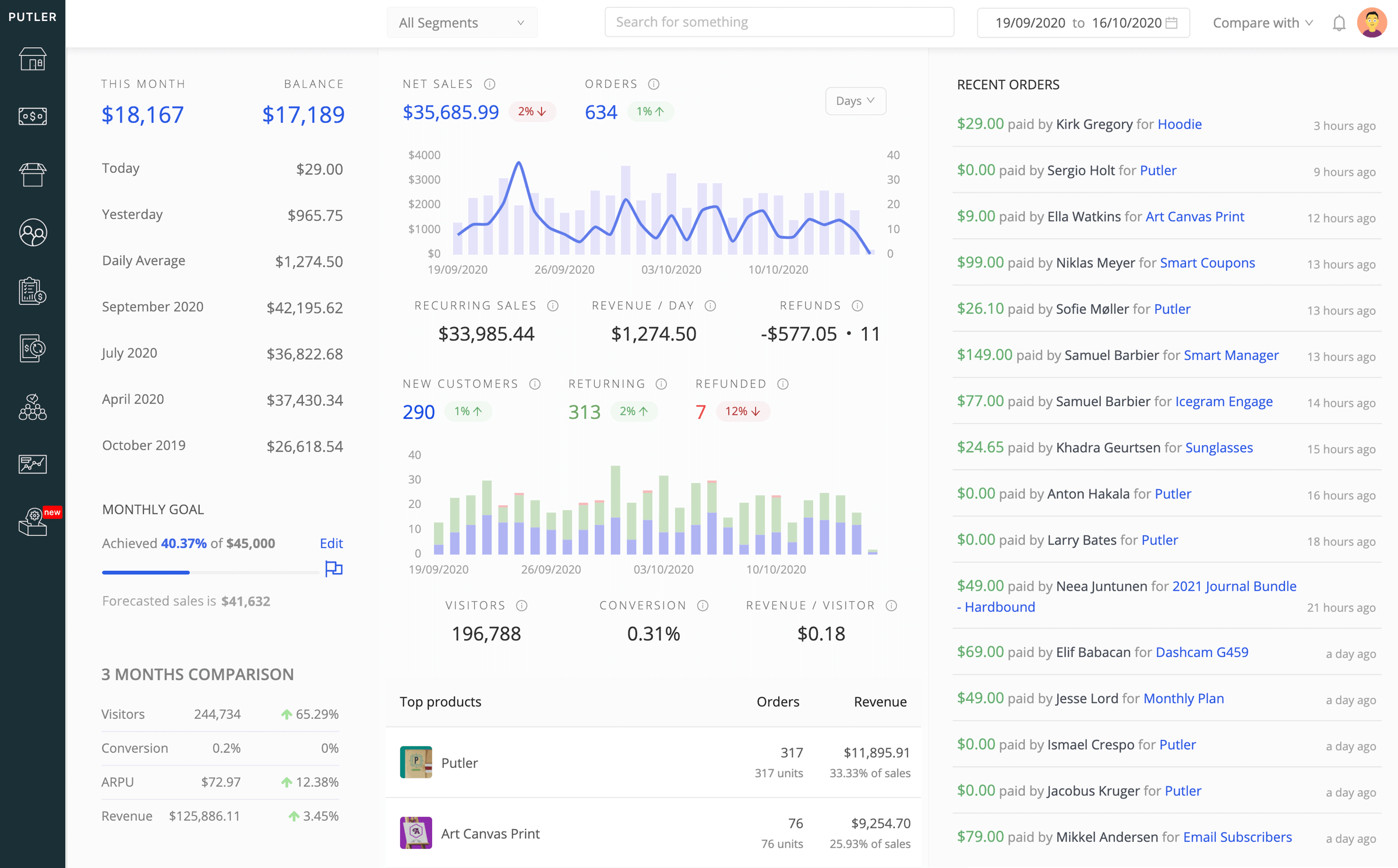 Conclusion
Tracking your business transactions is good and Braintree has done a fabulous job in generating those reports. But by combining this data in Putler you can open a treasure chest of KPI's and insights that can help you take important decisions in your business.