A Complete Solution For Your eBay Analytics And Reporting
eBay sellers find it difficult to grow their business due to tough competition and lack of a strong reporting tool. But, with Putler, an in-depth reporting and analytics solution for eBay, growing business will now be easy..
Why you need an in-depth reporting tool for eBay?
The standalone eBay report provides just an overview of sales and transactions which isn't enough to take your eBay business on the growth path.
If you want to succeed, you must get acquainted with in-and out-of your business and hence, you must stick to in-depth reporting always.
---
eBay Highlights
eBay is an extremely popular and a massive marketplace for buying and selling items at both fixed prices and to the highest bidder through an auction system. Other noteworthy features includes:
High visibility of your items due to eBay's online presence
More sales without marketing efforts (solid keywords and fair price are a must) because eBay has its fans and regular buyers who watch categories
Auctions to sell rare items or those items whose value you aren't sure of
Remarkable savings on shipping
eBay analytics and reporting
When you are selling on eBay, you need to monitor your listings and sales and that's where the built-in eBay analytics and reports becomes useful.
The eBay reporting and analytics section consists of the following:
Detailed seller ratings report
This report gives a general rating of positive, neutral, or negative for a transaction to the seller by buyers. In addition, buyers can rate specific aspects of the transaction with detailed seller ratings.
Seller performance report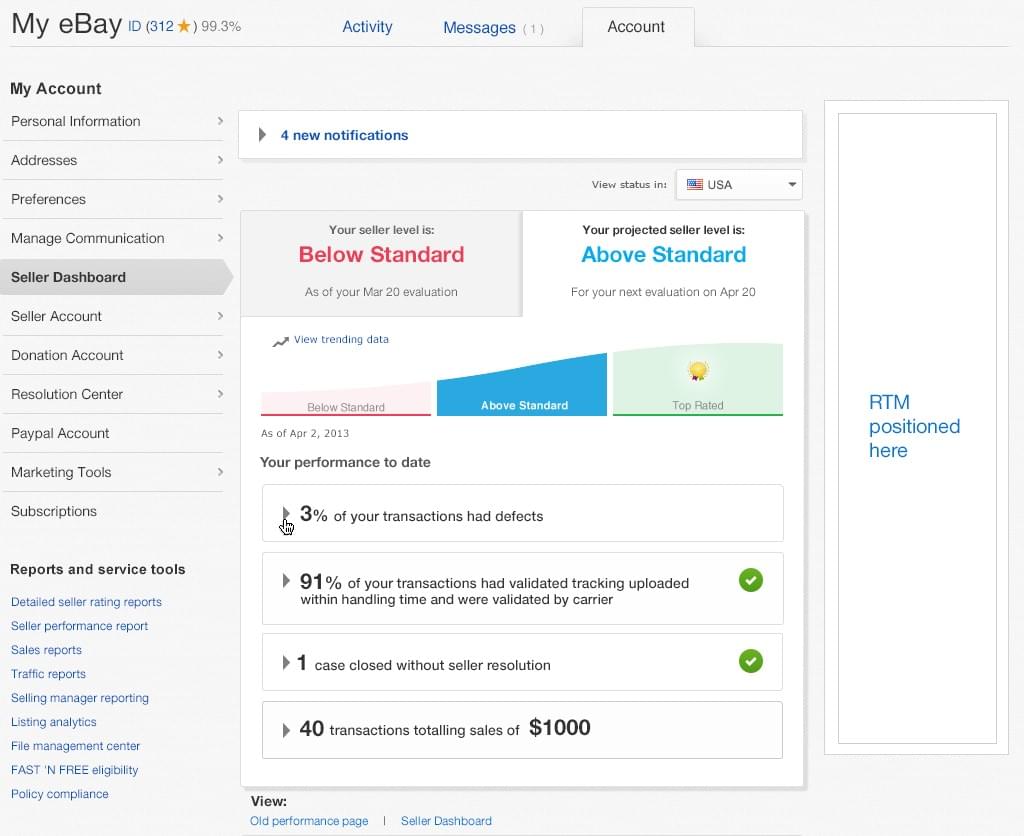 This report helps you monitor your progress as a seller and maintain excellent customer service. It includes:
Performance summary
Transaction defect rate – cases closed without seller resolution and cancelled transactions
Late shipment rate – number of transactions that weren't shipped on time
Valid tracking – how you're doing with uploading a valid tracking number within handling time, and total tracking uploads
Transactions and sales – your total number of transactions and total dollar amount in sales
Sales reports
eBay sales report includes condensed view that shows transactions only. The expanded view shows both transactions and listing fees, and includes these columns:
Date – the date when a sale was made
Sales record – the number of the sales record generated for the transaction
Qty – number of items sold in the transactions
Gross sales – the sum of the sale price + shipping + handling charged to your buyer per transaction
Cost – The sum of the cost per item + the actual shipping cost specified in the sales record + any PayPal fees + the final value fees for the transaction
Gain – The difference between the gross sales and the cost
Shipping charged – the sum of shipping and handling charged to the buyer and specified in the sales record
Shipping cost – actual shipping cost for the seller
eBay fees – final value fees for the transactions. Listing fees and credits are also displayed separately in that column
PayPal fees – Any PayPal fees associated with the transaction
Sales tax – The sales tax for each item sold; currently records US sales tax only
Traffic reports
eBay traffic reports gives an overview of your shop traffic, how buyers access your shop and listings and helps you identify your most popular listings and items.
Unique visitors – number of unique visitors for a particular day or month
Page view – total number of times each page was viewed
Search keywords – keywords people used in searches to find your shop and listings
Popular listings – which item listings were viewed the most
Listing analytics
eBay listing analytics gives you the performance data for all your listings.
Rank – the search placement of your listing with respect to other listings. For example, a listing that ranks 5th place is more visible than a listing that ranks 37th place.
Format – it describes whether an item is offered through an auction-style listing or a fixed price listing
Impressions – number of times your listing appears to potential buyers in a search
Clicks – number of times buyers clicked on your listing in search to view your listing
Sold items – number of times buyers purchased an item from your listing
And many more..
eBay reports shortcomings
eBay does a good job in bringing up sales and transactions details. But they aren't sufficient to grow your eBay business. You need an in-depth reporting tool. Below are the main aspects where eBay reports fall short:
60 minutes to generate a report
If this is the first time you're viewing your reports, you may have to wait up to 60 minutes for your report to be ready for view. The number itself conveys further pain points.
Lack of sales & transactions insights
The data in your eBay reports are just an overview and not the deep insights which sellers needs. When and where max / min sales occur, who purchases what, recent transactions data, instant look-up for a particular transaction, etc. are missing in eBay reports.
Missing product insights
Being a marketplace, you must absolutely know each of your product performance.
Best-sellers, non-sellers, product leaderboard, refunded products, etc. All these insights are a must for you.
Missing customer insights
Along with product insights, you need to have access to all your customers data – best, worst, lost, most loyal and promising, highest paying, their personal details, etc. Even these insights you won't find in eBay reports.
Is Putler the best tool for eBay analytics and reporting?
Putler is a complete reporting and analytics solution for your eBay orders. With Putler's out of the box eBay connectivity, you can easily import all your eBay transactions into Putler and instantly see insightful statistics about sales, customers and products.
All those insights and metrics missing in eBay reports are covered up in Putler with a lot of additional and useful KPI's.
Winding up
Though eBay reports are good for normal use, you can't rely on it for growing your business.
A complete reporting solution to keep a track on your eBay sales as well as monitor it with real-time data and insights is what you need.
And for that, Putler is your trustworthy solution anyday.
Note: eBay allows to fetch historical orders only for the past 90 days from the current date and hence, all reports generated in Putler will have data corresponding to those 90 days only.