Bring Google Analytics data to Putler
Experience outstanding analytics today!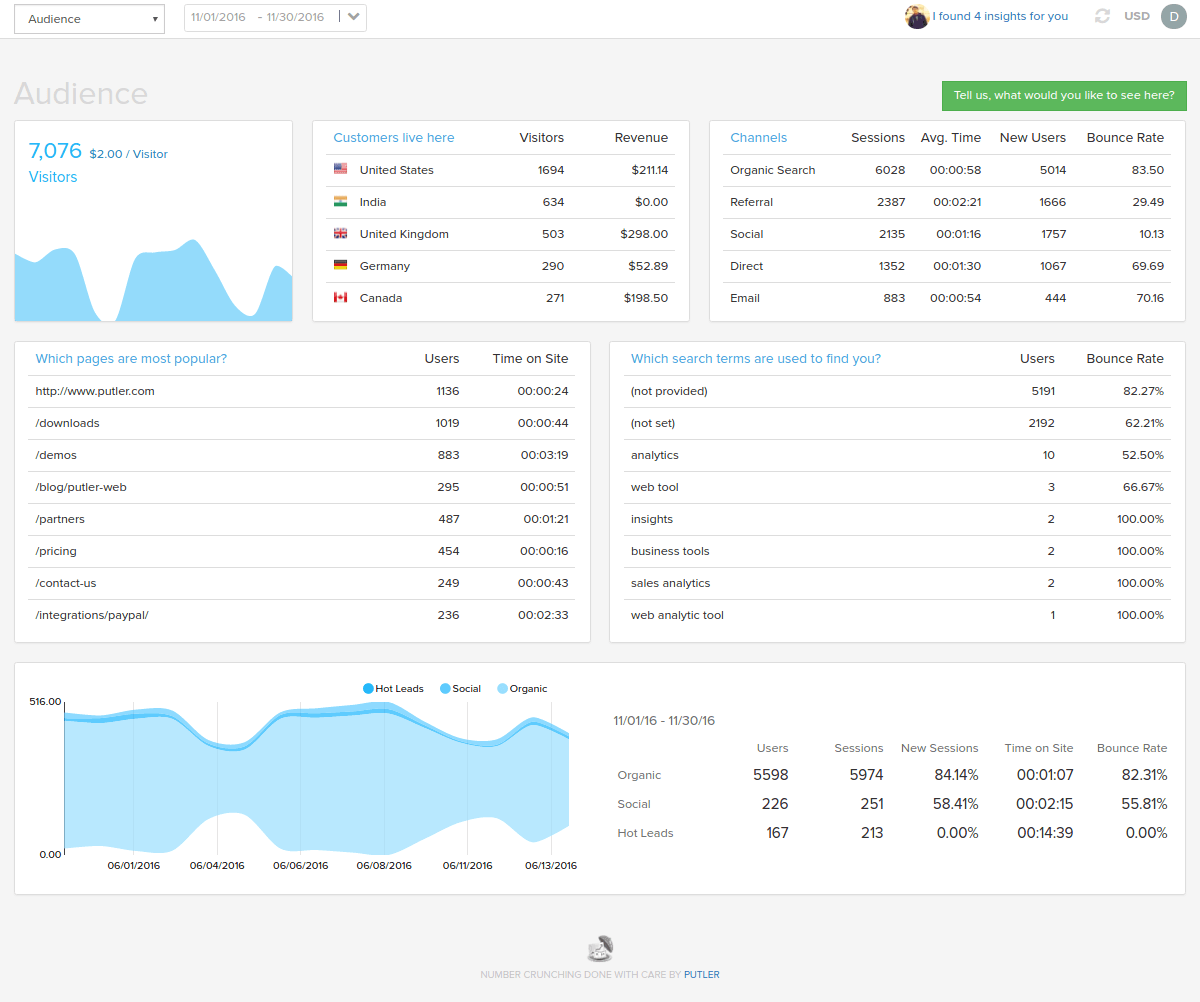 Google Analytics Overview
Google Analytics is the the most popular and widely used freemium web analytics service on the internet. From website traffic analytics to e-commerce reporting, it offers tons of data to the user to gain insights from his website.
What Makes Google Analytics So Likeable?
Google Analytics has a long list of features out of which we have handpicked some most useful ones:-
Goal tracking: You can set goals like leads, newsletter signups, etc. and see the conversion rate for them.
Smart site search: You'll have a list of every keyword people search for on your site. Know exactly what they think is missing and what they have trouble finding.
E-commerce funnel visualisation: Get to know how many users reach the end stage, how many of them abandon in between, how many enter at different stages.
Customized dashboards & reports: Any report can be added and arranged via drag and drop functionality. Set different parameters and generate reports accordingly.
Google Analytics Reporting
Google Analytics is built upon a powerful data reporting infrastructure. The Google Analytics Reporting API allows you to request dozens of reports that are valuable to users to make future business decisions.
Some of the reports include- mobile performance, traffic acquisition, keyword analysis, e-commerce behaviour, etc. You can also compare reports in two date ranges.
Custom Google Analytics Reporting
Google analytics generates lot of data. This data is complex and heavy to understand. It's not accurate all the time. So many other solutions integrate Google Analytics with them to filter unwanted data and generate more accurate and enhanced reports.
Putler Helpful For Exclusive Non-Ecommerce Sites Too
For those running a website which is not into sales but having a Google Analytics account connected for their website, you can also use Putler to track all your important visitor data. You will see relevant metrics related to your website instantly without going through different reports and search terms in Google Analytics. This is very much useful for those who want to want to have their website overview quickly and find the top parameters in one go. Some of them include:
Top landing pages
Bounce Rate
Top search terms
Number of visitors from different countries
and many more..
Steps To Integrate Google Analytics With Putler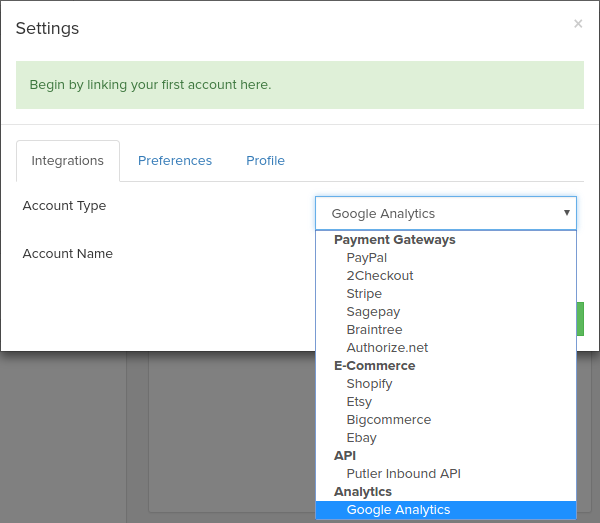 Sign-Up for Putler or go to My Account and enter credentials
Go to Profile > Settings > Integrations > Add
Select Google Analytics from the drop-down menu in the Account Type category
Click on Continue. It will ask you to enter your Google Analytics credentials. Enter it and you will see instant reports of your business.
Enhance Your Google Analytics E-Commerce & Website Reporting Now
Easy setup • 14 days free trial • Cancel at any time

Additional Resources