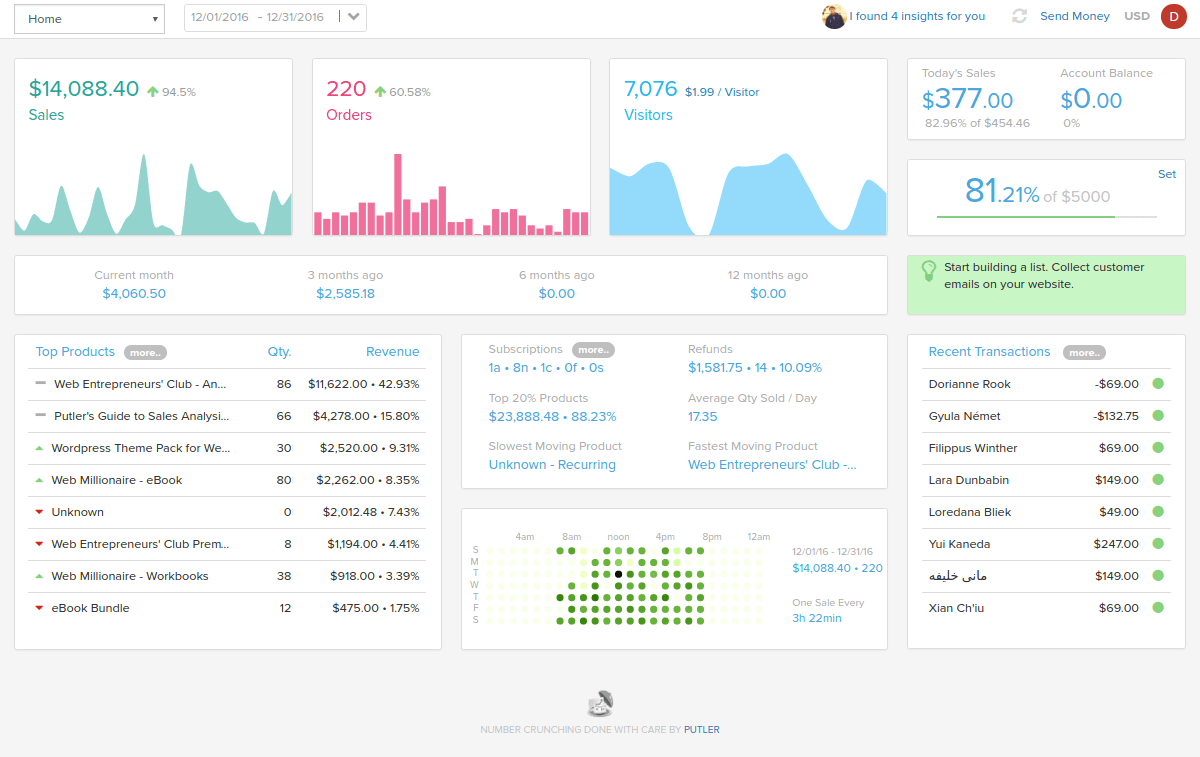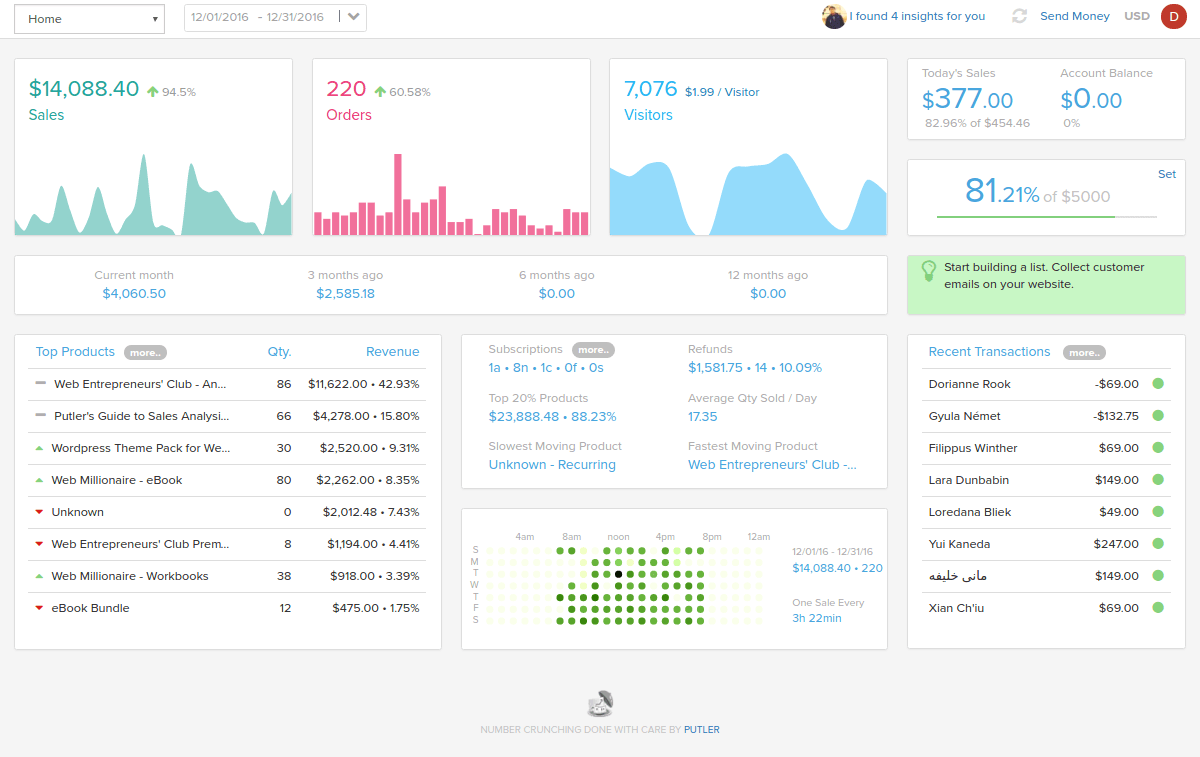 Meet PayPal
PayPal is the most popular payment gateway that allows any business or individual with an email address to securely, conveniently and cost-effectively send and receive payments online.
What Makes PayPal Special?
Very easy to setup and use – you can get started immediately
Available in over 200 countries & supports 25 currencies
Multiple solutions at one place- paypal credit, payment forms, virtual terminal, invoicing, paypal send money, micropayments, recurring billing, etc
Easy integrations with shopping carts, accounting softwares, email marketing softwares, etc.
List of strong API's – Billing Agreements API, Invoicing API, Payments API, etc.
PayPal Analytics & Reporting
PayPal account reporting provides reports and search tools to help you with payment reconciliation and order tracking. Their main reports include: account history, sales activity, order fulfillment, monthly statements, recurring payments, etc.
These comes as a handy solution. But as your business grows, you can't settle with just these. You need a more comprehensive solution to enhance your paypal analytics & paypal reporting.
Custom PayPal Reporting Alternatives
Since PayPal's core reporting capabilities are limited, many companies offer comprehensive reporting integrations for PayPal. Some of the popular PayPal reporting tools include Putler, ChartMogul, PayDrill, GetControl, etc.
Is Putler The Best Reporting & Analytics Tool For PayPal?
Putler gives you all the basic reporting and sales analytics. Plus many unique features that makes it favourable to use for online businesses. Putler's main competitive advantages include:
Super-fast reports: Get all important reports at a lightening speed with Putler as compared to PayPal which is very slow and takes almost one-tenth of the time than that taken by Putler.
No hold time: Putler gives instant transactions details easily which getting the same in PayPal consumes a considerable amount of time that can be frustrating.
Product, Customer & Sales analytics: In-depth reporting with 75+ practical metrics, trends, overviews and drill downs. Metrics like revenue and refunds from different countries, most profitable customers, maximum sales time, etc. are available in Putler but missing in PayPal.
Intuitive search: Putler's search feature works at a blazing speed. Type a few characters and Putler instantly brings up all the related combinations for the searched term thus giving you the desired results you queried for.
Real-time view: Putler helps companies to keep their finger on real time activities with their PayPal account without logging into PayPal and performing the same slow loading process of PayPal every-time.
Consolidation: You can accurately combine multiple PayPal accounts, other payment gateways, shopping carts, currencies and even Google Analytics and fetch reports in a single dashboard.
Send money: With Putler, you can easily send or transfer money to any person; be it a credit or a payment. Both sender and receiver must have a PayPal account.
Quick Subscription Management & Refund: Manage subscription process- update, cancel, active; issue direct refunds, csv export within seconds with Putler.
Deep growth insights: Get expert advices and unique intelligent recommendations to grow your business
Subscriptions Dashboard (Coming soon): For subscription businesses, all the important metrics like MRR, churn rate, LTV, ARPU, etc. are very crucial which are not available in PayPal. But Putler provides a neat dashboard having all these metrics.
Putler is the perfect companion for anyone selling online using PayPal. It will provide you the best PayPal analytics & metrics and insights to grow your business.
Learn more about Putler
Steps To Integrate PayPal With Putler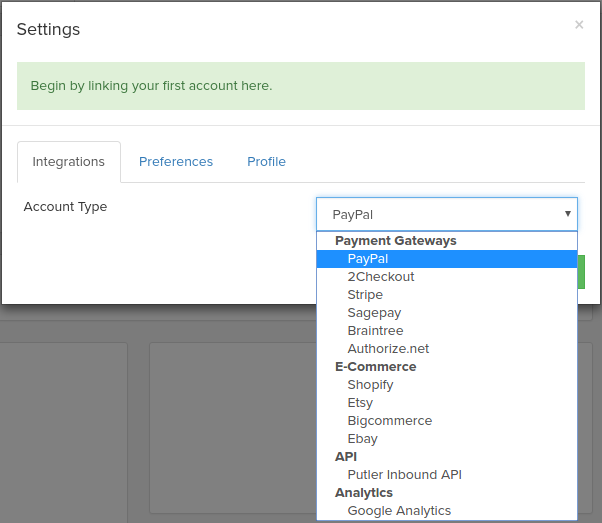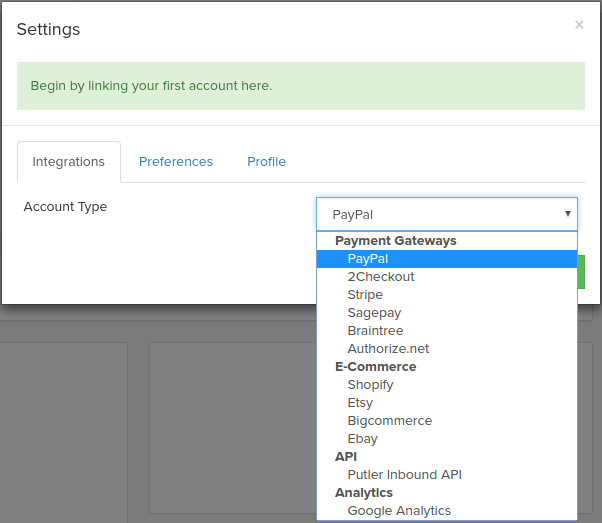 Sign-Up for Putler or go to My Account and enter credentials
Go to Profile > Settings > Integrations > Add
Select PayPal from the drop-down menu in the Account Type category
Click on Continue. It will ask you to enter your PayPal credentials – email & password. Enter it and you will see instant reports of your business.
Enhance Your Paypal Analytics & Reporting Now
Easy setup • 14 days free trial • Cancel at any time
I use Putler daily to track out PayPal customers and sales. Managing subscriptions and refunds, paying affiliates takes about a tenth of the time. As a bonus, when I want to analyse sales performance, all the data is there ready to go and generates reports super fast!.

James Rose,
Director, Aktura Technology