"Fret not if you were ex-compass user or are looking out for a e-Commerce analytics system, we got you covered. Read further to find the best alternative for Compass today!"
The global e-commerce industry is growing at a rapid speed. And so is the competition in the market.
Recently, one of our major competitors, Compass declared that they are closing their doors(Compass will shut on 25th October 2019).
We aren't happy about this. But we know with one thing your ability to analyse and make data-driven decision needs to keep moving.
So here's the thing, we have the industry best alternative (just in case you are looking for one) for Compass – Putler.
Some Good News 🥳🥳🥳
If you are a Compass customer and you like Putler.
Email your latest Compass Invoice and I'll send you an signup discount.
Let's have a sneak peek into what Compass had to offer and what this Compass alternative has to offer.
How Putler Compares to Compass?
While Compass was known for it's easy to use interface and smooth navigation, Putler boasts of being the most comprehensive tracking platforms today.
Let's dive deeper…

Dashboard & Reports
We buy the fact that Compass was one of it's kind when it was in vogue but innovation is a continuous process.
Putler offers you the kind of reports no other tool does and we are not just saying this just to get you onboard, rather we have testimonials and numbers speaking for themselves.
Compass Alernative – PUTLER's Dashboards
Putler contains 9 dashboards that cover over 150 important metrics and KPIs about different functions of your business.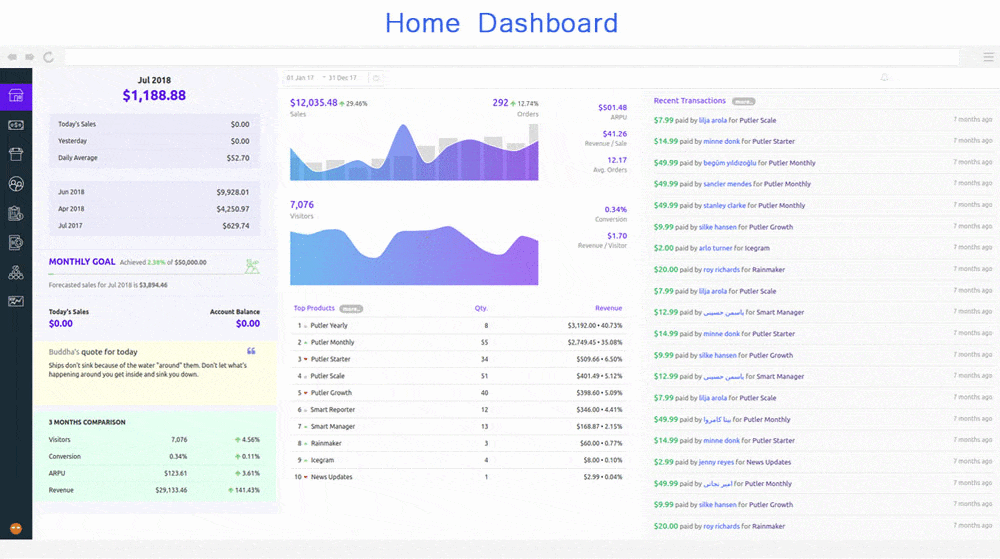 Home Dashboard
Basically, the one stop solution. This dashboard displays an overview of the entire business, or let us call it a synopsis at one place.
Sales Dashboard
Most of the business run on the sales and hence, it forms one of the most important metric to be looked at. All the sales KPIs like net sales, refunds, avg revenue/day, avg revenue/sale are readily available.
To add a cherry on the cake, Putler also provides in-depth information on every sale along with the invoice.
Still wondering what is the best part? You can also export this sales list as a CSV and use it for further analysis.
Products Dashboard
As the name states, it provides reports about the products in your business. This gives key insights into the performance of every product. Putler also gives in-depth information about individual products like the sales history, people who bought it, items that are frequently bought together and lot more. Not wrong to call your own quick product repository!
Customer dashboard
We believe each thing works two way round and so we take care of this while curating products for you. Putler gives detailed insights into the customers as well.
Transactions dashboard
This dashboard gives you the whole view of all the activities (not just sales) that happen on your website.
Subscriptions dashboard
This is a one-off feature we have curated specifically for SaaS businesses. It gives you all the SaaS metrics like ARR, MRR, churn, LTV etc.
Audience dashboard
Let us call this yet another awesome feature we have at Putler. We promise, no other analytic tool in its genre gives Google Analytics reporting. The audience dashboard pulls in the most important metrics from GA and displays it!
Time machine
Sounds interesting, right? This is going to be your goto place forecast monthly revenue, customers and the 10X formula for your business.
Insights
This is an ever-evolving dashboard which consists of Holiday Season Reports and Performance Comparision Report (for now, we keep adding interesting reports to this section).
Not just regular reports, some unique insights too!
Yes, apart from the above reports, Putler also provides some interesting features that are unique to Putler alone.
Customer Footfall- One of the unique and most appreciated features (that no one else offers) is something called the Sales Heatmap. Putler keep a track of all the sales activity on your business and updates a heatmap notifying the best and worst sales periods on your business.
This insight can be used to plan out flash sales, live chat hours and tons more.
Customer Segmentation using RFM (Recency, Frequency, Monetary)- RFM is a proven marketing model for behaviour based customer segmentation. It creates a group of customers based on their behavioural history- what, how and when. This further helps build clusters of customers and assists you in identifying the customers who are more likely to what you have to offer for them.
Steering back to Compass
Compass, on the other hand, had 6 dashboards – Revenue, Executive, Benchmarks, Insights, Acquisition and Traffic Sources.
Compass dashboard looked something like this: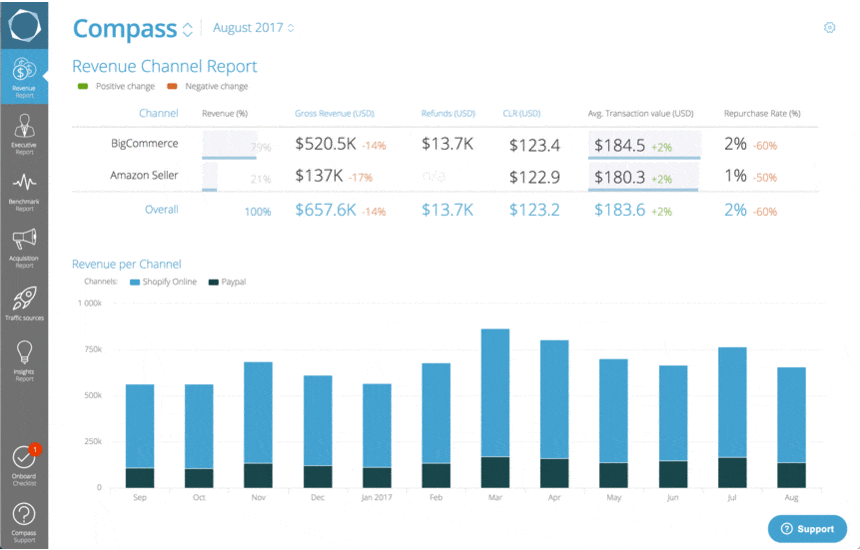 These dashboards provided important metrics related to revenue, visitors, traffic etc.
Probably, good enough for any business that is just starting off but as you scale up, your business demands an in-depth study of numbers at different touchpoints.
And this is what this Compass alternative already has in store!
And no matter if you are a startup or an established business, Putler will provide you a 360-degree overview, from scratch till the end!
Is this Compass Alternative for you?
Ask any Putler user and they will all say in unison, ALL!
So a one-word answer to the above question is YES.
Yes, Putler is designed for businesses or even individuals from all the strata.
Compass, on the other hand was a tool designed for business who were starting off (lesser view of data on the dashboard).
As we mentioned, as your business grows, so does the need for in-depth analysis. We do not find Compass offering what your business would demand when it enters enterprise mode!
This Compass alternative provides you with details right from the beginning, just so that you can plan your roadmap accordingly!
Pricing – Let's talk money 💰💰💰
One of the pros that Compass got along with was its Free/Freemium model according to the modern glossary.
We are all aware of a common norm, "You get what you pay for."
And there, the free model of Compass offered you savings, it came with its own constraint.
The reason why Putler does not offer any free mode: our aim is to provide growing business with empirical data and assistance and mind it, things like these do not come for free. With so much ease at a hand, would you really mind paying a decent amount?
Still confused about is Putler's pricing worth it and want to look at what Compass had to offer? Here you go:
Compass Pricing Model
Compass free which came as a totally free model. It allowed access to benchmark, revenue, executive and insights reports, limiting the access to just 2 months of historical data, tracking and bookmarking. It also has full email support, always!
Compass Pro which was available for $49 per month. It gave the user access to benchmark, revenue, executive, insights, traffic sources and acquisition reports. It also gave a full historical report and not restriction over stores and the number of users. It got an advantage of priority customer support too!
Putler Pricing Model
Putler has 3 plans:
Starter plan that is available for 300 paid orders, 2 data sources, and 2 years of historical data. This plan is priced at $29 monthly.
Growth plan that is available for 3000 paid orders, 7 data sources, and 5 years of historical data. This plan is priced at $79 monthly.
Scale plan that is available for 10,000 paid orders, 20 data sources, and 7 years of historical data. This plan is priced at $249 monthly.
*keeping in mind your business constraints, this Compass alternative has plans that you can easily choose and toggle with, when need be!
Last thoughts…
Now that you know an overview of Putler and a rough roadmap of how we are planning, what we are planning the next step is to know what is it that stands Putler out of the crowd, not just from Compass but from all the other competitors too:
Automated currency conversion for about 30 global currencies
RFM segmentation for identifying and segmenting indicators like customer buying behaviour and their loyalty
Track a number of businesses within a single dashboard
Apt, quick and easy search functionalities for all the metrics
Putler's 150+ metrics view and easy integration will make your life simpler and insightful, we promise!
Over to you
To wrap this up, we would like to call all you growth hackers out and get you acquainted to a platform that is designed for businesses, just like you!
While all the big market discussions are now taken basis the 'big' data and its allies, make sure you excel the race with the tool that is designed projecting all that will come your way!