Comparison & Review
Best Metorik alternative – Putler
Metorik is great for WooCommerce reporting. But Putler gives more accurate numbers, in-depth dashboards, integration with many platforms and a lot more. Here's a detailed comparison of the two analytics solutions for WooCommerce – including best features, pricing, differences and how to get the best software for free.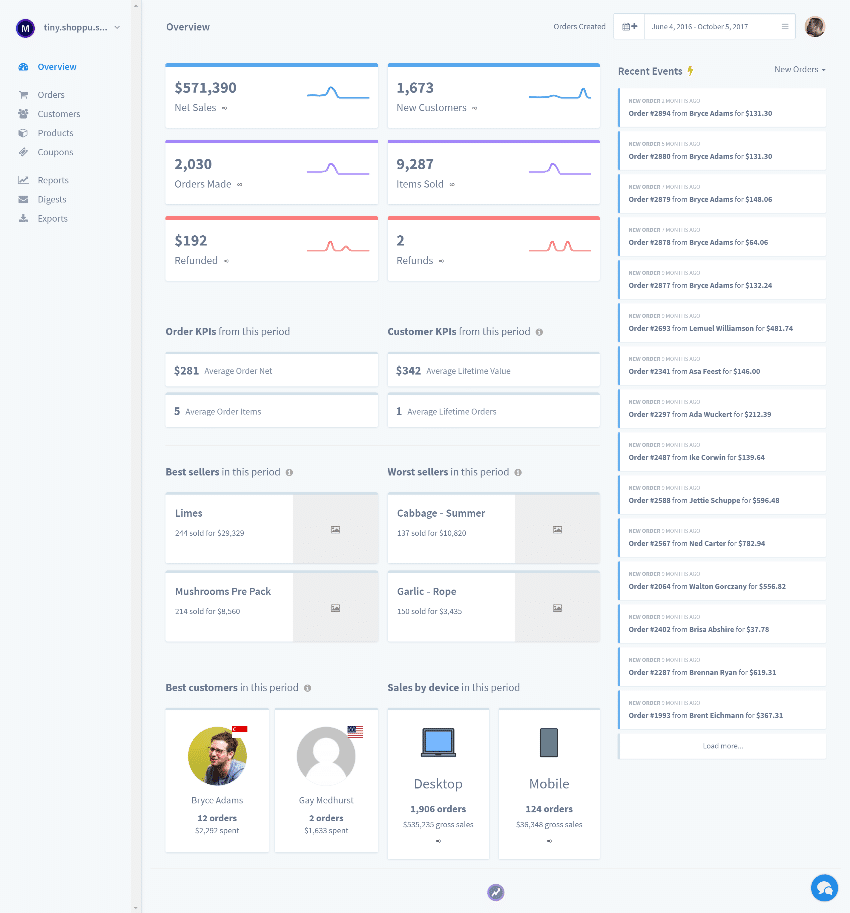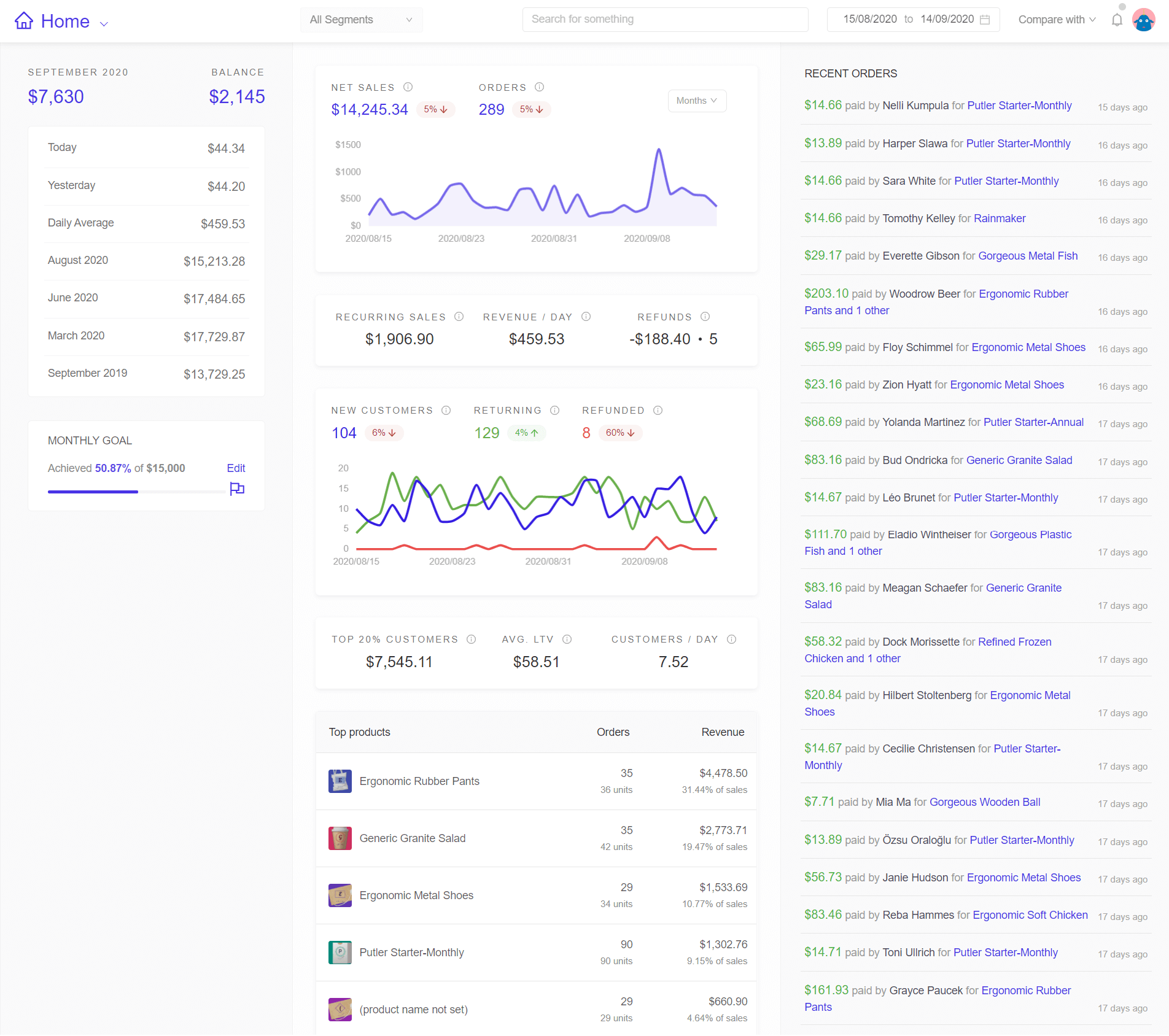 Basic comparison and differences
Metorik vs Putler
If you want different reports for your WooCommerce store, both Metorik and Putler are a good fit. But they do differ fundamentally in many aspects.
Metorik is only for WooCommerce. They also have a paid add-on for email marketing.
Putler is multi-system unified reporting platform. It gives you accurate statistics because it can combine WooCommerce order data with payment gateway transactions. Putler has limited email marketing features, but extremely powerful analytics.
| Feature | | |
| --- | --- | --- |
| Connect multiple WooCommerce stores | | |
| Combine with PayPal, Stripe, Shopify and others | | |
| Accurate numbers due to intelligent data merging, cleanup and enrichment | | |
| Email marketing | | |
| Cart abandonment recovery | | |
| Segmentation, KPIs, reporting capabilities | | |
Reporting dashboard
Business overview at a glance
Both Metorik and Putler provide you important metrics on their home dashboard. Metorik allows you to customize what you see on dashboards. But Putler feels "just right" from an owner or marketer perspective. It includes everything you need out of the box.
| Feature | | |
| --- | --- | --- |
| Instant search, filters, segments, previous period comparisons | | |
| Key sales metrics, website visitor stats | | |
| Cashflow / account balance monitoring | | |
| Top products leaderboard | | |
| Revenue goal setting & tracking | | |
| Monthly sales forecast, quick trend spotting | | |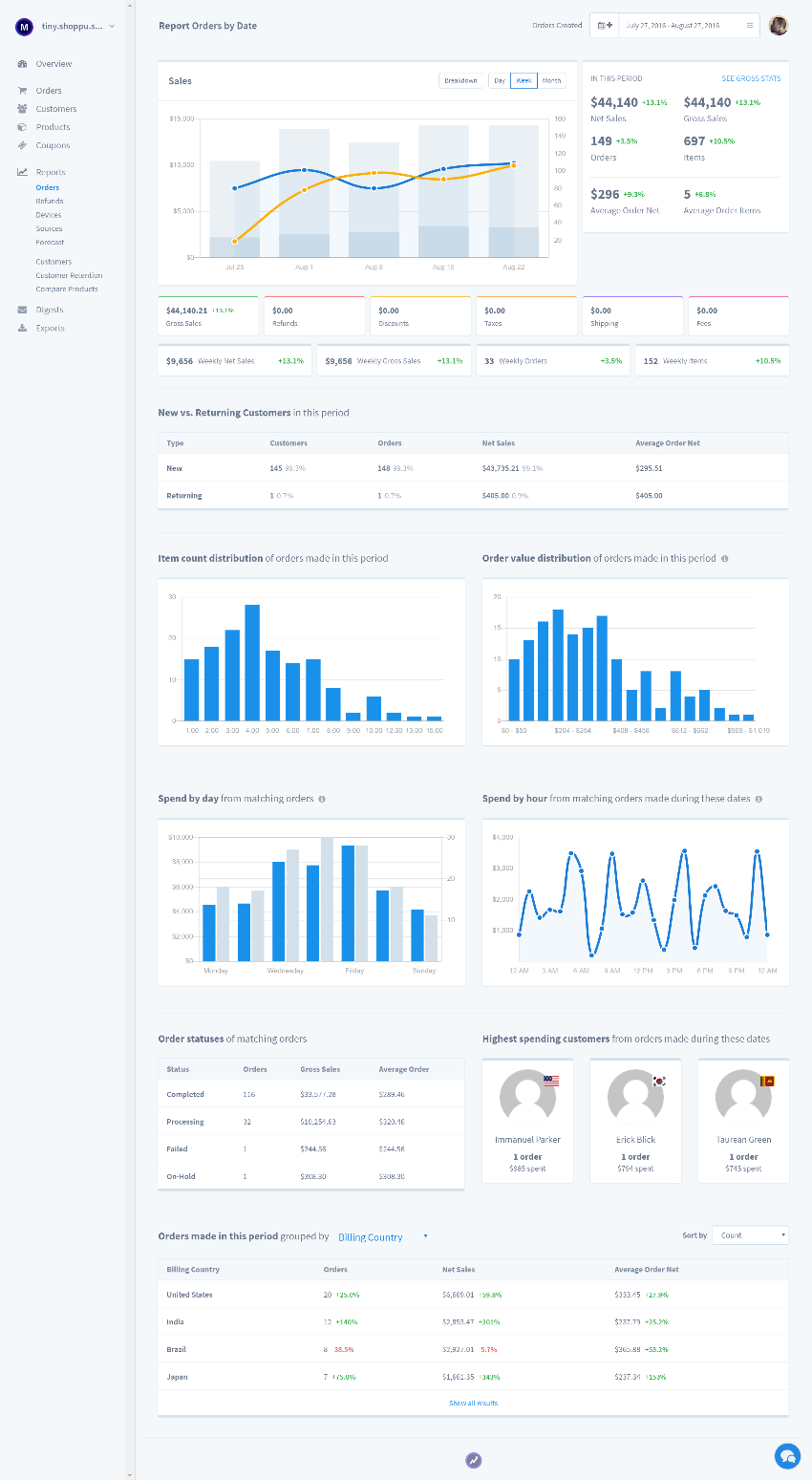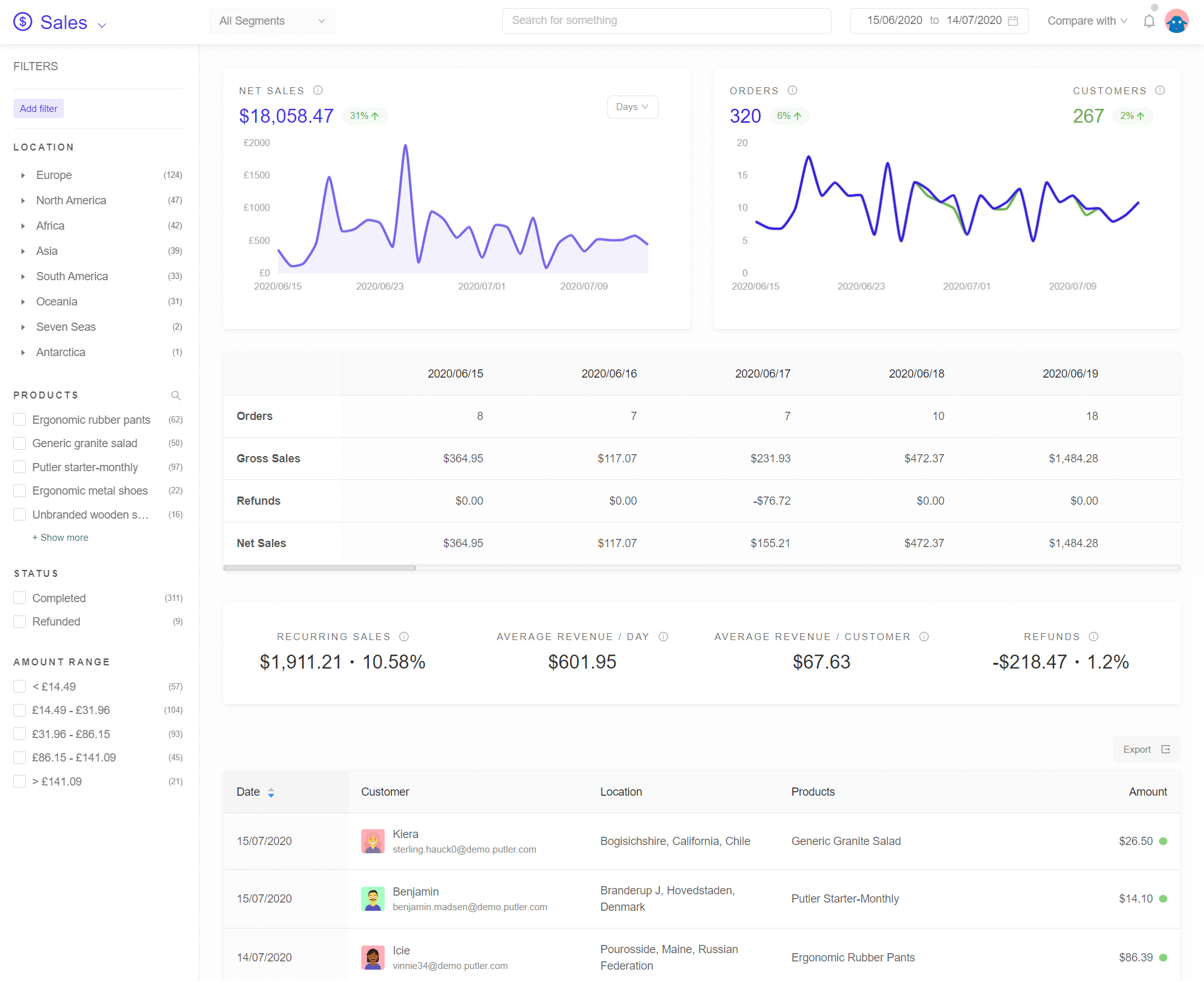 In-depth sales and product analytics
Discover sales trends and growth opportunities in products
Both Putler and Metorik provide useful sales and product performance KPIs. Putler offers more useful reports, powerful drill-down and additional operational features.
| Feature | | |
| --- | --- | --- |
| Sales and product metrics | | |
| Sales heatmap, frequently bought together products, refund insights etc. | | |
| Operational tools: process refunds, manage subscriptions, order notes & tags | | |
| Instant & powerful facet based drill-down | | |
| Time machine – business planning and prediction tool | | |
Recurring payment reporting
Subscription metrics made easy
MRR, ARR, Churn – these terms are hard to understand, and harder to get right. Both Metorik & Putler provide key SaaS / subscription business metrics in a single window. Metorik relies exclusively on WooCommerce Subscription plugin data, but we've found that it's not accurate. Putler combines this with payment gateway level transaction data to give you an accurate subscription dashboard.
| Feature | | |
| --- | --- | --- |
| WooCommerce Subscriptions support | | |
| Merge with PayPal, Stripe, Braintree, 2CO, Auth.net for higher accuracy | | |
| Support for EDD, Shopify, Etsy etc. | | |
| Most important SaaS metrics | | |
| Drill downs and details | | |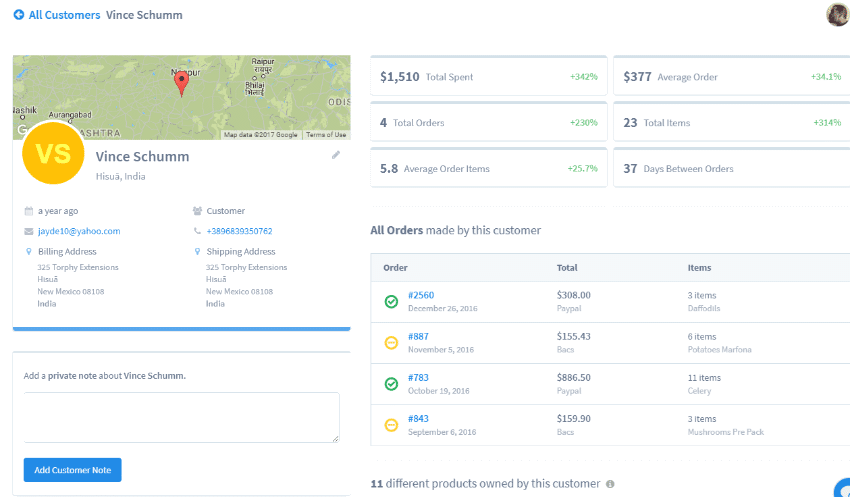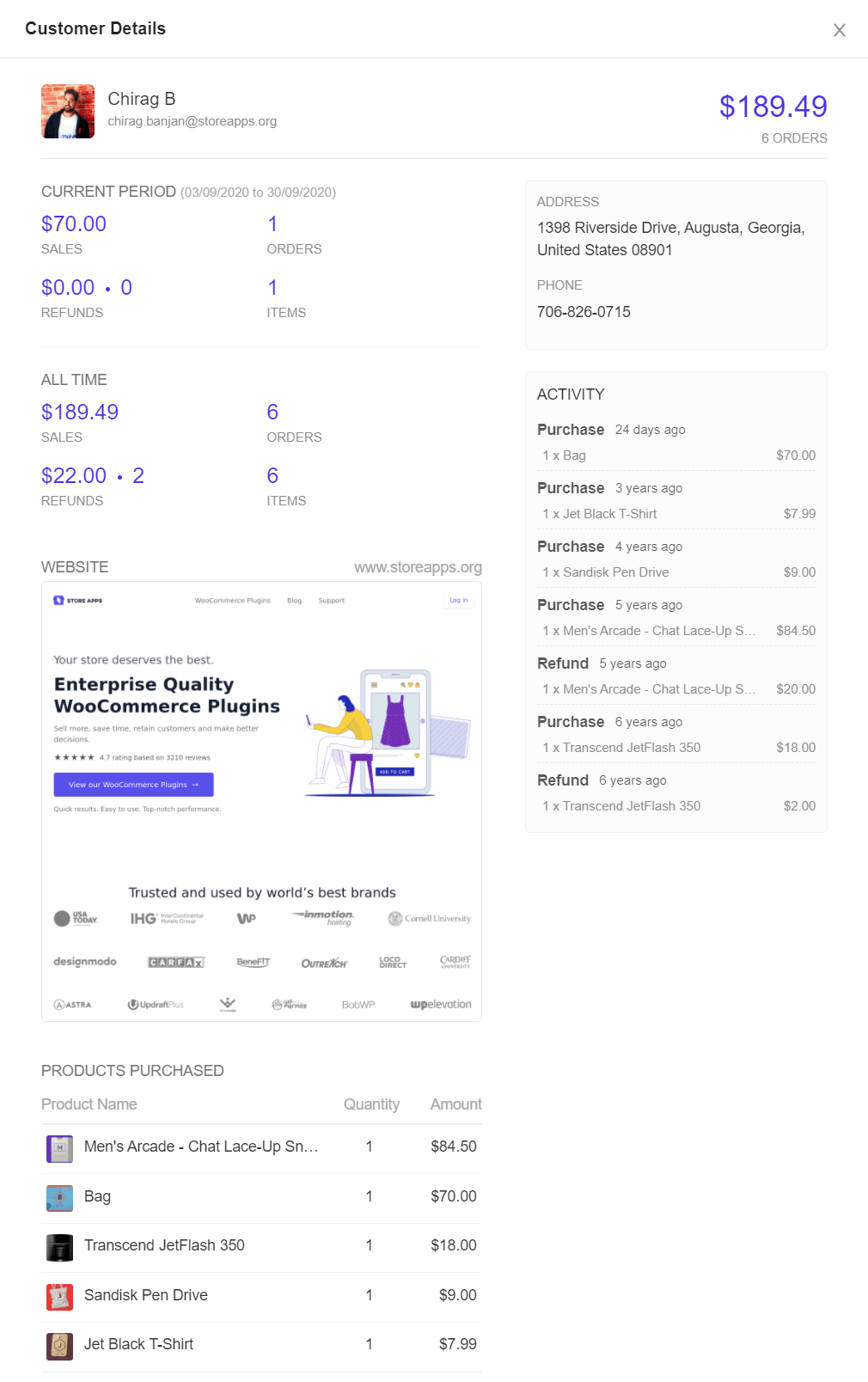 Customer analytics
Outstanding buying behavior insights and marketing segmentation
Metorik provides all standard customer profile metrics. Putler seems to begin where everyone else left off! Powerful data cleanup and enrichment along with done for you scientific marketing segmentation is something you will get only in Putler.
| Feature | | |
| --- | --- | --- |
| Customer profiles, order history, metrics | | |
| Data normalization, cleanups and enrichment – email, address, geo-location, website, smart merging | | |
| Automatic RFM segmentation | | |
| Customer filters – location, products, spend etc | | |
| Export, email marketing | | |
Interesting: Behind the scenes
The people behind Metorik & Putler
Metorik founder Bryce Adams worked with WooCommerce before starting on his own. Bryce knows his stuff, has many friends in the ecosystem and his focus on WooCommerce has led to the success of Metorik.
Putler started before WooCommerce was launched. Putler's founder Nirav Mehta also leads Store Apps and Icegram. Store Apps is WooCommerce's official third party plugin developer with a large portfolio of popular WooCommerce plugins. Collectively, the team has tremendous expertize in WooCommerce, WordPress and analytics.
Unique + useful
What gives Putler an edge over others?
Metorik has email marketing and abandoned cart tracking. Putler has limited email marketing support and no cart tracking as of this writing. But there are lots of things in Putler that give it a solid competitive advantage – here are a few…
Aggregation & cleanups
Unify multiple e-commerce platforms, payment gateways, currencies, teams, segments… Putler is the only solution that can handle such complexities – so you can make better decisions.
Powerful analytics
Sales, products, customers, subscriptions, forecasting, website audience… Instant search, filters, facets, comparisons, drill downs… Get power and convenience both.
Segmentation, RFM, useful metrics
Develop marketing campaigns with holiday season insights and automatic RFM segmentation on customers. Create custom segments. Monitor your business with 153+ pre-bulit metrics.
Beyond marketing and C level
Business owners, executives, marketing, data analysts, fulfillment and even customer support. Putler has reporting as well as operational tools – and supports unlimited teams and team members.
Blazing speed means faster answers
Need to find a transaction? Want to find some stat? Curious about metrics for a product, geography or segment? Putler is built with cutting edge technologies to get you answers quickly.
For every business, not just SaaS
Well known analytics products cater only to recurring billing businesses. Most also support limited platforms. Putler works for e-commerce, digital products as well as subscription businesses.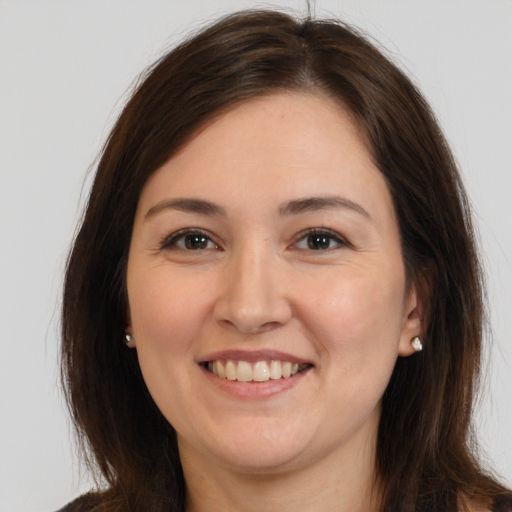 Putler is the easiest and the most appropriate reporting tool for WooCommerce. During my research, Metorik and its cart recovery feature came a close second. But the fact that Putler's reporting is more accurate and powerful won me over. Now Putler handles reporting for three of my WooCommerce stores & saves me hours that I would otherwise spend tallying spreadsheets.
Final verdict
So what's better? Metorik or Putler?
We like a lot about Metorik. It is indeed a solid reporting and marketing solution if you are solely focused on WooCommerce. Putler is a better alternative for most users, for a number of reasons.
Putler integrates with 17+ services. Combines and cleans up the data to remove duplicates, anomalies, orphaned or incomplete data. This is big for anyone who wants accurate metrics.
Easy setup, huge value right out of the box, powerful analytics and useful growth insights: Putler makes a lot of sense intuitively, and gives you a whole lot of reporting flexibility.
Multi business, multi user, multi currency friendly: Putler works with different types and sizes of businesses – and is affordable.
Fast and secure: Putler is snappier than most other analytics solutions. It also emphasizes security and offers 2FA.
Overall, the conclusion is that Putler is a clear winner over Metorik for most users.
Winner is
Need more proof? Read an in-depth Metorik review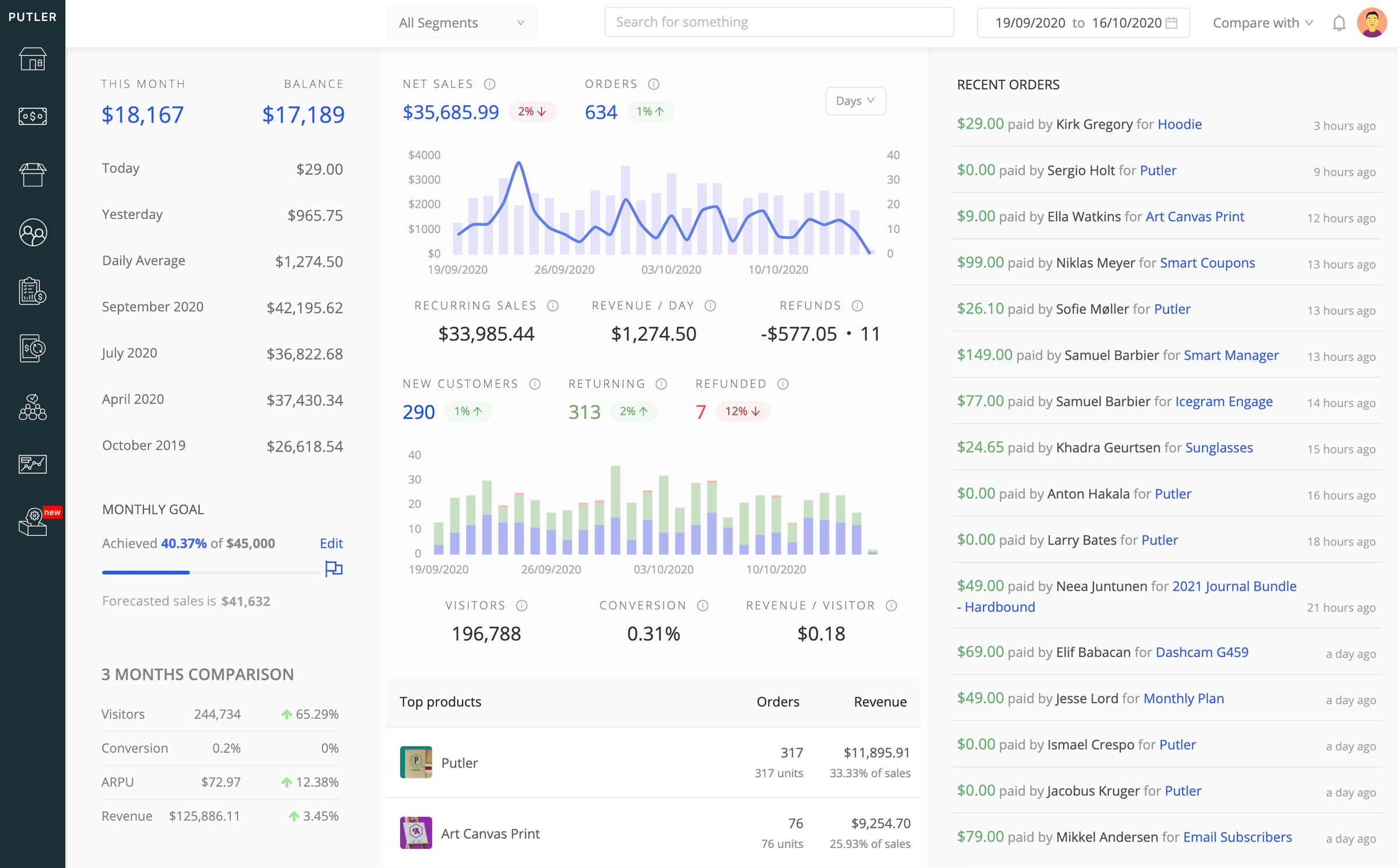 Ready to track, understand and improve your business – with powerful unified analytics?
Trusted by thousands of online businesses. Quick setup. Don't delay now.

Putler intelligently syncs together different platforms.