Your Search Of Finding The Best Metrilo Alternative Comes To An End
We are reading about this everyday, everywhere.
'Data' is at its all-time high to get all the eyeballs it deserves.
Today's technology has gone way ahead and we have awesomely built tools to keep the business running and help them take risk-free decisions based on past data.
Long thing short, let us introduce you to two such tools that will make taking data driven decisions a piece of cake.
Putler and Metrilo.
Go ahead to read an in-depth Metrilo review as well as Metrilo alternative review (a.k.a Putler), from the industry experts themselves!

PLATFORMS: Types of businesses they cater to
The official Metrilo website says Metrilo helps e-commerce brands grow. Okay, we agree that e-commerce is booming all around. Yet, there are so many different line of businesses you might dive for- FoodTech (eg. Zomato), Delivery (eg. FedEx) or any remote service provider.
Metrilo alternative – Putler, on the other hand is right here to assist any business you have an idea of.
You name it and Putler has got you covered!
Needless to say, Putler supports e-Commerce as well as the next big thing that's Subscription-based businesses.
INTEGRATIONS: Forget about the setup hassles you have faced till date!
Now that you have your business up and running with enough data that you are searching for the best analytical platform, we assume you use multiple tools like payment gateways to process money, shopping carts to sell your products and GA to track website visitors! Clearly, you want quick integration support for faster growth.
Metrilo Integrations
Metrilo has direct integrations with few but prominent solutions Sumo and Privy and some lead generation tools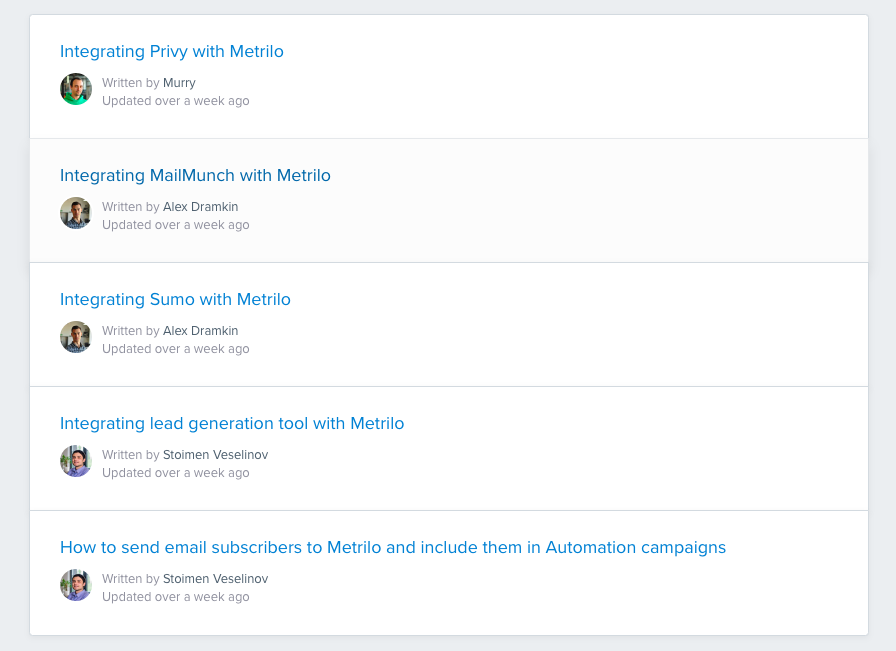 Metrilo integrations
Putler Integrations
Putler takes the cake by integrating with more popular 17+ services which are a mix of payment gateways, shopping carts, email service providers and GA.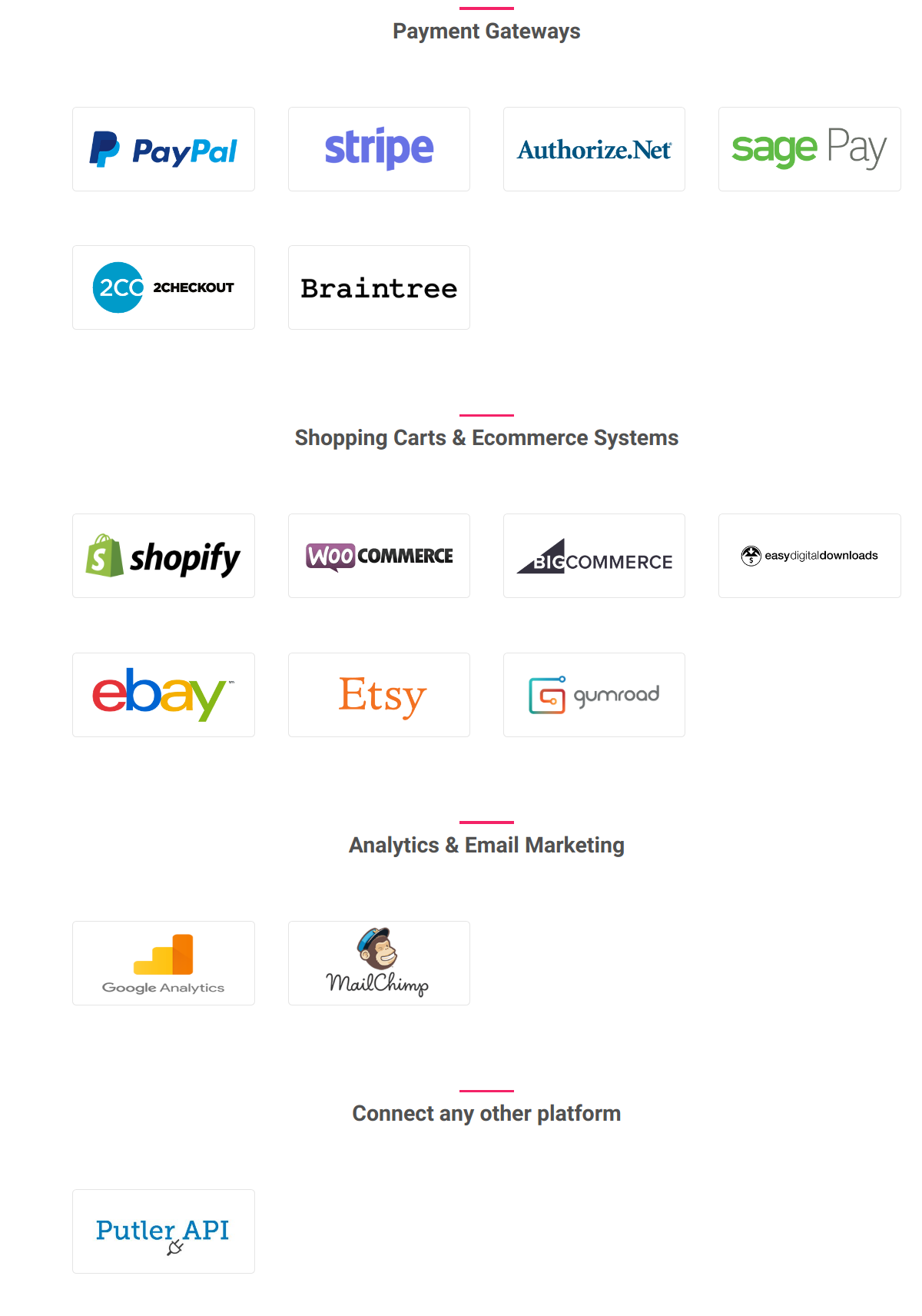 DASHBOARD: Wondering what features both provide?
Make sure to take the backseat!
While the centre thought that you are reading this and searching for the best all-in-one analytical tool for your business is for easy analytical reading, we have simplified it by assisting you with a quick synopsis of what Metrilo and Putler has for you!
Metrilo's dashboards
Metrilo's website speaks for itself when it provides data on the below mentioned filters: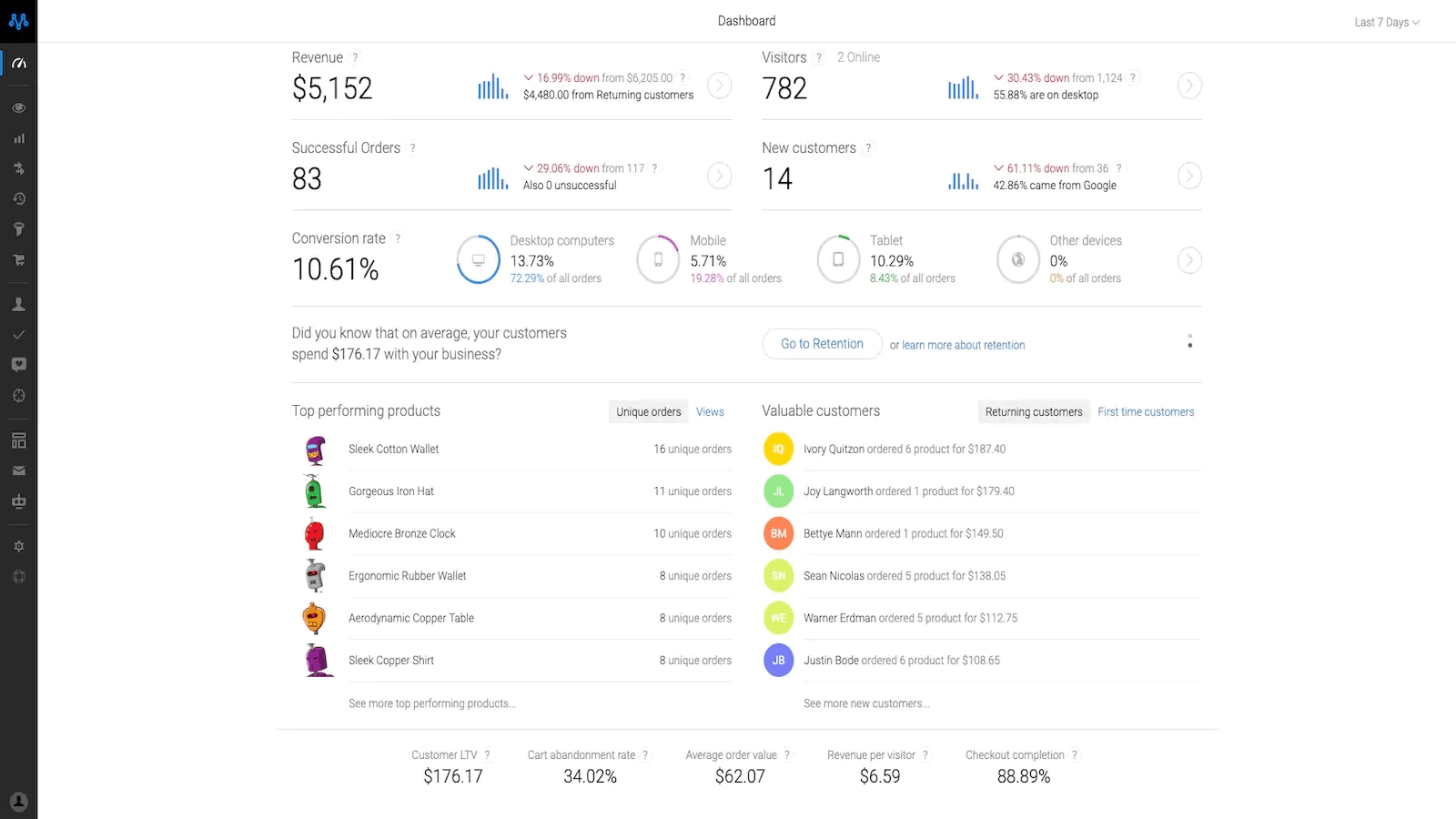 New Customers to show you the hike in the acquisition you are making and get you to 'wow' moment often!
Top Selling Product at a glance to help you plan your further strategies and make the best of the business
Real-time Revenue metric which surely is one of the most important ones to help you evaluate your performance
Successful Orders to help you get the hang of how your interface is performing
Conversion Rates (device specific) to precisely help you understand from where the user base is coming
Customer Lifetime Value so that you can find the loopholes and take action items for customer retention and build consistency

One of the major USP that Metrilo provides is the 'Correlation reports'. It provides even deeper insights, showing which products get ordered together or instead of each other. Discover new product development opportunities for your brand, all at the go.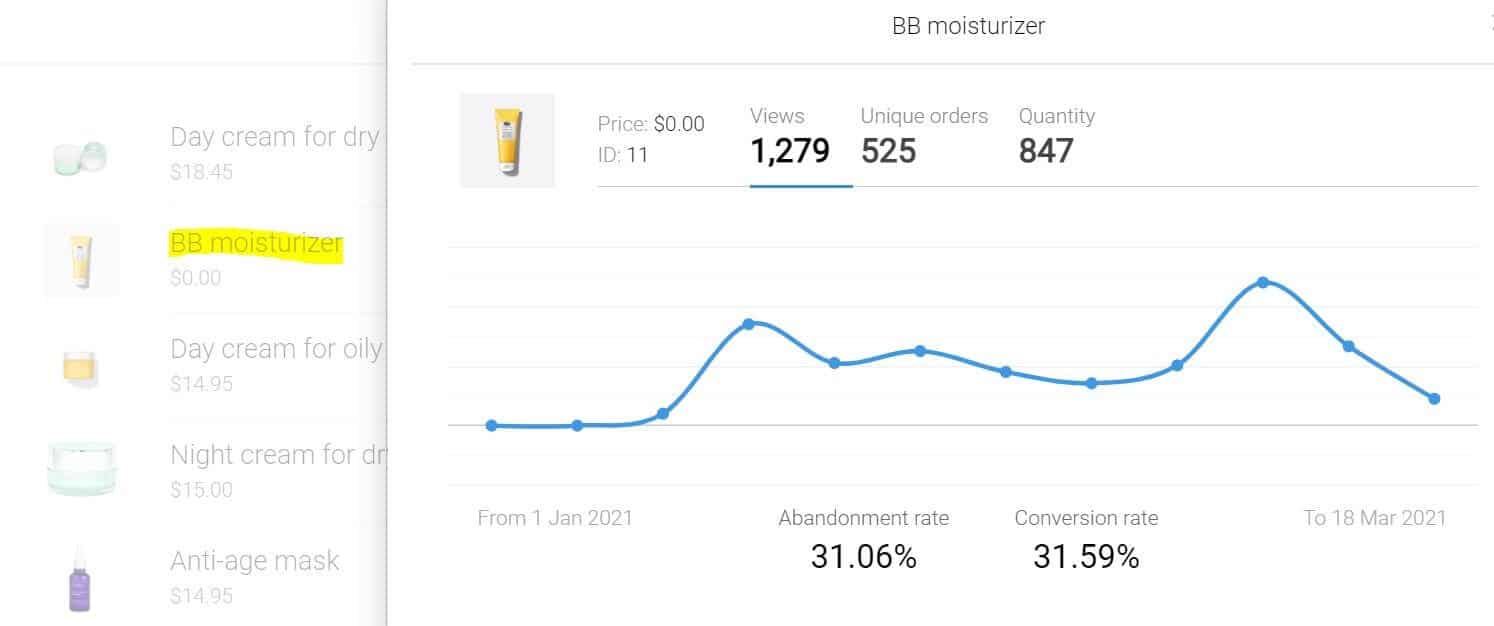 One of its dashboard functionalities is the pre-set funnel reports that automatically measures all the key conversion steps on your website. You don't have to worry about the goal-setting on your part, just fix the leaks as and how you discover them!
Here's a quick look at some of the key highlights Metrilo provides along with all the above-mentioned features and data points:

Sound great or rather perfect. Precisely, the above-mentioned listicle has all the data points, you think your business needs. But hey, didn't we just mention that in this data driven world, every little data metric needs to be read and a decision needs to draw back to numbers.
Yes, the next thought.
This isn't just enough. A 360 view data reading is all you need for the growth you are projecting and Putler is here to make this super easy.
Putler's dashboards
Putler contains 9 dashboards that cover over 150 important metrics and KPIs about different functions of your business.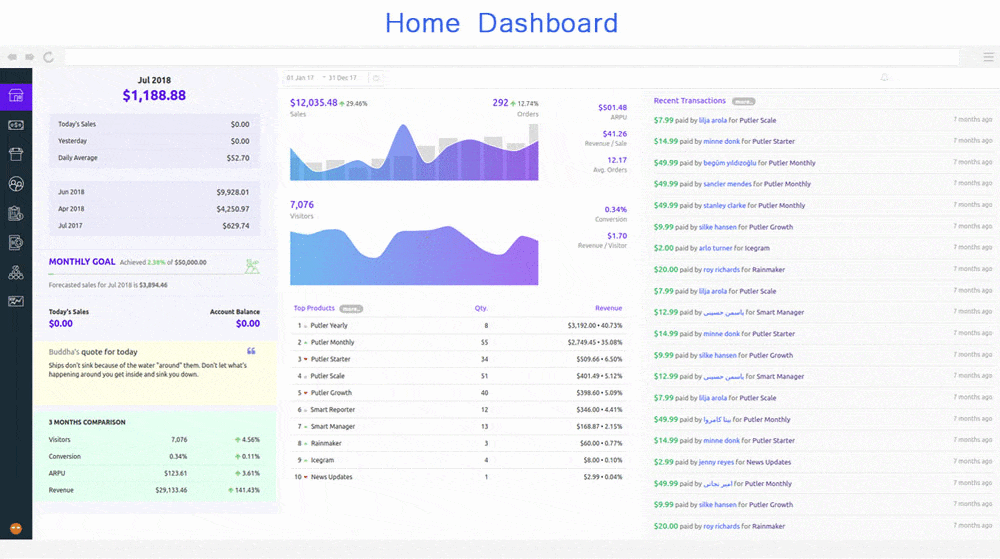 Home dashboard
Basically, the one stop solution. This dashboard displays an overview of the entire business, or let us call it a synopsis at one place.
Sales dashboard
Most businesses depend on sales and hence, it forms one of the most important metric to be looked at. All the sales KPIs like net sales, refunds, avg revenue/day, avg revenue/sale are readily available within Putler. To add a cherry on the cake, Putler also provides in-depth information on every sale along with the invoice.
Still wondering what is the best part? You can also export this sales list as a CSV and use it for further analysis.
One of the unique and most appreciated feature (that no one else offers) is something called the Sales Heatmap. Putler keeps a track of all the sales activity on your business and updates a heatmap notifying the best and worst sales periods on your business.
This insight can be used to plan out flash sales, live chat hours and tons more.
Subscriptions dashboard
This is one-off feature we have curated specifically for SaaS businesses. It gives you all the SaaS metrics like ARR, MRR, churn, LTV etc.
Products dashboard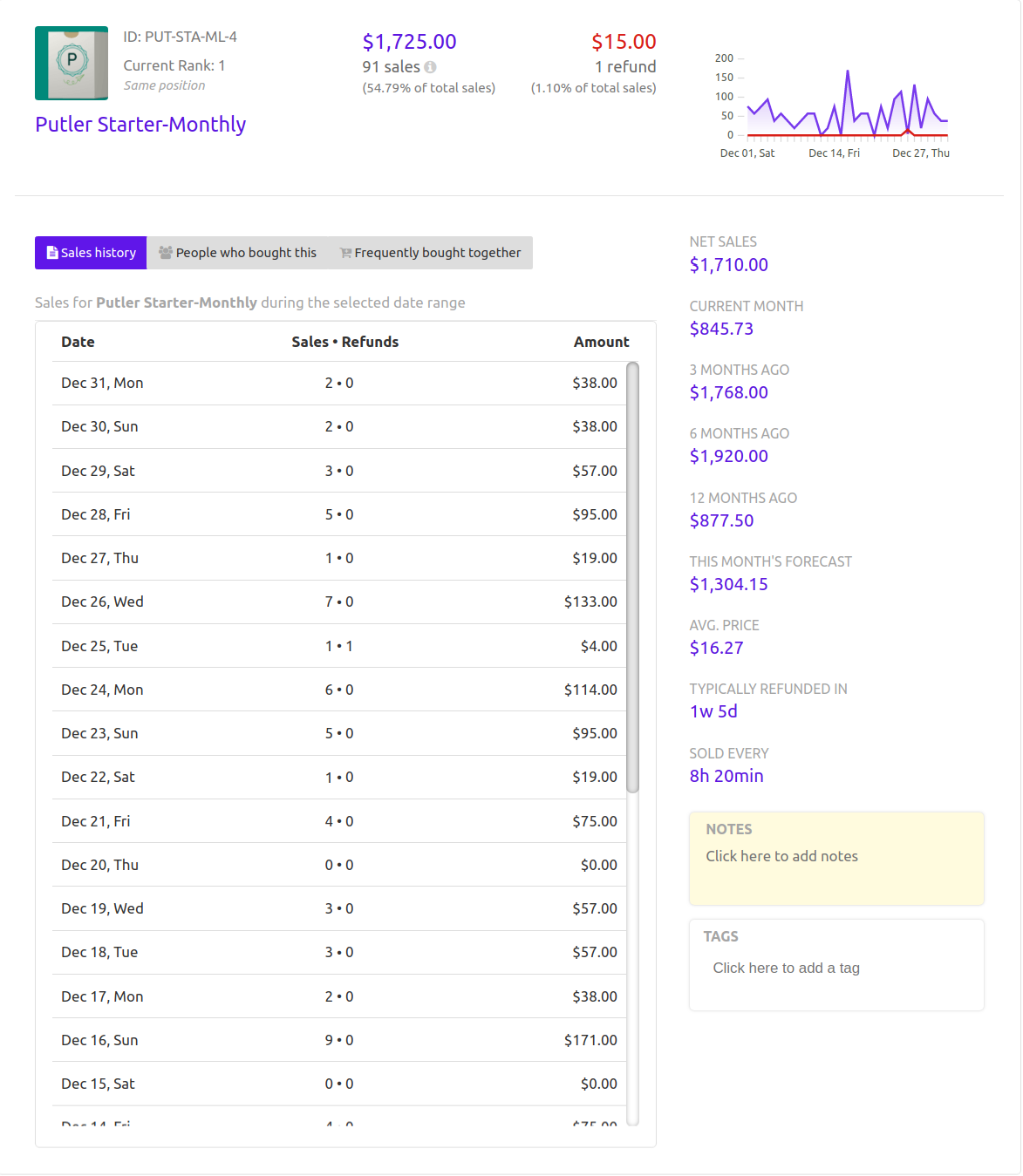 Putler product
As the name states, it provides reports about the products in your business. This gives key insights into the performance of every product. Putler also gives in-depth information about individual products like the sales history, people who bought it, items that are frequently bought together and lot more. Not wrong to call your own quick product repository!
Customer dashboard
We believe each thing works two way round and so we take care of this while curating products for you. Putler gives detailed insights into the customers as well.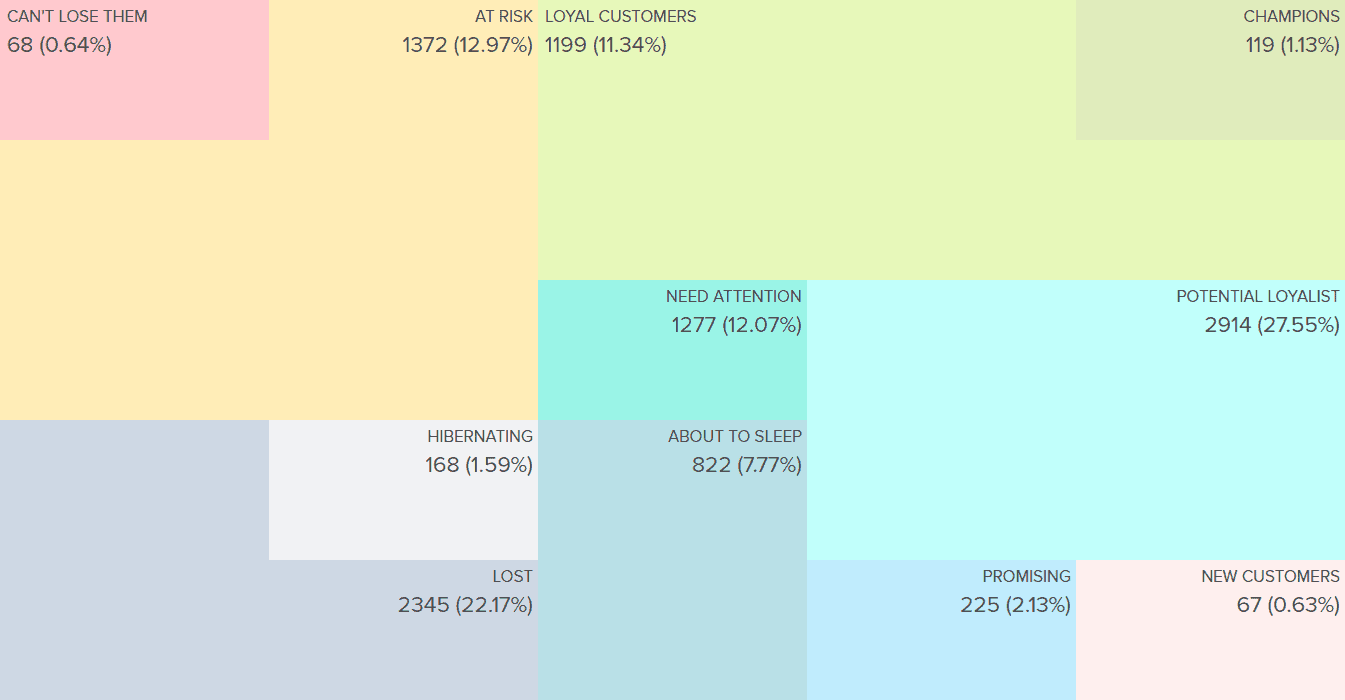 Putler focuses on RFM model (Recency, Frequency, Monetary) to provide you with the insights. This is a proven marketing model for behaviour based customer segmentation. It creates group of customers based on their behavioral history- what, how and when. This further helps build clusters of customers and assists you in identifying the customers who are more likely to what you have to offer for them.
You can know more about Customer RFM Analysis For Successful Customer Segmentation.
Transactions dashboard
This dashboard gives you the whole view of all the activities (not just sales) that happen on your website.
Audience dashboard
Let us call this yet another awesome feature we have at Putler. The audience dashboard pulls in the most important metrics from GA and displays it!
Time Machine
Sounds interesting, right? This is going to be your goto place to forecast monthly revenue, customers and the 10X formula for your business.
Insights
This is an ever-evolving dashboard which boast reports like "Performance Comparison" and "Holiday Season" Reports.
and the list is exhaustive and tiring (too much goodness wrapped in a little tool).
The Pricing
Putler tool has a pricing model depending on the number of paid orders, connected data sources, and historical data. Additionally, it also offers a 14-day free trial period.
Putler has the following 3 pricing models, namely:
Starter plan that is available for 300 paid orders, 2 data sources, and 2 years of historical data. This plan is priced at $29 monthly.
Growth plan that is available for 3000 paid orders, 7 data sources, and 5 years of historical data. This plan is priced at $79 monthly.
Scale plan that is available for 10,000 paid orders, 20 data sources, and 7 years of historical data. This plan is priced at $249 monthly.
Close your eyes and be assured that each penny you pay is going to be worth it!
Curious to know what Metrilo has to offer? Here's a quick look: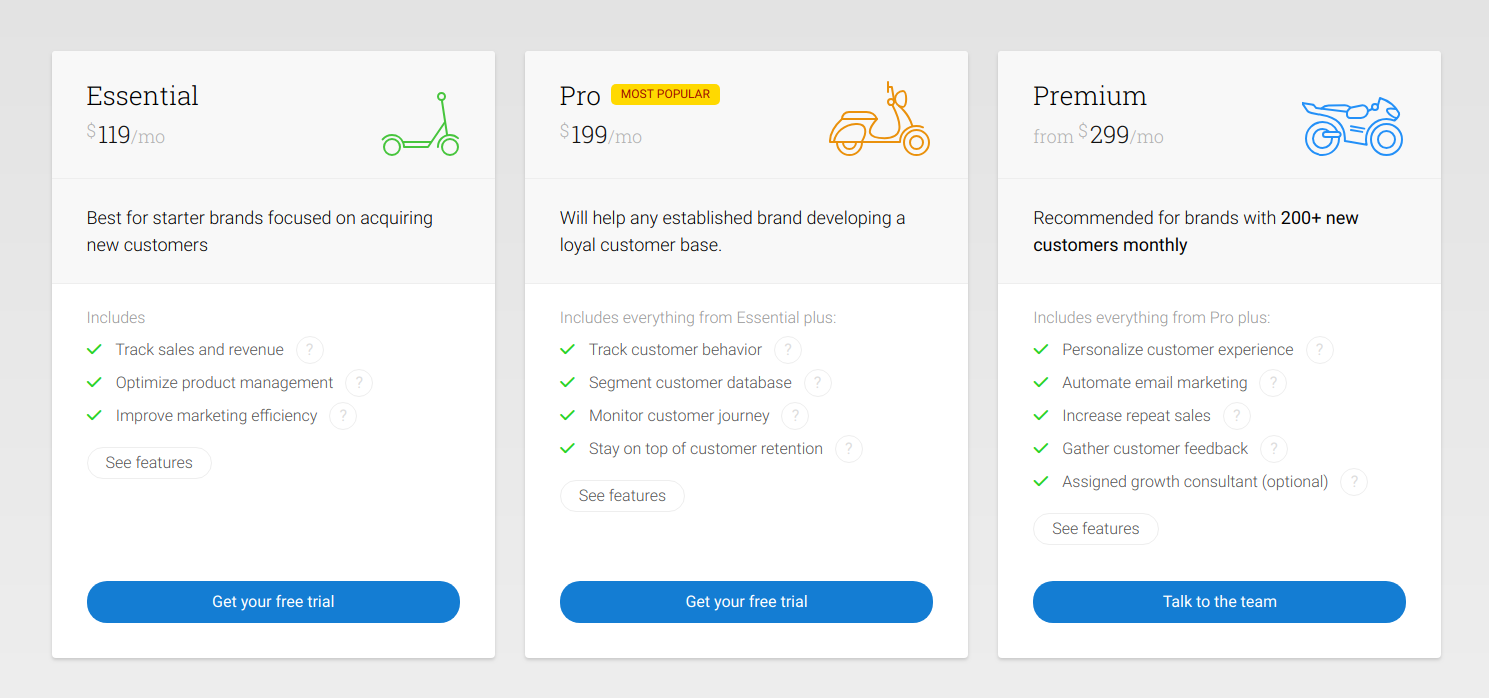 Metrilo Pricing
Ask us or any industry specialist and hear the same: "Pay and use for what's worth!"
Wrapping up
The end goal is to enhance trackability and do all that your business needs, from a single dashboard. It is clearly evident by the above read that if you are looking for surface level analysis and a basic plan, Metrilo is a good choice but sooner or later, we know you will grow and get in a set of platforms you would need help with, for smooth sailing.
Projecting that, we would recommend to pull Putler cause it offers a detailed report for all that you need, easily and under one roof! Putler's 150+ metrics and easy integration speaks for itself!
Not just Metrilo, How does Putler compare with other analytical tools
| Features | Putler | ChartMogul | Baremetrics | Metorik | GetControl(Out of business) | Compass(Out of business) |
| --- | --- | --- | --- | --- | --- | --- |
| SaaS Metrics | | | | | | |
| Non SaaS Metrics | | | | | | |
| Website metrics | | | | | | |
| Number of Integrations | 17 | 7 | 4 | 4 | | |
| Integrates with PayPal | | | | | | |
| Team sharing available | | | | | | |
| Realtime updates | | | | | | |
| Multi-currency support | | | | | | |
| Aggregated reports | | | | | | |
| Individual reports | | | | | | |
| Customer Segmentation (RFM) | | | | | | |
| Send money functionality | | | | | | |
| Subscription Management | | | | | | |
| Process refunds | | | | | | |
| Desktop App | | | | | | |
| Chrome extension | | | | | | |
| Intuitive Search | | | | | | |
| Pricing | $29 | $100 | $50 | $50 | | |
Additional Resources