Data is a very important part of any business. And taking data-driven decisions is the best way to minimize risks.
Today, there are tons of tools that perform revenue and subscription analytics for PayPal, Stripe, Braintree, and others.
Some of the known tools include Baremetrics, MainMetrics, ProfitWell, etc.
But the main drawback of these tools is they don't provide subscription and e-commerce analytics for PayPal; (ironically) the largest Platform in the world.
Only Putler, GetControl and ChartMogul are among the renowned tools that provide both subscription and e-commerce analytics for PayPal and other e-commerce systems as well.
We've already covered one of the GetControl Alternatives – ChartMogul in brief here.
So we thought of doing a similar one-on-one article comparing the GetControl Alternative – Putler. as well.

This comparison would be great for people who are looking for a GetControl alternative for their PayPal reporting.
So if you are amongst these people or are simply out to explore how Putler compares to GetControl. Keep reading…

We begin with dashboards – SaaS vs (SaaS + non-SaaS)
Firstly let's begin with reviewing GetControl's dashboard.
GetControl Review
GetControl dealt specifically with SaaS metrics. It had 3 dashboards. Let's discuss them one by one:
Charts
The key dashboard for SaaS metrics. It drilled down all the important SaaS KPI's like MRR, ARR, Churn, LTV and few more.
Every metric was further broken down into important sub-KPI's and comparison charts.
This made it really simple to get a complete overview of whichever SaaS metric you want to focus on.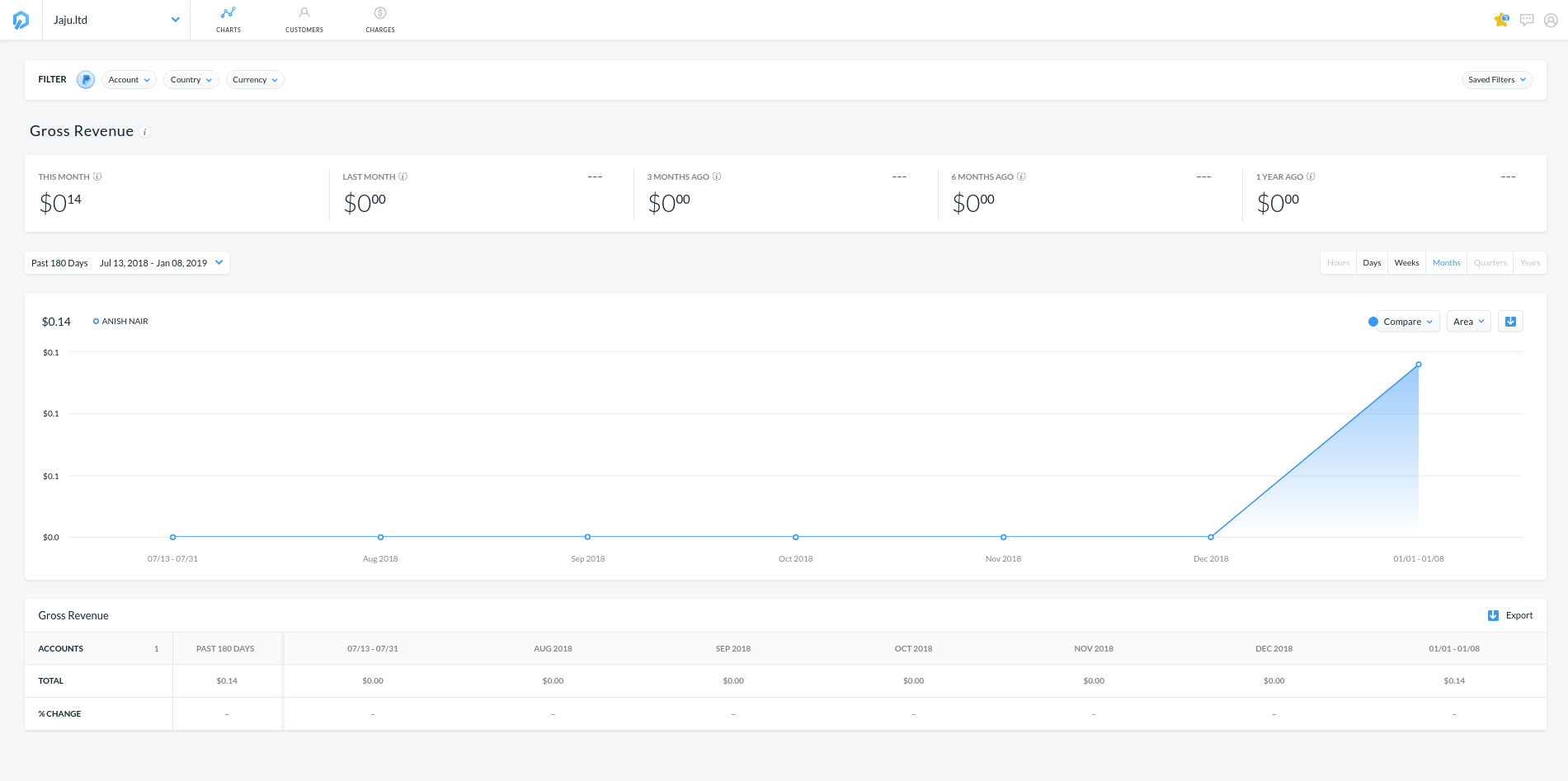 Customers
Straighforward dashboard. It provided a list of customers, their LTV and their payment information.

Charges
Every business is interested in knowing the charges it incurs daily. So GetControl had an entire dashboard dedicated for charges.
It listed down important metrics – charges which get approved, declined, refund etc.
Charges also had a list view of all the sales and their statuses.

Let's switch to GetControl Alternative – Putler
Of course not an apple to apple comparison. Putler is a worthy Getcontrol alternative to watch out for. Here's how it compares –
Putler similar to GetControl handles both PayPal and Stripe. But it's not just restricted to SaaS metrics.
Putler provides analytics for both SaaS as well as non-SaaS businesses.
It has 9 dashboards all focusing on various aspects of a business.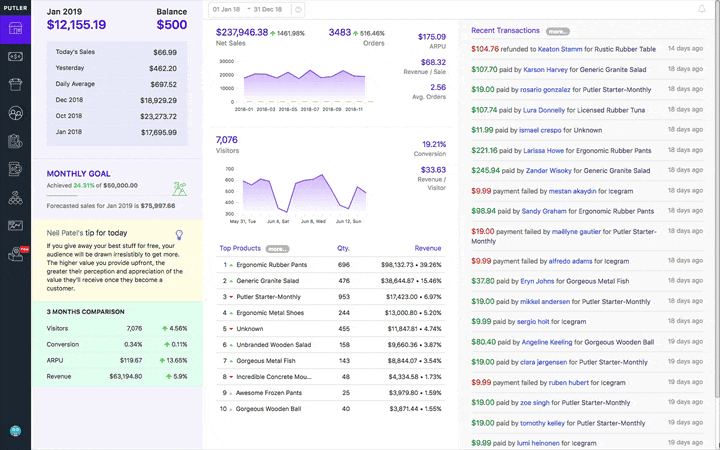 Home Dashboard
This dashboard provides an overview of your entire business. It pulls in the most important performance indicators of your business and displays it at a single place.
Sales Dashboard
All the sales KPIs like net sales, refunds, avg revenue/day, avg revenue/sale are readily available.
Plus, Putler also provides in-depth information on every sale along with the invoice.
If needed, you can also export this sales list as a CSV and use it for further analysis.

A unique feature in Putler is something called the Sales Heatmap. Putler looks at the sales activity on your site and plots a heatmap notifying the best and worst sales periods on your store.
This insight can be used to plan out flash sales, live chat hours and tons more.
Subscriptions dashboard
This dashboard is specifically for SaaS businesses. It gives you all the SaaS metrics like ARR, MRR, churn, LTV etc.
Products Dashboard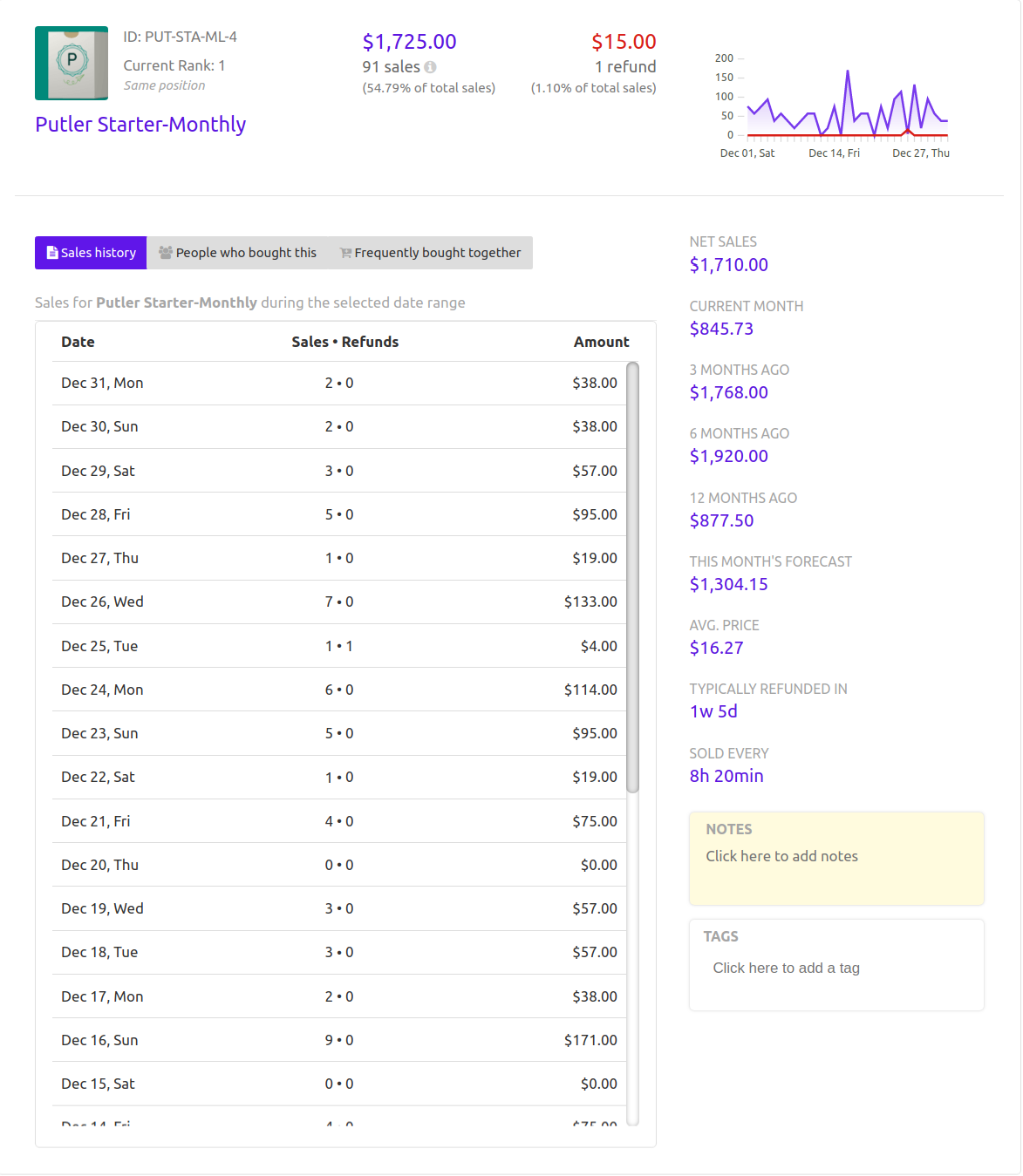 As the name states, it provides reports about products. The products dashboard gives key insights into the performance of every product. It ranks products on the basis of the sales made.
Putler also gives in-depth information about individual products like the sales history, people who bought it, items that are frequently bought together and lot more.
Customer dashboard
Similar to products, Putler gives detailed insights into the customers as well.
Just like GetControl, it provides information about the customer, their personal details, sales details etc.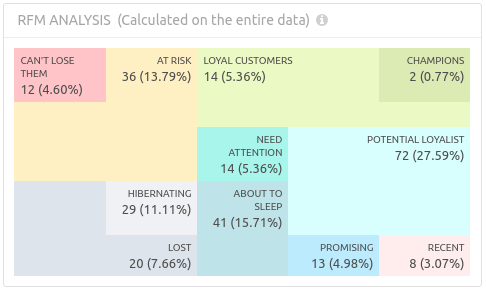 But it provides something even more powerful – the RFM segmentation.
I have discussed this on length later in this article…
Transactions dashboard
This dashboard gives you the whole view of all the activities (not just sales) that happen on your website.
Audience dashboard
Another cool feature that's unique only to Putler and no other analytic tool in its genre is Google Analytics reporting. The audience dashboard pulls in the most important metrics from GA and displays it.
Time Machine
This dashboard allows you to forecast monthly revenue, customers and the 10X formula for your business.
Insights
Putler goes a notch higher with this dashboard. It keeps adding useful practical insight reports that help decision makers make better decisions. Till date, there are two insight reports released by Putler.
Holiday Sales Insights – Putler compares the business performance during holiday periods like – Halloween, Thanksgiving and Christmas. These insights help you understand sales trend during the Holidays and enable you to make data-based decisions. Leading to improved sales.
Comparison Insights– Businesses often want to compare their business performances. Putler makes this task easier by generating comparison reports of all important KPIs at a single place.
Try Putler for free for 14 days
Next up, Integrations
Both these tools integrate with multiple services.
GetControl had ready integrations with these payment gateways–
PayPal
Stripe
Square
Authorize.Net
On the other hand, Putler directly integrates with multiple payment gateways, shopping carts and more.
Payment gateways – PayPal, Stripe, Authorize.Net, BrainTree, SagePay, 2CheckOut
E-Commerce shopping systems – WooCommerce, Etsy, Shopify, Gumroad, EDD, eBay, BigCommerce
Website Analytic service – Google analytics
Email Service Provider – MailChimp
Let's talk about some unique thing – consolidation and deduping
A business having multiple gateways, shopping cart systems find it difficult to view reports from multiple sources. Both these tools solve this issue by pulling in data from multiple sources, analyse it and show reports.
Both tools are capable of handling multiple data sources well.
GetControl won't handle deduping as it's all payment gateways.
But Putler has an edge because it allows you to connect both payment gateways and shopping cart so that you get more insights into your data.
It also removes duplicates using it's deduping feature.
Coming to consolidation… it does help save time.
And both Putler and GetControl can consolidate data from multiple data sources and show combined reports.
However, at times you may want to see reports of individual data sources, individually.
In such cases, Putler has an upper hand.
It's all about the ALERTS
Running a business plainly on intuition is like shooting in the dark. Right?
Still, we tend to do it every day.
Mainly because, it requires us to look at analytics, understand the reports and then come up with strategies.
What if all this was automatic?
What if, there was a system which took care of analysing your data, making strategies and alerting you about what action you need to take?
Something like this would be crazy right?
Putler is planning to implement something so crazy. But that's in the near future.
For now, Putler sends a weekly email showing you that weeks important metrics.
This helps you keep an eye on what's happening in your business. Also, you get valuable content that can help you maximize profits and implement strategies.
GetControl was more like a security alarm. It sent alerts to customers whenever it spotted a fraud in the customer's system.
Though both these services provide alerts for different purposes. They both have one thing in common – it's the Sale Alert. That is whenever there is a new sale made you will hear an alert.
Quick drill through the features
| Feature | GetControl | Putler |
| --- | --- | --- |
| SaaS metrics | Yes | Yes |
| Non SaaS metrics | No | Yes |
| Sales reports | Yes | Yes |
| Customer reports | Yes | Yes |
| Product reports | No | Yes |
| Website visitor reports | No | Yes |
| RFM segmentations | No | Yes |
| Teams | No | Yes |
| Insights | No | Yes |
| Fraud alerts | Yes | No |
| Weekly report emails | No | Yes |
| Refunds & Subscription managments | No | Yes |
Wrapping up
Analytics is an important area essential for the growth of any business. And if you are running your business on PayPal, these reports are something you need.
Now that GetControl is shut, you have two alternatives to look for Puter or ChartMogul.
And to make this decision anxiety-free, I recommend you Sign up for the 14 day free trail of Putler. No credit card/ coding required.
Just a few minutes and you will be able to get a clearer picture of your business. So don't wait any longer.
BTW, if you were a GetControl user, simply get in touch with our support team and we will help you migrate with utmost care 🙂
Not just GetControl, How does Putler compare with other analyitcal tools?
| Features | Putler | ChartMogul | Baremetrics | Metorik |
| --- | --- | --- | --- | --- |
| SaaS Metrics | Yes | Yes | Yes | Yes |
| Non SaaS Metrics | Yes | Yes | No | Yes |
| Website metrics | Yes | No | No | Yes |
| Number of Integrations | 17 | 7 | 4 | 4 |
| Integrates with PayPal | Yes | Yes | No | Yes |
| Team sharing available | Yes | No | No | No |
| Realtime updates | Yes | Yes | No | Yes |
| Multi-currency support | Yes | Yes | No | Yes |
| Aggregated reports | Yes | No | No | No |
| Individual reports | Yes | No | No | Yes |
| Customer Segmentation (RFM) | Yes | No | No | No |
| Send money functionality | Yes | No | No | No |
| Subscription Management | Yes | No | No | No |
| Process refunds | Yes | No | No | No |
| Desktop App | Yes | No | No | No |
| Chrome extension | yes | No | No | No |
| Intuitive Search | Yes | No | No | No |
| Pricing | $20 | $100 | $50 | $50 |
Additional Resources