When it comes to performing payment analytics for any subscription-based online business, there is a software tool that stands out, it's ProfitWell.
By combining the benefits of subscription and financial metrics, ProfitWell offers the benefits of many advanced features such as customer churn and retention trends, customer billing reports, integration with multiple payment gateways, and much more…
On the other hand, the Profitwell alternative, Putler is designed for a variety of online businesses including SaaS providers, online retailers, and E-commerce start-ups. As a payment analytics tool, Putler provides useful business insights into net revenue, overall sales, average revenue, and so on…
With a host of supported features, both Putler and ProfitWell can help your subscription-based business increase its revenue but which of these tools is right for your business?
Only for SaaS Metrics or More?
ProfitWell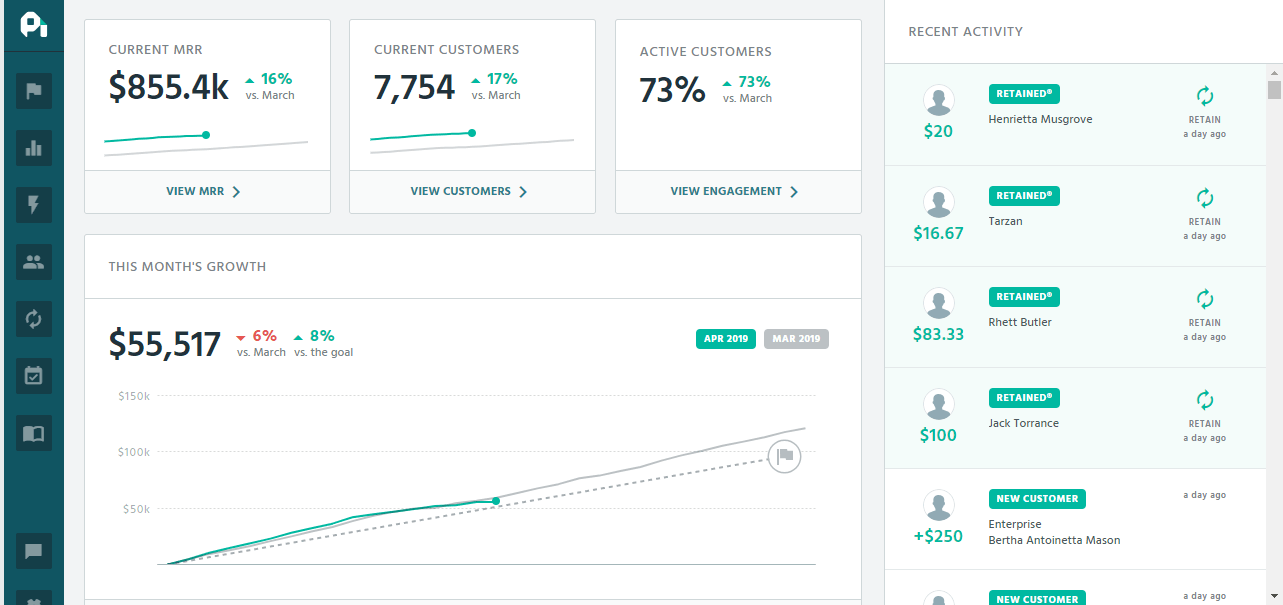 "There's a better way to grow your subscription business." The ProfitWell website clearly informs that this tool can provide "free subscription metrics" that can help in growing your online subscription metrics. With subscription-related metrics like Current MRR, Customer churn rate, and Active customers, ProfitWell is clearly a Software-as-a-Service (SaaS) analytics tool.
What about Putler?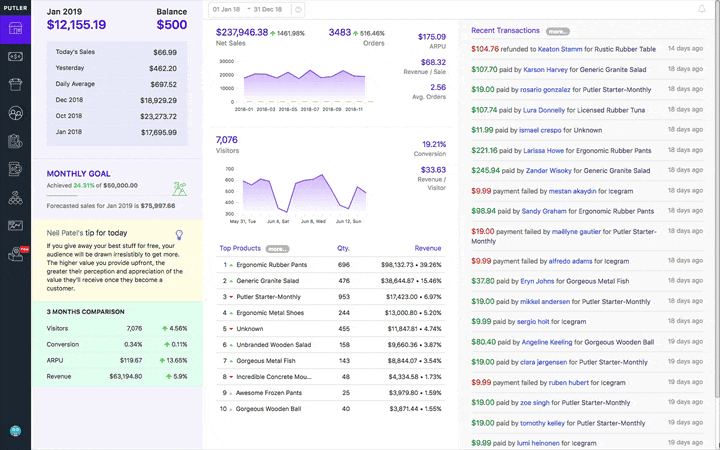 In addition to providing analytics for subscription-based SaaS providers, Putler caters to other types of online (or non-subscription-based) businesses such as online retail stores, E-commerce start-ups, and accountancy firms. Putler provides both SaaS metrics and other business growth metrics such as overall sales, top-selling product, leading customer purchases, totalling to over 150 metrics.
What about integration with third-party services?
Third-party services including payment gateways and shopping carts offer automatic delivery of data to analytics tools once they are connected. This is how Putler fares against ProfitWell in the area of integration support for popular third-party services.
ProfitWell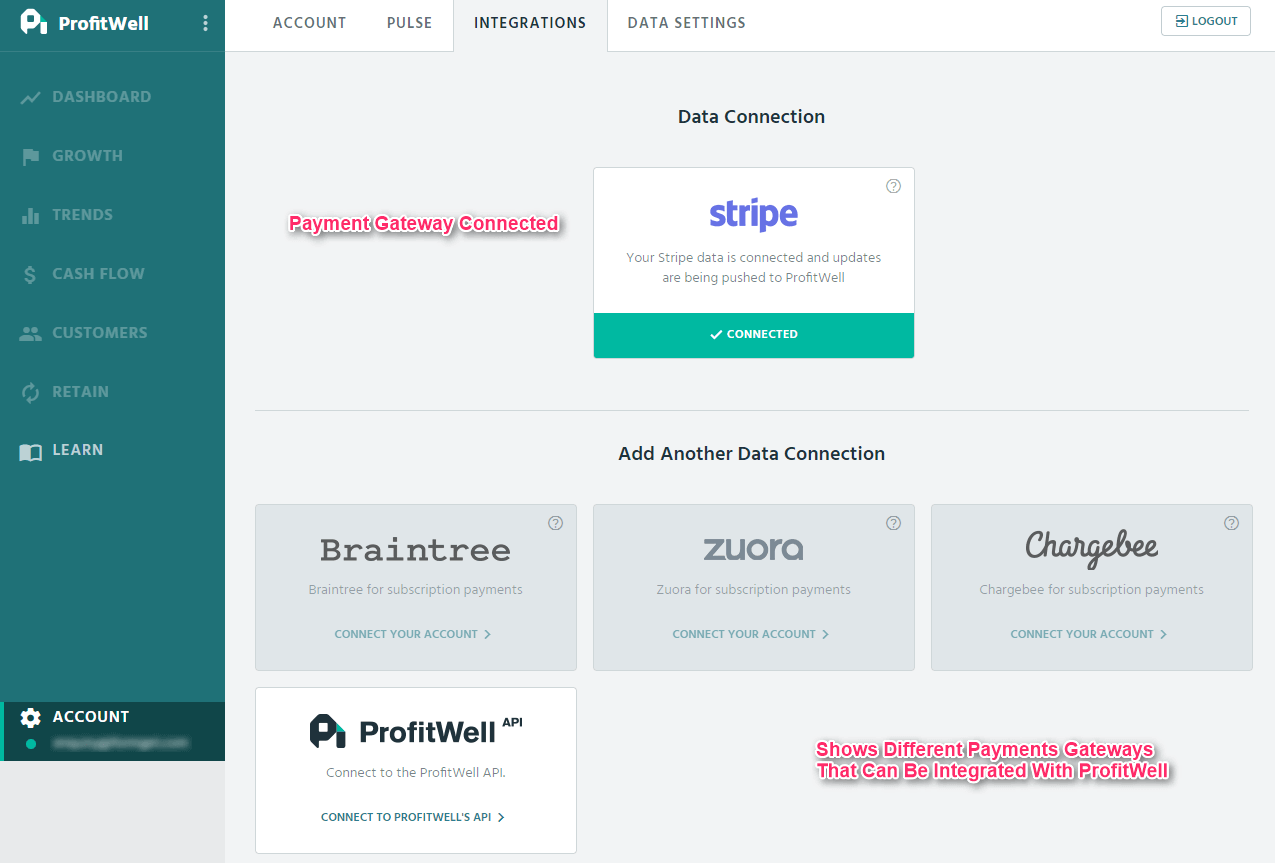 ProfitWell allows integration with only payment gateways such as Stripe, Braintree, Chargebee, and Zuoro. Also, in the pipeline are integrations with Recurly and Chargify. By connecting with ProfitWell APIs, you can manually send payment transactions in bulk volume or configure automatic data transfer from the payment app.
A major limitation is that ProfitWell does not provide any E-commerce and subscription analytics for the PayPal, one of the largest global payment platforms.
How does Putler fare?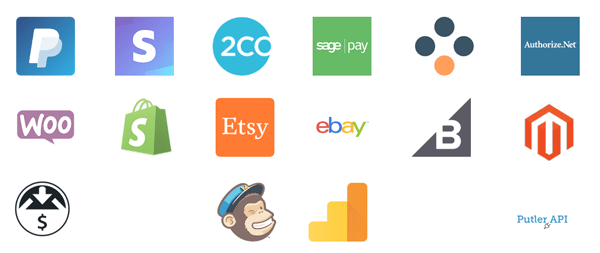 With over 15 integrations, Putler not just connects with payment gateways but also with E-commerce platforms and shopping carts. What stands out is its integration with PayPal payment gateway and WooCommerce sites. The Putler inbound API services also allow you to facilitate and customize connections with other services (other than these 15).
What are the dashboards/ reports they provide?
With user-friendly dashboards, both Putler and ProfitWell offers user access to essential details like total sales, acquired customers, and business growth. So, which dashboard holds the edge in comparison?
ProfitWell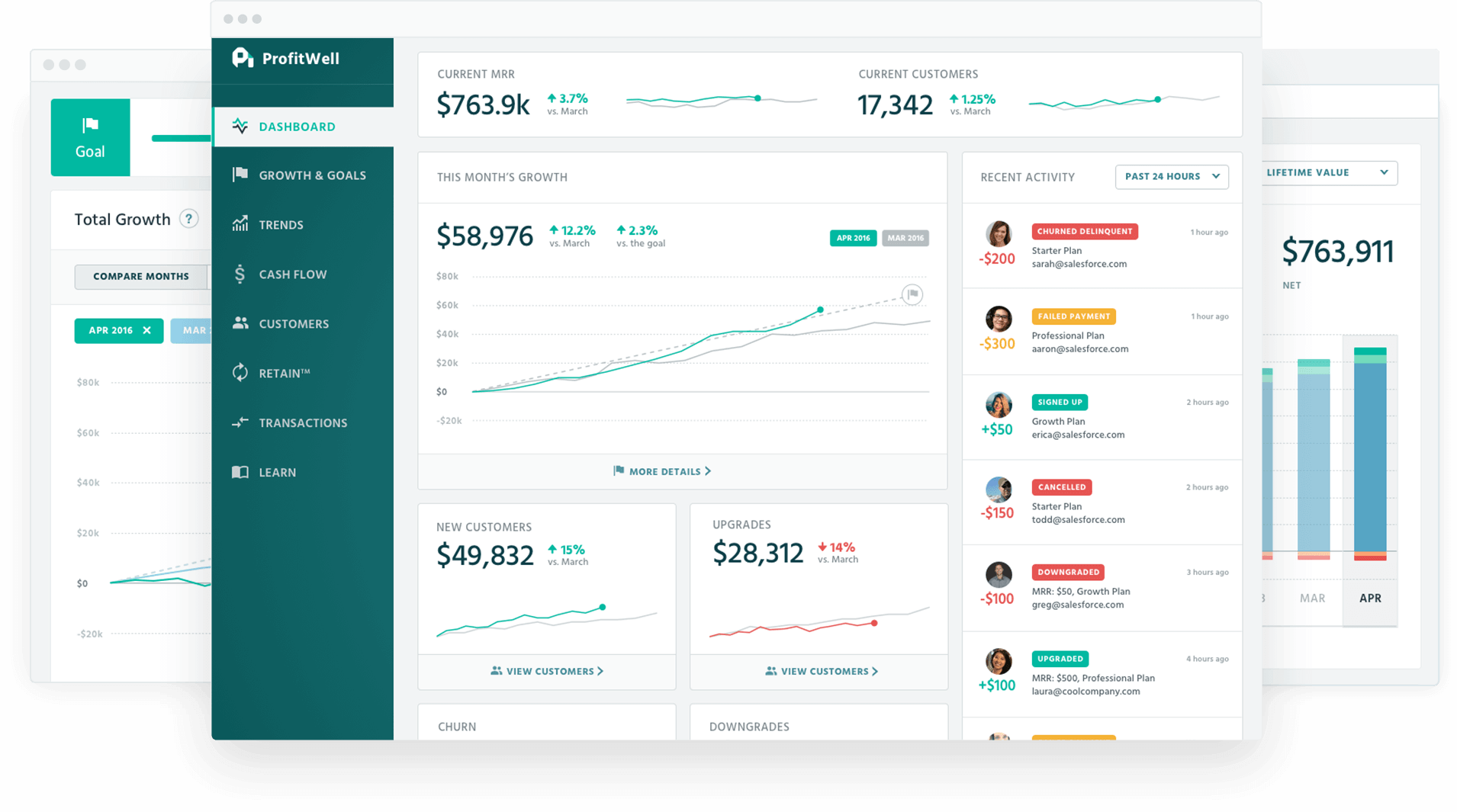 Along with revenue details, the ProfitWell dashboard provides easy access to multiple tabs displaying SaaS-specific information including:
Month-wise business growth
New customers added in a particular month
Customer churn rate
Subscription revenue for a particular month
Monthly Recurring Revenue (MRR)

And so on…
Putler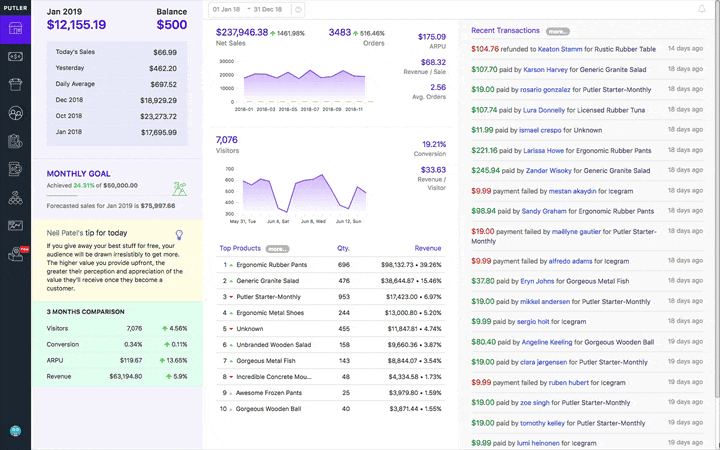 Putler contains 9 dashboards that cover over 150 important metrics and KPIs about different functions of your business.
1. Home Dashboard
This dashboard provides an overview of your entire business. It pulls in the most important performance indicators of your business and displays it at a single place.
2. Sales Dashboard
All the sales KPIs like net sales, refunds, avg revenue/day, avg revenue/sale are readily available.
Plus, Putler also provides in-depth information on every sale along with the invoice.
If needed, you can also export this sales list as a CSV and use it for further analysis.

GetControl alternative – Pulter's Sales Heatmap
A unique feature in Putler is something called the Sales Heatmap. Putler looks at the sales activity on your site and plots a heatmap notifying the best and worst sales periods on your store.
This insight can be used to plan out flash sales, live chat hours and tons more.
3. Subscriptions dashboard
This dashboard is specifically for SaaS businesses. It gives you all the SaaS metrics like ARR, MRR, churn, LTV etc.
4. Products Dashboard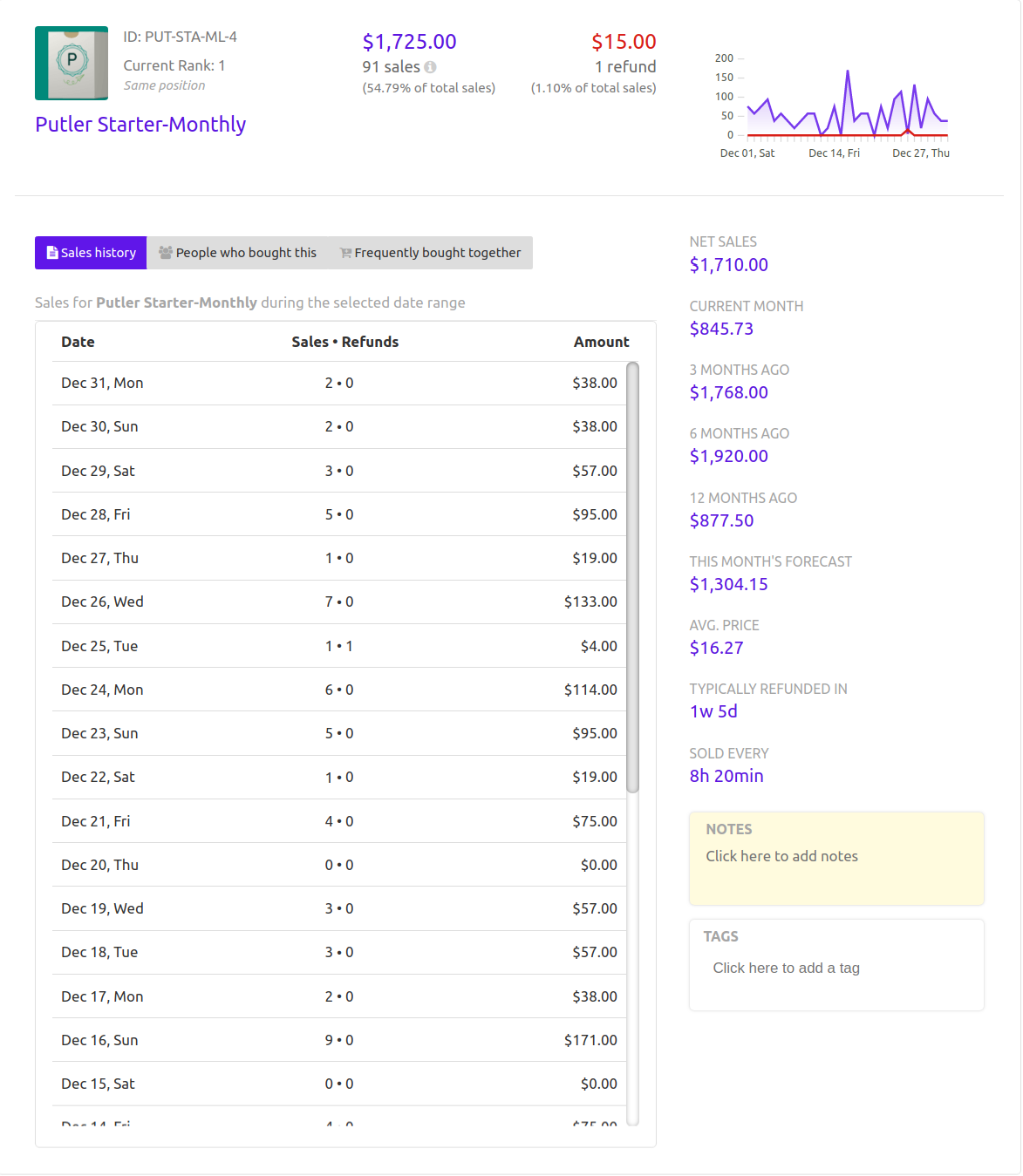 As the name states, it provides reports about products. The products dashboard gives key insights into the performance of every product. It ranks products on the basis of the sales made.
Putler also gives in-depth information about individual products like the sales history, people who bought it, items that are frequently bought together and lot more.
5. Customer dashboard
Similar to products, Putler gives detailed insights into the customers as well.
Just like GetControl, it provides information about the customer, their personal details, sales details etc.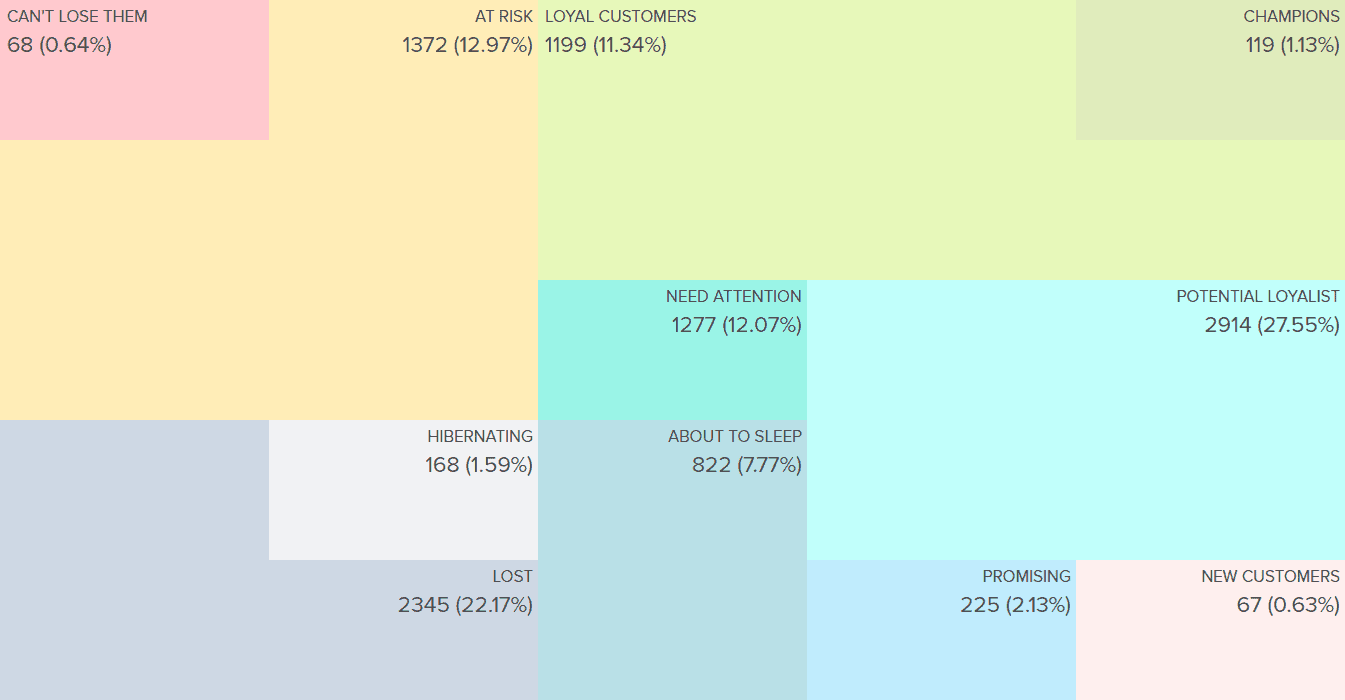 Pulter's RFM segmentation
But it provides something even more powerful – the RFM segmentation.
I have discussed this on length later in this article…
6. Transactions dashboard
This dashboard gives you the whole view of all the activities (not just sales) that happen on your website.
7. Audience dashboard
Another cool feature that's unique only to Putler and no other analytic tool in its genre is Google Analytics reporting. The audience dashboard pulls in the most important metrics from GA and displays it.
8. Time Machine
This dashboard allows you to forecast monthly revenue, customers and the 10X formula for your business.
9. Insights
Putler goes a notch higher with this dashboard. It keeps adding useful practical insight reports that help decision makers make better decisions. Till date, there are two insight reports released by Putler.
Holiday Sales Insights – Putler compares the business performance during holiday periods like – Halloween, Thanksgiving and Christmas. These insights help you understand sales trend during the Holidays and enable you to make data-based decisions. Leading to improved sales.
Comparison Insights– Businesses often want to compare their business performances. Putler makes this task easier by generating comparison reports of all important KPIs at a single place.
Pricing models
Finally, let's move on to how each of these products are priced.
ProfitWell Pricing
ProfitWell is basically free for all SaaS users and provides the core SaaS metrics like daily growth, revenue trends, churn and retention trends, and cash flow reports for free.
It also has the following paid facilities, namely:
Retain service that enables customers to reduce customer churn rate and revenue loss. The pricing varies on the basis of the recovered revenue.
Recognized service is an automated system that assures 100% accuracy with your billing system. Useful for finance teams, this service is priced at $1000 per month.
Putler Pricing
Putler tool has a pricing model depending on the number of paid orders, connected data sources, and historical data. Additionally, it also offers a 14-day free trial period.
Putler has the following 3 models, namely:
Starter plan that is available for 300 paid orders, 2 data sources, and 2 years of historical data. This plan is priced at $29 monthly.
Growth plan that is available for 3000 paid orders, 7 data sources, and 5 years of historical data. This plan is priced at $79 monthly.
Scale plan that is available for 10,000 paid orders, 20 data sources, and 7 years of historical data. This plan is priced at $249 monthly.
Conclusion – Which tool is better?
Apart from regular KPI's, What unique features does Putler provide?
• Automatics currency conversion for over 30 global currencies
• RFM segmentation used for identifying and segmenting indicators like customer buying behaviour and customer loyalty.
• Track multiple businesses within a single Putler framework.
• Faster search (with partial text searches) for customer transactions and orders on E-commerce systems.
• Automatic deduping and merging of duplicate (or double-counting) transactions
For the purpose of payment analytics, which tool offers more value for your money? As is evident, if you are purely into a subscription-based business, then ProfitWell can offer value thanks to its support for SaaS metrics and free pricing model.
For businesses that use both SaaS and non-SaaS metrics, Putler is a more trusted business analytics tool with more integrations to payment gateways and over 150 metrics and KPIs.
This comparison article presents a detailed head-to-head Putler vs ProfitWell review with the main features and pricing to help you derive a better understanding of which tool is more suited for your business.
We would like to know which tool you would prefer to use. If you have already done a Putler or ProfitWell review or used either of the tools, do share your thoughts in the comments section below.
Not just ProfitWell, How does Putler compare with other analyitcal tools
| Features | Putler | ChartMogul | Baremetrics | Metorik |
| --- | --- | --- | --- | --- |
| SaaS Metrics | Yes | Yes | Yes | Yes |
| Non SaaS Metrics | Yes | Yes | No | Yes |
| Website metrics | Yes | No | No | Yes |
| Number of Integrations | 17 | 7 | 4 | 4 |
| Integrates with PayPal | Yes | Yes | No | Yes |
| Team sharing available | Yes | No | No | No |
| Realtime updates | Yes | Yes | No | Yes |
| Multi-currency support | Yes | Yes | No | Yes |
| Aggregated reports | Yes | No | No | No |
| Individual reports | Yes | No | No | Yes |
| Customer Segmentation (RFM) | Yes | No | No | No |
| Send money functionality | Yes | No | No | No |
| Subscription Management | Yes | No | No | No |
| Process refunds | Yes | No | No | No |
| Desktop App | Yes | No | No | No |
| Chrome extension | yes | No | No | No |
| Intuitive Search | Yes | No | No | No |
| Pricing | $29 | $100 | $50 | $50 |