After a few minutes of scrolling through the Instagram, you put your apron on to prepare your favourite cuisine and move towards the kitchen. One of your hands is busy finding the perfect movie to watch on Netflix and voila! You just sneaked into the world of Subscriptions based business.
Wondering how? Most of your basic requirements are based on the subscription model. Swiggy, Netflix, Spotify and most of the big players are betting on this model and we bet, you are not away from all of those.
That said, behind running a successful subscription business, there are a number of features incorporated in the software itself. These help the user to gauge and track the plan, its expiry and a lot more.
Currently, a subscriptions business owner faces a number of problems like:
Automated invoicing
Data and history report about an individual
Refund management and tracking
Pricing plan management in case of custom-designed plans and a lot more
This article talks about the present-day best subscription analytics tool to make the best of your business.

Baremetrics
Another in the list of the best SaaS analytics tool is Baremetrics. This is best suited for software as a service (SaaS) based businesses since it shows some of the most important metrics like churn rate, net revenue, lifetime value, refunds and a lot more- all in one consolidated dashboard!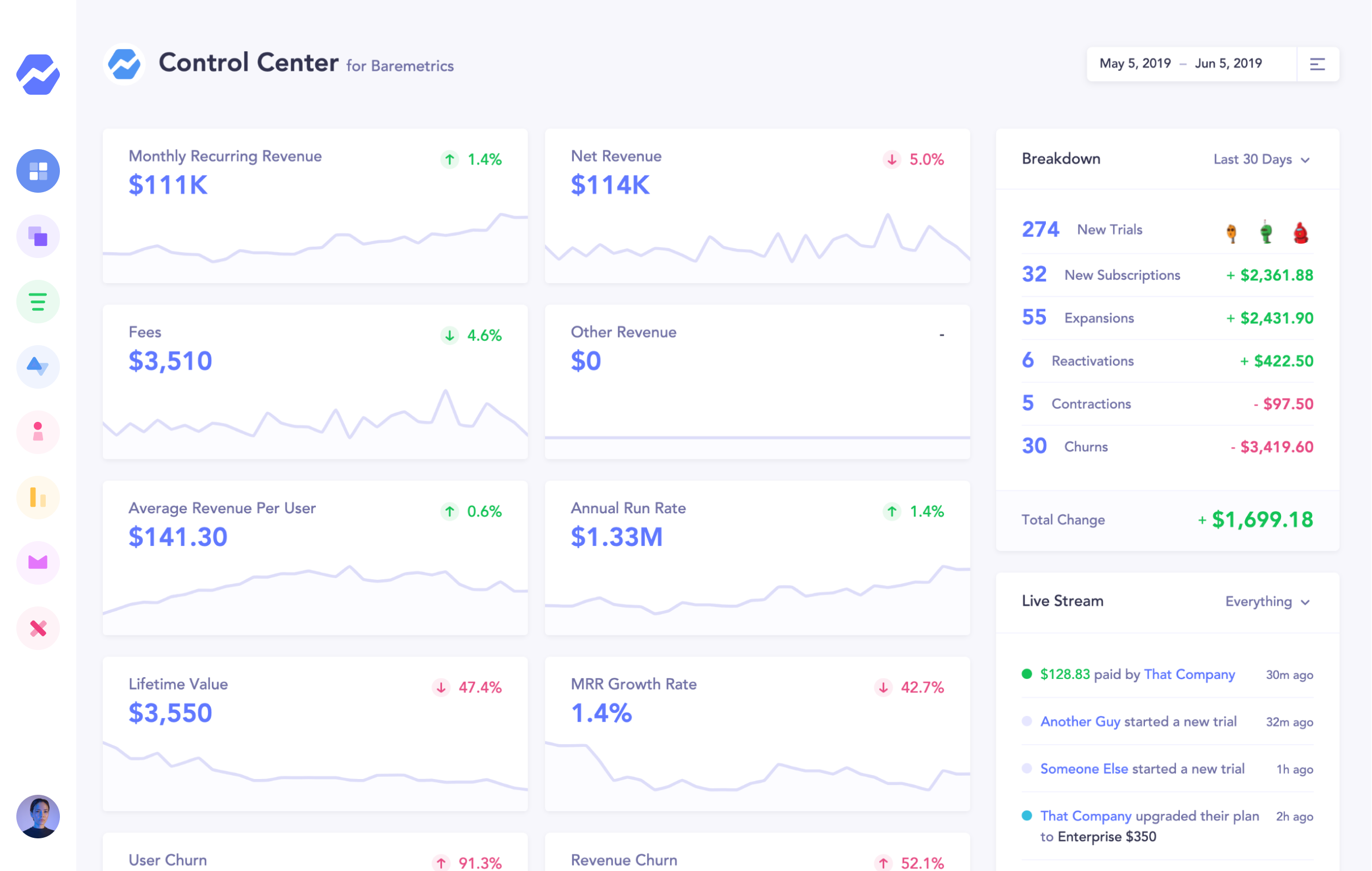 Key features of Baremetrics
Customer profiling: This subscription analytics software allows its users to create customer profiles. By this feature, you can get all the required information, ranging from their name, address, transaction history and a lot more on a single screen.
Automated reports: Baremetrics helps you stay updated by sending you daily, weekly and monthly reports to you and all the assigned team members.
Business intelligence: By using this feature of Baremetrics, you can predict the next steps for your business. Basically, you can forecast data points like revenue, users etc. in a set format, absis your current business growth!
Best suited for
Baremetrics is the tool designed for data analysts since it helps in planning the future roadmap of the business. It is also often used by the founders of the organisation to the executives in the team because of the holistic picture it offers.
Integrates with
One can easily integrate this SaaS analytics tool into leading payment service providers like Stripe and Braintree. It is also quick to integrate with e-commerce websites and alike.
Pricing for Baremetrics
You can custom choose your plan basis your MRR
Enterprise:- 500$ per month for MRR up to 500,000$
Business:-250$ per month for MRR up to 200,000$
Professional:- 100$ per month for MRR up to 50,000$
Startup:-50$ per month for MRR up to 10,000$
ChartMogul
ChartMogul is the right subscription reporting tool for you if you want to drive growth in your business and turn your efforts into becoming a company leader.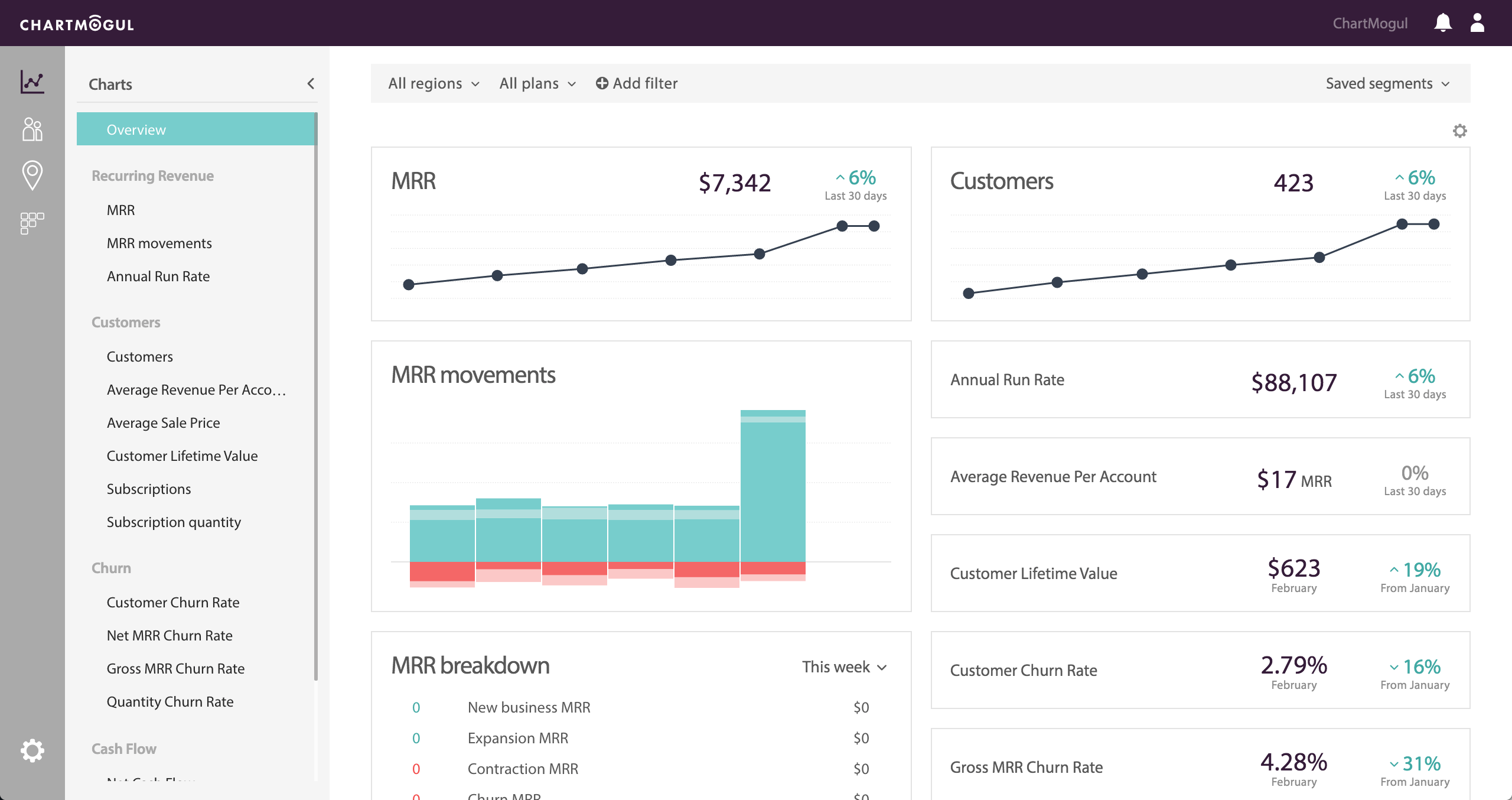 Key features of ChartMogul
Mobile subscription analytics: Currently, very few service providers have this functionality. ChartMogul provides you with a 360 degree overview of the performance of your mobile subscription business
Easy revenue recognition: With ChartMogul you will be a little less worried when it comes to managing your financial report. ChartMogul automates your financial reporting and helps you stay updated with the latest accounting standards
Easy management and tracking: This subscription reporting tool makes it easy for the user to keep a track of all the important metrics that you need to oversee when running a business. It's easy to use dashboard and interface makes it easy to take bold business decisons
Best suited for
SaaS enterprises that are serious about tracking their growth.
Integrates with
Integrates with key payment gateways like Stripe, PayPal and tools like Recurly, Chargebee etc.
Pricing for ChartMogul
Launch:- Here, you can sign up for FREE and check MRR up to $10k.
Mogul:-You just have to pay $100/month for 1000 paying customers.
Volume:-You can contact them for pricing if you have more than 10,000 paying customers.
ProfitWell
ProfitWell just like the above-mentioned subscriptions analytics tool provides 360-degree approach to most important business metrics. The unique part of this tool is that a user can drill down each of the shown metrics right away for a detailed and deeper analysis.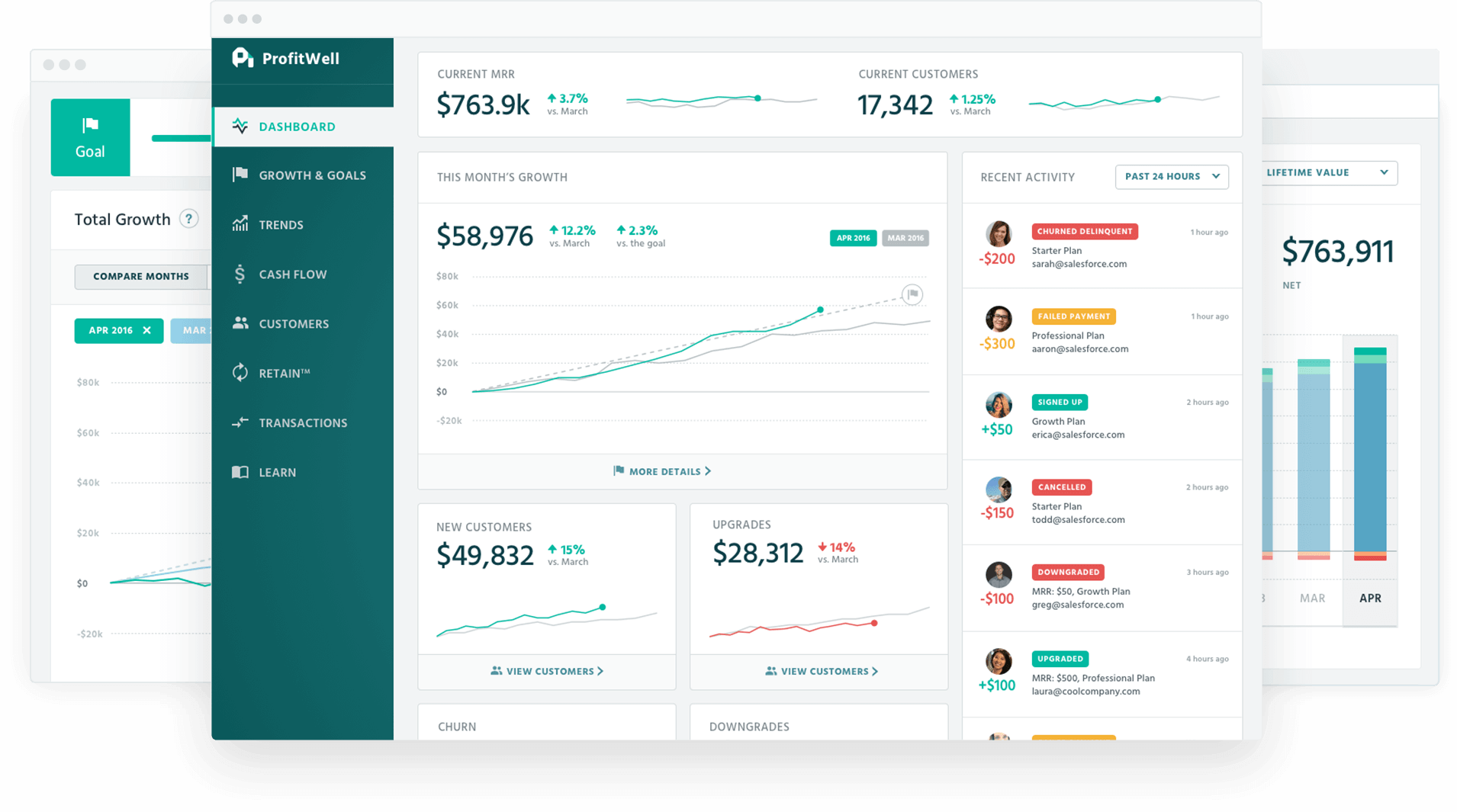 Key features of ProfitWell
Annual reports: ProfitWell offers it, users, to view how their business performed in the entire year on various folds. These include metrics like subscriptions, refunds and a lot more.
Customer journey: This also offers a birds-eye view of your individual customer's activities and helps you understand their subscription journey the best way!
Best suited for
ProfitWell is the tools for enterprise businesses because of the flexibility it offers in payments. On the other hand, its free version makes it open to the beginners!
Integrates with
It is easily available to integrate with leading payment service providers, chargify etc. The best part is it has APIs, almost for any integration!
Pricing for ProfitWell
ProfitWell Metrics:- All the financial and revenue operations metrics you need – absolutely accurate and 100% free.
Retain:- Varies/ month(based on revenue recovered)
Recognized:- Starting at $1000/ month
Price Intelligently:- Starting at $15k/ month
Putler: Most recommended SaaS analytics tool
This is best-suited subscriptions analytics software if you are running any business with a subscription-based model. The best part about Putler is that it gives out expert advice for the efficient growth of businesses and have the best refund management assistance in place.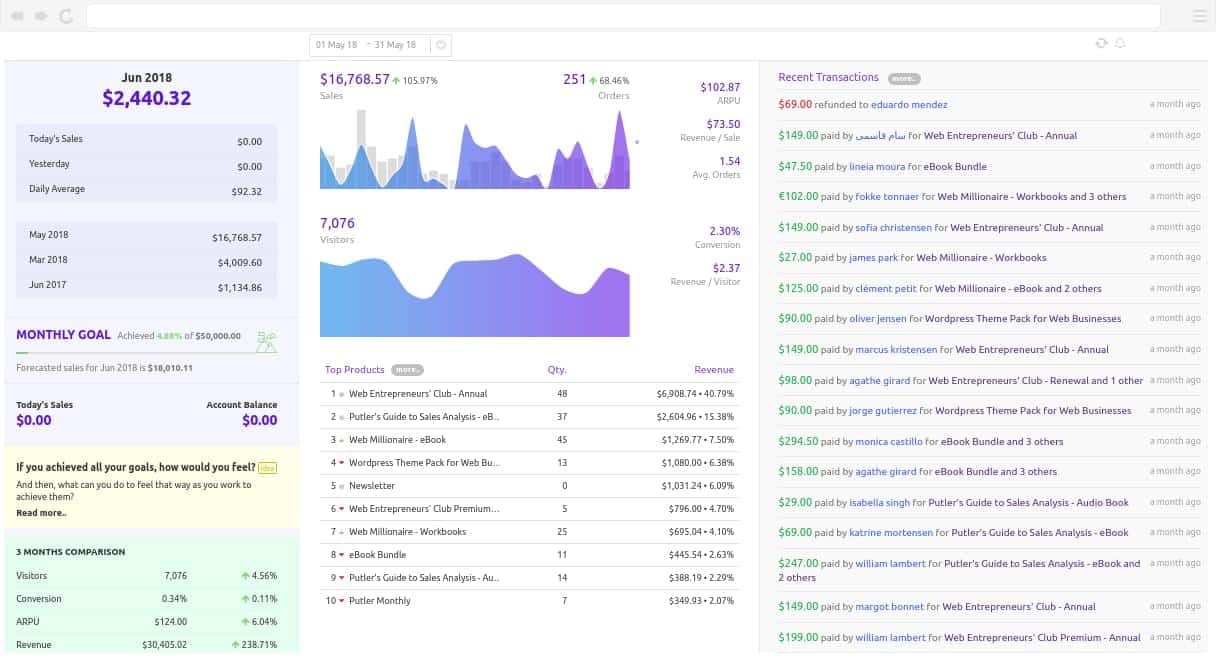 Key features of Putler
Comprehensive dashboards: Putler has 9 dashboards. They are the main home dashboard, sales dashboard, customer dashboard, transactions dashboard, audience dashboard, insights dashboard, products dashboard and subscription dashboard.
Subscription dashboard: Putler offers an easy to use and interact dashboard. It offers you the details of some of the most important metrics to run a successful business
Easy integration with 17+ data sources: Putler helps easily integrate itself with over 17+ sources which in the long run helps you save on your time, efforts and cost
In Depth customer segmentation: With Putler, you can stay assured about the best metrics for yourself. We say this because this is the only subscription reporting tool that offers in-depth customer segmentation and keeps its user at rest!
Best suited for
Since this PayPal analytics tool provides an overview of everything and promotes better business decisions, it is best suited for business decision-makers and growth hackers.
Integrates with
Putler can easily integrate with PayPal, Google Analytics, Braintree, Shopify, WooCommerce, eBay and a lot more in a matter of minutes.
Pricing for Putler
Starter plan – $20/mo
Growth plan – starts at $50/mo
Wrapping up…
A powerful subscription analytics tool makes it easy for users to manage cash easily so that they can focus on the other important aspects of the business. Goodbye to everything manual, hello to everything automatic. That's how the modern-day SaaS analytics tools can be defined.
That said, if asked for a recommendation we would raise hands for Putler since it offers everything that an individual would need in terms of running a successful subscription-based business.
Try Putler – It's FREE