Last updated on September 2, 2020
Do your business reports a high churn rate? Are you looking out for ways to reduce churn rate? Do you need a solution that gives you correct churn rate? Then you are in the right place.
What is churn rate?
Churn rate simply means percentage of lost customers or lost revenue in a certain time period.
It's sad to lose hard earned revenue and customers. But you can't ignore. However, you may get rid of freeloaders or low spenders.
---
Types of churn rate and churn rate formula
1. User churn rate
How much % of paying customers you are losing every month is your user churn rate.
As of today, a 10% user churn rate implies, 10% of the total active paying customers you had 30 days ago have canceled within the last 30 days.
2. Revenue churn rate
How much % of the revenue you are losing every month is your revenue churn rate.
As of today, a 10% revenue churn rate implies, you lost 10 % of your MRR within the last 30 days to the MRR it stood 30 days ago.
2 major causes of churn
The two main reasons that causes churn are:
Downgrades are due to customers migrating to the lower plans citing high pricing or they may be happy with the features in the lower plan.
Customers cancel their subscription if the product doesn't work properly, the customer finds a better alternative or is unhappy due to poor customer service.
Be it any case, churn is bad.

---
Churn rate calculations
Based on the simplified churn rate definition at the start, we will apply the formula and see how to derive churn rate.
User churn rate calculation
Let's say, as of 1st July 2018 you have total 100 paying customers and when you close the month on 31st July 2018 you observe only 95 from that customers paid you. It means you have lost 5 customers in the month of July. Now, we will calculate the churn rate for the month of July.
Remember, even though the percentage of the churn rate varies from business to business, a 5% monthly churn rate equals to losing a substantial number of users in a year. Therefore it needs to be lowered.
Revenue churn rate calculation
Let's say, as of 1st July 2018 you have total 100 customers each paying you $100. So your MRR becomes $10000. At the end of the month on 31st July 2018, you observed 5 customers downgraded to the $80 plan and 5 customers canceled their subscription.
This means you lost $100 (20*5) due to downgrades and $500 (100*5) due to cancellations.
MRR as on 1st July
100 x $100 = $10,000
MRR as on 31st July
10000 – (100 + 500) = $9,400
Now, we will calculate the churn rate for the month of July.
---
How will you handle complex churn cases
The above example of revenue churn showed a simple calculation.
But
Moreover, there will be a lot of free or unwanted users who may convert or leave the service.
You would also have customers on annual or quarterly plans.
Hence as the business grows, calculating churn rate will become a nightmare for you.
So, how would you arrive at the accurate churn rate considering all cases?
Don't worry, we have a solution.
Get accurate churn rate for your business
Putler provides a total of 15 subscription metrics including your user churn rate for Stripe, PayPal, WooCommerce and Authorize.Net.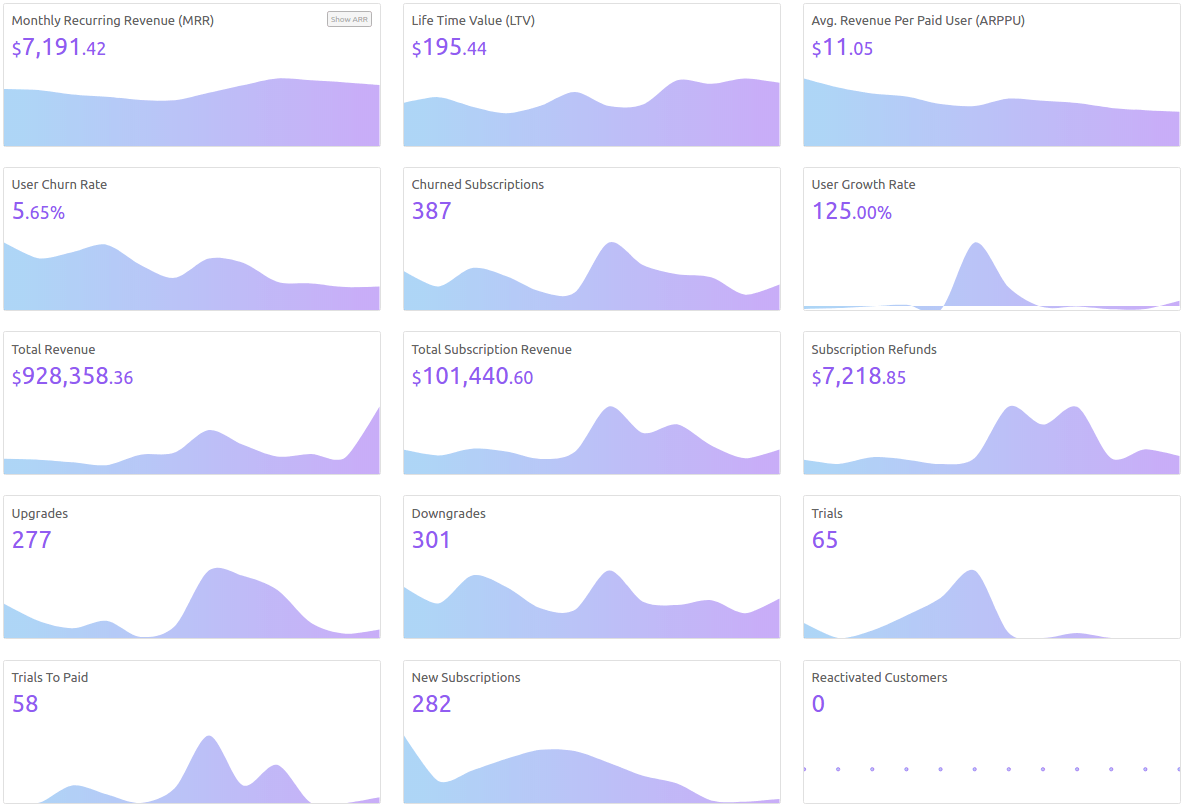 Simply connect your payment gateways, e-commerce systems and Putler will take care of all calculations and cases. However complex data your business deals with, Putler will handle that efficiently.
Along with subscription metrics, you also get:
Sales and transactions data
In-depth customer profiles
Product metrics and performances
Visitor analytics
and a lot more…
Thousands of e-commerce and SaaS businesses rely on Putler daily to monitor and grow their business.

Start my Free Trial
---
User churn rate v/s revenue churn rate – which one to focus more?
Interesting! But both user and revenue churn is equally important.
If you have multiple pricing plans, focus more on the revenue churn.
Losing customers is bad if you lose out on loyal ones. But if you are getting rid of free users or non-paying customers, it's beneficial.
A revenue churn rate that is higher than your user churn means that you are losing high-value customers more.
Click To Tweet
---
7 best tactics to reduce high churn rate
Let's brainstorm some quick actions that can bring your churn rate down to a great extent.
Encourage annual contracts
If you convert more monthly subscriptions to yearly subscriptions, you will reduce your monthly churn rate to great extent. List down the behavior of your monthly users, where, how, when do they engage with your product and services.
Grab their attention with their interest and provide them an irresistible offer which can make them move from monthly plan to yearly plan.
Reduce the delinquency rate
Delinquency is related to credit card payment failures. There are many reasons why credit card payments fail so try and get your online payment mechanism work seamlessly. It will boost a great user experience as well which is one of the best practices for reducing the churn rate.
Improved communication
Be it sending a welcome email to the customer or addressing any grievance, keep all channels of communication open to him. Make sure to sympathize in case of a trouble and always be courteous in the conversation.
Prompt customer service
Customer service is about promptness, transparency, and action. Adhere to the timeline to get back, be transparent in policies, never hide anything from the customer and make sure to get his issue resolved ASAP with the help of teams.
Identify market needs and innovate
Often your competitor introduces better features and service before you do and this can lead your customers to switch to your competitor. Be innovative and always find out the market needs which keep changing. Observing your competitor's move constantly can help you to be in the league.
Incentivise loyal customers
Appreciate customers' loyalty towards you and never disappoint them. You can offer them exclusive deals, special discounts or upgrades which can motivate them to a greater extent and retain for a longer time.
Create tailored approach
Create different strategies for loyal customers, for newly signed up customers and for free users if they seem to be opting out of your product.

Want more? Discover additional strategies to lower user churn here.
Going further, we will see average churn rates across industries and understand a short case study on Netflix's churn rate. These would help us in reflecting on our learning on churn.

---
Churn Rate by Industry
There are various factors that affect the churn rate and every industry is also different in its approach in tackling the churn issue. The chart below is populated by Recurly.com where you will find that roughly 6% to 12% yearly churn rate seems normal across different industries.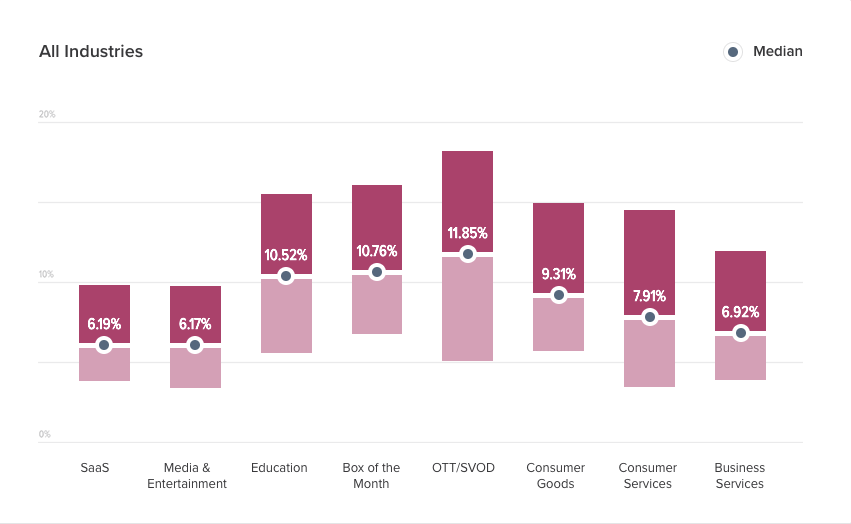 Case Study: How did Netflix manage to keep its churn rate low?
Netflix captured 52% of the broadband households in the US, while Amazon Prime 24% at the end of 2015.
In case of Netflix, 9% of customers canceled their subscription including those who were on trial period, while in the case of Hulu and Amazon Prime, its competitors, the churn rate was 14% and 19% respectively.
Netflix planned heavy investment in 600 hours of original, quality content in 2016.
From the above data, we could easily transcend one assumption that subscribers were more loyal towards Netflix due to its high engagement in the original content and therefore it continued to invest heavily in feature films, kids show, documentaries and stand-up comedy shows.
---
Conclusion
Churn is bad! You constantly need to improve your product, user experience, customer service and be active in the market. Still, there will be some who won't like you and it is ok. You have to observe your customer's behavior constantly and act upon it to sustain them.
And to observe your customer's behavior and keep a check on your churn rate, use Putler.