Who doesn't like feedback and what's better than getting customer feedback/reviews without even asking?
At Putler, we constantly try asking customers their experience using Putler. And we do come across so many gems of suggestions.
In this article I will cover some of the top experiences, reviews about Putler collected in the last few months.
---
In-depth review by FinancesOnline
FinancesOnline is a review website which reviews SaaS services. There are around 2.5million users who rely on the reviews of this website before making their buying decision.
Last month, Putler was honoured to be reviewed by this website. Not just that, Putler was also allotted 2 awards – Rising Star 2019 & Premium Usability under its best data analytics software category.
Take a look at the whole review of FinancesOnline on their website and check which business intelligence tool is best for your requirements.
Also, don't forget to post your own user review to let us know what you think about Putler.
---
Surprise customer review on G2Crowd
Our January was review packed. We got listed on G2Crowd and one fine day we got not one but two reviews from happy customers.
What's amazing is how these customers took time out and wrote really in-depth feedback on:
What they liked about Putler?
What they didn't like?
Recommendations for other customers
What business problems does Putler help you solve?
Both the reviews are well written and I'm sure will help anybody who is wanting that extra push to sign up for Putler.
Here's a sneak peak to both the reviews: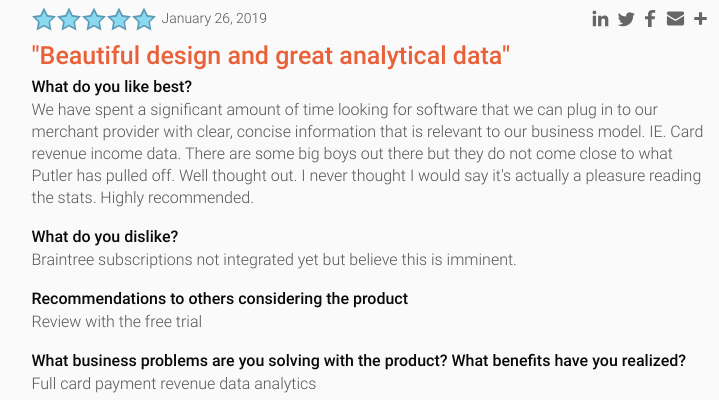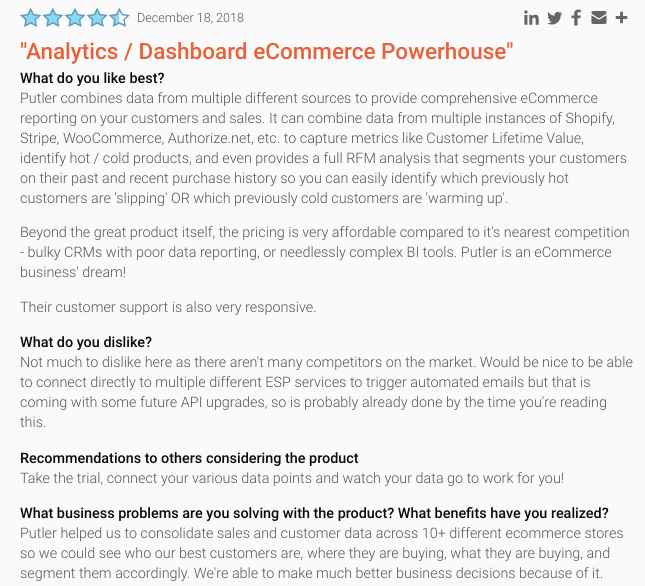 ---
First review on Capterra
Sure you have heard of Capterra. Putler got listed and also got it's first review from one of it's customers' Martha Hampton, CEO of SendWork.

Martha was generous enough to give us a one-liner on how she uses Putler as well.
[bctt tweet="Putler is our pivotal and main go-to tool to analysis for customer card payments and revenue streams in detail
– Martha Hampton, CEO SendWork" username="@getputler"]
Well the customer love did not stop there.
One of Putler's very loyal customer – James Schramko, Founder of SuperFastBusiness sent us an amazing video testimonial.
A Big Thank You
Everyone at Putler is filled with love and gratitude for every single customer who took the time out to share their thoughts about Putler. Your words encourage us to keep going and realizing our goal of making Putler the best business analytical tool in the world.
Lots of love ?
Team Putler
Ready to track and grow your business using Putler?
Take the 14 day free trial. No coding or credit card required.
Try Putler For Free