RFM (Recency Frequency Monetary) analysis or RFM segmentation is an effective customer segmentation technique to improve your marketing.
Instead of reaching out to 100% of your audience, target only specific customer segments that can prove beneficial for your business in future.
Thus, RFM analysis will help you strengthen your relationship marketing and increase customer loyalty.
What does RFM stand for?
Recency (R) – How many days ago customer made a purchase? Deduct most recent purchase date from today to calculate the recency value. 1 day ago? 14 days ago? 500 days ago?
Frequency (F) – How many times has the customer purchased from our store? For example, if someone placed 10 orders over a period of time, their frequency is 10.
Monetary (M) – How many $$ (or whatever is your currency of calculation) has this customer spent? Simply total up the money from all transactions to get the M value.
Customers with the most recent purchase, more transactions and spending more money are assigned higher values.
Why RFM segmentation is useful?
Using RFM segments, you get to know:
Who are your best customers?
Which customers are at the verge of churning?
Who has the potential to be converted in more profitable customers?
Which customers must be retained?
and many more…
Based on your customers purchasing behaviour (RFM parameters), Putler automatically divides your customer database into 11 different customer segments as shown in the image below. Each segment is completely different from the other.
For example, out of 10000 customers, you might have only 120 "Champion" (best) customers while your "Customers At Risk" count may be 1370.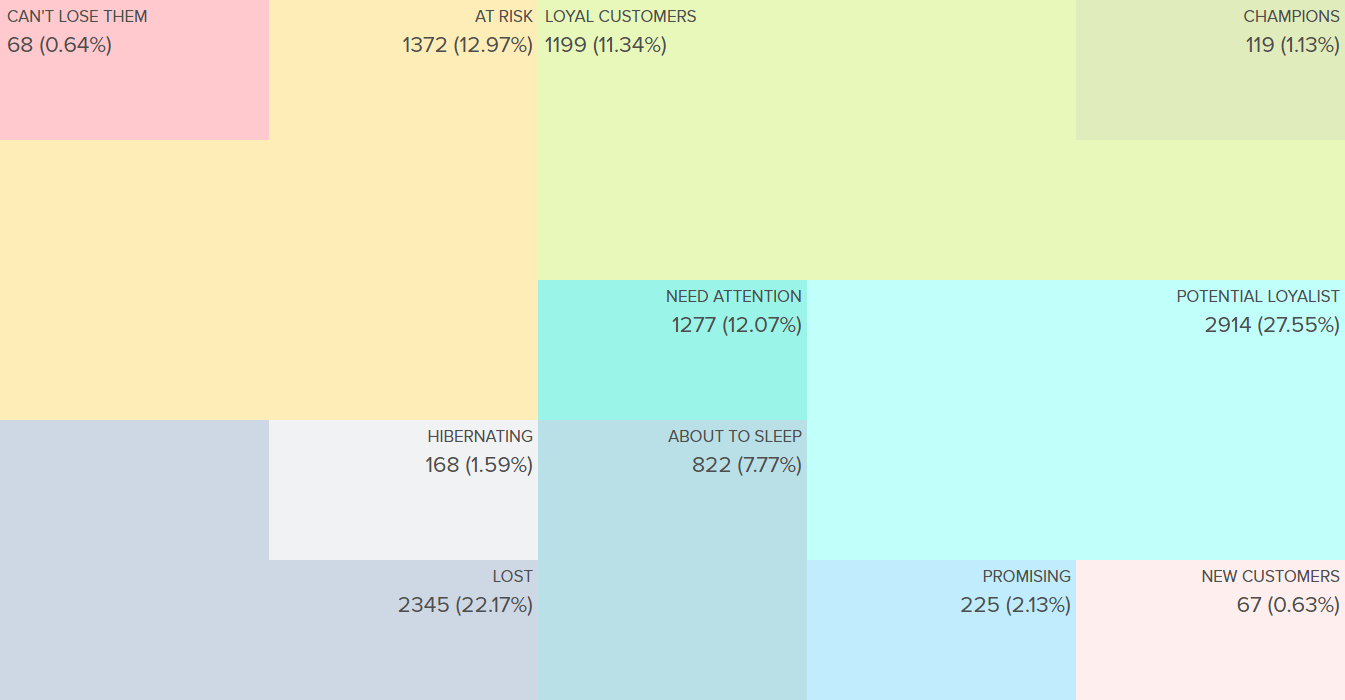 The following table explains each customer segment and what action you can take for each.
| | | |
| --- | --- | --- |
| Customer Segment | Activity | Actionable Tip |
| Champions | Bought recently, buy often and spend the most! | Reward them. Can be early adopters for new products. Will promote your brand. |
| Loyal Customers | Spend good money with us often. Responsive to promotions. | Upsell higher value products. Ask for reviews. Engage them. |
| Potential Loyalist | Recent customers, but spent a good amount and bought more than once. | Offer membership / loyalty program, recommend other products. |
| Recent Customers | Bought most recently, but not often. | Provide onboarding support, give them early success, start building relationship. |
| Promising | Recent shoppers, but haven't spent much. | Create brand awareness, offer free trials |
| Customers Needing Attention | Above average recency, frequency and monetary values. May not have bought very recently though. | Make limited time offers, Recommend based on past purchases. Reactivate them. |
| About To Sleep | Below average recency, frequency and monetary values. Will lose them if not reactivated. | Share valuable resources, recommend popular products / renewals at discount, reconnect with them. |
| At Risk | Spent big money and purchased often. But long time ago. Need to bring them back! | Send personalized emails to reconnect, offer renewals, provide helpful resources. |
| Can't Lose Them | Made biggest purchases, and often. But haven't returned for a long time. | Win them back via renewals or newer products, don't lose them to competition, talk to them. |
| Hibernating | Last purchase was long back, low spenders and bought seldomly. | Offer other relevant products and special discounts. Recreate brand value. |
| Lost | Lowest recency, frequency and monetary scores (RFM score). | Revive interest with reach out campaign, ignore otherwise. |
How to analyse customers in each segment?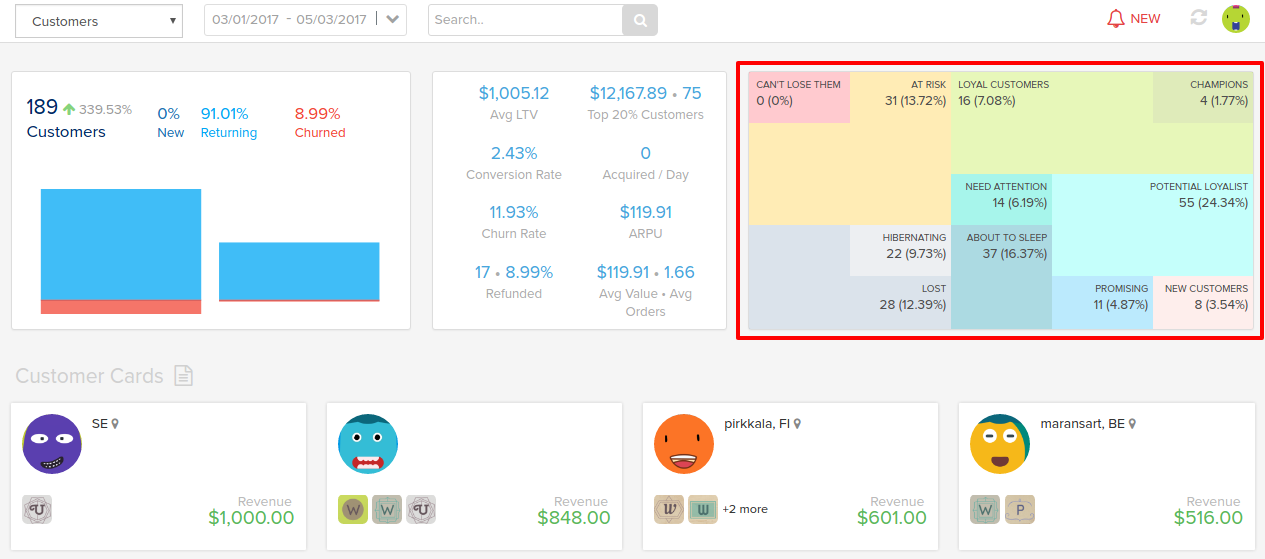 If you are an existing Putler user, just sign-in to your account, select "Customers" from the drop-down at the extreme left on top.
If your are a new user, sign-up for Putler, add account ( payment gateway / shopping cart) and you will land on Putler's overall dashboard. Then select "Customers" from the drop-down at the extreme left on top.
After selecting the customers dashboard, you will see a colourful table on the right hand side as shown in the above image. That's the RFM grid.
Select any customer segment and corresponding details of each customer will be loaded below.

For example: In the above image, if you select "Potential Loyalist", it will display all the customers who belong to that potential loyalist segment.
Below the table, you will observe a section called as "Customer Cards" along with a "Save" icon.
Click on the Save icon and it will show you two options as shown in the image below: "Export as CSV" and "Export to MailChimp".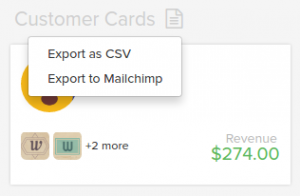 Export the customer list as CSV file for future reference or export list to MailChimp (if you have a MailChimp account).
Once you export CSV file, you will see complete details of each of your customer – Name, email id, country, address, contact number, transactions.
Using these details, you can prepare special email message for only these segment and then send relevant email campaigns.  Or you can talk to them personally to nurture your relationship .
Here, the segment selected is of potential loyalist. So, you can offer them a special membership or a loyalty program via email or on phone.
Similarly, you can select any other customer segment and send relevant emails only to those customers.
Want to know in and out about RFM? Calculations, case-studies, scoring, pros & cons, etc? Here's a complete walkthrough.