If you own an online eCommerce store and want to have easy payment processing, Stripe is your best bet.
It's one of the most loved e-commerce payment-processing tools that has endless options and capabilities.
Now if you have just one store and are happy with one Stripe account then it is simple.
But, what if you have more than one store and need more than one Stripe account?
In this post, we will learn about a way to deal with multiple Stripe accounts for multiple stores.

What are multiple Stripe accounts?
Multiple Stripe Accounts is a feature that allows Stripe end-users to create various Stripe accounts from a single email address. It is possible to create an account and grant multiple access or use different accounts for different individuals. Both the capabilities are useful to make Stripe account management easier than before.
Why to invest in more than one Stripe account?
If one is confused and has no idea why to invest in more than one Stripe account, here is a quick list of key reasons for this.
Paying taxes and adhering to key legal formalities is an integral part of running a business. But, when one business owner has multiple businesses to manage, taxation and legalities can be too confusing and cumbersome.
With multiple Stripe accounts, it's easy to have one account and a unified tax ID for one business. This way, it's easy for business owners to process taxes for different businesses with a unique tax ID. Data will be automatically fetched and processed.
Separate statement descriptor
With one account, it's too confusing when it comes to creating business statements as data can be overlapped or missed. The confusion is too high when it comes to processing public business information. With multiple Stripe accounts, this confusion is eliminated and statements are clear.
Accurate reporting
When you have multiple accounts with Stripe, accurate reporting is certain as data of different businesses are processed and analyzed at a separate level. For different businesses, different reports are created. This improves the business operations.
Quick and accurate bank payouts
Various Stripe accounts are useful when it comes to bank account payout. Every different account will have a different payout facility. This will sort out tons of things.
Can I have more than one Stripe account?
Of course, it's possible to own more than one Stripe account for one business owner. If one person runs multiple businesses, multiple accounts make even more sense.
You may create more than one Stripe account using the same email address, or add more accounts to a Stripe account as team members.
How to set up multiple Stripe accounts?
Setting up a multiple Stripe account is very simple. Even if you have a very basic understanding of Stripe accounts, you will be able to set up various Stripe accounts.
Steps to set up multiple Stripe accounts
Login to Stripe account
You will be able to see your Stripe account name in the upper–left corner of the Stripe account
Click on New Account
Provide a new account name
You will be seeing the Activate option on your Stripe account. In this section, you need to enter the account details and provide bank details. The new account is already created.

Advantages of having multiple Stripe accounts
With Multiple Stripe accounts, a business owner has a chance to enjoy a wide range of benefits. The key advantages involved in this process are:
It provides a chance to access all sorts from a single platform
Centralized data accessibility increases performance
When data is sorted, the odds of errors are less
Disadvantages of having multiple Stripe accounts
While it's great to have multiple accounts with Stripe, it's not always a great choice to make. There are a few disadvantages of this feature, such as
Having multiple accounts can be too confusing.
Sometimes, information can get merged or overlapped. One customer says XYZ purchases were made from your ABC branch. But he actually made the transfer to another branch, say DEF. Though the transfer is made and one of your accounts should have received it, verifying and auditing the same for various purposes, e.g. accounting, is a bit tough.
Data duplication is very common among multiple accounts.
Such situations can lead to erroneous operations. If data is not properly handled, misplaced, or overlapped, things can go south in no time.
How to monitor multiple Stripe accounts in a single place?
Now that we have clarified your doubts about 'can you have multiple stripe accounts?', let us help you in enabling monitoring and managing them. Multiple Stripe account monitoring is possible in 2 ways:
Method 1: View one account at one time
Visit the Stripe Dashboard and select the account you want to monitor from the upper left corner. All your Stripe accounts will be displayed under the Dashboard section.
The problem with this approach is that you can view one account's details at once – separately. a comprehensive view won't be there. you may even end up mixing details, sending money through a different account, and creating wrong reports.
Method 2: Get both combined view of all accounts or separate view of individual accounts
Use an advanced Stripe reporting and analytics tool like Putler to view real-time aggregated reports or separate reports of all your Stripe accounts in one place. Not just Stripe, you can add various payment gateways, eCommerce stores, websites etc to Putler. Putler will collect data from all multiple sources, clean and analyze this data and provide you detailed reports.
Here are some other gateways you can add within Putler –

Advantages of using Putler for your multiple Stripe accounts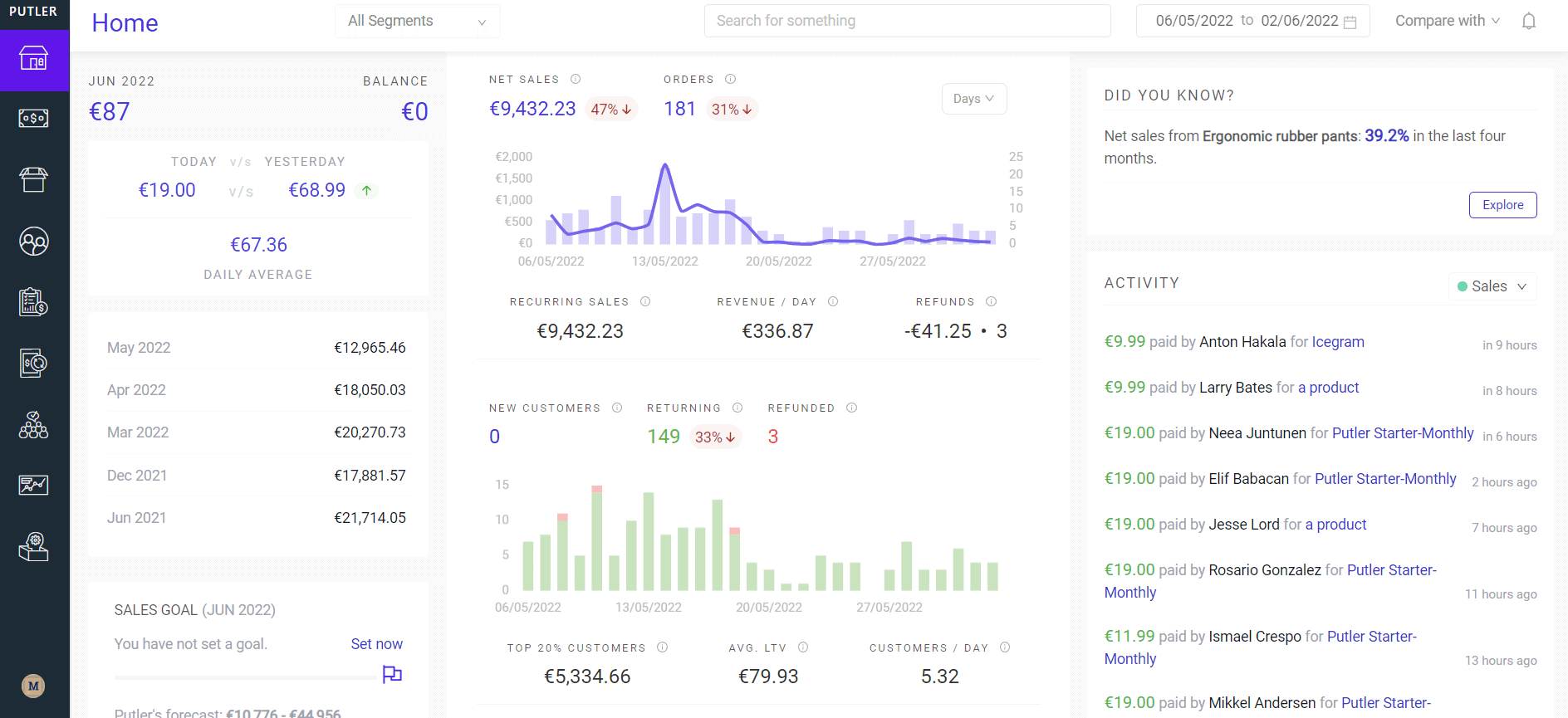 Businesses that wish to expand and grow will certainly have an assorted market presence. From the management point of view, managing the business data of various WooCommerce multiple Stripe accounts is tough. While Stripe tries its best to provide multiple account facilities, it could be too confusing.
For e-commerce businesses, Putler is no less than a boon as multiple store management becomes easier than before. It eliminates the Strip multiple account loopholes and makes things more sorted and result-driven effortlessly.
Learn about the key benefits that you will experience with Putler:
All your Stripe accounts in one place
Putler brings all your multiple Stripe accounts to one place. This makes a huge difference when it comes to multiple account management. When all the accounts are in a centralized place, data access is quick and decisions are made accurately.
Refund, manage subscriptions, check balance directly from Putler
For multiple businesses, managing refunds, subscriptions, and balance tracking is a tough task. But, Putler makes it possible. You can easily manage all these metrics for all of your businesses from a centralized place.
Quick search
Putler has an advanced search facility that helps you gather relevant data or customer information in no time.
In-depth analytics and insights
Even if reporting is a tough task, it's non-negotiable as reporting and data analysis are an integral part of running a business. With Putler, it's easy to create varied reports in a blink of an eye.
The best part of Putler-driven reporting is that it's free from data duplication, missed entries, and other errors that can lead to massive operational failures.
Product and Customer insights
Handling data from multiple businesses is a tough task to handle. But, if you use Putler, gaining product and customer insights is not at all a tough task.
It fetches the customer details from various platforms and combines them. Different customer profiles are created for different businesses. This is a great step to take when it comes to having better customer management as everything about a customer's journey is at your fingertips.
Handles multiple time zones, currencies
If your businesses run at different time zones and accept payments from multiple currencies then nothing can beat Putler as it automatically converts the currencies and modifies the time zones. It makes the reporting more accurate and easy to understand.
Over to you
It's common to own multiple businesses. But, it's not common to experience an error, data duplication, or statement inaccuracies. With multiple Stripe accounts, a lot of things are sorted out. But, it's too confusing at times.
Putler is the answer to all your multiple Stripe account confusion. It brings all the data details to one place and helps you handle multiple currencies with full accuracy. Its advanced AI and accurate reporting will make things sorted on multiple fronts. Try it once and you will be able to experience the difference. Its free trial is here to offer you a great deal.
BTW, if you own just one Stripe account but if you still wish to avail all the reports benefits of Putler for your single Stripe account. Don't hesitate. You will love all the advanced reports that Putler provides you.