Top 10 Stripe Analytics Software
hide
Managing customer billing can be quite challenging for both online and offline businesses. And, dealing with one-time and recurring payments can be overwhelming. But with the right payment gateway, you can make this work on your side.
Yes, in today's eCommerce landscape, payment gateways are the heroes, streamlining the process for businesses of all sizes.
Among the payment processing platforms, there's one that stands out – Stripe! It's the ultimate choice for all kinds of transactions, from goods to services.
So, why all the hype about Stripe? Well, it's designed for online businesses, with a laser focus on enhancing the shopping cart and checkout experience for customers.
But despite all of Stripe's efforts, its analytical and reporting capabilities still struggle with competence.
And, that is why in this blog we will be diving into the top 9 Stripe analytics and reporting tools of 2023.
But first, let's explore the perks and hiccups of using Stripe as your go-to payment processor for your business.
Advantages and disadvantages of Stripe
Stripe comes with a bunch of features tailored to deliver an awesome customer experience. Let's take a closer look at them.
Pros:
Easy setup for recurring payments
Ability to offer discounts and coupon codes to customers
Support for setting up subscription payments
Ability to pro-rate charges if a customer changes their subscription mid-billing
Excellent reminder system
No refund fees
Seamless checkout experience leading to increased conversions
Cons
Issues with frozen or cancelled accounts, especially for businesses in riskier industries.
Limited options for in-person payments.
Require technical skills or developer resources to customize.
Limited advance reports and analytics.
If you're running a growing online business and using Stripe as your payment processor, leveraging third-party Stripe analytics tools becomes even more important. Let's explore some of the most distinguished Stripe analytics tools available to meet your specific business needs.
But before we dive into the details, let's get a quick glimpse of a comparison chart showcasing the most popular Stripe analytics tools:
| Features | Putler | ChartMogul | Pabbly | Baremetrics | Metricsco | Grow | FirstOfficer | Statsbot | DataBox | Treasure Data |
| --- | --- | --- | --- | --- | --- | --- | --- | --- | --- | --- |
| Issue Refunds | Yes | No | No | No | Yes | No | No | No | No | No |
| People Insights/Customer Segmentation | Yes | Yes | Yes | Yes | No | No | Yes | Yes | Yes | Yes |
| Sales Analytics | Yes | No | Yes | No | Yes | Yes | No | Yes | Yes | No |
| Email Support | Yes | Yes | No | No | No | No | No | Yes | Yes | No |
| Multiple Stripe Account Management | Yes | No | Yes | No | No | No | Yes | Yes | Yes | No |
| Single Dashboard – Comprehensive Reporting | Yes | Yes | Yes | No | Yes | Yes | No | No | Yes | Yes |
| Pricing | $20/month | $125/month | $19/month | $50/month | $49/month | Contact Sales | $29/month | $49/month | $49/month | Contact Sales |
Now, let's dig deeper into the features and benefits of these top Stripe reporting tools:
Stripe Analytics Tools
Pabbly
Pabbly is a SaaS-enabled payment analytics software. Not only it is used for bill generation but it's also used as an efficient revenue reporting tool.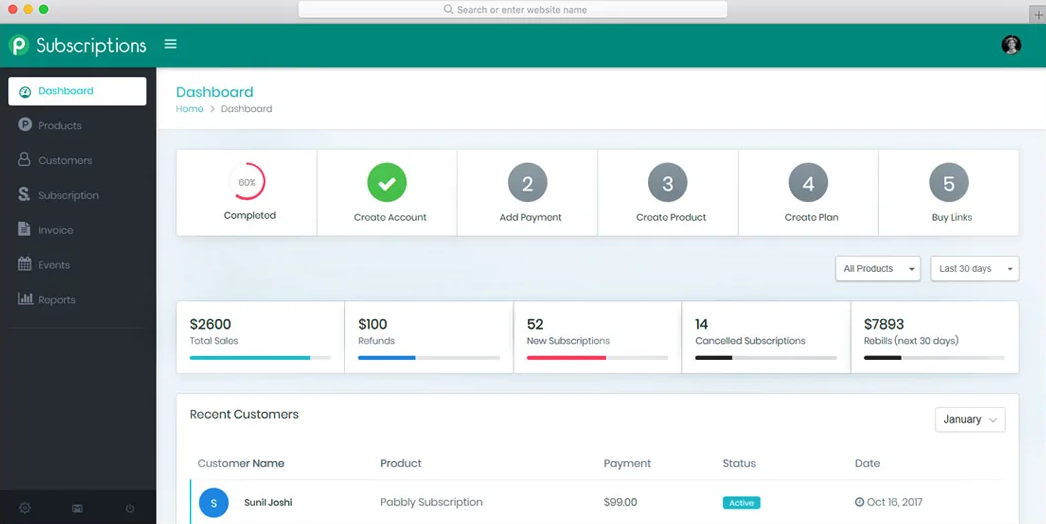 Key Features
Record and track payment transactions with a downloadable invoice.
Manage unlimited customers and multiple products/plans simultaneously.
Create and manage unlimited plans/offers for a single product through Pabbly.
Easy sales analytics, allowing refunds, calculating overall sales, managing new and canceled subscriptions on a single dashboard.
Supports both Stripe and PayPal for effective payment transactions in 25+ global currencies.
Pricing
Pabbly's pricing is categorized into four plans:
Basic: $47/month
Standard: $94/month
Pro: $189/month
Ultimate: $379/month
Putler
Considered an ideal analytics tool for transaction management for payment platforms like Stripe, Putler has created a niche for itself in an existing and highly competitive marketplace.
It is apt for not only a subscription/SaaS-based business model but for all kinds of eCommerce businesses.
A meaningful Stripe reporting and analytics tool on an agile dashboard, Putler has gained prominence amongst users for its rewarding nature.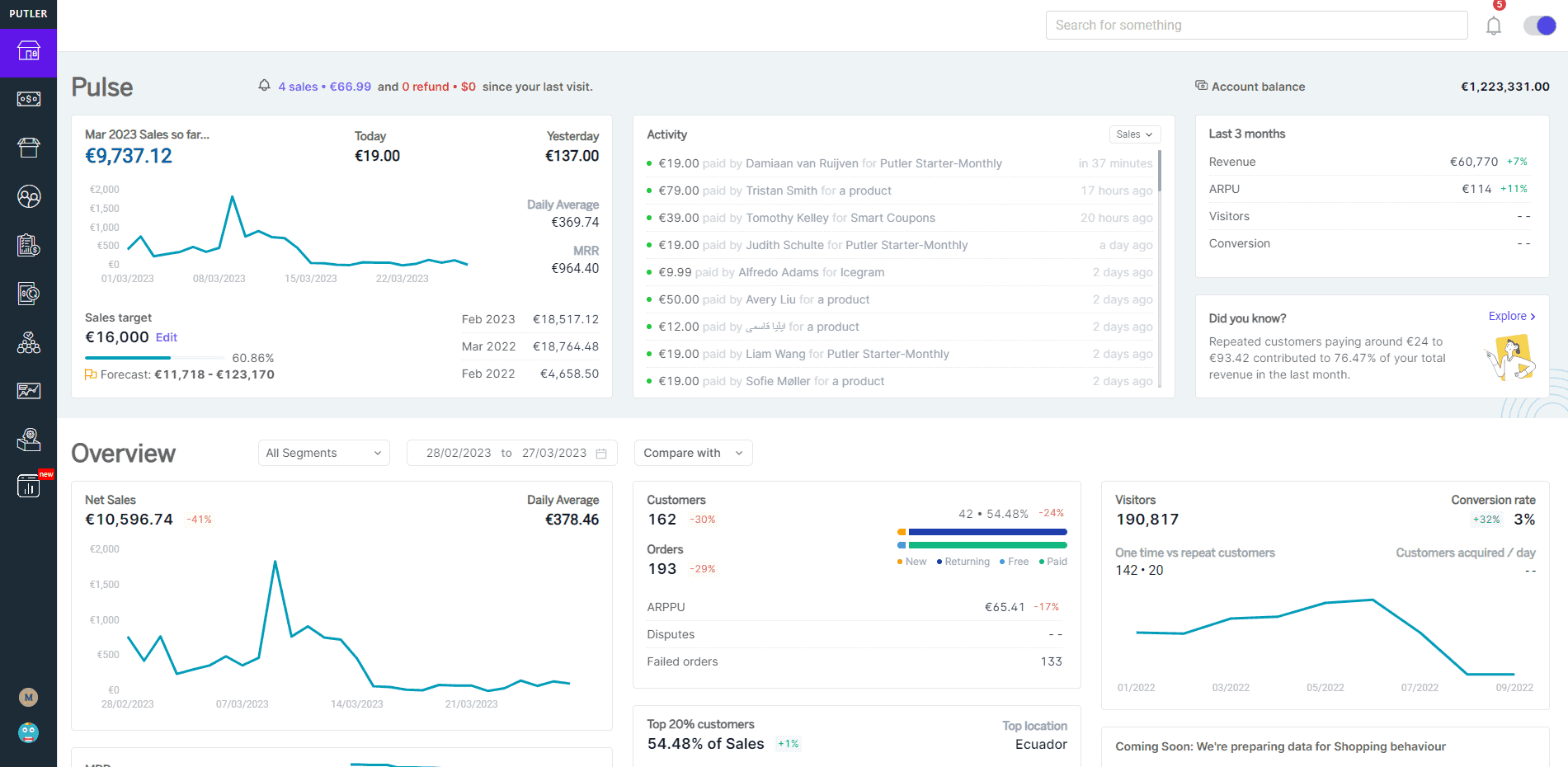 Key Features
Provides a single view of analytics and insights by fetching, merging, cleaning, and enriching data from multiple sources – payment gateways, and eCommerce shopping carts.
Offers a unified view of customer analytics by integrating with Google Analytics. It also has its own Web Analytics, offered for free.
Toggle and view reports of each store individually.
Centralized management of multiple stores.
Real-time reporting.
Advanced analytics with subscription metrics – MRR, CLTV, ARPPU, and 200+ other vital metrics.
Payment analytics and subscription management.
Goal tracking and sales, customers, website audience, subscriptions, transactions, and more.
Weekly emails for updates.
Team sharing for collaborative analysis.
Performance comparison reports.
Pricing
Putler offers two plans:
Starter plan: Starts at $20/month
Growth plan: Starts at $50/month
In the Starter plan you can add up to 3 data sources, be it your WooCommerce store, payment gateway or a combination of both for a better business overview. And in the Growth plan you can add up to 15 data sources for a more comprehensive understanding of your business performance. If you have more stores, you can contact the support team and they will help you add them in no time.
Once the stores are added, you can then run unlimited reports across various aspects of your business such as sales, orders, customers, products, transactions, and more. And, the best part – you can also export them in CSV.
Without a doubt, Putler is a great tool for getting insights and analytics across all your stores in one place.
Baremetrics
Another promising analytics tool for Stripe, Baremetrics comes with a 60-day free trial period. Are you looking out for comparison metrics/charts to know how your competitors are performing, then Baremetrics is quite a useful tool for you.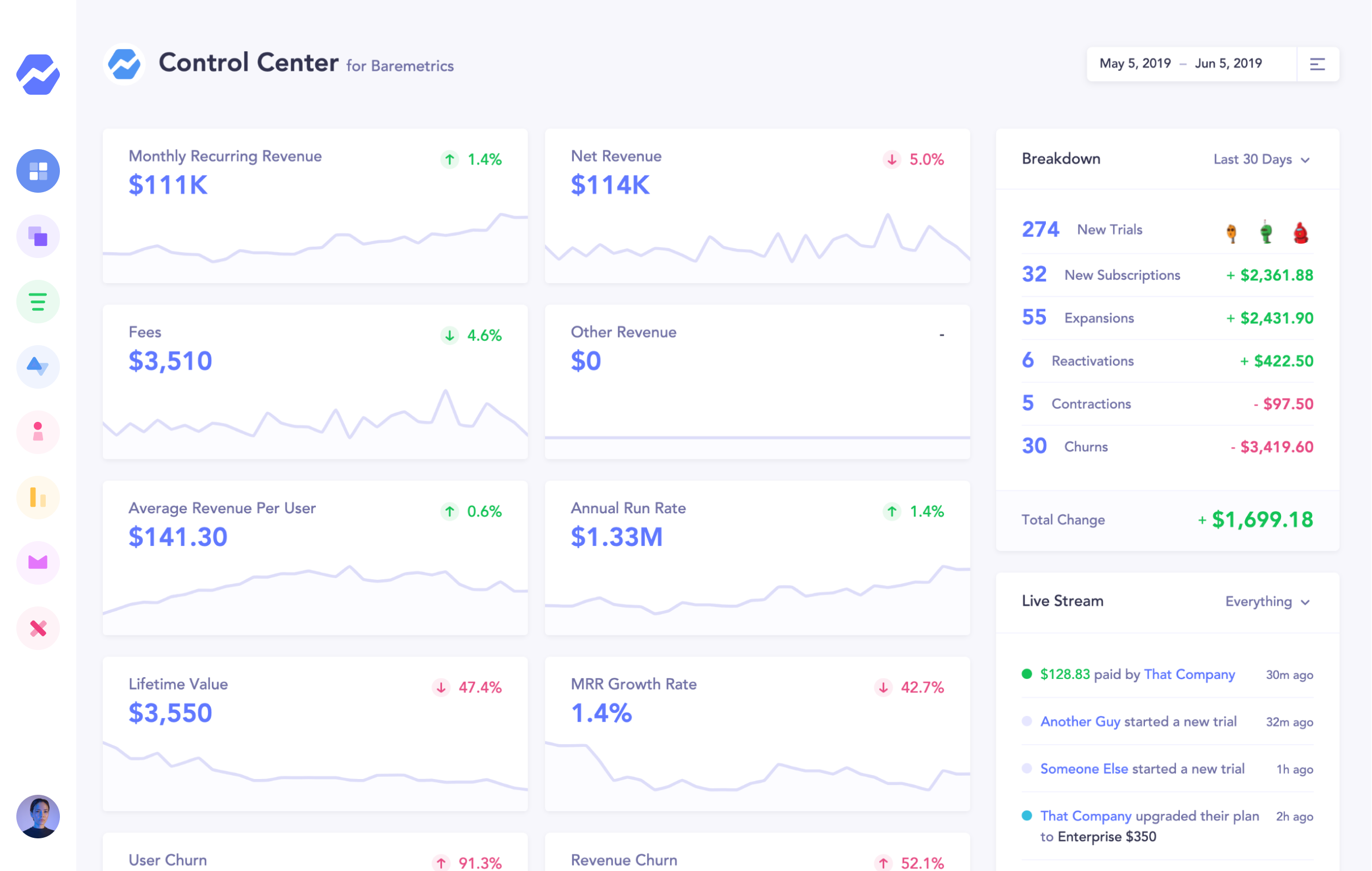 Key Features
SaaS-based Stripe analytics for efficient business benchmarks.
Allows revenue redemption through dunning management.
Enables accurate revenue analysis and future revenue forecasts.
Commonly used for efficient lead scoring and profiling processes.
Pricing
Baremetrics offers different plans based on Monthly Recurring Revenue (MRR):
Metrics: $208/month
Recover: $158/month
Cancellation Insights: $108/month
Forecast+: Included with Metrics
ChartMogul
After a fair comparison of different Stripe reporting and analytical tools, ChartMogul has made its presence felt across domains. This platform offers the client quite an elaborate data insight from the available raw data on its well-managed Stripe analytics dashboard.
Let's dive deep into some of its prominent features.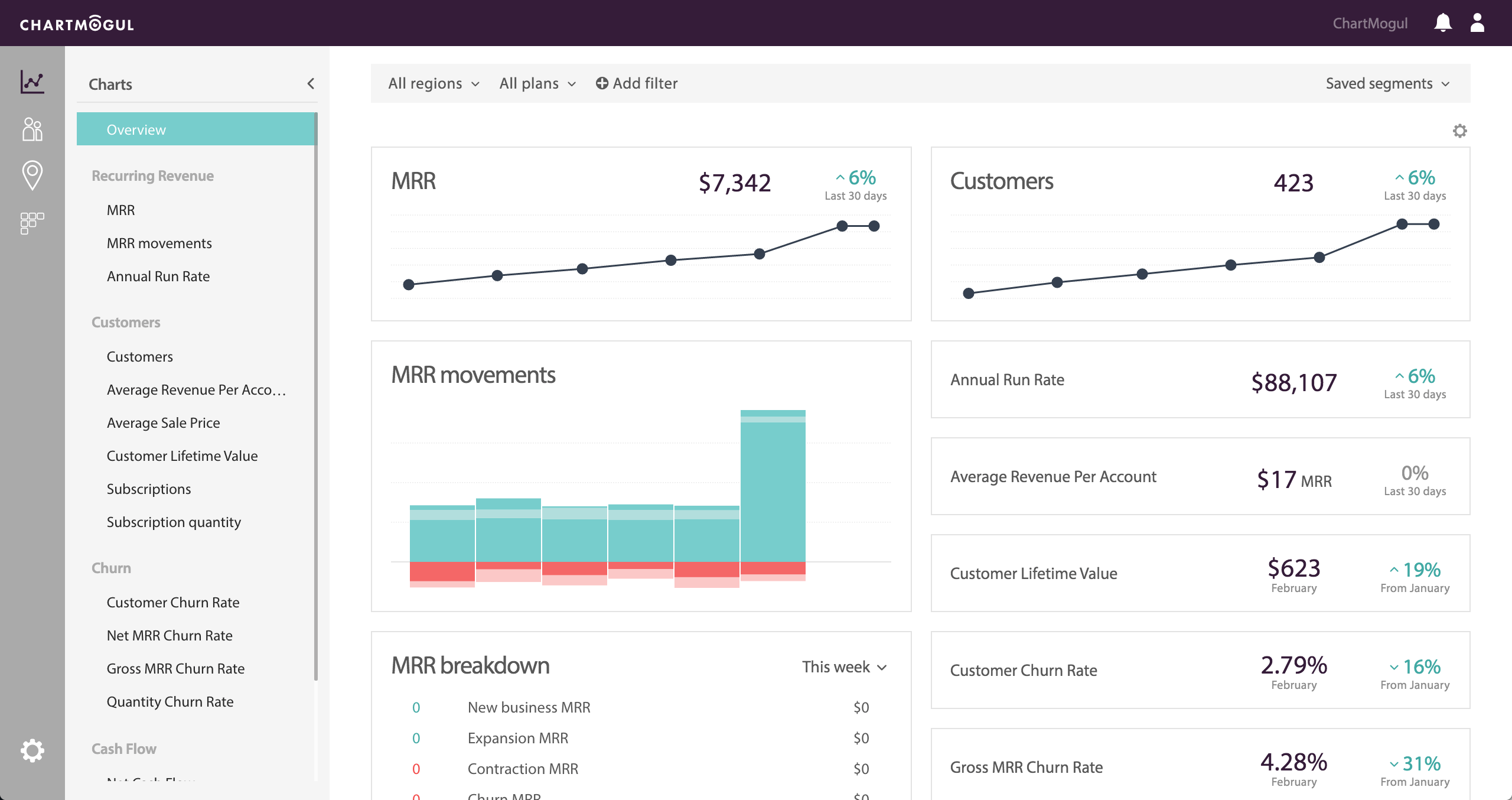 Key Features
Provides well-categorized sales regions and customer plan groups.
Allow bulk reports using CSV files.
Offers multiple data churn formulas and display settings for time zone and currency changes.
Pricing
ChartMogul has different plans:
Free: For SaaS founders with less than $10k MRR.
Scale: For SaaS teams with traction, navigation the initial scaling stage.
Volume: For an initial scale to $100M ARR and beyond.
Grow
Grow is an excellent payment analytics and customer retention tool that helps you to analyze and manage the data of your Stripe account. You can also monitor funding, CLTV, MRR, and many other metrics.
It also integrates with a few other tools:
AdRoll
Google Merchant Center
Shopify Plus and much more.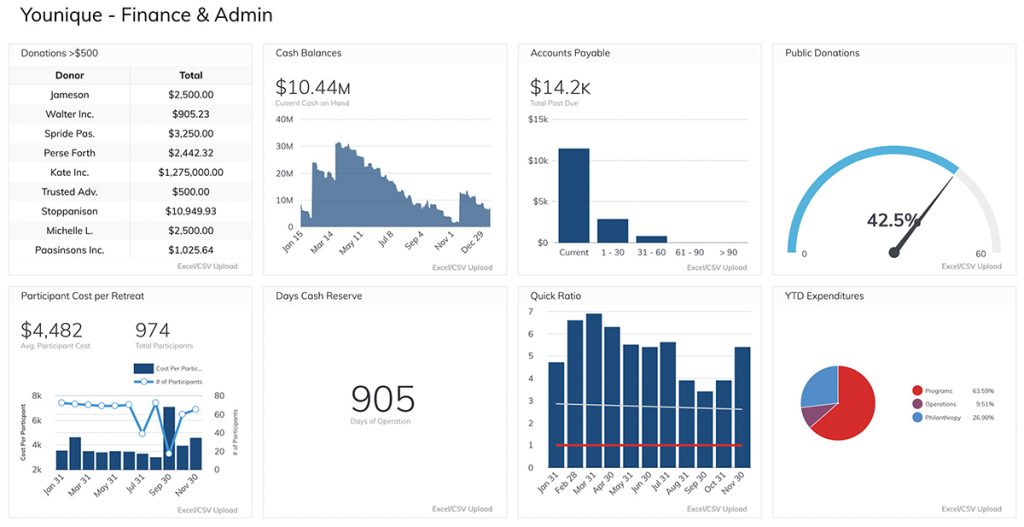 Key Features
Segment Customers: The Collected Data can be leveraged to filter and sort customers into segments.
Client's Data can be Exported To Other Tools: This amazing tool gives you the facility to spread collected data to more useful places for your business.
Data manipulation: In case there are any changes made in your stripe account, then Grow automatically shifts your customers via a real-time funnel and rescues any sort of risk like credit card expiry, trial pack end and much more.
Pricing
There is no pricing information available on Grow's website. To obtain pricing, contact Grow.
FirstOfficer
First Officer provides stripe analytics solutions for SaaS businesses. It enables companies to keep track of the monthly recurring revenue (MRR), customer lifetime value (CLTV), churn rate, and automated weekly reports.
It also integrates with a few other tools:
Envoy
GetFeedback
Olark and more.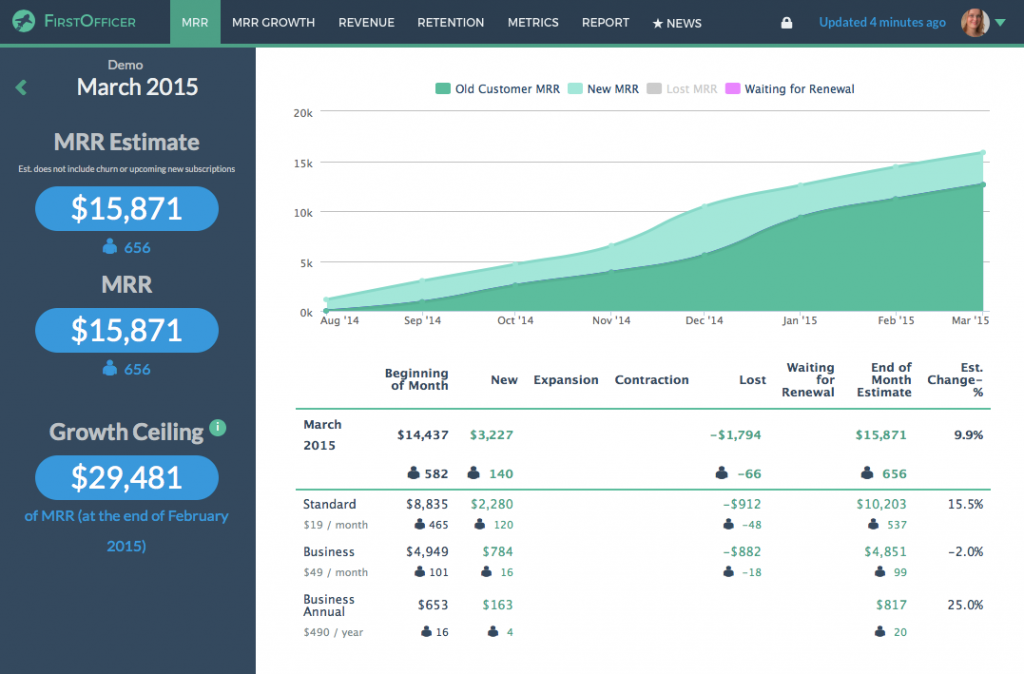 Key Features
Not only shows the new, expansion, and lost MRR but also lets you look into the data.
Lets users compare the performance between your revenues as well as easily.
Users can get significant data directly in your inbox. With the help of rolling metrics, you can even look if the graph lines are turning on or not.
Pricing
FirstOfficer is an amazing tool as it gives 5 pricing plans and every plan consists of email support and a 30-day free trial pack.
Pro: $100/month
Accountants Program: Per-User
Enterprise: Custom
The above three plans have similar features to the business plan.
Statsbot
This tool is a one-click solution for getting instant notifications and metrics of your account. The dashboard of Statsbot is very convenient and simple to understand and handle.
It only supports one payment gateway: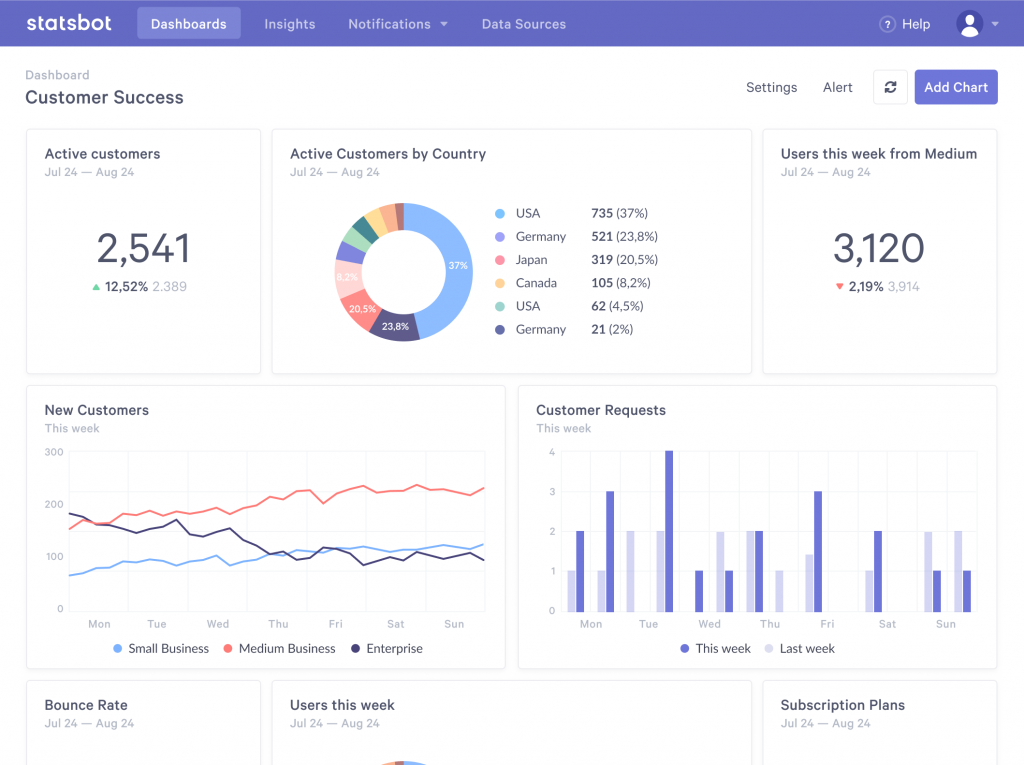 Key Features
Weekly Reports: If your work is paying off then it provides the latest and instant data about metrics. With The help of this feature, you can get updates about your stripe account instantly.
Automatic Card updating: This service automatically updates the existing card information. Hence, there is no manual work. This feature will work with Visa, MasterCard, and Discover cards.
Every SaaS Metrics Details: It provides every detail regarding the payment metrics required to run a SaaS business like MRR, churn rate, net revenue, new subscribers, and a lot more.
Pricing
Main Software – Freemium, from $49 per month
DataBox
It is the most convenient software to track the revenues, paid or failed transactions, charges, CLTV, new subscriptions, total customers, and much more in real-time. With Stripe, it also integrates with other tools like –
Mixpanel
PayPal
Localytics
Xero
Pinterest, and more.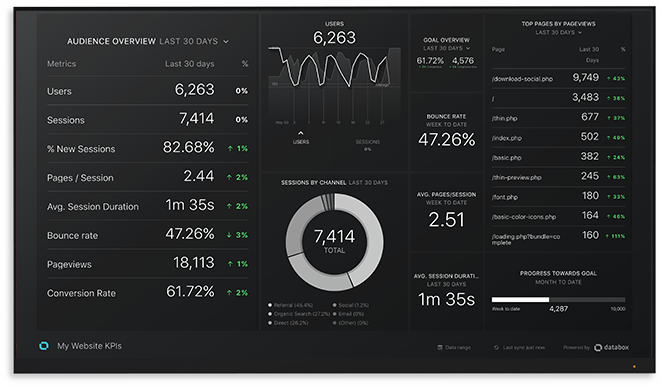 Key Features
No need to find the most important metrics in a sheet, database, or anywhere else. This tool bring all the important metrics altogether on a single platform.
Users can seamlessly display data from various data sources without even knowing a single line of code. Users can even keep their data secure just by choosing which IP address or customer can access the Datawall.
Provides quick business insights through tablets, smartphones, or wearables devices.
Pricing
Databox facilitates its users with 4 different plans all along with a 15-day free trial pack.
Starter: $47/month
Professional: $135/month
Growth: $319/month
Premium: $799/month
Treasure Data
Treasure Data is one of the most scalable and secure cloud analytics platforms.
Apart from Stripe reports, it integrates with over 100 services like –
Zuora
Branch.io
Docker
Salesforce Pardot
Netsuite
Hubspot
Marketo, and more.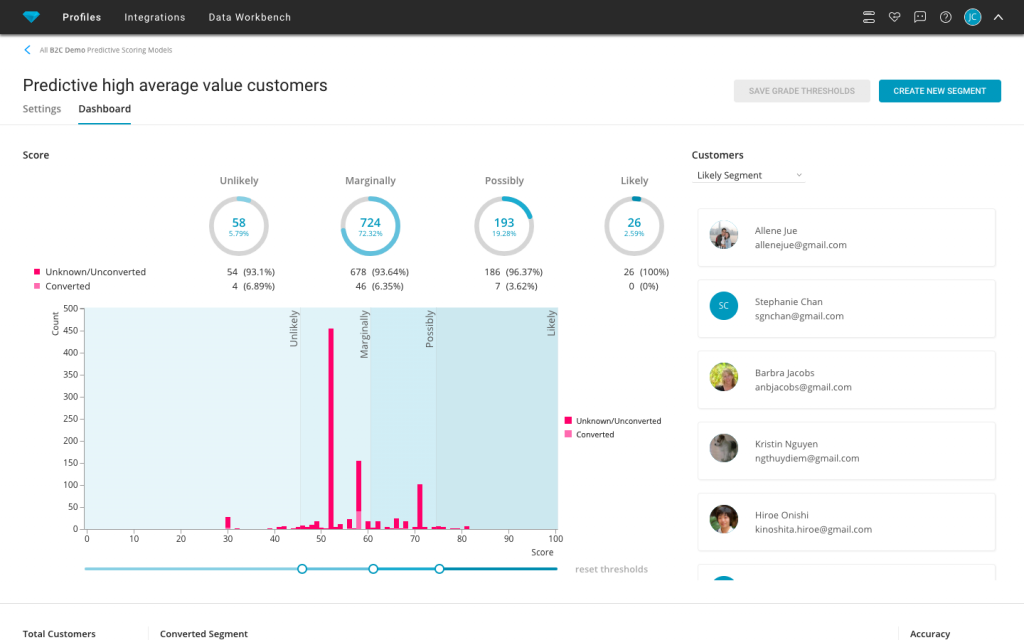 Key Features
Users do not have to write custom scripts for every service. They can combine all the data of various services in a single place.
User-friendly, easy to access dashboard that enables users to see live reports of business metrics.
Very flexible tracking software/tool as it won't lose data. It securely transfers data across the systems and saves the encrypted data in its storage.
Pricing
The pricing of Treasure Data is not available on their website. You need to get in touch with Treasure Data for pricing information.
Conclusion
As the world of online business demands accurate payment information for growth, choosing a product that simplifies your payment processing platform becomes paramount. But now, you have insights into some awesome Stripe analytics tools out there in the market.
When it comes to simplifying your payment processing, among the various options, Putler takes the cake as a game-changer. With its advanced features and comprehensive analytics, Putler empowers businesses to make informed decisions and drive success.
Ready to dive in? Give Putler a whirl! You can create a free account and enjoy a 14-day trial – no strings attached.
Happy analyzing!
Try Putler – It's FREE