Last updated on August 5, 2020
For any online or offline business, customer billing is quite a challenging part to handle. It may be taxing to manage payments, both recurring and one-time, as customers proceed to buy your services or products online.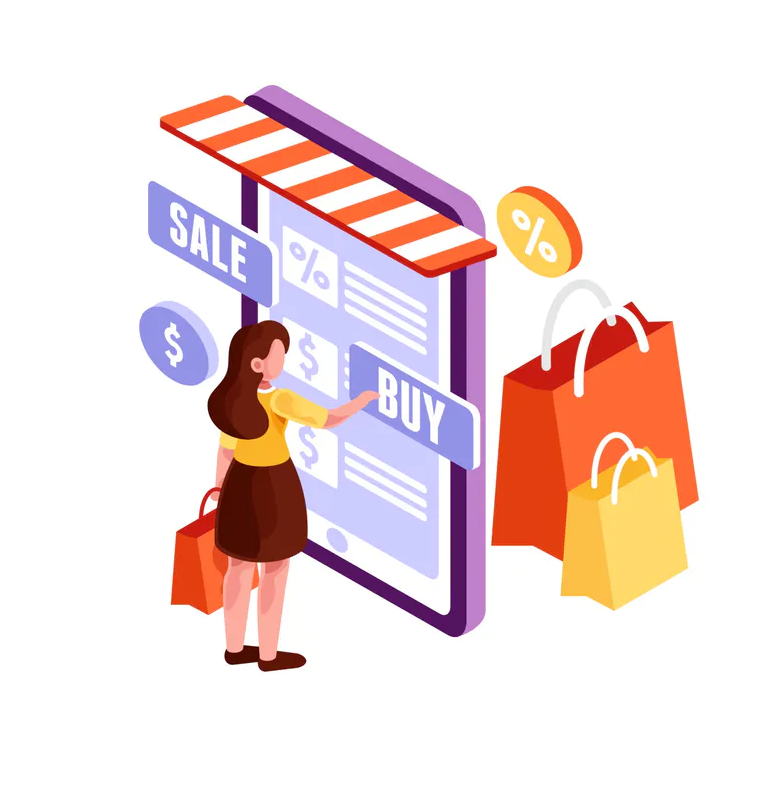 In e-commerce ventures, the usage of payment gateways is quite prominent these days.
Given the complexity of tools available, there is one payment processor that stands out for all kinds of transactions against goods and services online.
Yes! I am referring to the Stripe for online businesses.
So, why Stripe? Stripe is particularly designed for the websites and their owners looking at enhancing their shopping cart or checkout experience for their customers.
Let's list out some of the advantages and disadvantages of using Stripe.
Pros:
Easy to setup recurring payments
Can offer your customers discounts and coupon codes
Enables you to set up subscription payments
If a customer changes their subscription mid-billing, Stripe gives you the ability to pro-rata charges
Excellent reminder system
No refund fees
Seamless checkout experience means increased conversions
Cons
Issues with frozen or cancelled accounts, especially for businesses in riskier industries
Limited options for in-person payments
May require technical skills or developer resources to customize
Limited advance reports and analytics
Owing to this, if you have a growing online business and you using Stripe payment processor, it becomes all the more important for you to resort to a third-party analytics tools for Stripe. Discussed below are some of the most distinguished Stripe analytics tools for you to choose from.
Let's first hover over a comparison chart with the most popular stripe analytics tools in use these days:
| Features | Putler | ChartMogul | Pabbly | Baremetrics |
| --- | --- | --- | --- | --- |
| Issue Refunds | Yes | No | No | No |
| People Insights/Customer Segmentation | Yes | Yes | Yes | Yes |
| Sales Analytics | Yes | No | Yes | No |
| Email Suppport | Yes | Yes | No | No |
| Multiple Stripe Account Management | Yes | No | Yes | No |
| Single Dashboard – Comprehensive Reporting | Yes | Yes | Yes | No |
| Pricing | $29/month | $125/month | $19/month | $50/month |
Why choose a stripe analytics tool for managing online payments? Let's dive into some of the meatier aspects of this software.
Putler
Considered an ideal analytics tool for Stripe, Putler has created a niche for itself in an existing and highly competitive marketplace.
It is apt for not only a SaaS-based business model but for all kinds of online business.
A meaningful reporting and analytics tool on an agile dashboard, Putler has gained prominence amongst users for its rewarding nature.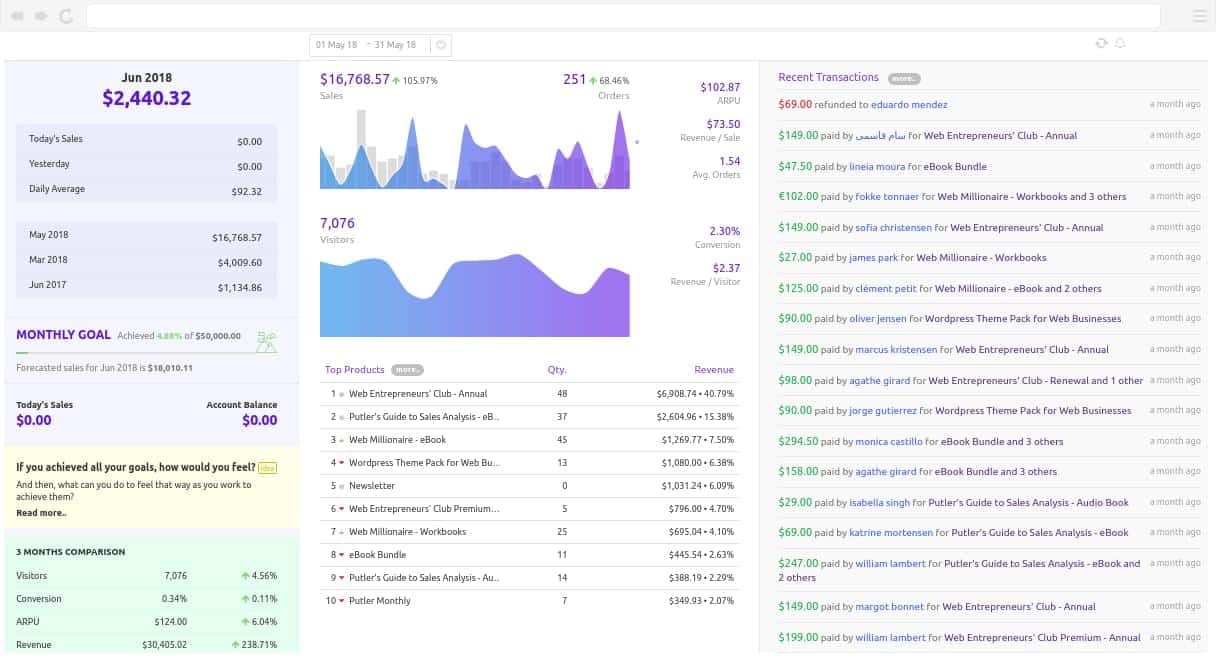 Key Features
Lets you get a single view of data from multiple sources, i.e. payment gateways, e-commerce shopping carts, etc.. Offers its clients with a unified view of customer analytics by running the data through the Google analytics tool.
Consolidates and reconciles reports on a single window to be viewed by different business units as well as websites.
Managing transaction, rebates and subscriptions have never been this easy. Thanks to Putler's one-stop reporting software for Stripe.
Automatic data consolidation and enrichment tool with real-time time zone and currency conversion feature.
Pricing
Starter:- For $29/month, connect 2 data sources, get 2 years historic data and process upto 300 orders monthly.
Growth:- For $79/month, connect upto 7 data sources, get 5 years historic data and process upto 3000 orders monthly
Scale:- For $249/month, connect upto 10 data sources, get 7 years historic data and process upto 10,000 orders monthly
Custom:- Have a bigger custom requirement? Reach out to the team. they will create a special plan suited to your needs and budget
Try Putler – It's FREE
Pabbly Subscription
A SaaS-enabled payment analytics software, Pabbly is used not only for bill generation but as an efficient revenue reporting tool.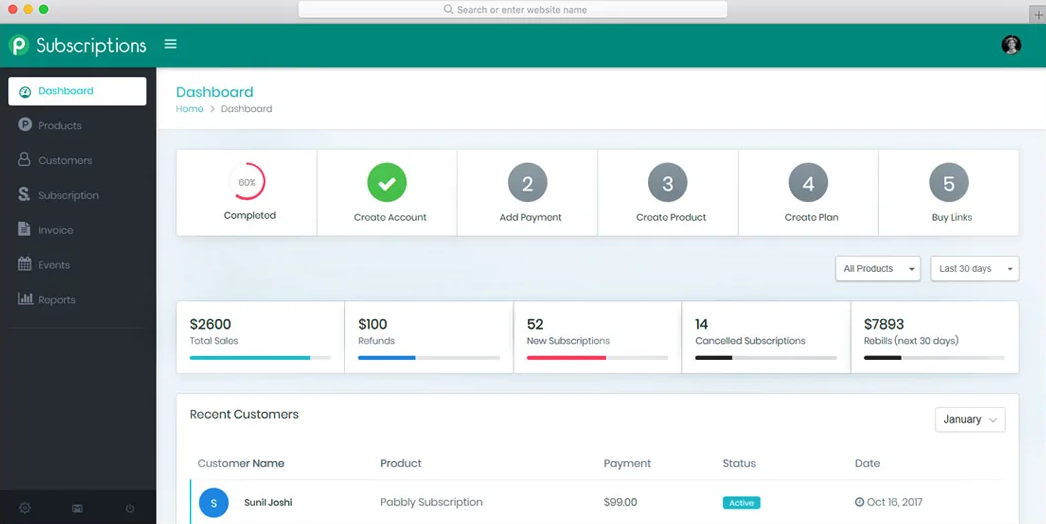 Key Features
Lets you record and track your payment transactions along with a downloadable invoice feature.
Add unlimited customers and manage multiple products/plans simultaneously.
Create and manage unlimited plans or offers towards a single product through Pabbly.
Sales analytics made easy with Pabbly. It allows the user to initiate refunds, calculate overall sales, manage new subscriptions and track cancelled subscriptions on a single dashboard.
Besides Stripe (as its payment gateway), Pabbly also supports PayPal for effective payment transactions using 25+ global currencies.
Pricing
Depending on the customer acquisition model, Pabbly's pricing structure can be categorised into:
Starter:- This plan is available at $5/m in which you can manage 50 customers & explore all the essential features of this tool.
Rookie:- The Rookie plan charges $29/m which allows you adding around 1000 customers in the tool. Also, you can customize the checkout page into any language you want to.
Pro:- It is the most popular plan of this tool billing only $59 per month where you can set up the accounts of unlimited customers without any restrictions.
Advance:- It is the last plan where you get to add unlimited customers to your account & use a lot more features at just $99/month.
Baremetrics
Another promising analytics tool for Stripe, Baremetrics comes with a 60-day free trial period. Are you looking out for comparison metrics/charts to know how your competitors are performing, then Baremetrics is quite a useful tool for you.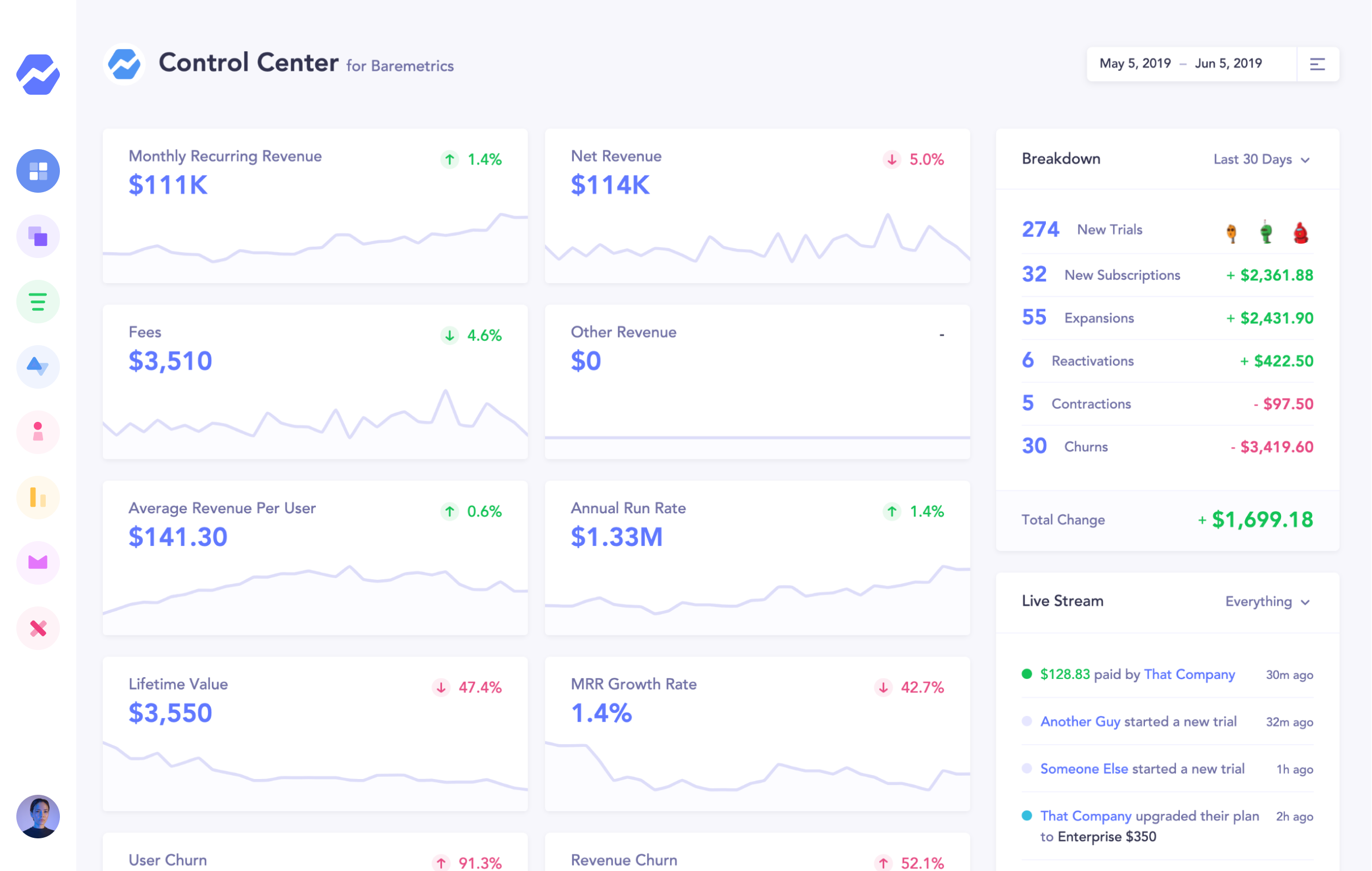 Key Features
A SaaS-based Stripe analytics tool that helps execute business benchmarks efficiently.
Allows the client to opt for a revenue redemption mechanism through dunning management.
An intelligent software to help analyse revenue and predict future revenue forecasts accurately.
Is commonly used for efficient lead scoring and profiling processes to identify the target audience or consumer.
Pricing
Enterprise:- 500$ per month for MRR up to 500,000$
Business:-250$ per month for MRR up to 200,000$
Professional:- 100$ per month for MRR up to 50,000$
Startup:-50$ per month for MRR up to 10,000$
ChartMogul
After a fair comparison of different Stripe reporting and analytical tools, ChartMogul has made its presence felt across domains. This platform offers the client with quite an elaborate data insight from the available raw data on its well-managed dashboard.
Let's dive deep into some of its prominent features.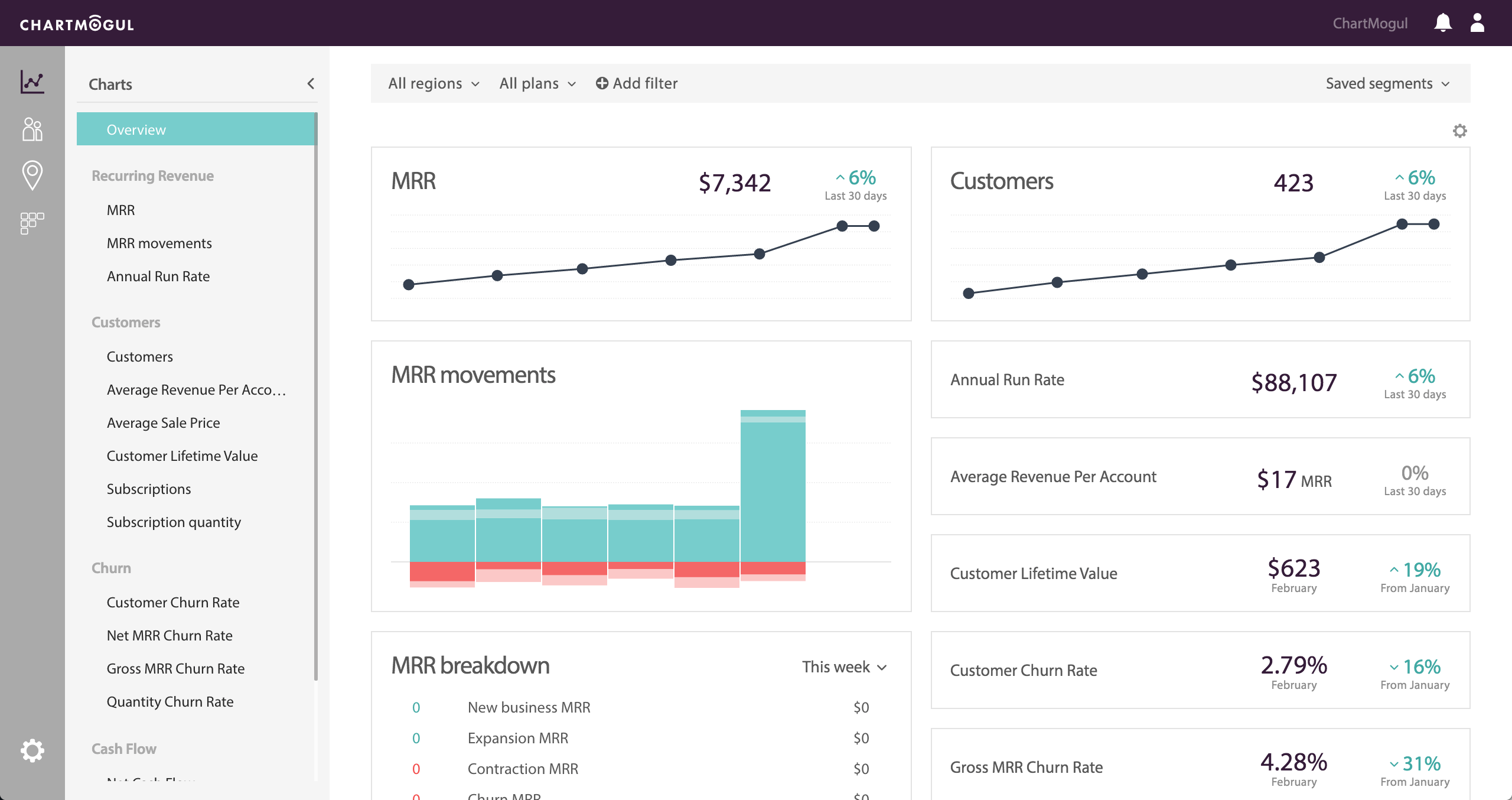 Key Features
Allows the user to view well-categorised sales regions and customer plan groups.
Clients can upload bulk reports using CSV files directly.
Uses multiple data churn formulae and helps the user to change time zone and currencies through the display settings.
Pricing
Launch:- Here, you can sign up for FREE and check MRR up to $10k.
Mogul:-You just have to pay $100/month for 1000 paying customers.
Volume:-You can contact them for pricing if you have more than 10,000 paying customers.
Conclusion
So far, this article enables you to obtain relevant information about some of the popular Stripe analytics tools in the marketplace. Given the complexity in obtaining accurate payment information to grow your online business, it is quite important to focus on a product that manages to simplify your payment processing platform.
By and large, Stripe analytics tool – Putler, has been identified as revolutionary payment analytics and reporting software.
If you are interested in giving Putler a try, https://www.putler.com/ allows you to create your free account with a 14-day free trial offer.
Try Putler – It's FREE