eCommerce business is a puzzle full of tons of data, analytics, and accounting. An operation-heavy business like this requires simple plugins that can assist business owners in day-to-day management.
Your online business thrives on data, so it becomes extremely necessary to monitor and analyze it from time to time. This is why platforms like WooCommerce and Shopify provide some form of basic reporting.
In this comprehensive guide, we'll focus on WooCommerce, delving into its built-in reporting features and exploring advanced reporting plugins.
What is WooCommerce reporting?
WooCommerce is an amazing platform. It provides its users with some basic reports consisting of charts, graphs, and stats to see their store's month-on-month performance.
What are the different Reports in WooCommerce?
There are four types of reports directly available in WooCommerce: Orders, Customers, Stock, and Taxes.
Let's understand them further.
WooCommerce order reports: Unveiling Your Sales Insights
The 'Orders' section lets you view your net and gross sales volumes along with totals, top freebies, top earners, product downloads, etc. Some sub-sections under Orders include:
Sales by date- Provides sales data basis last year, last month, this month, last 7 days, and custom date range
Sales by category- Sales numbers can be viewed by categories
Sales by product- Gives you a report similar to sales by date but it'll be customized basis product
Coupons by date- Shows discounts in total and number of coupons used. The coupons can be filtered basis the requirement
Customer downloads- Downloads are tracked and logged as per a unique customer ID. This report details the customer activity using their IP address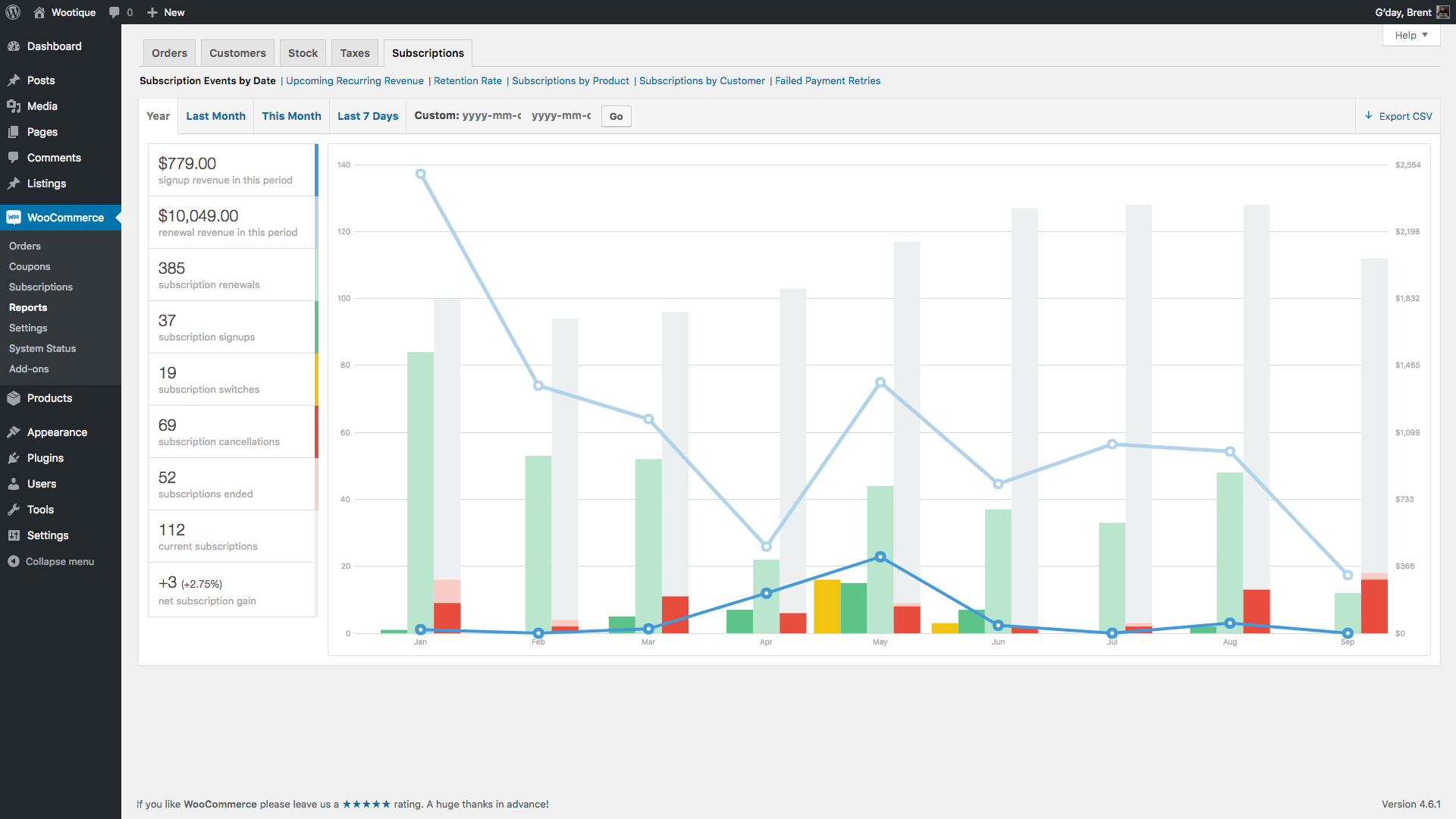 WooCommerce customer reports: Know Your Audience Inside Out
This gives an overview of the Customer V/S Guest report.
The report can be filtered on the basis of date and time. Apart from this, you will get an idea of the number of new customers along with returning customers.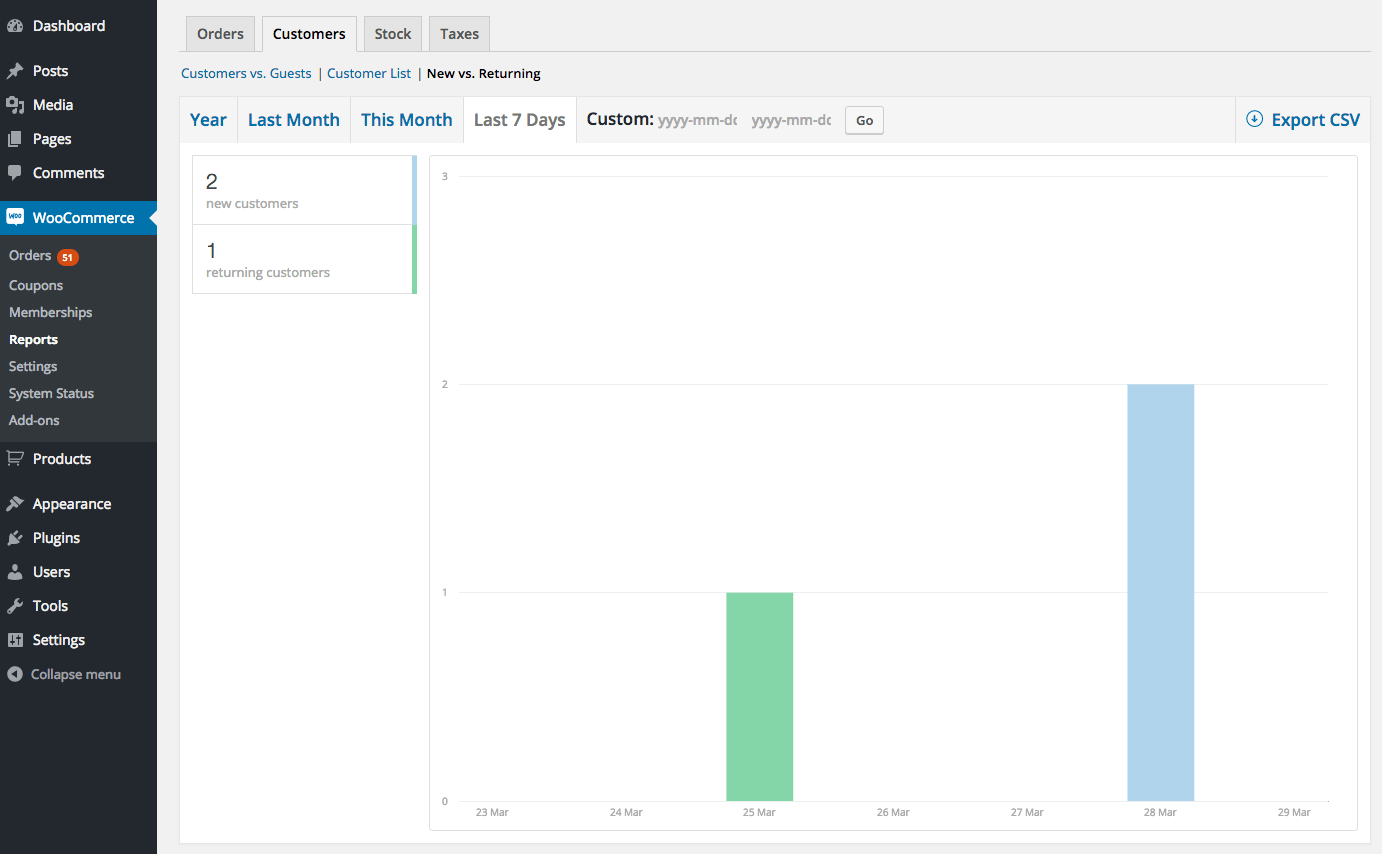 WooCommerce stock reports: Inventory Management Made Easy
Stock report is quite literally your stock summary. It shows low stock, out-of-stock items, and quantity of stocks.
It's a great way to analyze your inventory and pre-plan.

This report allows you to view 'Taxes by Code' (based on your state) and 'Taxes by Date'. You can filter the details based on your preferred time.


Undoubtedly, WooCommerce reports are great. However, there are two major disadvantages of WooCommerce's in-house reporting that need to be analyzed.
Unlocking the Potential of WooCommerce Reporting
WooCommerce's in-house reporting comes with certain limitations that can hamper in-depth analysis:
Limitations of WooCommerce reporting
No advanced WooCommerce reports

The native WooCommerce reports are very basic. They only provide you with an overview. In order to deeply analyze your business and gain insights, you need to dig deeper into your data. And this is why you need WooCommerce plugins that provide you such advanced reports.

Multi-store WooCommerce reports in a single dashboard

WooCommerce reporting primarily gives you data for a single store on a single dashboard. This becomes tricky for those who manage multiple stores. You have to log in to individual stores to view reports from individual stores.
So, to mitigate these challenges, you do need advanced WooCommerce plugins. Let's find out which one fits the best for your needs.
Top WooCommerce reporting plugins: Choose the Right Fit for Your Business
Since WooCommerce is one of the top eCommerce platforms, it has tons of WooCommerce analytics plugins that provide advanced reports.
While these options have great features, not every business will be able to benefit from them unless they find the perfect fit.
Here's a quick overview of these tools:
| Features | Putler | Metorik | Metrilo | Advanced WooCommerce Reporting | Enhanced Ecommerce Google |
| --- | --- | --- | --- | --- | --- |
| Sales Reports | Yes | Yes | Yes | Yes | Yes |
| Customer Reports | Yes | Yes | Yes | Yes | Yes |
| Order Reports | Yes | Yes | Yes | Yes | Yes |
| Product Reports | Yes | Yes | Yes | Yes | Yes |
| Subscription Reports | Yes | Yes | No | No | No |
| Insight Reports | Yes | No | No | No | No |
| Customer RFM Segmentation | Yes | No | No | No | No |
| Filtering | Yes | Yes | Yes | No | No |
| Export option | Yes | Yes | Yes | No | No |
| Multi-store Reporting | Yes | Yes | No | No | No |
| Price | Starts at $20/mon | Starts at $50/mon | Starts at $119/mon | Starts at $39/mon | Free |
So, that was a quick comparison of the top WooCommerce reporting tools. As you can see, all these tools are feature-loaded and each provides you with advance reports that are needed to make a business successful.
We'd recommend you to analyze what is important for your business and then invest in the right tool. If you are a beginner or you are looking for something to try your hands on, do try out Putler. It comes with a 14-day free trial.
But before you go for the trial, here's Putler in a nutshell-
Putler: What makes it the top WooCommerce reporting tool?
Putler is a comprehensive WooCommerce analytics tool. Its sole purpose is providing solutions for problems pertaining to eCommerce, primarily for WooCommerce users.
The groundbreaking tool fetches data from all your integrated data sources, cleans them, and provides you with a detailed analysis of your data along with reports on all important aspects of your business like – Products, Customers, Sales, Transactions, Orders, and Website Traffic. Not just reports, Putler also provides you with essential features like RFM customer segmentation, instant refunds, forecasting, filtering, custom segments, CSV export, performance comparison, and a lot more.
All you need to do is connect at least 3 data sources such as your WooCommerce store(s), payment gateways, and Google Analytics. The more data sources you add the better Putler will work.
How to connect WooCommerce to Putler?
To integrate WooCommerce with Putler, follow these simple steps:
Sign in to Putler.
Click on the WooCommerce icon.
Enter your WooCommerce URL and log in to your WooCommerce account.
Putler's plugin will be automatically installed on your WooCommerce site.
Know more details about integrating your WooCommerce with Putler, here.
Putler's WooCommerce Reports: A Comprehensive Toolkit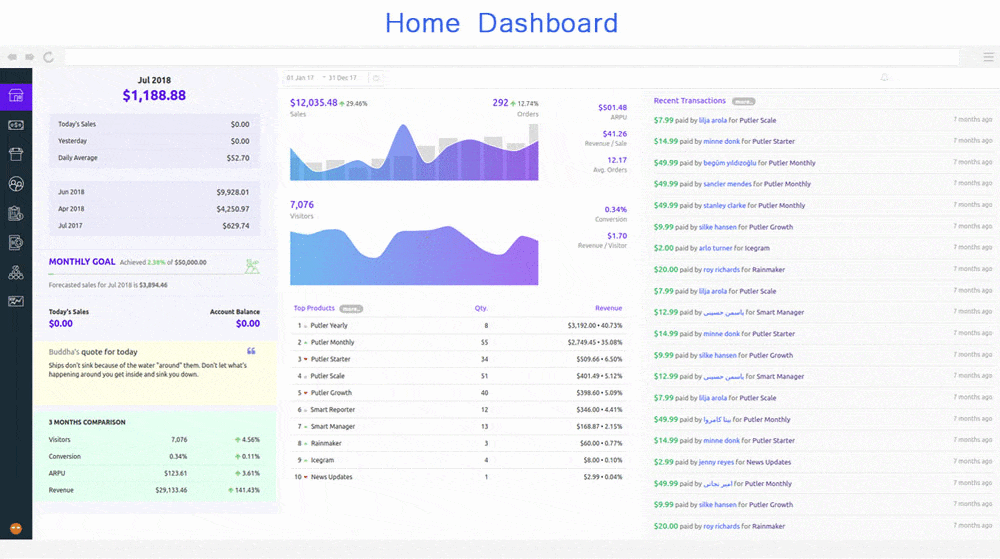 : A privacy-friendly alternative to Google Analytics, this dashboard is your go-to place if you are in search of something much simpler and more business-oriented. Get every detail regarding your website that can help you make better business decisions.
Conclusion: Finding the Perfect Reporting Tool for Your Business
As WooCommerce reporting is quickly becoming a big part of eCommerce operations, more and more plugins are being developed to suit individual business needs.
We hope this article helps you find a tool that fits your business requirements. We invite you to first decide on a tool, take a trial, and then make a decision.
Still on the fence? Here's a live demo of Putler. Take a look!
FAQS
How Do I Install WooCommerce Analytics?
WooCommerce analytics is not a tool that you can install. You can get some basic WooCommerce analytics in WooCommerce's in-built analytics dashboard. However, to get the most out of your WooCommerce store data, you can simply integrate it into Putler along with your payment gateways and Google Analytics and steer your business decisions in the best direction! Here you can check out the steps to do so.
How do I get Reports from WooCommerce?
You can get reports from WooCommerce just by following these steps – WooCommerce > Reports > Search. However, to get a better hold of your business performance and vital stats, you can utilize Putler's WooCommerce Integration. Once, you perform the integration, you can visit any relevant dashboard and get your reports downloaded in CSV format with just a single click.
How do I export a report from WooCommerce?
To export your WooCommerce reports, you need to visit the "All Reports" page. Over there you will find a list of all the different reports that are available for your WooCommerce store. To make an export, just click on the "Export" button next to the relevant report. But if you have Putler integrated with your WooCommerce store, you can get your required reports with just a single click.