Last updated on August 5, 2020
WooCommerce is definitely one of the most popular plugins to create an online business store. When you first start with creation of your business WordPress website, WooCommerce comes handy. As the conventional definition of WooCommerce designates it to be a WordPress plugin, it enables the creation of an eCommerce store. However, the features and functionality of the store extend beyond borders.
WooCommerce Reporting plugins
To everyone's surprise, WooCommerce supports the integration of Google Analytics tools to assess and track the website speed and performance. As a matter of fact, the Google Analytics tool that gels with the WooCommerce store comes with a load of information helping store managers to enhance and optimize the store information.
WooCommerce – Google Analtyics Pros and Cons
As so it appears, the WooCommerce- Google Analtyics reporting tool:
Provides significant information about the traffic flow to the website. It also highlights the transition that takes place as the user moves from the site to the product page, the cart and the checkout.
Compares traffic across different products
Identify the channels that route traffic.
However, this isn't enough to upscale the website performance and revenue. Even though Google Analytics does a lot for you, it certainly lacks few metric needed to track the website overall efficiency.
For instance, the in-house WooCommerce analytics and reporting features doesn't render:
Customer-based information.
Retention rate of customers
Information about repeat visitors
Order refund tracking
Shopping behaviour trend of users
And this is not the end. There are more points, which can be added to the list. Though, you can definitely opt for the paid version, it is advocated that you integrate additional WooCommerce reporting plugins within your store to curb the limitations as posed by the above and enhance the site functionality.
Are you looking to set up a WooCommerce Reporting plugin for your website? But not sure which one to pick?
Don't worry, we got you covered. This article outlines the top four analytical tool for WooCommerce. Walk down each of the descriptions and then make a pick.
WooCommerce Reporting Plugins
The Top Four
---
Putler
One of the most informational WooCommerce reporting plugin, Putler renders all that's needed to know about the website performance.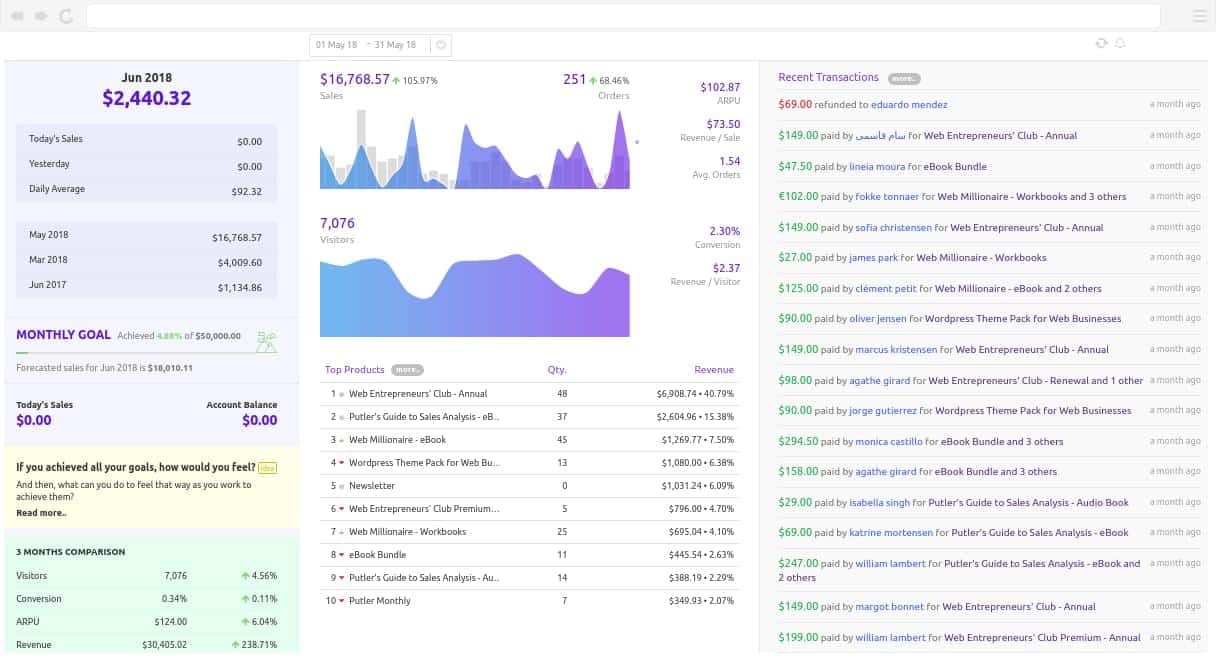 Features:
Instant Sharing: Want to share reports with your teams and management? Putler has an option of in-house sharing.
Regular Reports: Timely reports generated on a scheduled basis, Putler sends all reports directly to the admin.
Issue Refunds: Want to initiate refunds for payment gone wrong? Putler will be your guide.
Integrations:
Quick integration with PayPal, Shopify, Google Analytics, eBay, Braintree, and of course, WooCommerce.
Pricing Plans:
Starter:- For $29/month, connect 2 data sources, get 2 years historic data and process upto 300 orders monthly.
Growth:- For $79/month, connect upto 7 data sources, get 5 years historic data and process upto 3000 orders monthly
Scale:- For $249/month, connect upto 10 data sources, get 7 years historic data and process upto 10,000 orders monthly
Custom:- Have a bigger custom requirement? Reach out to the team. they will create a special plan suited to your needs and budget
Suited For:
Decision makers
Growth hackers
Advantages & Disadvantages
Without a doubt, Putler is excellent WooCommerce reporting plugin offering a range of benefits. From detailed reports on website performance to information on the customers buying behavior, it also enables segmenting them into 11 different categories. The only thing that might stop you from making a purchase is its price. If you are ready to invest a little more, Putler is the one for you.
Try Putler – It's FREE
Metorik
The app-like WooCommerce analytics plugin, metorik is different from others on our list. If you aren't in the mood of messing up with your dashboard, metorik is the best fit.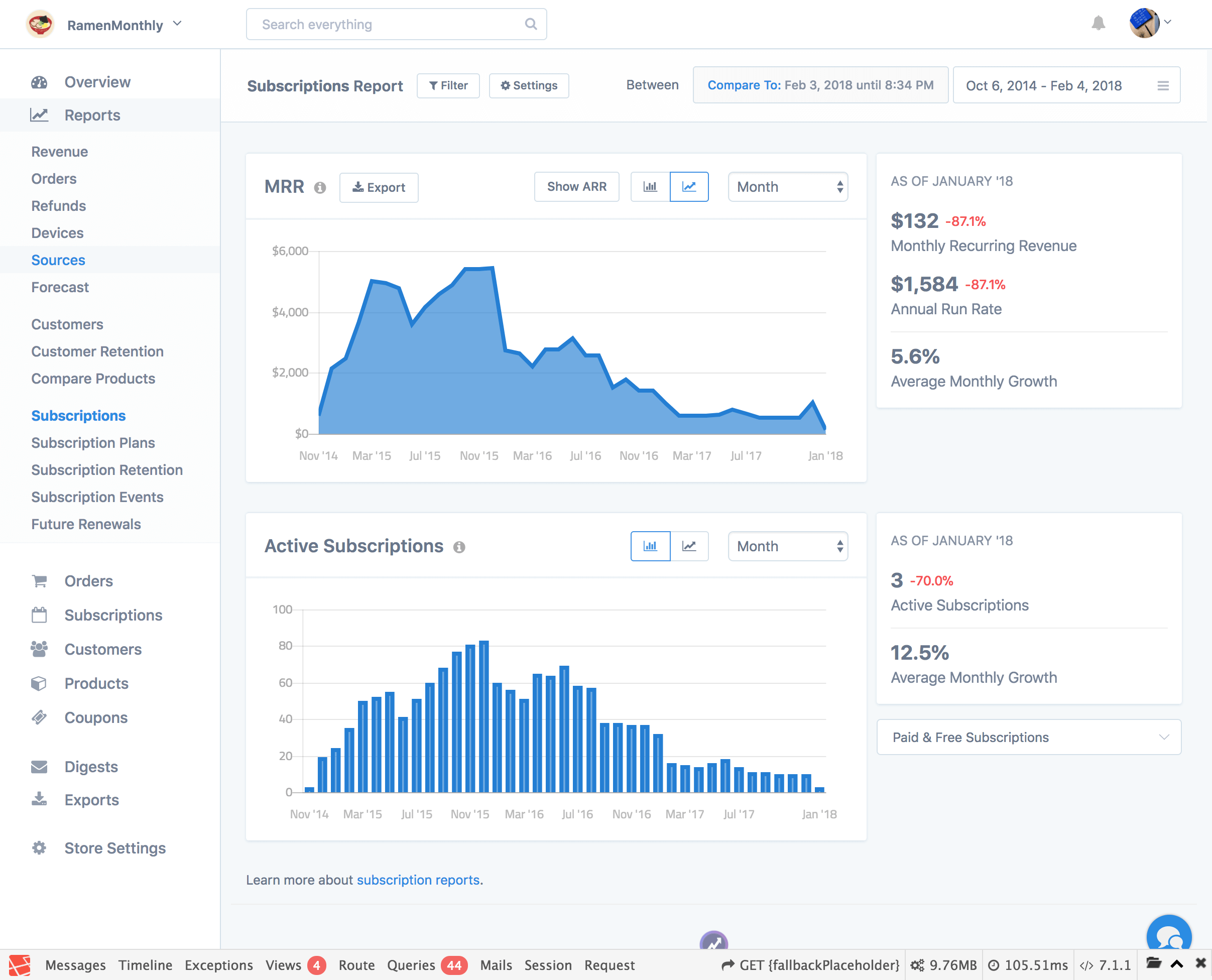 Features:
Quick Segmentation: Filtering users based on their buying behavior or the option of new and repeat customers.
Know What's Selling: Wondering which product drives maximum money? Metorik generates reports exemplifying categories that sell more.
Simple Interface: Being an app, metorik will eliminate the need to run tests over the dashboard. It is pretty easy and you can generate reports in a matter of clicks.
Integrations:
Metorik integrates seamlessly with customer support platforms such as the help desk. It also integrates with email marketing tools for better marketing. (Slack, Zendesk, Goggle Ads, etc)
Pricing Plans:
Small: $50/month for 500 orders.
Medium: $100/month for 2500 orders.
Large: $250/month for 10,000 orders.
X-Large: $500/month for 25,000 orders.
Suited For:
The huge stores with heavy traffic and sale count. Metorik generates reports in a few clicks reducing wait time.
Advantages & Disadvantages
Having an easy to use interface, metorik can be used to manage orders effectively and doesn't require much technical knowledge. Also, it is beneficial for the heavy sale stores as they don't have to wait for reports. Since it bills you based on the number of orders, it might get costlier once you witness huge traffic.
Enhanced ECommerce Google Analytics
Planning to set up GA with enhanced eCommerce functionality? This is the one best for you.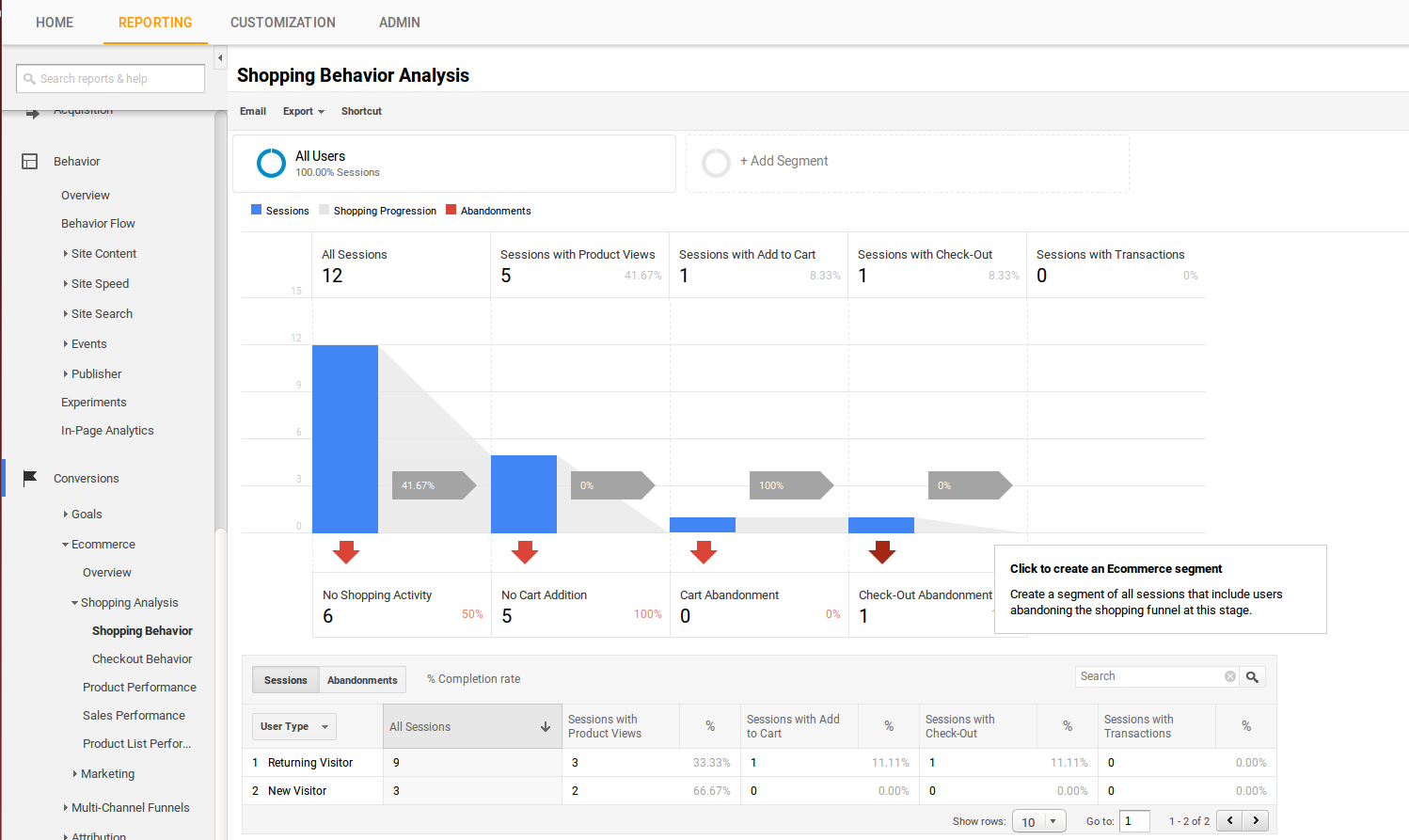 Features:
Track User Action: An excellent WooCommerce reporting plugin, this tool helps you to keep an eye on your user actions.
Enhanced Reporting: Enclose all of the major reports, starting with Sales and product, checkout behavior and the shopping behavior of the user.
Integrations
Enhanced ECommerce Google Analytics can seamlessly integrate with the WooCommerce store enabling you to track and assess the performance of your website.
Pricing Plans:
Free To Use
Suited For:
Website owners that are limited in budget
Beginners that are trying and testing their website.
Advantages & Disadvantages
The fact that this WooCommerce reporting plugin is freely available makes it the top choice of developers and website owners who have just started their online journey. However, the plugin is limited in features and doesn't offer customization options.
Glew.io
Storehub of all information, you can make the most out of analytics reports by Glew.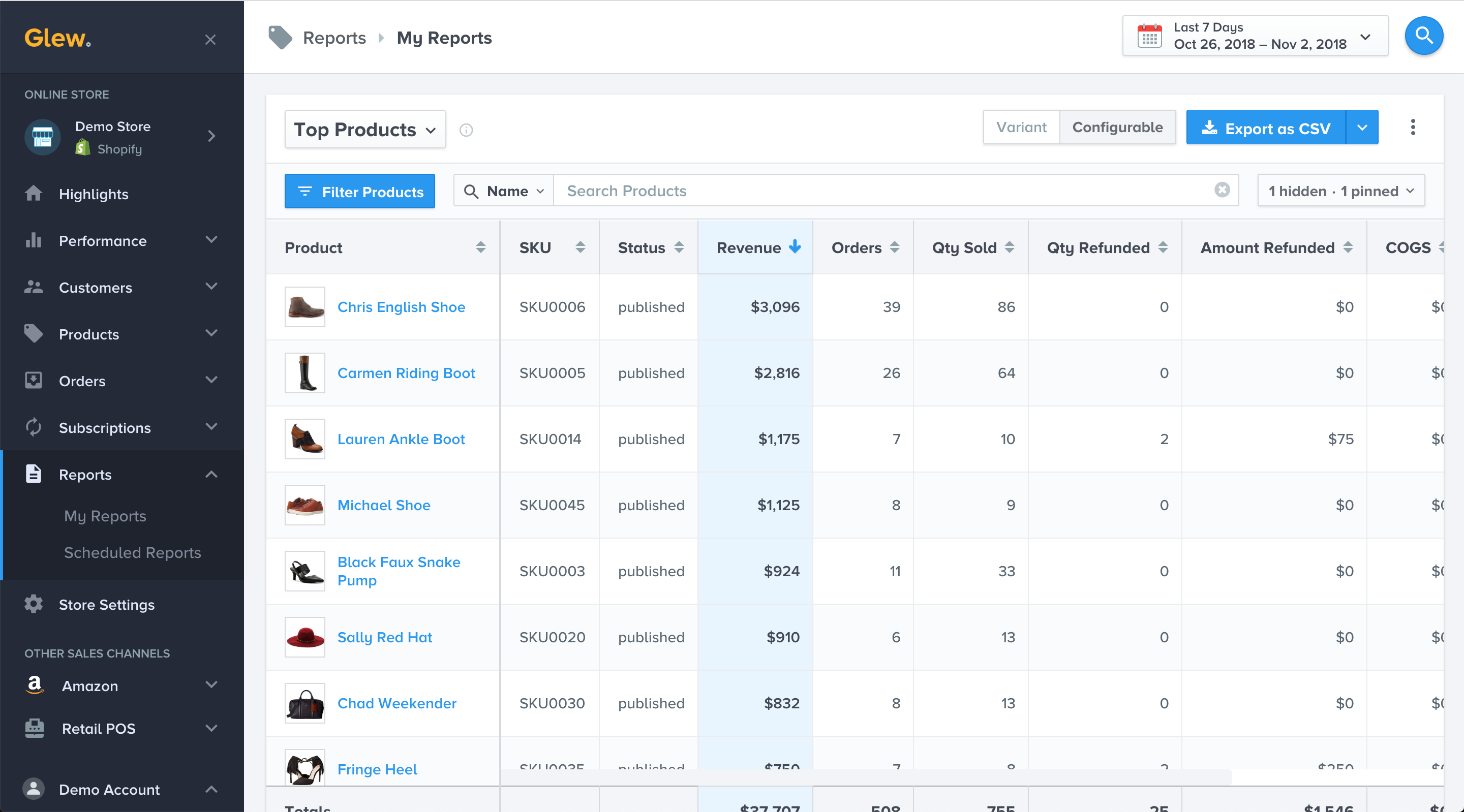 Features
Performance Reports: Get detailed information about your business KPIs to maximize profits.
Lapse Point Metrics: Know about your existing and active customers through automated calculations.
Orders or Reorders: Get to know what's trending within your store to target your customers in a profitable way.
Integrations
ECommerce store integrations (ex: Shopify, 3dCart, Magneto, WooCommerce)
Google Analytics & Google AdWords
Pricing Plans:
Best Suited:
Growth hackers
ECommerce Store Managers
Marketers
Advantages & Disadvantages
Glew is a hub of information and exceptional WooCommerce analytics plugin. It helps segment customers, generate reports and market the product right to amplify the conversion rate. However, it is not suitable for startup users or the solopreneurs, given its big fat price rate.
Conclusion
In the end, it is pretty much clear that using additional WooCommerce reporting plugins would help you accelerate sales and hit the success bar. Where enhanced eCommerce Google analytics is ideal when it comes to getting basic information, Metorik maps the usability needs and Glew works best as an eCommerce marketing tool. If you are planning to invest in software that can cater to all your website tracking and performance needs, Putler serves the purpose best.
Wondering why?
Try Putler Today!

Try Putler – It's FREE