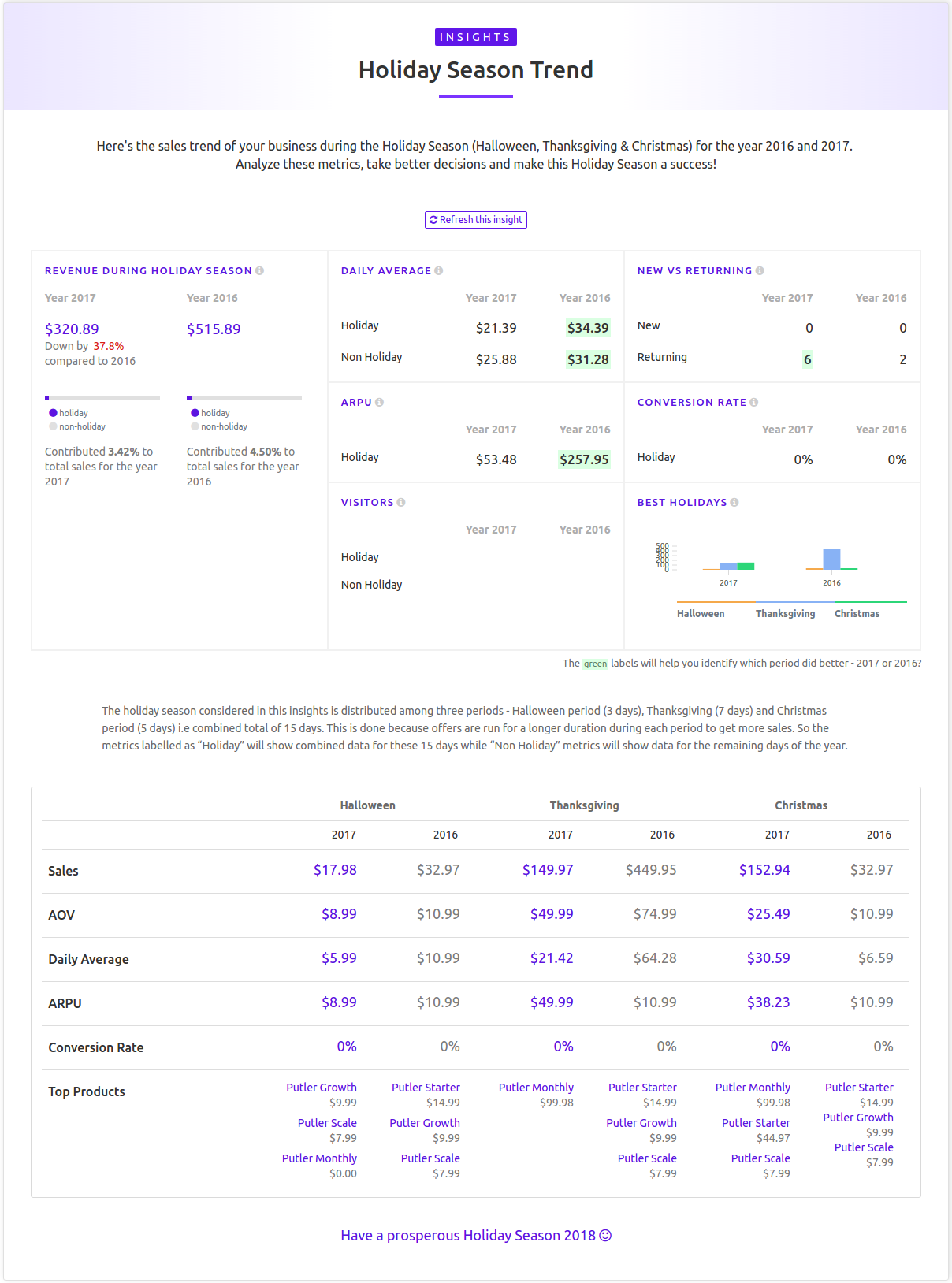 1. Revenue During Holiday Season
Values like 10% or 15% sales contribution indicate a very good holiday performance. It means your offers, marketing has performed very well.
Strategies to boost sales:
Analyze what offers, plans worked and devise this year's plan accordingly.
Dig into your web analytics to see which pages performed better, which channel sent more traffic to your website.
2. Daily Average
A low sales average during holiday season indicates offers are not convincing or traffic is less to the website.
Strategies to increase daily average:
Offer bigger discounts on high-end products
Run a reducing discount offer so that people buy early in the greed of getting more discounts.
3. ARPU
If your Average Revenue Per User for holiday season is low, it means people are purchasing more of your lower end plans or products. This will hurt your overall revenue.
Strategies to increase ARPU:
Bundle your low-end products with high-end products and offer the bundle at a discount.
Focus on the top 1-2% of your customers to attempt to sell your high priced items.
4. Visitors
Comparing visitors count of holiday season and non-holiday season gives a fair idea of your marketing performance.
Strategies to increase traffic:
SEO – Identify your niche, select keywords, draft content and promote it.
Cross-promotion – Look out for affiliates to promote your products and gain more visibility.
5. New vs Returning
Both are important. Since it's holiday season, existing customers will be looking out for better offers and can contribute more to the revenue.
Strategies to convert customers:
Offer yearly plans at a discount, provide BONUSES or offer lifetime membership to your existing customers.
For new users, you may give a welcome discount to prevent them from abandoning the cart.
6. Best Holidays
For some businesses, it may be a more profitable Cyber Monday period. But for some, it may be Halloween.
Strategies to gain revenue:
The offer which worked the best for any period can be repeated for other periods as well if it's a dull period.
You can even extend the offer for 2-3 days, promote it heavily on social media and emails using scarcity and urgency triggers.
Sign Up for a Free Trial