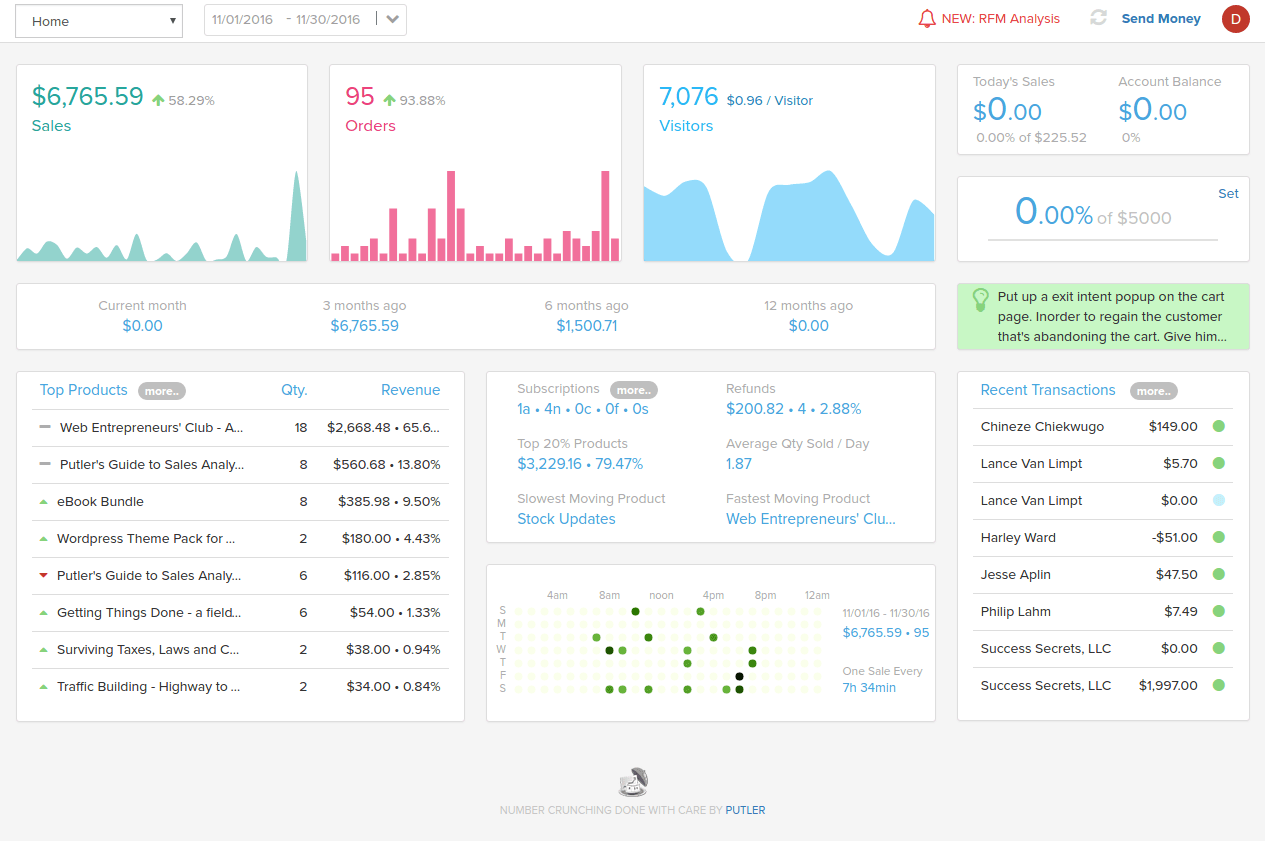 Howdy WooCommerce
WooCommerce is the most popular WordPress eCommerce solution that helps you sell anything – beautifully. WooCommerce transforms your WordPress website into a thorough-bred eCommerce store for free. Delivering enterprise-level quality & features.
What's Special About WooCommerce?
Free, 100% Open Source – Allows you to benefit from an active and growing community of contributors, developers and designers.
WordPress + Ecommerce – WooCommerce runs on top of WordPress – the largest CMS platform. You get all the benefits of WordPress, and a comprehensive shopping cart system as well.
Big Marketplace – Thousands of free and paid themes, woocommerce plugins, woocommerce extensions that makes WooCommerce the most flexible ecommerce solution. Everything from setting up the store, to store management, inventory, shipping, taxes, marketing, SEO is covered.
WooCommerce Analytics & Reporting
WooCommerce built-in analytics & reporting includes some basic reporting and analysis about orders, products and customers. You can filter reports by date ranges and can look-up individual product performance as well. But it's not a complete reporting solution.
Third-Party Extensions For WooCommerce Reporting
Since WooCommerce core reporting capabilities are limited, many companies offer comprehensive reporting extensions for WooCommerce. Some of the popular ones include Kissmetrics, Mixpanel, Metrilo, Putler etc.
Is Putler The Best Reporting And Analytics Tool For WooCommerce?
Putler in addition to basic reporting and sales analytics also has many unique features which you won't find in WooCommerce.
Putler's main competitive advantages include:
No switch over to multiple accounts: Unlike WooCommerce where you need to see individual data and add data manually from each account for total value, Putler provides all data at one place combined.
No need of paid extensions: Putler's strong and in-depth reporting gives all the necessary data you need at one place. But with WooCommerce reports, you need different paid extensions to enhance your reports which turns out to be more costly.
Multiple currency support: Dollars, Euros, Yens, Rupees… Putler supports & automatically converts currencies to give you a global, single currency dashboard. WooCommerce doesn't support multiple currencies.
WooCommerce subscriptions reports & analytics: Putler provides subscription reports for your WooCommerce store. Metrics like Monthly Recurring Revenue (MRR), Churn rate, Customer Lifetime Value (LTV), etc. every subscription business must watch out for.
Consolidation: Accurately combine multiple WooCommerce accounts, payment gateways, shopping carts, currencies and even Google Analytics in a single dashboard.
Automatic deduping: Combining multiple accounts leads to duplication of data that yields error in results. But Putler takes care of that and provides only accurate data.
Intuitive search: Putler's search tool works at a blazing speed. Look out for your desired transactions, products or customer in seconds.
Product, Customer, Sales analytics: In-depth reporting with 75+ practical metrics, trends, overviews and drill downs
Deep growth insights: Get expert advice and intelligent recommendations to grow your business.
Putler is the perfect companion for anyone selling online using WooCommerce. It will provide you instantly useful and breakthrough insights on all aspects of your business- subscriptions, products, customers and more.
Learn more about Putler
Steps To Integrate WooCommerce With Putler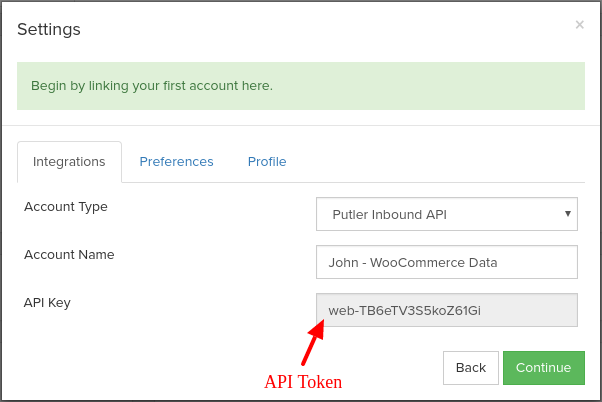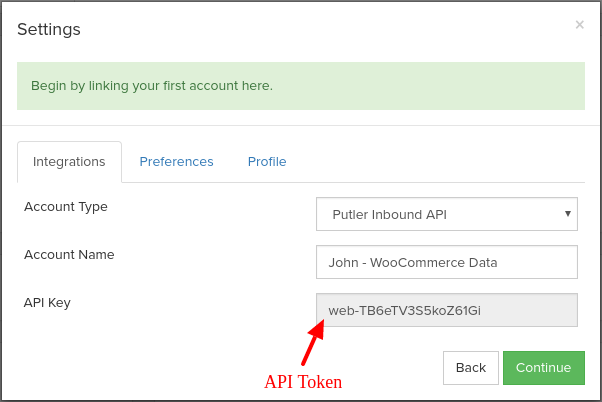 To integrate WooCommerce with Putler, you need to have WooCommerce Putler Connector plugin installed. Download from here for free.
Sign-Up for Putler or go to My Account and enter credentials
Go to Profile > Settings > Integrations > Add
Select Putler Inbound API from the drop-down menu in the Account Type category. A Putler API Token will be generated. Note down that API.
Enter any field in the Account Name for your own reference and click on Continue.
Go to WordPress > Tools > Putler Connector
Enter your Putler email address & API token you got earlier in Putler Connector Settings
Click on "Save & Send Past Orders to Putler" to send all the WooCommerce past orders to Putler.
All past orders will be sent to Putler. New orders will be automatically synced.
Boost your WooCommerce Analytics
& Reporting Now
Easy setup • 14 days free trial • Cancel at any time