Advanced Reporting And Analytics For Your WooCommerce Store
WooCommerce store owners lack the deep insights and KPI's needed to grow their business. But, now with Putler, a complete WooCommerce reporting and analytics solution, it won't be a problem anymore.
Why in-depth reporting for WooCommerce is a must?
The standalone WooCommerce reports provides you only with your store overview that won't help to grow your business.
Hence, for a thriving business, you must look at the bigger picture, and therefore, you must stick to a complete and in-depth reporting solution.
---
Howdy WooCommerce
WooCommerce is the most popular WordPress eCommerce solution that helps you sell anything – beautifully. WooCommerce transforms your WordPress website into a thorough-bred eCommerce store for free. Delivering enterprise-level quality & features.
What's special about WooCommerce?
Free, 100% Open Source – Allows you to benefit from an active and growing community of contributors, developers and designers.
WordPress + Ecommerce – WooCommerce runs on top of WordPress – the largest CMS platform. You get all the benefits of WordPress, and a comprehensive shopping cart system as well.
Big Marketplace – Thousands of free and paid themes, woocommerce plugins, woocommerce extensions that makes WooCommerce the most flexible ecommerce solution. Everything from setting up the store, to store management, inventory, shipping, taxes, marketing, SEO is covered.
WooCommerce reporting & analytics
WooCommerce built-in analytics & reporting includes some basic reporting and analysis about orders, products and customers. You can filter reports by date ranges and can look-up individual product performance as well. But it's not a complete reporting solution.
Standalone WooCommerce reports
The traditional WooCommerce reports gives you an overview regarding your orders, customers and stock.
These reports are simple and just an overview of your store's performance. All these reports can be viewed for a custom date range as well.
Orders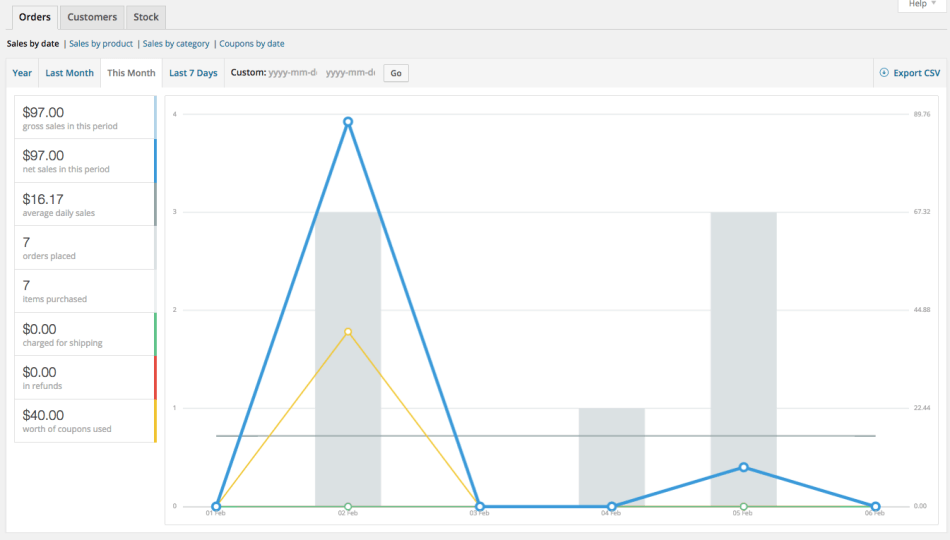 Orders reports allow you to view your gross and net sales volume and totals. You also view your top sellers, top freebies and top earners. Order reports includes the following categories:
Sales by date – current performance via a sales graph
Sales by product – sales per product section per day
Sales by category – sales numbers by categories (t-shirts, albums, etc.)
Coupons by date – discounts in total, number of coupons used, the most popular coupons, coupons giving the most discounts
Customers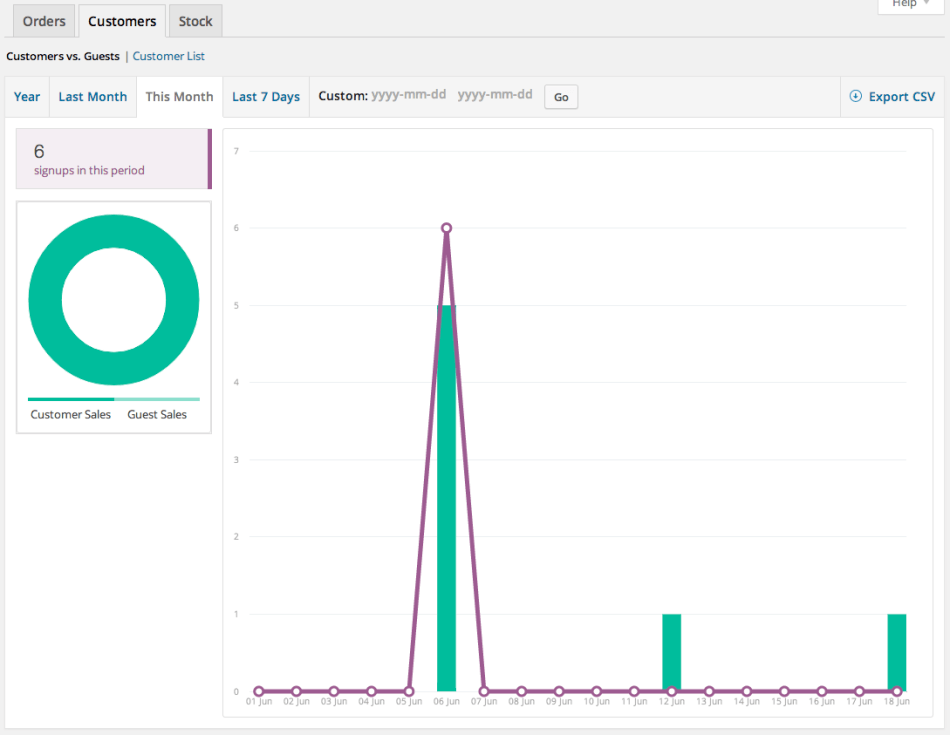 This report includes customers vs guests and customer list options:
In customers vs guests, customers are paying users who register on your website
Customer list only shows registered users
Stock
Stock reports list items that are low in stock or out of stock items as well as the actual quantity left in stock.
Limitations of WooCommerce reporting
As mentioned earlier, the traditional WooCommerce reports are just an overview and not in-depth reports. These reports fails to bring up the following:
Transactions data
WooCommerce reporting fails to bring up transactions and other sales related metrics.
Transaction status – shopping cart, subscription, transfer, currency conversion and others, time when maximum and minimum sales occur, recent transactions quick list, revenue comparison, etc.
Customer segmentation and insights
For a better email marketing approach, you need complete customer details – name, email, social details, etc. as well as understand their shopping behaviour – who purchased what, when and how much. Moreover, you need to identify your best and worst customers, loyal customers, etc. which WooCommerce reports doesn't show you.
Product KPI's
Apart from best sellers, WooCommerce reports doesn't provides any insights as to how each product is performing, their ups and downs, their contribution to revenue, slowest moving product, product in trend, frequently bought together and a lot more.
Third-party extensions for WooCommerce reporting
Since WooCommerce core reporting capabilities are limited, many companies offer comprehensive reporting extensions for WooCommerce. Some of the popular ones include Kissmetrics, Mixpanel, Metrilo, Putler etc.
Is Putler the best WooCommerce reporting and analytics tool?
Putler in addition to basic reporting and sales analytics also has many unique features which you won't find in WooCommerce.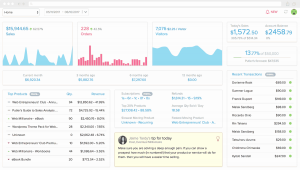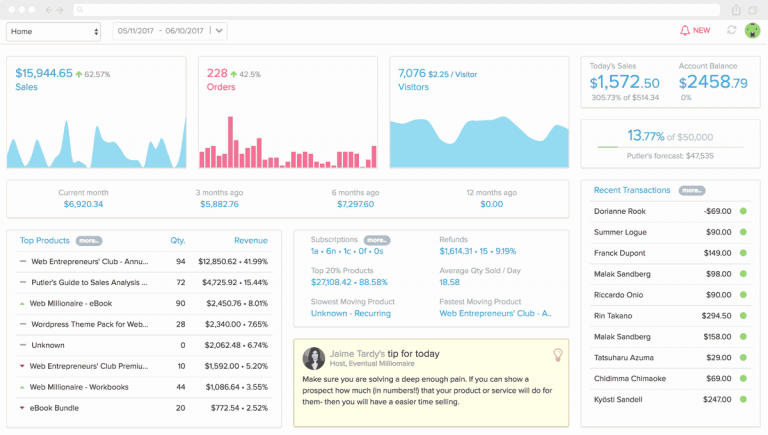 Steps to integrate WooCommerce with Putler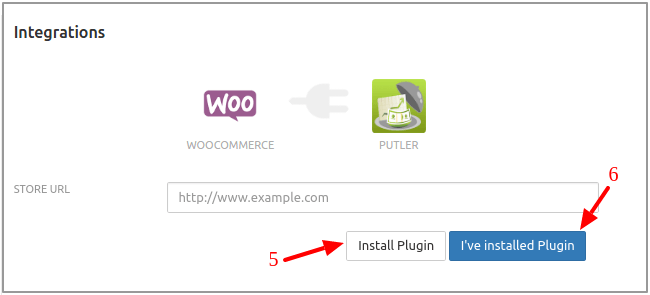 Sign-Up for Putler or go to My Account and enter credentials.
Go to Profile > Settings > Integrations > Link a new integration.
Select WooCommerce under E-commerce category.
Fill in your WooCommerce shop URL.
Click 'Install plugin' if you have not installed WooCommerce – Putler connector plugin on your WooCommerce site.
If you have already installed and activated WooCommerce – Putler connector plugin then click 'I've installed Plugin' button.
Additional resources