Though Google Analytics is one of the most used analytics tools out there, it's not wise to overlook the fact that it's tough, not accurate all time, and fails to deliver dependable e-commerce tracking inputs.
All these factors, leave people wondering-
Is Google Analytics not accurate?
Is it wise to bank upon it?
Should it be used for multiple e-commerce platform analyses?
If eCommerce tracking in Google Analytics is a new thing for you, read this post to know the common issues and a viable solution to fix all of them in one go.
Google Analytics Ecommerce tracking Errors That Might Bother You
Before we jump to the solution, let's find out the common errors that can give you a headache while you do eCommerce tracking using Google Analytics.
Error #1- Data Duplication
It's very common to see one entry multiple times in Google Analytics. It could be because of Google Analytics' inability to capture the data in real-time. Data is updated a little later which leads to data duplication.
Error #2- Missing transaction data
For the same reason, missing transaction-related data is another error to face with Google Analytics e-commerce tracking. For this reason, Google Analytics revenue reports, created by your team after analyzing various metrics, are not highly reliable.
Error #3- Multiple reporting errors
While Google Analytics claims to offer insights reporting facility, it fails big time to prove this claim right.
Honestly speaking, it may even make you think, is Google Analytics accurate?
This is one area where Google Analytics delivers worse performance. Errors like missing out on raw Google Analytics data, display of internal traffic data in the reports, details of website pages missing, traffic reports are inflated by Spam and other bots, reports are not showing search results, and redundant view alerts are very common.
If you're a reporting expert then spotting these errors will become easy for you. But, rookies are going to have a tough time finding these errors. Also, reporting all these errors is not going to make much sense.
Error #4- Problems in the management of multiple e-commerce websites
Well, this one is a major Google Analytics issue as it's nearly impossible to keep track data from multiple online stores with full accuracy. There would be so many dashboards that users will get confused and perplexed. Unless you have a stronghold of technical knowledge, you won't be able to make this work.
Error #5- Issues with tracking custom campaign
You may have invested a huge sum in generating a custom marketing campaign but it breaks our heart to say that you won't be able to find out its actual performance as Google Analytics can't track it in real-time. And if Google Analytics stopped working, all your efforts will go in vain.
Error #6- No tracking of offline marketing campaigns
Google Analytics not tracking custom campaigns from various channels is problematic.
In the same way, Google Analytics won't help you to track the utility of the offline marketing program that you're running for your online store. We know tracking offline marketing programs is a tough nut to crack. But, Google Analytics is of no use in this direction.
Error #7- No backup and testing view
This is one of the most common tracking mistakes or Google Analytics problems that one can face while using Google Analytics. It's wise to see all the testing and backup views for insightful data.
What Is The Way Out?
From the above text, it's clear that you're not going to have reliable Google eCommerce tracking as it is clumsy and can miss out on some major details.
So, should businesses drop the idea of e-commerce tracking?
Of course not! Businesses need to find a way to enjoy enhanced eCommerce tracking.
Putler works great in this regard.
Meant to resolve every e-commerce tracking issue, this high-end tool empowers the Google Analytics Ecommerce tracking at every front. In a blink of an eye and without demanding any special technical skills, it gets linked with the existing Google Analytics account and brings every single detail to a centralized place.
Putler – Your Multichannel eCommerce Analytics Ally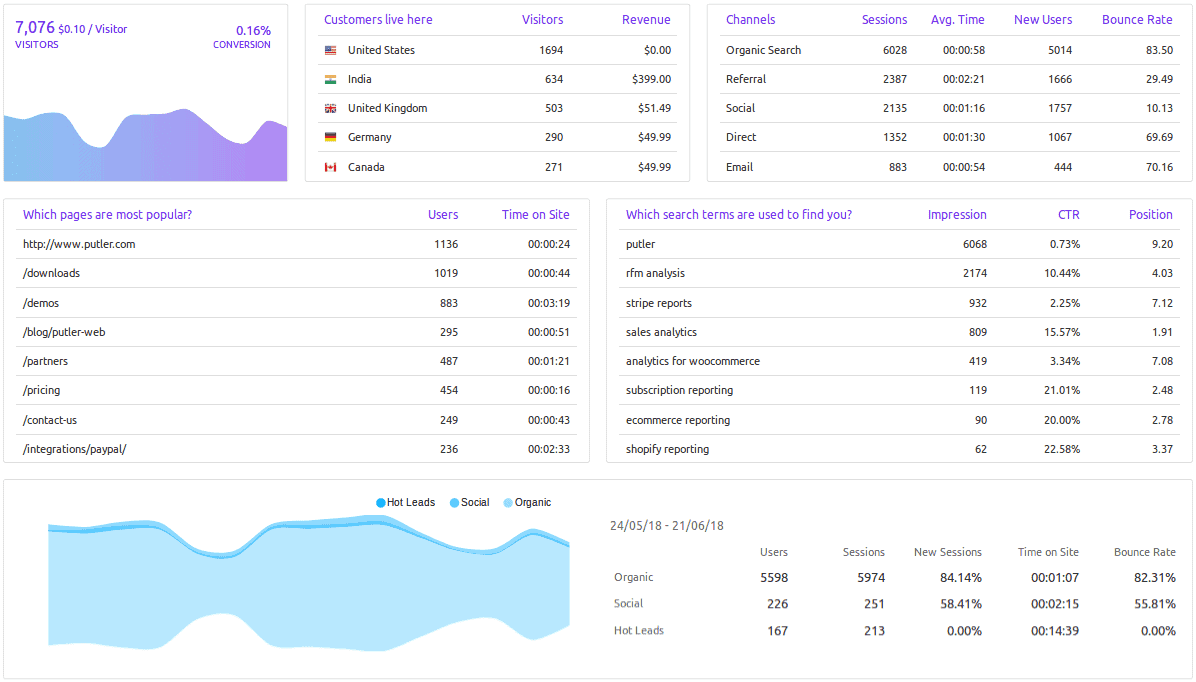 Here are some of the key advantages to experience while you replace traditional Google Analytics Ecommerce tracking with Putler-empowered e-commerce tracking.
Putler shuns the sluggishness of Google Analytics and brings the real-time data at users' disposal in no time. They don't have to wait till tomorrow to know today's transaction details.
As data is generated, Putler collects and presents it to the users in an impressive way.
There is various kind of data in an e-commerce business. For instance, customer data, marketing data, revenue data, refund data, expense data, and so on. Regardless of the nature and size of the data, Putler is capable to capture, assess, and analyze it with full accuracy. The cherry on the cake is that it brings all the data together allowing businesses to have deeper insights.
With Putler, knowing your customer is easy as it brings all the customer details, except the location and time, in a compiled form. It's a boon for creating customized marketing campaigns.
Keeping track of metrics like MRR, churn rate, LTV, ARPU, etc. is more than important for a subscription-based business. Sadly, Google Analytics will not lend a helping hand at this front. But, Putler does.
Putler lets the end-user generate powerful reports with more than 150 metrics.
Looking for specific data? Putler offers an intuitive search feature that brings everything that you're looking for over a single click.
Those who own multiple e-commerce websites will have a tough time making Google Analytics Ecommerce tracking work for them as the job is tedious and Google Analytics is not competent. Putler combines all the e-commerce stores and lets the user manage it from a centralized place, which is way easier.
Sounds interesting, right? These advantages are worth are surely make you moving to try Putler and enjoy error-free and streamline e-commerce tracking.
How to Get Started with Putler?
Well, you can go ahead as Putler offers a free trial and is super easy to use. Just follow the below-mentioned steps and you've done.
Step #1: Using a valid email, complete the sign-up process for Putler.
Step #2: Click on Google Analytics icon and connect your Google Analytics account to Putler.
Step #3: Putler will automatically pull in all the data from your GA account and show you reports.
PS. The best part of using Putler is, it lets you connect multiple Google Analytics accounts and helps you view them from a single place. Also, along with Google Analytics make sure to add other data sources, so as to get the maximum advantage from this tool.
Still, having any doubts? Check out this live demo and become a master of Google Analytics tracking.
Conclusion
You're not the only one that is facing issues with Google Analytics and are not able to make most of it for e-commerce tracking. There are many others who have complaints with this super powerful yet complex and half-baked tool. Using Putler, you can overcome all the Google Analytics generated eCommerce tracking issues and make most of the business data. Try it once and we're sure you'll have no regrets afterward. It's that wonderful.