Ask any online store owner about the toughest task of handling their store and we're sure that you'll get reliable and insightful e-commerce tracking as the answer.
In this post, we'll learn about the significance of Google Analytics for WooCommerce store owners and the easiest possible way to bring this tool to your service and enabling enhanced eCommerce tracking. So, let's get started.

Why do you Need WooCommerce Google Analytics Integration?
To Find Top Performing Products

WooCommerce Google Analytics integration lets the online store owners find out which products/services are the star performers and work towards the betterment of other products and enhancement of the highest-selling products.

Comprehending Shopping Behavior

Understanding key shopping behavior becomes an easy job and allows store owners to fabricate marketing strategies based on customer behavior.
Besides the above:
One can identify the cart abandonment rate and work towards lowering it.
You can precisely measure a campaign's performance by setting analytics metrics for it.
It allows you to keep track of the website's SEO performance and figure out the top traffic sources.
How to set up Google Analytics for WooCommerce
You can easily set up Google Analytics on WooCommerce by following the below-mentioned steps without spending a penny:
Step 1 – Go to your WooCommerce store and open the Settings section.
Step 2 – In the Integrations option, look for Google Analytics and view the setting details.
Step 3 – Complete the set-up as guided. Depending upon the set-up option you choose for Google Analytics, you need to have adopted a different WooCommerce Integration setting.
For instance, if you have decided to go with Google Analytics 4 property, you must have got a G-Measurement ID.
Find this ID by signing to Google Analytics and visiting the Admin section.
In this section, click on Property > Data Streams and select the data streams that match your website. The Measurement ID, beginning with G, will be mentioned on the top right side of the website page.
If Universal Analytics property has been picked for set-up then UA-Tracking ID can be found in the Admin panel.
Go to the Property, select Tracking Info > Tracking Code. The Tracking ID, starting with UA-, will be mentioned on the top of the page.
Step 4 – Add the domain details of your website and start to enjoy useful e-commerce tracking.
E-commerce metrics you should track in Google Analytics
Now that you have understood the worth of WooCommerce Google Analytics integration and steps to bring these two platforms together, it's time to find out which metrics to tracks.
Sales conversion rate to know the actual performance of the store
Customer acquisition cost to know how much expenses the store is making to attract the customers
Customer lifetime value (LTV) to know for how long a customer stays committed.
Average order value (AOV) to find out whether or not the store is making profits
Cart abandonment to know how many opportunities are missed.
The problem with WooCommerce Google Analytics
This integration is not always a win-win station as it comes with drawbacks like:
Complex set-up as there are various steps to be followed
Need of coding during the set-up
Data abundance leaves store owners confused and puzzled
Handling multiple stores is no less than an uphill struggle
How Putler is the solution to your WooCommerce Google Analytics worries?
While WooCommerce is super-essential for your online store, the key here is to make most of it and install it perfectly. Also, the huge amount of data, collected by WooCommerce, will be of no use if you don't know ways to utilize it.
If you want to make sense of every detail that WooCommerce brings at your doorsteps with the least possible hassles, nothing is more useful than Putler.
Unlike the enhanced eCommerce Google analytics plugin for WooCommerce and other such options which are a bit complex to understand, it offers ease of use and great efficacy to all kinds of WooCommerce store owners.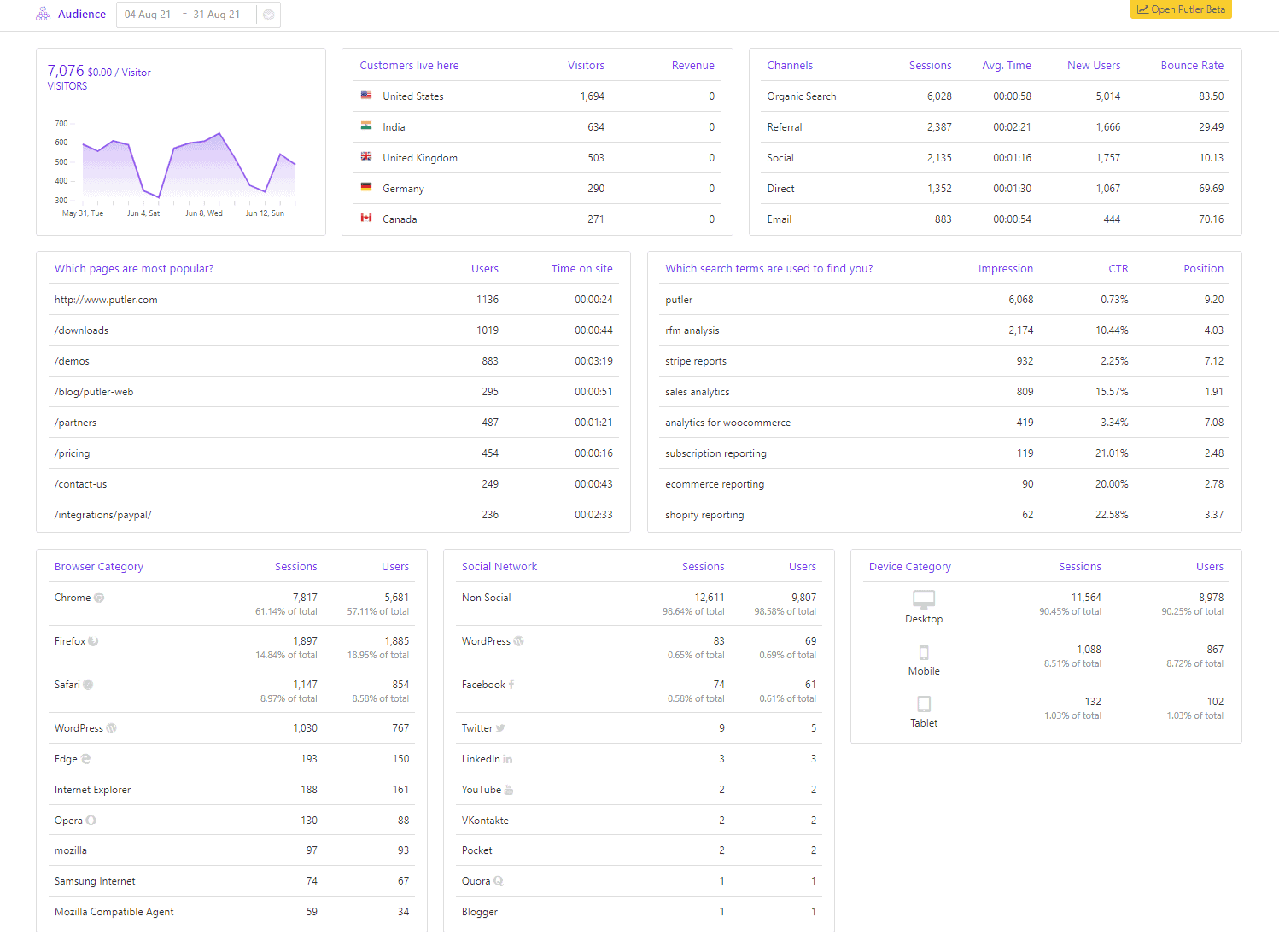 Putler Dashboard
Putler is a standalone data handling and filtering tool helping businesses of all sorts to make most of the accumulated data and fuel success.
Advantages of using Putler for WooCommerce Google Analytics eCommerce tracking
Simplify the set-up and integration process
Putler will handle this task perfectly. There is no need to set up WooCommerce and Google Analytics WordPress Plugin separately for your only store. All you need to do is:
Sign up for Putler
Connect your WooCommerce store as well as your Google Analytics account to Putler
Putler will automatically pull in all the data and show you combined reports in a single place.
Not just Website Analytics, get much more…
Putler provides a wide range of metrics for products, customers, sales, subscriptions as well as website traffic. Along with reports, it also provides useful features like –
Customer segmentation
Filtering
Export
Forecasting
Goal tracking
The kind of added data or information you will get from these metrics is worth a million dollars as it brings more clarity over the present performance of the online store.
Enjoy centralized data accessibility
You can see the data, extracted from these two platforms, in a centralized place, saving a huge amount of effort and time. Things will be so much effortless and you will be able to enjoy enhanced e-commerce tracking by simply choosing Putler!
Final thoughts
Combining the power of WooCommerce and Google Analytics is one of the best strategies that online store owners can adopt to empower the store. However, the job is not going to be easy as there are tons of hassles and hurdles to handle before.
Let the Putler handle the job for you. Once you call it for your help, there is no way that you miss out on crucial information and get over-occupied in separate installations of these two platforms.
Your life and your online store; will be sorted out once and for all. Go and try it once. It won't cost you a penny as it comes with a 14-day free trial.