Every business is on the continuous lookout to create an exceptional customer experience. To be successful, the not-so-secret entity is data. The marketing team of every organization and the analytical companies are striving hard to improve the accuracy of their analytics software, keeping customer engagement as the target.
One such modern tool that is built foreseeing the future of the digital era is Google Analytics 4, short called GA4.

What is GA4?
On October 14th, 2020, Google announced their new analytical venture, Google Analytics 4 or GA4. This tool emphasizes building the user journey and improving user management. The core of ga4 Google Analytics is built using Machine Learning as it fills the gaps from the previous versions. It drives the flow of insights without compromising the user's privacy.
This will be replacing the previous analytical tool – Universal Analytics, by July 1, 2023. The time is provided for people to migrate from Universal Analytics to GA4. Users can still use Universal Analytics for some time after the launch of the 4th version of Google Analytics. However, all the new data will go through Google Analytics 4 properties by default.
Why you should begin collecting data with GA4 right away (even though it's not all systems go)
If you're still unsure why shift to GA4, here is the list of Google Analytics 4 benefits you must know:
Tracks user journeys
It concentrates on users rather than devices or applications. It tracks and builds a user story or journey based on the relevant operations performed by the user on any device.
Focuses on user engagement
Analyzing the website performance based on the keywords and search results has not given fruitful results. User experience goes far beyond considering demographic metrics. Hence, the 4th version of Google Analytics uses AI to increase the efficiency in user engagement by providing several options like file download details, outbound click information, etc.
Filters high engaging customers
Every organization has a certain target audience but not all of the users under this tree are powerful prospects. The latest Google Analytics tool is built to proficiently pick highly engaging customers facilitating efficient ad money spent.
Simplified goal orientation
Every company has different goals for different quarters as part of the marketing team. Constantly filtering out the aspects in an analytical tool for every goal is a cumbersome task. Hence, ga4 Google Analytics tool enables you to track and analyze behavioral data to accurately develop goals in a simplified way.
Easy and upgraded UI
There are a lot of elements modified and added in the latest version to redefine the analytical process. Some of them include the 'Analysis Hub', granular data metrics, 'Demographics', etc.
Uncompromised privacy
With all these benefits, it also has an additional benefit of data security. It means, it gives you the control to permit only selective personal data of the user as opposed to the previous versions where users did not have much control over sharing any information.
How to set up GA4
From the above discussion, if you're interested in setting up the latest version, here's how to get started.
If you are new to Google Analytics:
1. Create an analytics account as an admin.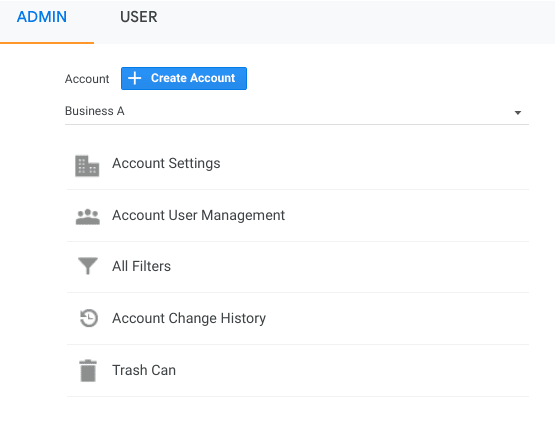 2. Give an account name and set up data sharing settings. This helps you decide the kind of data you would like to share with Google.
3. Click on Next to add properties. You can add up to 100 properties. Add property name and select the appropriate time zone and currency.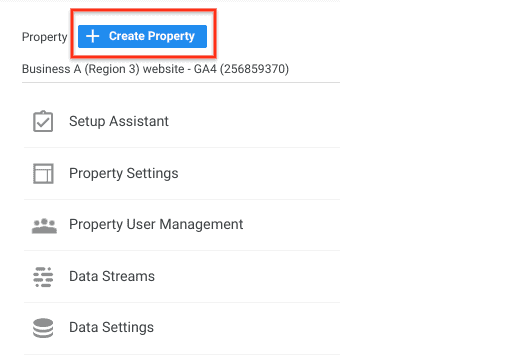 4. Click Next. Select the category of your industry and size of the business.
5. Go to Data Stream under the property column and select Add stream. This is the medium for collecting data.

6. Click Create. Accept the "Analytics Terms of Service" and "Data Processing Amendment".
7. Add the Analytics tag to your web pages for viewing data in your new property. Refer the section below to know how to add tags to your webpages.
If you are already using Universal Analytics and want to migrate to GA4:
Go to the admin page and select the Google Analytics account.
In the property column, click on the Universal Analytics property account and click on GA4 Setup Assistant.
Under 'I want to create a new Google Analytics 4 property', click Get Started.
If your site is using/supports gtag.js, you can enable data collection using existing tags.
If your site does not support gtag.js, you will have to add the tag by yourself. Refer the below section to know how to add the tags.
Once you are set with the tags, click Create Property. In this step, all the property details like name, time zone, currency, etc., will be copied from your existing Universal Analytics property, activates enhanced measurements, and creates a bridge between Universal Analytics and GA4 property.
Once the connection is successful, take a note of your GA4 property's name to use it the next time.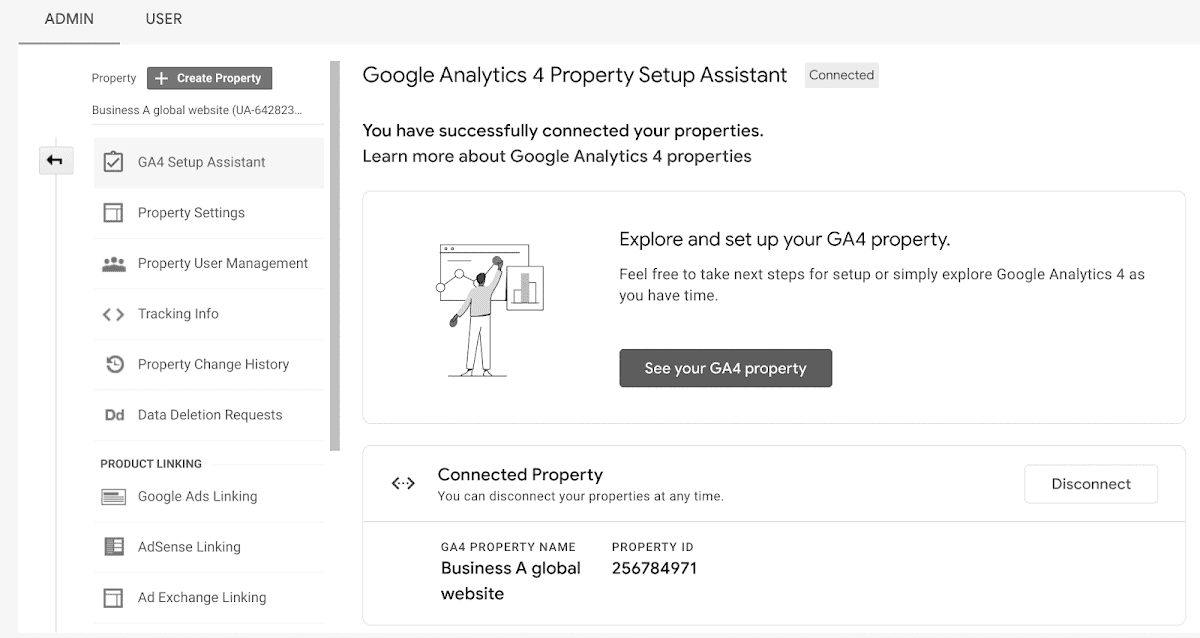 How to configure Tag Manager with GA4
Google Tag Manager supports tags with the following combination:
Google Analytics: GA4 configuration
Google Analytics: GA4 event
To add Google Analytics 4th version Configuration tag to your web pages:
Go to tags and click new. Click tag configuration
Select Google Analytics: GA4 configuration
Enter your measurement ID. Optionally:

You can add other parameters that you think best fits your purpose.
Add any custom user properties that you want to be configured in user properties.
Enable triggering to fire GA4 configuration before any other tags.

When you enable triggering, add the events to cause the tag to fire.
Save the tag configuration and publish the container.
To add latest version of Google Analytics event tag to your web pages:
Go to tags and click new. Click tag configuration
Select Google Analytics: GA4 event
Select the configuration tag you have created. Enter event name. Here are some recommendations for event names. Optionally:

You can add event parameters like parameter name, row, value, etc.
Customer user properties to configure in user properties.

Click triggering and choose events that cause the tag to fire.
Save the tag configuration and publish the container.
Turn on Debug Mode
You can turn on Debug Mode in two simple steps:
Install Google Analytics debugger chrome extension
Enable the extension and refresh the page
Best ways to use GA4 Reports
Here are the best ways to use ga4 Google Analytics reports:
Realtime report
This report shows the real analysis of your website for the past 30 minutes. You can use this to confirm the working of the tracking code, view effects from the Youtube video, and witness new product launches.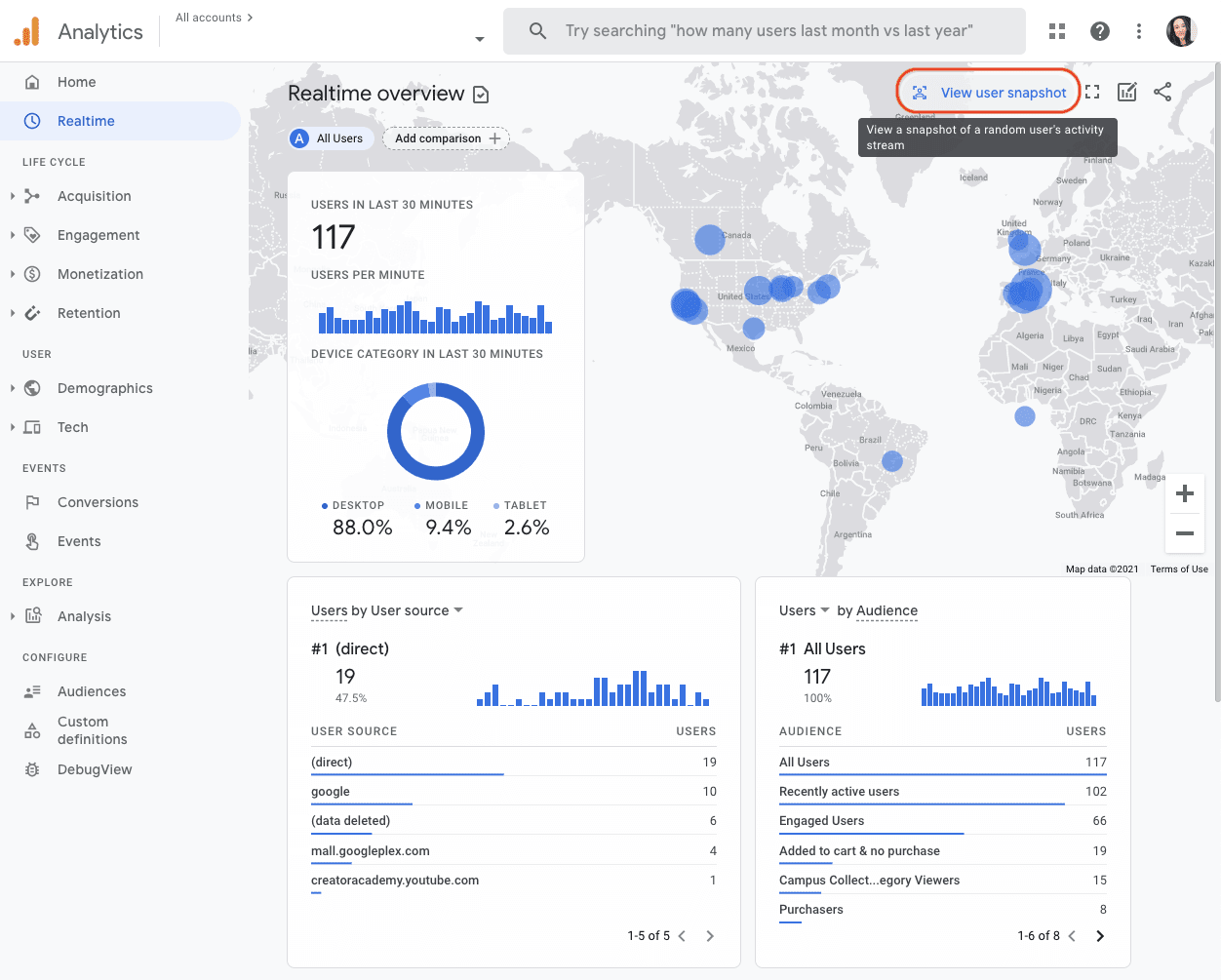 Life cycle reporting
This report is a savior for all the marketers out there. You can analyze every step of the conversion funnel and understand customer behavior in the funnel.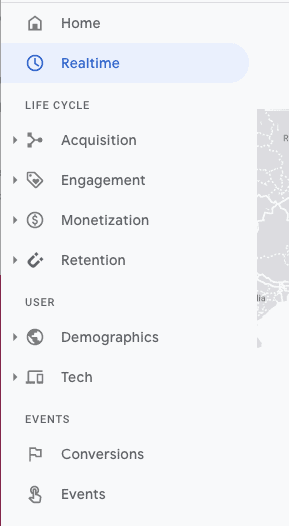 Explorer report
Enter The Analysis Hub – a super-efficient analysis tool that provides several advanced metrics to indulge and understand customer viewpoints.
Create new analysis
Here are the steps to create new analysis:
Log in to your Google Analytics account and click Analysis
Choose the mode to analyze your data. Here are the modes you can choose from:
Variables column
Tab Settings column
Segments
Dimensions
Metrics
Visualization
Values
Tabs
Display
Types of Analysis
Here are the different types of Analysis:
Exploration
Google Analytics 4 exploration has several new metrics and insights to gather interesting results for understanding your power user's perspective.
Funnel Analysis
Marketers can understand user behavior before entering and while in the conversion funnel.
Path Analysis
Path analysis helps marketers track and understand the customer life cycle. This shall help them to engage customers effectively.
Segment overlap
This helps marketers create customized segments of their users to understand which segment under their target audience works best for them.
Cohort Analysis
Cohort Analysis is similar to the Segment Overlap except here, the group of similar demographics is added to observe how long it takes for this group to convert to different stages in the funnel.
User lifetime
User Lifetime helps marketers gather all the insights on all the driving factors that are helping customers stay for a longer time.
Conclusion
Irrespective of the size of the businesses, every organization is looking out to increase its ROI. Currently, two factors can work best: Data and Digital. Hence, GA4 has entered at the right time and by the looks of it, it will soon enter the right place as well.