Decktopus is your ultimate document creation tool which allows you to create not only awe-inspiring presentations but also sales sheets to boost sales, portfolios and resumes to impress recruiters, forms to collect leads and even bio links to engage your crowd on social media!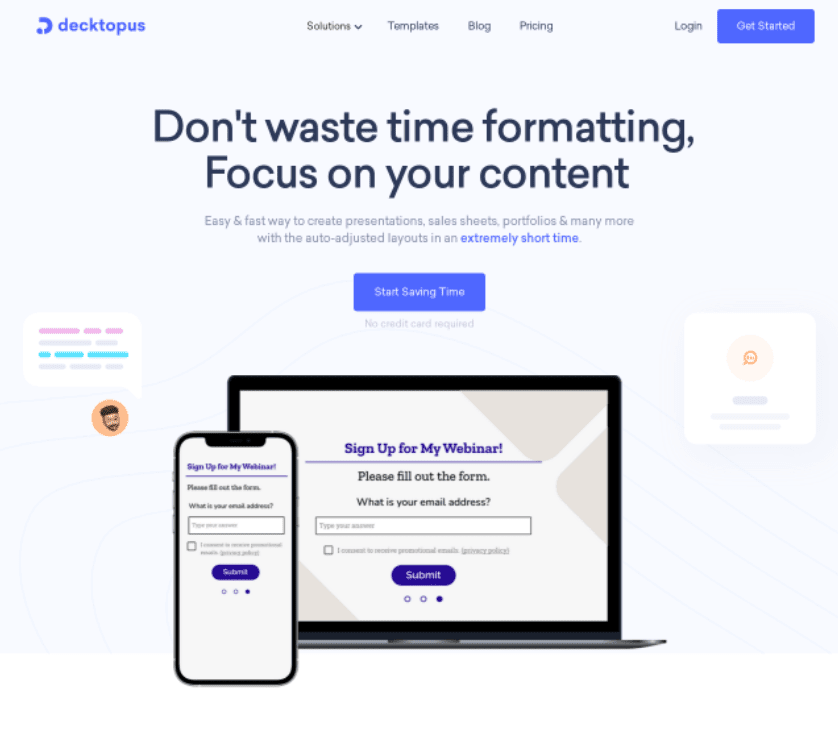 Imagine that there is a way to create an impressive and engaging document in only three steps.
Yes, that's possible. Decktopus offers users a wide range of templates, just suited to their needs and allows them to create the documents that they need by only filling-in-the blanks. Decktopus then automatically adjusts the design on all the other slides when one small change is made on a single slide.
In this review, how Decktopus can be of help to small and medium businesses as well as influencers, companies, agencies and freelancers will be explained.
Prepare to save lots of time on formatting, and begin to focus on your content!
Look no more for ready-to-use templates
Decktopus offers more than 100 templates that are ready to use. Once users sign up to the platform, they are directed to the template dashboard where they can search and choose the most suitable templates for their use! The categories are as follows:
Business
Proposal
Online course
Education
Executive summary
Form
Nutrition
Case study
Bio link
Check Out the rest of the Best Templates of 2023!
Here is a sneak peek from the Decktopus dashboard:
Remember, you can always start from scratch!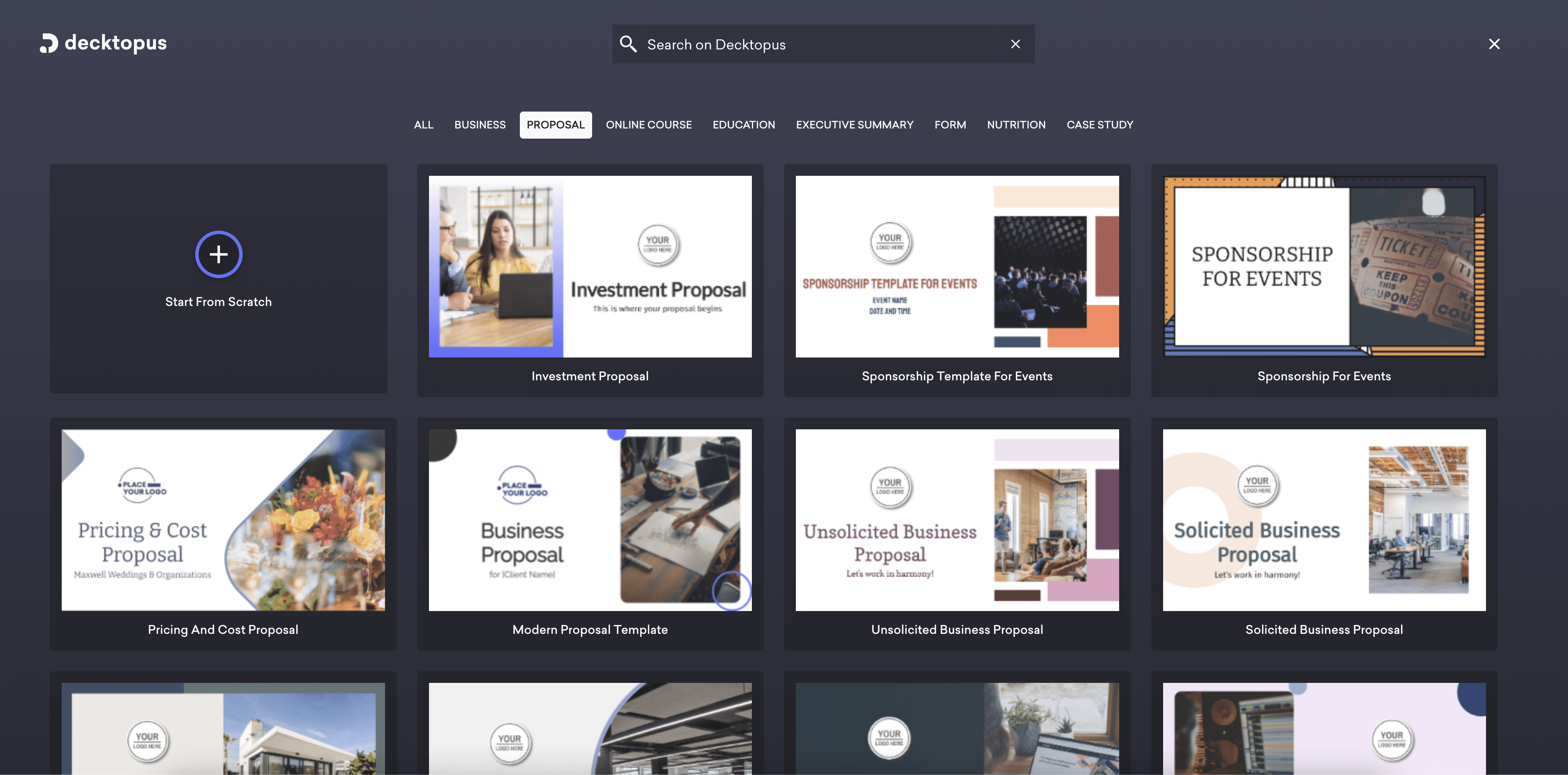 No more struggles over design, theme & layout
9 out of 10 Decktopus users say that before they started using Decktopus, they had always struggled with difficult and complicated presentation tools. Decktopus offers a clear, simple and easy-to-navigate dashboard with automatically adjusted layout options. Once you change the colour or font type Decktopus applies the changes to every slide.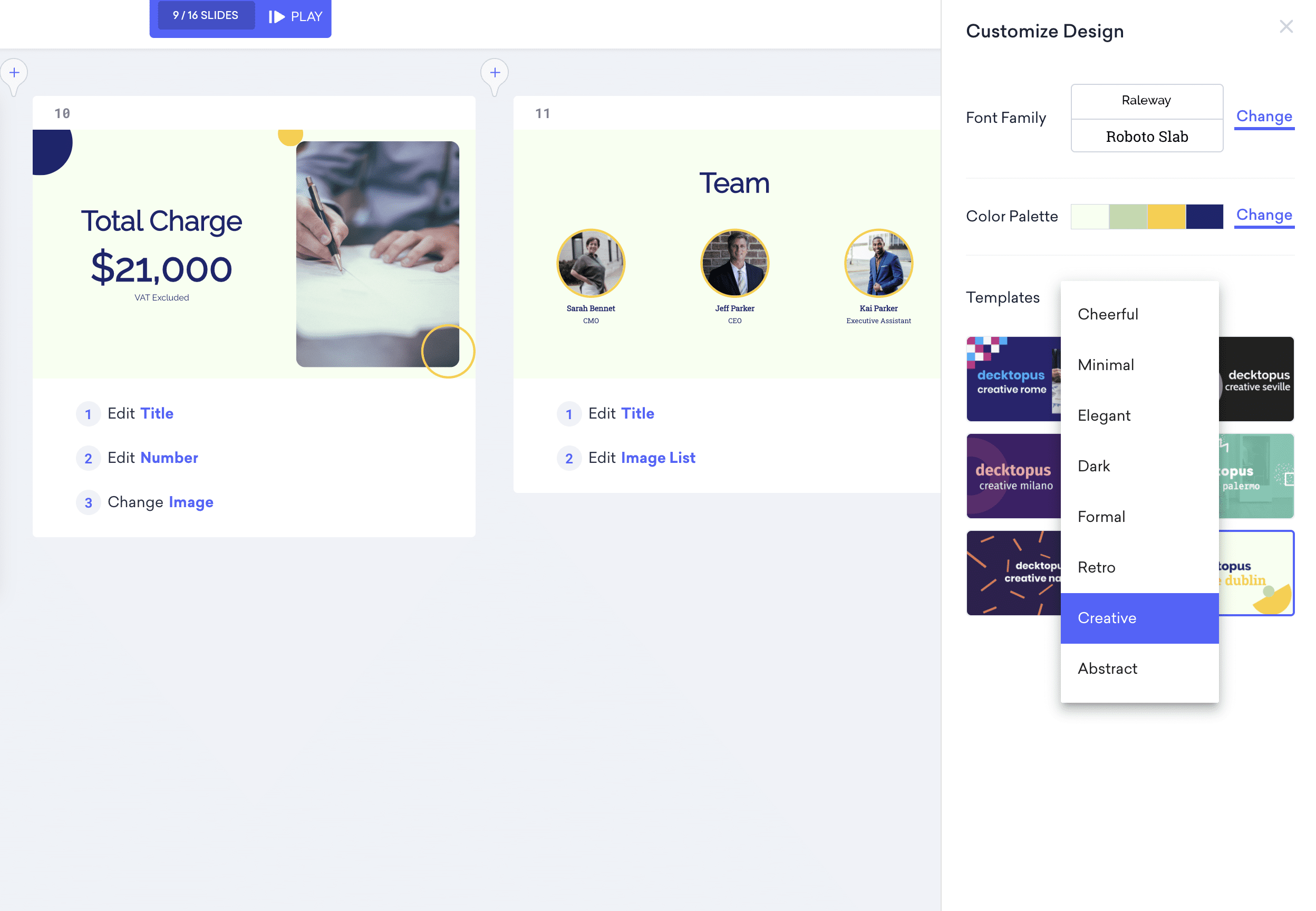 Once you click the "Customize Design" button, you will see:
Font family – feel free to upload your brand font!
Color palette – brand colors are welcome!
Templates – that you can change anytime, and your Decktopus presentation will be updated as it runs on cloud.
Book a demo to start using Decktopus today or get more information on custom packages!
Say hello to the most engaging presentation dashboard
Decktopus allows users to create the most engaging and insightful content there is! Once you have your content ready, all you need to do is fill in the blanks. You can choose between these various slide types and have your presentation ready in under 15 minutes!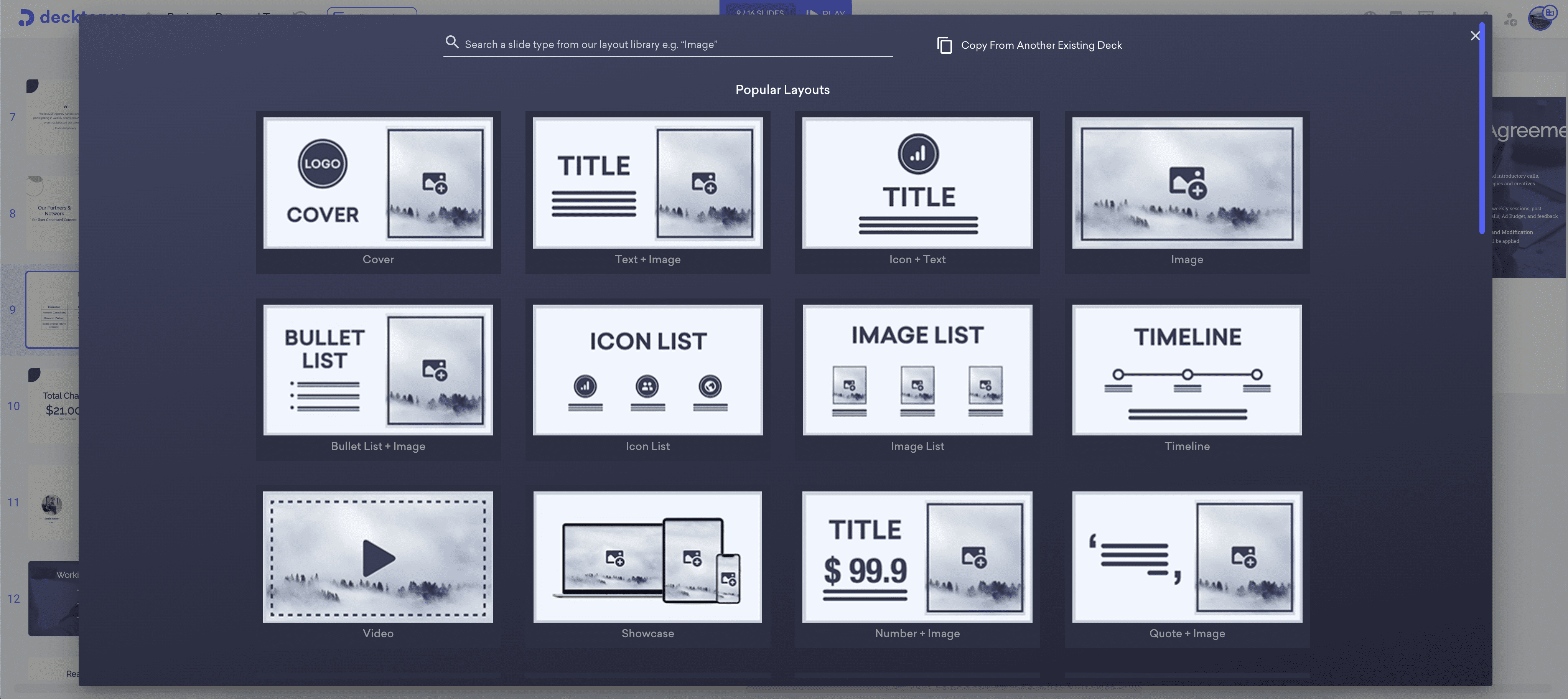 Some of the most slide types at Decktopus are:
Icon list
Quote
Embed Website
Links
Notes
Cover
Video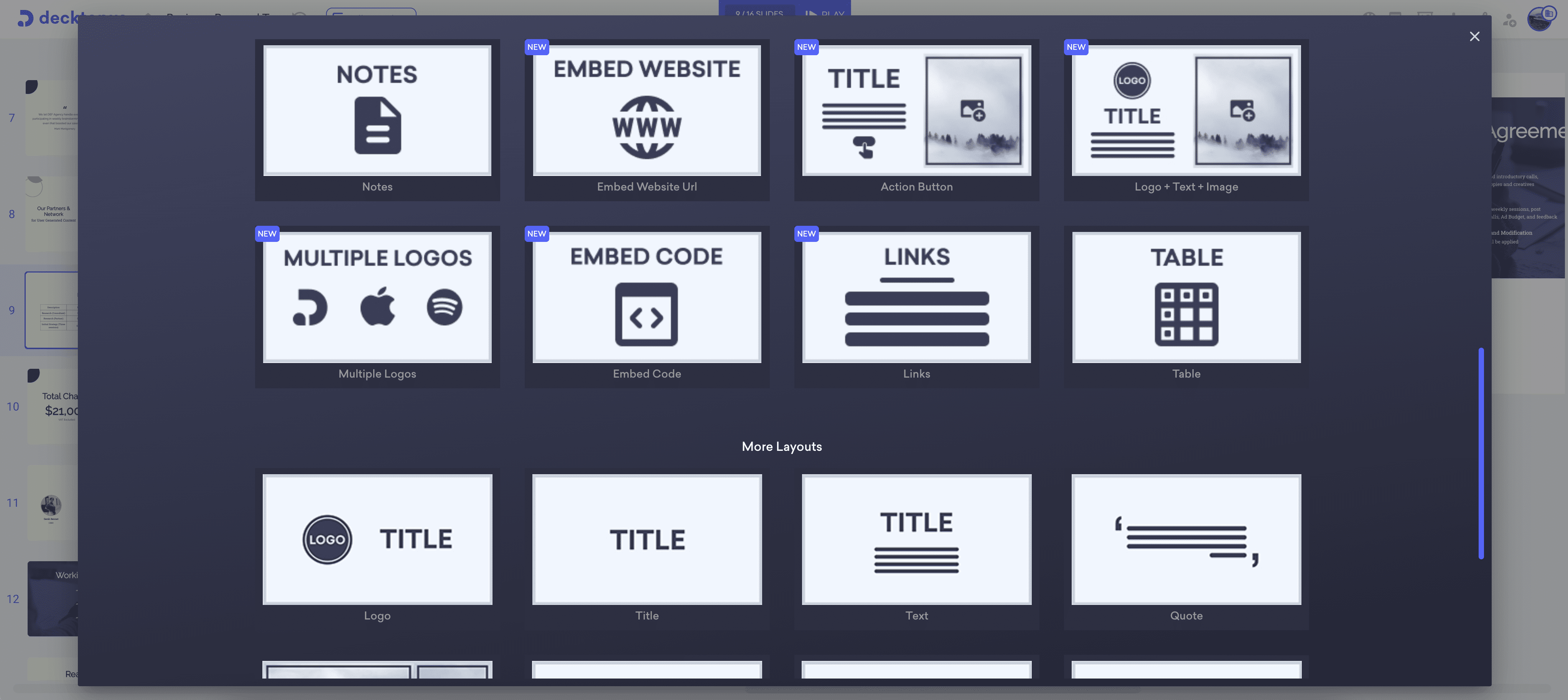 Sign up and start creating!
Time to create the best content out there & impress your audience
Once you choose a template that's suitable for your needs, you are now ready to edit and customize your slides however you want. The navigation is quite easy and fast. You can go between slides, do a rehearsal, and customize fonts, style and theme. The sidebar allows users to easily view each slide.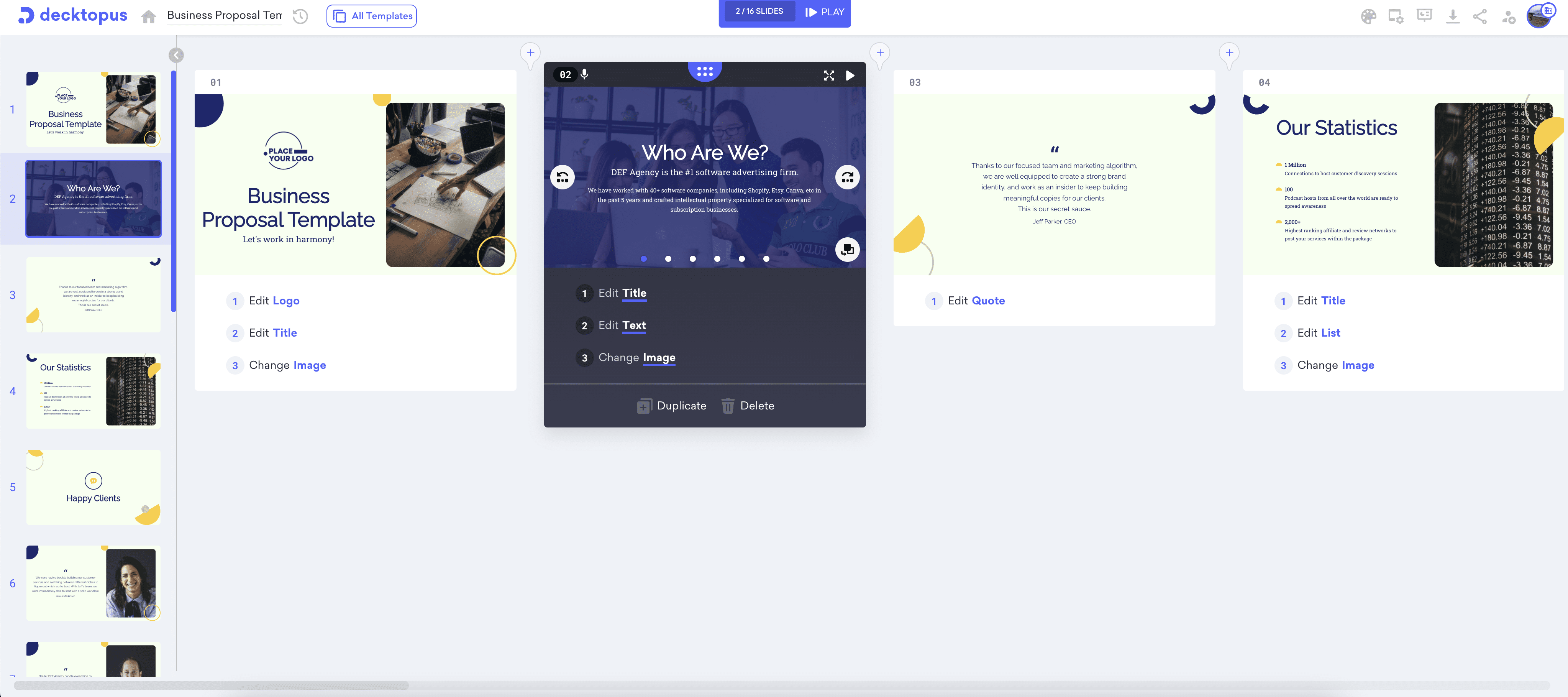 You can duplicate slides, and change the view of each slide. Another key feature of Decktopus is that almost all slides have different view options. You can flip the view of each slide from the right corner of the slides.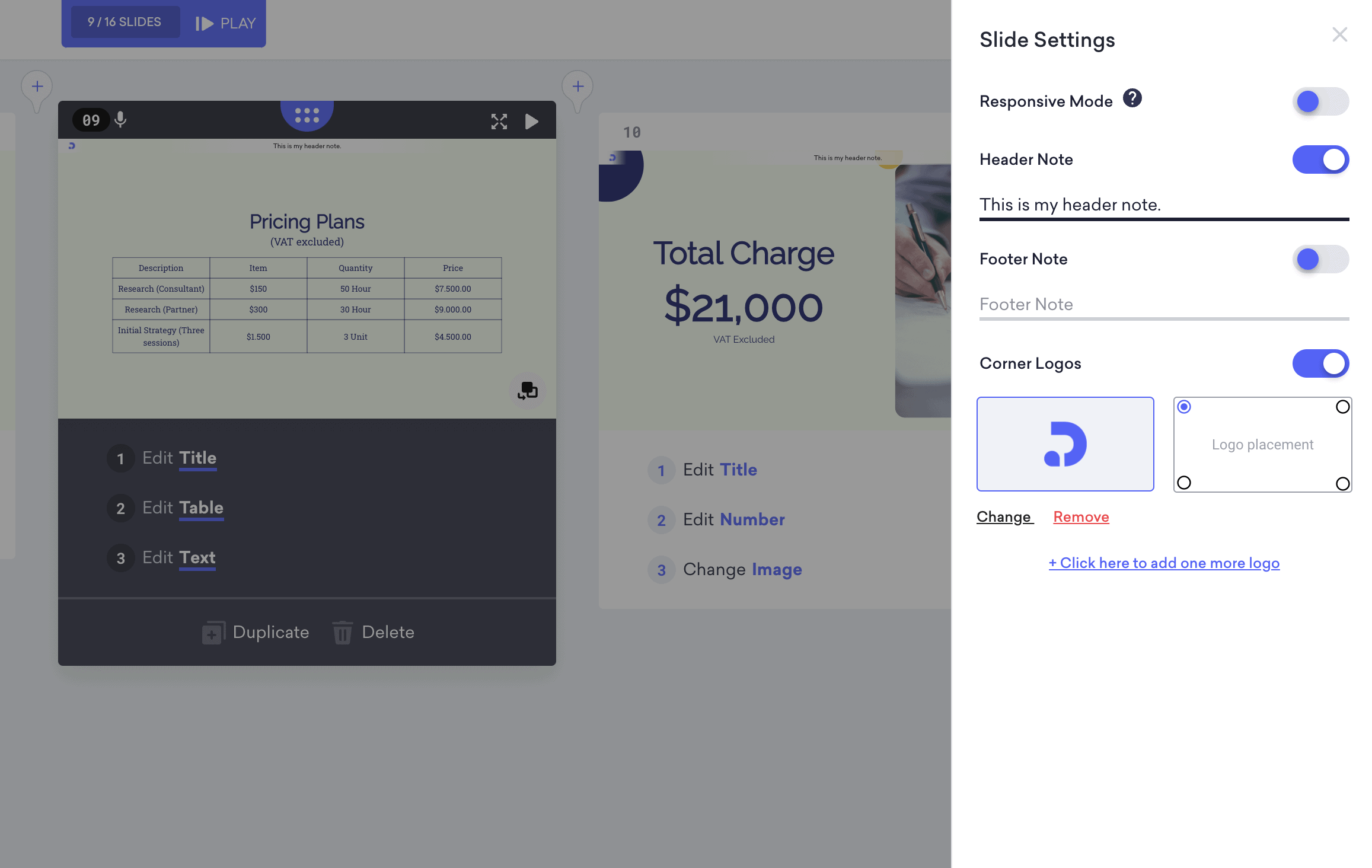 One of the latest features of Decktopus is the "Responsive Mode". Once you activate the responsive mode for the documents that you create, your presentations, proposals or bio links will be mobile responsive. This is a great feature as many bio link apps do not offer desktop versions, and even if they do, they look as if they are mobile.
You may also upload your logo and place it on any corner of your slides.
Organize your folders & dashboard
Once you finish creating your documents, Decktopus offers a great way to keep your files organized. You may create folders on your dashboard and separate the files in these folders.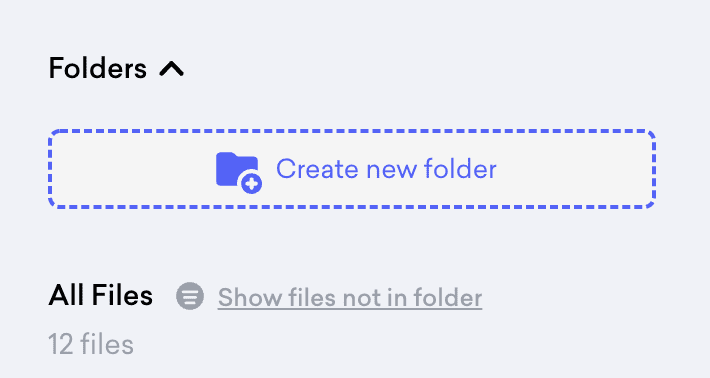 You'll have access to all your documents on the dashboard.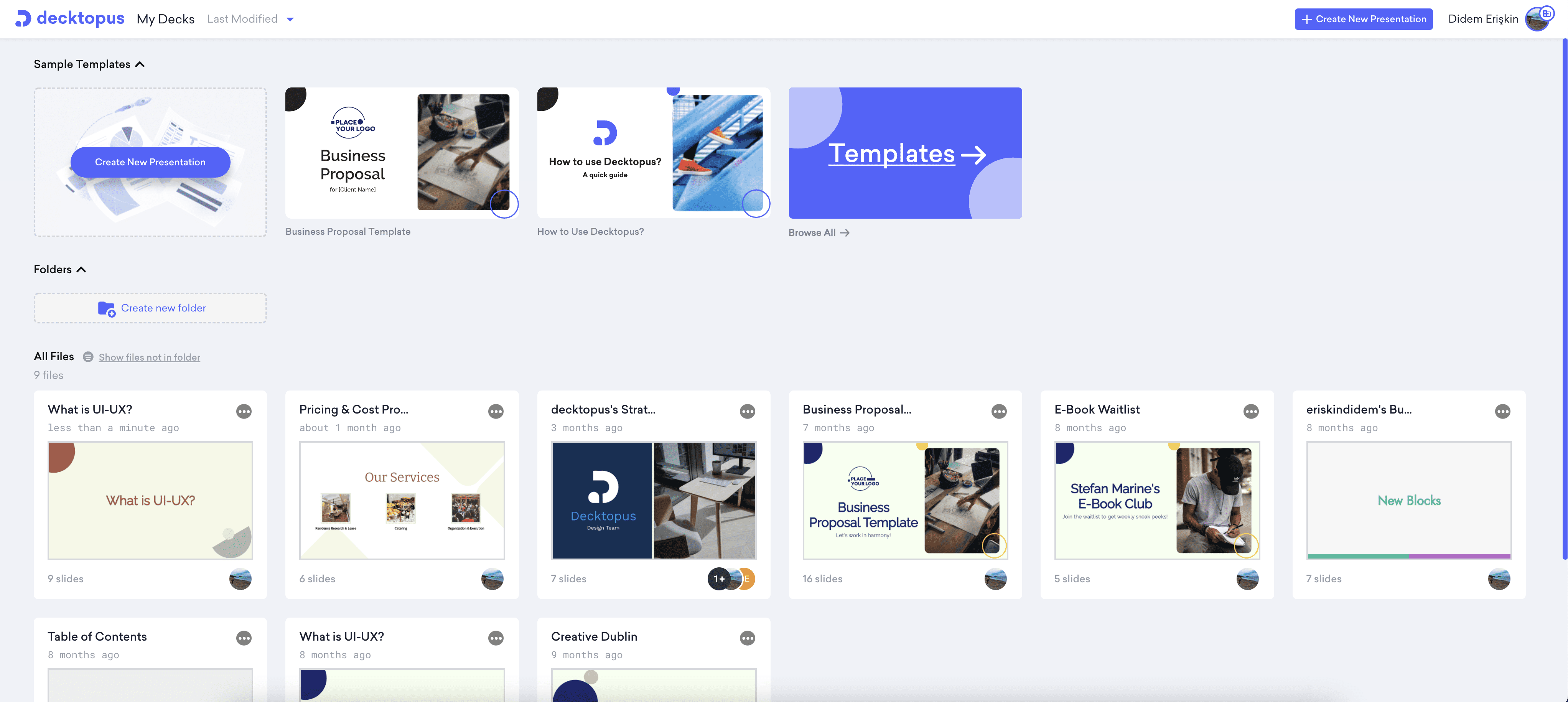 Once you sign up, a deck on how to use Decktopus will welcome you. You can take a look at the guide to learn how to make use of Decktopus best for your business or personal use.
Sign up and start creating impressive presentations!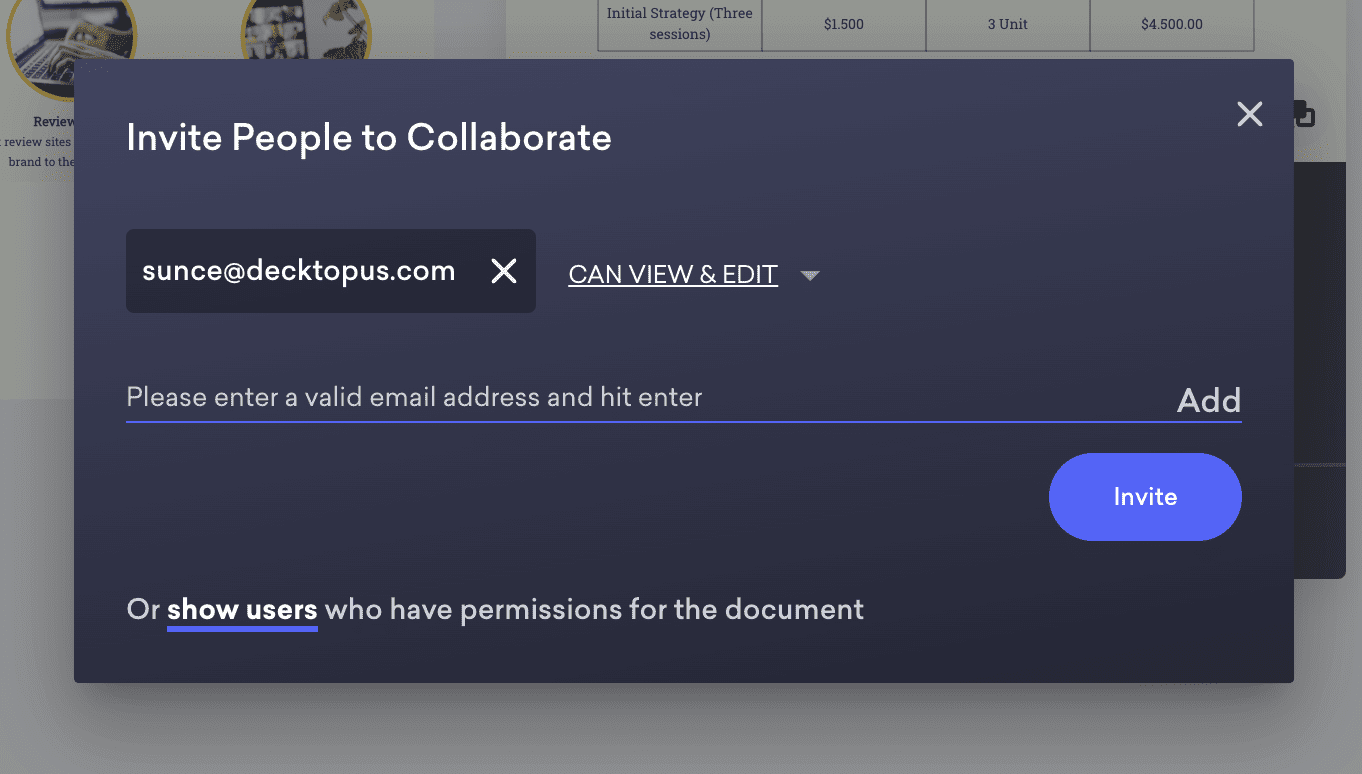 When you are done creating your presentation, it's time to collaborate with teammates. You can also collaborate at the beginning, or collaborate at the end, so your teammates can view your documents.
Go ahead and book a short demo call to find out more about our team packages!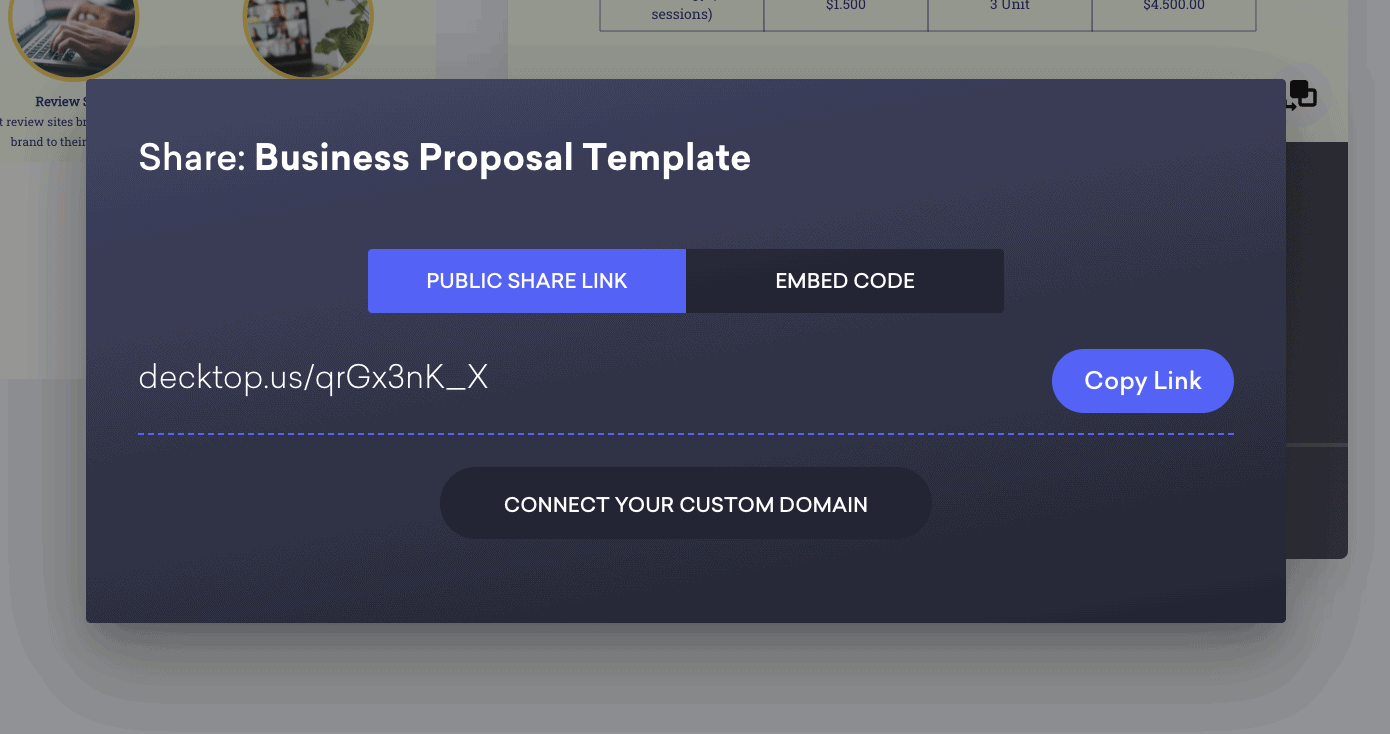 Now it's time to share your document with your audience. Decktopus allows users to share their documents with short links. You can either get a public share link or use the embed code option to embed the presentation in your webpage.
You can also choose to connect to your custom domain!

After you share your presentation through a sharable link, you can follow the view counts and the activities of your document.
Overview – Decktopus features
Voice over recording & audio for slides
Real-time presentation sharing
100+ Pre-made templates & layouts
Automatically adjusted design
Custom domain
Dashboard view Analytics
Folder
Online sharing & team collaboration
& many more!
That's it for now!
If you are looking for a way to get your documents created in a short period of time and still get spectacular results, then Decktopus is the right solution for you!
Go ahead and sign up or book a demo today to explore how Decktopus can help your business!