It's no secret that all business owners receive plenty of emails every day which they then need to process manually: orders confirmations, invoice data, clients' information etc. This implies a lot of manual work to do. Imagine you're a travel agency having to deal with hundreds of booking emails per day which you then need to get consolidated into a spreadsheet for reporting and accounting purposes. This everyday routine can take you lots of hours per day, dozens of hours per month and in no way helps you to earn more money and be more efficient.
Hopefully, there is a solution that can help you automate this process: an email parser tool. Let's speak more in detail about Parsio.

What is an email parser tool?
An email parser is a tool that extracts data automatically from emails and can either put it into a spreadsheet or funnel it directly into a platform, for example a CRM, a newsletter platform or a database. Such a tool can be used to extract data from travel confirmation emails, to add new leads to a CRM, to subscribe clients to newsletter, to message your team about new leads and many more.
Apart from extracting data, an email parser also helps you consolidate the information you need in spreadsheets or in many different apps due to automation platforms.
Parsio use cases
Parsio's clients come from many different areas and have different needs. An Etsy homemade bracelets seller receives sales notifications and customers data which he then has to consolidate. A real estate agency needs to quickly notify its sales representatives about new leads via Slack. A freelancer who sells plug-ins on marketplaces needs to receive customers' emails and plugin IDs after each purchase so that a license key could be generated. Another example is an agency managing multiple AirBnB properties that uses Parsio to export booking data into their internal tool.
Parsio can step in to help in all of these use cases. What's more, it also presents a possibility to upload attachments to Cloud Storage via integration platforms which could be really handy for any business owner.
Another helpful feature is Parsio's ability to scan your incoming emails and automatically extract all the detected email addresses and contacts.
How Parsio works: data extraction
Getting started with Parsio is pretty easy. You just need to:
Create a special inbox on parsio.io
Enable auto-forwarding for the emails and attachments you want to parse.
Create a template based on a sample email and tell Parsio what data you need to extract by highlighting it in your email.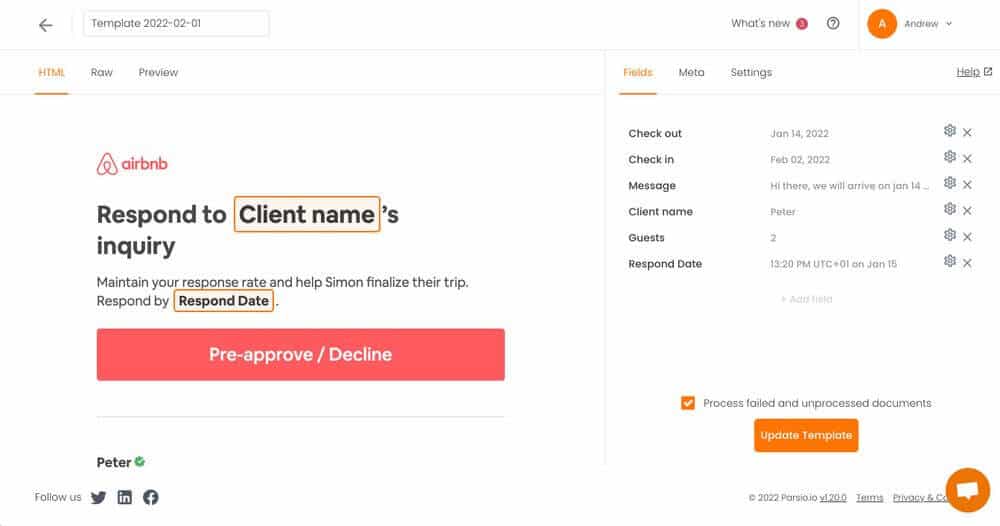 After you save your template, Parsio will automatically parse all your incoming emails based on this template. You can create multiple mailboxes to process different types of emails.
Parsio also allows you to extract data from files: PDFs (invoices or bank statements), CSV, XML, TXT and more. The PDF parsing process is quite similar to email parsing – you will have to create a template by means of highlighting the fields you want to extract from your PDF attachment. Now any new incoming emails with PDF attachments will be processed automatically.
There are multiple ways to get your file to Parsio: you can either send it to your inbox by means of auto-forwarding, or upload it, or send it via API.
Parsio can also handle dynamic emails with repetitive data. We can take an example of an Amazon order confirmation email that may contain 1, 2 or 10 items. Parsio can easily extract this data into a special table field.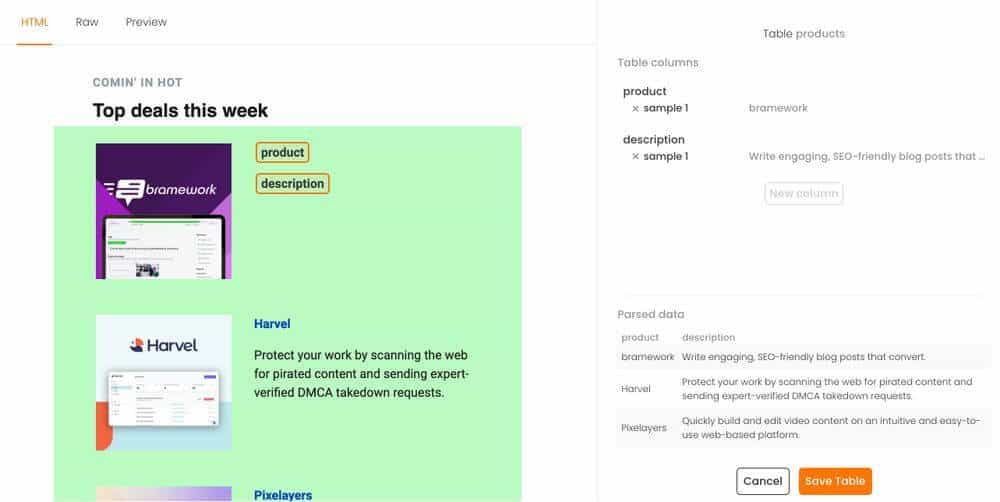 To learn more about that feature, you can watch Parsio's quick video guide.
Data export & integrations
If you want to have all of your data consolidated (for analysis and reporting purposes) after being extracted, you have a possibility to export it to Excel- and Google spreadsheets, funnel it to any app with the help of multiple automation platforms like Zapier, Integrately, Integromat, Pabbly Connect and KonnectzIT, or create any custom integration using a webhook or an API. Let's dive more deeply into details.
Integration with Google Sheets
It's pretty easy: you just need to copy a special formula from your Parsio account and paste it into any cell.

Another possibility is to use one of the automation platforms listed below.
Integration with automation platforms
Automation platforms let you connect several software applications together thus automating your workflow. Due to these platforms you can export your parsed data to Google Sheets, Google Drive, Dropbox, any CRM or basically any kind of app you may need for your business.
Today there are 5 platforms that Parsio supports natively (new ones coming later): Zapier, Integrately, Integromat, Pabbly Connect and KonnectzIT. They all work in the same way.
Imagine you're a travel agency and you would like a new lead to be created in your CRM every time you receive by email a new question from a client via the website contact form. To automate this process, you sign in to an integration platform (Zapier in our case), then you choose Parsio as the first app, with "Document parsed" as a trigger event, and the second app, for example a CRM called Pipedrive, with "Create lead" as an action event. Now every time you receive a question via the contact form on your website, a new lead will be automatically created in Pipedrive.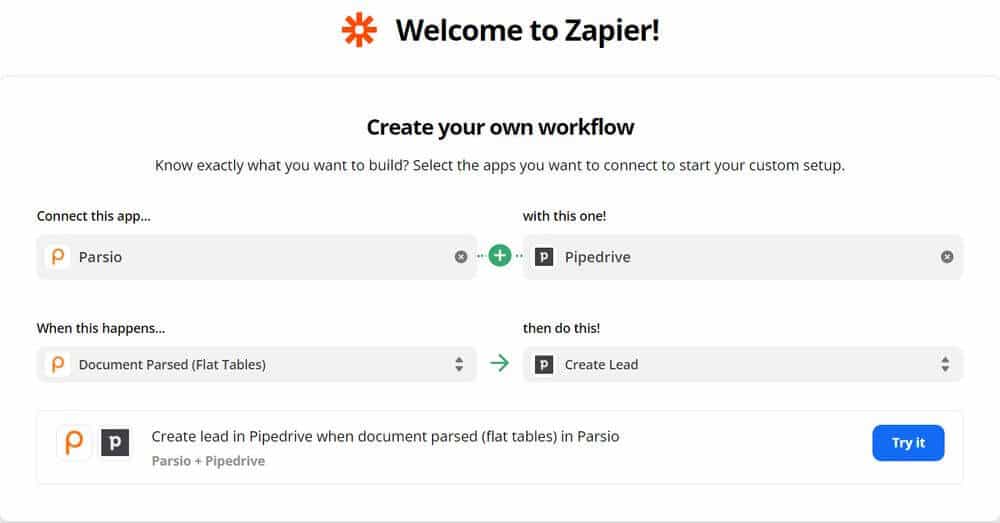 Webhooks
If you want to create a custom integration, the easiest way is to use a webhook. It's a practical and rapid way to transfer the information.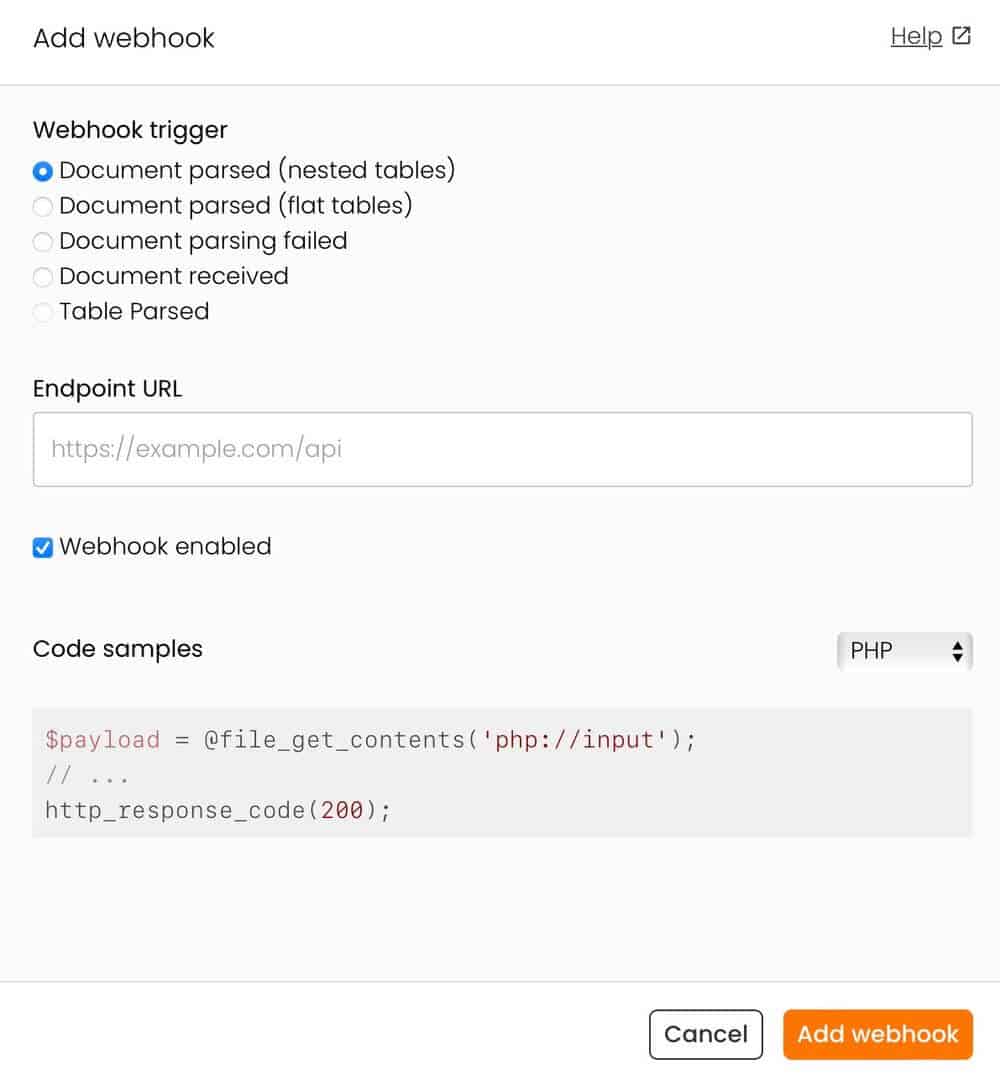 Parsio pricing plans
Parsio has quite a bunch of pricing plans but the free one is often sufficient for solo-entrepreneurs since it provides all the same features as the paid plans and includes 30 parsed emails/month. The first paid plan starts with $19/month and goes up to $299/month. Therefore it covers the needs of a business of any size.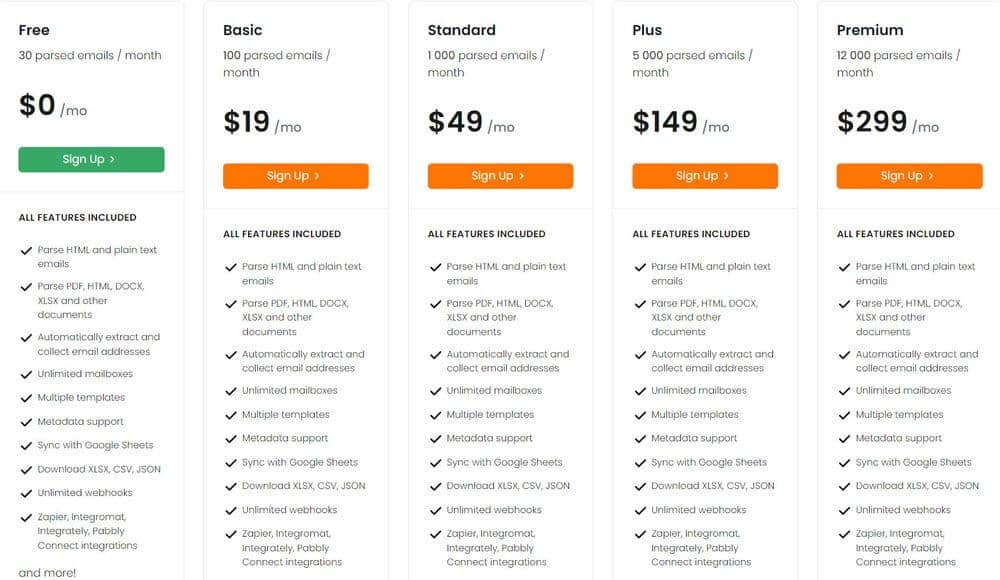 Conclusion
Parsio is a great parsing solution the key features of which are email, PDF and attachment parsing, as well as exporting the parsed data anywhere you need.
Parsio can save you hours of manual routine work and avoid human factor errors thus guaranteeing better quality for your results and helping you save on employee costs. What's more, it brings in an additional automation layer for your business to let you concentrate on the core things while Parsio will complete all the boring work.
It is easy to use thanks to its intuitive point-and-click interface and will significantly automate your workflow.