There are currently over 4,500 different apps on the Shopify App store with more apps coming out every day. As a Shopify store owner, you might wonder which app is right for your store because of so many options available. There are various apps designed to solve common issues faced by merchants such as shipping, logistics, marketing, rescue abandoned carts, retention and others. Sometimes you might end up paying hundreds or even thousands of dollars monthly on several apps such as reviews, rewards, Instagram galleries, and wishlist. We have a great solution for you! There is one app on the Shopify app store that can help you replace 4-5 different apps and save your dollars for other needs.
Growave is an all-in-one marketing tool for Shopify merchants that includes loyalty, reviews, wishlists, social login, and Instagram under one dashboard. It is a great solution if you are looking for an app that combines several features in one and reduces headaches for you.
In this article, we will review make an in-depth review of Growave and give our final verdict on whether it is the right solution for your online store.

What is Growave?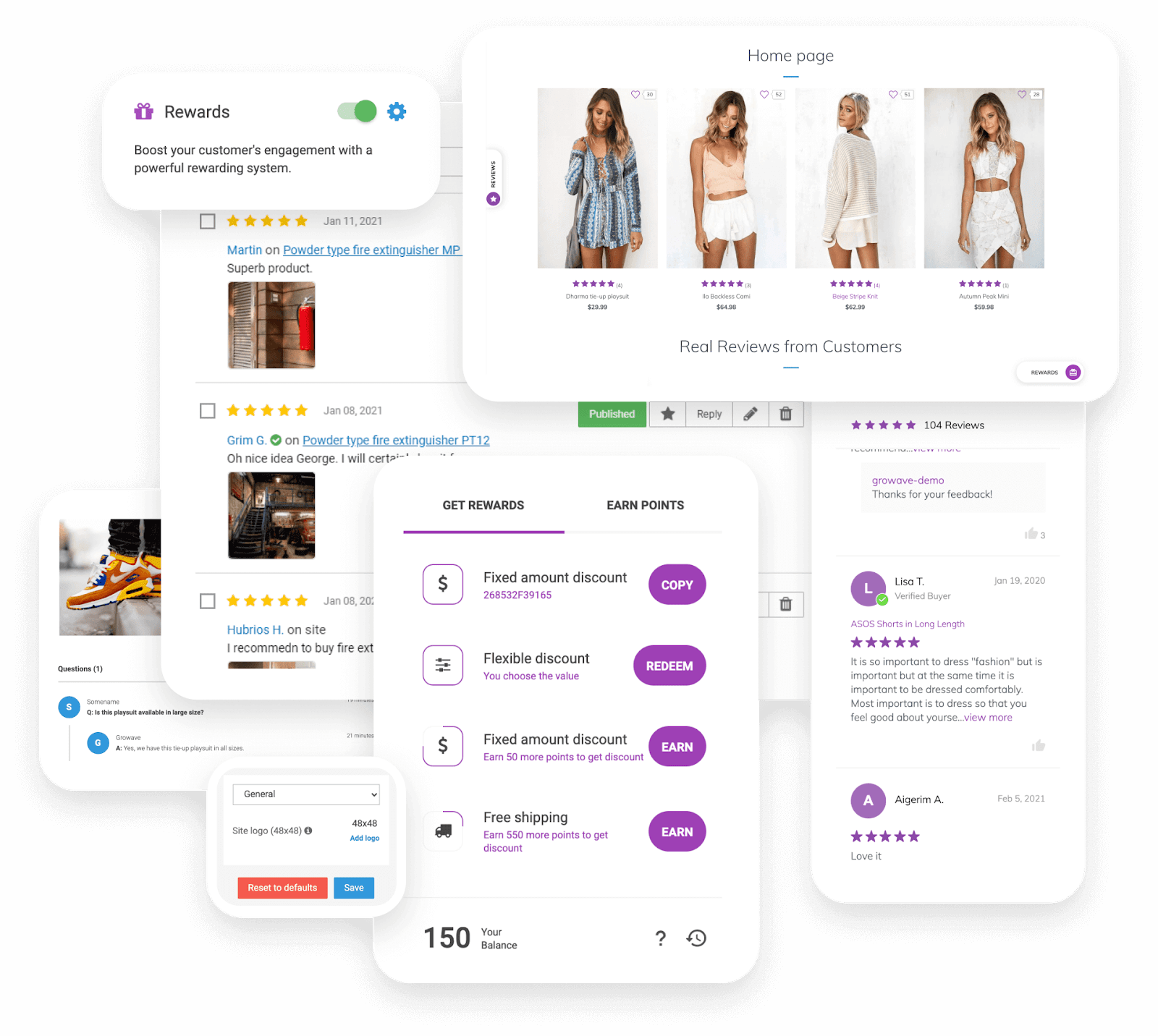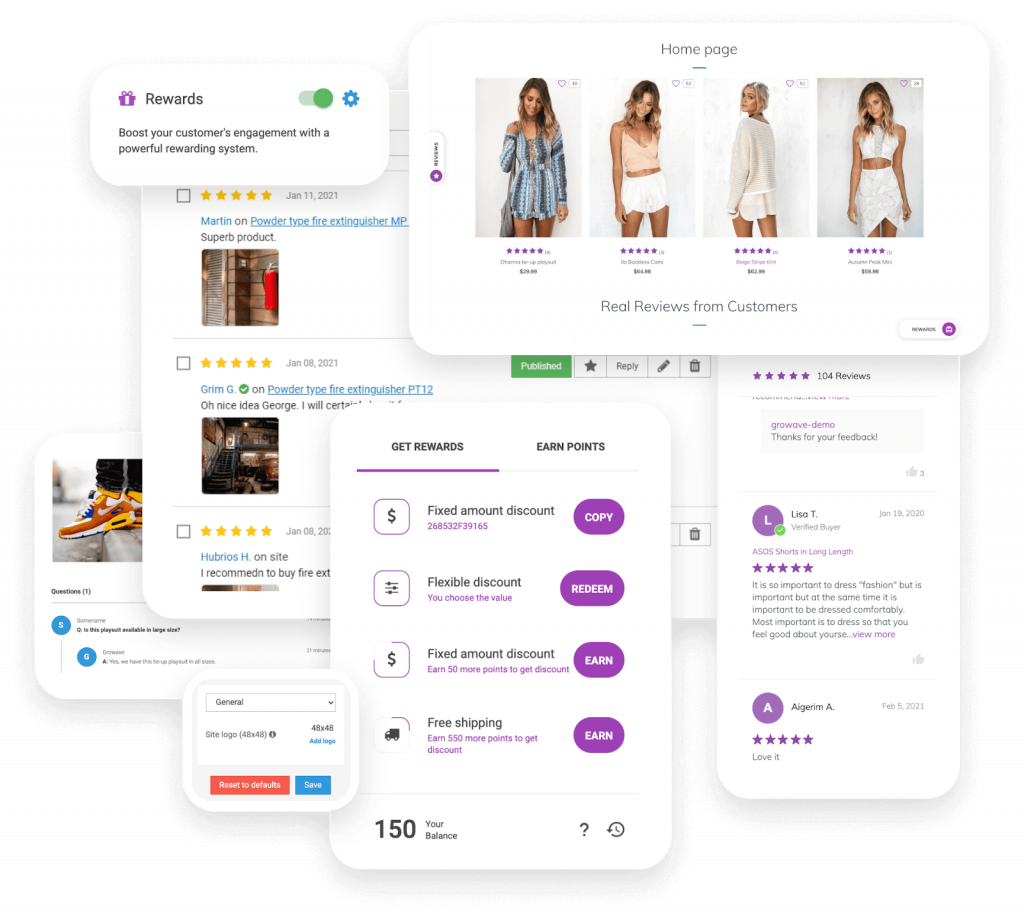 What is Growave?

In simple words, it is a Shopify app that combines several features under one dashboard. It is designed for Shopify merchants that are looking for an affordable solution for their store. Currently, Growave is the only application on the Shopify App Store that has reviews, loyalty and UGC in a single app. You do not have to download any additional apps, all features are integrated into one admin panel and seamlessly work together.
In essence, Growave helps Shopify merchants grow the loyal customer base, increase conversions and improve customer engagement. All their features work in tandem in order to provide a better customer experience on your website. Also,
What are the main features of Growave?
Social Login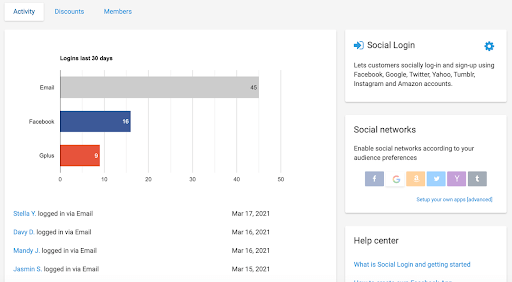 Social Login

With this simple feature, you can extend your email list and customer base. It provides one-click signup and login on your Shopify store. Allow your shoppers to login easily with their Google Yahoo, Amazon, Facebook accounts. It also automatically enrolls your customers in your loyalty program if you have one, meaning customers don't have to sign up for it manually. You can save your customer's information such as birthdays, contact information, and products in their cart for their next purchases.
Loyalty and Rewards programs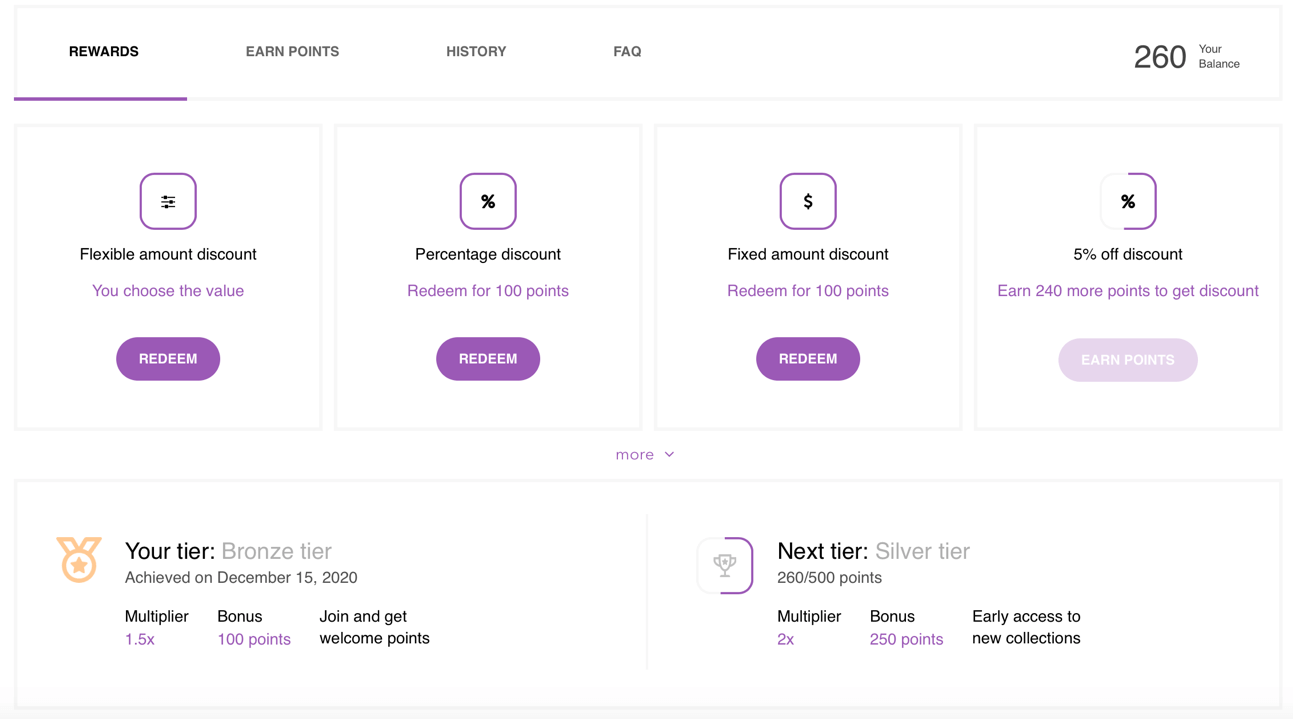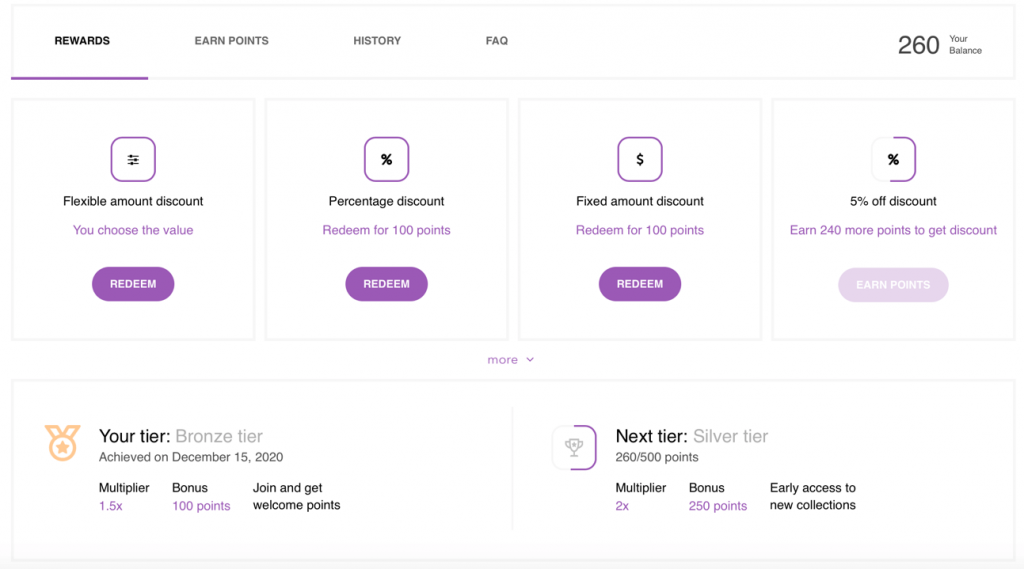 Loyalty and Rewards programs

Create a stand-out loyalty and rewards program for your Shopify store. With loyalty and rewards programs you can build relationships with your customers and maximize repeat sales. The loyalty program includes points on purchases, VIP tiers, free products, referral programs, discount offers, and shipping offers. To use loyalty and rewards you will have to sign up for a starter plan or higher.
Reviews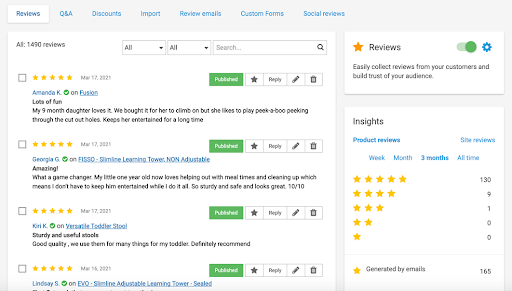 Reviews

By showing social proof on your website, you can maximize conversions. Growave's reviews feature is geared to Shopify merchants who want to sway their customers' purchase decisions. This top-rated Shopify reviews app will assist you in producing more conversion-optimized content by capturing photo and product reviews. The reviews feature is included in the free plan.
Wishlist app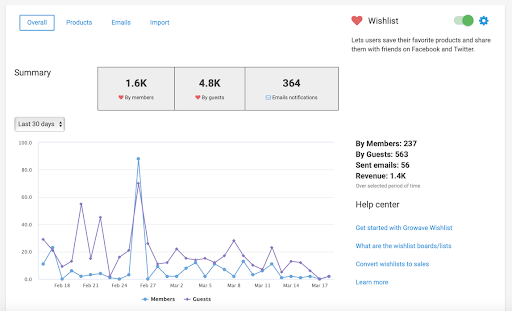 Wishlist app

Convert your customer's intent into sales with this simple feature. Growave's wishlist feature allows your shoppers to add a product to their wishlist and save favorite items for the next purchase. Also, you shoppers can create a dedicated dashboard and share them to their friends, which is quite useful during the holiday season. With wishlist reminder emails you send targeted emails to increase sales and decrease the number of cart abandonments. This feature is available starting from a free plan.
Instagram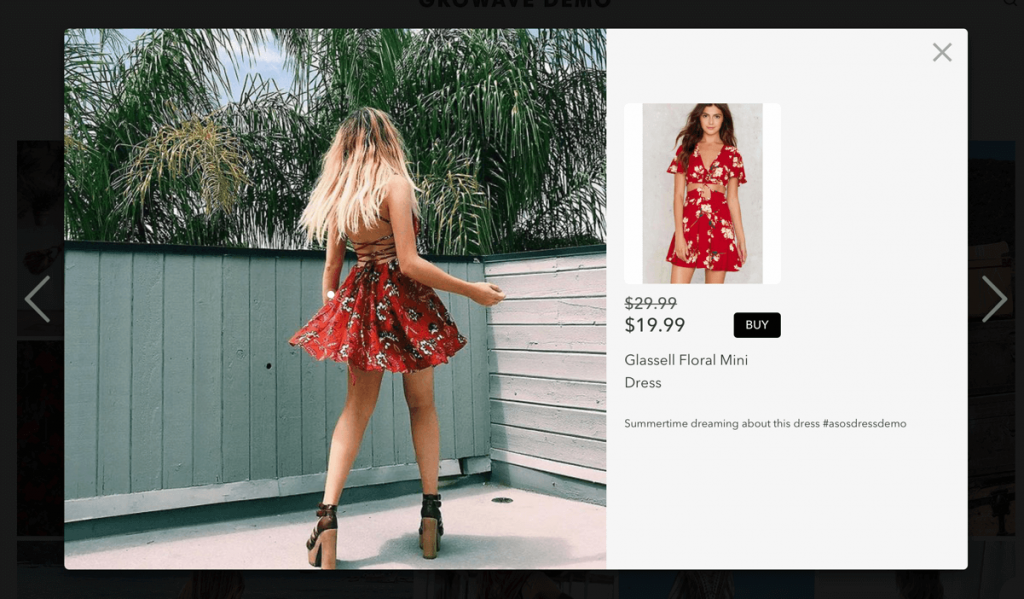 Instagram

Turn your website into a beautiful, sellable gallery with an Instagram shopping feed. You can create a shoppable Instagram feed by pulling images from a hashtag, tagging the product in your backend dashboard, and then allowing users to shop the look by clicking on the product, adding it to their cart, and then purchasing it. You can get Instagram galleries from a Starter plan.
Growave Review: Pro's vs. Con's
Growave is undoubtedly a great app, however, it has its own strengths and flaws.
Pro's
Easy to install and use
Responsive and friendly customer support
Free plan available for basic features such as Reviews, Wishlist, and Social Login
Feature-rich functionality with unlimited usage
Competitive pricing
Easy migration from other apps
Flexible loyalty and rewards programs
All widgets are customizable to suit your brand colors
Con's
The free plan has limited capabilities and doesn't offer a loyalty program
Growave can be on the costly side for price-sensitive users
Has fewer integrations with other platforms
Who is it for?
Growave is a perfect choice for small and medium-sized Shopify brands looking to increase conversions and sales. There are over 12,000 merchants using the app worldwide. Also, it is a great app for enterprises that are seeking more customized features.
The Growave app can be installed on any theme. Colors and other aspects of the app's design can be customized to match your brand style. However, if you have a customized theme, you will need to seek assistance from the support team to style it to match your website.
Growave Pricing Plans
Free plan
The app offers a free plan for businesses that want to try out Growave features but not ready to commit to a monthly plan yet. Their free plan has Reviews, Wishlist, and Social Login. However, this plan will have Growave branding and basic features.
Starter
This plan is ideal for small businesses that are just getting started. It has all the features in a free plan plus photo reviews, discounts, a points-based loyalty program, and Instagram. Some advanced review features include review email requests, sync reviews with other shops. Also, your customers can create boards in their wishlists. On top of that, you can integrate Growave with your favorite apps such as Firepush, PushOwl, PageFly and others.
Growth
The growth plan is optimal for medium-sized businesses looking for advanced features for an affordable price. This plan includes everything in the starter plan plus some additional features such as VIP tiers, gift cards, referral programs, Q&A, custom forms, Google shopping, and wishlist reminder emails. Also, there are more integrations available on the Growth plan with apps such as Searchanise and Gorgias.
Enterprise
The enterprise plan is the best-value plan for enterprise-level businesses looking to expand their marketing efforts with advanced features. This plan includes all features in the Growth plan plus boost campaign, free product, custom action, own domain for referral links, VIP tags, points at checkout, multiple review forms, and more. Also, you can integrate Growave with Klaviyo, Omnisend, and Shopify Flow.
Pricing

Growave is competitively priced compared to other apps that offer similar features. The app provides several plans for affordable prices to suit any business size. Also, you can save 20% off by opting in for an annual plan.
Trial
The app offers a free trial for all plans to test all app features. A 14-day free trial is available for Starter and Growth plans. Enterprise plan has a 30-day free trial.
Our Verdict
Growave is a great app if you are looking for a platform that includes several features and can replace 4-5 different apps on your store. The only challenge is that migration from other apps might be challenging but their customer support can help you out and make this process easy. This app might seem pricey by it is a good investment if you want to scale up your store and gain a loyal customer base.
Additional resources