Every website owner wants two things. First is to maximize traffic and second to maximize conversions.
Web analytics tools assist in achieving both these objectives.
They help track performance, gather data and then take strategic decisions.
In this article, I have made a one-on-one comparison of the various web analytics tools out there.
But before to look at the tools, here are some of the benefits of using the right web analytics software to analyze your website:
Helps you understand your visitors and optimize your site accordingly
Helps you identify your best performing content
Gives you an overview of how your audience is interacting
Tells you how is your brand being discovered-hence you can divert your focus in the right direction
So those were the advantages, continue reading to learn about the various web analytics tools of all time.

Kissmetrics
Owned by marketing expert Neil Patel, Kissmetrics is one of the most used web analytics tools across the world wide web. It offers you a data-driven insight with a powerful segmentation.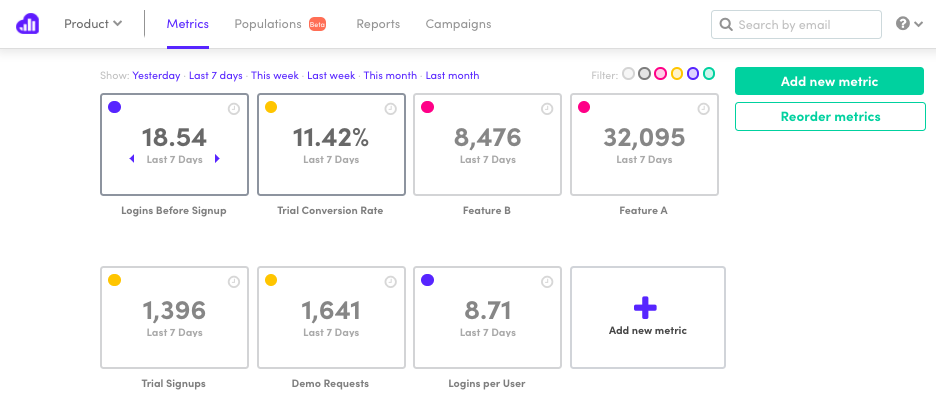 Key features of Kissmetrics are:
Industry best segmentation feature: With this web analytics tool, closely analyze your customer's behaviour and build specific segments of them. Understand what group of audience needs more attention than others and accordingly craft campaigns.
Detailed analytics: Kissmetrics offers powerful insights like the device your customers use, the geography they belong, the most active time for them etc. which helps you take better business decisions to target them well
User engagement kit: With Kissmetrics, you get access to automated email sending functionalities which means you can target your audience at the right time by writing to them in beautiful templates. Not just that, you can track the results of these and measure the impact it brings to your business.
Kissmetrics gets integrated with your social media channels (Facebook, Instagram etc.), e-commerce platforms like WooCommerce, Shopify and a lot more, Slack and a lot more!
That said, Kissmetrics is best suited for marketers and developers so as to have proper sync based on the insights. It is also suited for product managers to understand what works where for their target audience.
Pricing for Kissmetrics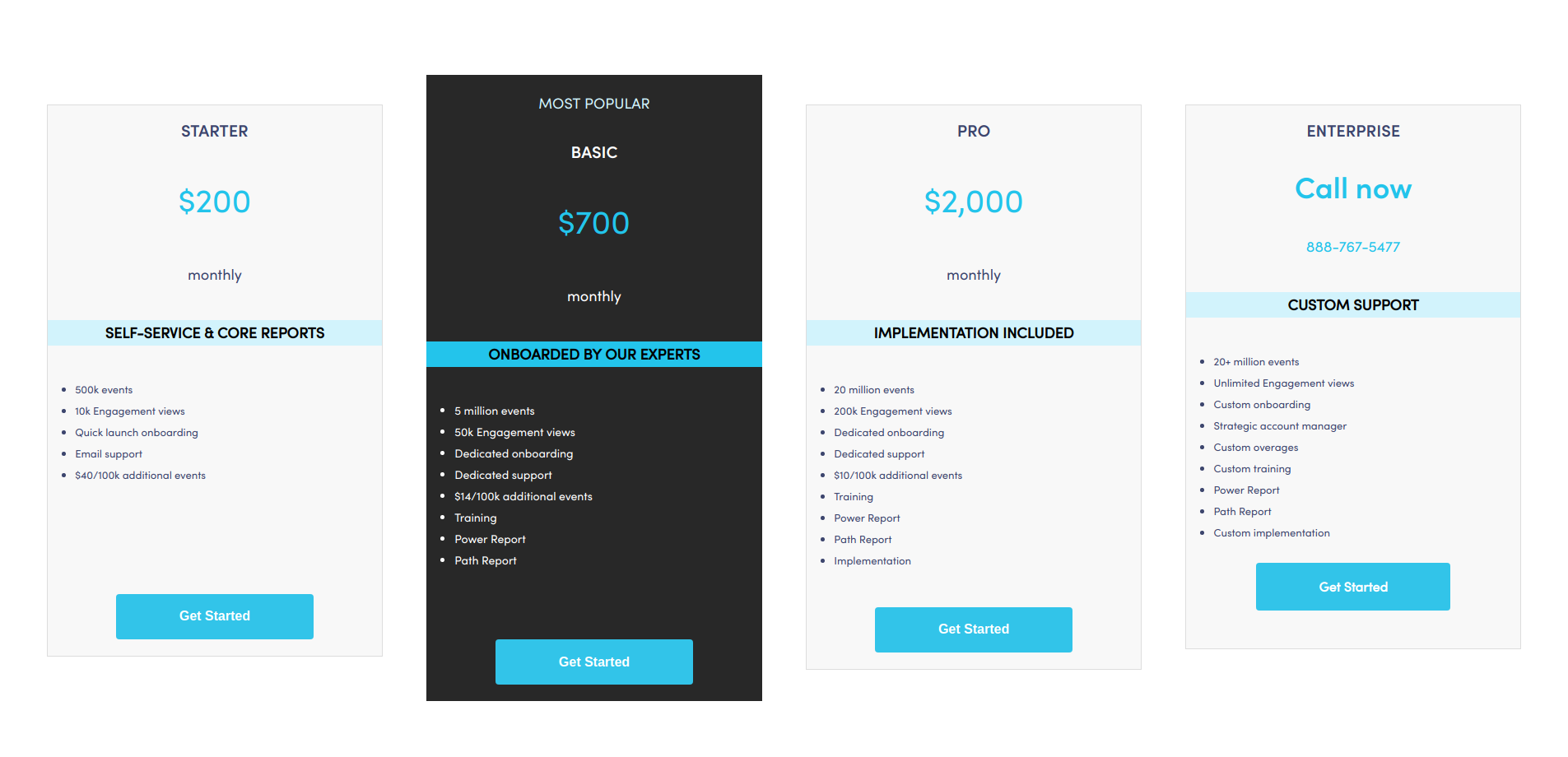 Crazy Egg
Crazy Egg is the analytics tool for your website if you need to have a look at a lot of visuals to understand your user's behaviour. This is ideal for the users who want to dive deep behind understanding each of the numbers they see on the screen.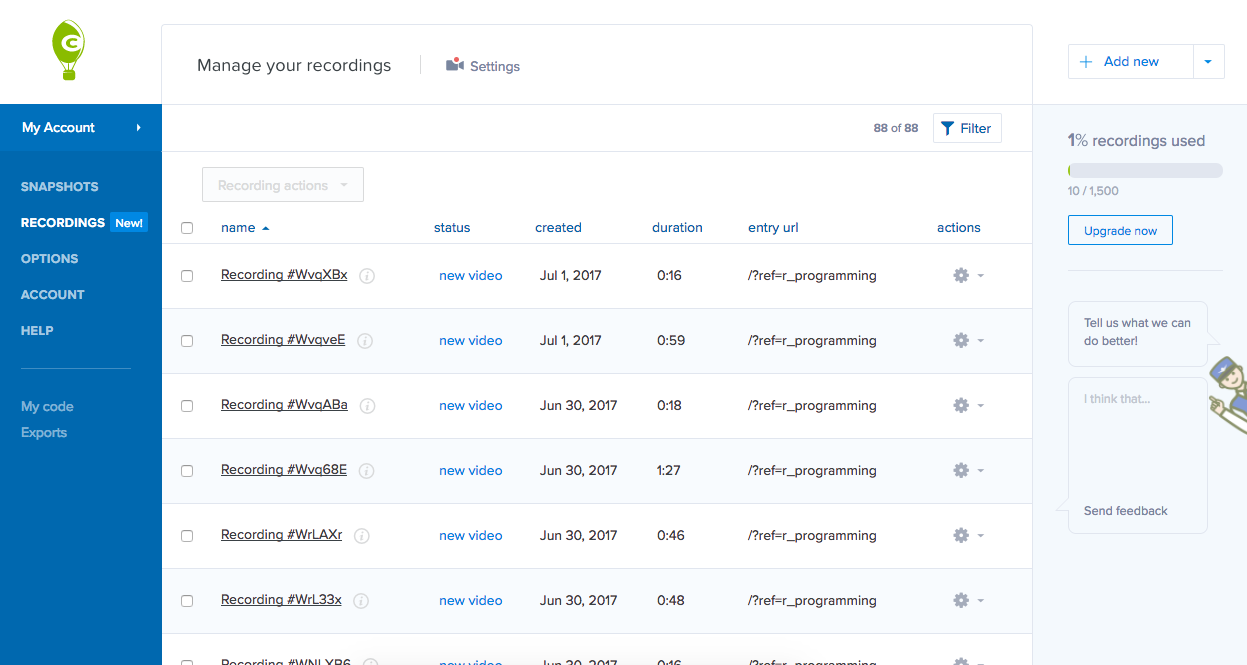 Key features of Crazy Egg are:
Heatmaps: Via heatmaps, you can see what spot of your website is clicked the most, till where is the maximum chunk of your user visiting and from which point are they exiting. Crazy Egg offers you an entire detailed heatmap which helps you understand how your visitors are browsing.
Scrollmap: Say it an extended version of heatmaps, these show the point till where the user navigated and made an exit choice. In the long run, this gives you an overview of the thing that is not as appealing for a user to stay hooked.
Overlay report: Crazy Egg offers this feature of viewing the number of clicks on each of the element on your page to help you understand users interaction patterns. This is a useful feature for product designers since they rely heavily on users experience.
Crazy Egg offers ready to use API for agencies, enterprise businesses, education-based businesses and so on. Quick to integrate and use, Crazy Egg is making its way to the list of most preferred web analytics tools for businesses.
Usually used and best recommended for designers, product marketers and managers, Crazy Egg is for anyone who wants to make bold business decisions based absolutely on the present user's behaviour and practices.
Pricing for Crazy Egg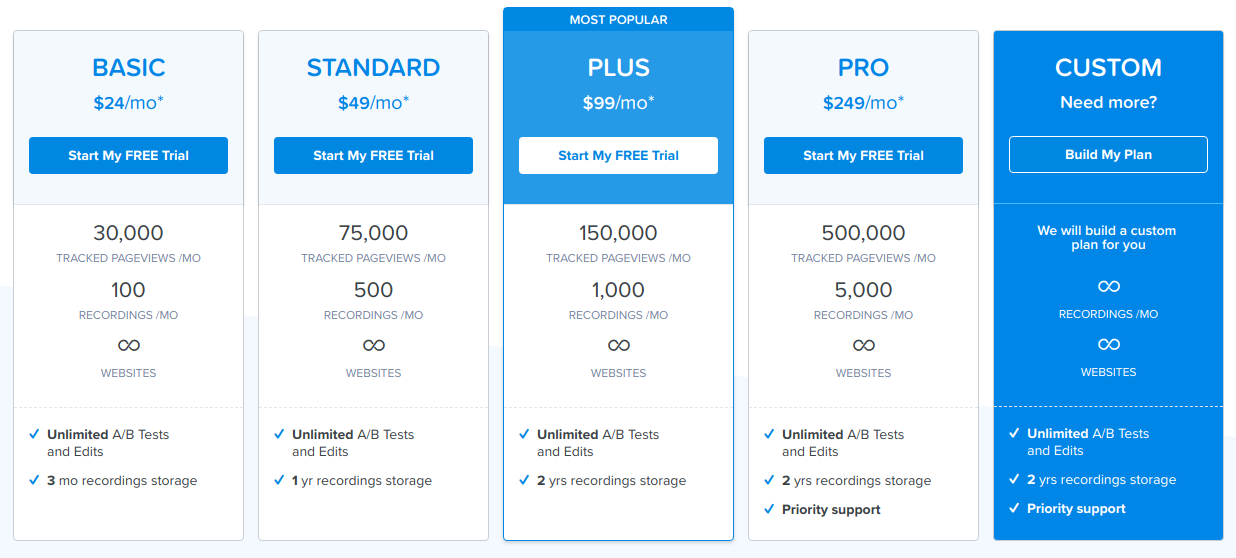 Mixpanel
Mixpanel is the tool for you if you want to know how are your customers interacting with your websites. You can dig deep into numbers, understand the trends and get the answers to your whys and do a lot more with Mixpanel.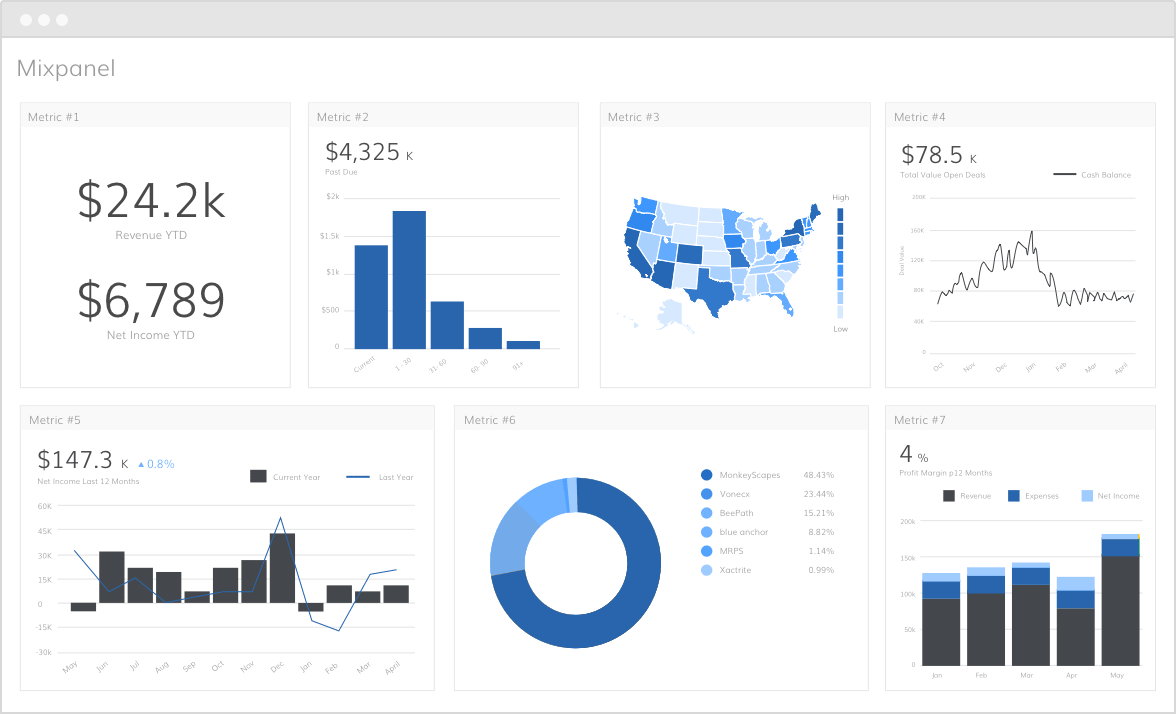 Key features of Mixpanel are:
Easy trend identification: Mixpanel allows you to collect data and then further offers you to define your key business metrics. You can set timelines, let's say a week, to see how your userbase is growing over an entire time span.
Goal setting: While Mixpanel allows you to have an end to end data visualization, it also helps you in setting goals. Not just that, it gives you an option to set a realistic hypothesis and track them later.
Offers you with action functionality: Now that you have the basics in place, Mixpanel supports you to complete the loop by offering messaging and personalization features, which in the long run ties back to your main goal: conversion and retention!
Easy to integrate with most of the modern-day SaaS products, consumer technology parts of a business and marketing folks, this website analytics tool can help the business scale up efficiently.
It is best suited for users who are into strategy and planning for a business. That said, any vertical of business which is working to enhance user experience is the audience for this tool.
Pricing for Mixpanel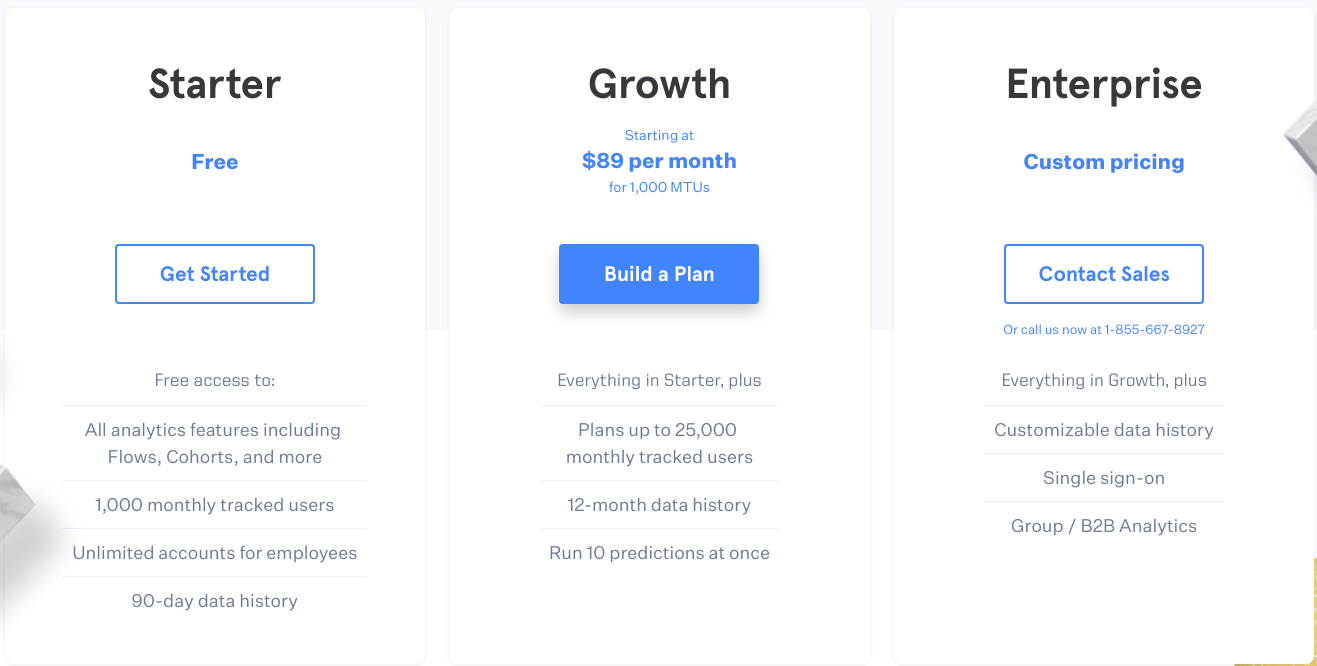 Google Analytics
When we are talking about the best web analytics tool, how can we not talk about users top choice- Google Analytics! Free, easy to use and relevant, usually this is the first choice of businesses. That said, Google Analytics has a lot of features which are often missed when used generally.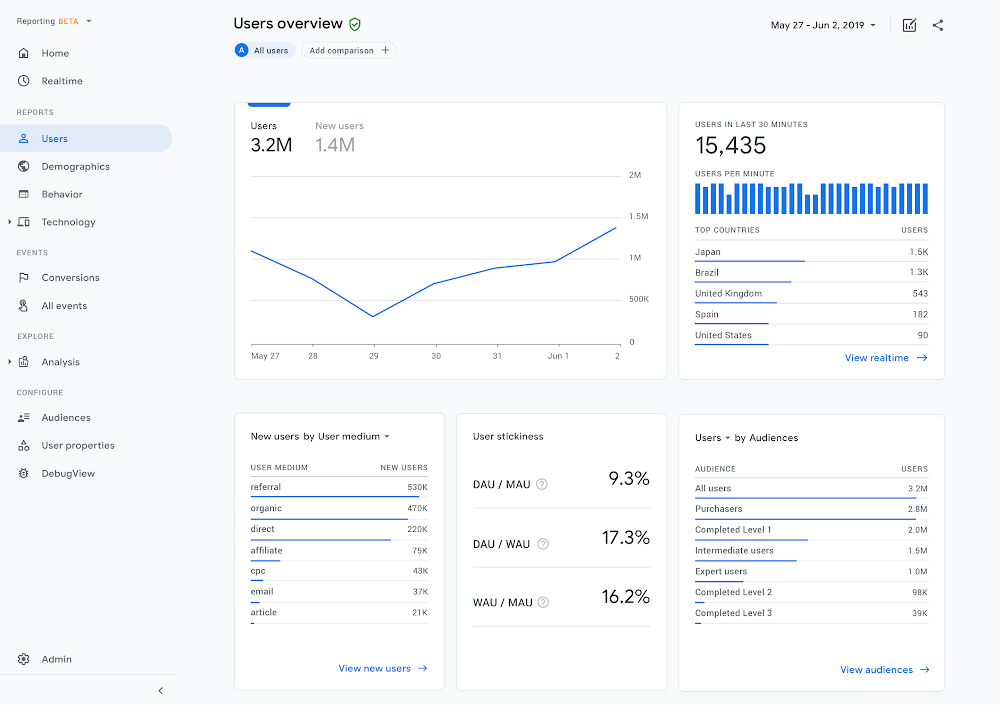 Key features of Google Analytics are:
Flow visualizations: This web analytics tool offers you the choice to view the entire flow of a visitor on your page. The point from where they entered to the point they exited. This feature is useful if you want to closely view your user's behaviour and make decisions based on their visiting patterns.
Custom reports: You can view website reports as per your requirements with this analytics tool. This means you can custom create a report by selecting the required fields and metrics and view or download it whenever you want.
Campaign measurement: Google Analytics for websites allows you to create custom URLs in the first place. Later on, you can see which source got you the maximum traffic and accordingly you can divide your effort and time on a particular channel! You can create those custom URLs by clicking here.
Google Analytics is quick to integrate with a website based on any platform or hand-coded. It is also efficient to use with multiple software!
It is highly recommended to business and marketing folks who are just starting out with their careers and want to start experiencing and play around with metrics. That said, even today many of the enterprises rely on Google website analytics tool for efficient and accurate tracking.
Pricing for Google Analytics
This is one of the only tools when it comes to web analytics that is free till current day!
Simplest tool to analyze your web traffic – Putler
The web analytics tools mentioned above are great but most businesses rely on Google for analyzing their website's traffic.
But not all of them are Google Analytics experts. So they spend hours analyzing their Google data and yet find it difficult to translate them into actions.
So our team created Putler. Putler is a perfect partner to Google Analytics.
Putler identified all the most important website metrics from Google Analytics and puts it up on a single dashboard, we call it the Audience Dashboard.
Here's how it looks: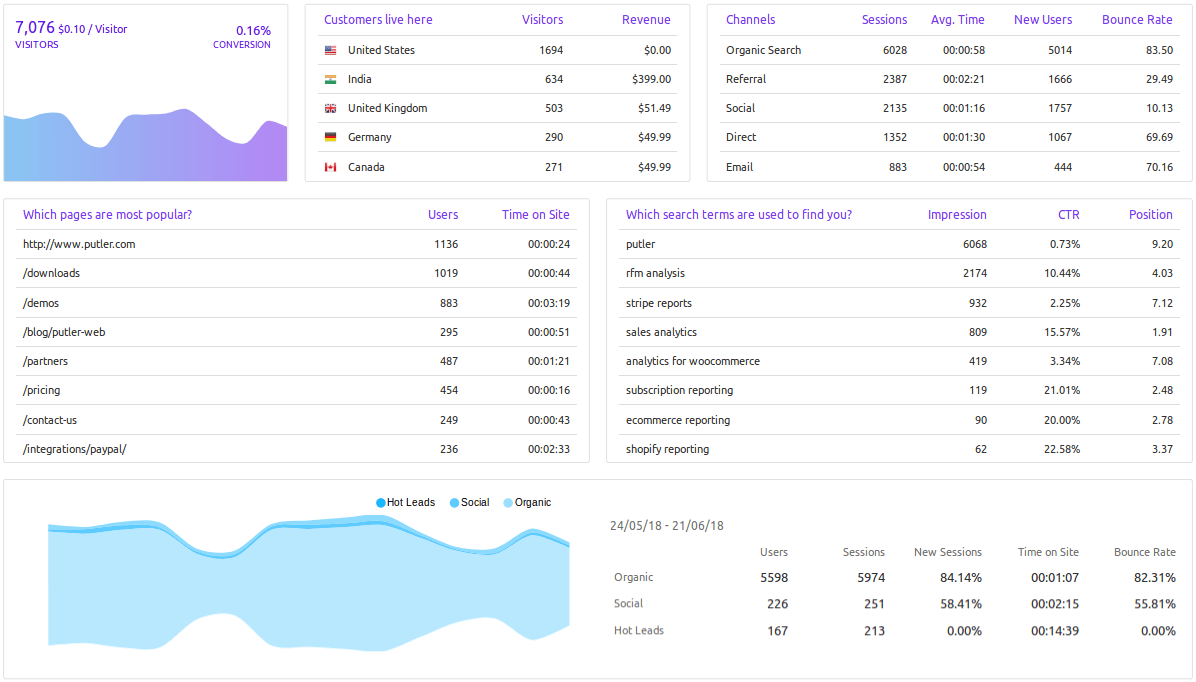 How does Putler's Audience Dashboard work?
Putler directly integrates with Google Analytics. It then pulls the data from Google Analytics consolidates it with your sales data and shows you a true picture of your business.
Advantages of using Putler along with Google Analytics
Saves time – Since Putler pulls in all the important metrics from GA to a single dashboard, you save a ton of time and effort.
User friendly – You don't have to be a GA expert to use Putler. Pulter only pulls in those metrics that are important to take strategic decisions.
Personalized insights – You don't have to struggle to translate metrics to actions. Since Putler pulls only the key metrics, you can quickly make strategic decisions without much effort.
Accurate eCommerce tracking – Google Analytics by itself fails at providing accurate eCommerce metrics. But since Putler pulls in data from your eCommerce platform, payment gateway as well, it provides you the complete picture. Putler smartly maps your eCommerce data with your website data and provides you accurate eCommerce metrics.
Conclusion
To sum up, it can be said that website reports and web analytics tools have come a long way since their advent. It has now become important for every individual to have a data-driven approach if they want to survive in the market.
The above-mentioned tools are some of the best web analytics tools and can help you take a step ahead with your business with utmost ease and simplicity!