Last updated on January 2, 2021
Let's begin with a little story of spotting the smarter store owner-


First, meet Terry. He has multiple Shopify stores.He logs in and out through all his stores throughout the day and monitors them one by one.
Now meet Rachel she has multiple Shopify stores too.But clever Rachel has linked them to one email id within Shopify.

But again, she has to remember multiple passwords to access every store.
So basically Rachel is living a similar nightmare as Terry.
Finally meet John.He uses Rachel's strategy of linking all his multiple Shopify stores to one admin email.

He even goes a notch higher by using the same password for all his stores.
So who is the smartest? Terry, Rachel or John?
The answer is Nobody.
All three have multiple Shopify stores and all 3 make some or the other mistake in the way they manage it.
Terry wastes a lot of time logging in and out.
Rachel has to remember a ton of passwords.
John risks the security of all his stores by using one password.
So what's the best approach when it comes to managing multiple Shopify stores without wasting time or compromising on security?
This article will shed light on
Challenges faced while managing multiple Shopify stores
Apart from the enormous amount of time and money wastage, managing multiple Shopify stores comes with some standard challenges.
Orders: You'll have to manage orders out of each site separately. This gets complicated when dealing with fulfillment and return processing.
Inventory: If you sell some products on both sites, you'll have to update inventory as customers buy and return items to both sites.
Products: Product data becomes messy as you structure it differently across multiple sites.
Integration: Integrating with your other systems like an ERP, or POS system becomes more complicated.
Best Practices for Managing Multiple Shopify Stores
Managing multiple Shopify stores can be difficult. However, it isn't impossible.
Here's what you should keep in mind when dealing with multiple stores.
Implement Real-Time Inventory Updates
If you want to manage your inventory accurately across multiple Shopify stores, consider implementing real-time inventory updates. This will prevent overselling and a number of other fulfilment nightmares that can make you lose money, ruin your brand's reputation and create angry customers.
A real-time inventory management system can help improve your customers' shopping experience significantly by ensuring you always have enough product in stock. You'll want to centralize your inventory management so you're able to keep track of your inventory regardless of which store sells a particular product.
Optimize Each Store Individually
If you're using multiple Shopify stores to target different international markets or sell to different customer segments, you'll need to optimize each store individually to make its content and offers relevant to the intended audience.
This might involve targeting local keywords, promoting country-specific offers and deals, using a different site design or URL structure, and creating locally relevant content for your website visitors.
Centralize Your Order Management
Keeping track of all the orders that come through your stores can be difficult. This is where a centralized order management system can help.
By centralizing your order management, you'll have an easier time fulfilling and keeping track of orders and returns.
Use a Product Information Management (PIM) system
Product information management can become very difficult and time-consuming for businesses that run multiple stores. This can result in messy and inaccurate data.
A product information management (PIM) system enables you to standardize all your data, clean it and keep it up to date on all your stores.
Create a Unified Customer Support System
A unified customer support system allows you to keep all your customer queries and order information in one central inbox from which your customer support team can deal with all the issues quickly and effectively.
Implementing such a system will help you avoid confusion among your customer support team members and result in an improved customer experience, which, in turn, will lead to increased customer retention.
How to manage multiple Shopify stores from one place?
The answer is simple, use a third party tool that allows you manage multiple Shopify stores in one place.
One such tool is Putler. Lets dive into how it works now….
Best app to manage multiple Shopify Stores from a single place!
Putler is your go-to tool that helps you monitor, manage and grow all your multiple Shopify shops from a single place.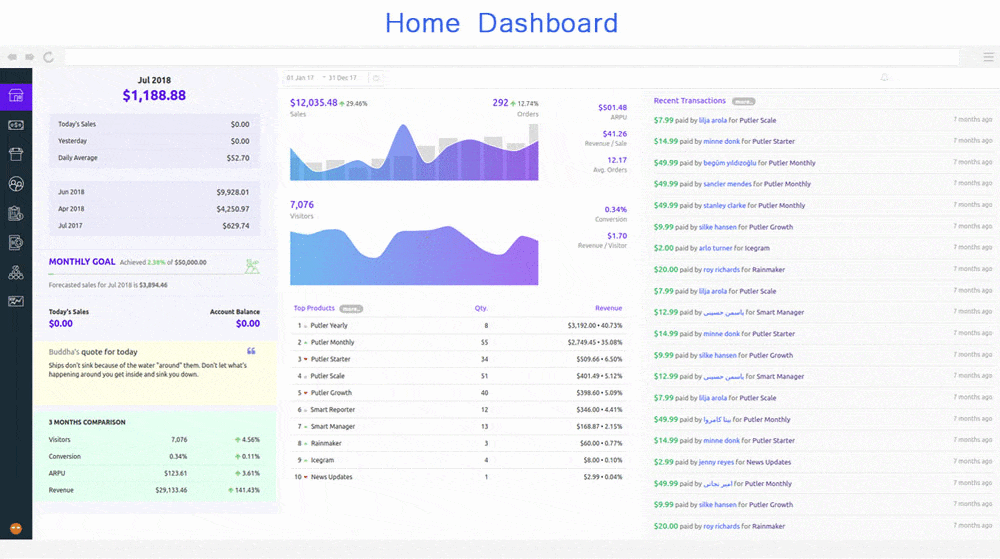 Connect all your Shopify shops to Putler

Putler lets you connect unlimited Shopify shops into Putler. The process is simple. Once connected Putler automatically pulls in the data and shows you reports and insights on your data.

Steps to connect your Shopify store to Putler

Once you sign in to Putler, click on the Shopify icon.
Give it a shop name and your shop URL.
Log in to your Shopify account.
Grant permission page appears – Click on grant permission.
Your Shopify account is added successfully to Putler.

Once you connect one Shopify shop, go to Settings > Link new data source and connect your next Shopify shop.
Continue until you have connected all your Shopify stores to Putler.

Supervise stores as a whole or individually

Once you connect all your Shopify stores with Putler you have two options:
1. View combined reports of all the stores
2. Toggle and view reports of each store individually.

While you connect all your Shopify shops to Putler, Putler will automatically pull in data from all stores, aggregate and consolidate it and show you combined reports.

Whereas, if you want to see individual reports, you will have to create teams and assign team members to them. Here's how.

View reports, metrics and data within seconds

Putler is an all-in-one reporting tool. It consolidates data from all your Shopify shops and gives you complete reports with accurate data.
Here are all the dashboards and KPIs Putler provides:
Over to you
Managing multiple Shopify stores is a pain but if you follow the good practices and have the right tool it is achievable and very rewarding.
So don't worry, if you have multiple Shopify stores and are struggling with managing them, sign up for a free trial of Putler.
You will enjoy managing your Shopify stores thereon.
Take Putler's Free Trial