Plugins are the best part of making an online store using WooCommerce. They allow you to add new features and grow your business.
There are tons of WooCommerce plugins that you can use for your business but not all of them are good. So how do you find out the best WooCommerce plugins for your eCommerce business?
In this article, we have hand-picked some of the best WooCommerce plugins for your store that help increase sales and grow your business.
The best WooCommerce plugins for your store
If you are a WooCommerce user then I'm sure you already know what a WooCommerce plugin is and why it's needed.
They add functionality and additional features to your online stores that don't normally come with the raw version of WooCommerce.
Continue reading this article and find out the best WooCommerce plugins that will improve your store's functionality.

Best WooCommerce plugins to increase lead generation
Icegram
Icegram is a powerful tool to improve the engagement of visitors on your website. You can use it to create popups, call to action buttons in the header or footer, floating boxes, reminders, chat, and more. And the best news is that it's absolutely free!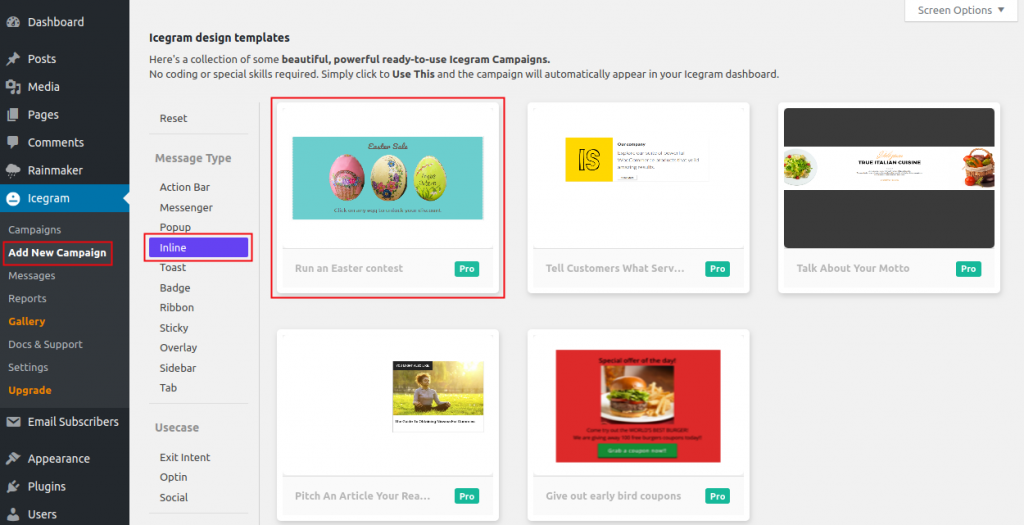 Features:
Unlimited contacts and newsletters
Automate notifications and sequences
Increase traffic, conversion and revenue
Add captcha, block spammers
Price: Free
SUMO
With the Sumo plugin, you can increase your email list with timed popups across your website, in addition, with its eCommerce integrations and features you can get in touch with those customers who have abandoned their cart and increase your conversion rate.
This plugin can be downloaded both from the official WordPress website or directly from the dashboard itself and it currently has over 100,000 active installations.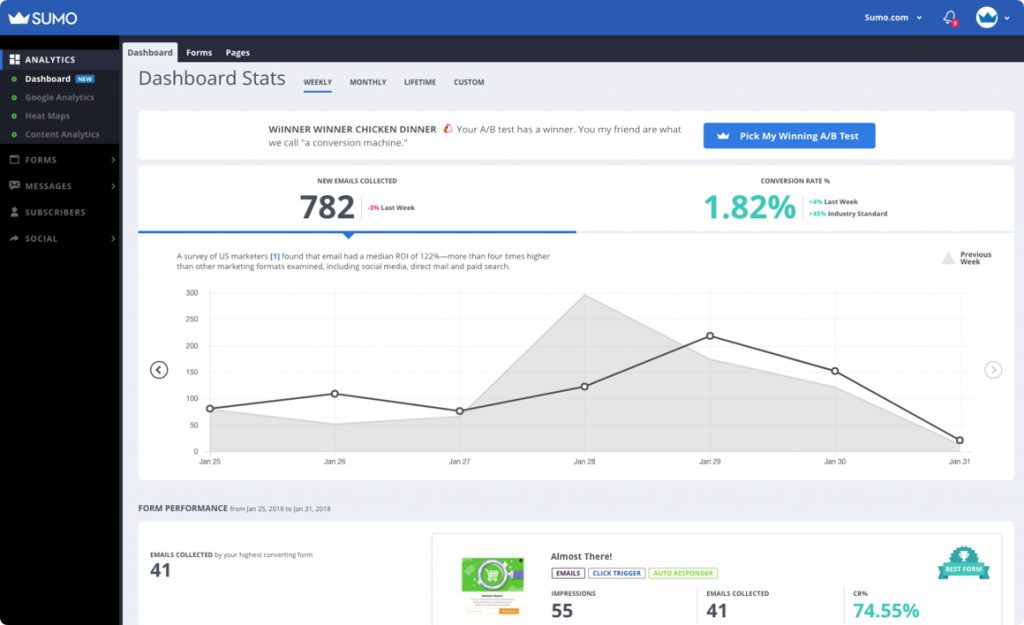 Features:
Exit intent technology
Smart display mode – Decide the best time to display forms to visitors
Easy to customize popup forms with a nice set of templates
Customizable floating bar form
Scroll-box form
A/B testing
automatically
Welcome mat – full-screen form on arrival
Price: $119/month
Thrive Leads
Thrive Leads is a popular lead generation plugin that helps you grow your email list – all inside the WordPress dashboard.
With the pre-designed templates and easy to use drag and drop editor, you can create the following types of highly converting optin forms:
Sticky ribbon
Inline forms
ThriveBox (popup lightbox)
Content lock
Scroll mat
Slide-ins
Full screen overlays
Yes/No multiple choice
This lead generation plugin lets you create mobile-optimized forms, 2-step options, and even widgetized forms that can be placed throughout your site.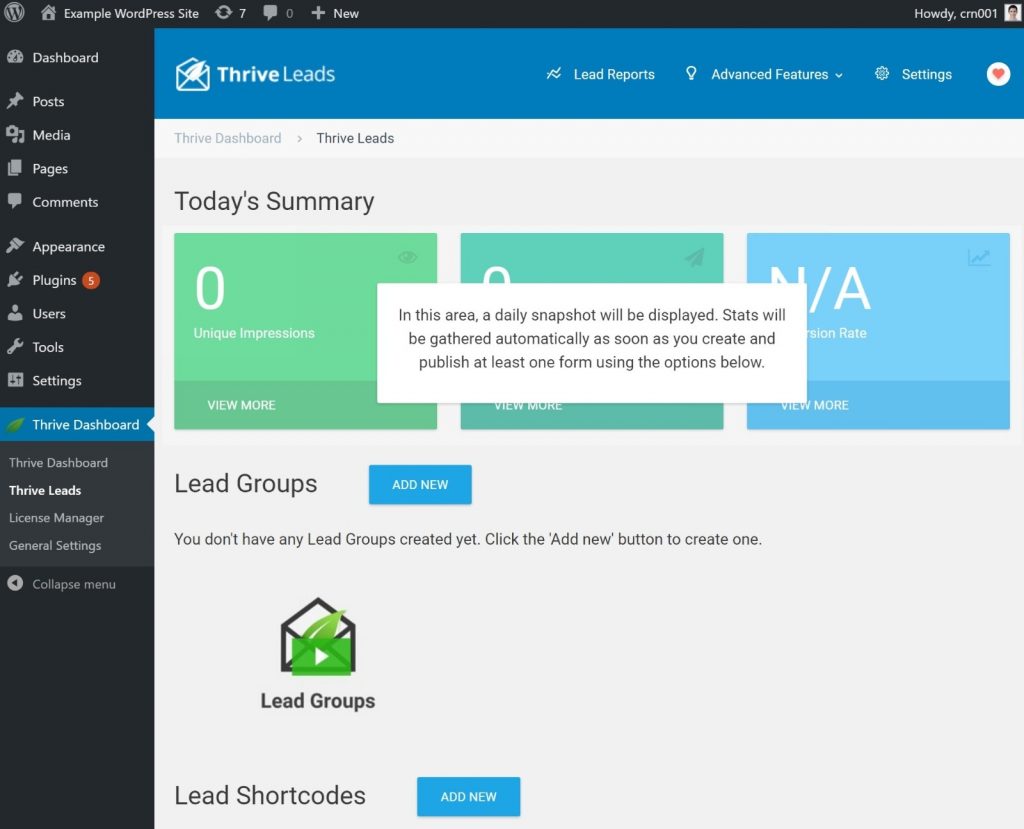 Features:
Advanced targeting options
SmartLinks
Advanced trigger options
Detailed reports and analytics
Powerful A/B testing engine
Email marketing service integration
Price: $19/month
Best WooCommerce plugins to increase sales
Smart Offers
Smart Offers is a popular WooCommerce plugin that lets you create sales funnels. Using Smart Offers you can target personalized upsells, cross-sells, BOGO, order bump, downsell, special offers to increase sales, LTV. Set-up simple offers within minutes without coding. Smart Offers also integrates with popular WordPress page builder plugins, WooCommerce plugins and WPML.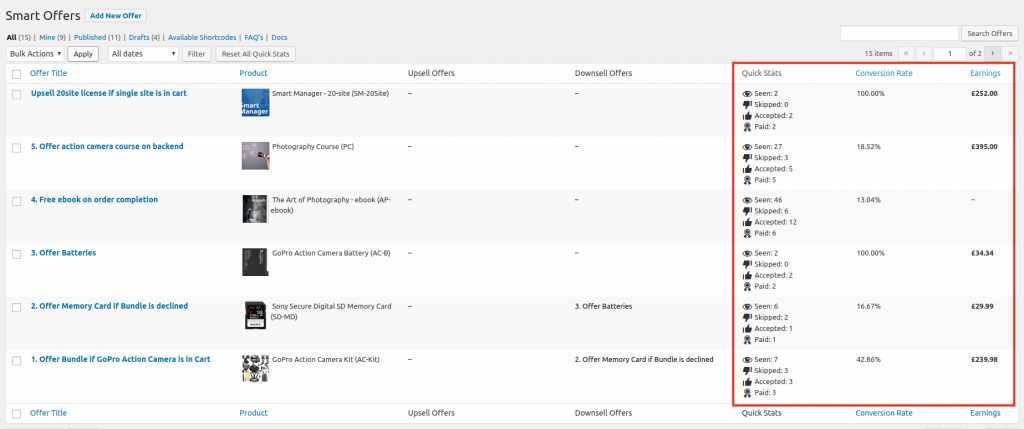 Features:
WooCommerce upsell, downsell
WooCommerce cross-sells, one-time-offers.
WooCommerce BOGO
WooCommerce order bump
WooCommerce one-click upsell
WooCommerce giveaways, tripwires, backend
WooCommerce product bundles, free shipping offer
Unlimited sequence of offers in sales funnel
Price: $99.00/year
WooCommerce Direct Checkout
WooCommerce checkout manager is a plugin built to improve checkout pages. It helps to modify the checkout pages in an intuitive way, allows field customization, to extend billing information and to create any field required at WooCommerce checkout.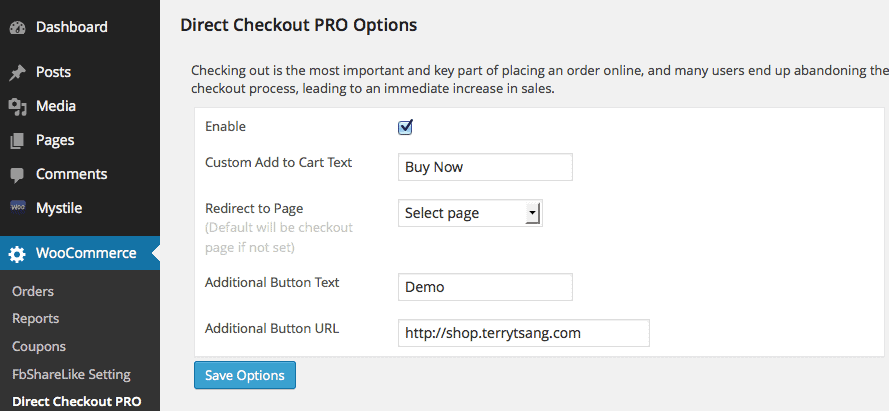 Features:
Avoid reload checkout pages.
Remove checkout fields.
Quick purchase functionality.
Reduce cart abandonment.
Skip add to cart.
Price: $19/month
Open WooCommerce Direct Checkout
Beeketing for WooCommerce
If you're looking for a solution to automate the sales & marketing process, take a look at Beeketing for WooCommerce. It is one of the best WooCommerce plugins for marketing. It includes 10+ built-in apps designed to optimize conversion rates, increase average order value (AOV) and nurture loyal customers.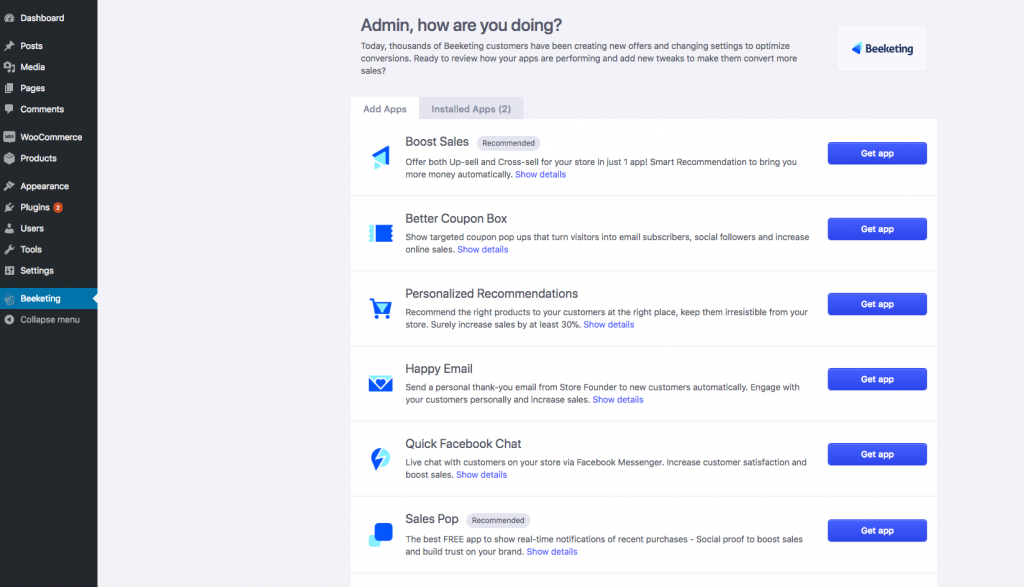 Features:
Boost sales.
Personalized recommendation.
Mailbot email marketing.
Better coupon box.
Countdown cart.
Sales pop. show recent order notifications to increase customer buying confidence.
Price: $19 to $30 per month
Best WooCommerce plugins to improve marketing
Smart Coupons
This is one of the most comprehensive options to enhance your WooCommerce coupon strategy. The plugin helps you generate coupons in bulk, issue them automatically, and also apply advanced restrictions to them. It also helps you feature free gift coupons, store credits and gift cards as well.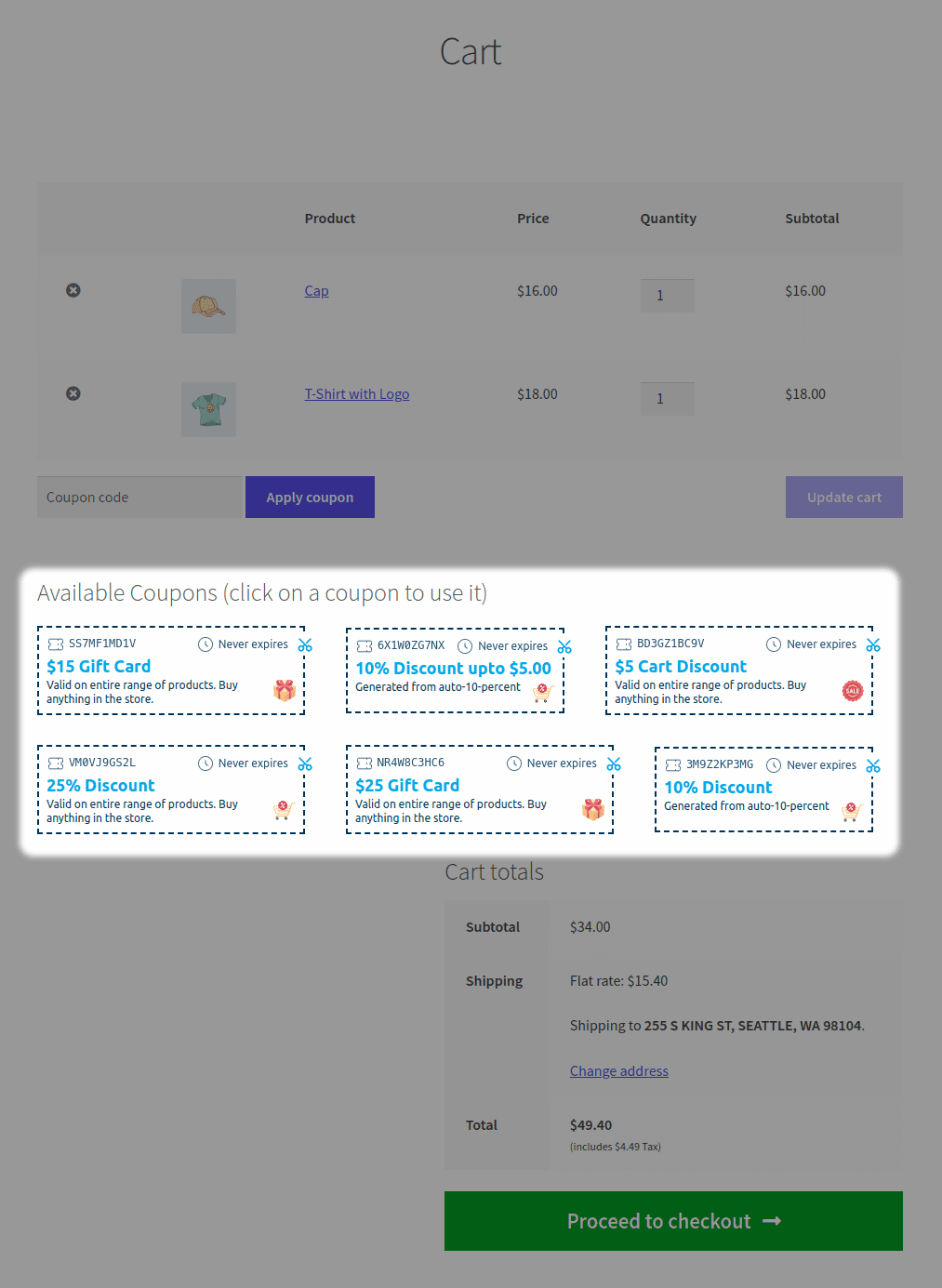 Features:
WooCommerce gift cards / store-credit
Bulk coupon generator, dispatch, import-export
Embed coupons / shortcodes
Advanced coupon restrictions
Readymade, customizable designs
URL coupons
Compatible with popular plugins
Gift a product via coupon
Price: $99.00/ year
RafflePress
RafflePress is the best WooCommerce plugin to run contests and giveaways.
You can easily create your giveaways with a drag and drop builder and pre-built templates. All the giveaways are responsive and look good on mobile devices.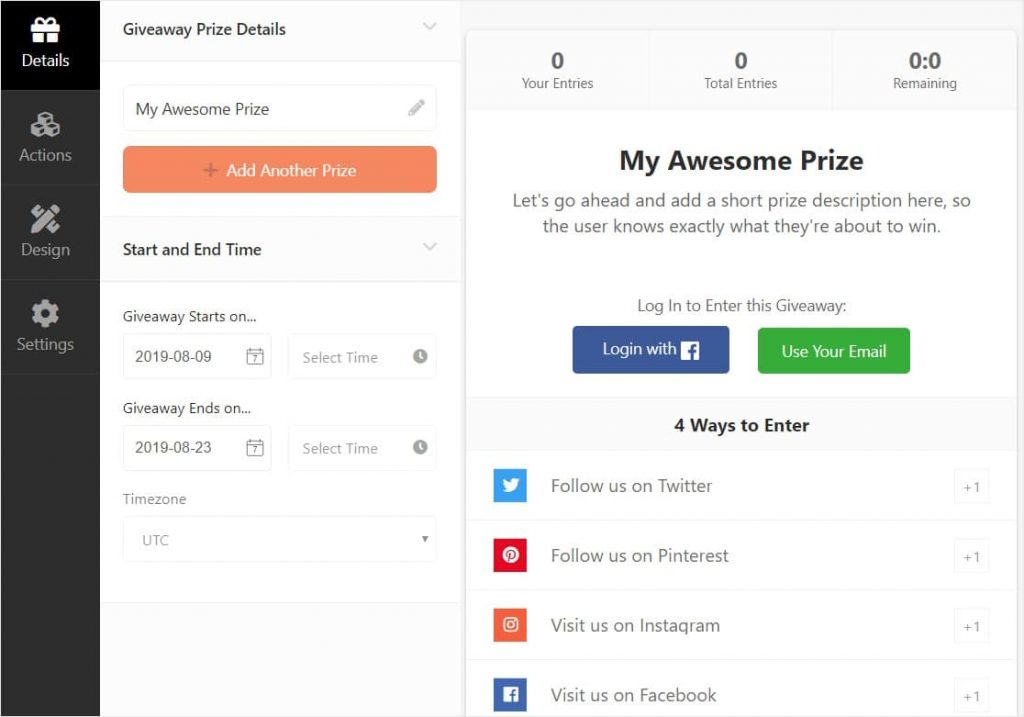 Features:
Viral sharing (refer a friend)
Social media integrations
Drag & drop giveaway builder
Viral giveaway templates
Giveaway landing page
Tracking and reporting
Responsive mobile friendly giveaway widget
1-click entry + fraud protection
Price: Starts at $49 per year
WooCommerce Product Addons
WooCommerce Product Addons by Acowebs is a leading plugin for adding extra fields in the product detail page of your WooCommerce store. This is a leading plugin in this category, which allows you to customize the default WooCommerce product page with various types of custom fields like text field, number field, radio field, checkbox field, text area field etc. This plugin also comes with advanced options like Custom Price Fields, Custom Price Formula and also based on Conditional Logic which helps to apply additional cost based on various parameters chosen by the users. The plugin also comes with a drag and drop form builder which makes it super easy to use. There is also a free version of WooCommerce Product Addons plugin which has more than 30,000 active customers and 5 star rating in WordPress plugin directory.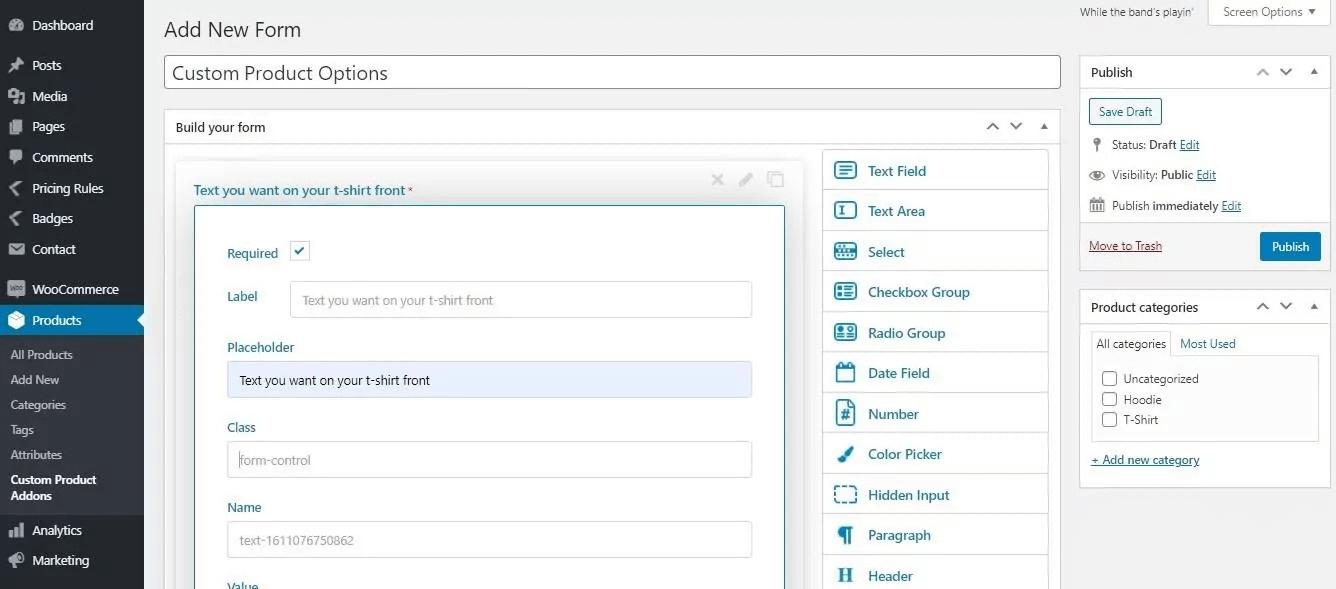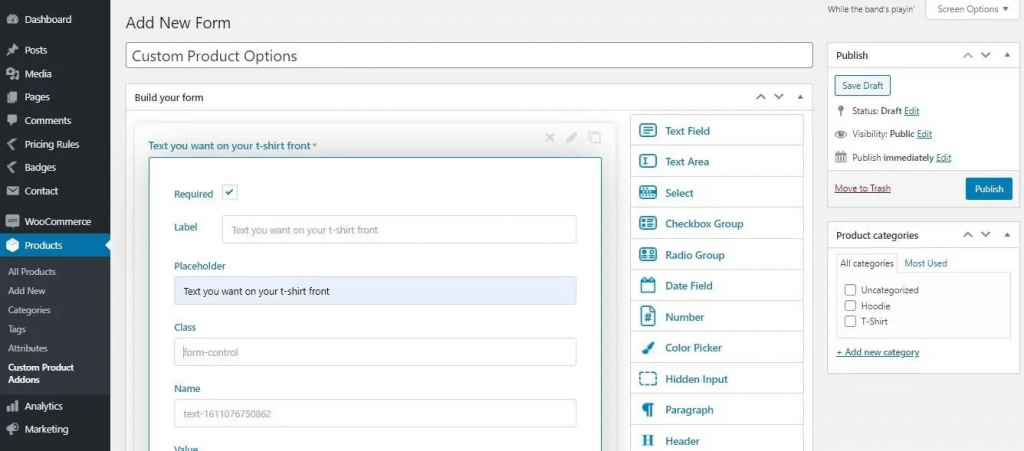 Features:
WooCommerce dynamic pricing with discount rules.
Woocommerce custom product addons.
WooCommerce product labels.
WooCommerce checkout field editor and manager.
WooCommerce table rate shipping.
WooCommerce wishlist.
Price: Starts at $39.00
Open WooCommerce Product Addons
Best WooCommerce plugins to manage shipping & inventory
WP Inventory Manager
WP Inventory Manager is an easy-to-use plugin to manage inventory on your WordPress dashboard. There's no hassle with the setup, and the drag-and-drop feature makes the plugin perfect for beginners.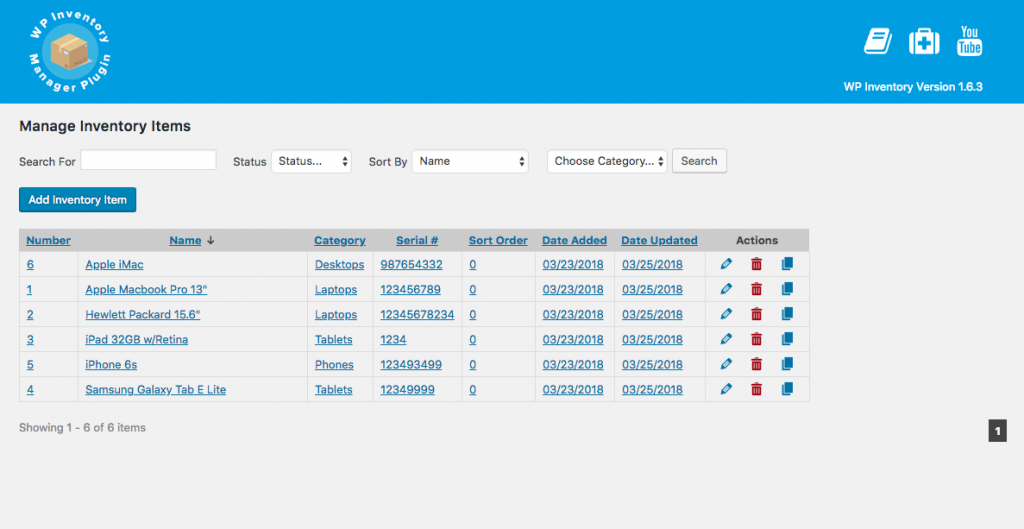 Features:
Uses separate database tables for faster database access.
Fully customizable labels.
Developer-friendly with hooks, filters and utility functions.
Templating system makes customization easy.
Supports multiple categories.
Ability to set permissions for who can add or edit items.
Price: For pro $49.99 for WP inventory core & $149 for all access pass
Smart Manger
StoreApps is the official WooCommerce extensions developer that has a powerful inventory management and advanced bulk edit plugin, Smart Manager.
Smart Manager allows you to manage and bulk edit any WordPress post type including custom ones. Posts, pages, WooCommerce products, orders, coupons, users, subscriptions, bookings, product addons… using an Excel-like sheet editor.
20K+ users rely on Smart Manager to get free from the daily store mundane.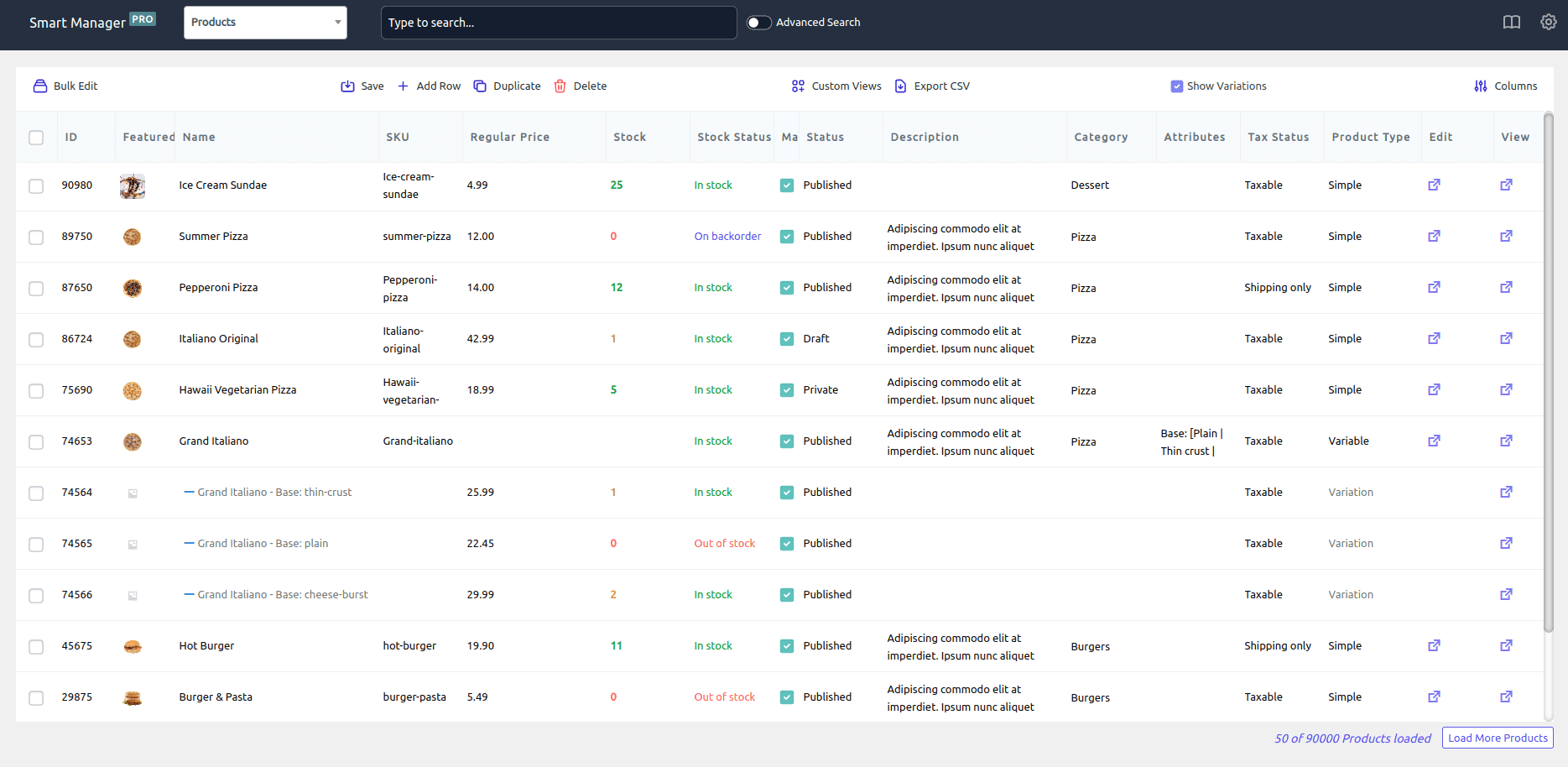 Features:
Bulk edit thousands of product data – price, stock, description, weight… within minutes.
Make edits to product data directly using the spreadsheet.
Filter products by SKU, type, categories, attributes…and get accurate results.
Delete all products permanently or move them to trash.
Duplicate all your store products or specific products.
Export product data to CSV based on filters.
Sort product data columns.
Set up Custom views for products – manage only limited set of data all the time.
Pricing
Pro plans from $149 onwards
WooCommerce POS Inventory Count
WooCommerce POS by kilbot provides a simple interface for taking orders using your WooCommerce store. It provides store owners to have the functionality, where they can easily manage their online stores along with the physical stores.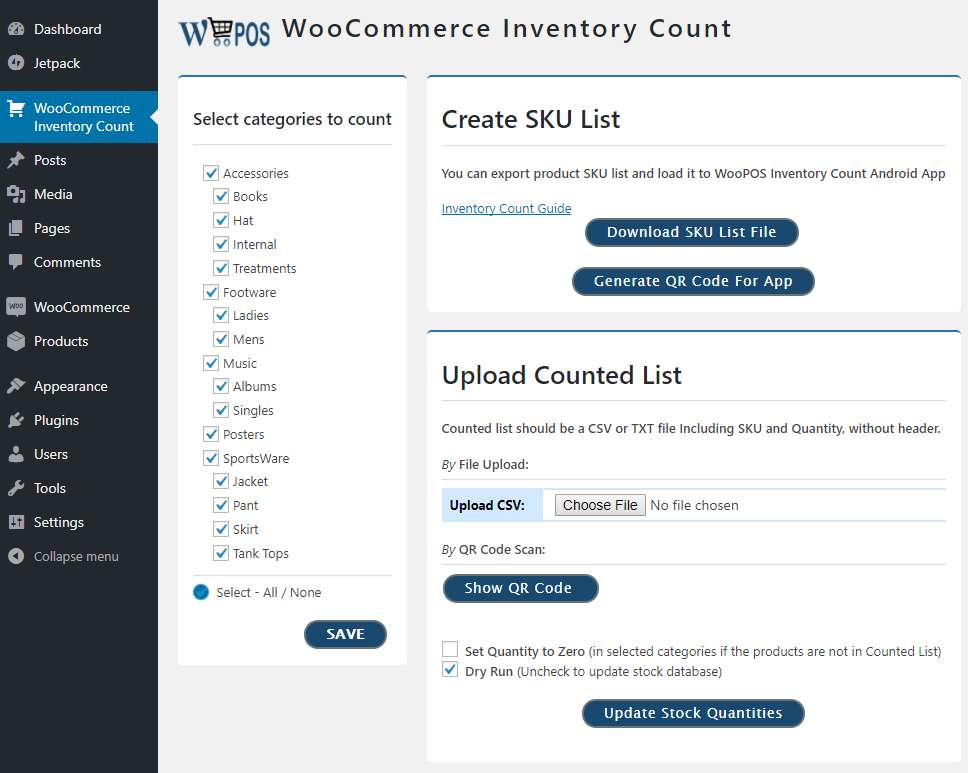 Features:
Quickly adjustable product inventory, titles, and price
Translatable into your native language
Add and choose a shipping method and set tax rate
Fast searching and filtering products
Create multiple stores with multiple tax rates and custom receipts
Price: $129 USD/Yr for a single site
Open WooCommerce POS Inventory Count
Best WooCommerce plugins to tackle cart abandonment
Retainful
Retainful is one of the best abandoned cart recovery plugins for WooCommerce. It allows customers to recover their lost carts with a single-click and complete the purchase. As the name suggests, you can create a series of recovery emails to be sent once a customer abandons the cart.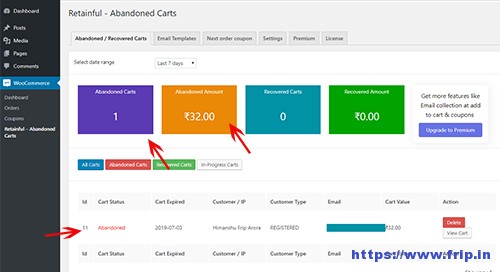 Features:
Automatically send abandoned cart emails
Unlimited abandoned cart recovery email templates
automatically stops sending the emails once the cart is recovered
real-time carts
Price:$15/month
YITH WooCommerce Recover Abandoned Cart
YITH WooCommerce recover abandoned cart is a comprehensive WooCommerce cart plugin that is used by many store owners.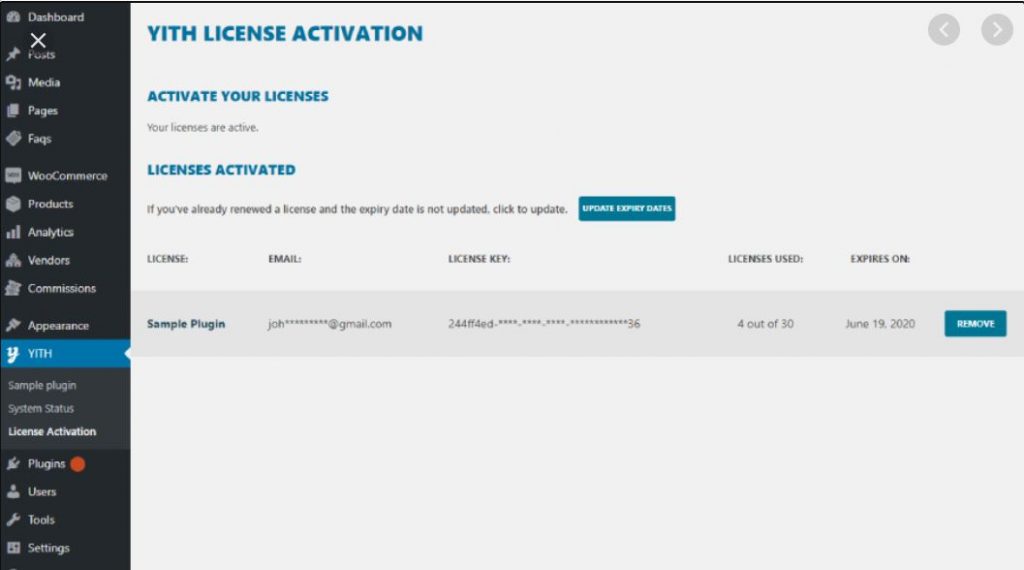 Features:
Non-registered users can also recover their carts
Create different kinds of emails for your users
Send emails automatically after a certain amount of time
Customize the content of the email
Add coupons to each configured email type
Reset button for the reports in the dashboard panel
Supports WooCommerce multi-currency
Price: Single site $ 79.99
Open YITH WooCommerce recover abandoned cart
Follow-ups for WooCommerce
Follow-up is the most popular WooCommerce extension to create, schedule and automate your emails. The plugin can get you more customer engagement with minimum manual effort. It uses the purchase history and customer behavior to automate data-driven drip campaigns.

Features:
Gain unrivaled control over your communications
Restful API
Mailing lists
Personalized coupons
Newsletters and one-time emails
Google analytics integration
Full fledged reporting
Group follow-ups into campaigns
Simple email creation
Price: $99.00/ single WordPress website
Best WooCommerce plugins for email marketing
Email Subscribers
If you're looking for a full-featured solution, Email Subscribers & Newsletters is one of the best WordPress email marketing plugins to start with. It provides everything you need to create and manage a list and send newsletters, without requiring a third-party connection.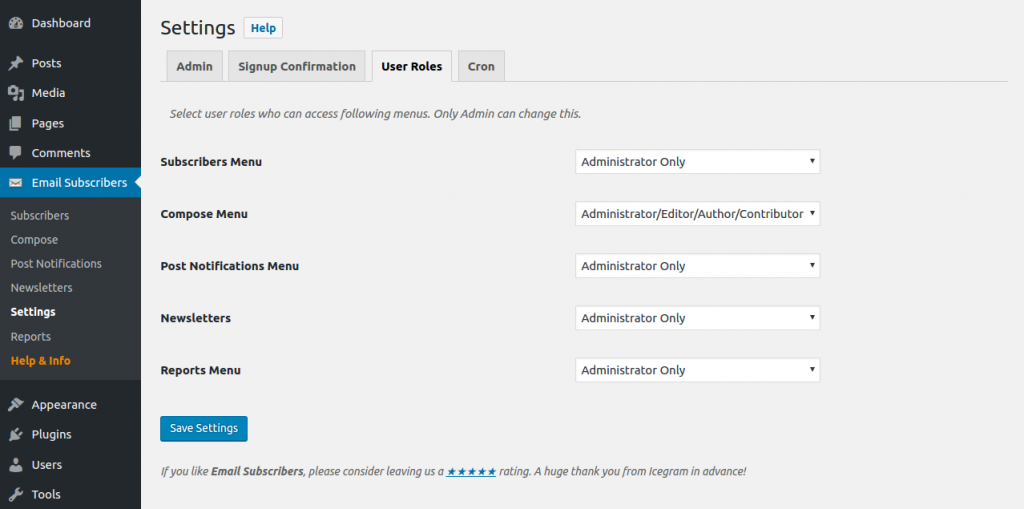 Features:
Welcome emails
View email data, such as when each was sent and viewed
Add a subscription box to your site for collecting email addresses
Receive notifications when new subscribers sign up and send out automated
Send out email newsletters manually, or automatically based on specific triggers
Price: Starting at $9 per month
CampaignRabbit
CampaignRabbit is a popular WooCommerce email marketing plugin for your online store. The tool lets you send targeted email campaigns based on your customer behavior.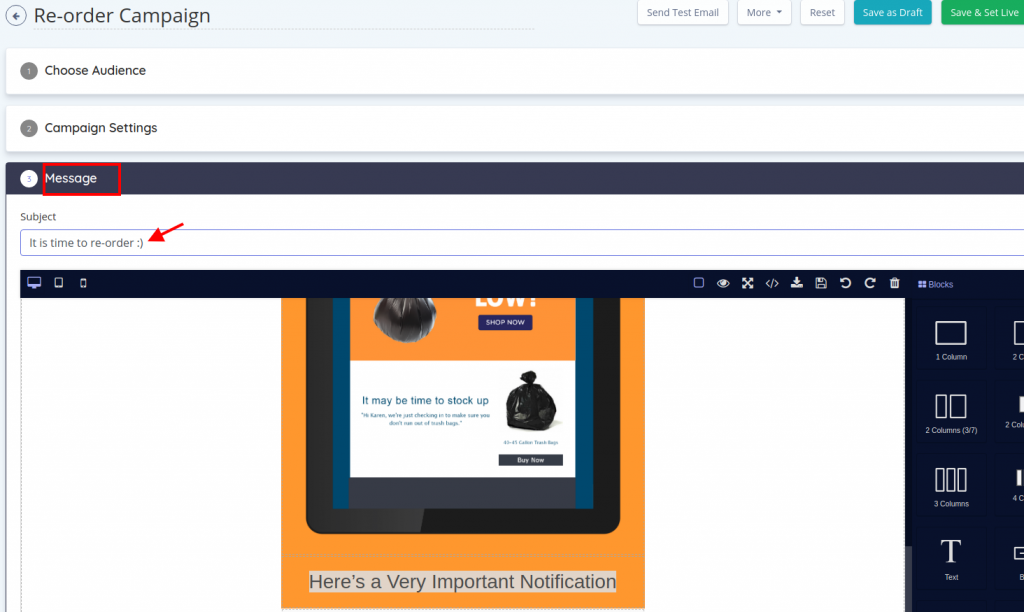 Features:
Improves sales conversions with exit-intent popups
Easy drag and drop email editor and pop-up builder.
Create popups and grow your subscriber list.
Featured dashboard with customer analytics like orders placed, total order value, customer LTV and more.
Powerful segmentation based on customer history, purchase behavior, total spending, abandoned carts and much more.
Automate your welcome emails, follow up emails, product recommendation emails and cart recovery emails.
Price: $14/month
SendinBlue Subscribe Form
An email marketing service provider that's gaining in popularity, SendinBlue is an easy-to-use all-in-one email marketing automation software. The SendinBlue Subscribe Form And WP SMTP is the official WordPress plugin that lets you connect your website with this service and send emails. You can create subscription forms, build a contact list and run marketing campaigns with ease.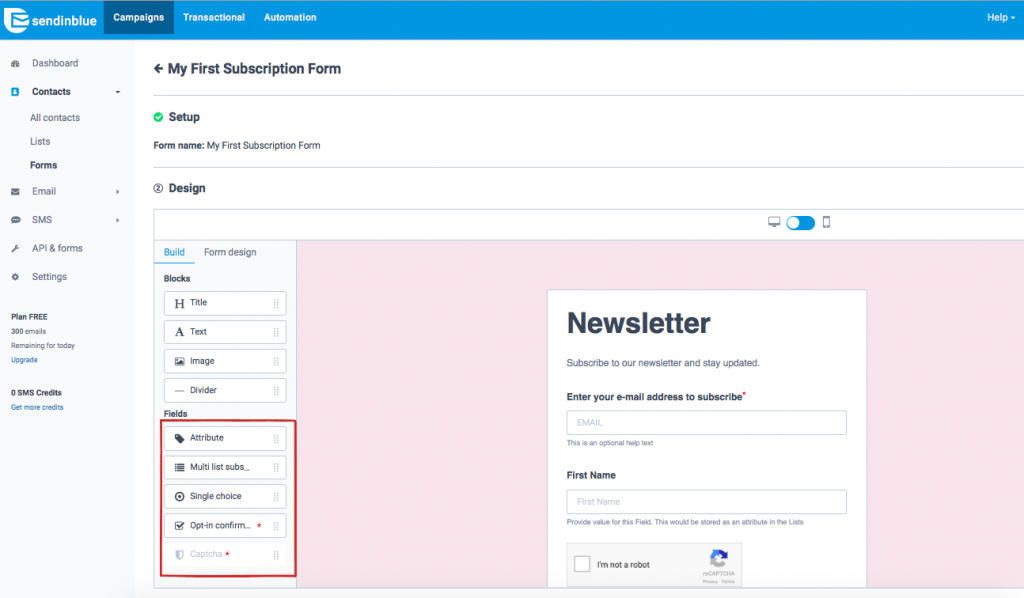 Features:
A/B Testing
Data Import/Export
Drag & Drop Interface
Real Time Analytics
Reporting & Statistics
Social Media Integration
Template Management
Third Party Integration
Price: $25.00/month
Best WooCommerce plugins for analytics and reporting
Putler
Pulter is complete analytics and insights plugin for WooCommerce. It integrates with multiple payment gateways, Google Analytics and also with other eCommerce platforms. You can choose to connect one or multiple WooCommerce stores to Putler and then analyze all your data from a single place. Apart from reports, Putler provides a ton of operational features like customer segmentation, refund processing, forecasting, sales heatmap and lot more.
It is an all-in-one plugin that helps you analyze your store as well as grow it based on data driven insights.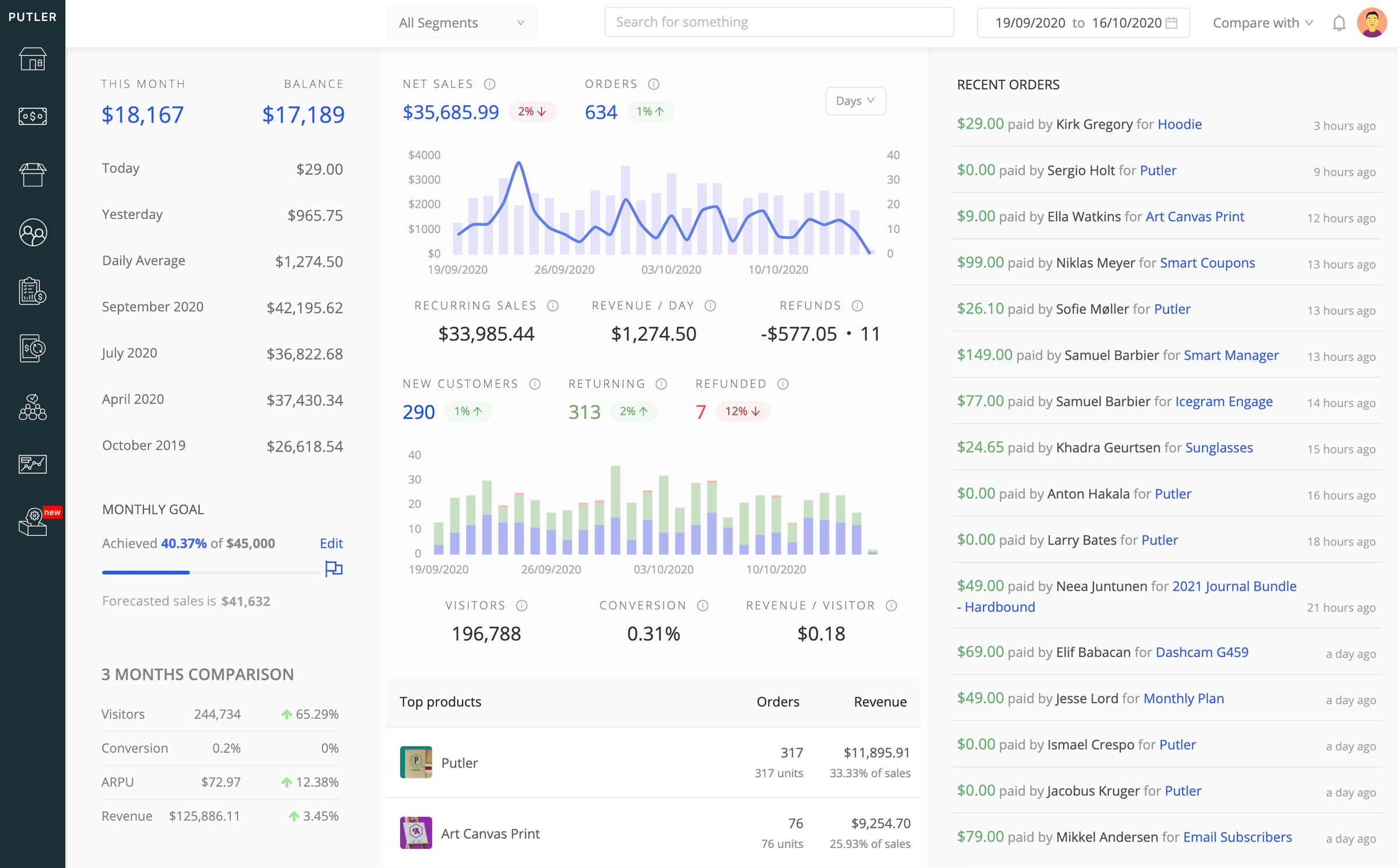 Features:
Easy, one-click report sharing
Custom, scheduled reports
Option to issue refunds from within the platform
Automatic currency exchange rates and timezone conversions
Customer profiles and histories
Address geocoding and more.
Price:
Starter plan – $20/mo
Growth plan – starts at $50/mo
Metorik
Metorik is a powerful WooCommerce analytics plugin that offers you a wide range of reporting templates for immediate use. You can also customize and tailor those templates to suit your needs. You can change everything, from how products are displayed to the order statuses.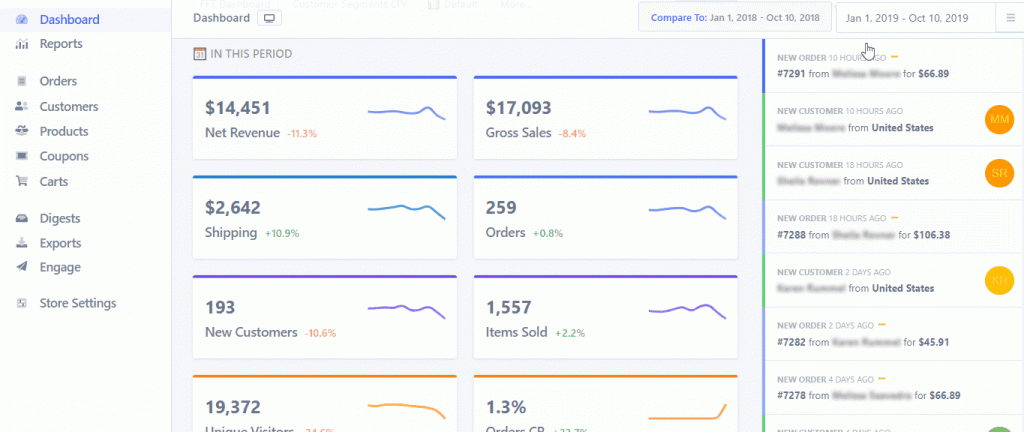 Features:
Best and worst sellers
Guest insights
Orders over time
Sales by the hour and day
Order value distribution and order item count distribution
New vs. returning customers
KPIs for every category you wish to analyze
Price: $50 USD / month
Exact Metrics
With more than 1 million active installs, ExactMetrics is another one of the best WooCommerce Analytics plugins for WordPress. It's also free, which is great if you're adding Google Analytics to a hobby site or startup.
This well-known tool to add analytics to your site was formerly known as Google Analytics Dashboard for WordPress.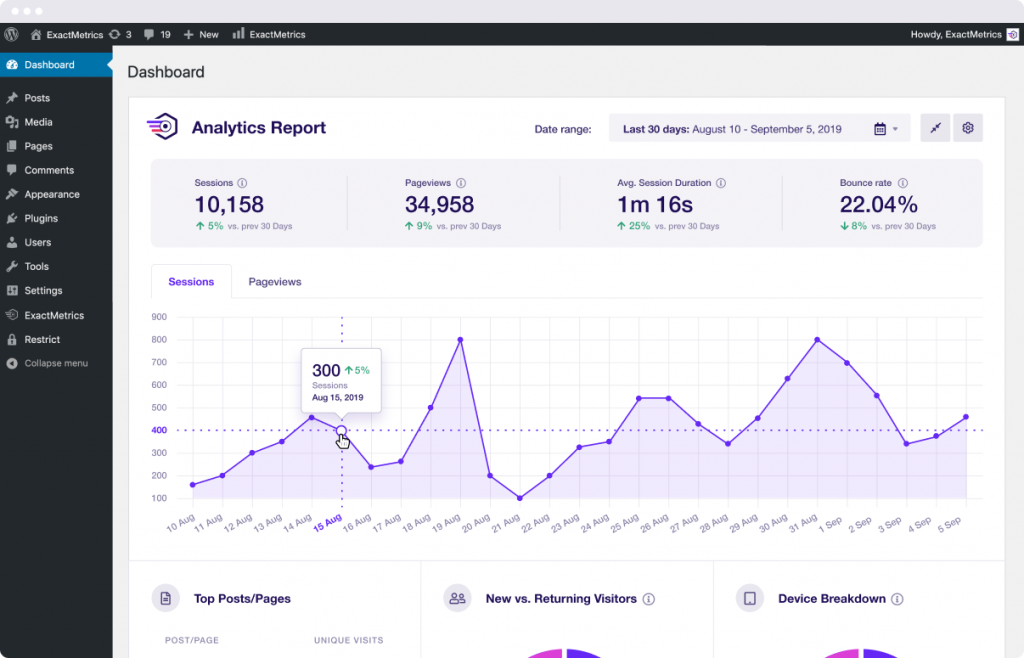 Features:
Affiliate Ad tracking.
eCommerce tracking.
Page level insights.
GDPR / CCPA compliant.
Custom dimensions.
Most accurate tracking.
Easy analytics dashboard.
Real-time stats.
Price: Free
Best WooCommerce plugins for subscriptions
Putler
Putler is not a core subscription plugin but it again makes an entry in this category because it is one of the few reporting plugins that caters to both Saas as well as Non SaaS businesses. So if you have a SaaS business on WooCommerce, do try out Putler for taking care of all your data analytics requirements. Putler will provide you in-depth reports, SaaS metrics, insights for your SaaS business.
It is easy to setup and you can manage multiple websites from a single place using Putler.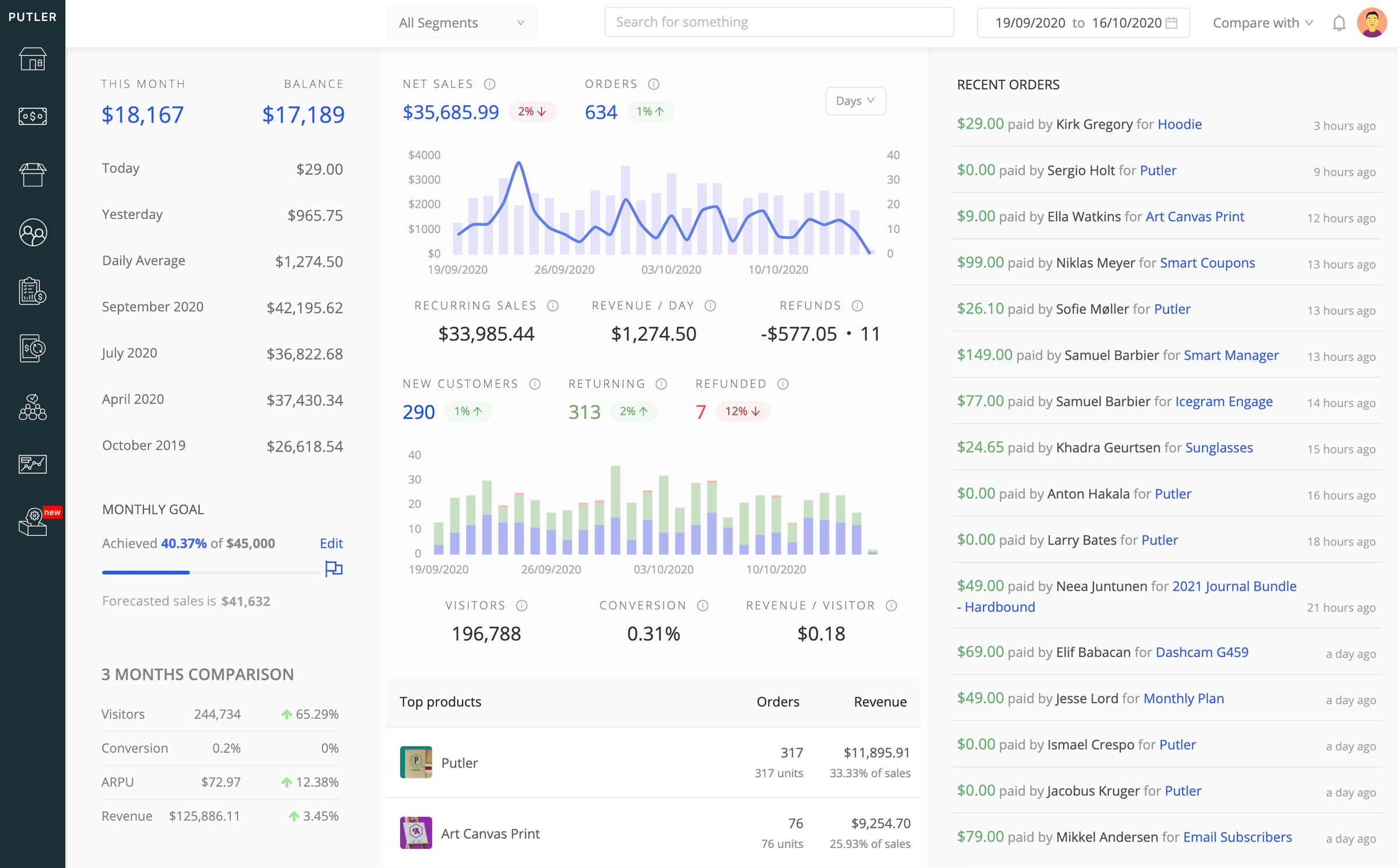 Features:
Easy, one-click report sharing
Custom, scheduled reports
Option to issue refunds from within the platform
Automatic currency exchange rates and timezone conversions
Customer profiles and histories
Address geocoding and more.
Price: Plans start at $29 (14-day free trial available)
WooCommerce Subscription
WooCommerce Subscription by WooCommerce essentially adds a new payment method to your Woo store. Granted that it is a paid extension, but it is money well-spent. The plugin greatly streamlines the process of setting up and managing a WooCommerce subscription offer.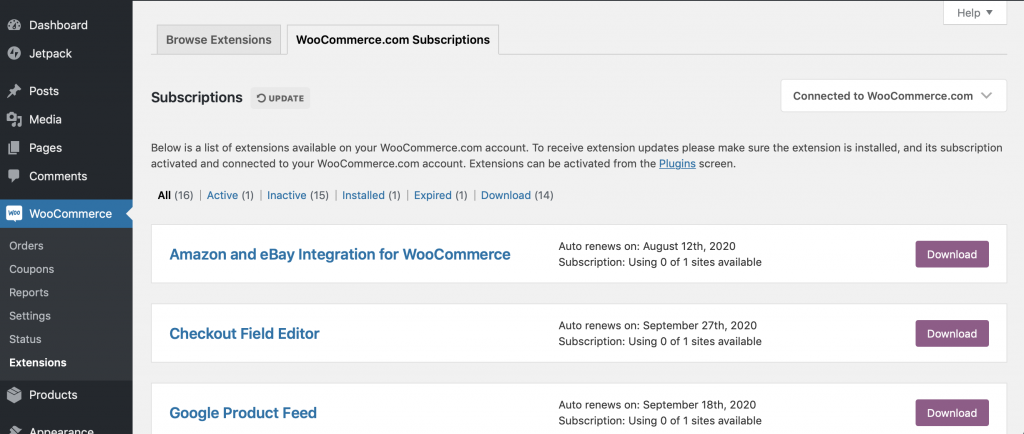 Features
Multiple subscriptions for products and services
Create and manage subscription products at your WooCommerce store
You can offer trial periods
Give subscribers the ability to manage their own plans
Set up subscription expiry dates
Price: $199.00 billed annually
It's your choice!
So these were my top 20+ WooCommerce plugins which are a must have for anyone running a store on WooCommerce. You are free to try out these plugins and stick to whichever meets your needs the best. Do leave a comment, incase you have a question or want to provide feedback on any of the plugins mentioned in this article.