With thousands of Shopify apps available at the Shopify App Store that claim to increase your sales and boost conversions, it's hard to find the best Shopify app that brings you guaranteed results.
To help you select, we highlighted 10 of the best Shopify apps to increase your eCommerce sales. All of these apps help to boost your online revenue.
How do you know which Shopify app to select?
We're here to help. We're Shopify users ourselves, and we have experience examining, testing and using some of the best Shopify apps out there.
And here's the list we've come up that will help you increase your sales.

Best Shopify reviews app: Growave
Growave is an all-in-one marketing platform that helps businesses reach, engage, and convert their customers. The app offers various tools, such as Reviews, Wishlists, Q&A, Loyalty and Referral, Social login, Instagram galleries, and more. Such multifunctionality of the app makes it the ultimate platform for online store conversions and sales. It is as much as six times more cost-effective than any of the alternatives on the market. Growave can help you easily replace 4-6 different apps on your store and save a ton of money!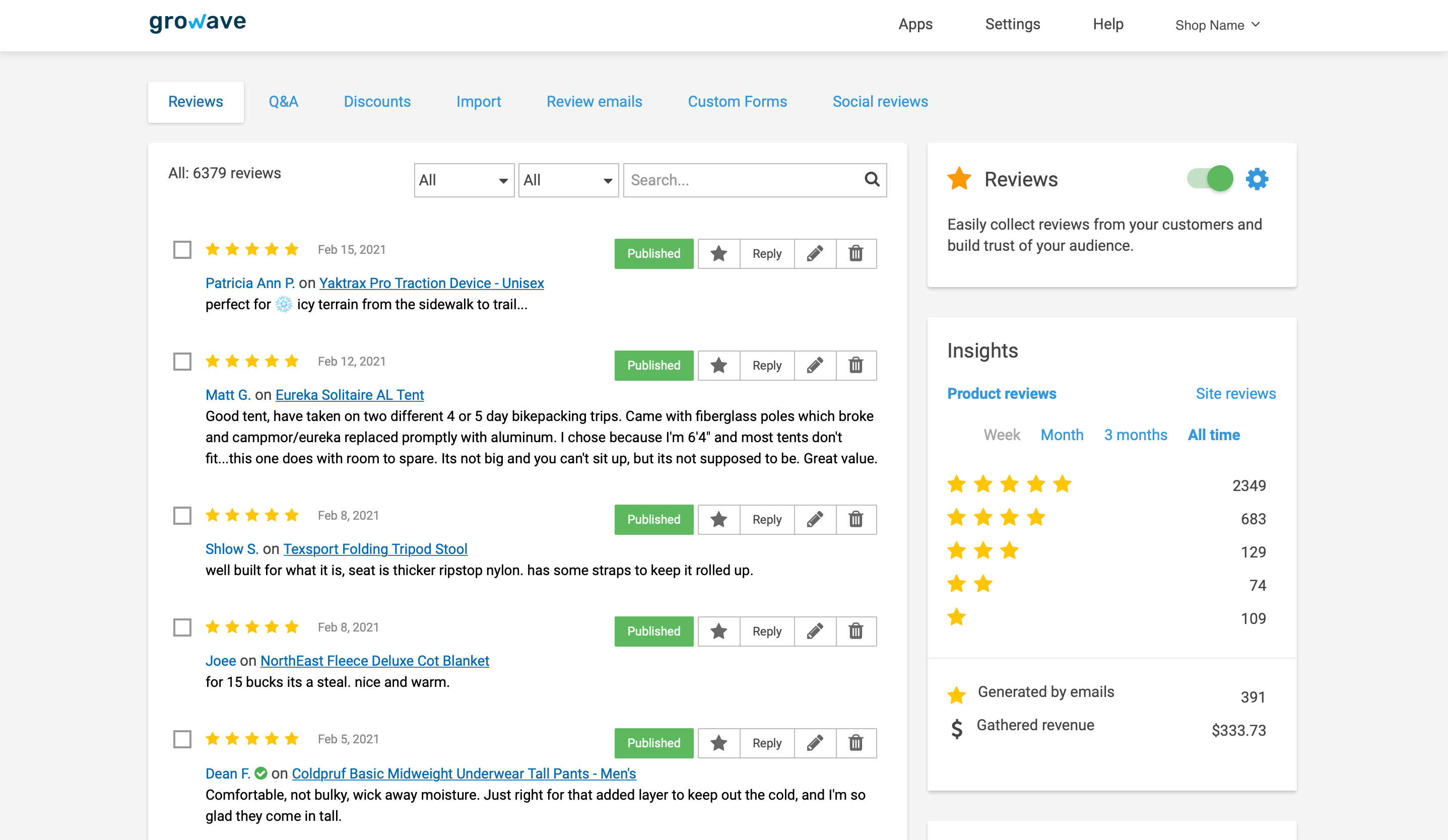 Features:
Loyalty & rewards
Reward with points and discounts for sharing your store and following your social media pages.
Increase engagement with nudges and points expiration reminders.
Referral program
Reviews
Wishlist
Saved in wishlist
On sale
Back in stock
Running out of stock
Social Login
Instagram
Free trial: 14-day free trial for starter and growth, 30-day for enterprise
Price: Plans start from $29.99/month
Best for: For SaaS business owners, eCommerce business owners, internet marketers, enterprise owners.
Best Shopify reporting app: Putler
Putler is a seamless business reporting app for Shopify. It handles the regular collection of data and even helps with operations like customer segmentation, processing refunds, forecasting etc. so that you can review your sales analysis and grow your business side by side.
Using Putler, you can not only connect and monitor multiple Shopify stores from a single place but you can also pull in data from other data sources like – Woocommerce, Paypal, Stripe, Braintree, Bigcommerce, eBay, Mail chimp, Google Analytics, and many others.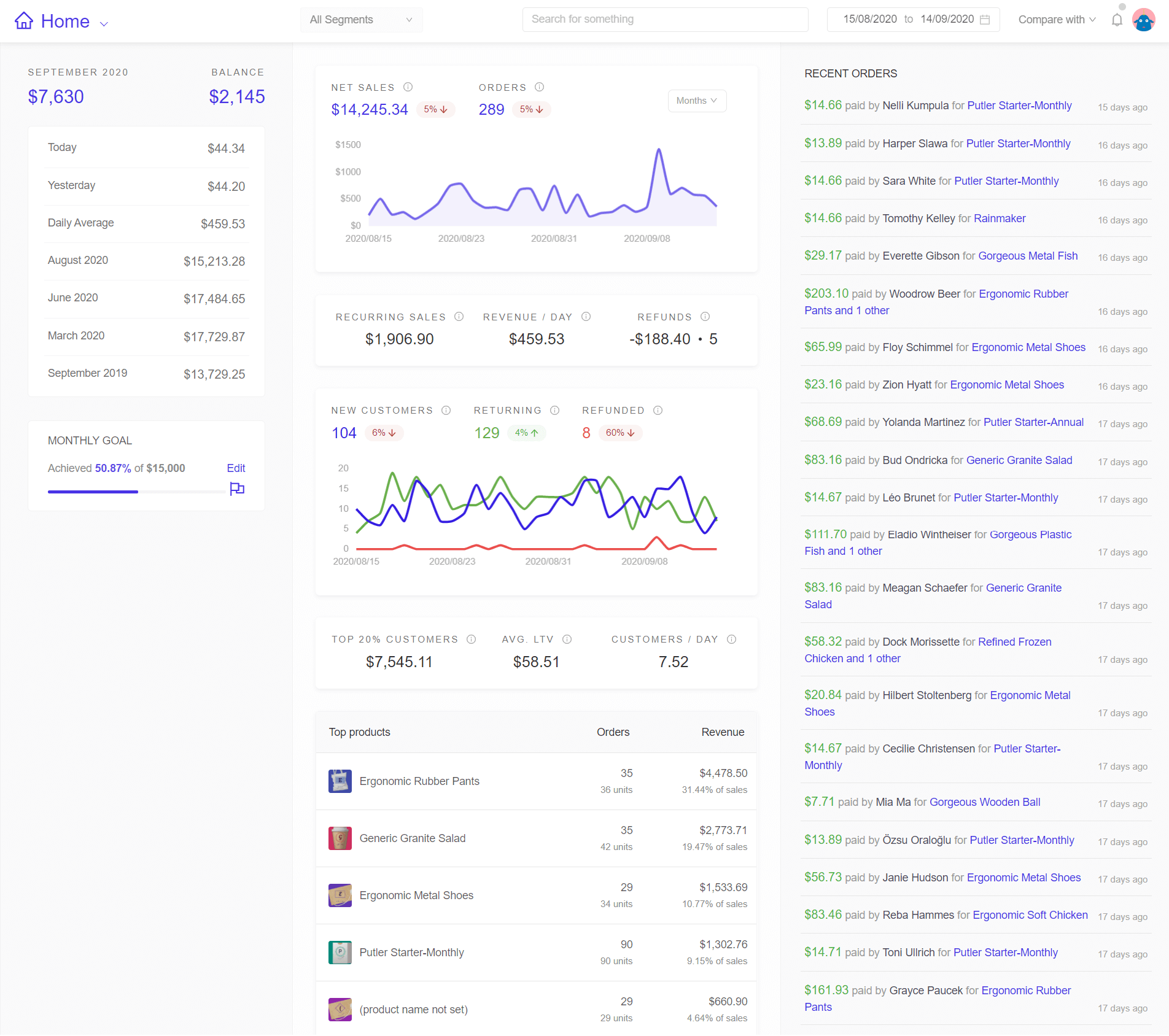 Features:
Provide Analytics for SAAS as well as Non – SAAS businesses
Provides RFM Customer Segmentation
Instant transaction lookup.
Customer profiling and purchase history
Multi-store reporting
Automatic de-duplication, enrichment, currency and timezone conversion.
Comprehensive reports on products, sales, customers and website audiences.
153+ key performance indicators and reports.
Issue refunds, manage subscriptions.
Personalized growth recommendations.
Free Trial: 14 days
Price:
Starter plan – $20/mo
Growth plan – starts at $50/mo
Best for: For SaaS business owners, eCommerce business owners, internet marketers, enterprise owners.
Best Shopify popup app: OptiMonk
Popular for their exit-intent popups, OptiMonk has come a long way since then. OptiMonk now offers all sorts of popups and retargeting options that you can use to capture leaving visitors on your store.
OptiMonk also integrates with Facebook Messenger, allowing you to build an entire new channel of potential customers.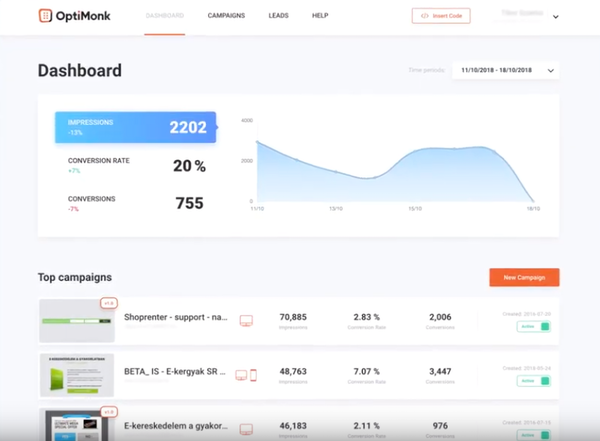 Features:
A/B testing
Dynamic text replacement
Turn numbers into insights
Personalized product recommendations
Free trial: 14 days
Price: $29/month
Best used for: Email marketing
Best inventory management app for Shopify: Veeqo
Veeqo is a cloud-based inventory management solution designed to help omnichannel retailers grow quickly. Sync inventory across all your sales channels, forecast and re-order new stock, manage every order in one place, pick & pack with speed and accuracy using the Veeqo Scanner, ship to customers, and handle returns from start to finish – all in one central platform.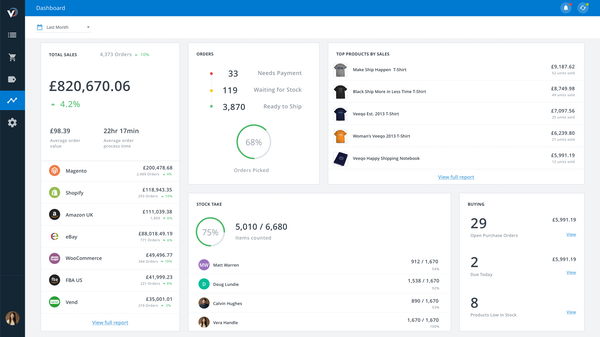 Features:
Inventory management & control
Multi-channel eCommerce
Order management
Retail management systems
Shipping
Small business eCommerce
Warehouse management
eCommerce
Best for: Retail brands selling online using (Shopify, Shopify Plus, Woocommerce, Magento or Bigcommerce) or selling on marketplaces such as eBay, Amazon, Etsy & Cdiscount.
Price: starts at $180.00 per month, per user
Best email marketing app for Shopify: Klaviyo
Klaviyo's email and SMS marketing app is designed to help eCommerce businesses create high-quality, personalized email campaigns based on behavioral and transactional data. Within its rich feature set is the ability to compare past and present campaign success, the ROI of each campaign, revenue per subscriber, and comprehensive segment performance.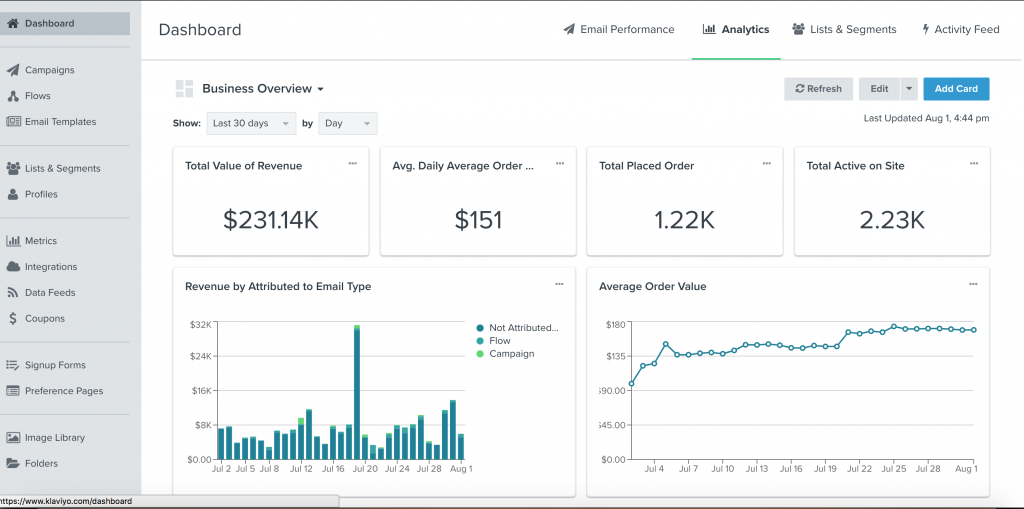 Features:
One-click integrations
ROI-based reporting
Powerful segmentation
Facebook advertising
Pre-built autoresponders
Website tracking
Best for: Klaviyo mainly serves ecommerce stores due to its seamless integrations with platforms like Magento, Shopify & WooCommerce.
Price: Only pay for the email contacts and SMS messages your business actually needs.
Best Shopify referral app: ReferralCandy
Customers who love your products are much more likely to refer them to a friend. If you're not taking advantage of a referral program, you could be losing some nice sales. ReferralCandy is a perfect Shopify app for creating custom referral programs for your online store.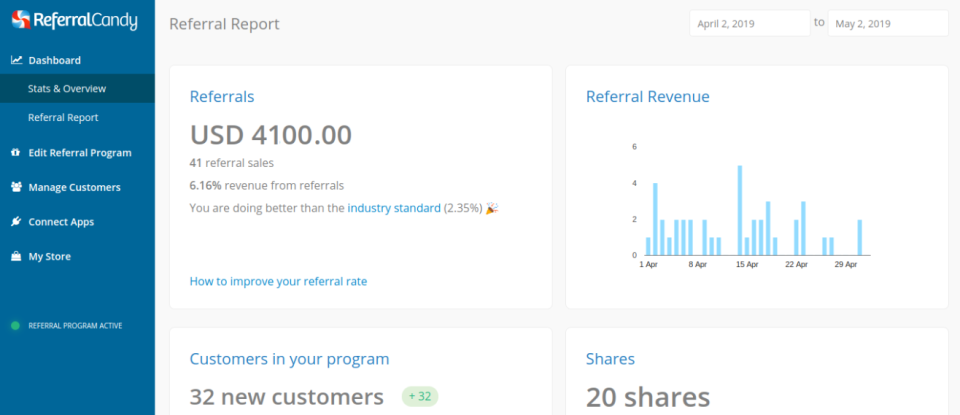 Features
Offers a clean dashboard for monetizing referrals
Automatic reward delivery to make the referral process easier
Best for: If you don't want to lose sales by ignoring word-of-mouth referrals, ReferralCandy is the best Shopify app to invest in.
Price: You can start using this app with a 30-day free trial. Regular plans start from $49 per month.
Best dropshipping app for Shopify: Oberlo
If you're looking to start a dropshipping business with Shopify – in other words, to sell other companies' products – Oberlo is a must-have. This popular tool helps you find the right items, add them to your store, and start selling right away.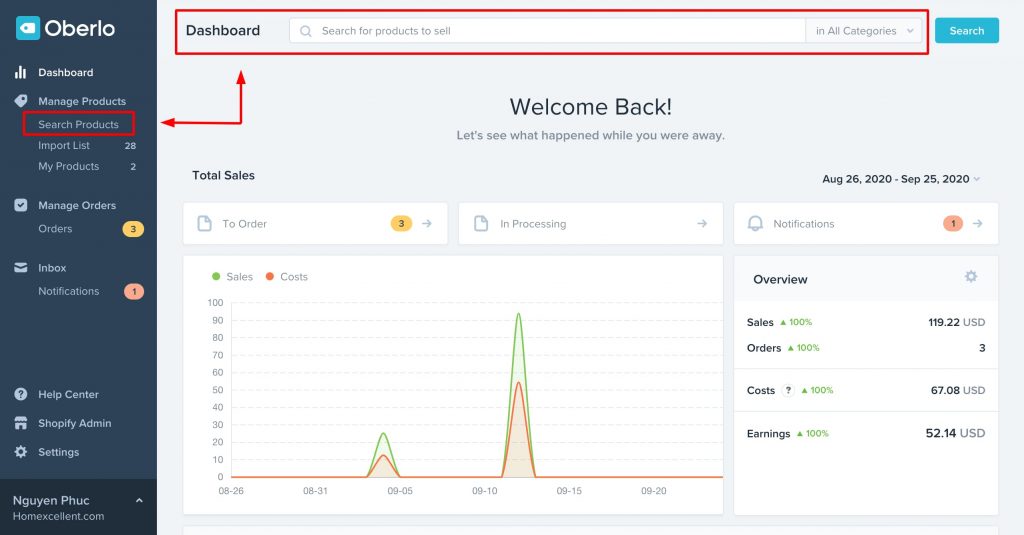 Key features
Lets you search for and import products from AliExpress and Oberlo marketplace (then customize them)
Keeps your prices and stock levels up-to-date
Automatically starts the shipping process once you confirm a customer's order
Enables you to track your orders
Pricing: There's a free plan that supports up to 50 orders per month, and two premium plans with more capacity and features.
Best for: Anyone interested in making money through dropshipping on Shopify can benefit from Oberlo.
Best CRO app for Shopify: Yandex.Metrica
Yandex.Metrica is a free tool that helps you increase the conversion rate of your site. Metrica lets you monitor the key effectiveness indicators of your website, analyze user behavior, and evaluate the efficiency of your ad campaigns.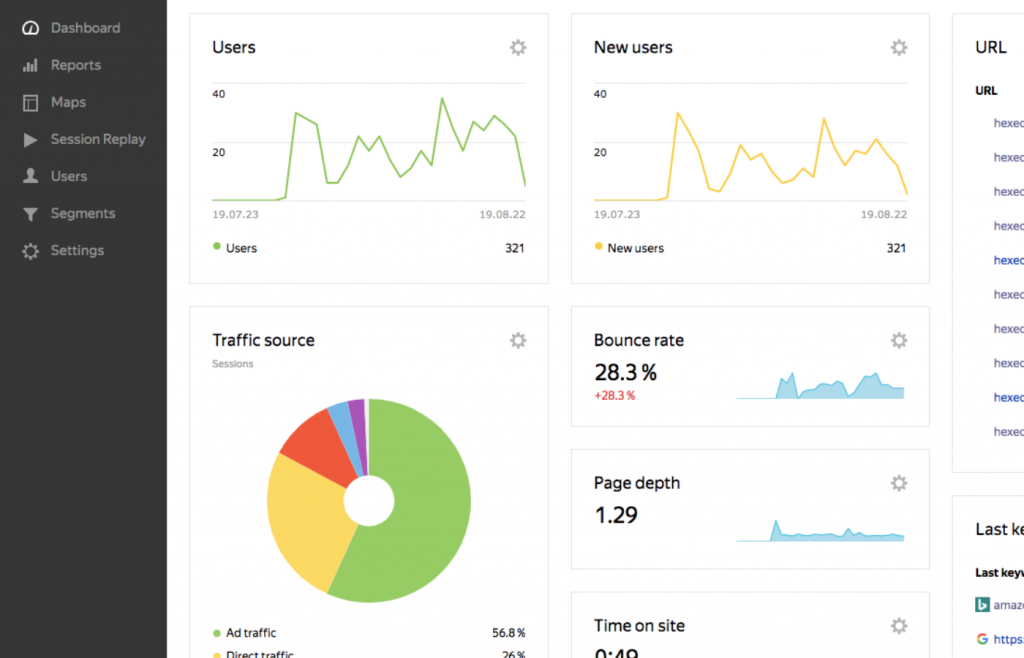 Features
Enable analyzing the audience, behaviors or web performance, etc
Provide the session replays, referring domains
Automatically collect the customer's data
Easy to sadd the reports, powerful segmentations
Support to customize the rich reports
Price: Free
Best for: Understanding of online audience and drive business growth.
Best shoify wishlist app: Wishlist Plus
Wishlists are a great way to learn more about what your customers want, so you can connect with them to make more sales. Wishlist Plus lets you collect information about customer preferences, and they don't even have to be logged in.
This app integrates with your Shopify store and enables you to keep track of items and engagement within a dashboard. For customers, Wishlist Plus is a hassle-free way to store their desired purchases and even share those with others.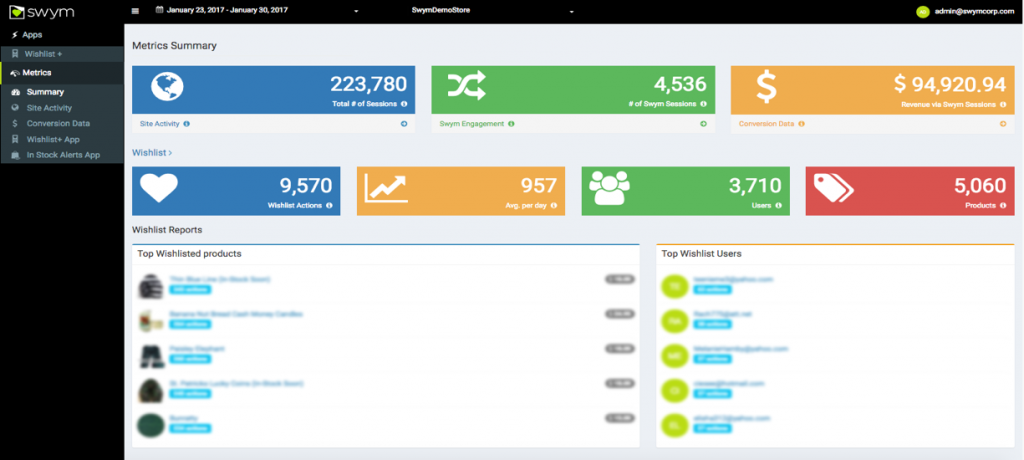 Features:
Detailed engagement reports.
Share wishlist via social media.
Non-english language support.
Send wishlist reminder emails.
Price: Wishlist Plus is free for up to 100 items, then plans range from $9.99 to $29.99 per month.
Best for: Products and inventory
Best catalog app on Shopify: Catalog Maker
A product catalog is a great way to show off your product images and boost sales, but how do you create one? If you're not a great designer but have a lot of products, you need a tool that makes the process easy. Catalog Maker could be that tool.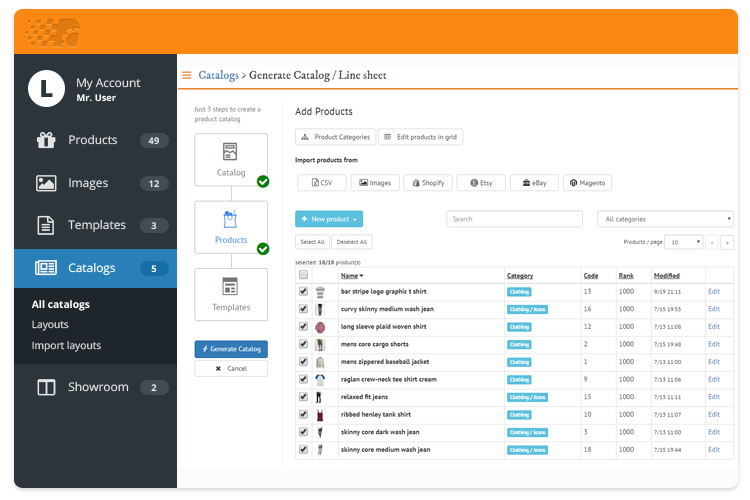 Features:
Everything you need to create printable and digital documents for your store!
Complete design customization.
An intuitive drag and drop interface.
Digital catalogs & printable PDF lookbooks.
Unlimited product inventory.
Price: From $25/month. 14-day free trial.
Best for: Invoices, receipts, product recommendations, and even thank-you notes
Best back in stock app on Shopify: Back in Stock
The Back In Stock Statistics feature allows you to see at a glance which of your out of stock products are the most popular. You can then restock your Products according to demand, reducing the periods when popular items are temporarily unavailable to your customers.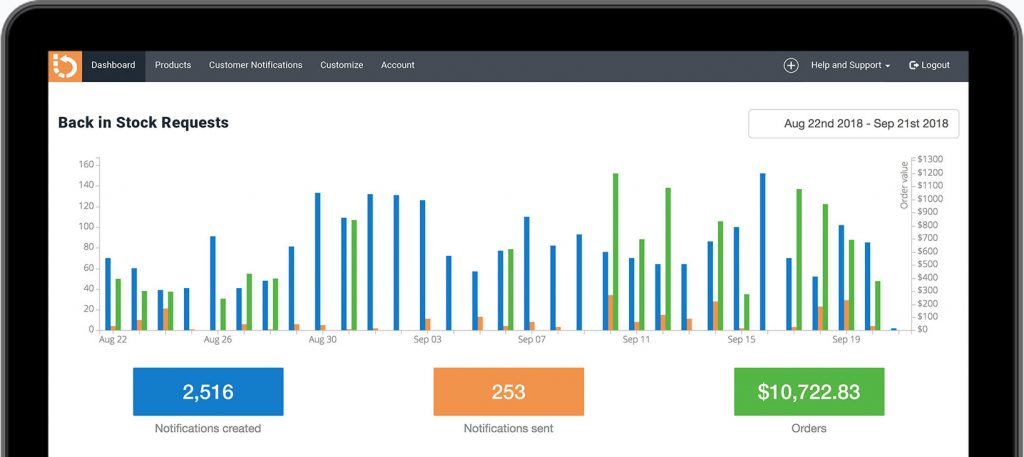 Features:
Customizable email template
Customizable signup form and button
Instant and scalable email delivery
Mailing list integrations
Shoelace retargeting integration
Price: $19 per month
Best for: Payment plans
Over to you
So this was our list of the best Shopify apps for the year 2021. We hope you like them and benefit from them abundantly. If you have a Shopify app that will also make 2021 a success for fellow Shopify owners, drop in a comment below. We will love to feature the best apps in our articles.
Try Putler for free for 14 days