WooCommerce is one of the most preferred eCommerce systems in the world. One of the major advantages of WooCommerce is the ability to add subscriptions.
Running a subscription business has its own share of advantages and disadvantages. Here is a detailed guide to running a subscription business on WooCommerce.
In this post, you'll learn about some of the best WooCommerce subscription plugins that are available in the market. Take a look at the features, USP, pros, cons and pricing before you make your decision to purchase a WooCommerce recurring payments plugin for your business.
WooCommerce Subscriptions
WooCommerce Subscriptions by WooCommerce will add a new payment option to your WooCommerce store. It's built by the WooCommerce team, so you know it's going to integrate easily with your existing WooCommerce store.
Memberships allow you to create an entire membership system that's seamlessly tied to your store.
You can restrict your content to members, but you can also "drip" that content over time to schedule when members have access. Sell access to memberships, include memberships with product purchases, manually assign memberships, and completely integrate member perks within your store.

Features:
Setup expiration dates for certain subscription plans
Let your subscribers manage their own plans via a member dashboard
You can create multiple different subscriptions for your products and services
Plenty of subscription options like downgrades, upsells, and cross-sells
You can offer trial periods to your customers
Price: $199
WooCommerce Membership Plugin
WooCommerce Memberships has limited functionality compared to the WooCommerce Subscriptions plugin but it's an official WooCommerce add-on that brings your content, shop, and memberships together to create a site-wide platform that allows access to certain portions on a subscription basis. It allows you to drip your content over a period of time so you can schedule when members get access to it.
Using the WooCommerce Membership plugin, you can sell memberships as a stand-alone product, include memberships with a specific product or several product purchases, and add member perks that integrate into your store. You can also manually assign memberships as an invitation-only type of membership program.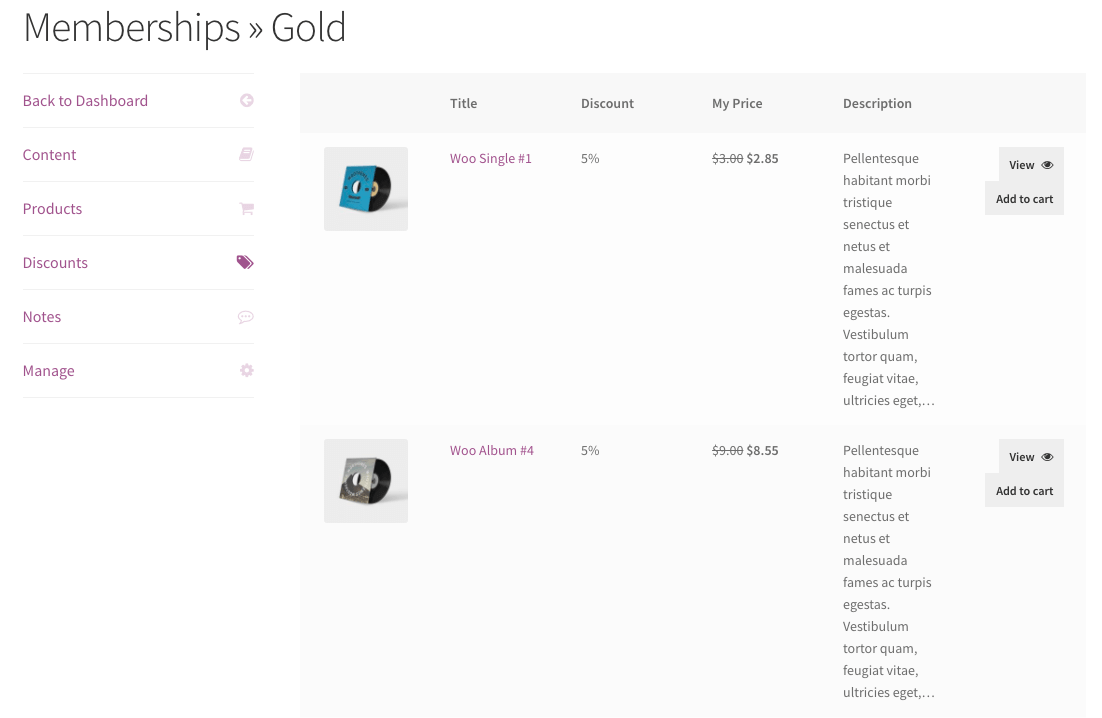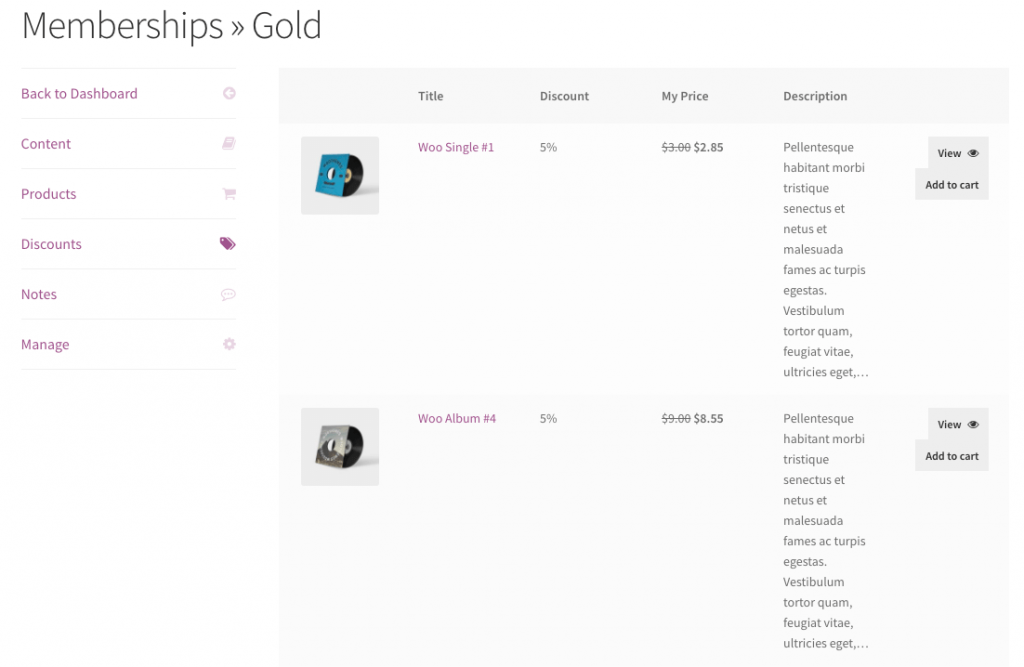 Features:
Free Trials & Sign-Up Fees
Subscription Management
Subscriber Account Management
Variable Subscriptions
Synchronized Payments
Upgrades/Downgrades
Flexible Product Options
Subscription Coupons
Customer Emails
Price: Starts at $149
Subscriptio – WooCommerce Subscription Plugin
Subscriptio is a comprehensive subscription plugin for Woocommerce users. It allows users to sell subscriptions and activate recurring revenue features for your WooCommerce store .
It's best to sell e-learning packages, online memberships, magazine memberships, and more.
Subscriptio allows you to set the subscription time length, payment cycle, free trial length, order flow, chronology for each purchase and a lot more.
Using Subscriptio, subscriptions can be paused, resumed or canceled by the owner of the customer; or can be deactivated for the customer.


Features:
Sell online memberships with recurring costs
Configure subscription trial period
Create subscription lists and management tools for customers
Support Stripe and PayPal
Price: – $69
YITH WooCommerce Subscription
YITH WooCommerce Subscription, this WooCommerce subscriptions plugin allows you to make your products be accessible by your users as subscriptions, for a scheduled time (months or days) in exchange for a monthly or daily fee.
It is best for selling subscriptions for reviews, videos, learning courses, podcasts, hosting and whatever you might wish to offer to your customers in installments.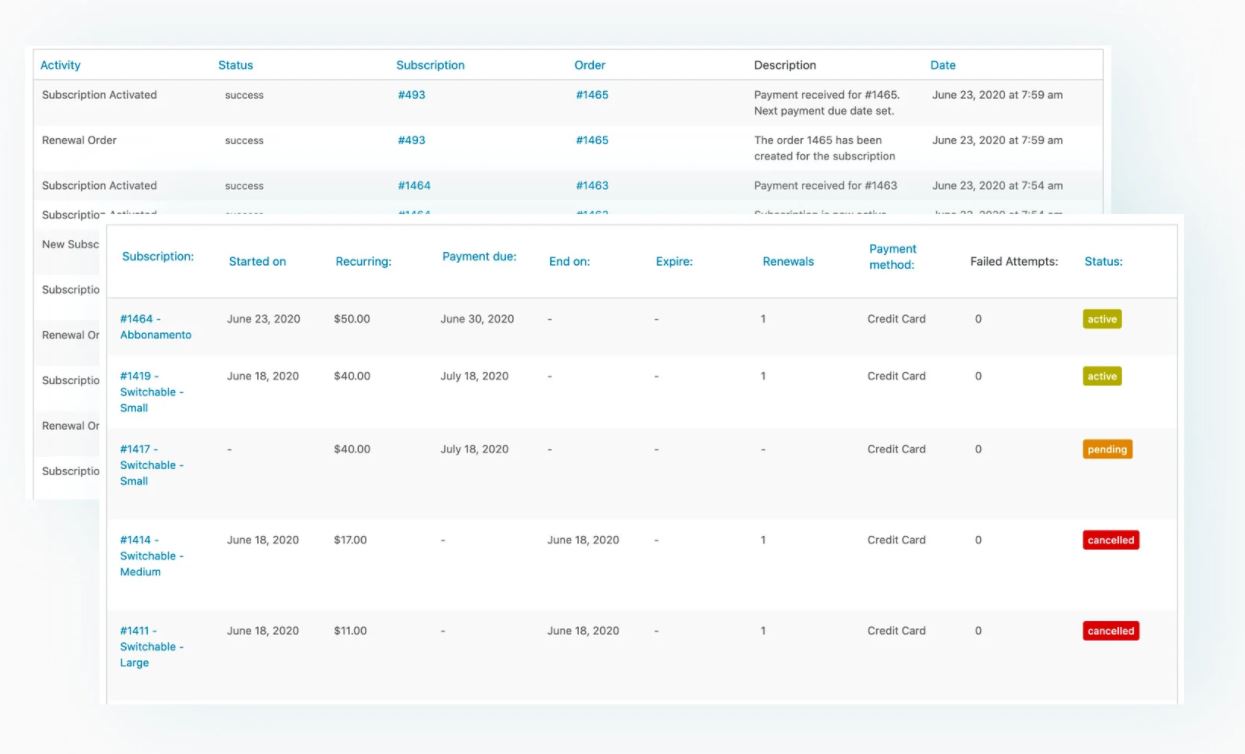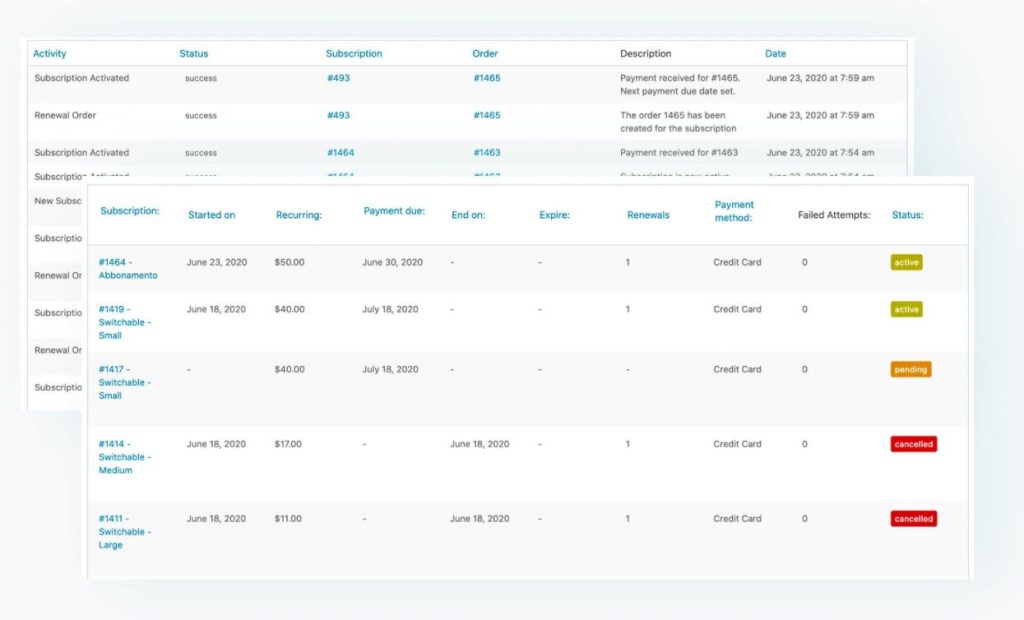 Features:
Based upon the payment gateway the admin can schedule dates for the payments
Customers are free to have varied products in the subscription
Multiple payment gateways are supported by the plugin. Users are blessed with the automatic renewal feature.
One best feature is the 'Pause Notification' feature. The users can enable it only when they have time.
A single user can have various subscriptions. Besides that, if the gateway is same he can have multiple subscriptions in a single transaction
Price: $159.99
SUMO Subscriptions – WooCommerce Subscription System
SUMO Subscriptions is another comprehensive option among multiple WooCommerce subscription plugins that helps to create and sell subscriptions.
Using this WooCommerce subscription plugin, you can create simple, variable and grouped product subscriptions on your store. You can let users select the duration for the subscription and the number of renewals for order subscriptions. This plugin also lets customers purchase subscriptions and non-subscription products in a single checkout.
You can set up a fee for signups or trials according to your store strategy. Also you will find several payment gateways incorporated with the plugin to support automatic subscription renewal. This plugin is highly customizable and supports translation.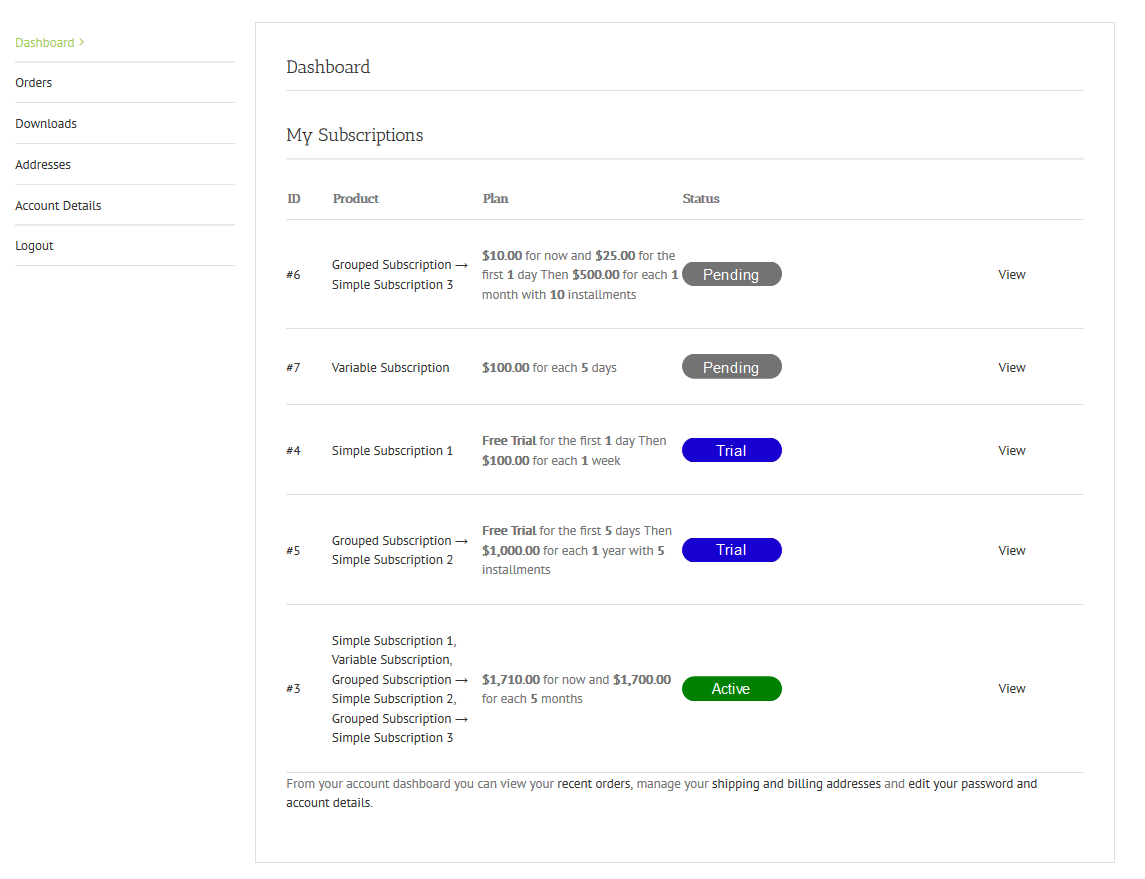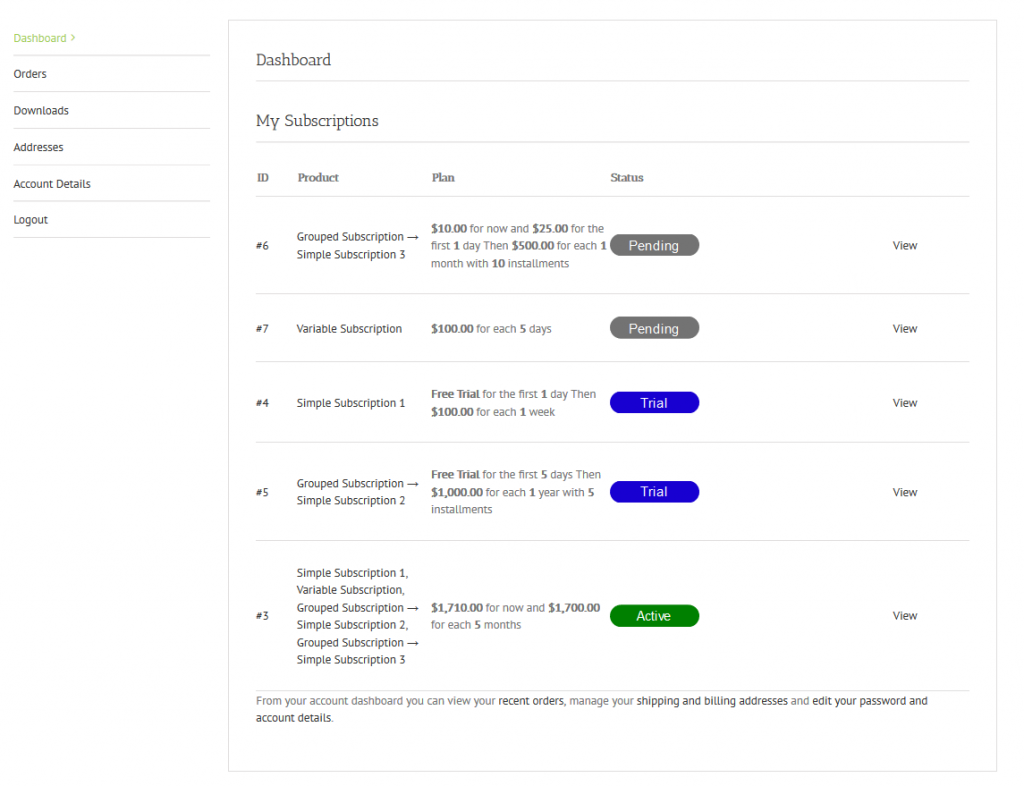 Features
This plugin is always compatible with WooCommerce and WordPress updates
You can create multiple subscriptions in a single checkout
Fully compatible with payment gateways such as PayPal, Stripe, etc
The support is excellent, with fast response time
Compatible with SUMO Reward Points and WPML
Allows to sell both subscriptions and non subscriptions products in a single checkout.
Price: $49.
Paid Memberships Pro
Paid Membership Pro Subscriptions is a flexible and easy-to-use plugin for WooCommerce subscriptions. This plugin helps encourage non-subscribers to sign up for your membership by creating messages on your restricted content or products.
Using this WooCommerce subscriptions plugin, you can create any kind of membership subscription you'd like:
Create different subscription levels and offer rewards to subscribers on each tier
Restrict certain products within your store and make them only accessible to your subscribers
Create a members-only store that requires users to login/subscribe to even access your store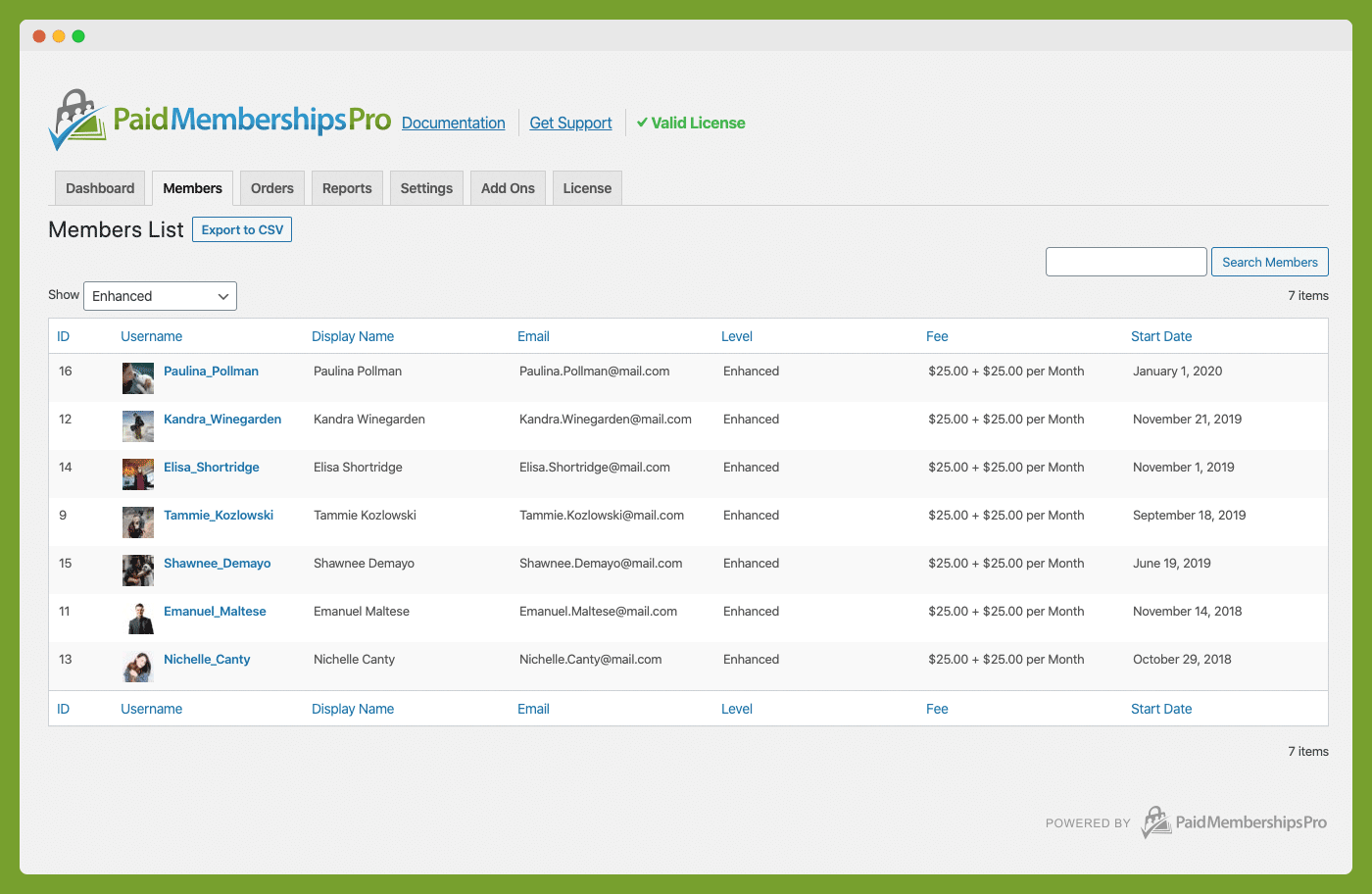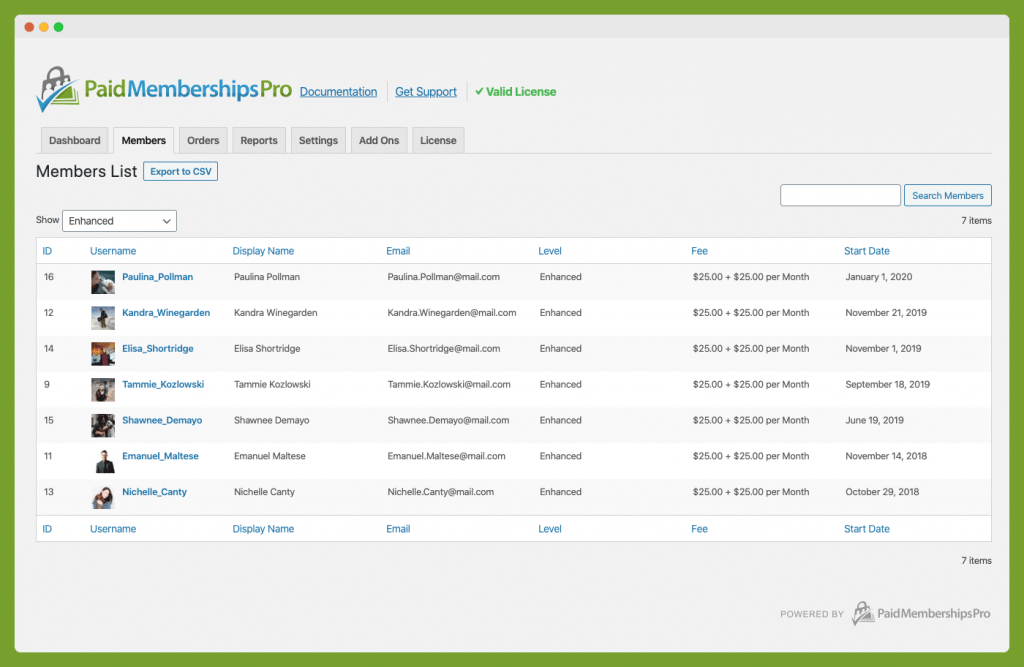 Features:
Fast and easy setup
Restrict product viewing and purchasing
Create unique member discounts per subscription or per product
Create a members-only WooCommerce store
Price: $149
WebToffee Subscriptions Plugin
WebToffee Subscriptions plugin is another WooCommerce subscription plugin that can be used to create simple and variable subscription products. Simple subscriptions are typically set to include subscription price, interval and subscription length.
The variable subscription products are configured to include attributes/variations with respective pricing and specific billing schedules as per the business requirement.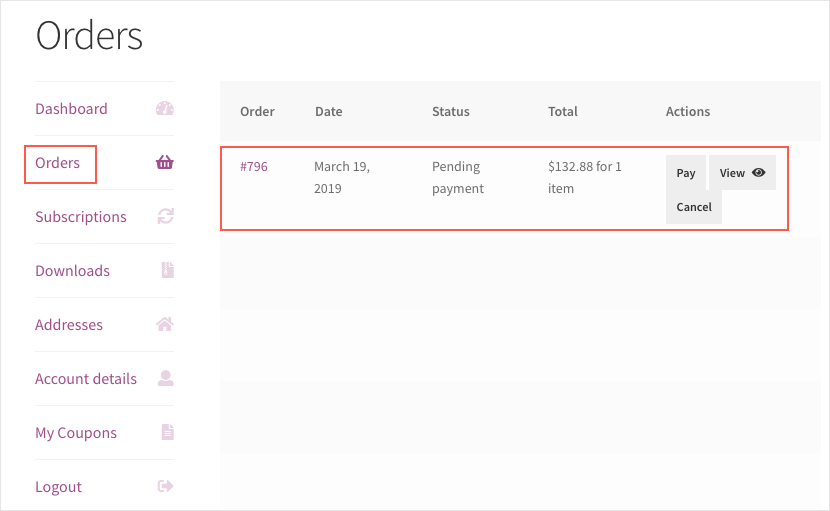 Features:
Create discount coupons for recurring customers upon renewal
Set free trial periods and sign-up fees for your customers
Flexible and diverse billing schedules who allow daily, weekly, monthly or yearly payments
Multiple language support, automatic email notifications to notify customers and synchronized subscription renewals
Allow your customers to manage their subscriptions and change shipping addresses if necessary
Option for manual renewal activated by the store owner
Price: $89
Conclusion
Subscription products are here to stay thus making your store subscription friendly is very essential for the steady growth of your store. Getting a good subscription plugin for your store is going to be the first step in achieving that. I hope this article helps you in choosing the best plugin for your store.
Additional resources