For a woocommerce store owner selling subscription products, woocommerce subscription reports are an essential part of a successful business. woocommerce subscription reports provide performance metrics, insights, and reports on the progress of a business.
Reporting plugins for woocommerce subscription help woocommerce store owners take profitable decision. Like; with the help of woocommerce subscription reports store owners can make decisions which lead to more sales, increased conversions and better customer relationship.
Native woocommerce does provide you basic subscription reports on sales, products and orders. However, inorder to grow your subscription business, you need more powerful reporting plugins that provide you advanced reports, metrics and insights.
Best reporting plugins for WooCommerce Subscriptions
Thankfully, there are many options for reporting and analytics plugins for woocommerce subscriptions. Here are some of the best reporting plugins for your woocommerce subscription business.
Metorik
Metorik is also a good reporting plugin for woocommerce subscription. Similar to Putler it provides access to real-time stats and reports like MRR, churn, retention, cohorts, and more. There's also subscription segmenting & exporting at your fingertips. And using Metorik engage, you can easily send automatic emails for each woocommerce subscription.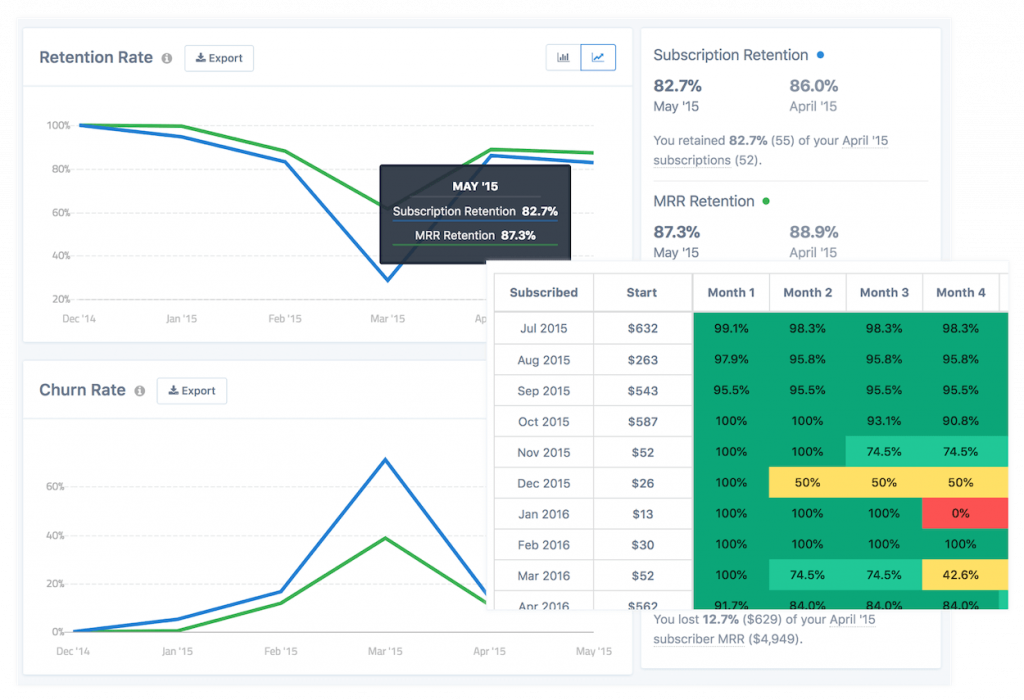 Features:
Interactive, beautiful and insightful reports
Send automated emails directly to customers
Active subscribers over time, MRR, retention and more
Send abandoned cart emails and analyze carts
Instant data segmenting with hundreds of filters
Fast, custom, and automatic data exports
Accurately track your costs and profit
Receive automatic custom reports by email and slack
Bring everything together in one place
Price: $50 USD / month onwards
ChartMogul
ChartMogul is another analytics and revenue reporting tool for woocommerce subscriptions. With this woocommerce subscription reporting plugin, you can monitor all the activities of your users know their behavior and create a seamless user experience.
This platform shows you different parts of subscription analytics such as MRR and its movements, Annual Recurring Revenue, cash flow, and more.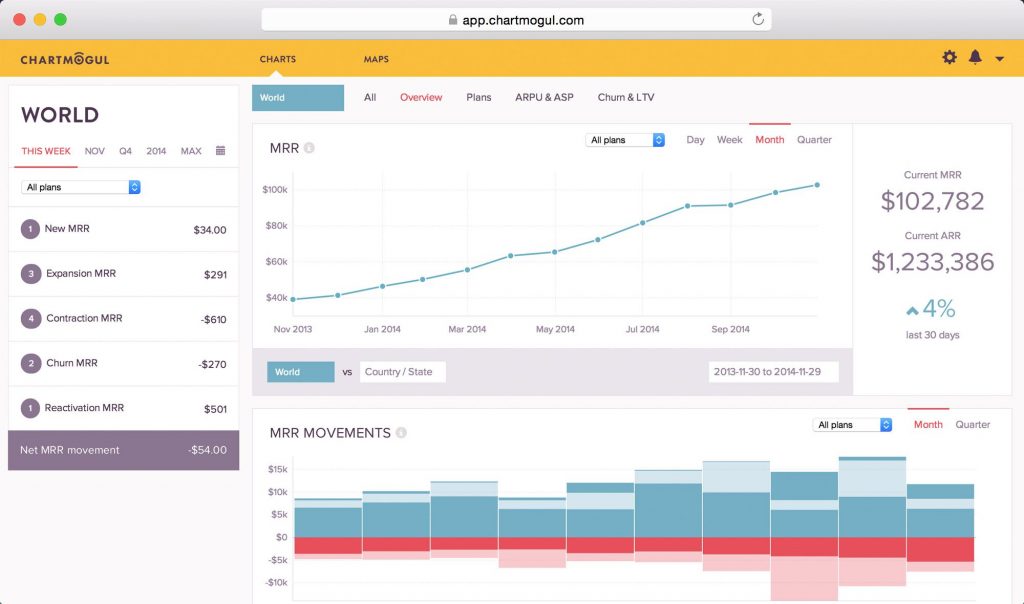 Features:
Track your business in real time
Maintain perfect accuracy
Improve subscriber retention
Surface insights the entire team can use
Price: $100 / Month
Putler
If you're looking for a simple yet comprehensive subscription reporting tool that allows you to analyse not one but multiple woocommerce stores, across various timeframes, and filtered according to your needs, Putler's one of the best reporting plugins for woocommerce subscription. This woocommerce subscription reports plugin shows KPIs, metrics, analytics, MRR, LTV, Churn rate, ARR, top products, and more automatically.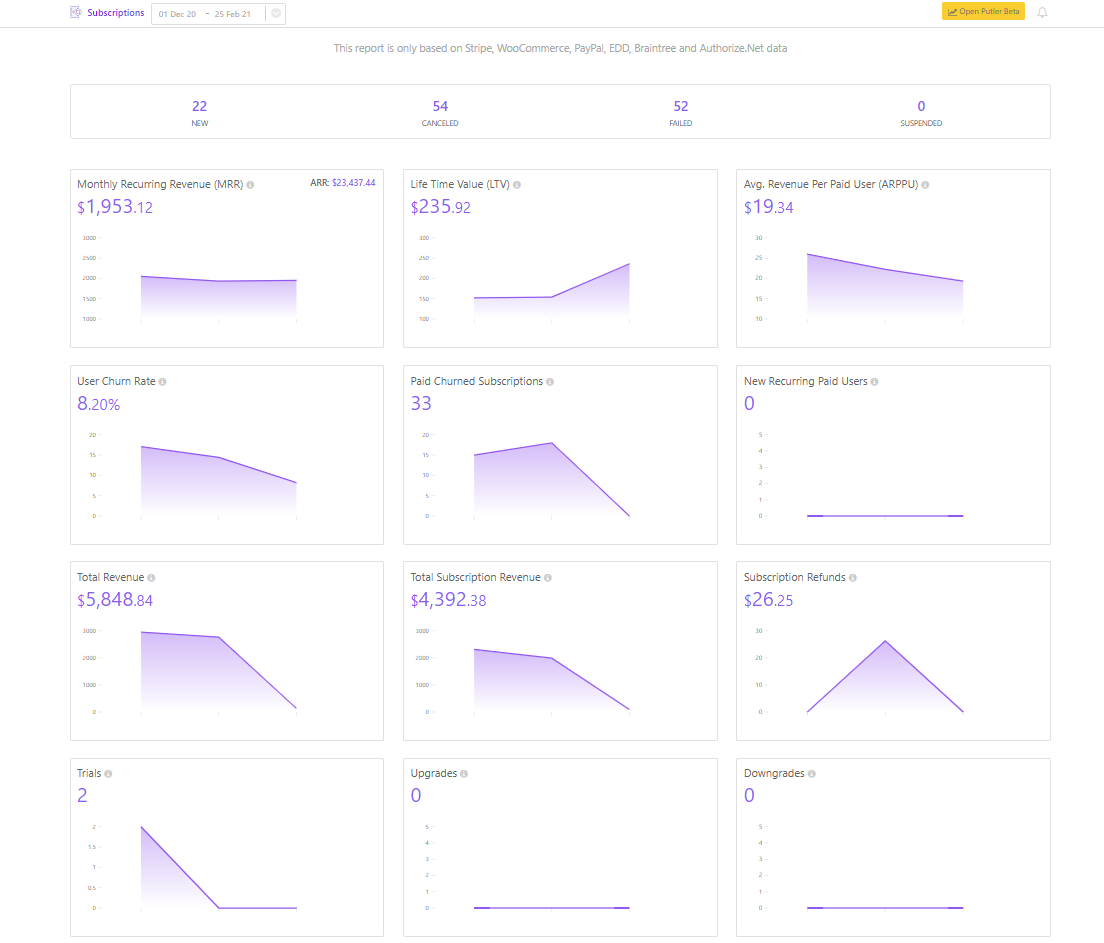 Features:
Customer intelligence and automatic RFM segmentation
SaaS metrics – MRR, churn, LTV, ARR, ARPU, trials, upgrades, downgrades
Search, filter, segment and drill-down
Most accurate reporting
Multi-store reporting, currencies, integrations, team members
eCommerce, subscriptions, memberships
Targeted email sending
Issue refunds and manage subscriptions
CSV and mailchimp export
Subscription reports and SaaS metrics
Data filtering and custom segments
User profile enrichment
Weekly email alerts
Goals, forecasts & annual planning
Price:
Starter plan – $20/mo
Growth plan – starts at $50/mo
Infosoft
Infosoft is another woocommerce subscription reporting plug-in that helps you get detailed subscription reporting based on the woothemes woocommerce subscriptions plugin in wordpress.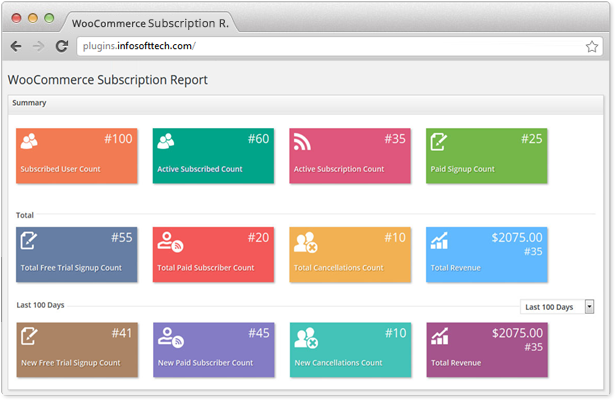 Features:
Subscribed user count & revenue
Free trial signup & paid subscriber count summary
Cancelled subscriptions summary
Total revenue
Cancelled subscriptions summary
Graphical representation of revenue, free trials, paid subscribers, cancellation by days, weeks, month
Free or trial subscription Due
Top 5 subscription items
Subscription status report based on subscription plugin status
Subscription status report based on woocommerce order status
Subscription country
Month wise renewal due summary
Coupons
Subscriptions due & expired
Renewals due in next 7, 10, 30 days and overdue
Daily summary report
Price: $49/Month
Take your pick
All the reporting plugins mentioned above have their own pros and cons. So I highly recommend you to take a trial (if available) before deciding on a particular plugin.
To start off with, you could give Putler a try. It is feature intensive, provides much more features than your average subscription reporting tool and is less expensive compared to the other options.