Stripe and PayPal, both are the 2 most popular online payment processing solutions. In this article, we will analyze Stripe Vs PayPal on multiple bases, list out their pros & cons, and compare their fees & scope, in order to help you pick the best one for your e-commerce or non-profit websites.

PayPal vs Stripe: The importance of the right payment processor for your business
In order to transmit the transaction-related details of your customers in an encrypted and secured manner, it is essential that you choose a reliable payment processor. If taken lightly, your business might end up giving out customer's banking data and losing their trust.
Besides the safety factor, the cost-to-business, fee/commission, and speed of transaction are a few more factors that affect your site experience. Therefore, it is good to choose your payment processor carefully.
That's the reason why online stores and other types of websites prefer selecting the one between Stripe or PayPal.
An introduction to Stripe and PayPal
What is Stripe?
Stripe lets people send and receive money over the internet. Used frequently in e-commerce websites, it is commonly used by freelancers and service providers from their clients too. Small businesses and tech-oriented ventures prefer to use Stripe as it can be easily integrated into the websites and customized well.
What is PayPal?
Just as Stripe, PayPal is also an online payment service for users to let them pay and accept money for products, services, and donation purposes. It is globally used by millions of customers and over 21+ million merchants at present. PayPal is a highly trusted name for eCommerce transactions as well as service sector businesses.
Stripe or PayPal: Key comparisons between PayPal and Stripe to consider for your business
Now that you are acquainted with both payment gateways, let us do a quick Stripe versus PayPal scrutiny to answer the burning question, i.e. Is Stripe better than PayPal? Or Is PayPal better than Stripe?
Stripe versus PayPal fees comparison
As far as PayPal vs Stripe fees are concerned, both gateways charge almost the same fees.
Fees in PayPal: 2.9% + $0.30
Fees in Stripe: 2.9% + $0.30
Please note that these fees are for each transaction that happens. For non-profits, the commission is 2.2% + $0.30 for both, PayPal as well as Stripe.
For micropayments (<$10), this commission becomes 5%+$0.10 for Stripe and 5%+$0.05 for PayPal. The chargeback fee for PayPal is $20 while for Stripe, it is $15.
While we discuss Stripe Vs PayPal fees, remember that both payment gateways do not have any refund facilities.
Stripe versus PayPal payouts and transfers
In Stripe, website owners can access the received funds in 2 days on average. For PayPal, an immediate withdrawal feature (to your bank account automatically) is available.
PayPal lets you deposit the received money to a debit card too, for which the online payment service provider deducts a small transaction fee.
Stripe allows weekly or monthly scheduling of payment, while this feature is not available for PayPal Standard users (but merchants).
PayPal vs Stripe accepted payment types
Accepted Payment Types in PayPal – PayPal accepts credit cards, PayPal balance, bank transfers, debit cards, rewards balance, PayPal co-branded credit/debit cards, etc.
Accepted Payment Types in Stripe – Payments through credit cards, debit cards, GPay, Apple Pay, mobile wallets, bank debits, bank transfers, cash-based vouchers, and in-person card readers can be made easily.
Stripe or PayPal – Countries and currencies
Availability: PayPal is globally available and claims to be present in 200+ countries of the world. On the other hand, Stripe is currently present in 32 countries and is expanding at a fairly good rate.
Currencies: PayPal supports over 25 currencies while Stripe supports around 135+ currencies. However, for withdrawal, you must choose one currency that is used in your location, no matter which payment gateway you have opted for.
Stripe versus PayPal advanced billing options
The types of advanced billing options provided by the 2 gateways are considered important while we ponder over which is better PayPal or Stripe.
Both payment gateways have invoicing facilities, subscription-based payments, and recurring payments facilities.
For invoicing, PayPal lets you customize it as per your brand, allowing you to add logos, names, etc. Stripe does not have such a facility.
While Stripe is more focused on e-commerce website spaces, PayPal allows multi-channel integration of billing features (for mobile apps, store, for phones, for websites).
Though the choice of the gateway will be as per the features you need are there in PayPal/Stripe, if your transaction involves multiple parties (for example – in marketplaces), PayPal is the better option for you.
PayPal Stripe: Third-party integrations
If you want simple payment processing, PayPal and Stripe both have the needed abilities for third-party integration.
However, Stripe allows the integration to multiple CRMs, customer support tools, e-commerce platforms, fund-raising portals, referrals, email marketing channels, inventory management tools, and so on. Its advanced third-party integration features are great for developers who need such options or for high-end solutions.
PayPal Vs Stripe hosting and plans
Stripe Hosting:
Your Stripe payment Gateway is hosted on your website itself. However, you may customize the look and feel of the checkout page as per your business's needs.
PayPal Hosting and Plans:
PayPal lets you choose between multiple payment-handling or hosting methods. While the PayPal Standard plan doesn't allow customization or hosting by you, PayPal Pro lets you host and customize the payment module fully.
You may also opt for the PayPal Checkout plan. Using it, you can add a customizable button on your website and redirect your customers to make payments through a PayPal-hosted page.
PayPal or Stripe: Security and PCI compliance
Stripe and PayPal Standard, both are PCI-compliant.
For PayPal Pro, you may still keep it PCI-compliant but there is a monthly charge. However, even in this case, users are educated and guided throughout.
Coming to your major concern, i.e. 'Is Stripe safer than PayPal', we would just say that it is easier to understand. Otherwise, both are very-well secured and trustworthy.
Stripe versus PayPal: Customer service & technical support
Stripe PayPal support facilities are comparable. Both are fairly good, but when your issue is really big and in luck. There are many times when users were found struggling to get customer service from these two.
You may use email, live chat, phone, and social media to raise your query or complaints to PayPal or Stripe.
When we talk about technical support, both payment gateways have a wide knowledge base, user guides, third-party integration guides, and articles besides the human support on demand.
Stripe Vs. PayPal: Similarities
Both charge almost the same fees from their users;
Support options and knowledge bases are rich for PayPal as well as Stripe;
Both doesn't offer refunds;
Both are PCI-compliant, be it the PayPal Standard or Stripe;
Both are compatible with WordPress/WooCommerce;
Online invoicing, recurring payments, and subscription fees can be charged through both.
PayPal or Stripe – Which payment processor is best for my business needs?
To be honest, you must first note down your needs and expectations from the best payment gateway and read through the above feature-based comparison one more time. Because, Stripe and PayPal, both are amazing.
Who uses Stripe and PayPal?
Stripe is best for – Who uses Stripe?
Most of the service-based apps and online stores prefer using Stripe (in the countries where it is available). Stripe is a favorite of businesses like Pinterest, Lyft, DocuSign, Udemy, Coursera, and so on.
PayPal is best for – Who uses PayPal?
PayPal is used by almost all major online stores and marketplace places. Barnes & Noble, Ikea, Walmart, and eBay are a few to name. It is pretty common among freelancers, development agencies, etc. too.
Takeaway: PayPal versus Stripe – Which is better?
Where Stripe is better than PayPal?
For third-party integration;
For weekly/monthly withdrawals;
When most of the users in your region trust Stripe more;
Phone support.
Where PayPal is better than stripe?
For instant withdrawals;
For letting the businesses handle the checkout process;
When Stripe is not available in your region
Email support
Stripe vs PayPal: User reviews
Stripe review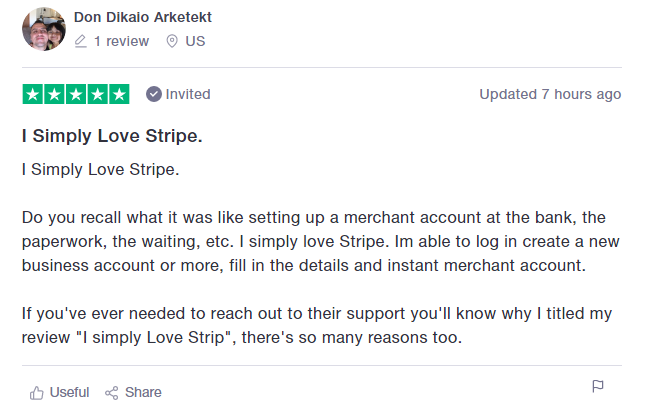 Source: TrustPilot
PayPal review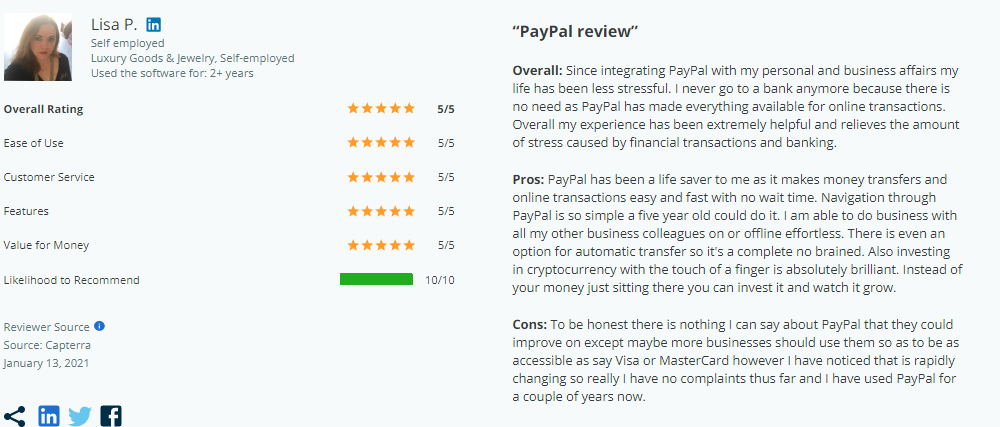 Source: Capterra
Stripe Vs. PayPal alternatives
Payoneer
TransferWise
Instamojo
Skrill
Google Pay Send
Square
Amazon Pay
Authorize.Net
While we have listed a few good PayPal versus Stripe alternatives, you will still have to make sure if they are suitable for your business's needs or not. It is because each of these might be rich in some features and may still lack other capabilities.
Frequently asked questions
Can you use both stripe and PayPal for your website?
Yes, definitely. However, using Stripe plus PayPal will come with extra incurring and the hassles to manage records related to the funds for both.
Is Stripe safer than PayPal?
Both Stripe and PayPal's services are PCI Complaint. They meet the strict standards of the Payment Card Industry and your cardholder data is stored securely.
Is Stripe cheaper than PayPal?
Both Stripe and PayPal's US fees per transaction are 2.9% + 30¢ and both offer plans with no setup costs, basic monthly fees, or contracts. Stripe fees get lower at $80,000 per month and for PayPal the fees get lowered at a much lower sales volume of $3,000 per month.
Final thoughts
For your website that has digital goods or physical goods, deploying a secure payment gateway is a crucial step to take. Even if you are accepting course fees, in-app payments, or donations, adding a payment processor remains mandatory. So the choice is completely yours.
Both Stripe and PayPal have their own merits and are completely safe. So we recommend you to go with the one that suits the requirements of your website the most. If you want, you can also deploy both the payment gateways on your website.
But is PayPal Stripe enough?
At the end of the day whatever you stick to – Stripe or PayPal, you will need to analyze the sales you gather from either of these payment gateways. And though both are quite reputed payment gateways, the reporting they provide is basic.
And in order to grow your business, you need to use a third-party tool that provides you better reporting both for Stripe as well as PayPal.
Our tool Putler is a multi-channel analytics tool that can provide advanced, in-depth reports and insights for both PayPal as well as Stripe. In fact, you can add multiple PayPal accounts, Stripe accounts to Putler.
To summarize, here are some advantages of using Putler for analyzing PayPal/Stripe payments:
Faster and accurate reports
Quick CSV exports
In-depth products, orders, customer reports
Actionable growth insights
Saas metrics
Multi-account reporting in a single place
Faster intuitive search
Realtime reports

So if you want better reporting for your PayPal or Stripe accounts, opt for Putler.

Additional resources