If you are someone who owns more than one online store or is responsible for handling more than one online store, then you are probably knee-deep in tonnes of data.
Data helps marketers and store owners to make concrete financial decisions based on stats. However, the amount of data that is extracted from an online store can be overwhelming. This daunting situation requires a reliable solution, and for that, you can rely on multichannel analytics.

What is multichannel analytics?
Multichannel analytics or multichannel reporting is a business process that combines data from multiple sources or channels into a single location.
For example, if you own three online stores, then you can aggregate the data of each store into one single place through the help of a multichannel analytic tool. These tools take cognizance of each website's data and filter them into a systematic manner to enable analytics. It's like organizing multiple books into a single shelf so that you can choose which book you want to read and when.
Why do you need multichannel analytics?
Imagine having all your data filtered, indexed and presented in the easiest way possible. Now imagine having data from all existing sources presented in this manner in a single dashboard. This kind of data aggregation makes decision making easier.
Multichannel analytics assist a business in improving overall efficacy. Data helps them to understand the customers and their behavior on the website. Getting a detailed overview like this can help an organization spend less in terms of customer engagement and promotion campaigns as they can plan something effective with existing data.
Benefits of multiChannel analytics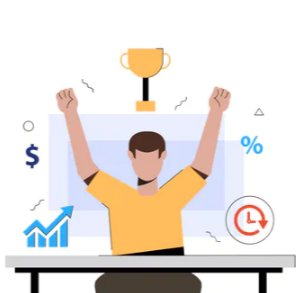 Gives insightful data points
Customers are quite volatile and understanding their activity can give you insights into their buying behaviour like how they make a purchase decision, product trends, which product is performing better and which isn't etc.
Segment customers
Knowing customer information is very handy when you want to connect with them. It's a great way to personalize and connect with the brand. Through multichannel analytics, you can segment customers easily based on recency, frequency, monetary, location, product interest etc.
Understand customer buying behaviour
There may be a reason why a customer could be visiting a certain page on your online store. Or why a certain product is doing well as compared to others. What options do customers consider when they search for something? These activities show a pattern in a customer's buying behaviour. Multichannel reporting can give you this data at hand.
Strategize business spending
If you have well-presented data that helps you recognize opportunities, gaps and performance then you can strategize your spend in a well-optimized manner. This reduces wastage of resources.
Helps develop customer segments
Knowing your customer is crucial for any marketer/store owner. You can easily extract customer details from multichannel reporting tool and segment them into funnels for effective targeting. Multichannel analytics can give you insights into what your customer like and dislike. Based on this you can create marketing campaigns or remarketing campaigns to encourage them to buy.
Rely on multichannel analytics tools
There are n number of analytics tools out there. Some of the most well-known multi -channel reporting tools are:
Webtrends Infinity
Adobe Premium Analytics
Each tool is unique in its own manner, catering to specific business needs in order to make data easy for you. But in the digital age, you need to manage things that get measured, that's why to keep your data intelligence well organized, you should rely on Putler.
Putler is a sophisticated and easy-to-use multichannel analytics tool that aggregates data from multiple sources in a single dashboard. With Putler, you get multiple reports like sales, customers, orders and website reports.
The specialty of Putler lies in its simplicity. It can accommodate multiple channels in a few clicks, no coding needed. You can reap cost benefits and get started within minutes. Just connect and you're good to go!
Benefits that you get with Putler
Multiple reports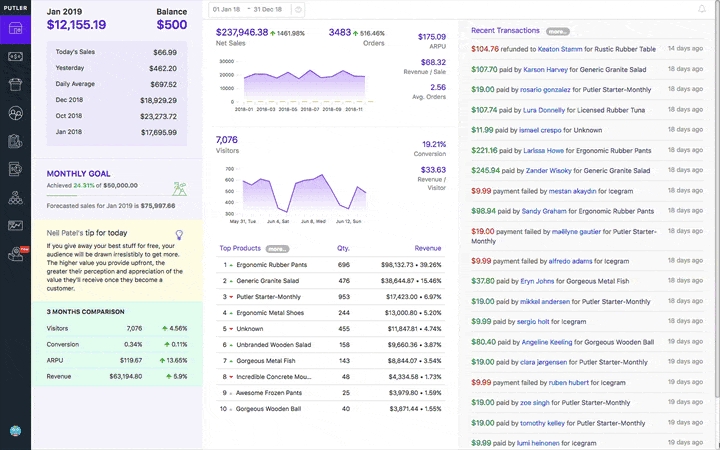 As mentioned above, Putler will give you well-presented and comprehensive reports on customers, orders, sales, products etc.
Goal setting

Set goals and get help to stay on track with insightful data. With this feature, you can align the goals with your team and set individual targets for them to achieve.
Sales forecasting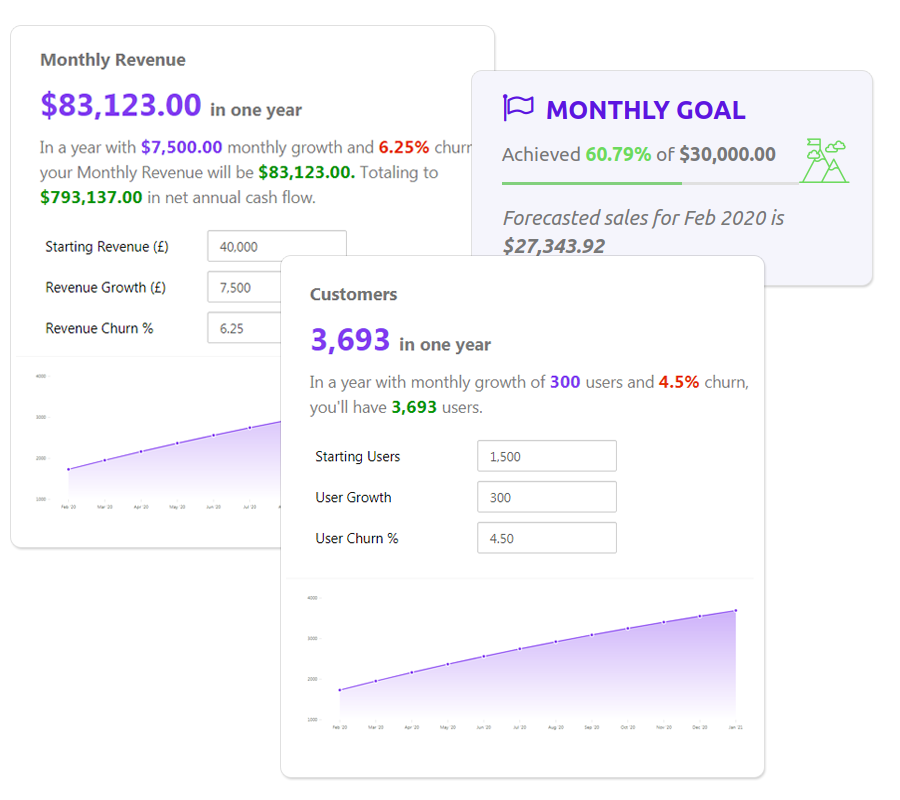 This feature forecasts your sales based on existing data. With the help of the sales forecast, you can set sales benchmarks for your team and set goals.
Sales heatmap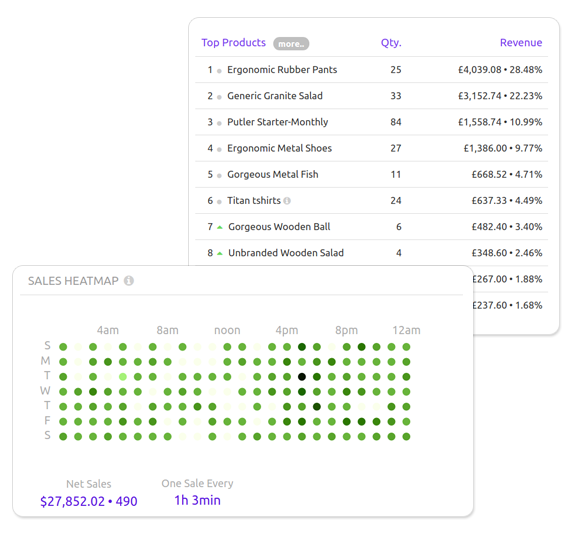 Sales heatmap helps you understand what works for you. It helps you identify your most profitable days and presents it in the form of easy-to-read clusters.
Price points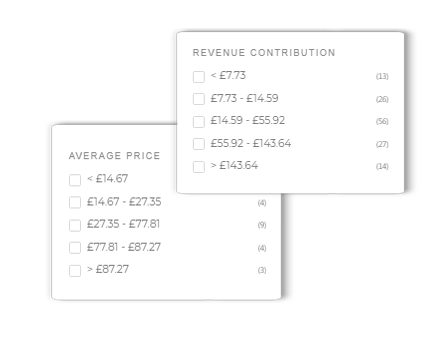 Get insights on price ranges and quantity sold on your products. With this feature, you can set the right price range for your products to make business more profitable.
Operation assistance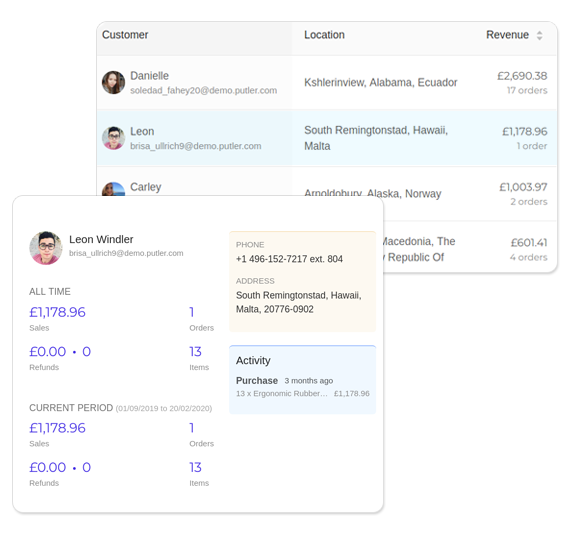 Send personal emails, share reports with your teams and colleagues, get email alerts, create notes and tags when needed. Putler provides you with full operational support.
Holiday insights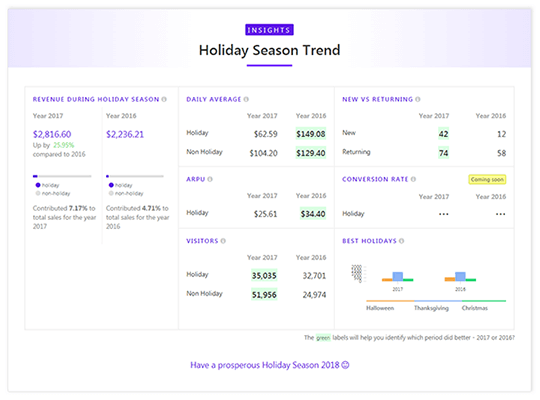 Holiday seasons are special due to the high sales rate. Get insights to strategize holiday campaigns in advance, only with Putler.
Putler gives you a comprehensive analysis of data from multiple channels and makes it easy for you to interpret. You can also connect multiple channels with Putler to get aggregated data on multiple stores.
Practical example: What makes Putler the best multichannel analytics tool
Let's understand with a quick example for multiple Etsy stores
Suppose you have 3 different shops/channels on Etsy. You can easily connect your Etsy store with Google Analytics to get data on audience activities and sales. But there are some drawbacks of Etsy reporting.
Incomplete data
Lack of product-related data
No insights whatsoever
The data extracted from Etsy doesn't give you detailed insights into what's working and what's not. Not to mention the multiple channels you will need to keep an eye on.
Hence, by relying on Putler, you can get detailed multi Etsy store reporting in a few clicks. You can connect multiple Etsy shops and get data in a consolidated dashboard. All you have to do is link your Etsy stores to Putler and viola! You're good to go.
We cover what's missing in Etsy to give you complete reporting and analytics solutions. With Putler you get:
A consolidated dashboard
Connect multiple Etsy stores for multi-site reporting with Putler. You can view combined and individual stats on sales for each of your Etsy stores.
In-depth Product Information
Get insights on top-performing products, top sellers, customer buying activities etc.
Detailed sales and transaction data
You can view sales and transaction data for your products. Understand what's working for you, the timeline of sales, related transactions refunds etc.
Customer Insights.
Reporting is incomplete without customer insights. Get RFM customer segmentation and analysis, good and bad customers, customers you can connect with and their buying habits.
Multi Payment Gateways/Shopping Carts
You can connect multiple gateways and shopping carts like Paypal, Stripe, Woocommerce etc. Putler also supports multi-currency transactions to make your life easy. You also get subscription metrics like MRR, LTV, Churn etc along with personalised suggestions.
Now imagine running your Etsy stores with the above data. There's a lot you can do with it. The sky is the limit.
Not just Etsy, Putler can aggregate data from 17+ platforms.
MultiChannel Analytics – Decide what works for you
When it comes to eCommerce, data is king. In the digital realm, there is data, good data and big data. But what matters is how you manage that data. We believe that data that can be measured and filtered can be managed easily.
Comprehensive data can help analyze opportunities, fill gaps and strategize for organizational benefits. Putler was crafted with this exact goal. As an organization, we understand the importance of data for businesses from its very core. Hence, we created Putler with the aim to fill gaps and fulfill your organizational needs. It truly can prove to be a holy grail for your business.