Black Friday, Cyber Monday, Black Cyber, Holiday Season – you may call it by different names. But the last 2 months of every year are the most awaited and exciting for both shoppers and business owners.
In this article, I'll lay out facts, give you proof and suggest actionable Black Friday marketing strategies to make this Holiday Season the best one ever.
Are Black Friday & Cyber Monday such a big deal?
Yes, they are. And here are the numbers to back this finding.
These statistics are only a few among the vast treasure you'll find online. But they all prove one thing right – Black Friday and Cyber Monday are the real deal.
Black Friday, Cyber Monday – Predictions, Forecasts and Trends
Times are changing. More and more people are opting for online shopping every year. So, how should you prepare your store/business for the highest-grossing months ever?
Trend 1: Cyber Monday will last for a month
According to statistics, 62% of shoppers want to start shopping early to avoid their preferred items being out of stock. Gone are the days when you had to wait for Black Friday or Thanksgiving to arrive to send out your offer email. The point now is to START EARLY.
What can you do?
Instead of commencing your Holiday Sale on Thanksgiving and going up to Cyber Monday, start it at least a week prior.
Once you start promotions, advertise your offer well so your audience is aware of it.
Make sure you promote your sale online through social media, emails, deal sites and the like.
Trend 2: Online shopping will boom, more than before.
Ever since the Covid-19 pandemic has restricted people from venturing outdoors, more people are choosing online shopping. In fact, around 69% of US shoppers plan to shop online this Holiday Season.
What can you do?
Make your online presence more appealing to establish credibility and attract your audience
Revamp your site, work on SEO, invest in ads, add good product images, display testimonials, and most importantly, make your site mobile compatible.
Trend 3: Ride the YouTube wave
Since people are turning to online shopping now more than ever, they will also look up online reviews . Over 70% of shoppers admitted that YouTube makes them aware of newer brands and influences their buying patterns. New trends indicate that millennials and GenZ are looking up reviews and unboxing videos online, making them some of the most-watched YouTube videos.
What can you do?
Reach out to YouTube influencers who work in a domain similar to yours. Ask them to promote your product/deal through their content.
Invest in YouTube ads.
If you have a YouTube channel of your own, create some exciting product videos and promote them.
Trend 4: Get reviews on other online platforms too
Like YouTube, online shoppers also turn to reviews from other customers, especially those on review sites like Google My Business, Yelp, Capterra, G2Crowd, Trustpilot and more. In recent years, customers have started leaving reviews on brands' social media pages, too.
What can you do?
Find out on which review sites are your competitors hosted. Then create profiles on these sites.
Ask your existing customers to drop a 5-star rating about your product/ service in exchange for an attractive deal/offer/discount.
Check your social media comments and reviews for positive reactions. You can reshare/retweet these and thank them for the reviews.
Make sure you respond to both positive and negative reviews as much as you can. A Harvard Business Review study found out that replying to reviews results in better overall ratings.
Building your credibility on such sites will have long-term benefits. So, it's an excellent exercise to perform throughout the year and not just in the last 2 months.
Trend 5: Promote your offer everywhere
The Holiday Season is busy, and your deals may get lost in the noise. The reason being, everyone is running offers across platforms and mediums. To break through this clutter, you need a relevant and appealing offer.
What can you do?
Go to deal roundups and deal sites. Find out what offers your competitors are planning to run.
Based on the findings, create an offer that will be irresistible to your audience.
Another strategy is asking your existing customer base what offer/product they would love to have. Design something that a significant
chunk has asked for and live up to their expectations.
Lastly, make sure you submit your offers to deal roundups and sites. Promote it on social media, among your circle, among your affiliates and other channels for added visibility.
These were a few trends and approaches to use to your advantage. Now let's look at how you can improve existing business strategies and take actions well suited for your audience.
[Personalized] Actionable Black Friday tips for your eCommerce business
Every business is unique. Every business has different goals to achieve. Duplicating a strategy that has worked for others might not have the same effect on your audience. The best way to deal with this uncertainty is by looking at your data and taking action to bring change.
Look at the past and plan for the future
To better your future capabilities, you need to look at the past. Evaluate how your business performs during the Holiday Season. Don't just look at a single timeline like the past year. Chart a comparison between different time ranges.
Putler's Holiday Insight dashboard is a goldmine for this analysis. . All you need to do is, select the date range for the data you need and then compare it with another date range. It's quick, easy and will give you insights at a glance.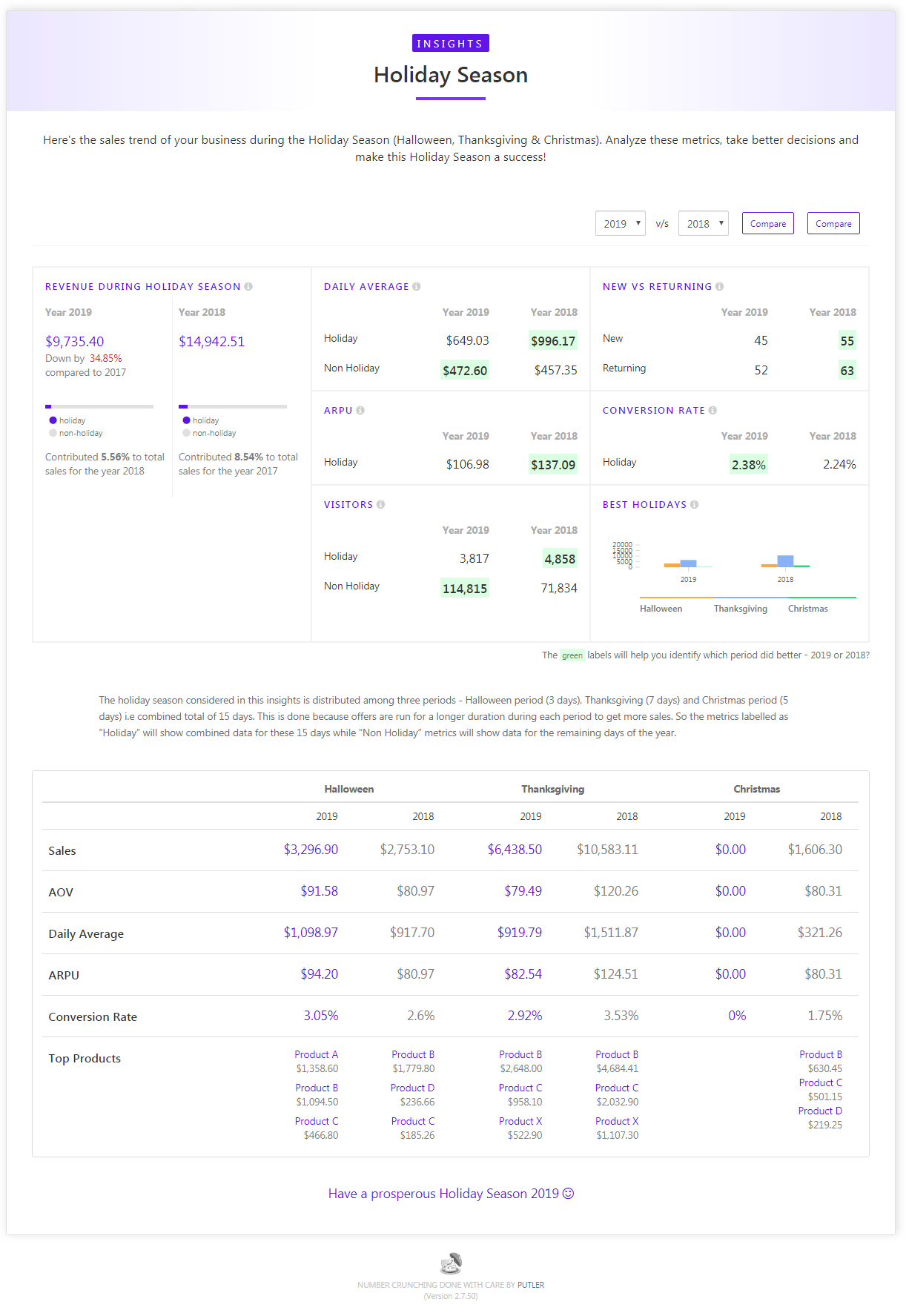 Actionable tips:
Here are some actions you can take for your eCommerce store from the Holiday Insight Dashboard.
1. Revenue during Holiday Season- Through this metric, you can identify which Holiday Season performed better. Take a look at the offers and emails from that period. Replicate the ones which performed the best.
2. Daily average – This metric tells you during which period 'Holiday' or 'Non-Holiday' days perform better. Based on the numbers, you can duplicate the promotional emails or techniques which brought you more sales.
3. Best Holidays – Make a note of which Holiday – Halloween / Black Cyber / Christmas – performed better and when using this metric.. You can check what strategy was applied during the most profiting holiday season and replicate it.
4. Best Products – Take note of the top 3-5 products and then design exciting offers for the same products for the upcoming holiday season. You can also choose to showcase these products separately within your emails or on your homepage.
5. New vs Returning – This metric helps you decide how much energy you should spend on gaining new customers and servicing existing ones. Looking at these numbers, you can easily decide the amount of marketing effort you need to put in for the upcoming holiday season.
Time is of the essence
Timing is everything. And especially during offers like Flash Sales which run for a limited period, it is essential to pick the right time of the day and the right day of the week to run such offers. Being available and visible when customers are online will get you more recognition and sales.
Putler's Sales Heatmap will help you analyze which day and what time your eCommerce store gets the most sales so you can create maximum impact.

Actionable tip:
Select the date range of when you held your last Holiday Season sale and spot the days and times having the darkest dots.
Plan a flash sale during these days and times.
Share posts and stories on social media during these peak times.
Hold a live chat to engage with your audience and get them interested.
Online creators regularly track their peak times. They know what post works when. Use this to your advantage and tie up with relevant influencers to promote your product for you.
Offer relevant bundles
Don't you love when salespeople offer you just the right products or give you helpful advice? Now, what if your online store does the same for your customers? What if you pitch products that go well together rather than just randomly selecting the ones for sale? Better even if you offer these products in bundles at a discount. Right?
Don't know how to find relevant products? Here's something that will help. Putler's Frequently Bought Together feature lets you do this based on past data and zero guesswork.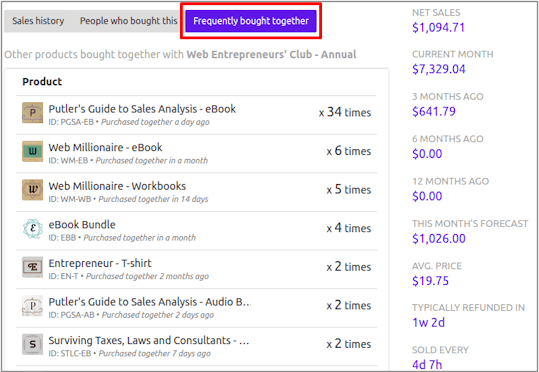 Actionable Tip:
Scan through your products and spot the ones that are frequently bought together.
Once you've spotted them, create bundles of such products and sell them at a discount.
Find customers who have purchased product A and haven't purchased product B (you can do this by using Putler's custom segment feature and exporting the list). Send them an email offering product B at a special discount.
Segment customers and send targeted emails
The Holiday Season is the best time to send targeted emails because customers are looking for offers that meet their needs. And with Putler, the possibilities to segment your customers are endless.
Putler allows you to segment customers based on various parameters, as you can see below.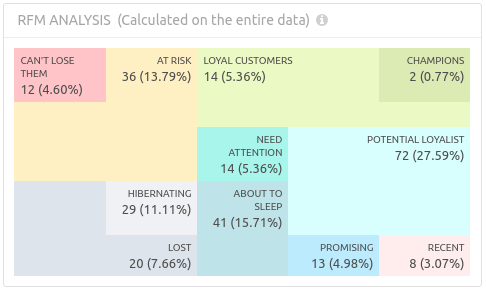 Actionable tip:
Segment customers based on geography and send out offer emails – For instance, Halloween is a holiday celebrated widely and popularly in the US. Create an offer and send out an email to your clients only in the US.
Segment customers based on the product they purchased – Suppose you have complementary products in your store. Split up customer segments based on the product they purchased and send them an email offering the complementary product at a discount.
Segment customers based on their shopping behavior – You can offer loyal or champion customers attractive discounts. While for segments like 'Lost' and 'At risk',you can offer store credit and encourage them to make a purchase.
Play on Price sensitivity
Price is the final factor that determines if a customer goes through with a purchase or not.
What if you could offer a price that a customer would always approve of? Wouldn't that be just great? With Putler, it's possible.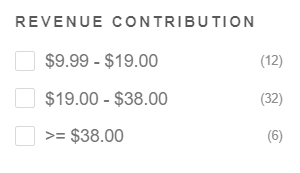 Actionable tip:
Putler divides your customer base as per the price ranges of purchases they made in your store. Based on these ranges, you can export the client data and send them products that fall in their preferred price range or offer them discounts that add up to the same prices.
Revive lost customers
The Holiday Season is the best time to revive old customers. Since prices are low and the time is joyous, customers who have previously churned out of your business will be more likely to reinvest in your products or services.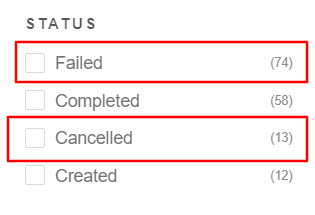 Actionable tip:
The trick here is to showcase your product in a new light. Present its best selling features, tell the audience why they need it this Holiday Season, show them how it can change their lives this time around and hook them in with a discount/deal
Using Putler, you can filter customers who have asked for a refund in the whole year and then reach out and revive them.
Launch Smarter Paid Ads Campaigns
Paid ads have a ton of potential. Both to make and drain money. So it becomes crucial to invest smartly.
Using the Putler Audience dashboard, you can make some strategic decisions: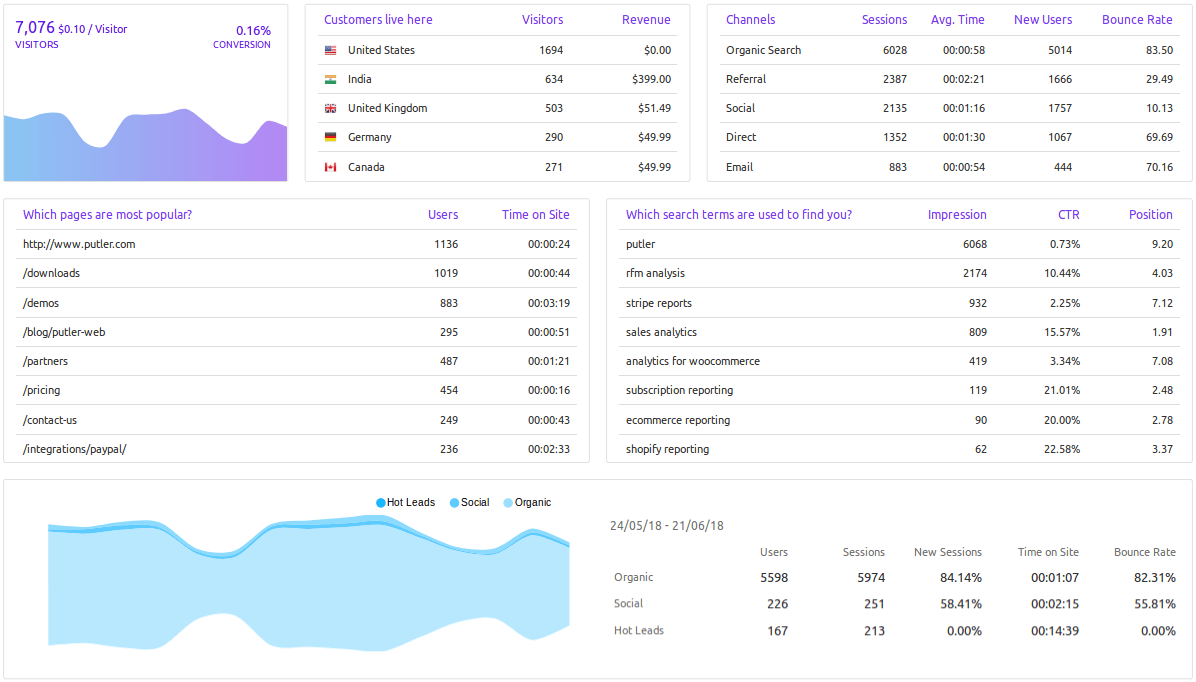 Actionable tips:
Countries to invest in – Look at this metric to find the top 5 countries that bring in revenue. Target your ads to just these countries.
Platform – Check which platform brings you high-quality traffic. Choose only the best-performing ones to run your ads.
Device – Like the platform feature, analyze which device pulls in quality traffic and target your ads to the ones that bring you the most revenue-generating customers.
Let's get started
Here's hoping these Black Friday tips, trends and strategies help you make this Holiday Season the best one ever. If you're already a Putler customer, try these strategies to maximize your sales. If you have any questions, you can reach out to me via mail or leave a comment, and I will schedule a one-on-one session to answer your queries.
If you are not a Putler client and like what you're seeing, you can still leverage everything our platform offers. Take Putler's 14-day free trial and get all these personalized insights for your business.