If you are on Etsy, you must be aware that Etsy itself states that you should open separate shops for different categories of products.
Now having multiple Etsy shops or multiple Etsy accounts might be good for a number of ways but it becomes a headache when it comes to managing and monitoring.
You simply cannot monitor all these stores from one Etsy account. You need to log in to each of your stores inorder to monitor sales, customers, products. This not only drains your energy but also your valuable time.
So is running multiple Etsy shops really necessary? Is there no easier way to manage multiple Etsy shops? Etc etc
I will be answering all the critical questions surrounding successfully running multiple Etsy shops. Towards the end, I will also reveal a unique tool which allows you to monitor multiple Etsy shops from a single place.
Keep reading…
---
How many Etsy shops can you have?
Agreed that Etsy recommends customers to have multiple Etsy shops. But do people really set them up??? Let's find out-
Can you have multiple Etsy shops?
Etsy business owners often wonder if they can have more than one Etsy shop? The answer to this is – Yes, of course, you can.
You can have more than two Etsy shops. In fact, you can have as many as you want, as long as you create different accounts. We will look into having three Etsy accounts at the end of this article.
Why do you need another Etsy store?
Having multiple Etsy stores has a number of benefits. Here's a list –
Advantages of having multiple Etsy shops
For your seller registration, you can use the same credit card and bank account for both Etsy shops.
Multiply products' presence
Reach more customers
Focus on particular audiences
test different prices
Test Titles
Try various sales strategies and what not.
Cons of having multiple Etsy shops
Each Etsy account can be associated with only one shop, and each account needs a different email address. Meaning that you need to register for a new account with a different email for every additional shop.
Most browsers do not allow you to be signed up to multiple Etsy accounts at a time. To manage different accounts, if you don't want to log in and out every time, you should use different browsers.
12 Key things you should consider before creating multiple Etsy stores
No duplicate shops.
No duplicate listings.
Put the titles of both shops in your Etsy public profile
Follow the Seller policy of Etsy, in order to keep the shops transparent.
According to Etsy's seller policy, you need to keep several things in your mind while opting for the other brand new shop. Hang on!
That's not much.
To open a new Etsy Store, You need to register with a different email address than before.
To manage your Multiple Etsy Shops, You need to log in from different web-browsers.
Here comes the Saviour, You can add multiple Etsy Shops on "Sell on Etsy" App.
To keep away from duplication, You need to mention "about another shop" in your account profile.
To manage your payments, You can use the same credit card and bank information.
In case you do not feel satisfied, You can have more than two Etsy Shops.
NOTE: In the case of violation, Etsy Seller policy reminds that you may not be allowed to open a new shop.
The big question: How to Manage Multiple Etsy Shops?
Honestly, if you have a product that doesn't fit with your existing collection, it may be time to consider developing a second shop. But there are some challenges associated with it-
Multiple shop management: Running multiple stores is time consuming. You will need to switch between them, monitor them and keep them updated at all times.
Manual Uploads: Having multiple accounts means having to upload multiple products. You will have to list down bulk product details one by one on every account.
Human Errors: When you are maintaining several by yourself, there can be chances of errors.
Lack of automation: If you do everything manually it poses a danger of mismanagement and human error.
Some ways to tackle the above challenges is to use tools that make managing multiple Etsy shops super simple.
Best Etsy Seller Apps to Managing and Monitor Multiple Etsy Stores
There are lots of marketing tools that are designed for the specific purpose of helping you manage, promote and monitor your multiple Etsy shops. To save your valuable time, we've sorted through them and compiled a list of best Etsy apps for sellers that will help your products get noticed.
Top Etsy seller spp to analyze and monitor multiple Etsy shops – Putler
Putler is the best sales analytics app on Etsy. It provides you advanced reports on sales, products, customers as well transactions. Not just reports, Putler also provides insights and growth tools that help you grow your Etsy business.
The best part, you can connect one or more (unlimited actually) Etsy stores to Putler and then Putler does everything automatically. It will import all your Etsy shop(s) data, merge it, clean and enrich it and give you comprehensive reports, insights..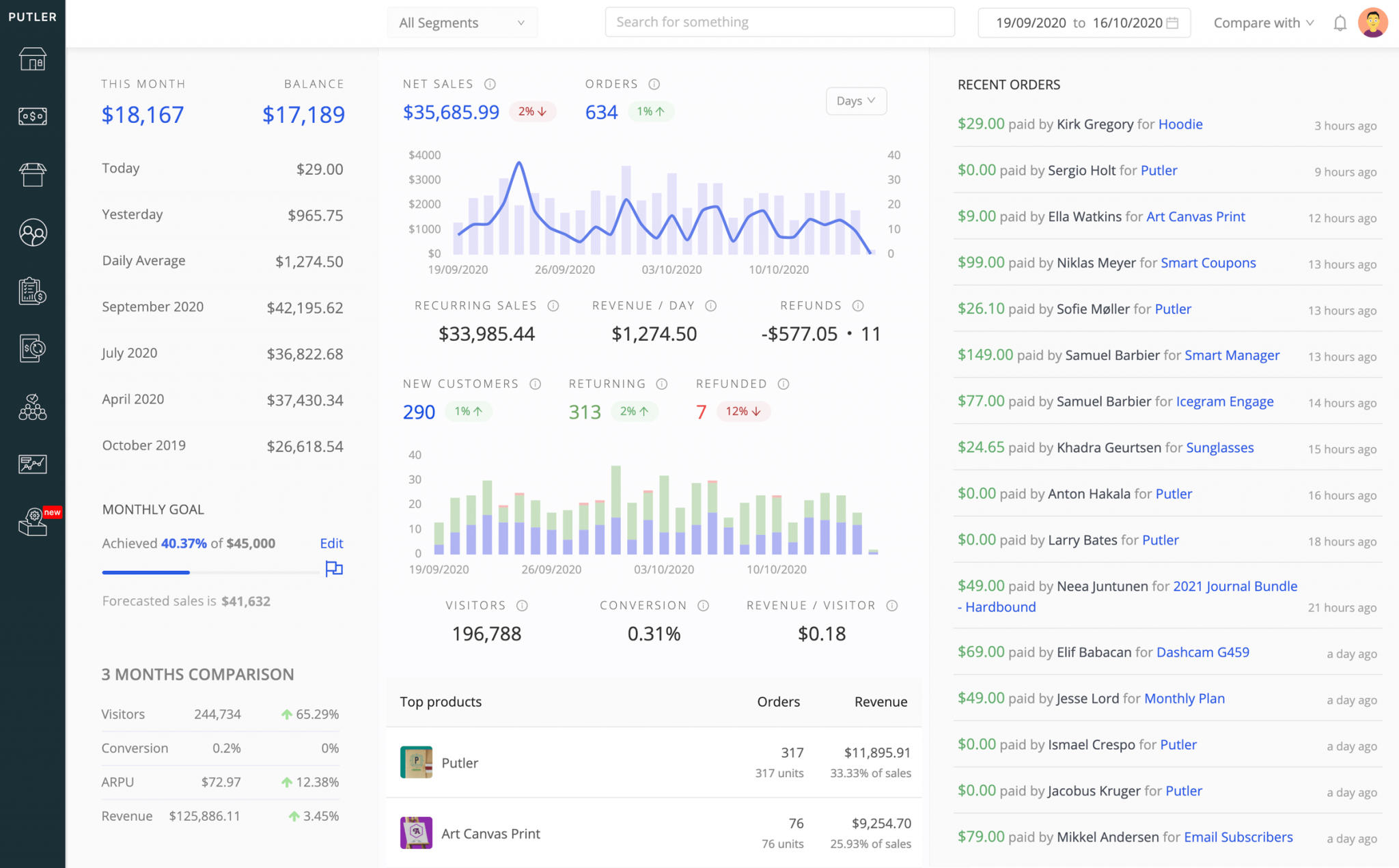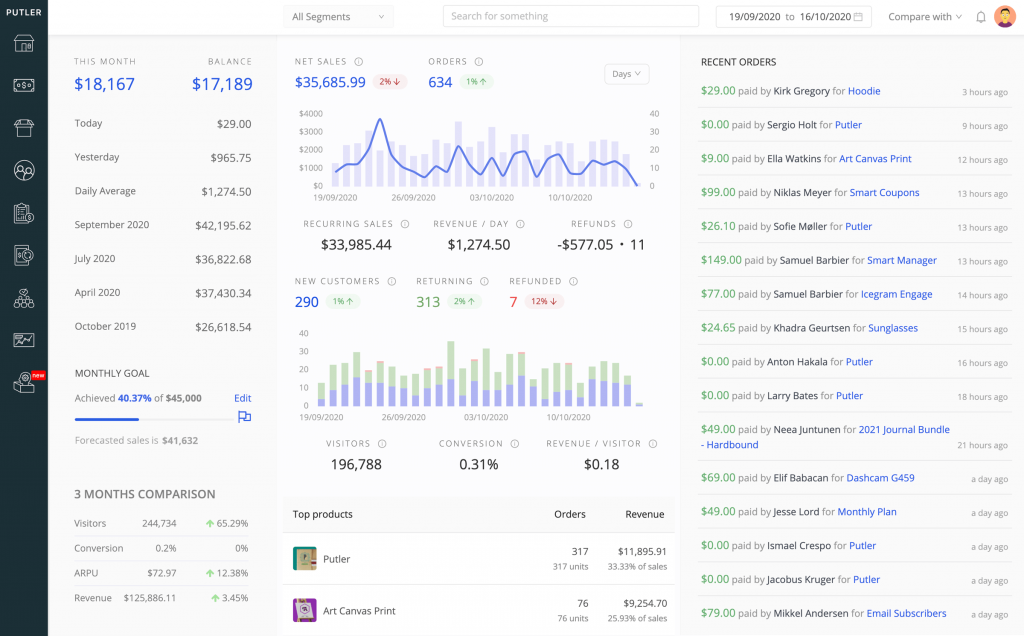 Price: $29/Month onwards
Features:
Indepth reports on Products, Customers, Sales and Transactions
Advanced eCommerce metrics and SaaS metrics
Customer Segmentation
Quick CSV exports
Revenue and customer forecasting.
Actionable insights
Multiple Etsy store consolidation and reports.
Performance comparisons.
Monthly goal monitoring and tracking.
Slicing and dicing of data based on readymade filters
Custom segment creation
Sales heatmap
Takeaway:
Putler is a super flexible tool and it is a must if you have multiple Etsy shops. Why? Because it allows you to monitor and analyse all your multiple Etsy stores from a single place. You can view both consolidated reports from all your Etsy accounts or create independent views of each of your Etsy shops and view reports for each shop separately.
Not just Etsy, suppose you have multiple shops on WooCommerce, Shopify, eBay you can add them to Putler as well. Take a look at all the services Putler integrates with.
Top Etsy seller app for managing multiple listings on Etsy – Vela
What's great about the Vela app is that you can edit thousands of listings in just a few seconds, making it much easier to set up and take down a sale, add tags, create variation profiles, and optimize the product photos.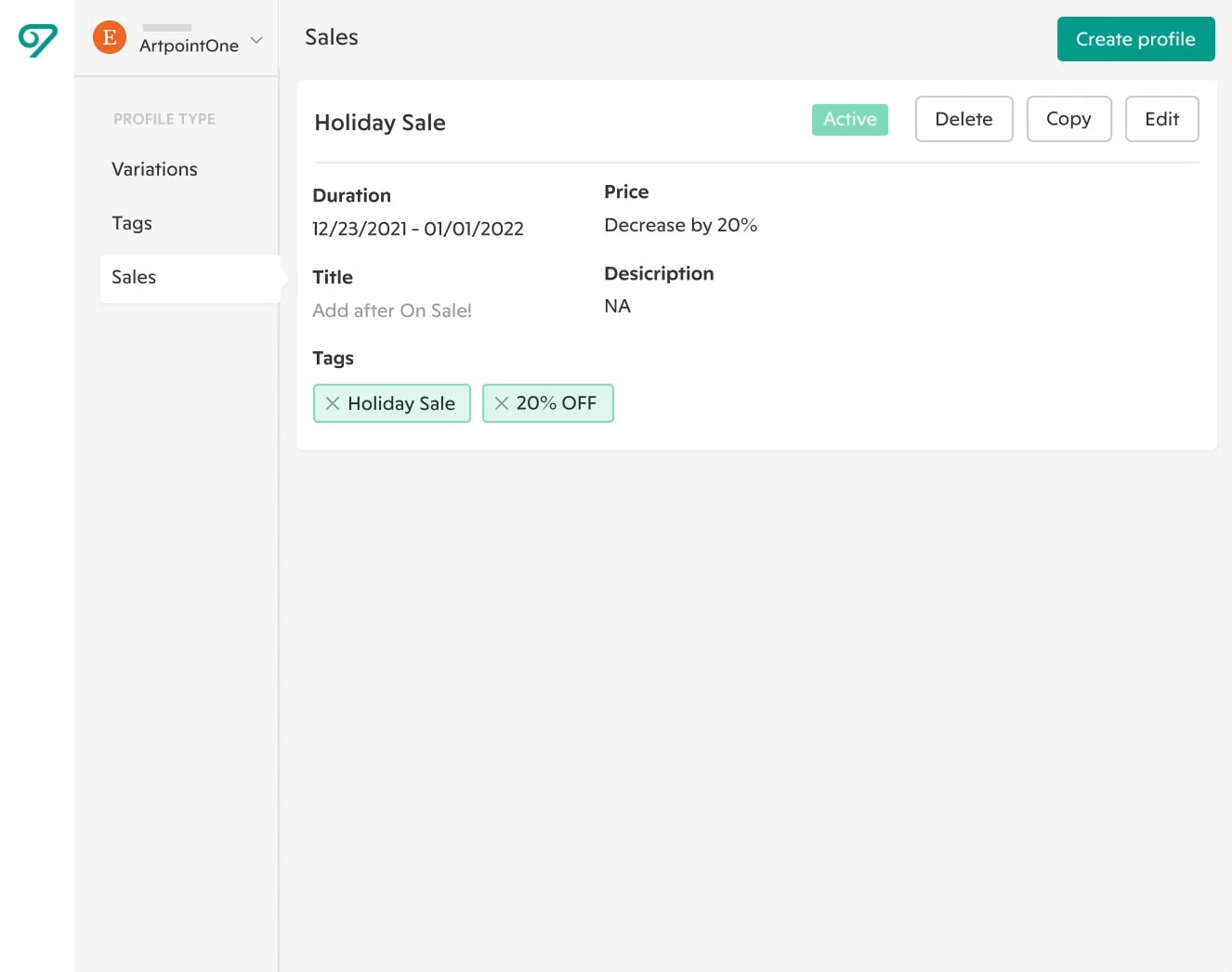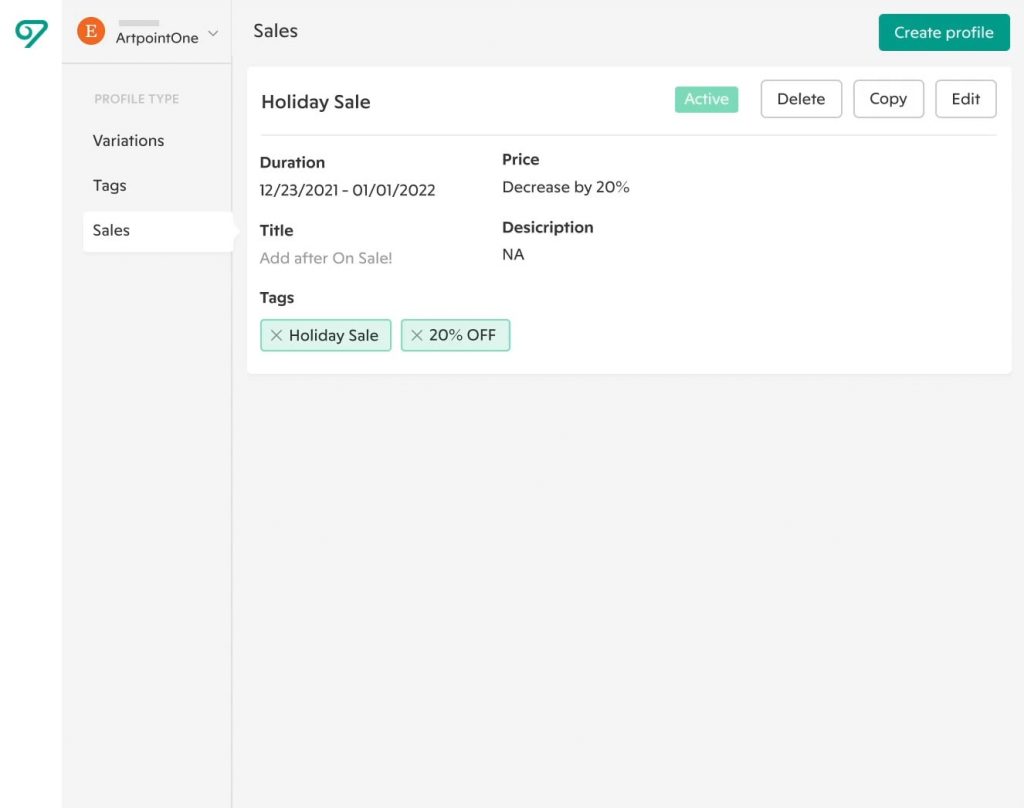 Price: Vela is completely free to use.
Features:
Merge products across different shops into one central entity
Connect and manage multiple shops through a single Vela account
Bulk edit all product attributes including titles, prices, and tags
Takeaway: Just like Putler, Vela can be used to manage multiple Etsy as well as Shopify shops.
Top Etsy seller app for taking automatic backup from multiple Etsy shops – Backsty
The Backsty app is an important tool for every Etsy seller. It's an automatic backup with manual restore options. That means that you can revert back to a previous version of your shop if there's a need to do so.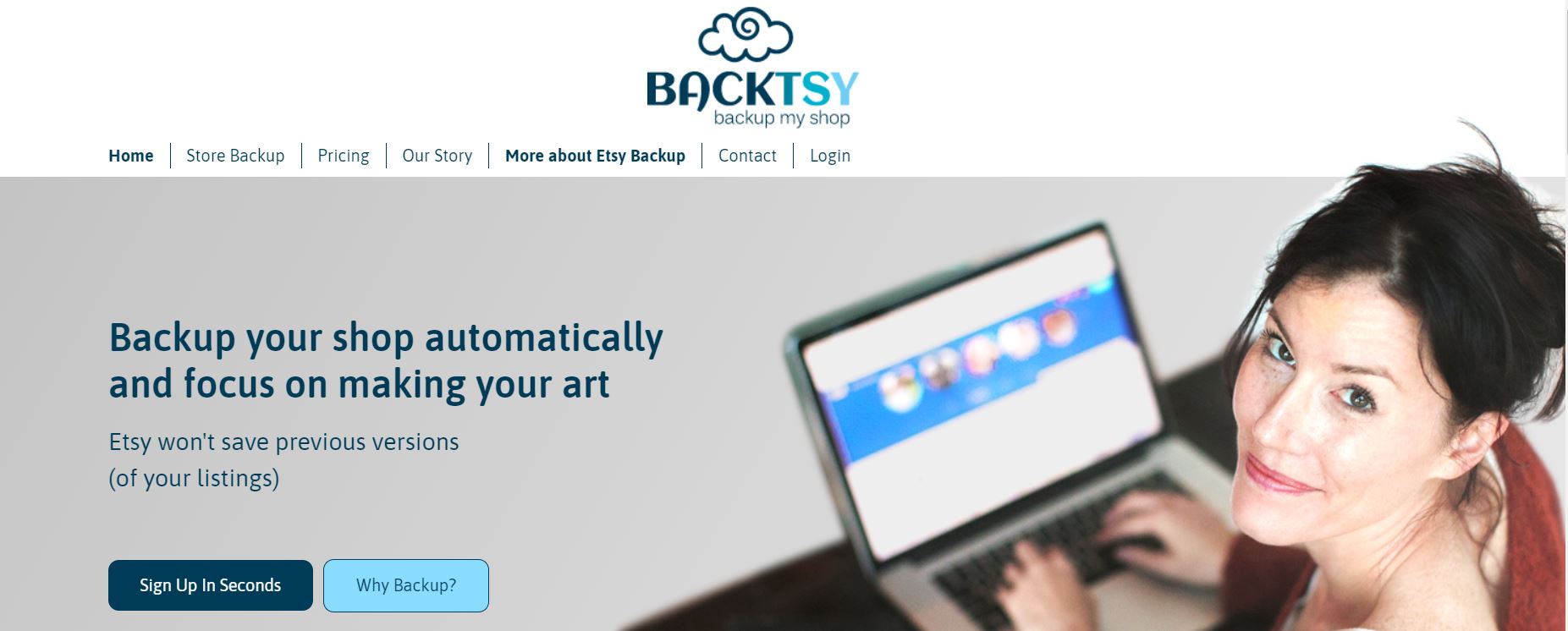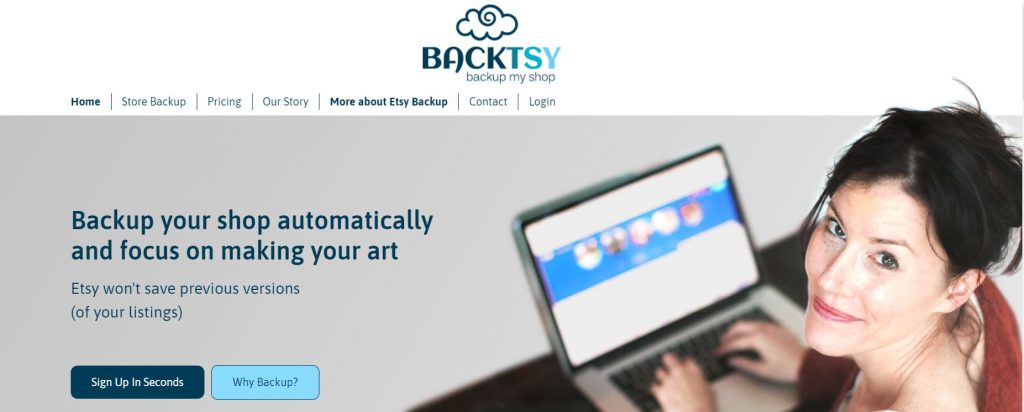 Price: Subscriptions for Backsty start at $3.70 per month.
Features:
Automatic backup to a secure cloud
Ability to restore previous version
Safeguard against system failure or suspensions
Human error protection – One-click site restoration
Keep up back copies close by
Peace of mind and flexible control
Takeaway: For somebody running multiple Etsy shops, taking backup can be a royal pain. But Backsty is a great tool to put that to rest.
Multiple Etsy Shops: Final Word
So that's all folks!
Running multiple Etsy shops is not that difficult after all. Thanks to these amazing tools.