If you run an Etsy business (infact any business), you probably want to focus on growing sales. Now since Etsy is a tightly knitted community, it has tons of Etsy seller apps which help you achieve this. One such category within Etsy seller apps is Etsy analytics/ Etsy reporting apps.
To make your task easier, we have jotted down some really interesting Etsy apps that belong to this category of Etsy reporting/analytics which also help you gain visibility, grow sales and in some cases even retain customers.
Do take a look at these amazing Etsy seller apps and stick to the ones that appeal to you the most:
Google Trends
Google Trends is the best Etsy analytical tool that helps to compare the popularity of your product search terms and trends. With the help of Google Trends you can find the trending searches of your products.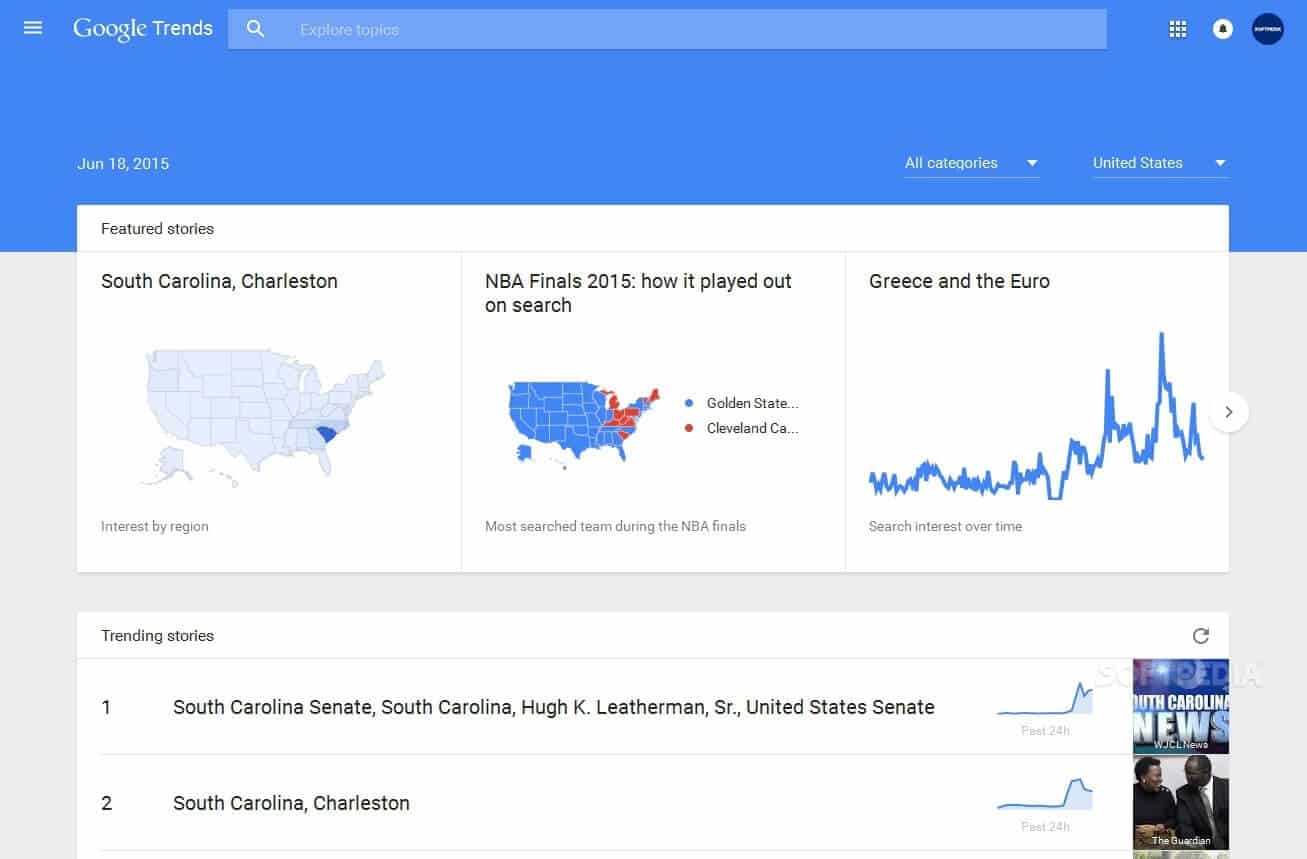 Features
Site auditing
Keyword suggestion
SERP rank tracking
Link building
Backlink monitoring
Competitor analysis
Pros
Google Trends shares interest in a keyword or topic over time.
It allows you to filter by geographic area.
Google Trends shares related topics and queries.
Cons
Some Etsy reports are not available for certain keywords due to insufficient data.
Google could let you refine searches a bit more with boolean language.
Data is aggregated so therefore does not provide detail on the actual volume of search activity online
Pricing: Google Trends has not provided pricing information for this product or service.
Sked Social
Sked Social is a popular Etsy app that schedules your businesses promotional updates on Facebook, Twitter, Pinterest, etc. This application totally coordinates with your online store, you can make and share posts that you can utilize many occasions over.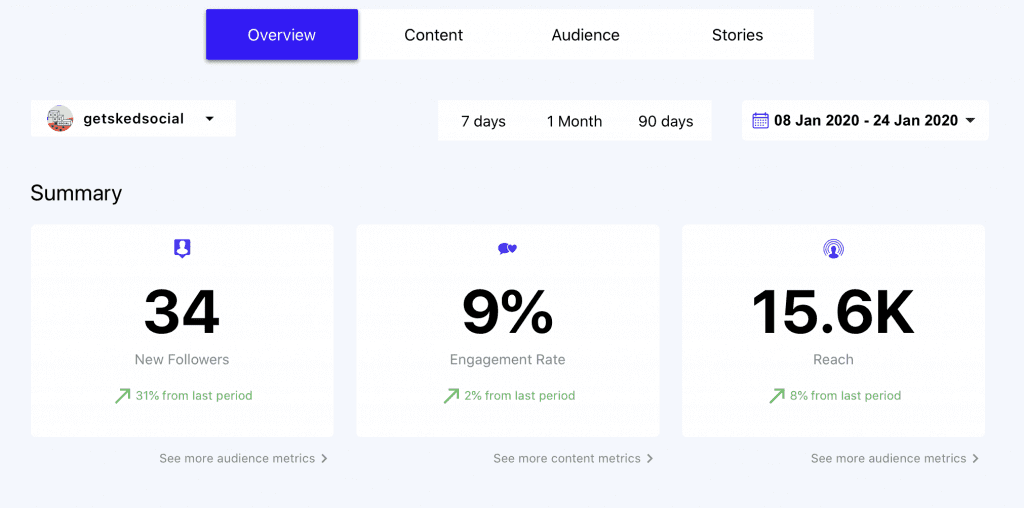 Features:
Multi-channel marketing
Content & campaign management
Campaign analysis
Social media integration
Pros:
Excellent support.
Makes your business look professional.
It generates organic traffic to your business through the social media platform.
It creates massive awareness for your business through social media.
Cons:
Presenting could lead to spam if not appropriately arranged.
Week by week organizer excluded from the fundamental social organizer.
Pricing:
Fundamentals: $30 USD/mo
Essentials: $89 USD/mo
Professional: $159 USD/mo
Enterprise: Custom pricing
Putler
Putler is an advanced reporting & analytics Etsy app that provides accurate metrics, reports, and insights for your Etsy shop within seconds. You can connect either one or multiple Etsy shops to your Putler accounts and then get in-depth etsy reports on your sales, products and customers.
Putler also lets you connect your Google Analytics and provides you audience reports too. It is literally a one-stop solution for merchants that have multiple Etsy Shops. Also if you have one Etsy shop it can be just as useful, thanks to these amazing features.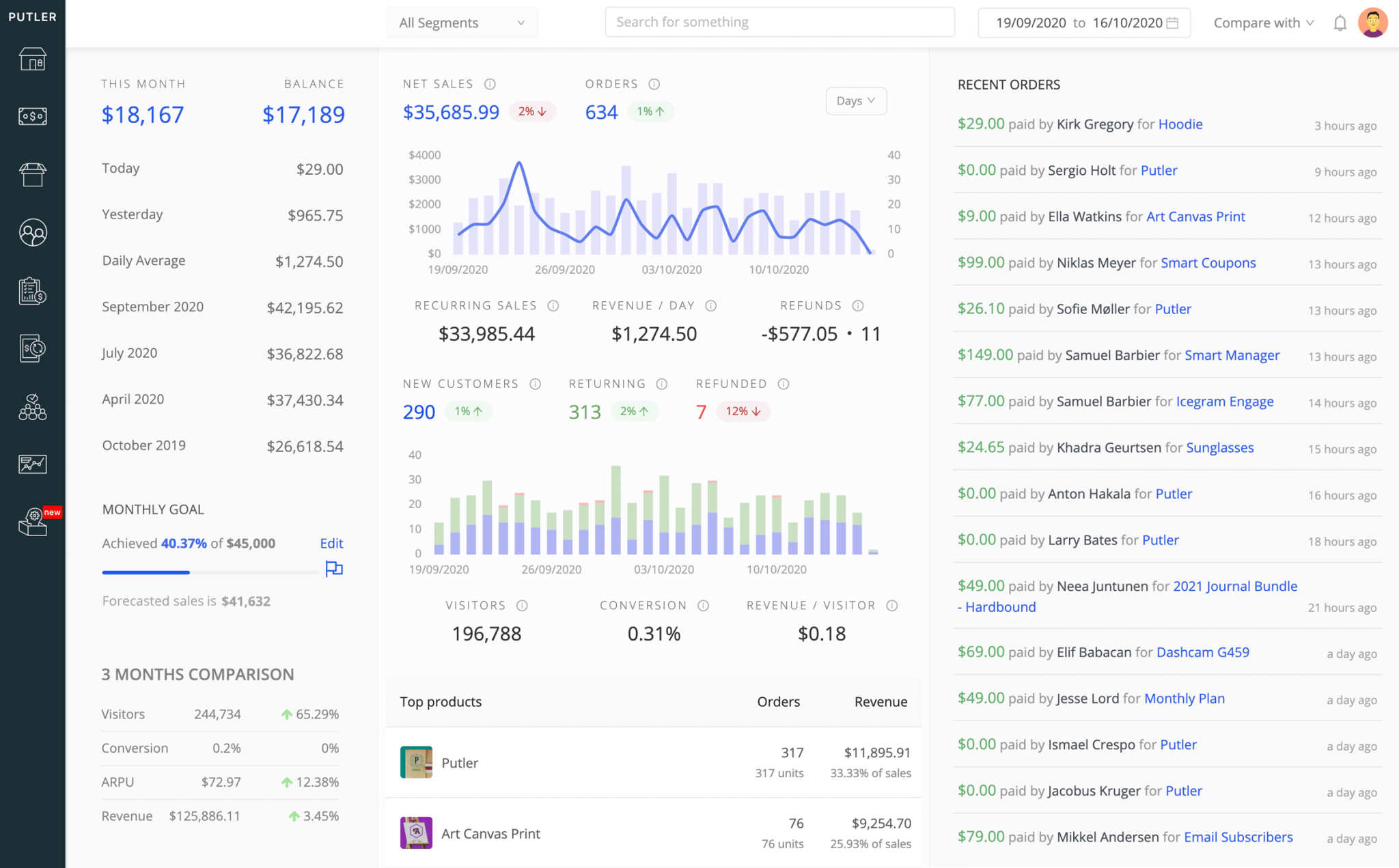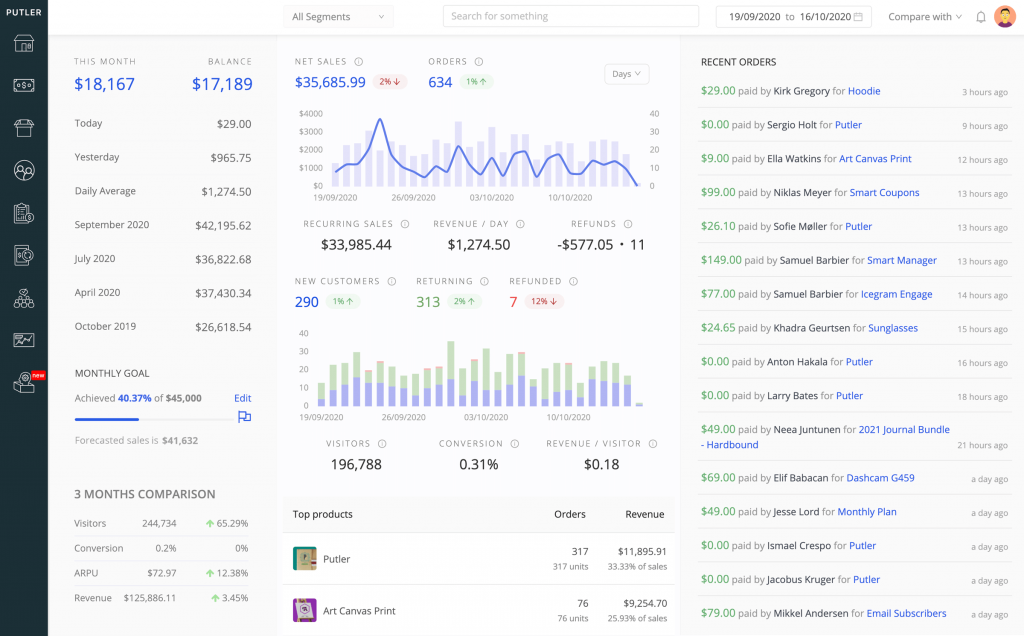 Features:
Multiple Etsy store consolidation and reports
Complete sales & transactions data
Actionable customer insights – Purchase history, variation reports, segments
Customer Segmentation – Loyal, champions, at-risk and more
Revenue and customer forecasting
Monthly goal monitoring and tracking
Performance comparisons
Premade filters
Best time/day to sell on your Etsy shop
Deep product information and tracking
Multiple payment gateways / shopping carts consolidation
Get annual Etsy reports
Pros
Easy to track and follow customers
In-depth Etsy sales reports and insights that help grow your business
Great tool to manage a lot of people, schedules, and finances.
Layout Ease of use Data available Pricing
Easiest and most powerful Etsy analytics tool
Cons:
Doesn't provide inventory management.
Pricing:
Starter plan – $20/mo
Growth plan – $50/mo
Wix
Wix Etsy Analytics is a great alternative for eCommerce stores that are looking for normal website performance metrics. It provides comprehensive traffic trends reports for your eCommerce website.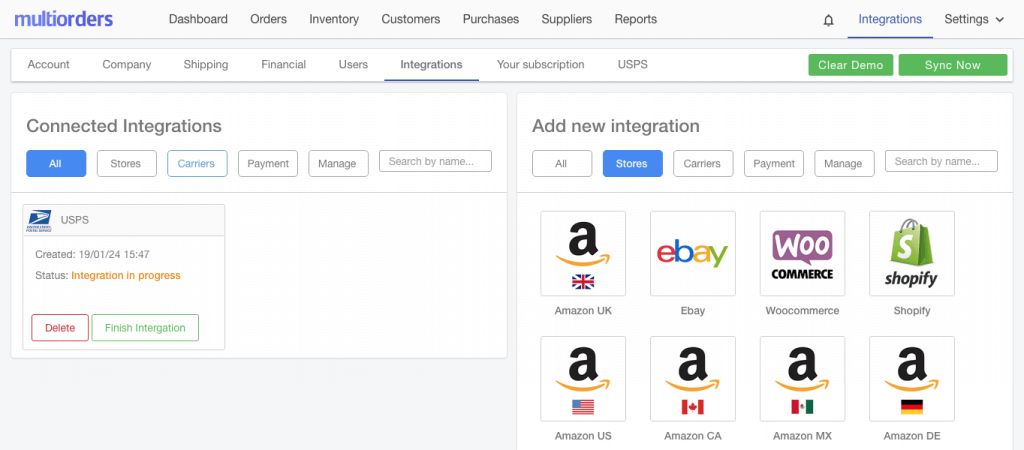 Features
Traditional payments gateways, including PayPal, Stripe, and Square.
Inventory Management
Shipping Options
Abandoned Cart Recovery
Multichannel Selling
Wix has built-in SEO tools to make life as easy as possible.
Pros
Multichannel selling
Advanced ecommerce tools
Beginner friendly
Cons
No stock management alerts
Too much creative freedom
Pricing:
Business Basic – $20/mo
Business Unlimited – $25/mo
Business VIP – $35/mo
Alura
Alura is the all-in-one solution designed to turbocharge your Etsy business. With powerful tools and features, it simplifies sales tracking, customer analysis, inventory management, and listing optimization. Alura helps streamline operations, increase efficiency, and maximize profits for Etsy sellers.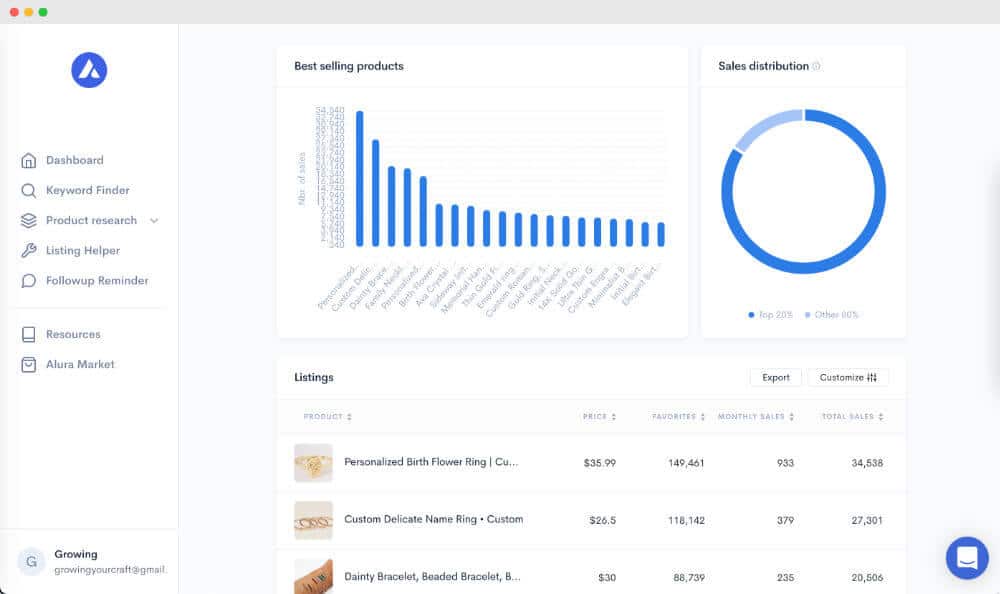 Features:
Comprehensive Etsy analytics to track sales, orders, and revenue trends.
Real-time store performance monitoring for quick decision-making.
In-depth customer insights to target and engage effectively.
Pros:
User-friendly interface for easy navigation and quick setup.
Customizable reports and dashboards for personalized data analysis.
Time-saving automation for managing inventory and orders efficiently.
Cons:
Limited integrations with other e-commerce platforms.
Advanced features may require higher pricing plans.
Occasional performance issues during peak usage.
Pricing:
Starter: $19.99/mo
Professional: $29.99/mo
Marmalead
Marmalead is the powerful Etsy analytics tool that helps to find the real shoppers' keywords to promote their products. It is the best machine learning tool that helps to take the guesswork on Etsy.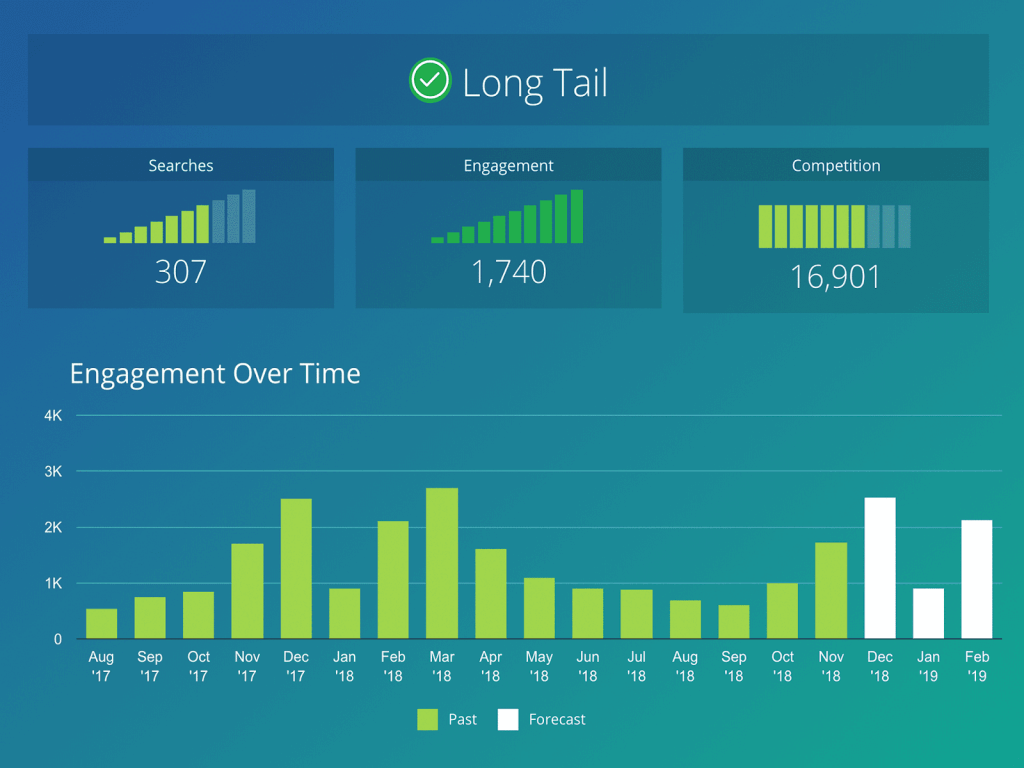 Features
Real search volume
Side-by-side comparison
Real engagement
Pros
Appears to be an invaluable resource
Helps to get right tags for your Etsy shop
Cons
Recurring charge no customer service.
Pricing: $19/month
LeadDyno
LeadDyno is the best analytics app that provides affiliate management and tracking Etsy reports to manage your eCommerce store all-in-one platform. It allows your online store visitors to share your products on different social media platforms within a second.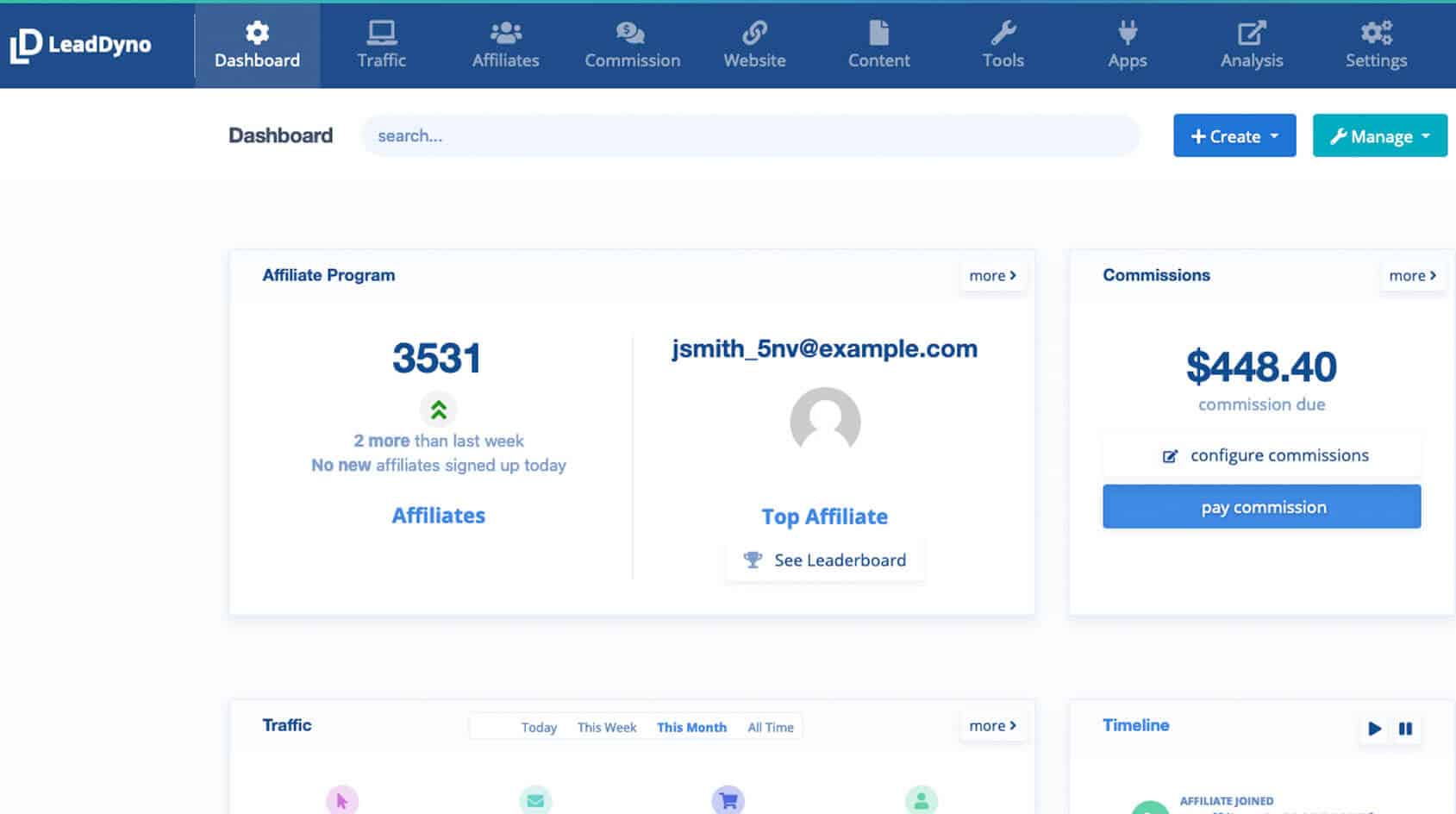 Features:
Single-click social sharing
Mobile optimized
Google Adwords conversion tracking
Online marketing tracking
Easy marketing & affiliate signup
Pros
Easy to install and use
Great app, even better customer support!
It easily tracks Affiliates' sales whether they are coming from FB, Youtube or their site.
Cons
There was no way to customize the automatic payment method.
The support team takes time to get in touch with you.
Pricing: $49/month
EverBee
EverBee Etsy Product Analytics is a robust analytics tool designed specifically for Etsy sellers. With EverBee, you gain comprehensive insights into your Etsy products' performance, allowing you to make data-driven decisions to optimize your listings and increase sales.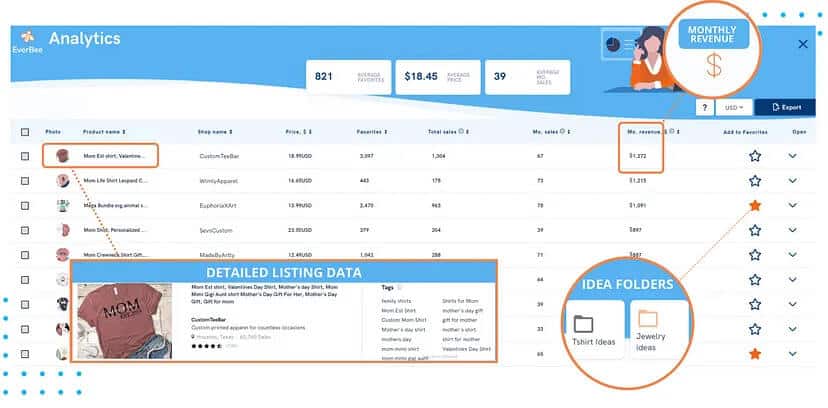 Features:
Advanced sales analytics: Dive deep into your sales data with detailed reports and visualizations.
Customer behavior analysis: Understand your customers' preferences, purchasing patterns, and lifetime value.
Product performance tracking: Track the performance of individual products to identify top sellers and optimize your inventory.
Pros:
Robust analytics capabilities for data-driven decision-making.
User-friendly interface with intuitive navigation.
Real-time updates and accurate data synchronization.
Cons:
Limited integrations with other platforms.
Pricing plans may be restrictive for small businesses.
Some advanced features require additional customization.
Pricing:
Hobby plan: $0/mo
Pro plan: $7.99/mo
Growth plan: $29.99/mo
WiseStamp
WiseStamp is an award-winning signature generator tool that generates and manages your business email signature. It automatically adds your latest product to your Etsy shop with your business email signature.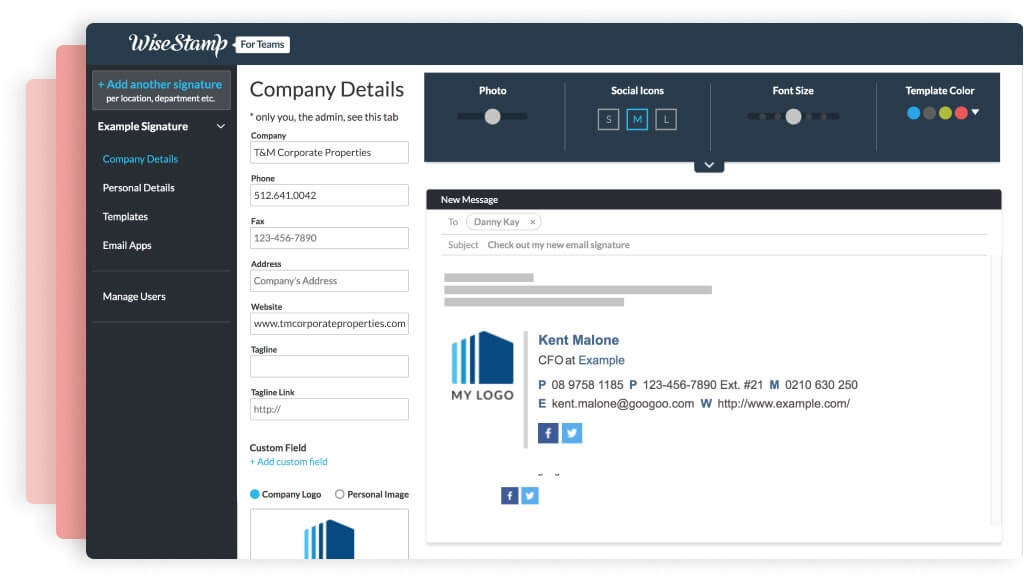 Features
Central management
Easy design and setup
Professional templates
Push marketing updates
Analytics
Google Apps integrations
Premium support
Pros
Various templates are available to create your own business signature.
A professional email signature that drives traffic to my blog and social media sites on autopilot.
Nice User Interface.
Cons
Signature templates are limited, more variety needed.
Glitchy interface while using chrome browser.
Pricing: $6/Mo
Sale Samurai
Sale Samurai is a powerful Etsy analytics tool that is designed to empower sellers with valuable insights for boosting sales and profitability. With its advanced features and data-driven approach, Sale Samurai helps sellers optimize their pricing and track competitor performance.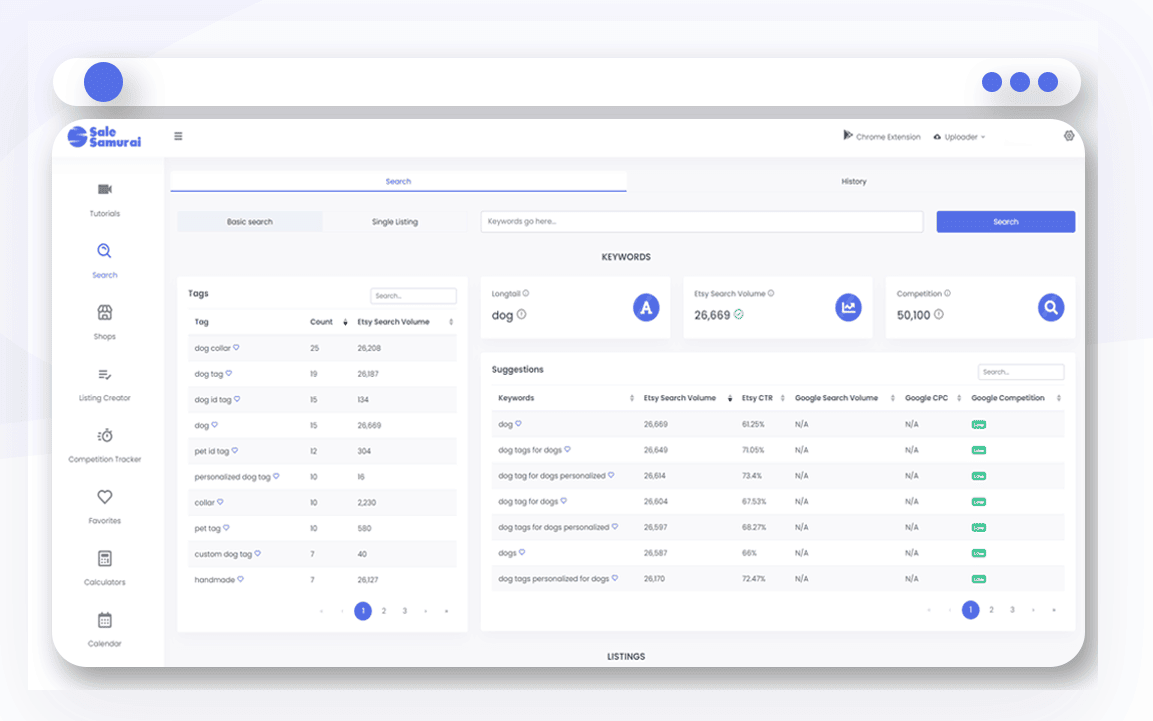 Features:
Advanced sales analytics with detailed reports and charts.
Real-time order tracking and inventory management.
Competitor analysis to stay ahead in the market.
Revenue and profit forecasting for strategic planning.
Pros:
Comprehensive analytics, real-time insights, inventory control, competitive edge.
Cons:
Limited integrations, learning curve for beginners.
Pricing:
Monthly plan: $9/month
Yearly plan: $99/year
Which Etsy analytics tools did you like?
If you've already learned how to sell on Etsy, take advantage of the best Etsy analytics tools to take your ecommerce store to the next level! Check out the Etsy analytics tools we've listed, make use of the free trials, and increase sales on Etsy.
Getting Etsy reports is easy, you only need to figure which tool fits your business and budget the best.
We recommend you to try out Putler – our Etsy analytics + Etsy marketing tool to get the most accurate Etsy reports and insights.