One of the best parts about the BigCommerce platform is the access to a wide variety of apps available on the BigCommerce app store to help you run your business more efficiently. But when you make your way to the BigCommerce app marketplace, it can be a bit overwhelming and you may not know where to start. So to make it the search simpler, I've listed 20 top-rated BigCommerce apps that will help you optimize your eCommerce business and get more out of the BigCommerce platform!
So, let's get started and choose the best BigCommerce apps for your store.
Best BigCommerce analytics apps
Compass
Compass incorporates a comprehensive report of all your analytics metrics into a dashboard in your store admin. Instead of manually keeping track of metrics in Excel, you can now watch all metrics calculated for you by Compass. Though 100% precision is impossible, Compass crunches their huge pool of data to produce results closest to reality.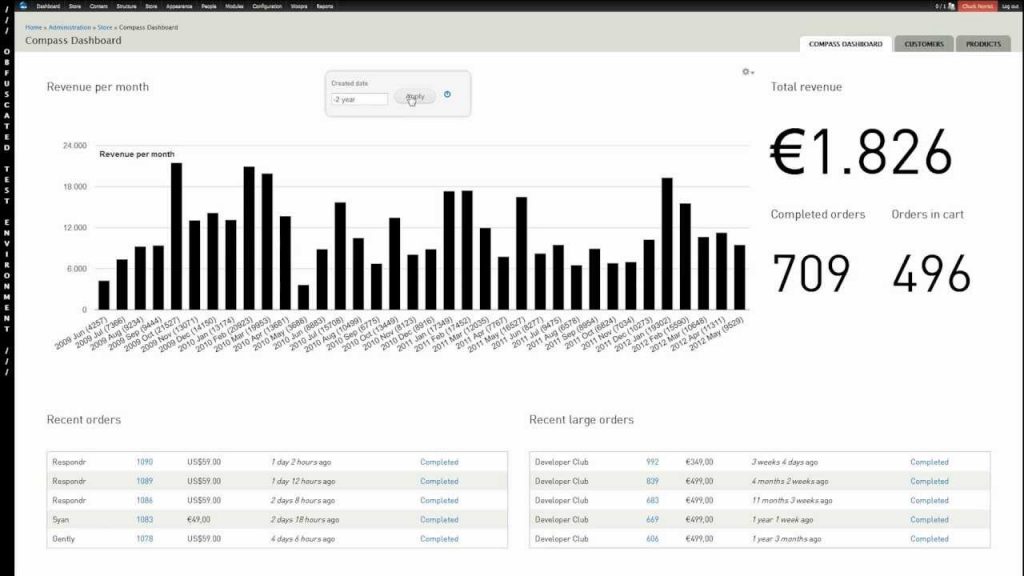 Features include:
Demographic and Accessibility Analysis
Incorporate Additional Data Sources to Refine Analysis
Map Sharing
Price: From Free to custom. Refer to their website for details

Compass
Putler
Pulter is a complete BigCommerce analytics and insights app. It integrates with multiple payment gateways, Google Analytics and also with other eCommerce platforms. You can also choose to connect one or multiple BigCommerce stores to Putler and then analyze all your data from a single place. Apart from reports, Putler provides a ton of operational features like customer segmentation, refund processing, customer segmentation, forecasting, sales heatmap and lot more.
It is an all-in-one plugin that helps you analyse your store as well as grow it based on data driven insights.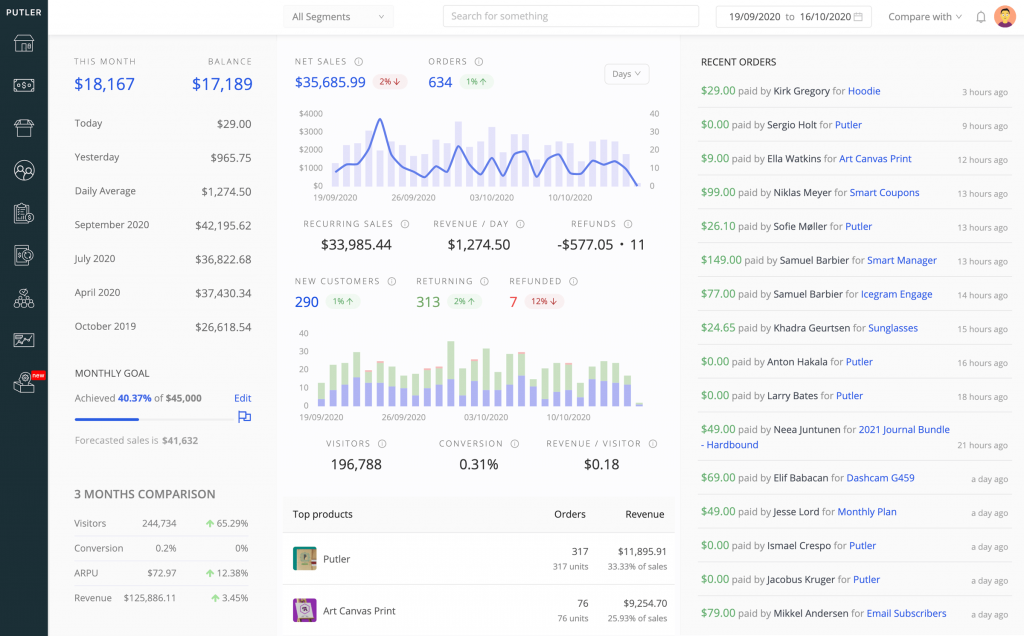 Features include:
Sales and order reports. 

Subscription metrics. 

Visitor insights. 

Accurate consolidation from multiple sources. 

Product and customer insights.

Aggregated and individual store insights. 

Subscription management & refund.

RFM analysis and customer segmentation. 
Price:
Starter plan – $20/mo
Growth plan – starts at $50/mo
Best BigCommerce live chat apps
Zendesk Chat
Zendesk is one of the best BigCommerce apps that makes support, sales, and customer engagement for everyone. It's quick to implement, easy to use, and scales to fit your business needs.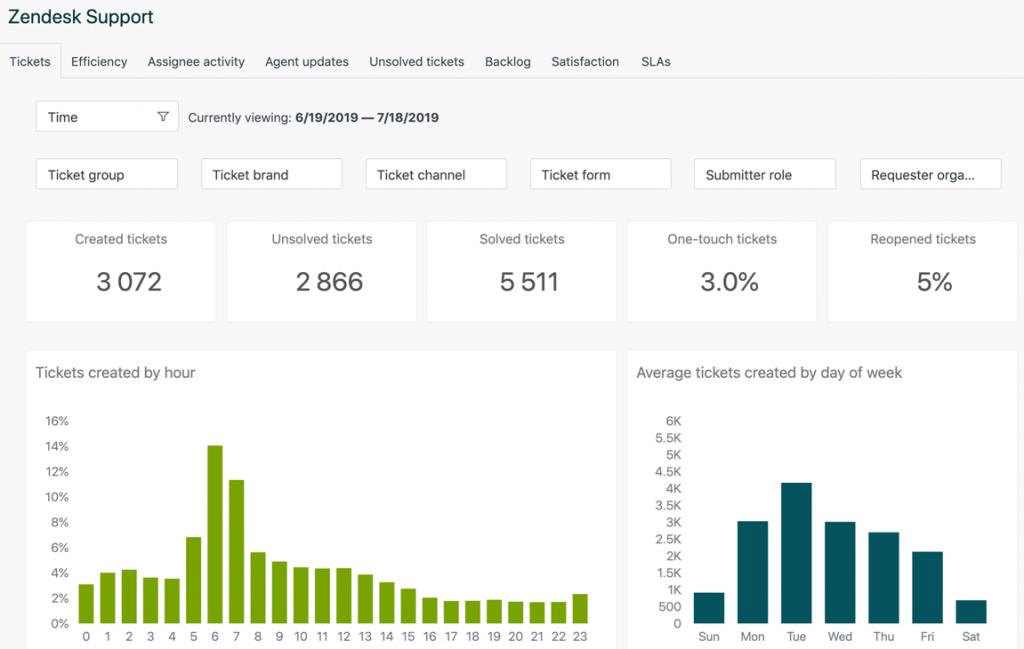 Features include:
Customer order history. 

Customer search/Order lookup.

Order details.
Price: $5/agent
LiveChat
LiveChat is a complete customer service platform that delights your customers and increases your sales. By choosing this BigCommerce integration, you can smoothly add LiveChat to your website and deliver efficient assistance and boost customer engagement at the same time.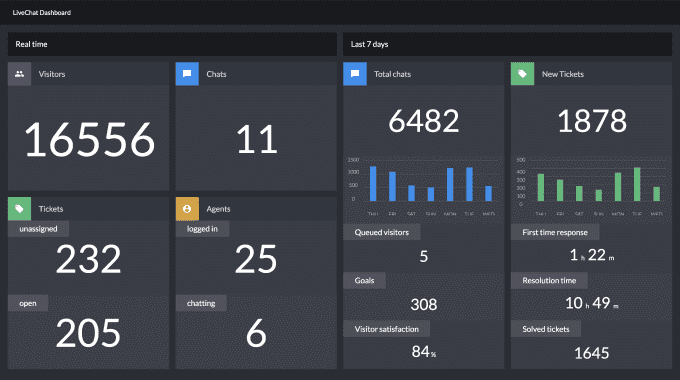 Features include:
Customer engagement

Reports & analytics

Customization 

Security

Chat tools
Price: $16/month
Best BigCommerce dropshipping apps
Printful
Printful is an extremely easy BigCommerce app to scale up your business without having to purchase a bunch of inventory. Automate drop shipping for t-shirts, posters, mugs and other print products.
Your orders will be automatically sent from BigCommerce to Printful, to print and send out the order. Since everything is printed on-demand, you don't have to worry about keeping inventory, or guessing at what sells best – Printful has you covered.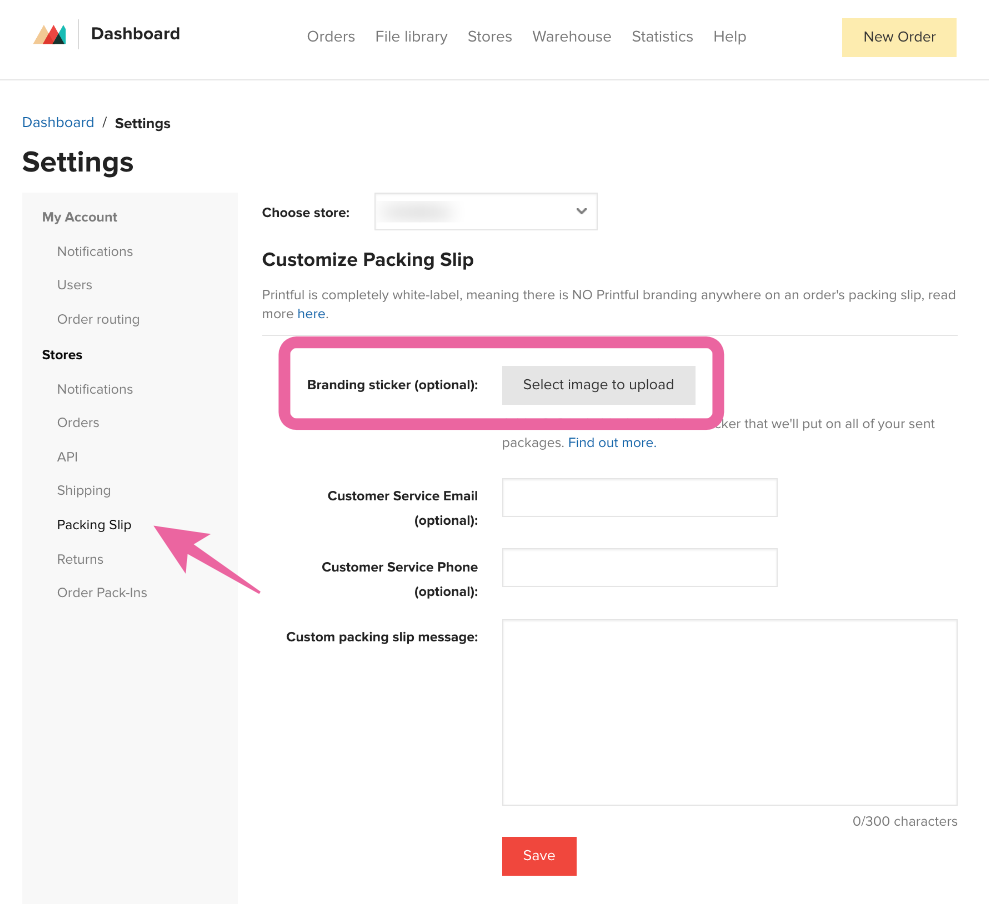 Features include:
Approval Workflow

Dropshipping

Import / Export

Multi-Store Printing

Parcel Shipping

Printing Services Integration

Product Configurator

Quotes/Estimates

Shipment Tracking

Shipping Services Integration
Price: $29.95/month
Spocket
Spocket is an all-in-one platform for your BigCommerce drop shipping needs, including reliable suppliers, unique high-quality products, and fast shipping. Dropship products from your BigCommerce store with Spocket, and streamline your online store with a one-stop-shop for US and EU products.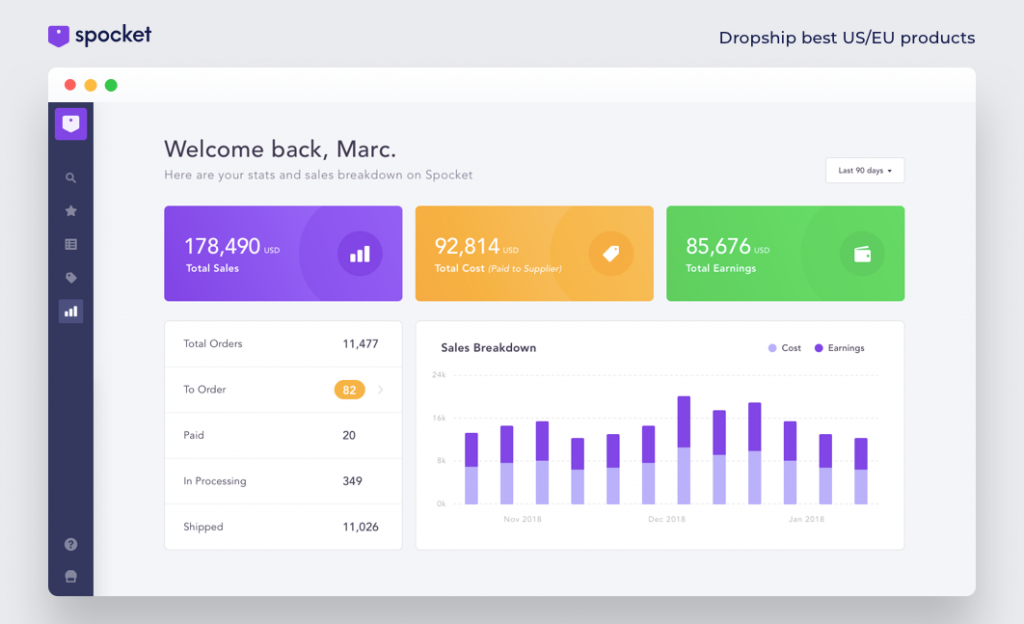 Features include:
Product Search

Product Reviews

Product Filters

Product Page Customization

Reports & Analytics

Order Tracking

Pricing Automation

E-commerce Platform Integration

Process Automation
Price: $24/month
Best BigCommerce subscription apps
Rebillia
Rebilia is the best BigCommerce app that helps merchants solve the problem of subscriptions nicely. It allows shoppers to save their payment methods (currently support Authorize.NET, Braintree, Stripe, PayPal Payflow Pro, PayPal Payments Pro…) for future purchases. Shoppers can view, add, delete payment options on their account. You, as the store owners, can easily manage authorized transactions partially or in bulk in BigCommerce admin.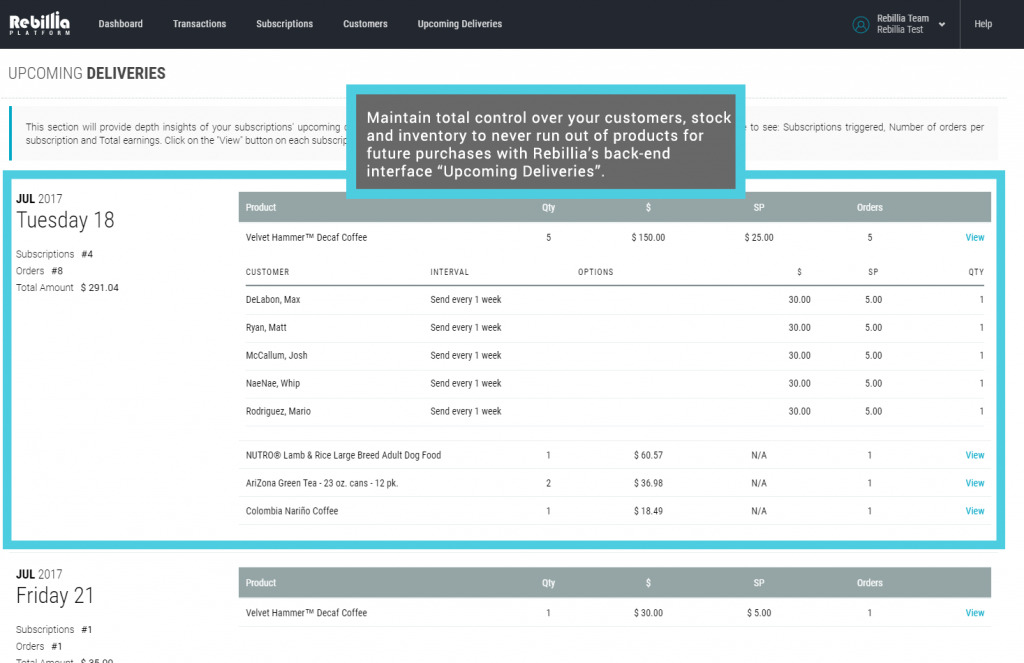 Features include:
Help Customers Find More Products

Set & Forget

Capture The Essence of Retargeting

Direct-to-checkout Linking

Cloud control
Price: $20/month
Subscrimia
Susbcrimia is a BigCommerce app that increases your revenue offering subscriptions in your store. Subscrimia provides subscription management tools for your customers, they just need to select the subscription period.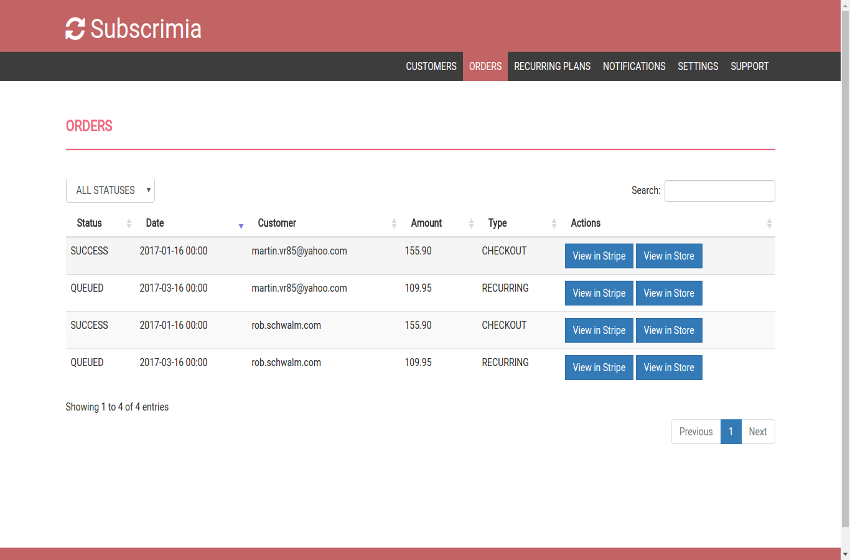 Features include:
Payment and Shipment Scheduling

Easy & Free Integration

Customer Portal
Price: Contact support for custom fee.
Best BigCommerce customer reviews apps
Stamped.io
Built specifically for BigCommerce retailers of all sizes. This is a BigCommerce reviews app with 4,000+ app reviews, Stamped.io is a highly-rated customer marketing platform with all BigCommerce apps that you need to capture and showcase high-impact Customer content throughout their buying journey.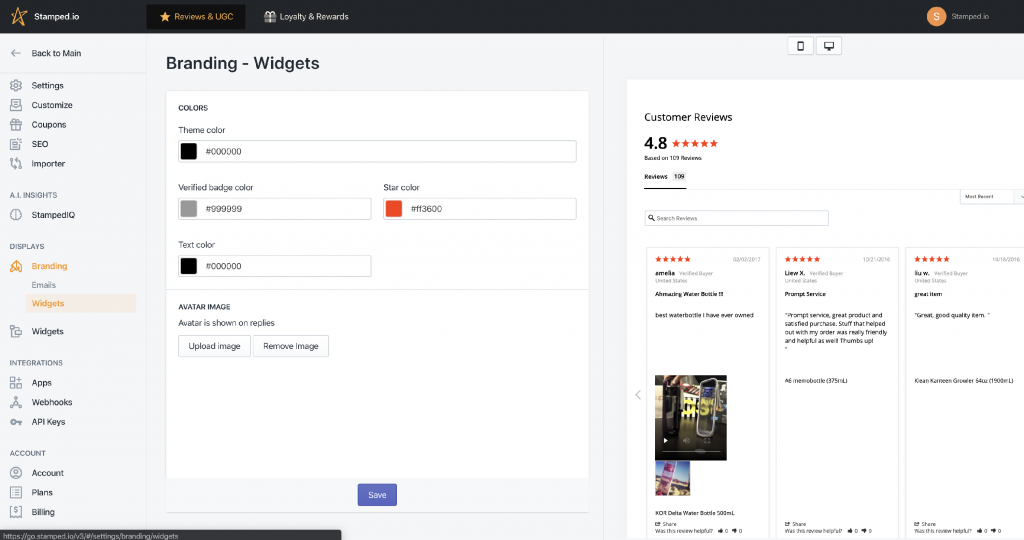 Features include:
Multi-lingual support – Available in English, French, German, and 15+ languages

Smart Reviews Banners

Google Shopping Reviews – Reviews on Product Listing Ads

Social reviews sharing – Go viral with positive reviews

Commenting – Public or private comment on reviews

100% customizable to fit your brand – Your own logo, colors, fonts, layout
Price: $23/month
Yotpo
Yotpo helps BigCommerce businesses generate tons of product and site reviews, photos, videos, Q&A and other user-generated content and use them to drive qualified traffic, increase conversion rate & boost sales. Yotpo's basic version is free, while premium features, outlined below, are available at additional cost.
Thousands of BigCommerce stores leverage Yotpo's quick and easy integration to increase trust and sales by leveraging social proof throughout the buyer journey. This powerful BigCommerce appas it provides the BigCommerce stores advanced solutions for Reviews, Loyalty, Referrals, SMS Marketing and more.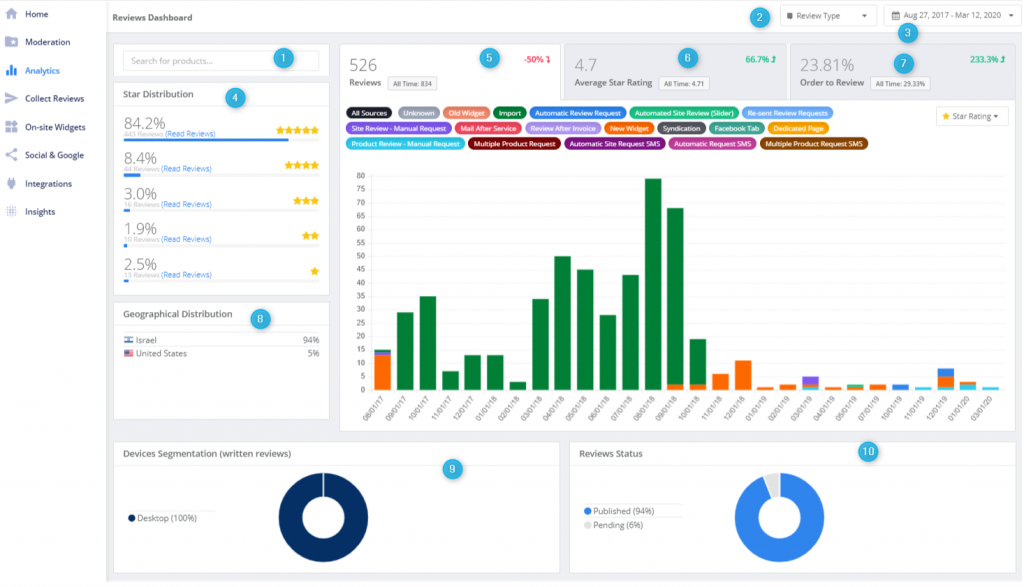 Features include:
Algorithms to show the right products to the right people

Commenting to create an engaged community

Marketing features including social media ads, review generation, retention, marketing, and SEO functionalities

Community Q&A

Reliable support system for those just starting out

Customer reviews can be generated easily from any device using in-mail forms
Prics: Flexible plans for small to enterprise businesses. Talk to us and choose the best solution for you.
Best BigCommerce seo plugins
FavSEO
FavSEO will enable store owners to edit, analyze and optimize the title and meta description of all the products, categories and pages at one place. It's a real time-saver and also helps big time with SEO. Among other benefits of using this BigCommerce app, you will be able to add your brand name or other important phrases and keywords to all the titles of your products, categories or pages.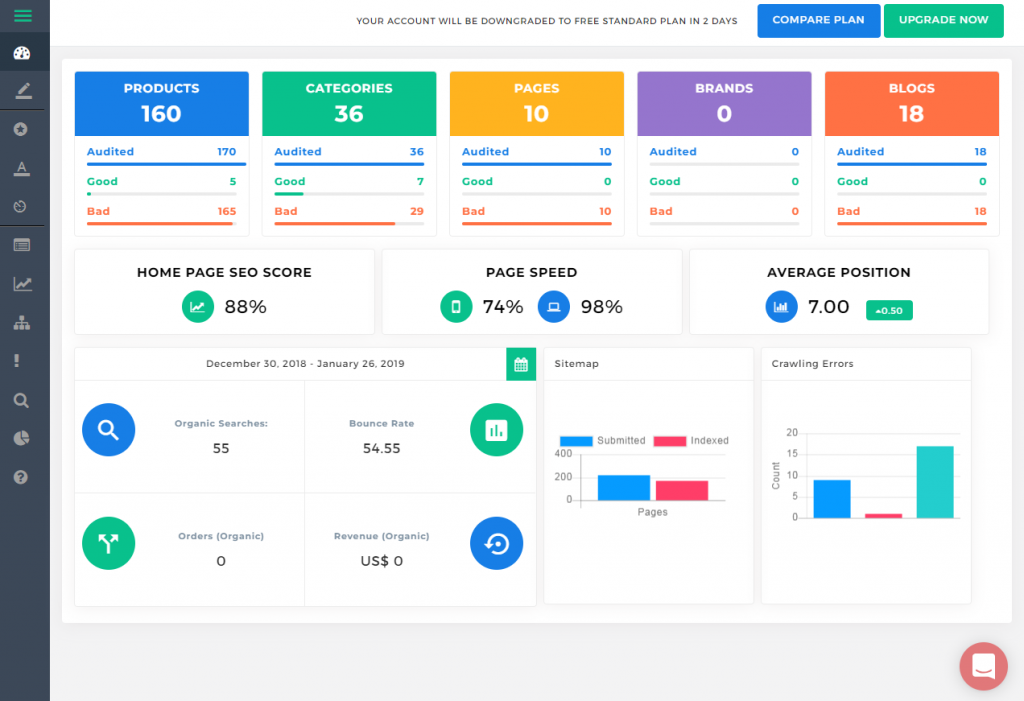 Features include:
Rank Tracker & Keyword Finder.

Title/Meta Description Editor. 

Sitemap Submitter.

SEO Audit.

Bulk Title Editor.
Price: $19.95/month
ProSEOTracker
ProSEOTracker is a new all-in-one BigCommerce app designed to help you enhance your store's SEO effectiveness and get you easily found on Google, Bing, Pinterest and other leading search engines. The app offers various features, including updating your store's metadata to optimize your on-page SEO, specifying keywords to check for SEO problems and fix these quickly, researching new keywords for your site via Keyword Planner, providing data of your SEO's performance position in Google search results, submitting your website's sitemap to leading search engines to enhance online traffic and so on.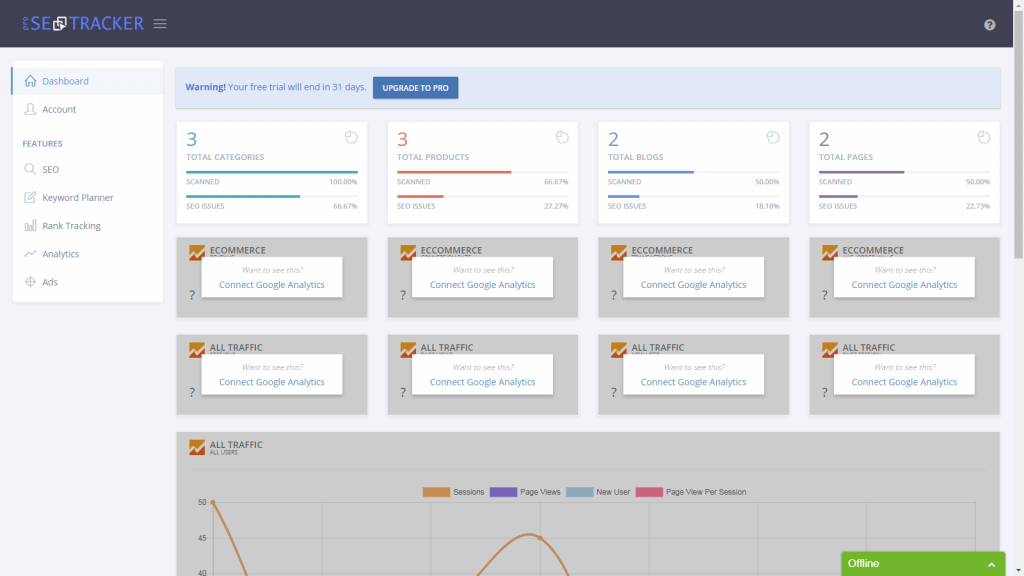 Features include:
Search Console and AdWords

Monitor Google Analytics

Optimize metadata

Content Optimization 

Blog Management 

Check SEO Issues

Research Keywords

Competitor Analysis
Price: $16.95/month
Best BigCommerce email marketing apps
Conversio
Conversio is one of the most advanced email marketing solutions for e-commerce websites. Not only does it have wonderful designs for its emails, but you can send out receipts, follow-ups, abandoned cart information, and regular old newsletters.
Another reason we like it so much is that you can get customer feedback by sending out emails and asking for them to fill out surveys or write product reviews on your website.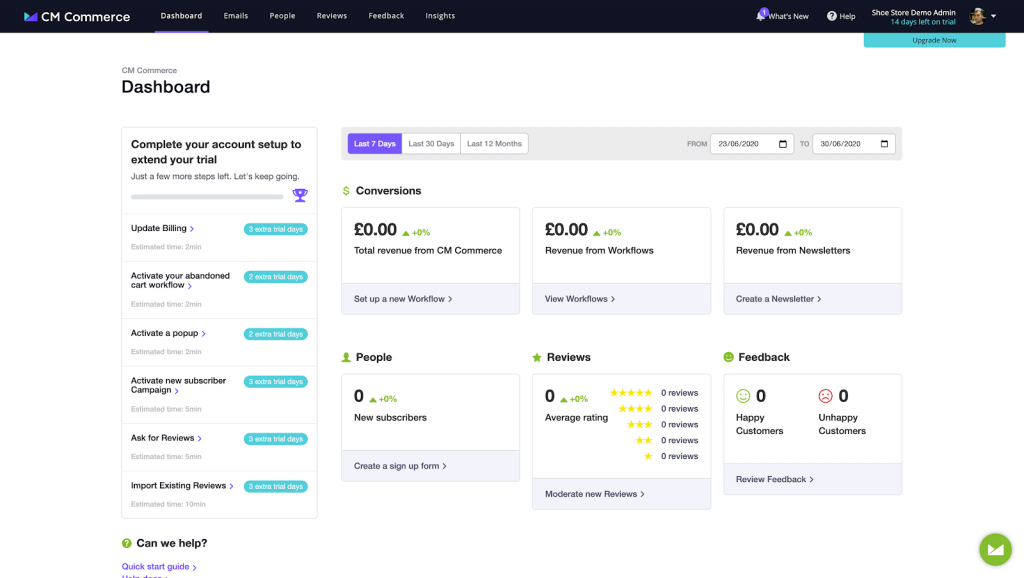 Features include:
Recipes for automation success

On-brand receipts

Visual Product Reviews

Easily set-up and start sending personalized emails to help you convert more.

Abandoned Cart Emails
Pricing: $9.00/month
Klaviyo
Klaviyo is an email marketing and automation platform, with built-in integration for BigCommerce users. Klaviyo  is an advanced BigCommerce app that offers enterprise level functionality without sacrificing speed.  It's made up of a suite of tools for sending, tracking, and automating marketing emails.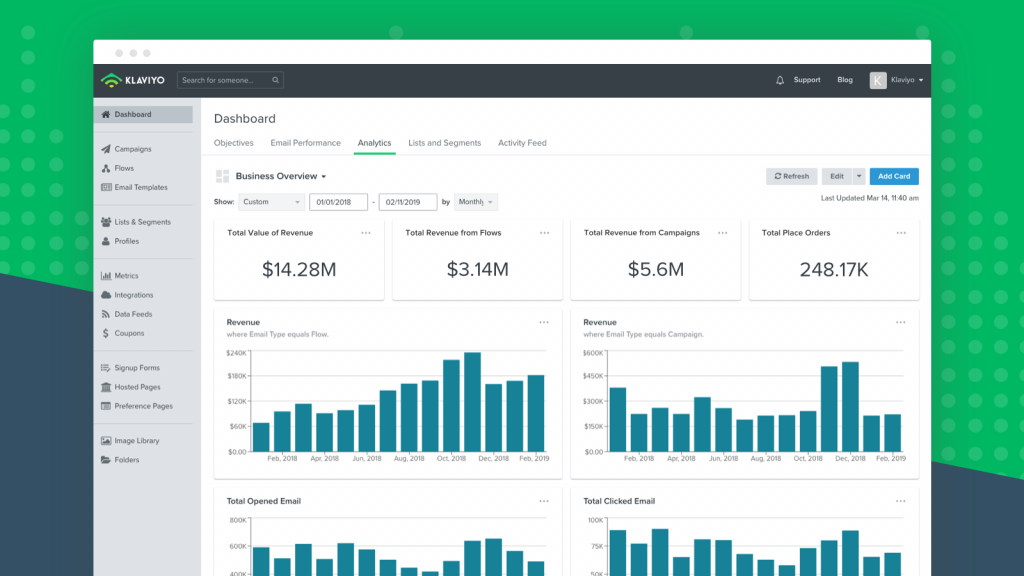 Features include:
Smart promotions based on customer behavior.

Lead capture forms and pop-ups

A/B split-testing.

Enterprise level targeting and segmentation.
Price: $20.00/month
Omnisend
This is the best BigCommerce app that makes email marketing easy. It provides you with automated workflows for everything from welcome emails to abandoned carts to order follow-ups, so you can encourage more sales — without lifting a finger.
And Omnisend gives you tools for collecting contact information as well, including a "Wheel of Fortune" feature that awards visitors with a prize in exchange for their email address. In addition to email, you can use Omnisend to reach potential customers through push notifications and SMS messages.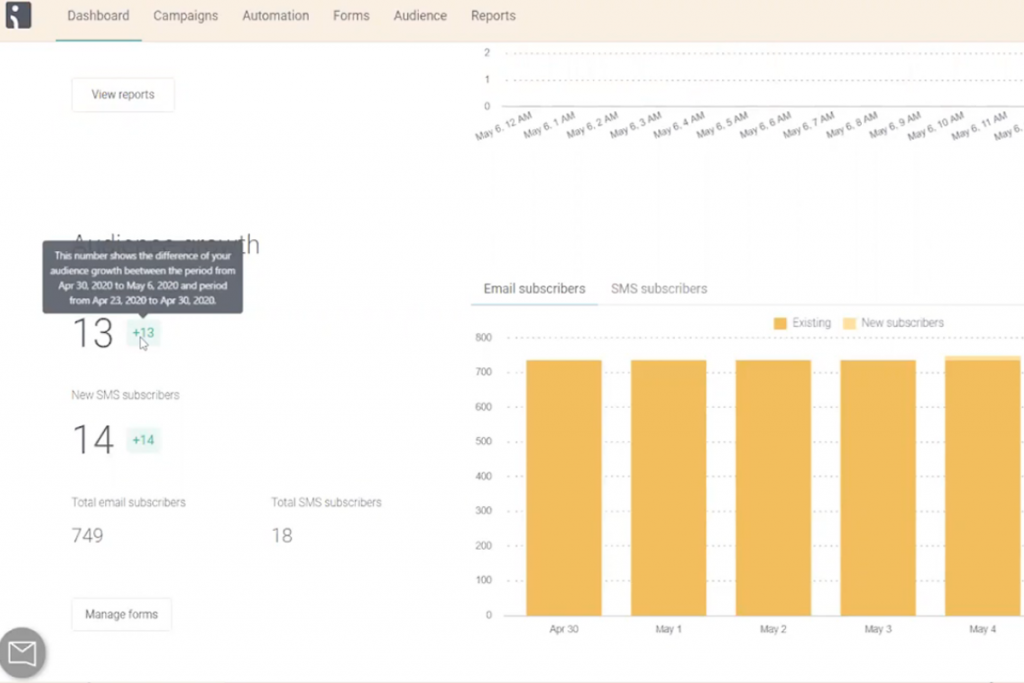 Features include:
Track & learn what's working best

rate on-brand, shoppable emails in no time

Purpose-built for nimble ecommerce businesses

Drive sales while you're sleeping

Capture & convert new subscribers

Fully leverage your customers data
Price: $16/month
Best BigCommerce shipping apps
ShipStation
ShipStation is a BigCommerce app was built to help you sell more, with built-in marketing tools and handy features like inventory control. We're here to help you after the order takes place: from customer communication to creating the label to making return labels. Spend less time shipping and more time selling by connecting your BigCommerce store to ShipStation for shipping and order fulfillment.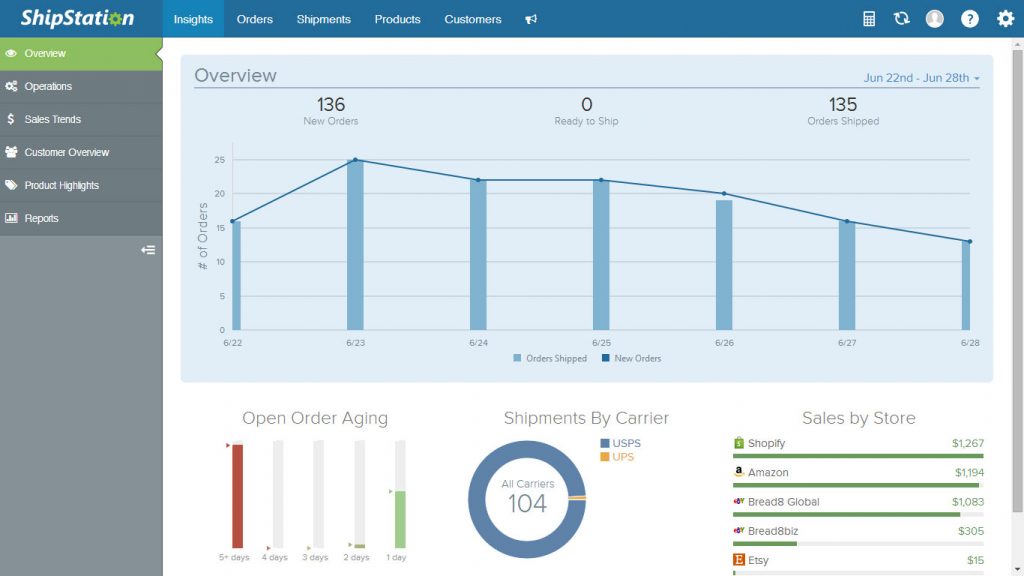 Features include:
Advanced Reporting

Email and Invoice Customization

Support for Multi-Package Orders

Tracking Updates

Multi-Warehouse

Order & Staff Notes

Requested Shipping Service

Product Information Import
Price: $9/month
ShipperHQ
Optimize your BigCommerce store's checkout experience with flexible shipping rates and delivery options from ShipperHQ. ShipperHQ one of the best Bigcommerce app that provides the world's #1 shipping rate management solution.
Whether you want to reduce cart abandonment, lower your shipping costs, offer international shipping, ShipperHQ gives you the power to tailor your shipping and checkout experience to the way you do business.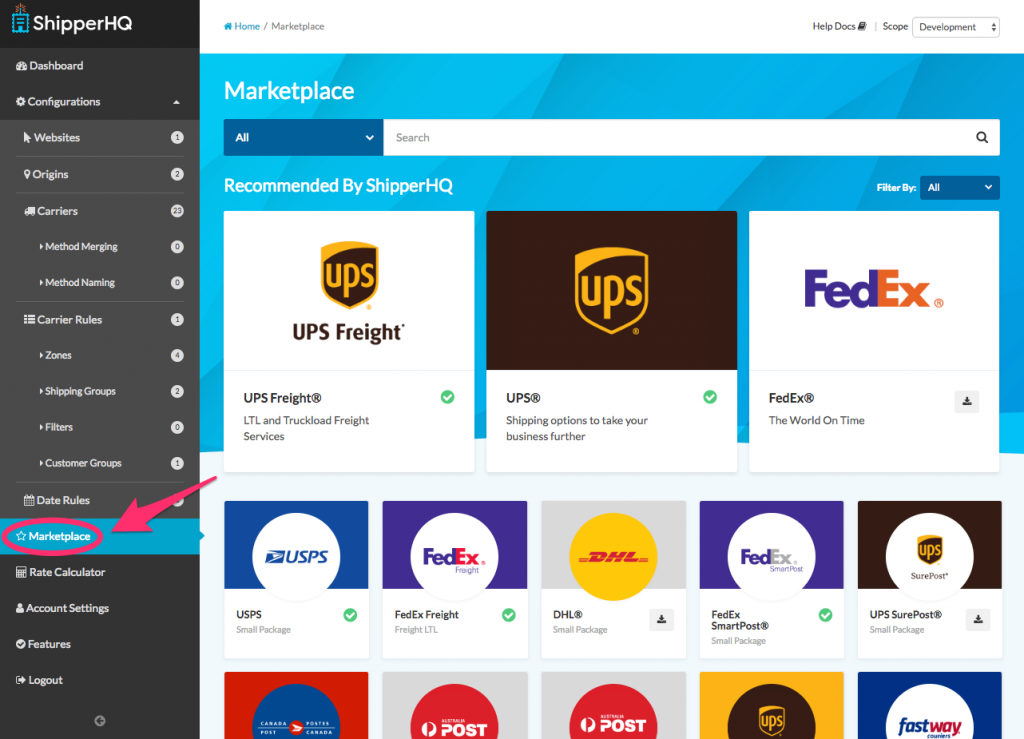 Features include:
Backup Carriers.

In-store Pickup.

Dimensional Packing.

LTL Freight.

Address Validation.

Delivery Date & Time.

Multi-Origin Shipping.
Price: $50/month
BigCommerce Multi Carrier Shipping Label App
BigCommerce Multi Carrier Shipping Label app is one of the best shipping solutions that let you display real-time carrier-calculated rates, print shipping labels in bulk, and automatically send tracking details right from your Bigcommerce Store dashboard.
The app seamlessly integrates with widely used carriers like FedEx, UPS, USPS, Canada Post, etc, and completely automates the shipping process.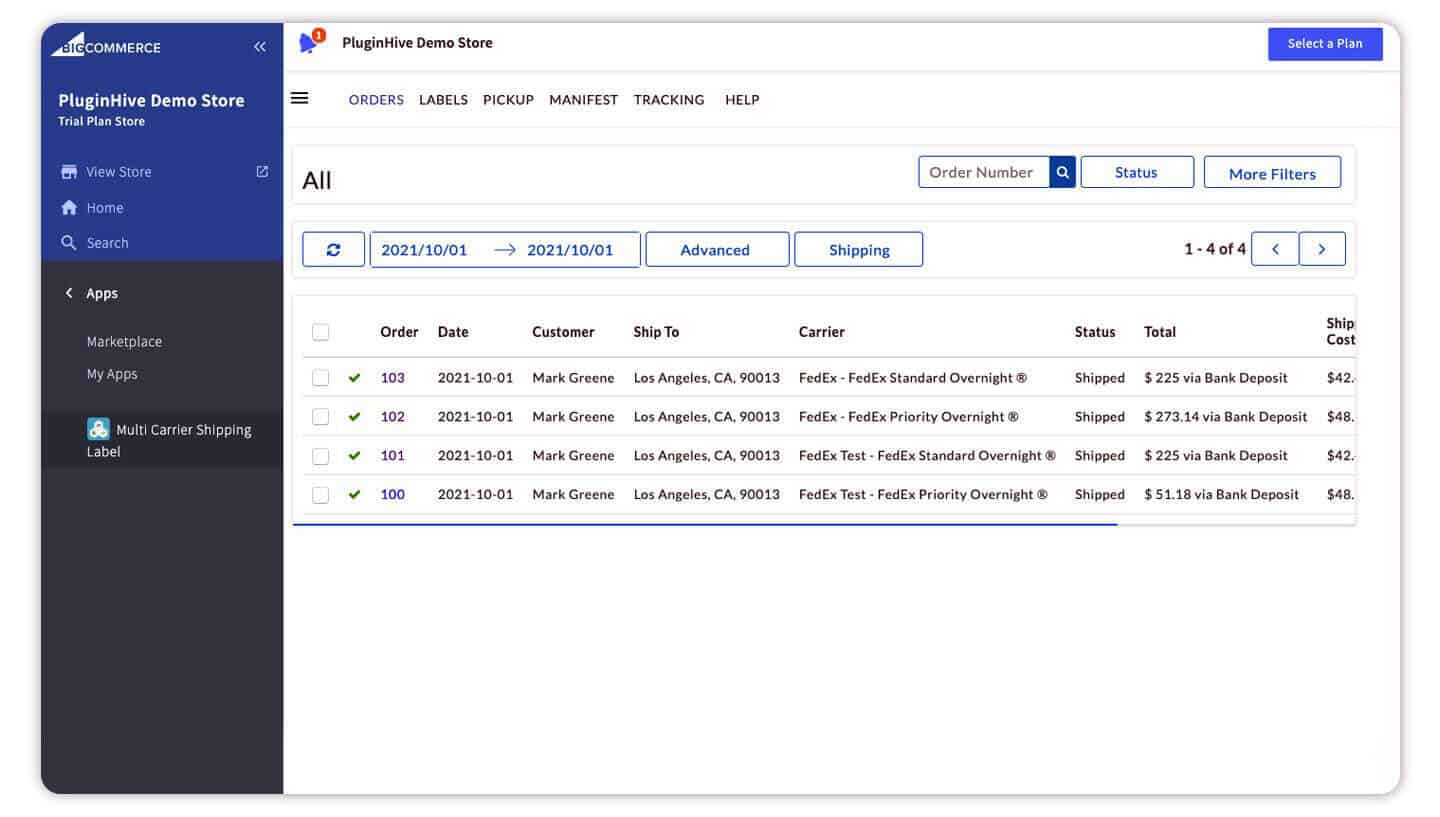 Features included:
Supports 30+ carriers to ship your orders worldwide
Automatically choose the cheapest shipping services
Estimated delivery date on checkout
Carrier pickup request and manifest
Multiple parcel packing methods
Shipping cost adjustment for BigCommerce shipments
Domestic and International Shipping for BigCommerce
Price: starts at $9/ month
Best BigCommerce security apps
Rewind
Rewind is a leading BigCommerce app that gives BigCommerce store owners peace of mind by automatically backing up your most important store data, including products, product details, product images, themes, customers, orders, and more.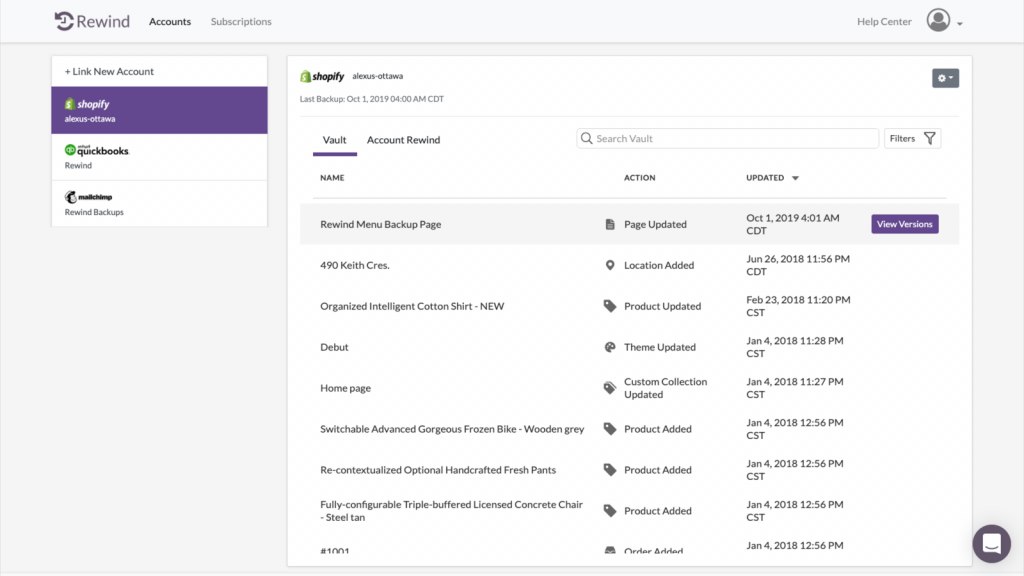 Features include:
Restore Data in Minutes

Completely Secure & GDPR Compliant

The Only Way To Automatically Backup Your Store
Price: $3 USD / month
Signifyd
Signifyd solves the challenges that growing eCommerce businesses persistently face: billions of dollars lost in chargebacks, customer dissatisfaction from mistaken declines, and operational costs due to tedious, manual transaction investigation.

Features include:
Configure order workflows based on Signifyd's guarantee decision

Quickly access the Signifyd Console From the BigCommerce Control Panel

Automatically send orders to Signifyd for fraud protection
Price: Contact Signifyd to obtain current pricing.
Your pick, your call
BigCommerce apps are ideal for ecommerce stores looking to convert more customers, decrease time-consuming tasks, and save money by avoiding developer help. However, the right BigCommerce apps to increase sales and conversions boil down to who your audience is, what kind of store you have, and what capabilities you're currently using.
Putler is an all-in-one app for complete reporting as well as insights solution for your BigCommerce store. It helps to monitor your data with useful eCommerce reports and provides you growth insights that help grow your business. Do try the Putler BigCommerce app and have better control of your business and growth today.
Try Putler for free for 14 days