For the right kind of online store, there is no end to opportunities. We have already witnessed this in the case of Amazon. Starting as an online book delivery service, this e-Commerce giant is now selling everything online, be it technology, household items, or apparel. With multiple stores and effective management, Amazon managed to soar to unprecedented heights.
If you're a BigCommerce store owner and dream the same, here is the good news. You can also set up multiple storefronts using one BigCommerce store. Wondering how? Scroll down to know more about it.

What are BigCommerce Multiple Stores?
BigCommerce is a name to bank upon for e-Commerce industry players. The platform provides e-commerce building software as a service.
Because of its unmatched features and facilities, the platform is now the first choice of many online store owners. BigCommerce multiple stores is one feature that empowers online retailers by allowing them to have more than one online store from a single account and platform.
Can you have multiple stores on BigCommerce?
Yes, you can have multiple stores on BigCommerce with its Multiple Storefronts features. This feature permits BigCommerce store owners to have a single account for multiple stores. There is no need to use multiple credentials for different stores.
How to set up BigCommerce Multiple Stores?
Setting-up multiple BigCommerce stores is possible for Enterprise plan subscribers and via the WordPress plugin. To start the set-up, you need to have an API account that will allow integrating one or more WordPress platforms.
Here are the steps to flow to set up the BigCommerce multiple stores:
Open the BigCommerce store and go to Advanced Settings>Store API Accounts> Create API account.

Once you reach the Create API Account section, you will be able to see a pop-up window. Provide the asked API account details and define OAuth Scopes. You have to select 'none' for 'Checkout Content' and 'login' for 'Customer Login'. For the rest of the settings, you have to select 'Modify'. Save all the provided details.

In the new pop-up window, you will be able to see Access Token, Client ID, and Client Secret. These details are useful for the WordPress set. During this process, a .txt file will be downloaded as well. Save it for future use.

Now, go to your WordPress account and select BigCommerce > Enter your API credentials.
Provide the details for Base API Path, Client ID, Client Secret, and Access Token.
Now, select "Connect Using API Credentials. Doing so will allow the BigCommerce store to connect with the WordPress site.
Advantages of having BigCommerce multiple stores
Wondering why to own multiple BigCommerce stores? Well, have a look at the key advantages that come along with this practice.
Improve Customer Experience
With multiple stores, you allow your customers to have a chance to get everything they need over one platform. They don't have to switch platforms for different needs.
Globalization ability
With multiple BigCommerce stores, it's possible to have availability at different locations. e-Commerce retailers aiming at the global market will be able to make it happen by setting BigCommerce multiple stores with different currency, payment gateways, and time zone compatibility is possible.
Exploring new markets
With multiple stores, you have to cater to different markets and find out which one provides more optimized facilities.
Multi-brand stores
You can have more than one multi-brand store under one key store. This is a great opportunity for online stores seeking more selling opportunities.
Improve SEO
BigCommerce multiple store pages will allow store owners to rank multiple location pages using the same search query as pages are on different forms. It improves the SEO ranking and makes the store more optimized.
Scalability
If you're a global brand seeking a global presence, it's possible with multiple BigCommerce stores. Such stores can set up location-based online stores and scale the store easily.
Cost-effectiveness
Instead of owning different stores for different locations with different subscriptions. BigCommerce multiple stores make it happen with one subscription. Hence, more savings are on your way.
Disadvantages of having BigCommerce multiple stores
Despite the multiple and impressive benefits, this functionality isn't unblemished. Here are some obvious drawbacks that one might experience with many BigCommerce stores.
Difficulty in updating information
The more stores you have to manage, the more data/information you will have. Handling, updating, and managing such a huge pile of data isn't an easy job. It can become a tedious job for many.
Duplicate catalog and content
BigCommerce multiple store reporting demands separate report generation for different stores. There is no unified data processing. This often causes data duplication in catalogs and content.
Expensive
Even though the feature sets you free from the need to pay a different subscription fee for different stores, it's still a costly affair. It's only available for Enterprise plan subscribers at a customized cost, which is not very economical – considering that the PRO plan is priced at $299.95/month.
Data Management
For the same reason, data abundance, and data management becomes tough for everyone. It takes a lot of effort to sort, filter, and analyze the data.
Multi-store marketing
Even if you get rid of having different owner accounts for many BigCommerce stores, you still have to have a distinct marketing strategy. This is too much hard work to do.
How to monitor BigCommerce multiple stores in a single place?
Sadly, BigCommerce's multiple storefronts doesn't provide a unified way to track the data and monitor the performance of the distinct store.
However, you can take the help of third-party apps and tools that gather all store-wise data, analyze it, and present you in a crisp and understandable form via Dashboard. There are many such apps offered. They are plug-and-play tools with great functionalities.
Apps for Managing BigCommerce Multiple Stores
It's hard to deny the fact that managing multiple BigCommerce stores isn't an easy job. it demands never-ending attention and information access. Manually, it seems impossible. Automatically, it's possible with the help of the below-mentioned apps/tools.
Multiorders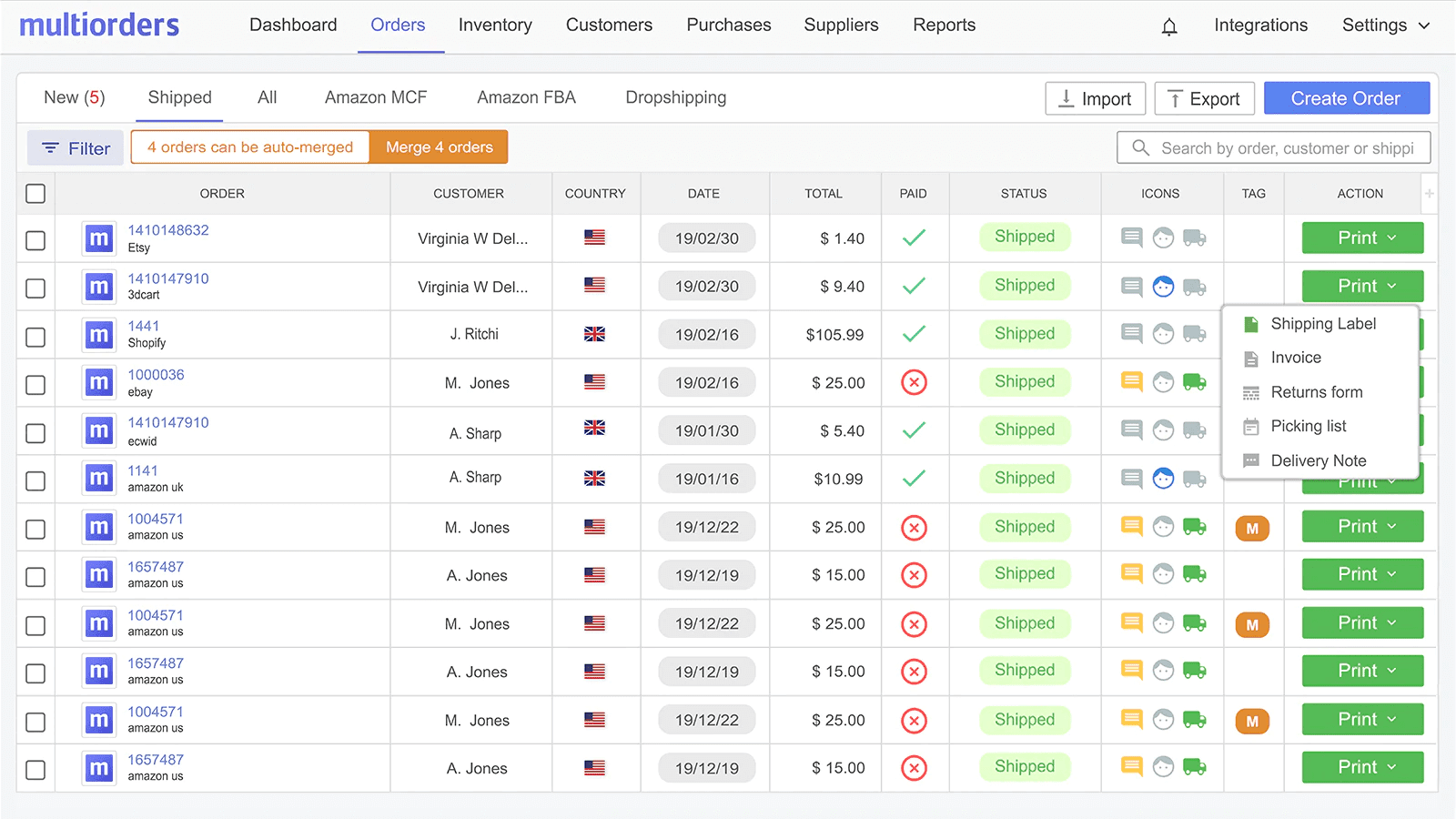 Multiorders is an advanced BigCommerce store management tool that can automate sales, reporting, orders, and inventory in one go. It features an intuitive dashboard to keep you updated with the data from all these platforms.
It brings all your BigCommerce-based marketplaces to one platform, automates the data capture process, and creates data-driven reports. All in all, it's worth a try if you seek accurate and real-time BigCommerce multi-store management.
Putler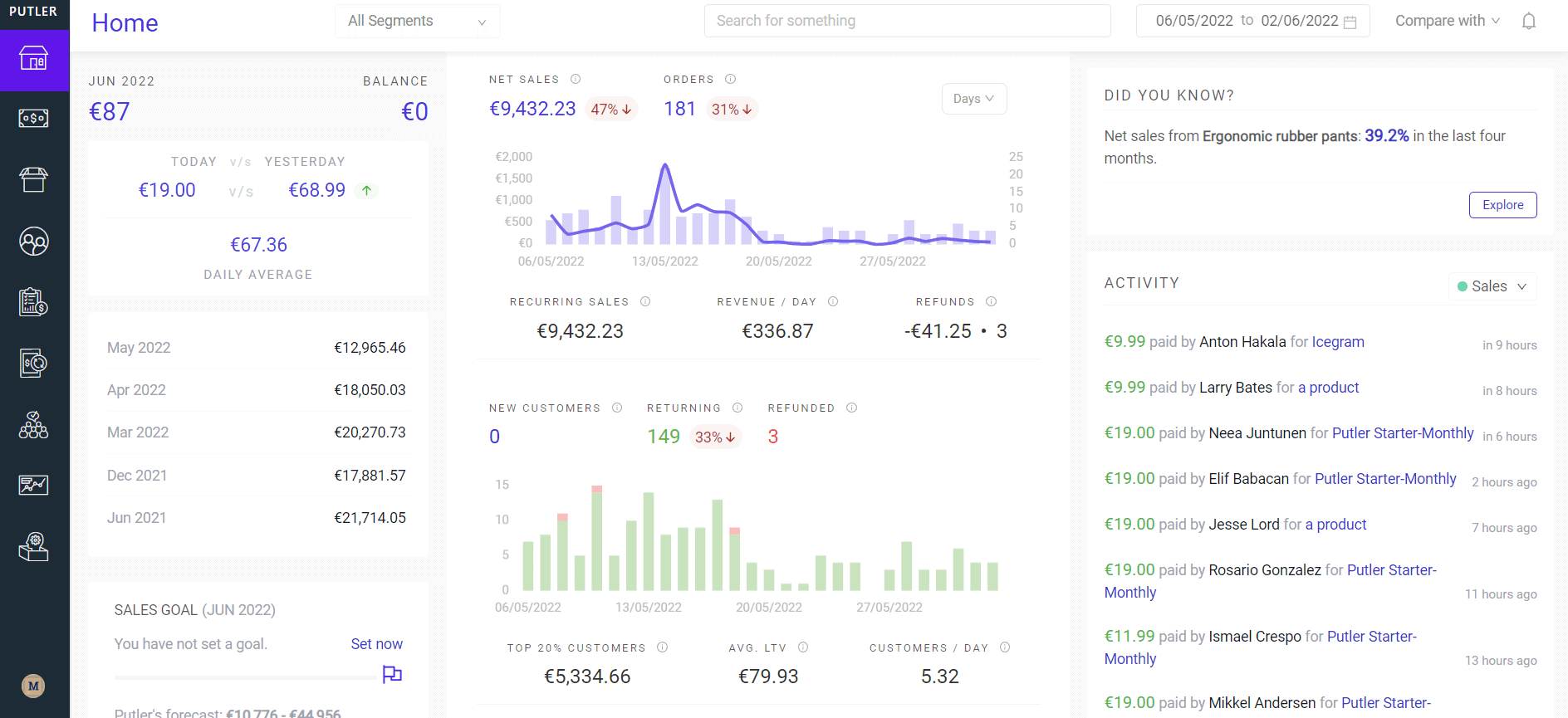 It's hard to match what Putler offers when it comes to BigCommerce multi-store management. The tool is an AI-driven BigCommerce insights and data analytics app that every BigCommerce store owner should try. It effortlessly integrates order, payment, sales, marketing, and CRM of multiple BigCommerce stores and gathers relevant data in one place. When you have all the data stored, analysis and making sense of it becomes easier than before.
Putler is one of the best and most result-driven plugins that every BigCommerce store owner must have to manage multiple stores effortlessly.
SKULabs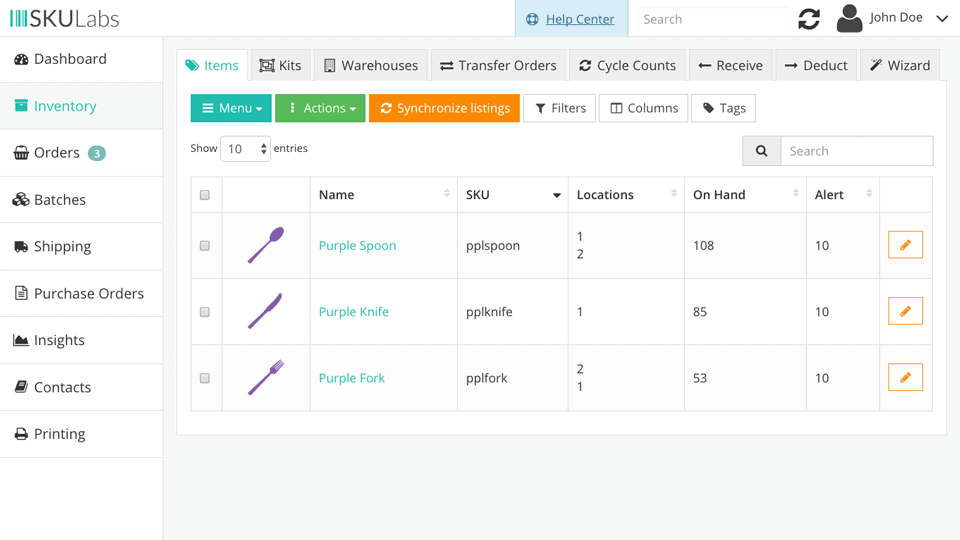 Trusted by many online stores, SKULabs is a highly advanced multiple store order and inventory management tool that can do real-time data tracking. It lets you compare the shipping rate for all of your stores and select the best one. For all your stores, you can even create labels in one go. Its accuracy is something to vouch for.
Advantages Of Using Putler For Your BigCommerce Multiple Stores
While all the above tools have their pros and cons. In this article, I will explain what makes Putler a must-have for every BigCommerce store owners that owns multiple BigCommerce stores.
Putler is here to fix the problem of lack of aggregated data accuracy while handling multiple store data. BigCommerce multiple store reporting asks for separate store data capture and analysis, which is too much extra work. Putler, using the advanced AI and algorithm, connects all the data and makes reporting easy. That's not the only perk you enjoy as its prestigious customers. There are many.
All your BigCommerce stores in one place
Whether you own two BigCommerce stores or many, Putler will bring all of them to one place. Its intuitive dashboard presents a crisp overview of all your BigCommerce stores. You can even create separate folders for the different data types. Basically, everything remains sorted.
Data filtering
You can even set the filters to refine the search a bit more. Data can be filtered based on customer role, location, store type, data resource, and many more.
Quick search
There is a quick search facility offered by Putler. Powered by responsive AI, this search feature will help you access desired data from the extensive database.
Interesting insights
Putler is capable of capturing interesting insights like lost customers, recurring customers, customers on the verge of churn, product trends, best time to sell, best upsells and many more. When it comes to knowing the customer in a better way, you have the help of name, email, addresses, and many more details captured in real-time. It effortlessly integrates with Google Analytics and captures data from multiple resources as well.
Handles multiple time zones, currencies
Do you have multiple BigCommerce stores operational in different time zones and currencies? Don't fret. Putler is capable of doing real-time currency conversion and creating dedicated support for all kinds of payment gateways. The currency conversion is quick and accurate.
Conclusion
It seems a great idea to have multiple BigCommerce stores as it expands revenue capabilities. However, their management is tedious. With an advanced multi-store management tool like Putler, it's possible to have a unified data exchange platform for all your BigCommerce multi-stores. It can capture data related to orders, CRM, and many more with full accuracy. With its aid, online retailers can dream big and effectively manage multiple BigCommerce stores.
FAQs
Can I have multiple stores on BigCommerce?
Yes, it's possible to own multiple storefronts using one key BigCommerce store using the MSF or Multiple Storefront functionality. The feature allows BigCommerce store owners to create different stores having distinct features, domain names, themes, categories, and product lines. The feature is only available with the Enterprise plan of BigCommerce.
How many stores can you have on BigCommerce?
One can create only 5 native storefronts of 15 headless storefronts with one BigCommerce store. Even if the number is not too much, management of these stores is itself a challenge to overcome.
Can I manage two stores using one account?
Yes, you can entirely manage two or more BigCommerce stores using a single account. The prime aim of the Multiple Storefront feature of BigCommerce is to have a unified identity for all the stores so that management becomes easier than before.