You may have used PayPal for online transactions. And may have also purchased products from Amazon. So does Amazon accept PayPal?
If yes, then how. And if not, then why. Are there any alternatives? Let's find out.

So can you use PayPal on Amazon? No, not directly
The most popular payment gateway and the world's largest online retailer, it is obvious for this question to pop up – "Can You Use PayPal on Amazon?"
The simple answer to this question is no, you cannot use PayPal on Amazon.
Amazon does not accept PayPal as a direct payment method for purchases. However, this does not mean that you cannot use PayPal to buy products on Amazon.
As per the PayPal article, you can use your PayPal Business Debit Mastercard or PayPal Debit Card to make payments on Amazon.
There are other alternatives as well to use PayPal on Amazon. But before that, let's see why Amazon does not accept PayPal.
Why doesn't Amazon accept PayPal?
While Amazon and PayPal are both major players in the online shopping world, they are also competitors in some ways.
Amazon is a direct competitor of PayPal's parent company, eBay. In 2002, eBay purchased PayPal, and since then, PayPal has been the primary payment method for eBay transactions.
Because of the competitive nature between Amazon and eBay, Amazon has opted to not accept PayPal as a payment method. Instead, Amazon offers its own payment system, Amazon Pay, which allows users to make purchases using their Amazon account.
Actually, Amazon Pay is designed to compete with PayPal and other payment providers.
By not accepting PayPal on its own site, Amazon can promote its own payment service and encourage more customers to use it.
How to use PayPal on Amazon – Alternative ways
There are some workarounds you can use if you have a PayPal account and want to make a purchase on Amazon.
The first option is to link your PayPal account to a debit or credit card.
PayPal Cash Card
The PayPal Cash Card is a prepaid card that you can load with money from your PayPal account. You can use this card like a regular debit card to make purchases on Amazon.
Since it's a debit card, not a credit card, you need to have a balance on your PayPal account to use a PayPal Cash Card.
Once you've linked your card to your PayPal account, you can use it to make a purchase on Amazon.
Add your items to your Amazon cart and proceed to checkout. On the payment method screen, select the option to pay with a debit card and enter the information for the card linked to your PayPal account.
Funds transfer
Transfer funds from your PayPal account to your bank account and then use your bank account to make a purchase on Amazon. Here are the steps to transfer funds from your PayPal account to your bank account:
Log in to your PayPal account.
Click on "Wallet" at the top of the page.
Click "Transfer Money."
Choose "Transfer to your bank" and follow the prompts to complete the transfer.
Once the funds have been transferred to your bank account, you can use your bank account to make a purchase on Amazon.
Gift cards
There are third-party services that allow you to use PayPal on Amazon. These services act as a middleman between your PayPal account and Amazon.
Some popular third-party services include eGifter, Gyft, and RewardsPay.
These services allow you to buy Amazon gift cards using your PayPal account, which you can then use to make purchases on Amazon.
PayPal Key
PayPal Key is a good option as you don't have to wait for a plastic card to arrive in the mail.
You'll see a virtual card number that can be used online. This can be used as long as the merchant accepts Mastercard.
The biggest drawback is that PayPal Key is not available to all PayPal account holders. And in fact, it has been discontinued as per this video.
How to monitor multiple PayPal and Amazon accounts from one place?
If you have multiple PayPal accounts or multiple Amazon accounts or either of them, you need to go through individual accounts to monitor data.
This is quite frustrating and time-consuming. The data may also not be accurate and real-time.
All that changes when you use Putler.
Putler allows you to connect all your PayPal and Amazon accounts and get analytics and growth insights at one place.
You can view combined reports of all data sources as well as individual data sources, all in real-time and without duplicates.
These reports help you identify what's actually working for your business, helping you design your marketing campaigns.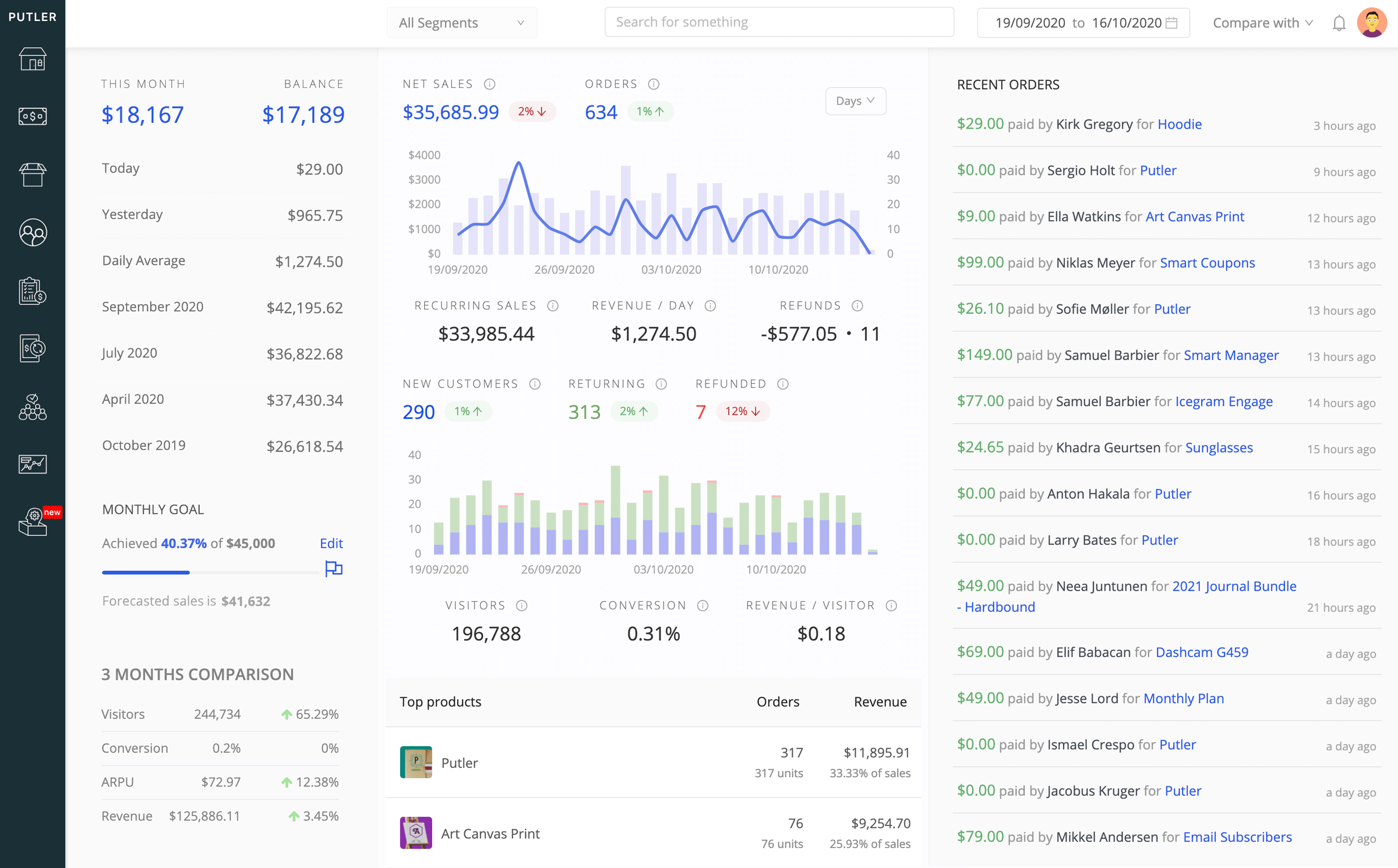 Get access to 150+ metrics that tells you:
Gross and net sales, along with taxes and fees
Orders placed and refunds
Which products are sold the most, which products do not sell
Complete details of each product – quantity sold, refunds, revenue…
Heatmap to spot the best and worst time sales happen on your website
Frequently bought together products
Who are your best customers
How many returning customers
Complete details of each customer – what products they purchase, their website details, social profiles…
What keywords and channels bring the most traffic to your site
Your top landing pages
Sales forecast
Conclusion
While you can't use PayPal directly on Amazon, there are workarounds but they have their own charges.
Regardless of which method you choose, you can rest assured that making payments on Amazon is safe, secure, and designed to protect your privacy and security.
And if you are looking to grow your Amazon business, Putler is a great choice you will make today. It's risk-free and also has a free trial.