Have you ever wondered how the entire ecosystem of digital payments work? Or have you wondered who should be your goto for anything payments? That said, with all the conversations about digital payments, we are sure that you must have come across the brand 'PayPal'. Here's a little something you must know!
While there exists a number of digital payments service providers, PayPal is known to be the industry leader. The secret to its pedigree is high-tech technology and an excellent financial management system in place. PayPal has over 3 million customers worldwide. These fascinating numbers speak for itself.
Now that you know what PayPal is, allow us to introduce some PayPal analytics tools to make it the best experience for you!
| Features | Putler | ChartMogul | Pabbly | Databox | MRR.io | Fusebill | Chargebee | Chargify | Recurly | Cheddar | ProfitWell |
| --- | --- | --- | --- | --- | --- | --- | --- | --- | --- | --- | --- |
| Monthly Price of the most popular plan | Growth $50 | Scale $100 | Pro $29 | Plus $99 | Pro $19/mo | Growth $995/Mo | Scale USD 599/Mo | Scale USD 299/Mo | Core $99/Mo | $99/Mo | Custom Pricing |
| Issue refunds | Yes | No | No | No | No | No | Yes | Yes | Yes | Yes | No |
| Supports subscriptions/recurring payments | Yes | Yes | Yes | No | Yes | Yes | Yes | Yes | Yes | Yes | Yes |
| Inbound and Outbound API | Yes | Yes | Yes | Yes | No | Yes | No | No | No | No | No |
| Growth Recommendations | Yes | No | No | Yes | No | Yes | No | No | Yes | No | Yes |
| Email Support | Yes | Yes | No | Yes | Yes | No | No | No | No | No | Yes |
Digging deeper into each tool.
ChartMogul
Quiet commonly known as one of the most powerful PayPal analytics tools, ChartMogul is designed to automate all the key metrics that a user basically needs when it comes to efficient tracking.
The best part about this analytics tool for PayPal (just like Putler) is that it provides all the numbers in real-time, helping the user to stay updated while assisting them with easy calculations.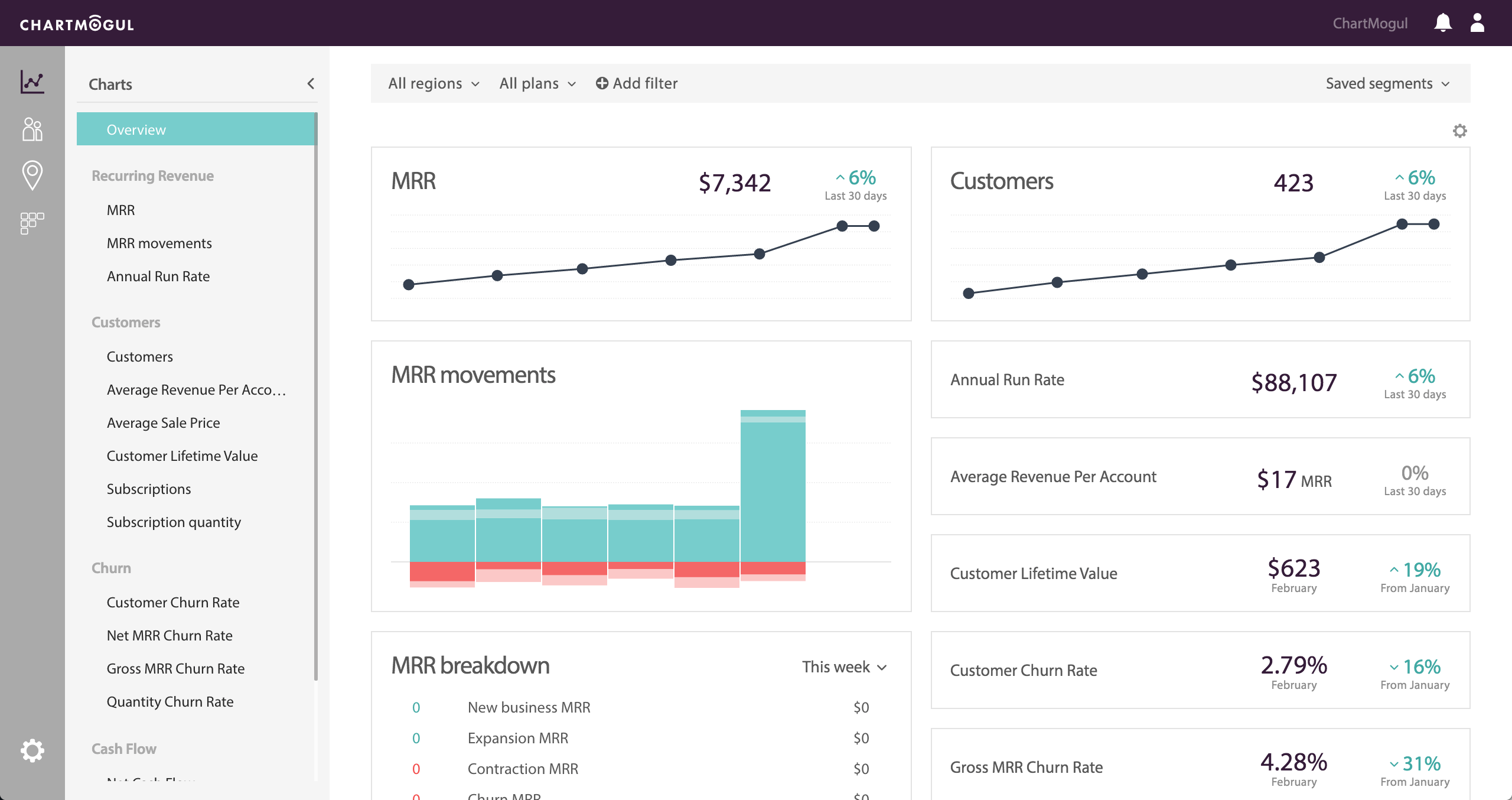 Key Features
Easy integration: ChartMogul has a quick integration process which saves upon the users time, effort and waiting tenure
Real-time metric calculations: As mentioned above, ChartMogul calculates lots of metrics like churn rate, lifetime value etc. automatically
Data filtration: ChartMogul allows you to take a look at a specific set of audience by its filter option
Pricing for ChartMogul
Launch Plan: This is a free plan for revenue which are less than $10,000 per month. That said, it grants access to all metrics and APIs
Scale Plan: This plan costs $100 a month and is a benefit if you have want to create custom charts and need email support
Volume Plan: Costing $2000 a month this plan is for enterprise levels where you get a guided onboarding and a dedicated CSM throughout
Putler
Putler is an analytics software tool that can help you have an overview through a proper graphical presentation.
It covers most of the important metrics that are needed to be seen for the long term growth of any business.
Using this PayPal Analytics tool, you take a number of business-centric decisions like sales, refunds etc. which directly affects the stability of your business.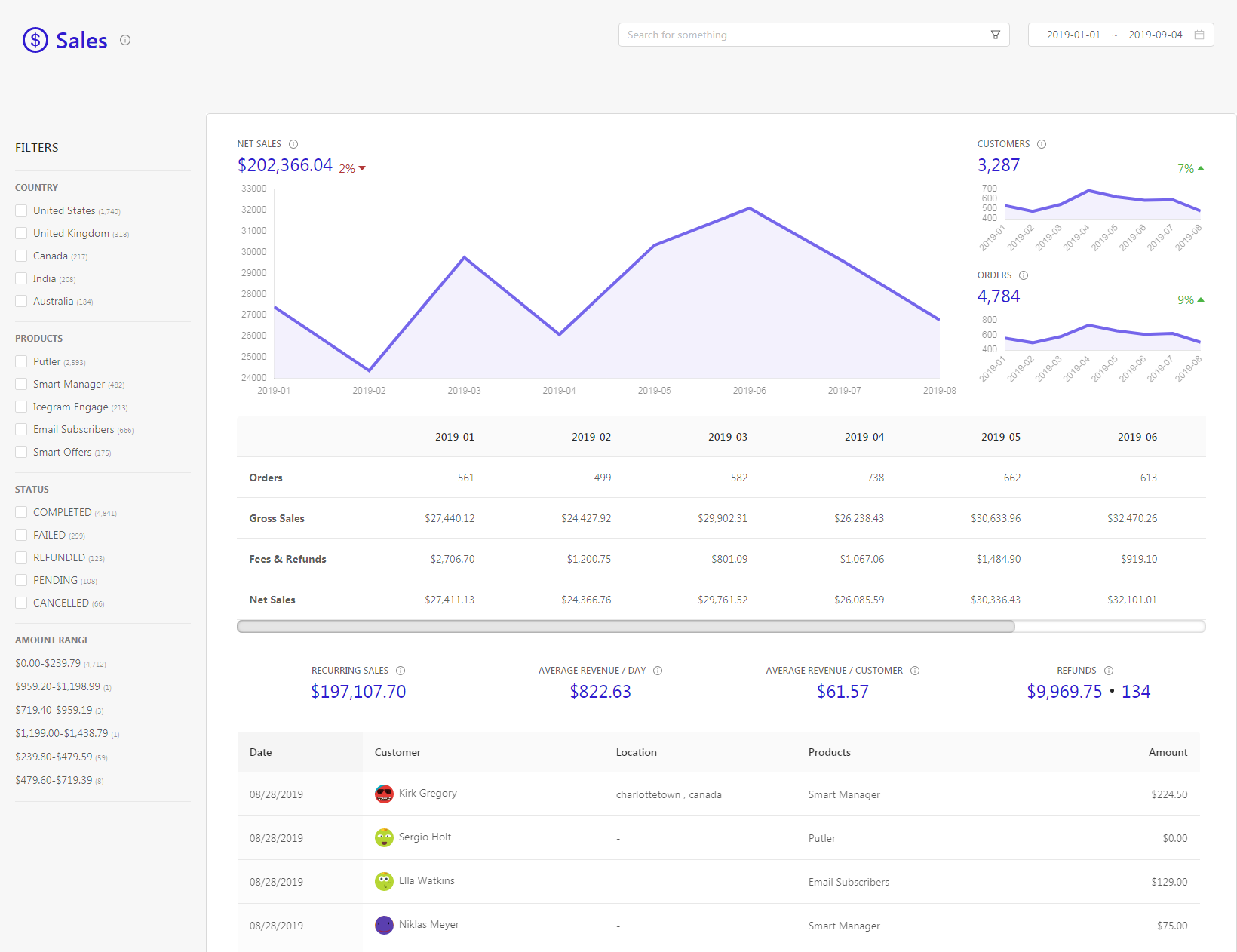 Key Features
Easy sharing and reporting: Putler allows users to share reports within the team in a hassle-free manner. To add to this, it automatically generates reports on a weekly basis and sends it directly to you. In the long run, making whole of your work, easy
Customer segmentation: Putler helps segmenting your customers within minutes. You can either use the ready made RFM and segment your customers into 11 different segments like loyal, hibernating etc. (based on your users' behaviour) or you can use custom segmentation.For example, with Putler, you can easily create a segment of customers who purchased a product named 'A' from the UK and the same product from USA in past 3 months
Instant refund: When it comes to quickest refunds in case of payments errors, Putler is the tool that can help you issue them at a lightning speed

Direct integrations: Putler can easily integrate with PayPal, Google Analytics, Braintree, Shopify, WooCommerce, eBay and a lot more in a matter of minutes. Furthermore, it has four dashboards which are main dashboard, sales dashboard, customer dashboard and subscription dashboard.
Pricing for Putler
Starter plan – $20/mo
Growth plan – starts at $50/mo
Pabbly
One of the most affordable tools for any level of the user is Pabbly. It helps with PayPal reports and provides best in class service along with a number of awesome features.
This PayPal analytics tool brings along a number of features like advanced reporting, customer management and retention, powerful API etc.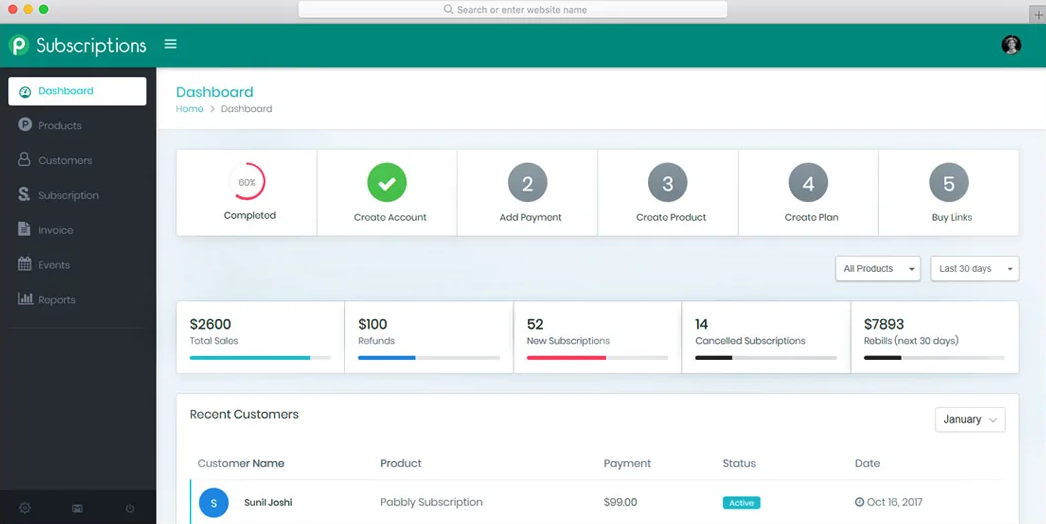 Key Features
Self-explanatory reports: Pabbly helps a user with a detailed reporting and further assist them in analyzing business factors like the number of new and active customers, net revenue etc.
Ease of integration: You can easily choose to integrate a number of your third-party applications to automate and manage different aspects of your business needs
Touches the sales side of the business: This PayPal analytics tool allows you to monitor various things like sales, subscriptions, refunds right from one dashboard, hence simplifying things for you
Pricing for Pabbly
Starter Plan: This is the most basic plan that Pabbly offers. Costing at $9 per month, with this plan you can manage 50 customers and include all that Pabbly has to offer
Rookie Plan: This plan costs $17 for a month and helps you manage up to 100 customers
Pro Plan: Best suited for mid-level companies, this plan costs $29 a month while allowing you to manage 150 customers and helping you enjoy all of the Pabbly features
Advance Plan: Designed for big enterprises, this plan allows you to customize itself. You can choose the approximate number of customers you would like to manage and accordingly this PayPal analytics tool will show you the best price
Databox
Databox is a great Paypal analytics software that's simple to use. This PayPal analytics tool helps you bring data from your Excel sheet and cloud applications together at one commonplace within a span of a few minutes.
Its easy integration is well suited for beginners. With this PayPal tool, you can also know what are the top products and services that are purchased and preferred by your customers.
Key Features
Self-designed dashboard feature: With Databox, a user create his/her own unique dashboard by adding the key metrics you would like to keep a watch on. The best part here is, this can be done even if you do not have coding skills in place
Goal setting and easy tracking: This PayPal analytics tool allows a user to easily track the progress of their business, set goals and targets and do more.
Ease of use: Dropbox has a drag and drop functionality that helps ease the entire process of creating a dashboard to simplify the reports
Pricing for Databox
Free Plan: You can use this PayPal analytics tool for free throughout the lifetime but can have accessibility to only 3 dashboards
Basic Plan: Charged at $49 per month, this plan allows the facility to 10 users and data updates on an hourly basis. With it, it gets all the other features for users
Plus Plan: This plan costs $99 per month and covers all that basic plan covers. What differs is SQL and database integrations, query builder etc.
Business Plan: Like the other PayPal analytics tool, this tool also has a version for enterprises. Charged at $248 a month, it allows 20 users while helping branding and security features for your business.
MRR.io
MRR.io is a useful tool for payment analytics because it keeps a track of your MRR, irrespective of the payment processor. It supports various payment gateways such as Stripe, Authorize.net, PayPal, etc.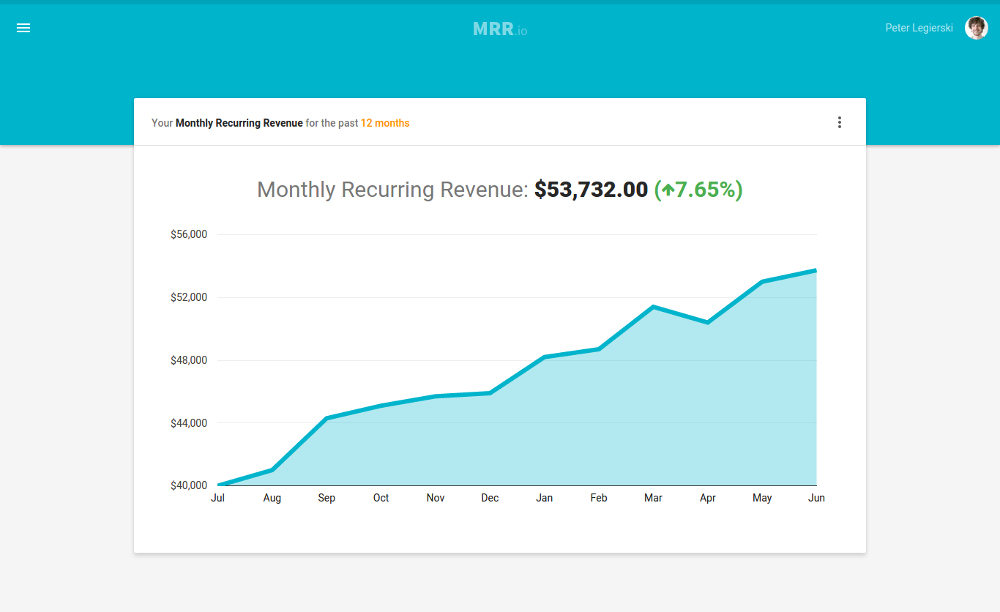 Key Features
It is having an email reports feature in which every alert of business can be received via email.
The data can be entered through API as well as manually within the app. For this, payment processors can be Recurly, Chargebee, Salesforce, PayPal, etc.
It also allows you to analyze and monitor the average revenue per customer and about paying customers to churn. With this, it helps in analysis of, MRR expansion, customers refunds and more.
Pricing for MRR.io
Basic plan: The basic plan of this tool is FREE. 100 paying customers, all the metrics and basic email reports are also given.
Pro plan: This plan can be bought at a process of $19/month. You will get 250 paying customers as well as all metrics with email support.
Fusebill
Fusebill analytics tool provides you two different subscription and customer dashboards. It also provides real-time revenue snapshots, MRR tracking and a lot more.
Using this tool you are able to see the performance of your business like how it performed yesterday, last week, last month or last year.
It helps you In the analysis of recurring billing, catalog management and revenue recognition. Changes can be made rapidly after analyzing to meet customer demands.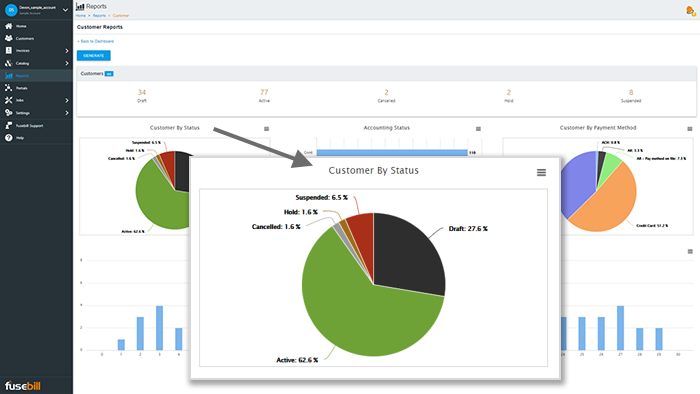 Key Features
Advanced segmentation reporting is provided so you are able to keep a track of all the metrics in a precise and separate manner.
It also provides an amazing feature of the financial calendar. You can efficiently drill down to look at every activity occurred on any given day.
The future invoices and payments can be predicted easily with leveraging projected invoices.
Pricing for Fusebill
Start-Up: This plan costs $99/Month and services like basic onboarding, QuickBooks integration are given
Rapid-Growth: This amazing plan can be grabbed at $995/Month with fixed monthly cost, Salesforce integration and a lot more.
Enterprise: The pricing of this plan is custom where the free trial will be given first. The sales team can be contacted if you want a paid plan.
Chargebee
Chargebee is one of the biggest names in the track of PayPal analytics tools. In case you have other integrated payment gateways then this is an ideal solution for you.
It is a must-have product because of its highly accurate payment metrics calculation.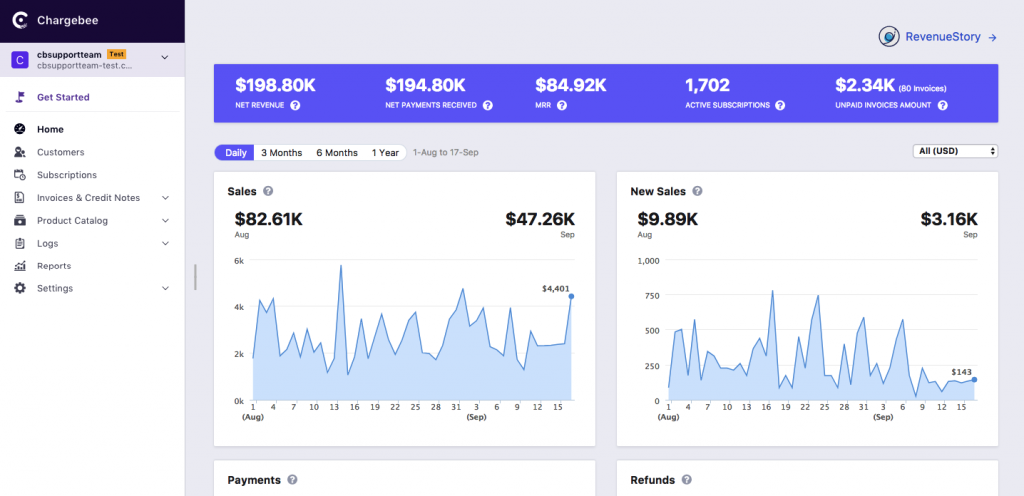 Key features
Single software for multiple metrics:
It is an ultimate one-stop solution in measuring various advanced payment metrics such as Signups & Activations, refunds, ARPU, lost opportunities, etc.
Always active:
There's a descriptive daily email report where you can get all the valuable insights.
The reporting is custom:
If you are worried about any particular metric, then Chargebee's analytics team will be helpful and supportive and will generate a customized report having additional insights.
Pricing for Chargebee
In case of a startup, you will get to use this tool for free until you generate a revenue of $50K.
There are three affordable plans:
Standard – Worth $99/m for 200 invoices.
Pro – Worth $199/m for 200 invoices with multiple integrations and add-ons.
Enterprise – $599/m and all the features and integrations will be there.
Chargify
Because of Chargify's concise reporting and accurate analysis, it is the most efficient tracking service for payments.
One click calculation along with data viewing allow you to make much-informed decisions to increase your business.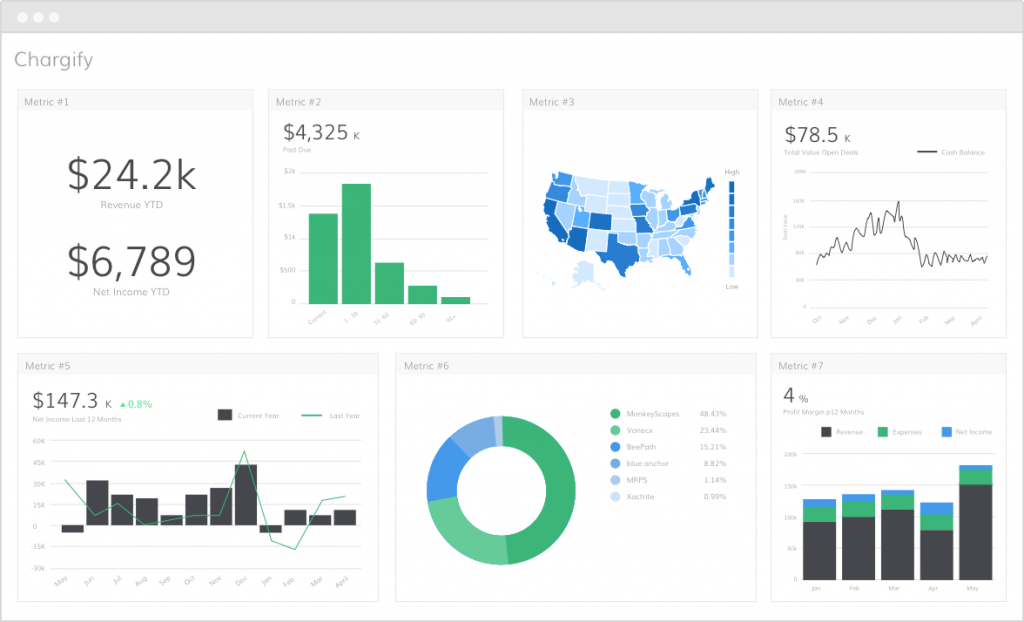 Key features
Data exporting:
It allows the users to download or export any graph and reports in a format of CSV after filtering and sorting out required data.
Revenue insights in detailed form are provided:
You can get a detailed look in every segment of revenue. specifically, monthly or annual recurring revenue, MRR growth and breakdown.
Customer retention:
With the deep understanding of all the churn numbers and rates, you can make better decisions for customer retention.
Pricing for Chargify
Chargify provides 30 days FREE trial.
It also has 3 different pricing plans:
Essential – $149 on monthly basis with 1.2% of revenue. few features included.
Advanced – $299 on monthly basis with 1.2% of revenue. advanced features included.
Enterprise – Custom plan can be created after contacting Chargify's sales team.
Recurly
Recurly is a multi-functional software that packs PayPal payment analytics in its full package.
Its payment tracking service is capable to show a crystal clear view of the way your business is performing with relevant KPIs.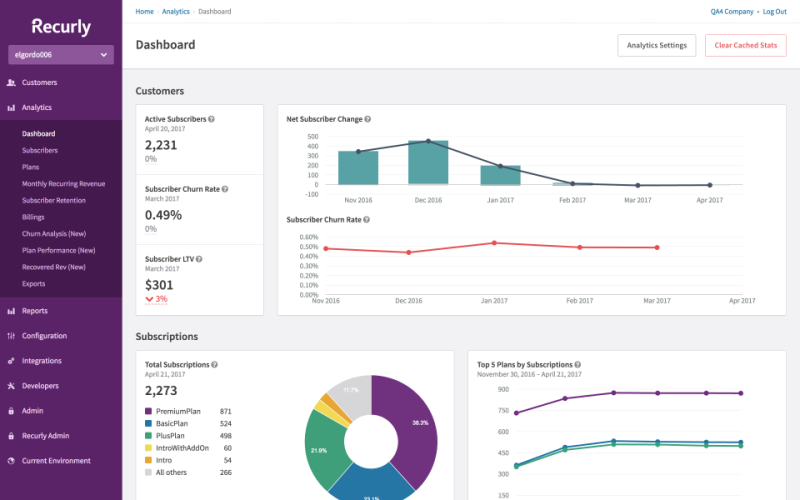 Key features
Dynamically advance dashboard:
It provides an easy to access dashboard. you can measure every required metric along with the overall health of your business.
Revenue insights are illustrative:
The key metric of any business is revenue. it can be tracked seamlessly using Recurly.
Built-in reports:
It describes metrics in a graphical format, bestows many formats of reports which provides a detailed outlook of business.
Pricing for Recurly
It provides three different pricing plans. 1.25% of revenue + 10¢ per transaction is charged on each of them-
Core – $99/m + additional features.
Professional – $299/m + extra additional features.
Enterprise – Custom plan can be generated by contacting the sales team and all features are included in it.
Cheddar
Cheddar is a simple and productive analytical tool.
Apart from a payment metric tool, it focuses on services such as subscription metrics and recurring billing.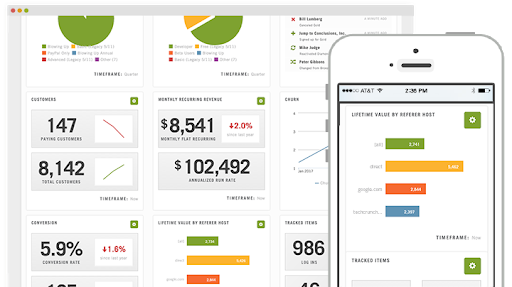 Key features
Single click metrics tracking:
The dashboard showcases every required metrics which would be helpful in devising niche business models and plans.
Cloud-based service:
As this software is a cloud based service, You can keep track of your business growth anytime, anywhere.
Various gayment gateways:
PayPal integration and various payment gateways is a well-known feature of this software. you are exempted from additional 2.9% merchant processing fee If the payments are made via PayPal standard from Cheddar.
Pricing for Cheddar
Production – $99/month + 2.9% + 30¢ per transaction.
ProfitWell
ProfitWell is another analytics platform for PayPal allowing businesses to keep a track of the transnational history in a systematic manner. It is helpful in updating numerous important business metrics such as churn, customer count and MRR.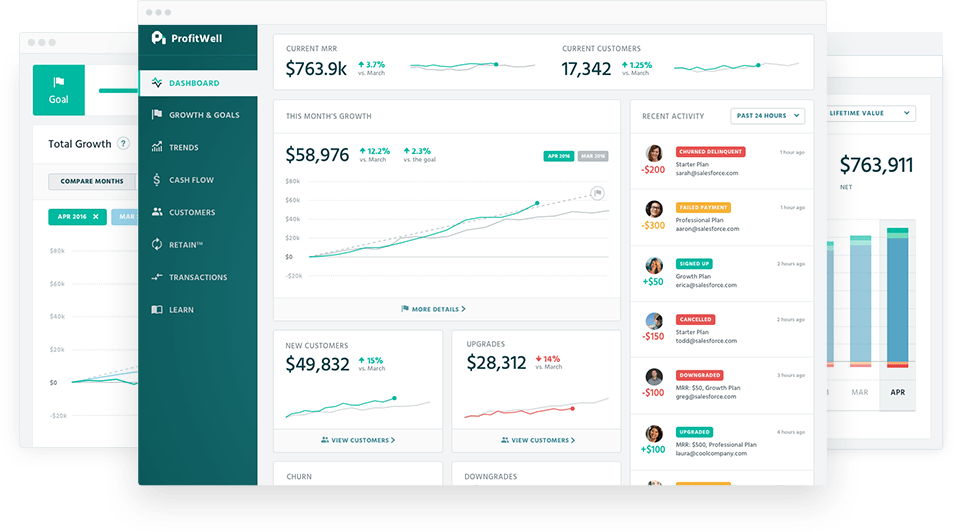 Key features
MRR trends: MRR trends help to view trends for MRR from existing customers, new customers, churn, upgrades, downgrades.
Segmentation: It is helpful in discovering which customer segment is detracting and driving from subscription growth. Your data can be sliced or diced on the basis of factors like location, usage, gender, etc.
Retention: Revenue retention, delinquent churn and MRR churn can be tracked with its help. These cohort reports are helpful in visualising how customers and revenue stays overtime and gives ideas regarding retention.
Integrations: It comes with support of Stripe, Zapier, PayPal, Chargify, Braintree and Recharge.
Pricing for ProfitWell
It offers custom pricing. To get more details, its sales team can be contacted..
Over to you
The motive of drafting this article is to help the reader get an insight into the best and top performing PayPal analytics tool. While integrating a payment service provider is one of the major steps, its followed by another major task: easy tacking and instrumentation.
In our opinion, Putler covers all that a growing business needs to look at while they plan their future roadmap. You can track all that you want in your preferred way and time and allow us to be your partner!
If you think this answers your queries, go sign up with Putler and leave the tracking responsibility on us!