Hey there, PayPal buddy!
If you use PayPal for your business, you probably check your transactions with their reports, right? But guess what? It can be a real bummer!
Logging in every time just to check your transactions, and then waiting and waiting for the information to load up. It's like watching paint dry!
And those reports with all the numbers and stuff? They can be super confusing, just like trying to solve a puzzle without any clues.
But guess what? There is a solution to all these problems!
Numerous PayPal-using eCommerce merchants all over the globe are opting for Putler.
Wondering, why?
Well, Putler collects all your data from several sources and presents the most valuable data points. Once you implement these insights in your business, you can see your profits soaring in no time.
And, that's just to begin with.
So, let's understand the exact areas where PayPal draws you back and how you can make your PayPal experience way cooler!
In-depth PayPal reports overview
As a business owner, you know the importance of keeping track of your daily activities, especially when you're running an eCommerce store with PayPal. PayPal's reports offer valuable insights that can help you make informed decisions for your business.
Sales and Transaction Insights
With PayPal reports, you can get updates on your sales and transactions. Whether it's daily, weekly, or monthly, you'll have a clear picture of your revenue flow and payment statuses.
Product Performance Tracking
If you want to know which products are the real stars in your store, PayPal reports can help. These reports show you the best-sellers, helping you understand which items are most popular among your customers.
Customer Analytics
Knowing your loyal customers is vital. PayPal reports can provide data on your most frequent shoppers, their average spending, and their loyalty to your brand. This information allows you to build better relationships with your customers.
Visitor Behavior Analysis
Your website is your online storefront, and it's crucial to optimize it. PayPal reports help you analyze visitor behavior, revealing which pages attract the most attention and which ones might need improvement. By understanding visitor interactions, you can enhance the overall user experience.
But, wait, there's a catch. To make sure you get these insights right, you need to have the right PayPal reports in place.
Let's find out which reports from PayPal can help you the most.
The in & out of PayPal reporting
PayPal offers a variety of reports to help you keep tabs on your business.
But hey, we know it can get overwhelming with all those categories on their site.
Don't worry, we've got you covered! We've handpicked the most important ones that will truly benefit you.
PayPal monthly financial summary report / Monthly statement report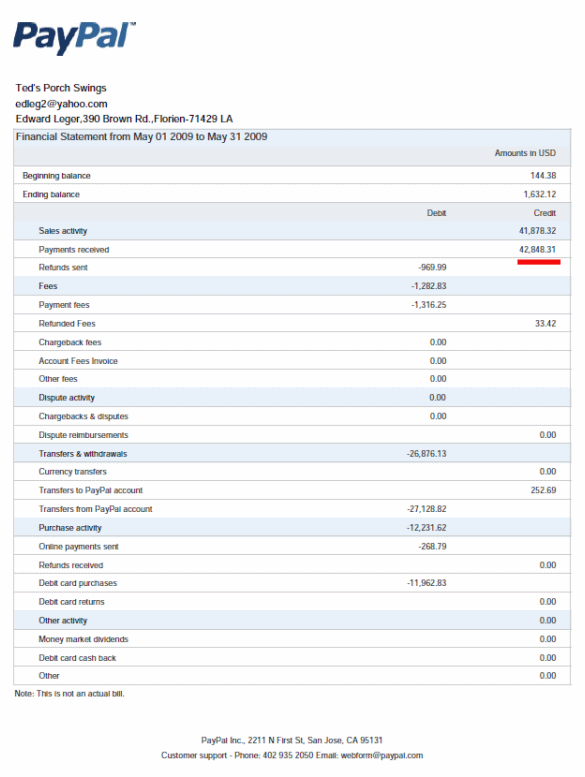 This report gives you a detailed view of all your PayPal transactions.
It's like having your financial story summarized in one place – customer payments, PayPal fees, business expenses, bank transfers, and more.
You can even drill down to track individual transactions.
3 Steps to generate your monthly statement:
Select a time period The default option is the current month. You can set a maximum of 31 days range only that too, excluding the current day.
Select a currency from the drop-down to choose your preferred one. You can only view transactions in a single currency at a time.
Click View Report to generate your report.
To view the report currently or later, you have the option to open and save it either in pdf, excel sheet, CSV export or in a tab format.
PayPal transaction details report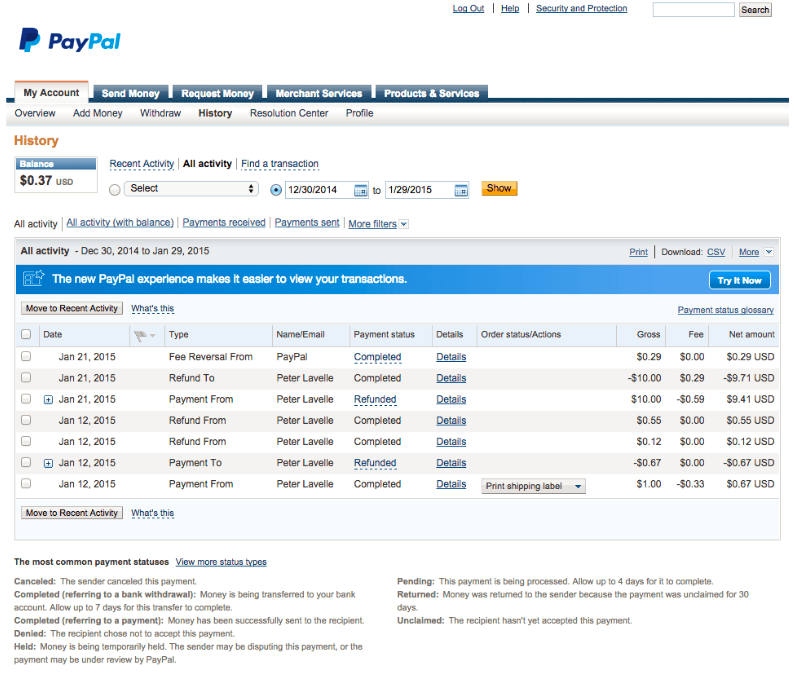 PayPal's transaction details report provides a treasure trove of information about each transaction in your account, whether they're pending or completed orders. Plus, you'll get details on shipping status and PayPal Seller Protection availability.
Moreover, if you want to search for a particular transaction, you can do it, thanks to PayPal's search algorithms. The search results are also quite detailed and informative but they take a considerable amount of time to load.
3 Steps to generate your PayPal transaction details report:
Go to MyAccount>History>All Activity
Select the date range you want to view the transactions
Click on Show
PayPal settlement report
The PayPal Settlement report keeps you in the know about transactions that impact your fund settlements. It's like having a backstage pass to see the transaction event codes and initiation dates.
PayPal case report
Previously known as the Downloadable Dispute Report(DDR), this one keeps you informed about any claims, disputes, or chargebacks made against your PayPal account.
These reports can be used as backup records during audits. Applicable in cases such as tax payments.
Other PayPal reports include:
Revenue Share Report
Recurring Payments Profile Report
Subscription Agreement Report
Pre-approved Payments Agreement Report
If you are still curious, you can go through this article to know more about PayPal reports in detail.
But prior to that, you need to have a good understanding of how to get your hands on these vital reports.
Let's find out.
How to find and download PayPal reports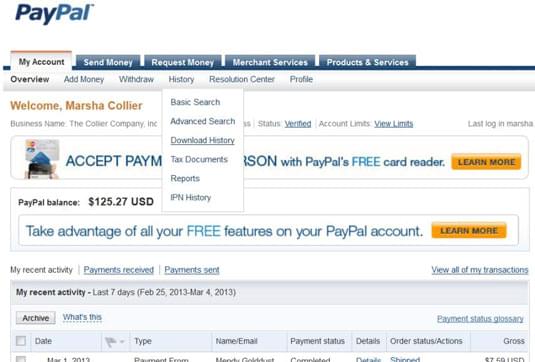 It involves some steps for you to access and download your PayPal reporting. Here they are:
Step 1 – Log in to your PayPal account, click on the tab that is labeled My Account displayed at the top of your page.
Step 2 – Within this tab, you will see the 'History' item. Click Download History on the drop-down menu after you mouse over the history item on the navigation bar.
Step 3 – Scroll down to indicate the level of your account's customization. Then click on the customize download link to take the page to where you can further refine the PayPal reporting data.
Step 4 – Select the fields that you would like for inclusion in the customization of the reporting data by marking the checkbox next to the desired data, and clicking Save. You will then return to the download history page.
Step 5 – Specify the date span in which you want the downloaded reports taken.
Step 6 – Select a format from the file types of the download drop-down list for your downloaded reporting.
Step 7 – Finally, click the Download History button, and in a few minutes, your file will be ready to download.
So, now that you know which PayPal reports to download and how, you need to understand that there's a lot more that you can do to boost your eCommerce store revenues.
Let's find out why PayPal is not enough to give you that extra push.
Major PayPal reporting issues that eCommerce businesses face
Despite PayPal's reporting endeavors, most eCommerce businesses encounter significant challenges that hold them back from reaching their full potential.
You see, PayPal is a payment platform, not a dedicated reporting platform. While it delivers data, its reports may not fully address the unique needs of businesses looking to leverage that data strategically.
Let's delve into these major pain points that arise from the limitations of PayPal analytics and reporting:
Limited Customization
PayPal's built-in reports have limited customization options, leaving businesses struggling to extract the specific data they need. Every business is unique, and one-size-fits-all reports might not suffice for your specific requirements.
Incomplete Data Visibility
PayPal reports might provide a basic overview, but they often lack in-depth data visibility. As your business grows, you require more comprehensive insights to make well-informed decisions.
Tedious Manual Analysis
Analyzing PayPal reports manually can be time-consuming, especially for businesses with a high volume of transactions. Spending hours crunching numbers steals precious time that could be better utilized in strategic planning and growth.
Complex Data Interpretation
For many eCommerce merchants, understanding the complex numbers and jargon in PayPal reports can be overwhelming. Deciphering the data becomes challenging, hindering their ability to identify valuable trends and patterns.
Integration Challenges
eCommerce businesses often use multiple platforms and tools to manage their operations. Integrating PayPal data with other systems can be tricky, leading to fragmented insights and an incomplete understanding of the business's overall performance.
Limited Support for SaaS Companies
SaaS (Software as a Service) companies have unique needs when it comes to reporting and analytics. PayPal's standard reporting may not cater to their specific requirements, making it difficult for SaaS businesses to gain the insights they need to optimize their operations.
These issues are not just limited to PayPal sales reports. eCommerce vendors encounter more such issues in every other payment platform.
Payment platform reports are pretty efficient when it is to delivering payment information. Period.
But, do those traditional reports help eCommerce businesses enough? The straight answer is, NO!
There are certain operational problems that come with traditional payment platfom reports.
Very slow transactions loading
When you want to see your transactions on a payment platform, it often takes too long to load. Waiting for a minute each time can be frustrating, especially if you have a lot of transactions.
No instant searches
Searching for specific details, like client names or emails, is not quick on some payment platforms. It can take a while to find the information you need.
Complex reports
The reports from payment platforms can be confusing, especially if you're not used to reading such data. It's not easy to understand what it all means.
Limited insights
Some payment platforms may not provide all the detailed insights you want. You might need more information to make better decisions.
Difficult to access
Finding and downloading reports on some payment platforms can be tricky. Applying filters and getting specific data can be a hassle.
Limited time range
Reports on certain payment platforms may only go back up to a limited number of days, and you can't see data beyond that period.
Missing products & customer insights
You won't find important information about your best-selling products or your most loyal customers in some payment platform reports.
Lack of sales insights
Certain payment platforms may not provide insights like peak sales periods, which countries bring in the most sales or your daily average revenue.
There is no doubt that PayPal and other payment platforms provide a solid foundation for financial transactions. However, to overcome these reporting challenges, eCommerce businesses need a more advanced and tailored approach.
Why Putler is the smartest PayPal reporting tool?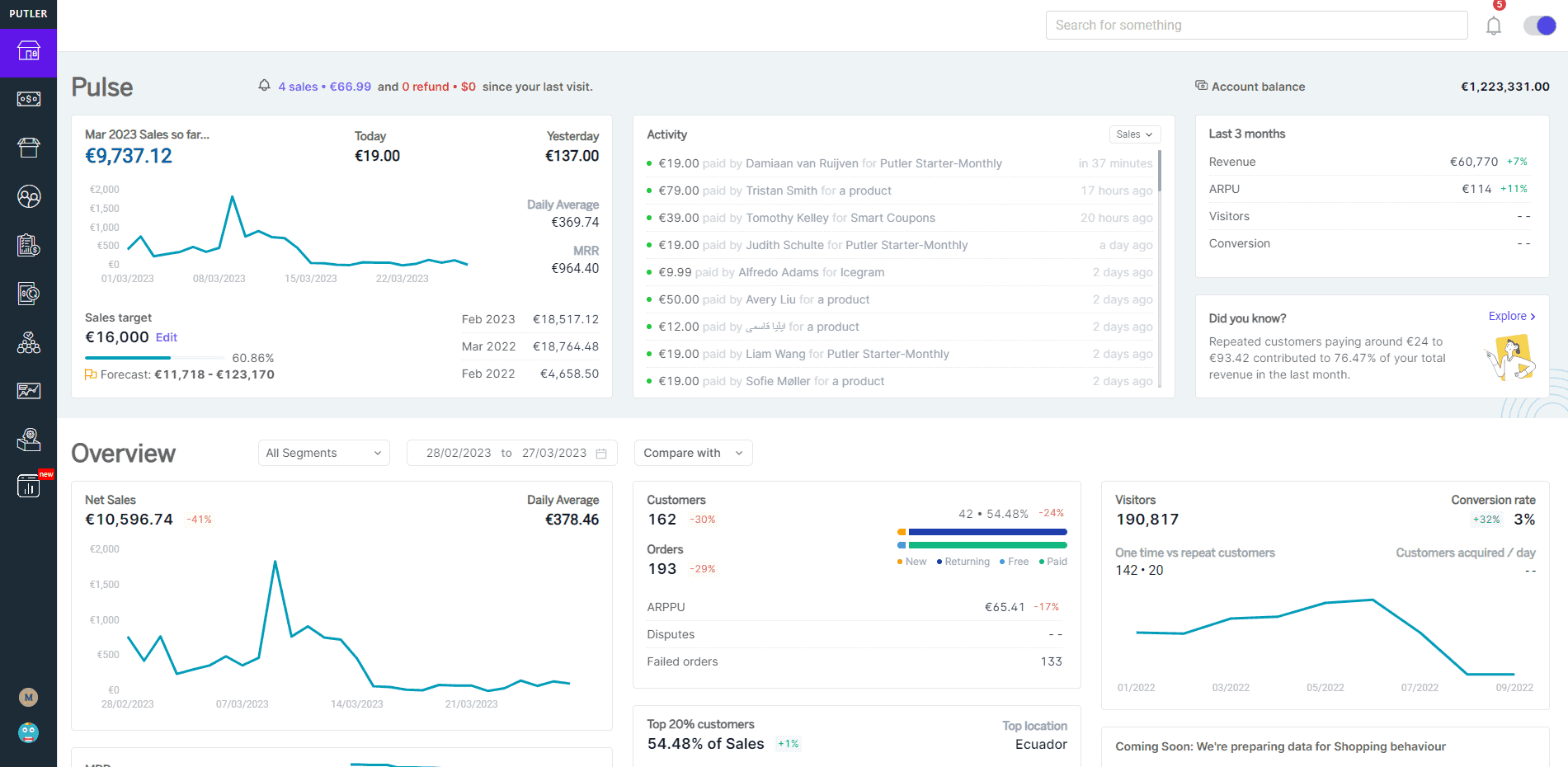 Speaking of smart tools for your payment reports, you need something that can show you the metrics and stats that you need to make the right decisions and boost your business.
But, what if there was a tool that could not only improve your payment reports but consolidate your data from all digital platforms?
Wouldn't it be great if you can view all the important data and insights on one dashboard and make the best decisions in the blink of an eye?
Well, here it is.
Putler is a game-changing tool that revolutionizes how you manage your eCommerce transactions and gain valuable insights about your online business.
What makes Putler stand out as the top tool for payment reporting and analytics? Let's explore its exceptional features:
Automatic Sync with Payment Platforms
Simply enter your payment platform API details, and Putler takes care of the rest. It automatically downloads the latest transactions and updates all statistics seamlessly. Here are the payment platforms that Putler connects with to consolidate your data –
Stripe
2Checkout
Braintree
Authorize.Net
SagePay
Razorpay
Instant Reports & Business Overview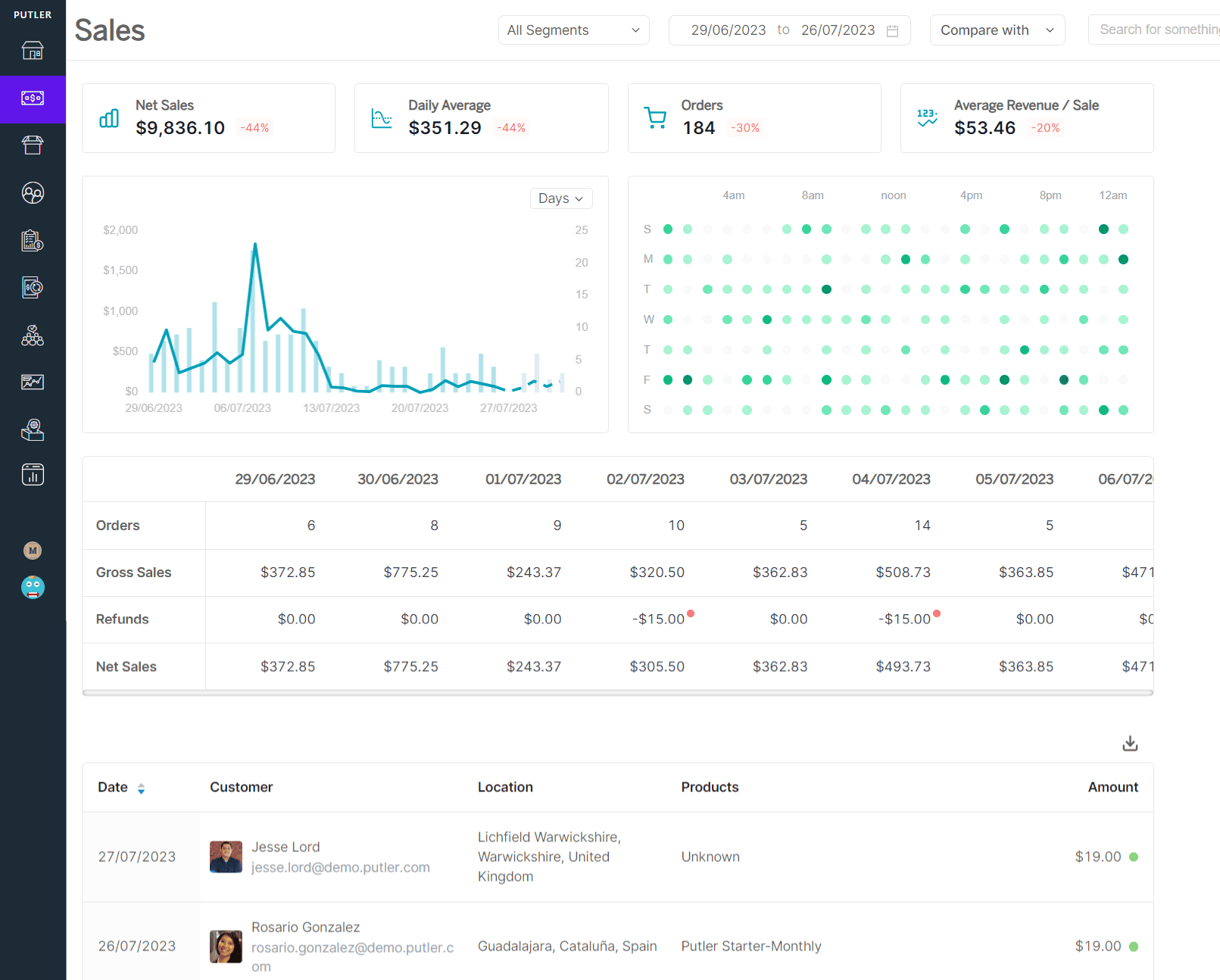 With Putler, you get instant updates and reports without the need to log in to your payment platform repeatedly or wait for reports to load every time. Here are some of the reports that Putler will provide you with –
Sales Reports
Customer Reports
Order Reports
Product Reports
Subscription Reports
Insight Reports
Multi-store Reports
Automatic Data Aggregation
Putler shines as an aggregator, gathering data from various payment gateways, shopping carts, and other synchronized accounts. This means you get a unified report on your business or sales from one convenient source.
Putler Integrates with several types of data sources to make your business management hassle-free. Check out all of 17+ Putler's integrations here –
Payment gateways – PayPal, Stripe, 2Checkout, Braintree, Authorize.Net, SagePay, and Razorpay
Shopping carts & eCommerce systems – Shopify, WooCommerce, BigCommerce, Amazon, EDD, eBay, Etsy, and Gumroad
Analytics & email marketing platforms – Google Analytics and MailChimp
For any other platform – Putler API
So, no matter where your data is, Putler can get it for you. In fact, to make things easier, Putler has also introduced Putler Web Analytics, which is a more privacy-focused, smarter alternative to Google Analytics.
Built-in Customer Segmentation: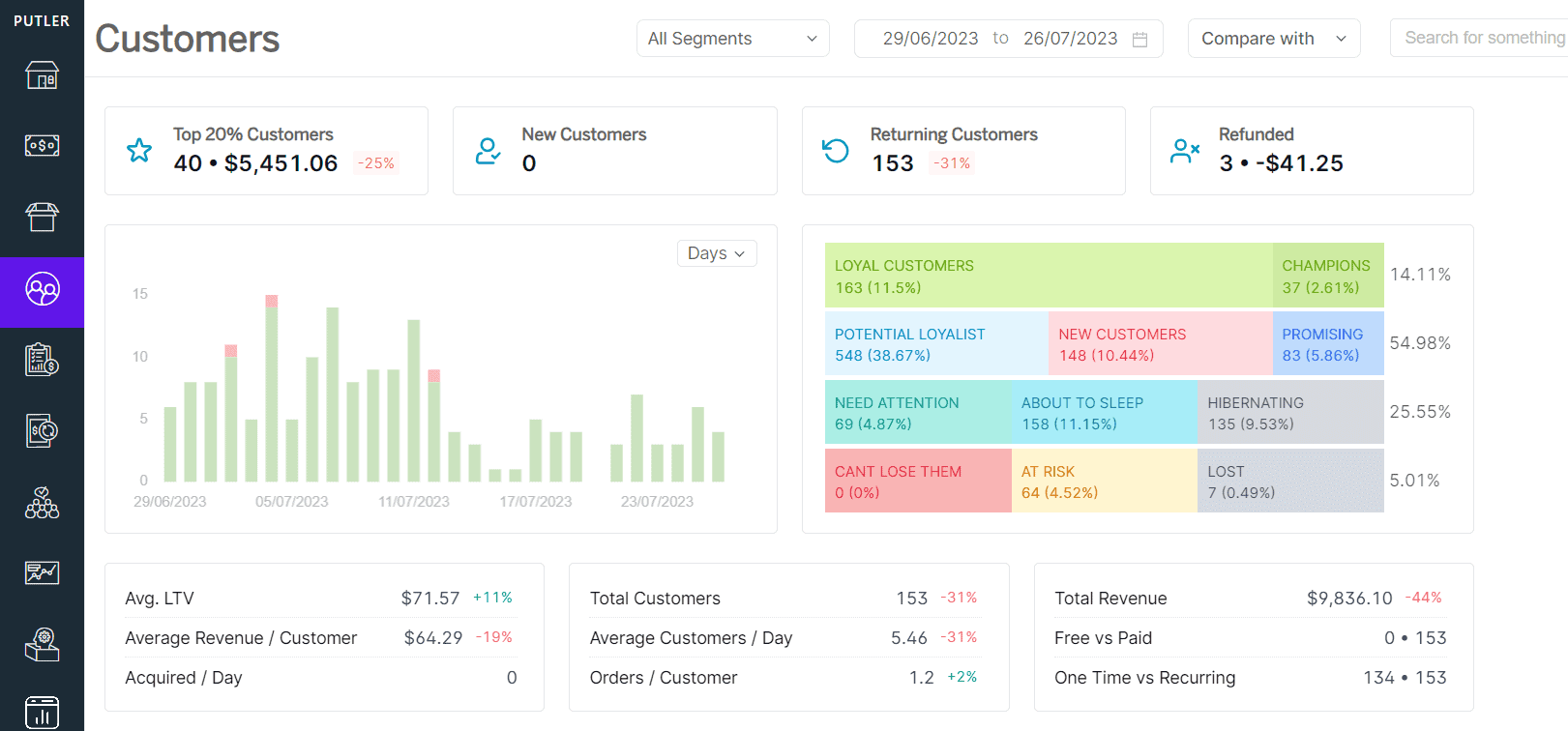 Putler's customer dashboard gives you all the vital information you need about your customers. Its RFM analysis further provides details on different customer segments, their loyalty, profitability, and more. This analysis is a game-changer for enhancing your relationship marketing. Click here to understand how you can use RFM analysis to make the most out of it.
Lightning-Fast Transactions On Board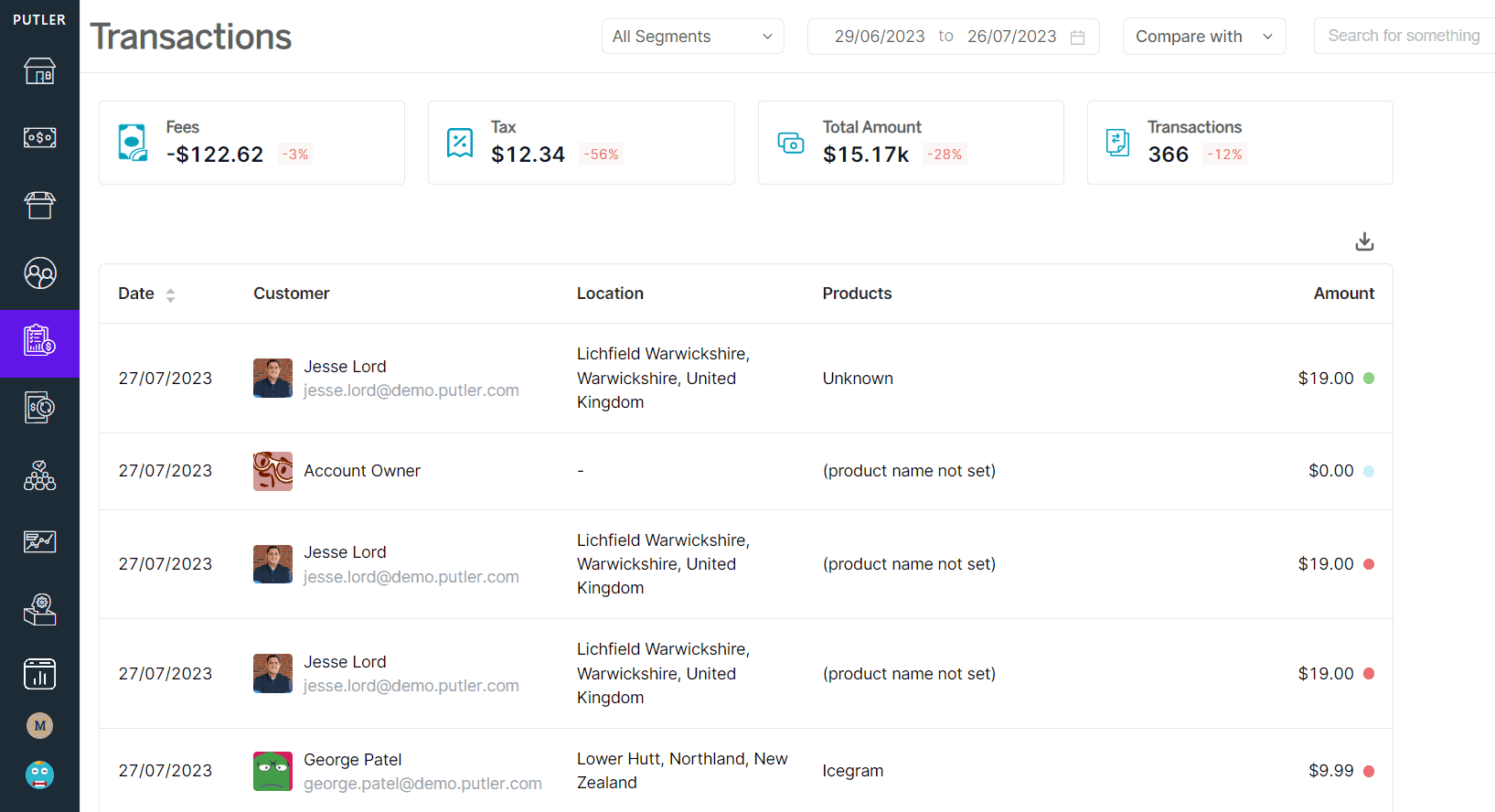 Putler loads transactions in a fraction of a second, unlike some payment platforms that can take minutes. Speed and efficiency at its best!
Intuitive Search
Putler's search feature is top-notch, allowing you to find minute details like product names or customer emails instantly.
Comprehensive Product Metrics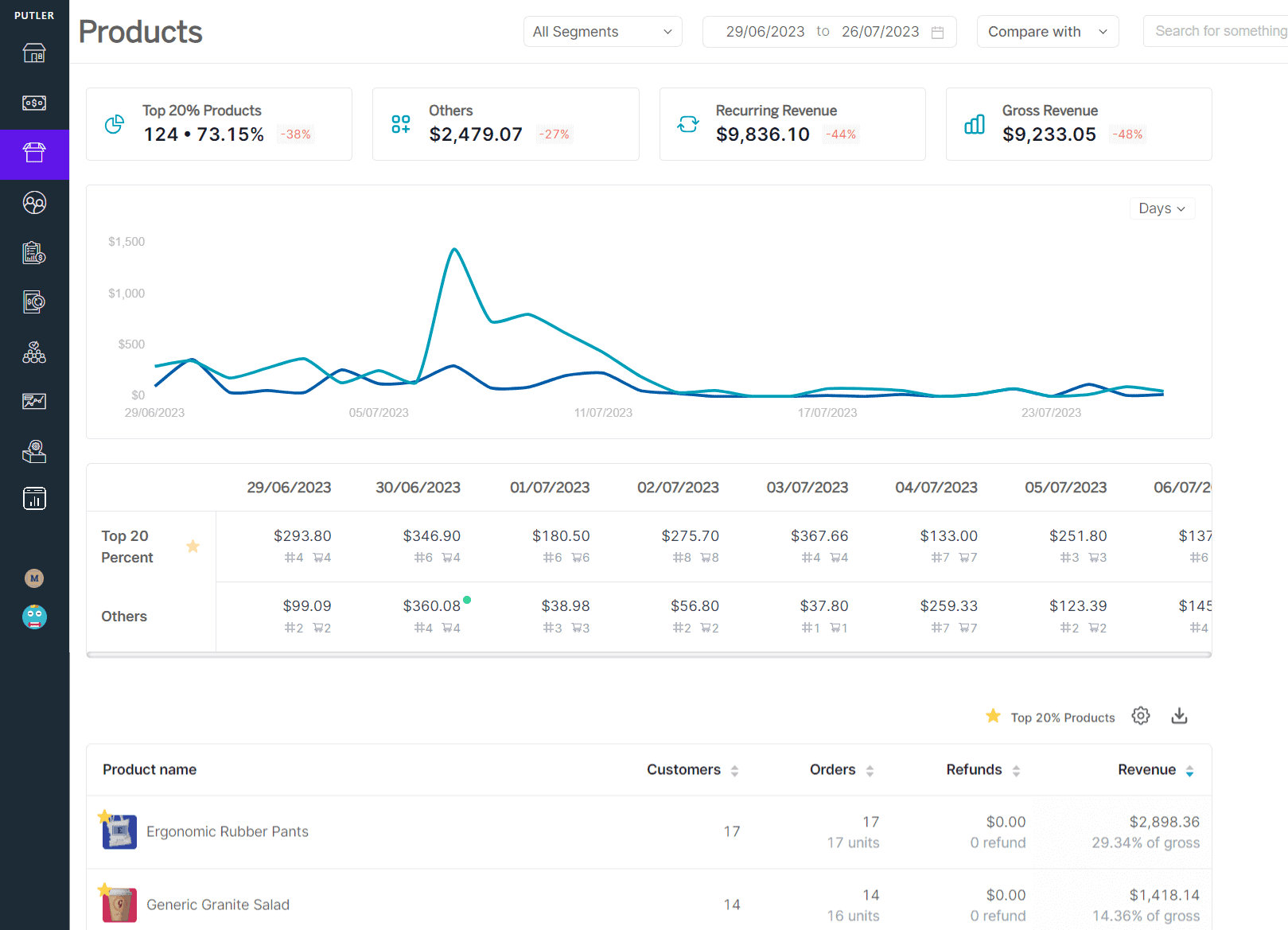 Products are crucial to your sales, and Putler provides a wealth of instant details about your product movements. From best sellers and product leaderboards to top 20% product revenue and product-wise sales and refunds, Putler has it all. You can read more about how to understand your product metrics better with Putler, here.
But wait, there's more! Putler also offers these amazing features:
Data Cleansing: Ensure your data is accurate and reliable for better decision-making.
Sales Heatmaps: Visualize your sales data in an easy-to-understand heatmap format.
Weekly Email Updates: Stay informed with weekly insights delivered straight to your inbox.
Forecasting: Predict future sales and plan accordingly for optimal growth.
Holiday Season Analysis: Get insights into seasonal trends to maximize your holiday sales.
To make the best use of all these features, all you need to do is integrate Putler with at least three data sources. Once that's done, all you need to do is buckle up to explore the untapped opportunities of your business.
You can check out this article to get a better understanding of Putler's utility.
Ready to get better PayPal analytics and reporting?
In the world of business, records are everything. They are the evidence of your transactions and help you make informed decisions. And when it comes to online businesses, the right tools can make all the difference.
Putler is the unsung hero when it comes to offering comprehensive reports and analytics for PayPal transactions. With its user-friendly interface, seamless synchronization of multiple accounts, and extensive range of tracked metrics (200+), Putler truly deserves the credit it gets.
If you conduct business online and rely on PayPal for its efficiency in handling online payments, then Putler is a must-try tool.
Experience the efficiency and simplicity it brings to your PayPal reporting and analytics. From customer segmentation to product insights and forecasting, Putler empowers you with invaluable data to propel your eCommerce success.
Make the smart choice today and elevate your PayPal analytics game with Putler.