Suppose that you have a VOD channel with a 30-day free trial period. How does this work?
You ask users to enter their billing details in advance and only after the customer's engagement exceeds 30 days, the same is charged for the account and this would then occur in tandem every month until the user deactivates his account. Sounds good.
The question that arises here is how? How to set up a system where your customers need not enter into manual payments every time? Or, how do you automate the process of deducting money directly from the customer's account on a regular basis?
Through subscriptions!
Yes, that's right. Subscription is one such feature that enables merchants to charge users account on a recurring basis. For this to function effectively, customers need to authorize merchants and this is done when they subscribe to your channel.
PayPal recurring payments: Steps to set up
Now that we are clear on what subscriptions are, we next need to know how can we set up subscriptions. While there is a multitude of ways in which you can set up PayPal subscriptions, one that is universally accepted is through PayPal Subscriptions.
In case you are not sure how to move ahead with the configuration process, here is the step-by-step guide to set up your PayPal subscriptions.
Step one: Enter subscription details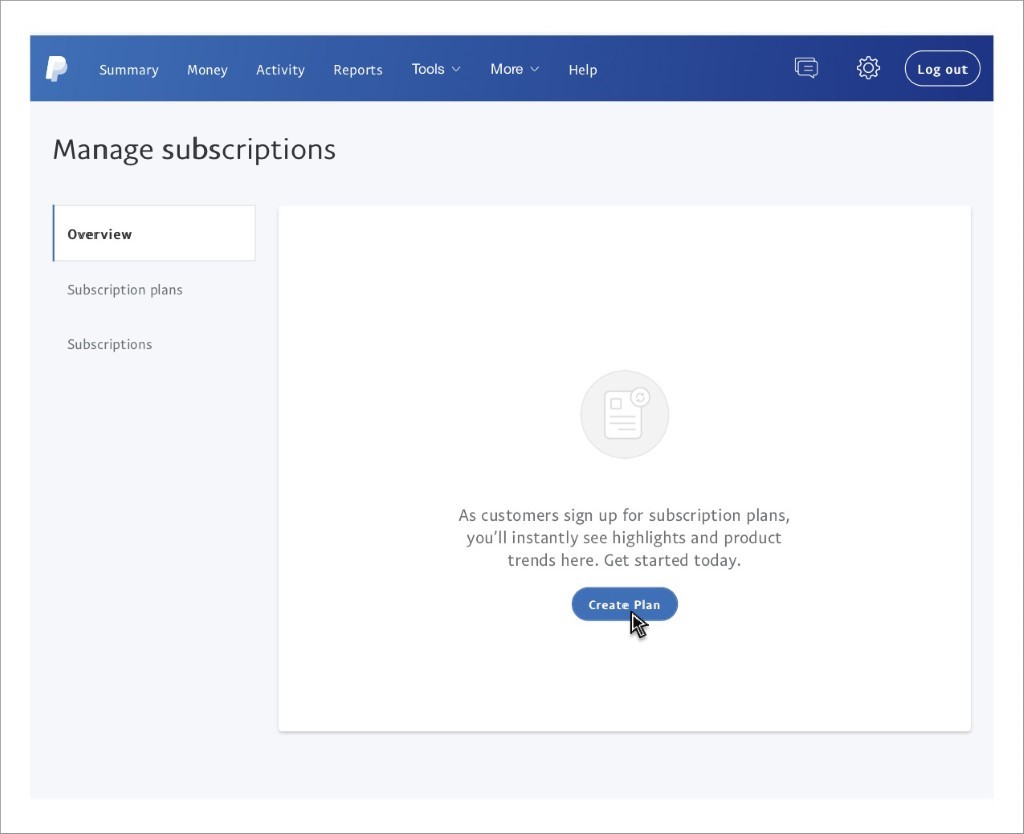 To begin with, log in to your business account as registered with PayPal.
Hover around the page and click on Manage Subscriptions. Since we are here for the first time and do not have any existing plans, we need to create one. To do so, click on Create Plan.
The next page will ask you to enter the details of the services and products that are part of the plan.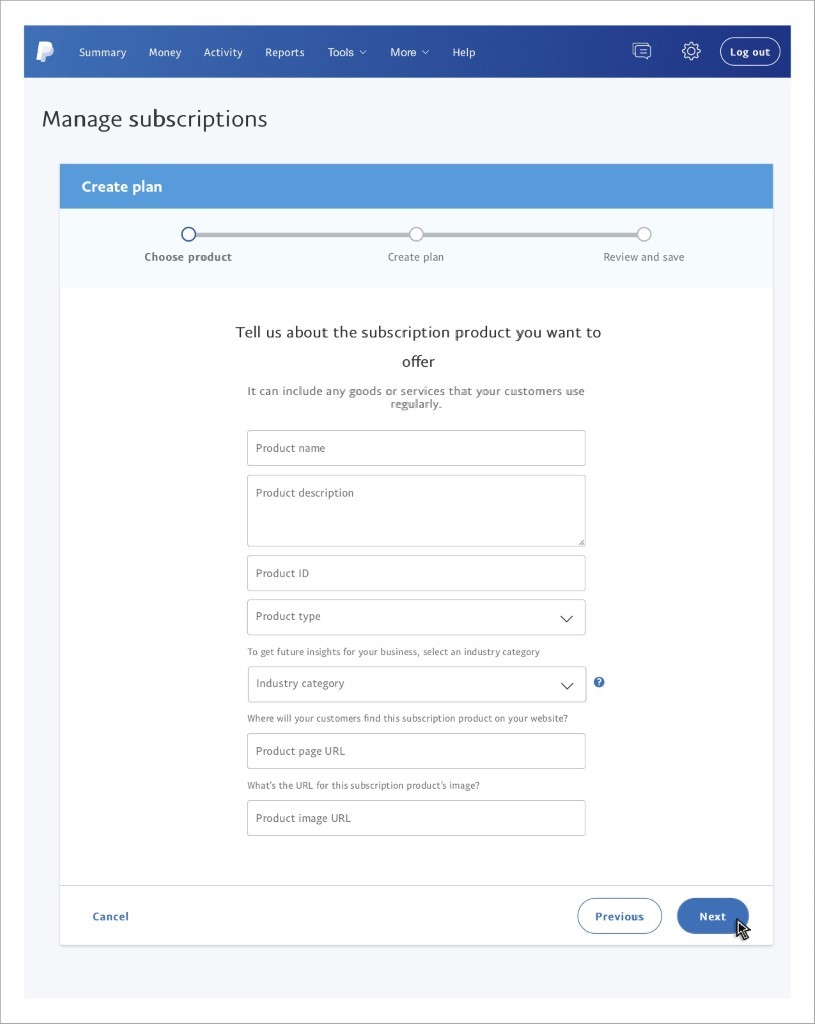 Enter the product name, fill in the description followed by the unique product ID.
Next, you need to choose from the list the product type.
Physical goods,
Digital goods, or
Service.
Now, enter the category of the industry that suits your business. For instance, here we have chosen the VOD channel, so the industry would be media and entertainment.
Next, you need to paste the URL of the product page followed by the image.
Click Next.
Note: In case you wish to add more than one subscription, you would need to repeat the steps mentioned above.
Here we need to select our pricing plan.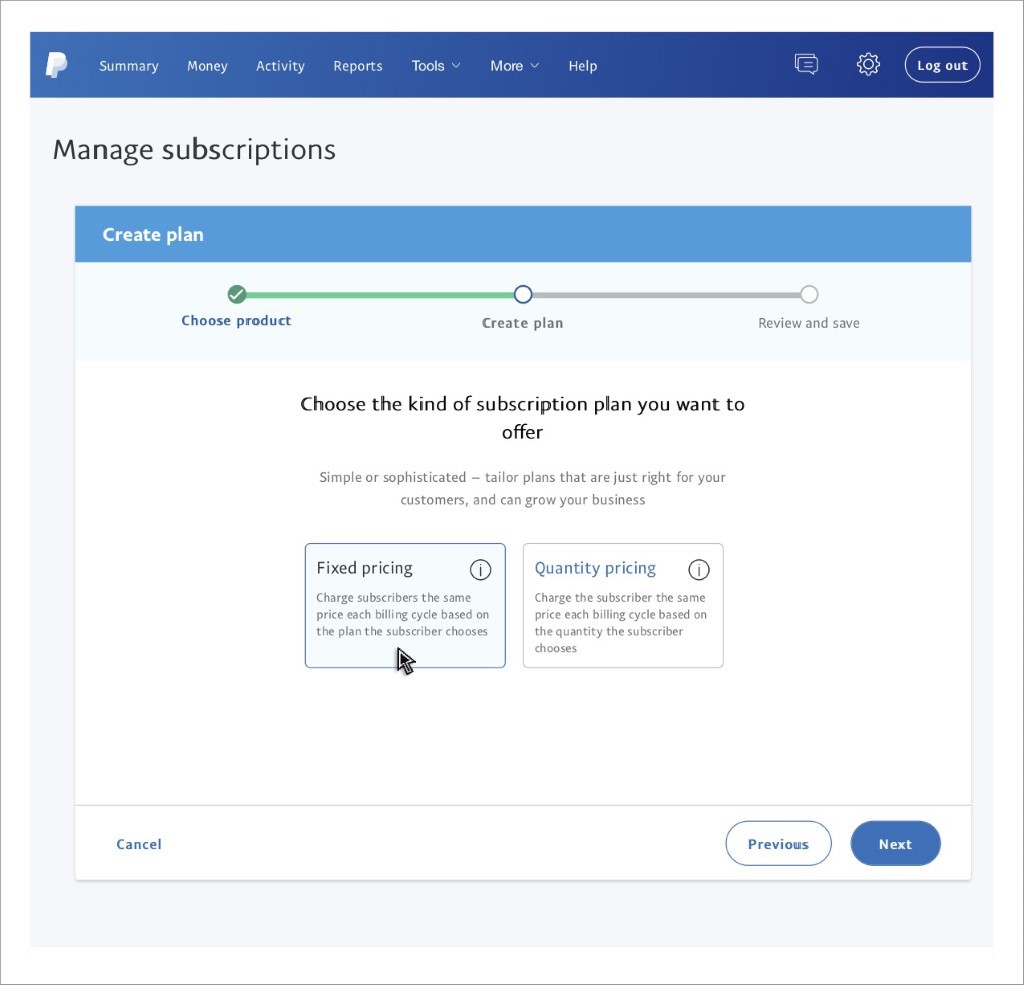 Quantity based pricing enables merchants to bill customers again the quantity of product they choose.
Fixed based pricing enables merchants to bill customers again the plans they pick.
Plan name & description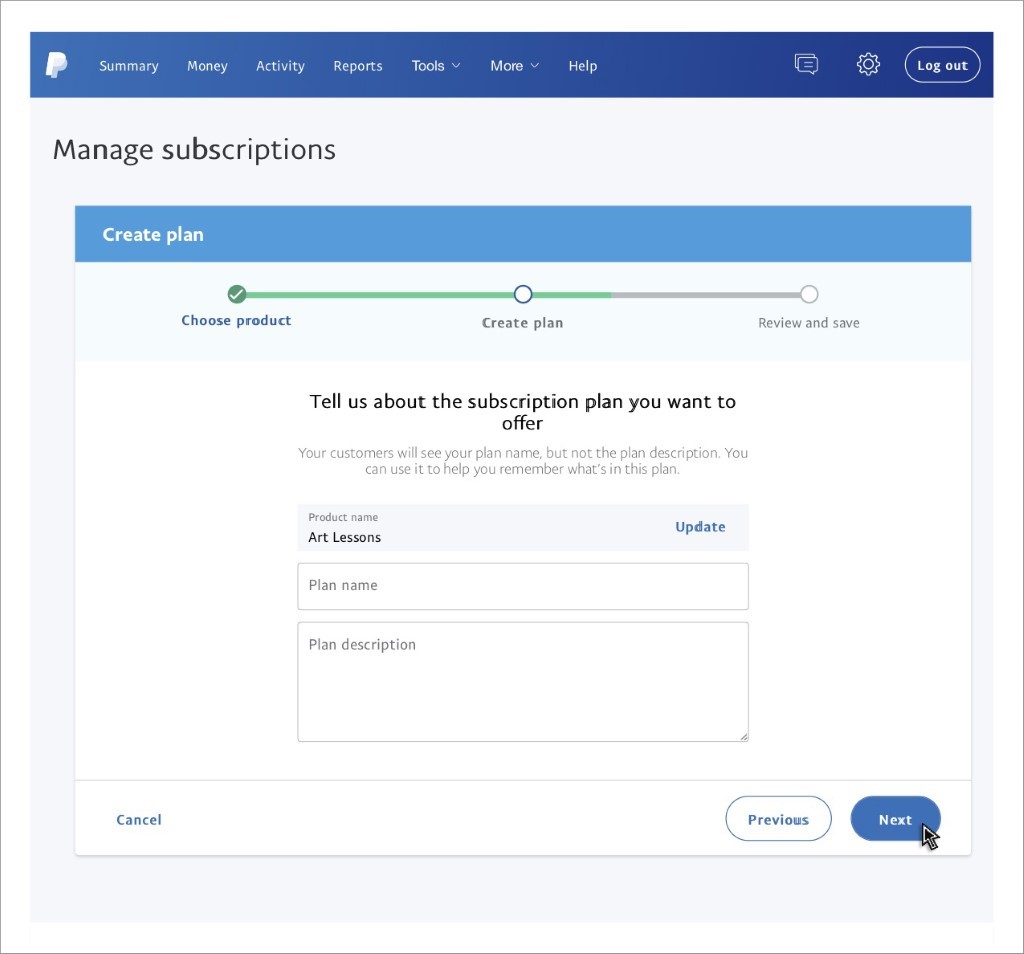 Add a unique name to the plan. Such as we have basic, premium, high-rated, etc.
Add a few details about the plan
Click next.
Pricing Details: Now that we are mostly done, it's the time to configure what would be the pricing norms.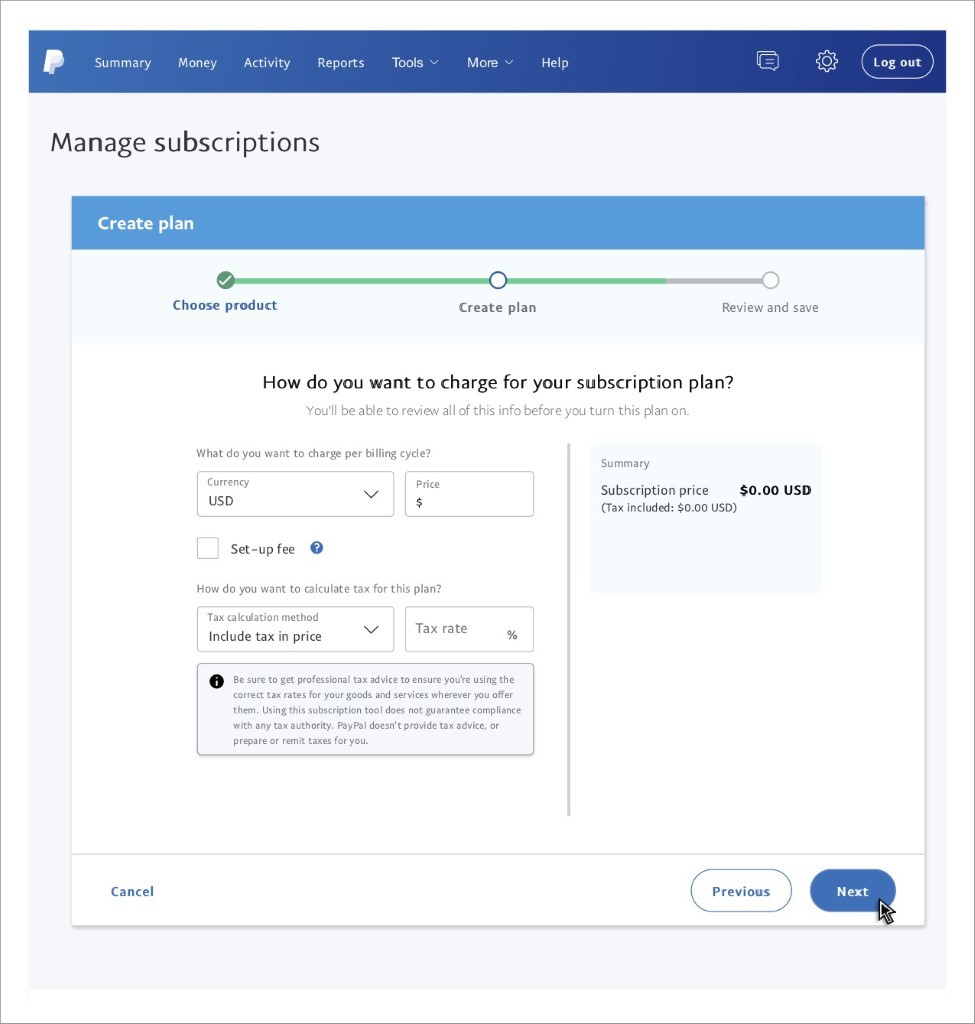 Enter the currency.
Feed in the price.
Select if there is a one-time set-up fee. (Note this is not mandatory)
Pick the tax calculation method and enter the rate at which the same would be imposed.
Click Next.
Billing Details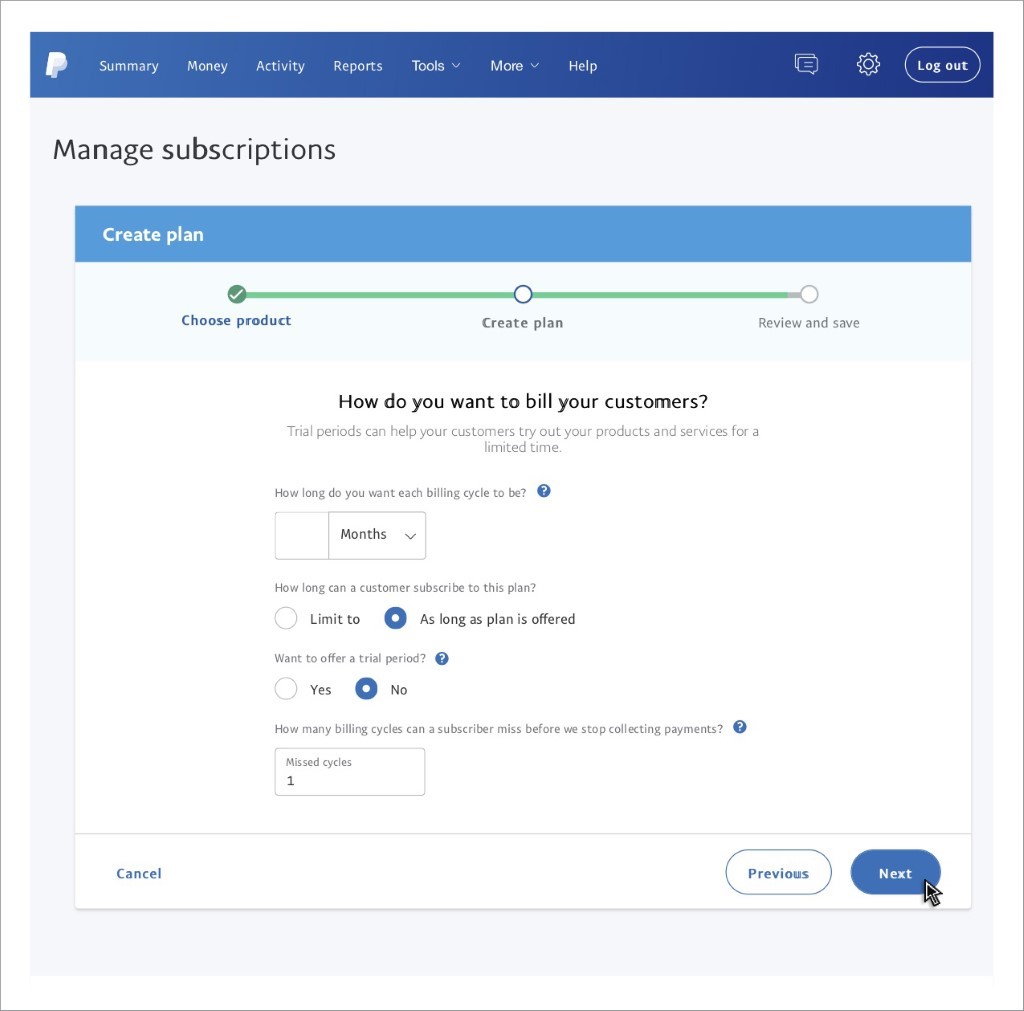 Here, you need to choose the length, duration, and the time of the plan. Whether it is a monthly plan or a yearly, etc.
Select is there is a trial period
Enter the billing cycle post which money collection is paused.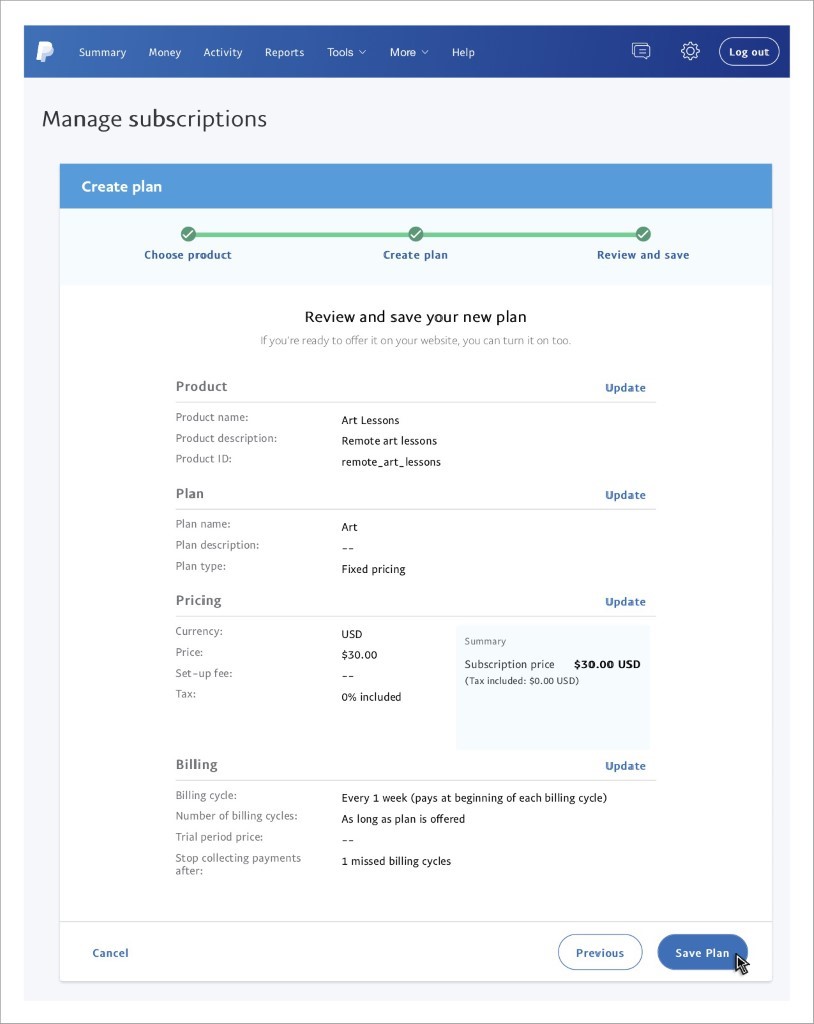 Confirm the details and save them.
Click on start plan to get ahead with your PayPal subscriptions.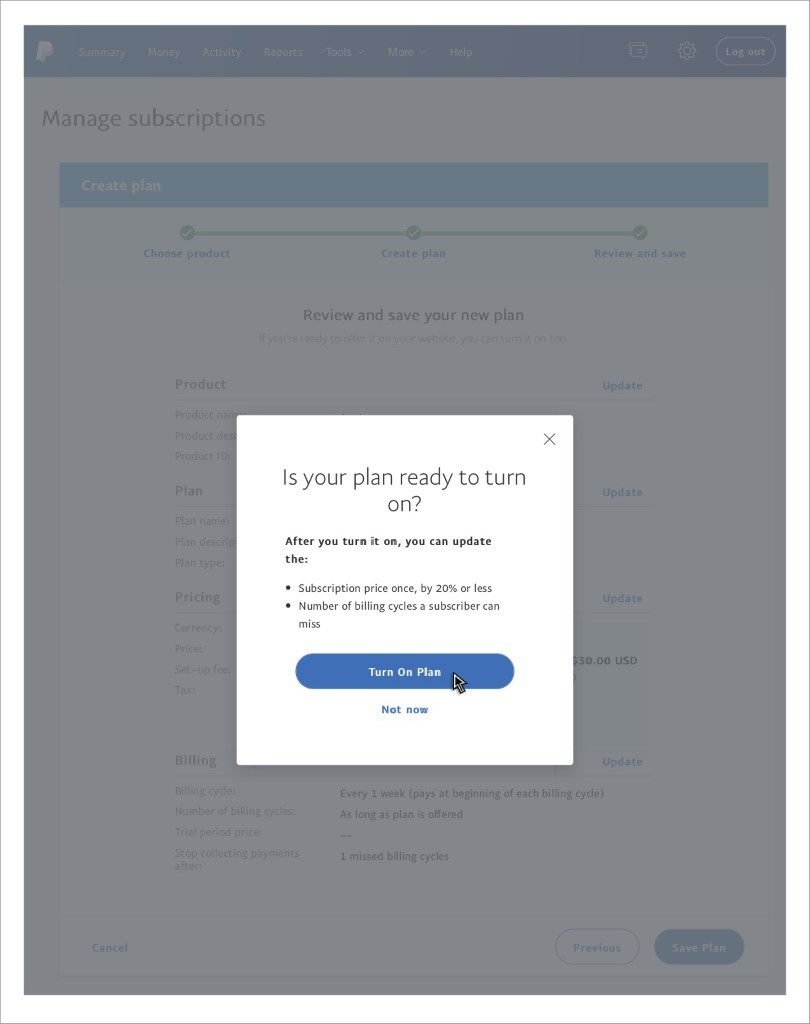 Once you have completed the above steps, you will start receiving automatic payments from within your PayPal account.
PayPal recurring payments: Perks & bottlenecks
Besides being one of the universally accepted platforms for online payments, PayPal has a lot to offer. One of these is the ease to collect recurring payments.
For one, PayPal is one of the widely used and accepted forms of payments, and secondly, it has an easy-to-use interface that simplifies the overall process of creating subscriptions. It not only allows you to provide recurring payments but also create a predictable revenue channel.
Pros of PayPal subscriptions
Schedule payments
Create and promote plans in more than 100 currencies
One-click subscription cancellation
Automate payments and corresponding notifications
Get hold of subscription reports for PayPal. (A detailed report on the transactions made through subscriptions within the said duration)
Cons of PayPal Subscriptions
Setting up PayPal for subscriptions could be a little complicated for people who have no knowledge of using the platform.
Upgrading or downgrading plans is an erroneous task.
Certain bugs automate cancellation of subscriptions, even when they areng requested by the user.
The IPN API used for sending notifications suffers from software glitches and serious bugs.
Apart from the above, one of the controversial aspects of PayPal is its reporting services. Having an online business, generating reports to study purchase patterns is a must. And to everyone's surprise, PayPal has a reporting mechanism that allows merchants to keep track of sales, identify their premium customers, and target their audience better.
PayPal reporting woes
PayPal offers an array of choices with respect to report generation. Despite providing a bundle of features, the subscription reporting of PayPal faces some serious criticisms.
Time taken to load transactions is very slow
Merchants need to manually search for records, spending considerable time.
The decryption of reports might require you to hire an expert, given the complexities of the same.
Generating custom reports is a hectic and energy-draining process. Locating data might get tough as you add more constraints.
No data related to customer purchases/missing goods.
Scared? You might definitely not want to go ahead with PayPal subscriptions for your online business. But wait, have you heard about Putler?

View Live Demo
If you are among the merchants who are highly fascinated with the perks of PayPal Subscriptions and would want to leverage the platform and increase reach, Putler is one tool that will simplify the entire process for you. Basically an all-in-one tool, Putler has tons of features when it comes to operating and optimizing an online store.
For the uninitiated, Putler has recently planned to bolster PayPal Subscriptions and help online merchants benefit from the platform. Don't worry, you don't have to be a Putler user to leverage services.
Here is an informative guide on how to configure Putler and add PayPal Subscriptions.
Steps to connect your PayPal to Putler

➔ To begin, you need to first Sign-Up for Putler. Visit My Account and enter the login credentials (in case you already have an account)
➔ Now move to Profile -> Settings -> Integrations -> Add
➔ Here, under the Account Type Category, click on the drop-down menu and select PayPal.
➔ Click on Continue. It
➔ The next page will ask you to enter your PayPal credentials. Once validated, you will have instant reports of your business.
Why use Putler?
Integration is fine but one thing that still not clear is why to use Putler. Just because it provides the ease to generate reports, Putler is best?
Well, that's not it.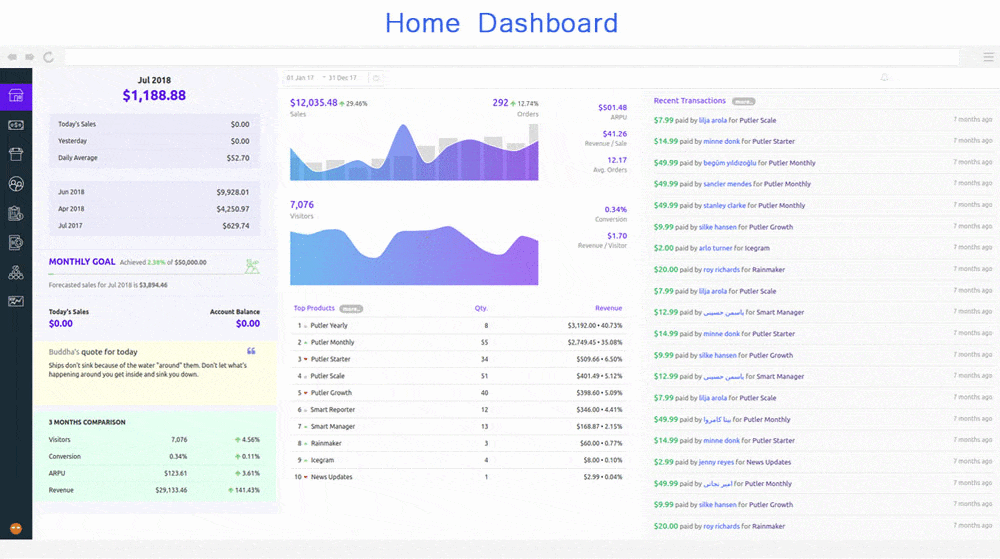 Putler is a customizable tool and is suitable for all kinds of accounts and features. Here, we emphasize on the PayPal Subscription Reports as rendered by the Putler. Even though PayPal has its own built-in reporting mechanism, it is limited in terms of features and functionalities.
Go beyond reports, Putler gives growth insights
On the other hand, Putler is not just a reporting tool but also facilitates the use of different metrics to come up with detailed insights and corresponding information. Putler aims at helping organizations boost their revenue 3x times with ease.
Carry outs tasks and make decisions quickly
Whether it is about managing subscriptions or issuing refunds, generating reports, or fostering better decisions, Putler is at the forefront of all.
Actionable real-time data at your fingertips
Putler has an intuitive dashboard with hordes of filters that can be applied to generate PayPal Subscription Reports. This data can be easily imported to a CSV file to gather real-time information and drive decisions. Unlike PayPal, Putler has a quick retrieval process and hundreds of built-in metrics to customize the report.
View PayPal subscriptions quickly
Once you have connected your PayPal account to Putler, it will help you view all your PayPal subscriptions in one place. You can easily search any subscription using Putler's intuitive search and save a ton of time.
Manage PayPal subscriptions more securely
Instead of providing critical PayPal credentials to support personnel, simply give them support access to Putler. They won't have access to your companies financials but they will be able to carry out support tasks like managing subscriptions, canceling them.
Issue refund/cancel subscriptions with ease
Similar to managing subscriptions, your support personnel can process refunds from within Putler as well.
All in all, Putler is the best tool that enhances PayPal Subscriptions and Reporting.
Conclusion
Operating an online business, offering loads of features, and providing subscription facilities, all of these are definitely growth hacks for your business. However, not everyone tends to drive benefits from the above. While some manage to pull the plug others grapple deciding what to do and how to do.
If you too are stuck in your customer's expectations and purchase patterns, or if your subscriptions aren't showing good results, its time you used a reporting and analytics tool. Putler is an excellent choice here. It comes with a free trial period, giving you ample time to test and decide whether it is worth your investment.