Businesses today rely heavily on data. No matter if the data is well structured or in the raw format, organizations today have a way with each. This could probably be because of the fact that data holds tremendous potential and that there are tons of tools available that help convert data into meaningful information.
And this is where the two tools: Glew and Putler come into the picture.
Where Glew is the leading e-commerce analytics tool, Putler is one tool that incorporates all types of analytical solutions. Putler would dig in all types of data sources to display relevant information over the dashboard. It is, in fact, considered to be one of the best Glew alternatives.
Now, we won't agree to that so quickly and without considering facts and figures. In case you are wondering which tool would be best, hop along and we will uncover the answer together.
Let's dive deep into the details and outline Putler and glew.io reviews.

Overall Review
Glew Review
Designed solely for e-commerce merchants, retailers, and B2B business owners, Glew aims to deliver in-depth insights and analytics. Leveraging the technology of business intelligence, Glew enables you to consolidate all of your store data under a single head. This way you can have access to all the customer information in a single click. The data displayed is in the form of reports, media-rich visuals, and on the dashboard.
Best Glew Alternative -PUTLER
Putler is an all-in-one business intelligence tool that allows you to integrate all of your business data and use smart technologies to study, analyze, and assess the same. As an analytical service, the tool has been designed to generate reports and render information in the form of visuals. Putler connects data from different channels and then aggregates them to present the same in a simple format. Put simply, it declutters your data to be understood easily by anyone.
Best Suited For
Glew
Custom-fit for the e-commerce store, Glew reviews suggest that the e-commerce retailers, online store merchants, B2B sellers, and the digital agencies benefit the most using Glew.
Putler
Contrary to Glew, Putler serves internet marketers, business coaches, marketing agencies, and e-commerce website owners as a whole. It is also seen that Putler is used by the project management team, the business analysts, and the compliance officers to decrypt data and extract meaningful information.
Integrations
Glew
Glew integrates with payment gateways, GA, social media tools, eCommerce platforms.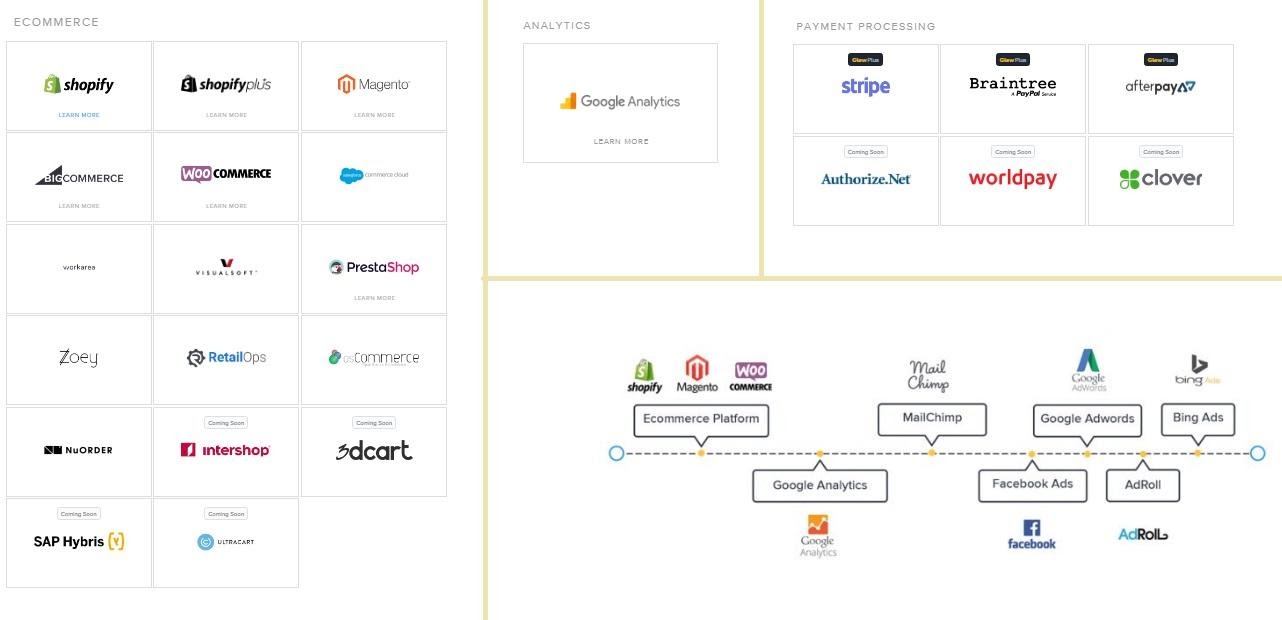 Integrations Glew
Putler
Putler integrates with payment gateways, eCommerce platforms, GA and Mailchimp.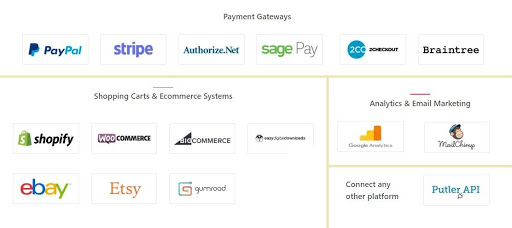 Integrations Putler
Dashboards
Glew dashboards
As an e-commerce analytics tool, Glew simplifies the reporting needs of a business. All of the data (sales, product, customer, and analytics) is unified.
The dashboard renders a holistic view enabling you to understand and make decisions like a pro.
Products dashboard
Glew has a custom-designed product dashboard that allows you to transform all your eCommerce data into a set of actionable insights. The dashboard displays all information pertinent to the store products. The columns can be sorted depending upon the requirements, helping you to make smarter decisions. The dashboard displays data on the basis of multiple factors. From products bundled to the hot products and cold products. This allows you to get a detailed view of the products that sell the most and the ones that account for the loss.
COGS dashboard
The COGS dashboard by Glew allows you to add or edit the COGS data related to every product.
The tool has a built-in template that can be used to store the data and update it on the store. Note that it takes 24 hours for the data to get updated and reflected. On the top right corner, you will find a tab that says pending updates. You can visit the same to know what products are yet to be updated. In case you wish to update data of specific products, simply search for the same entering the SKU id or the appropriate keyword.
Customer dashboard
Glew has an intuitive customer dashboard that displays all data relevant to the users. Assess and analyze the same to know what is the customer lifetime value. Also, get an idea of the campaigns and the different channels that generate maximum traction.
Performance dashboard
With the performance dashboard, store managers can easily get a holistic view of what's working and what is not. Based on the above, you can improve your strategies and work towards enhancing the end to end performance.
Putler's dashboards
Putler contains 9 dashboards that cover over 150 important metrics and KPIs about different functions of your business.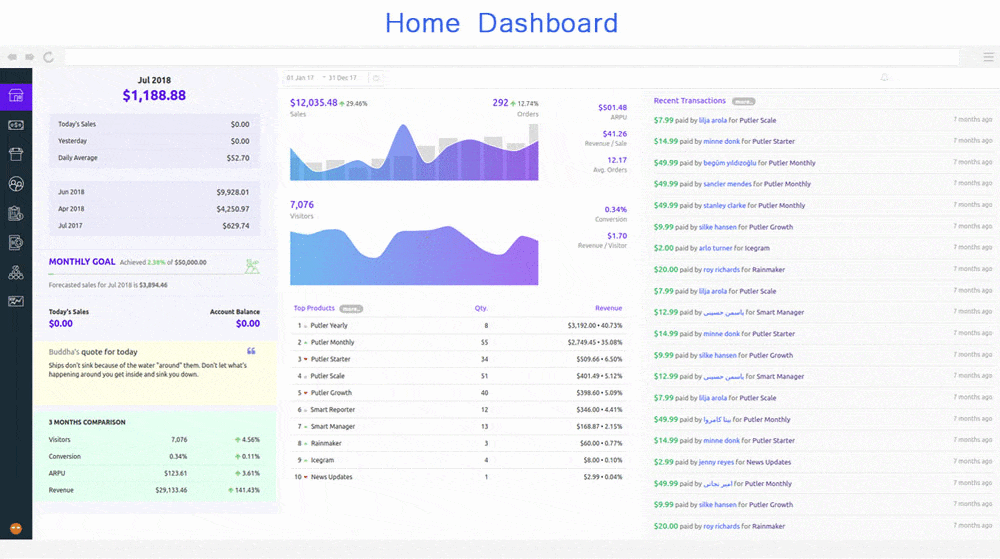 Putler dashboards
Home Dashboard
Basically, the one stop solution. This dashboard displays an overview of the entire business, or let us call it a synopsis at one place.
Sales dashboard
Most businesses depend on sales and hence, it forms one of the most important metric to be looked at. All the sales KPIs like net sales, refunds, avg revenue/day, avg revenue/sale are readily available within Putler.
To add a cherry on the cake, Putler also provides in-depth information on every sale along with the invoice.
Still wondering what is the best part? You can also export this sales list as a CSV and use it for further analysis.

Sales heatmap
One of the unique and most appreciated feature (that no one else offers) is something called the Sales Heatmap. Putler keeps a track of all the sales activity on your business and updates a heatmap notifying the best and worst sales periods on your business.
This insight can be used to plan out flash sales, live chat hours and tons more.
Subscriptions dashboard
This is one-off feature we have curated specifically for SaaS businesses. It gives you all the SaaS metrics like ARR, MRR, churn, LTV etc.
Products dashboard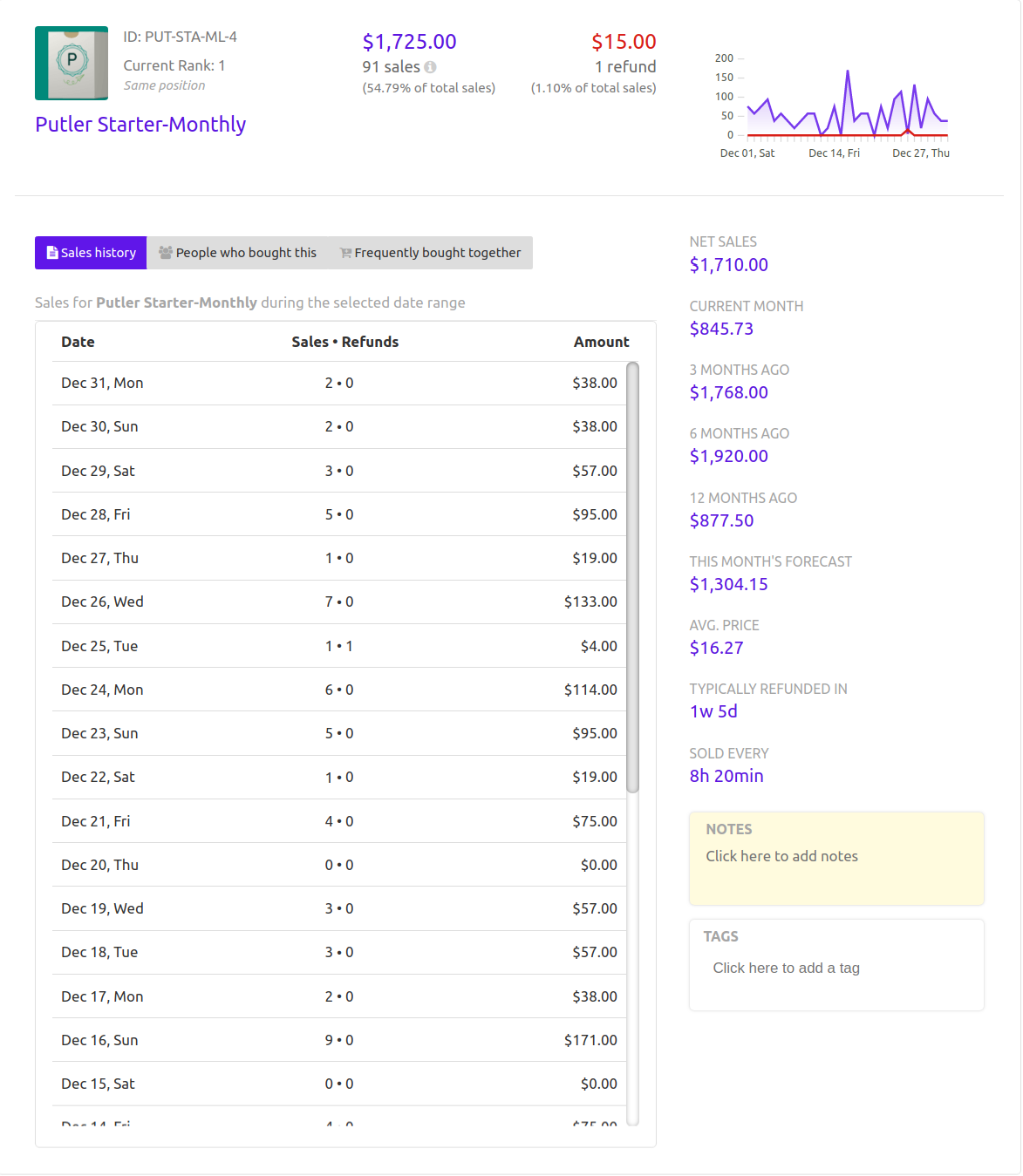 Putler product
As the name states, it provides reports about the products in your business. This gives key insights into the performance of every product. Putler also gives in-depth information about individual products like the sales history, people who bought it, items that are frequently bought together and lot more. Not wrong to call your own quick product repository!
Customer dashboard
We believe each thing works two way round and so we take care of this while curating products for you. Putler gives detailed insights into the customers as well.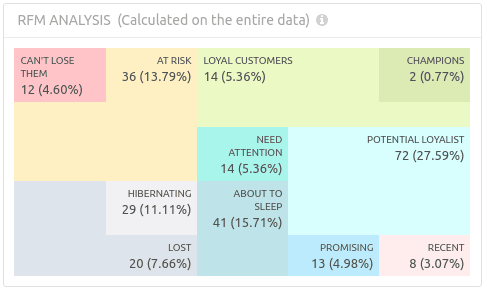 RFM Analysis
Putler focuses on RFM model (Recency, Frequency, Monetary) to provide you with the insights. This is a proven marketing model for behavior based customer segmentation. It creates group of customers based on their behavioral history- what, how and when. This further helps build clusters of customers and assists you in identifying the customers who are more likely to what you have to offer for them.
You can know more about Customer RFM Analysis For Successful Customer Segmentation.
Transactions dashboard
This dashboard gives you the whole view of all the activities (not just sales) that happen on your website.
Audience dashboard
Let us call this yet another awesome feature we have at Putler. The audience dashboard pulls in the most important metrics from GA and displays it!
Time Machine
Sounds interesting, right? This is going to be your go to place to forecast monthly revenue, customers and the 10X formula for your business.
Insights
This is an ever-evolving dashboard which boast reports like "Performance Comparison" and "Holiday Season" Reports.
Unique Features
Glew.io
COGS Analytics: Indicating the cost of goods sold, the COGS analytics rendered by glew allows you to have a clear image of the profit margin and the overall store performance. With this, users can target their ad spend on products that have a greater margin and the likelihood of being sold.
Automated Reporting: Staying informed and updated is the key to the success of a business. Glew gives the flexibility to automate the generation of reports based on predefined rules. These reports are automatically shared with the team so that they can make decisions in real-time, improving the end to end productivity.
Lifetime Customer Value: Also known as the LCV, Glew has an authentic feature that helps determine the customer's lifetime. Depending upon the customer's buying behavior, the repeat pattern, and other KPIs, Glew effectively outlines which customer is most likely to quit purchasing from the e-commerce store. Having such information makes it easier for the marketing team to restructure their offerings and target specific buyers to retain buyers.
Putler
RFM segmentation: RFM stands for Recency, Frequency, and Monetary. What RFM segmentation does is segment customers based on their buying behavior. Customers with similar patterns are grouped together who are then approached with similar campaigns. For example, running campaigns for electronic products isn't something that would attract the attention of all. Customers who have a history of purchasing similar products are more likely to respond and hence, RFM analysis.
Multistore reporting: For entrepreneurs running multiple ecommerce stores, Putler gives them the ease to consolidate information from all stores and display it under a single dashboard, listed under different store and corresponding names.
Sales heatmap: Highlighting the best time or the best day to run a campaign, Putler has a unique feature of sales heatmap. It is a graphical representation that highlights the sales activity of your store. The darker the dot, the higher is the sales. Hovering over the dots, one can see the total sales made at a given point in time. Using this, marketers can time their offers right.
Pricing
Glew Pricing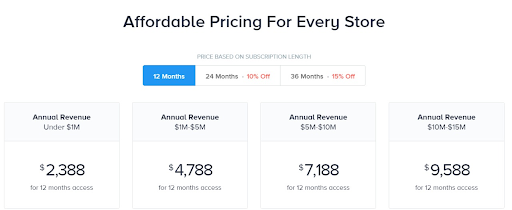 Glew pricing/figcaption>
Putler Pricing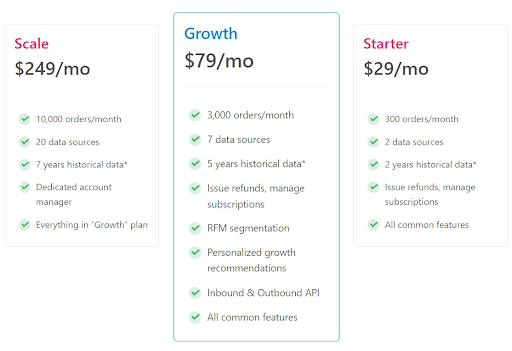 Putler pricing
Which tool to pick and why?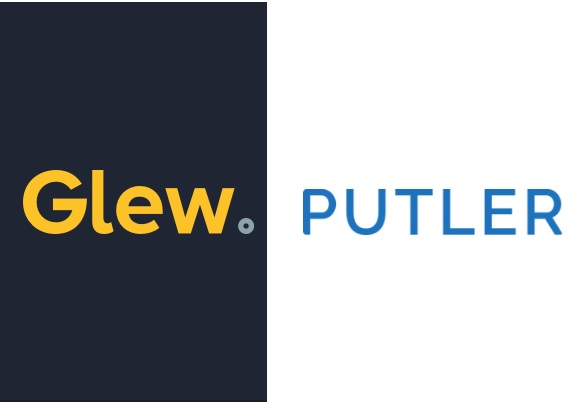 Putler vs Glew
The verdict as to which tool is better and why would be based on your final requirements. As noted, each of these has its own share of advantages and features. In fact, both the tools excel in their domain. Plainly stating one to be better than the other would not be justified.
The decision has to be made on the basis of your store. For entrepreneurs who have a single store and wish to integrate only their WooCommerce data, Glew is an ideal fit. However, for business leaders or digital agencies with two or more stories operating in a standalone environment, the Putler analytics tool is the best bet. It does all of the end employee tasks by spotting the right customer within the right category across all stores.
Conclusion
Running an online store isn't as easy as cutting a piece of cake. Only by adding good quality products wouldn't help. An efficient online store is one that is flexible and can adapt to the changing mood of the buyers. This is why there has been a wealth of data analytics tools designed and used to study the buying patterns of a user. This provides significant insights helping the store owner to retarget the right customer with the best product at the right time.
Where Glew is an e-commerce dedicated tool, Putler is one that takes into consideration data from across different channels. The one you choose solely depends upon your store requirements. Assess the needs and then make a choice.
Want to try out Putler quickly? That too for FREE? Take the 14 day free trial. No credit card/coding needed.
Want more alternatives??? Here are a few more
Not just Glew, How does Putler compare with other analyitcal tools?
| Features | Putler | ChartMogul | Baremetrics | Metorik |
| --- | --- | --- | --- | --- |
| SaaS Metrics | | | | |
| Non SaaS Metrics | | | | |
| Website metrics | | | | |
| Number of Integrations | 17 | 7 | 4 | 4 |
| Integrates with PayPal | | | | |
| Team sharing available | | | | |
| Realtime updates | | | | |
| Multi-currency support | | | | |
| Aggregated reports | | | | |
| Individual reports | | | | |
| Customer Segmentation (RFM) | | | | |
| Send money functionality | | | | |
| Subscription Management | | | | |
| Process refunds | | | | |
| Desktop App | | | | |
| Chrome extension | | | | |
| Intuitive Search | | | | |
| Pricing | $29 | $100 | $50 | $50 |