WooCommerce is one of the most preferred eCommerce platforms in the world. It is easy to use and provides store owners with multiple options when it comes to plugins.
There are literally tons of plugins available to carry out every minor task. Be it inventory management or cart recovery.
These options make it a tad confusing when it comes to zeroing down on a plugin. So to make this task simpler, I will be jotting down some of the best plugins for WooCommerce reporting that are available today.
Why Do You Need a WooCommerce Reporting Plugin?
A Woocommerce reporting and analytics plugin helps you track the performance of your online store and gives you valuable insights to boost your revenue.
Here are some more benefits of having a WooCommerce reporting plugin installed on your store:
Track online store's performance.
Managing, measuring and developing your online business.
Monitor marketing campaigns and take key decisions based on the performance.
Check customer's online shopping behaviour.
Find product trends and sell more based on customer behavior.
Let's take a look at some of the best WooCommerce reporting and analytics plugins.
WooCommerce reporting plugins [Free plugins]
Let's begin with what's available for free!
Native WooCommerce reports
Similar to other eCommerce platforms, WooCommerce also provides some reporting inhouse.
Native WooCommerce reports are basic and they cover 4 aspects – orders, customers, stocks and taxes.
The flipside is, these reports are not enough for a growing WooCommerce store.
No product analytics, subscription metrics.
No advance reporting/insights.
No customer-based information.
No retention rate of customers
No information about repeat visitors
No order refund tracking
No shopping behavior trend of users
WooCommerce Google Analytics
WooCommerce has also developed an integration with Google Analytics.
This integration helps assess and track the website speed and performance. Here are some of the main things it helps track-
Provides significant information about the traffic flow to the website. It also highlights the transition that takes place as the user moves from the site to the product page, the cart and the checkout.
Compares traffic across different products
Identify the channels that route traffic.
However, this isn't enough to upscale the website performance and revenue. Even though Google analytics does a lot for you, it certainly lacks a few metrics needed to track the website overall efficiency.
But don't worry, WooCommerce has a ton of paid reporting plugins which can help you tackle all these issues associated with native WooCommerce reporting.
Top Woocommerce reporting plugins [Paid plugins]
Metorik
The app-like WooCommerce analytics plugin, Metorik is different from others on our list. If you aren't in the mood of messing up with your dashboard, Metorik is the best fit.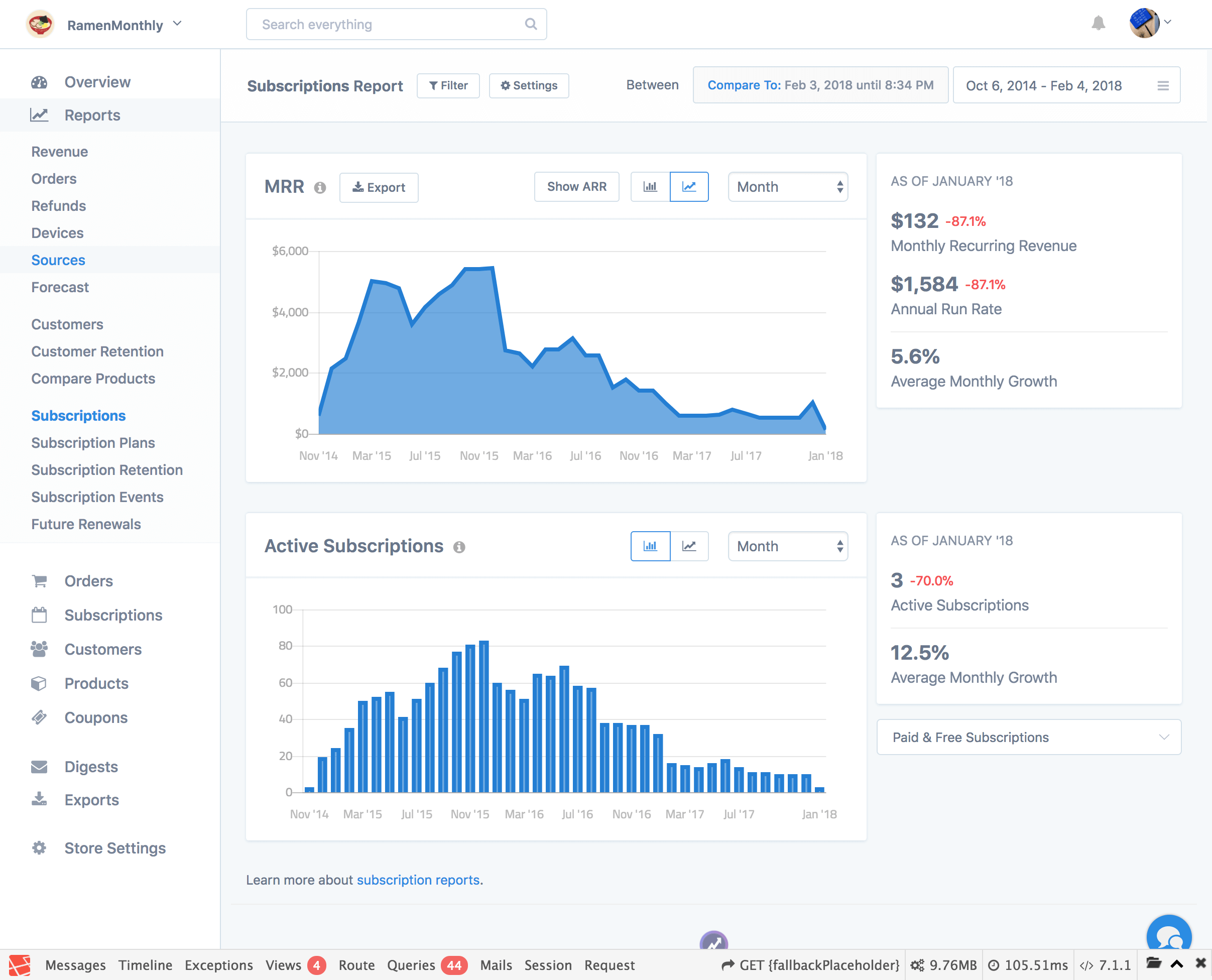 Features:
Quick segmentation: Filtering users based on their buying behavior or the option of new and repeat customers.
Know what's selling: Wondering which product drives maximum money? Metorik generates reports exemplifying categories that sell more.
Simple interface: Being an app, Metorik will eliminate the need to run tests over the dashboard. It is pretty easy and you can generate reports in a matter of clicks.
Integrations:
Metorik integrates seamlessly with customer support platforms. It also integrates with email marketing tools for better marketing. (Slack, Zendesk, Google Ads, etc)
Pricing plans:
Small: $50/month for 500 orders.
Medium: $100/month for 2500 orders.
Large: $250/month for 10,000 orders.
X-Large: $500/month for 25,000 orders.
Suited for:
Huge stores with heavy traffic and sales count. Metorik generates reports in a few clicks reducing wait time.
Advantages & disadvantages
Having an easy to use interface, Metorik can be used to manage orders effectively and doesn't require much technical knowledge. Also, it is beneficial for the heavy sale stores as they don't have to wait for reports. Since it bills you based on the number of orders, it might get costlier once you witness huge traffic.
Putler
One of the most informational WooCommerce reporting plugin, Putler renders all that you need to track on your WooCommerce store.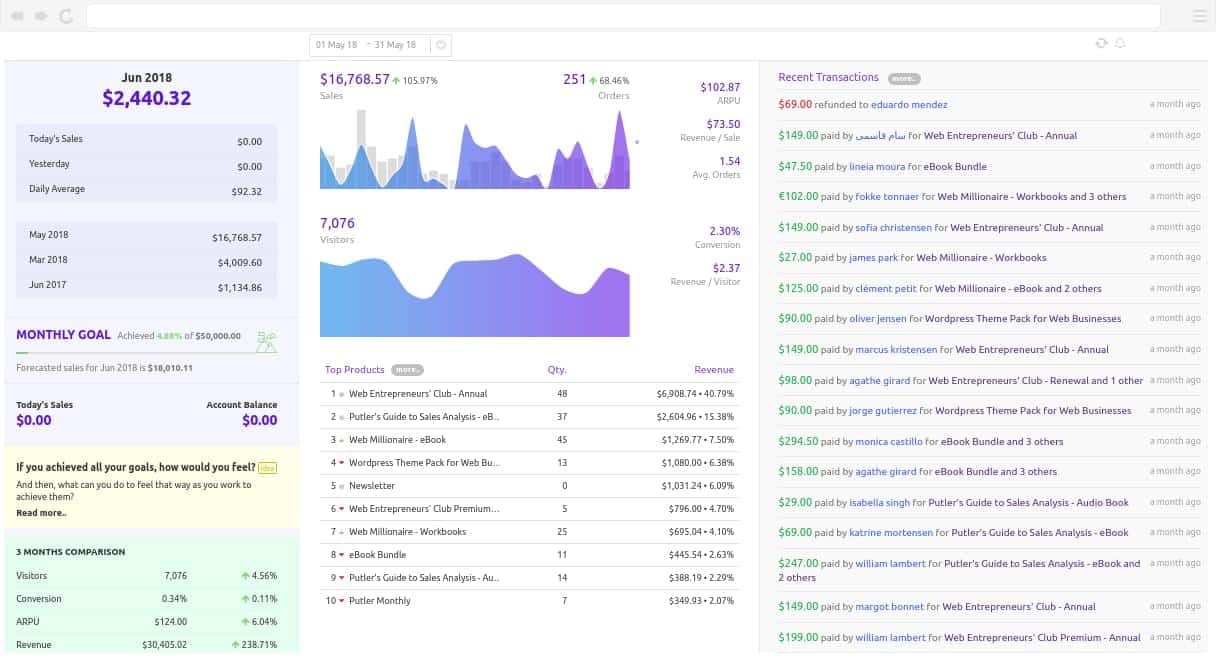 Features:
In-depth reports and metrics: Provides reports on products, customers, orders, subscriptions, website traffic
Marketing features: Provides useful features like infinite segmentation, forecasting, goal tracking, CSV export, insights, filters and much more.
Operational features: Helps carry out tasks like issuing refunds, tracking customer purchase history, managing subscriptions.
Instant sharing: Want to share reports with your teams and management? Putler has an option of in-house sharing.
Regular reports: Timely reports generated on a scheduled basis, Putler sends all reports directly to the admin.
Integrations:
Quick integration with PayPal, Shopify, Google analytics, eBay, Braintree, and of course, WooCommerce.
Pricing plans:
Starter plan – $20/mo
Growth plan – starts at $50/mo
Suited for:
Decision makers
Growth hackers
Solopreneurs
Large organizations
Advantages & disadvantages
Without a doubt, Putler is an excellent WooCommerce reporting plugin offering a range of benefits. From detailed reports on website performance to information on the customers buying behavior, it also enables segmenting them into 11 different categories. Compared to other options, Putler is priced competitively considering all the features that it offers. So it is a good investment. Also, if you have multiple WooCommerce stores, its the only tool that allows you to add all your WooCommerce stores in one place and track them both (as separate stores/combine the stats and view them as a single business unit). The only downfall, it has no inventory tracking.
Google Analytics Pro
Planning to set up GA with enhanced eCommerce functionality? This is the best WooCommerce reporting plugin for that.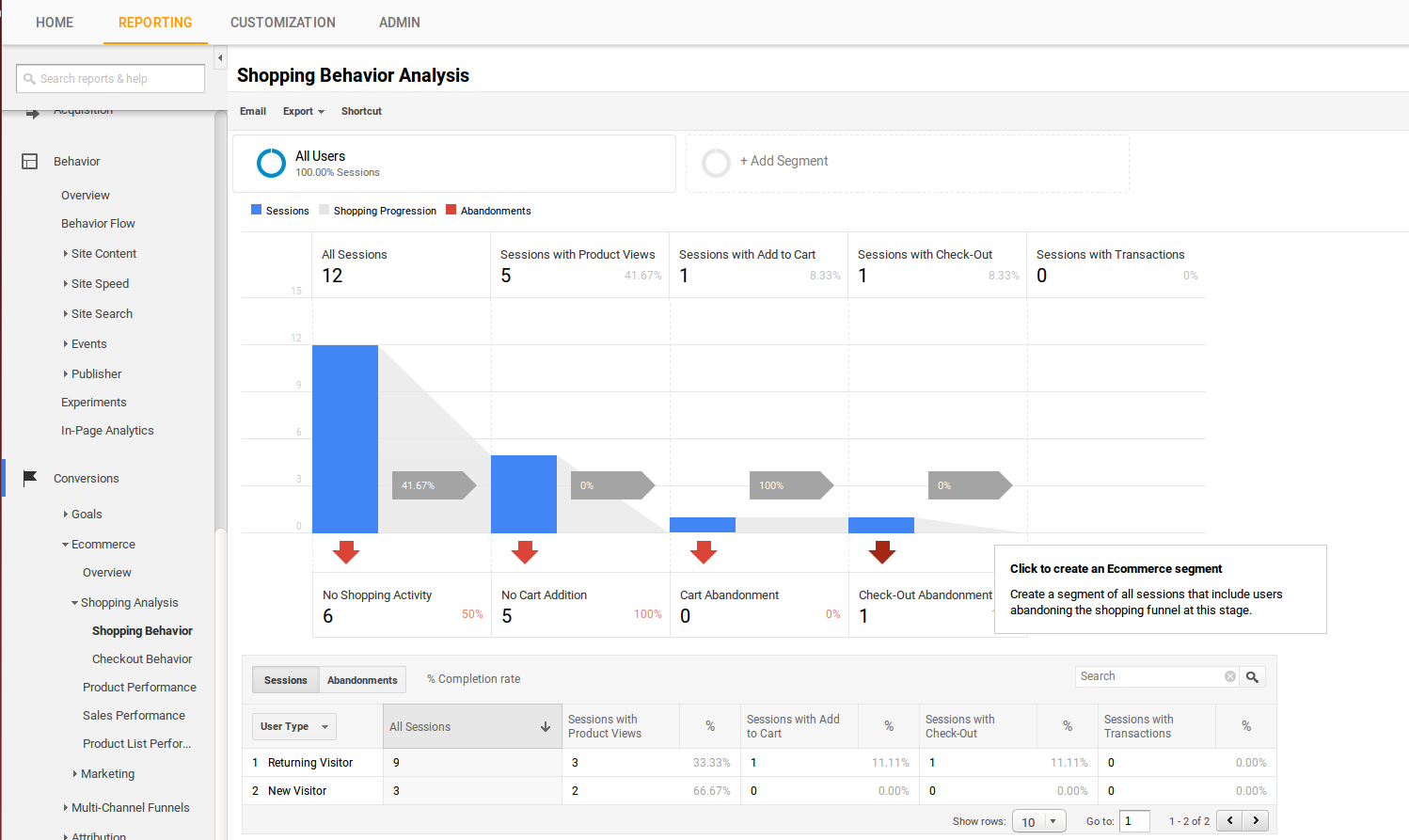 Features:
Provides basic site tracking and analytics, such as pageviews or customer sessions
Includes all of the great features the free version has, like Universal Analytics and enhanced eCommerce tracking, but with more advanced event tracking
Allows you exclude shop managers from tracking along with site admins
Track User IDs for more accurate user counts
Tracks basic eCommerce events like "add to cart" or "checkout started"
Integrations
Google Analytics Pro can seamlessly integrate with the WooCommerce store enabling you to track and assess the performance of your website.
Pricing plans:
$79/year
Suited for:
Website owners that have a limited budget
Beginners that are trying and testing their website.
Advantages & disadvantages
This is the best plugin to get advanced reporting for your website's performance. But the downfall is that it only focuses on the overall website performance, you need to team it up with a tool like Putler or Metorik to get an all-round view of products, customers and sales.
Glew.io
Glew.io provides you a way to visualize your data and make decisions.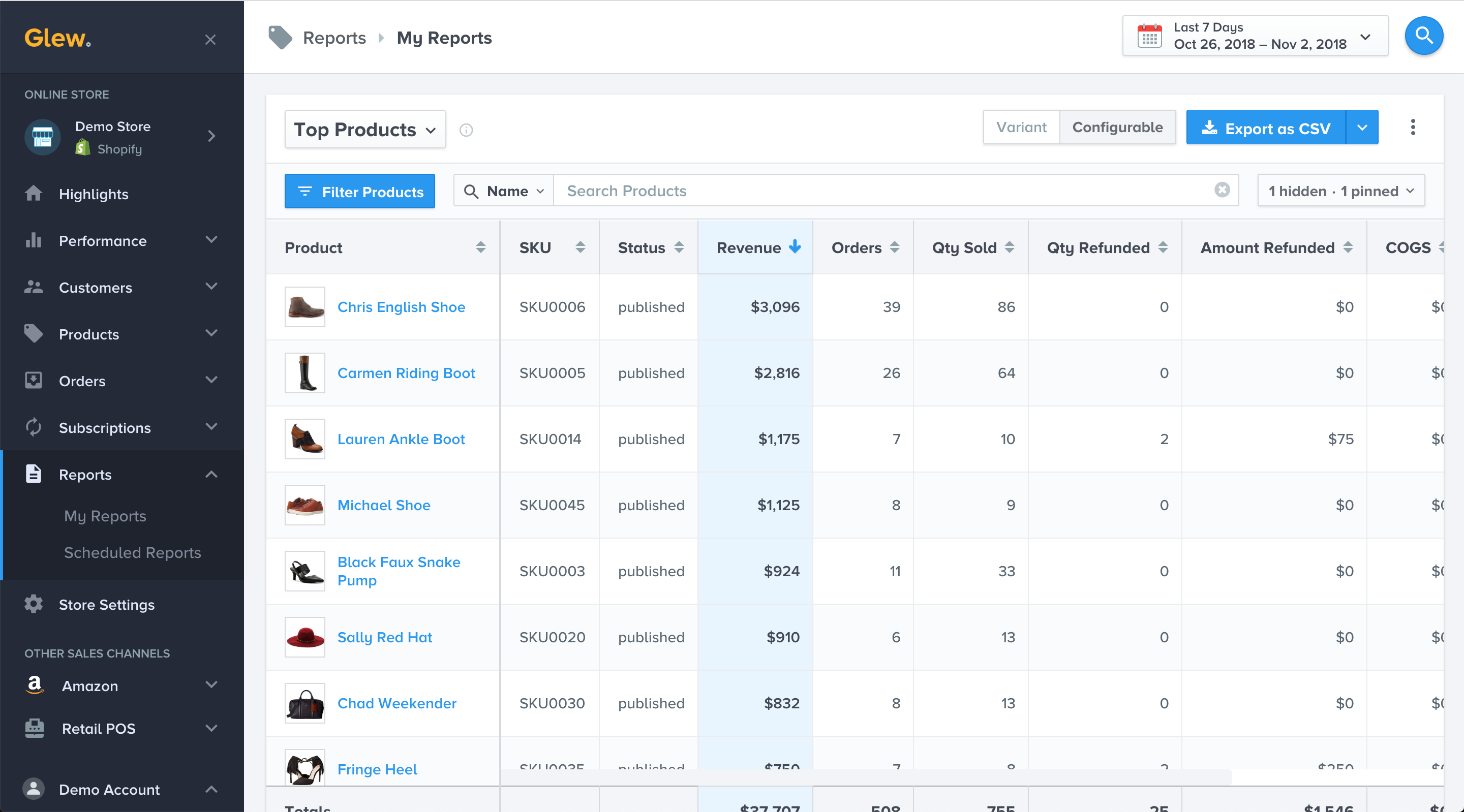 Features
Performance reports: Get detailed information about your business KPIs to maximize profits.
Lapse point metrics: Know about your existing and active customers through automated calculations.
Orders or reorders: Get to know what's trending within your store to target your customers in a profitable way.
Integrations
eCommerce store integrations (ex: Shopify, 3dCart, Magneto, WooCommerce)
Google analytics & Google AdWords
Pricing plans:
Best suited:
Growth hackers
ECommerce store managers
Marketers
Advantages & disadvantages
Glew is a hub of information and an exceptional WooCommerce analytics plugin. It helps segment customers, generate reports and market the product right to amplify the conversion rate. However, it is not suitable for startup users or the solopreneurs, given its big fat price tag.
Metrilo
It provides clients with all the sales insights. Its precision makes this tool much more amazing. It analyzes data in real time and doesn't count returned, canceled or fraudulent orders.
you can rearrange the dashboard to highlight the most relevant details. The system measures individual product performance and also conducts in-depth retention and revenue analysis. Besides that, it also allows you to import all your order data and maintain a complete database of your customers.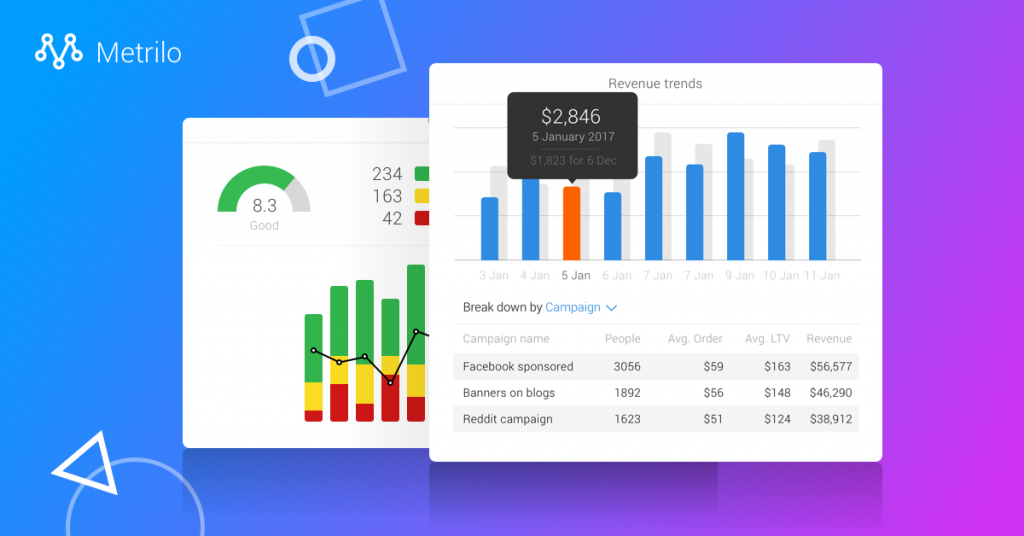 Features:
Email marketing
Order management
Channel management
Promotions management
Integrations
Back-end integration: Back-end integration is used to sync the order information.
Front-end integration: There's a small JS library loaded online and the numerous events related to the user's behavior are sent via it.
This way, the data is tracked by back- and front-end integrations both.
Price plans
Small – $119/month
For a business with up to 10,000 visitors
eCRM
E-commerce analytics
Unlimited contacts, emails, team members
Medium – $299/month
For a business with up to 30,000 visitors
Email marketing
Everything in Small
Large – $499/month
For a business with up to 90,000 visitors
Everything in Medium
Enterprise – $699/month
For a business with 90,000+ visitors
Everything in Large
Advantage
Increase revenue and help in better understanding the customer experience.
Great way to look from where sales are coming.
Windows orientate 2000
Disadvantage
Is a breeze calculating the sent promotional emails and abandoning the cart emails.
Some critical features are not available.
The dashboard cannot be customized.
MonsterInsights
For your WordPress site MonsterInsights is the solution. It allows you to install Google analytics in WordPress itself and shows helpful reports in the WordPress dashboard of yours.
It adds a "website stats dashboard" in your WordPress admin area showing your top traffic sources. It also shows the top ranking pages, articles, and more, for better understanding of user behavior and to grow your business.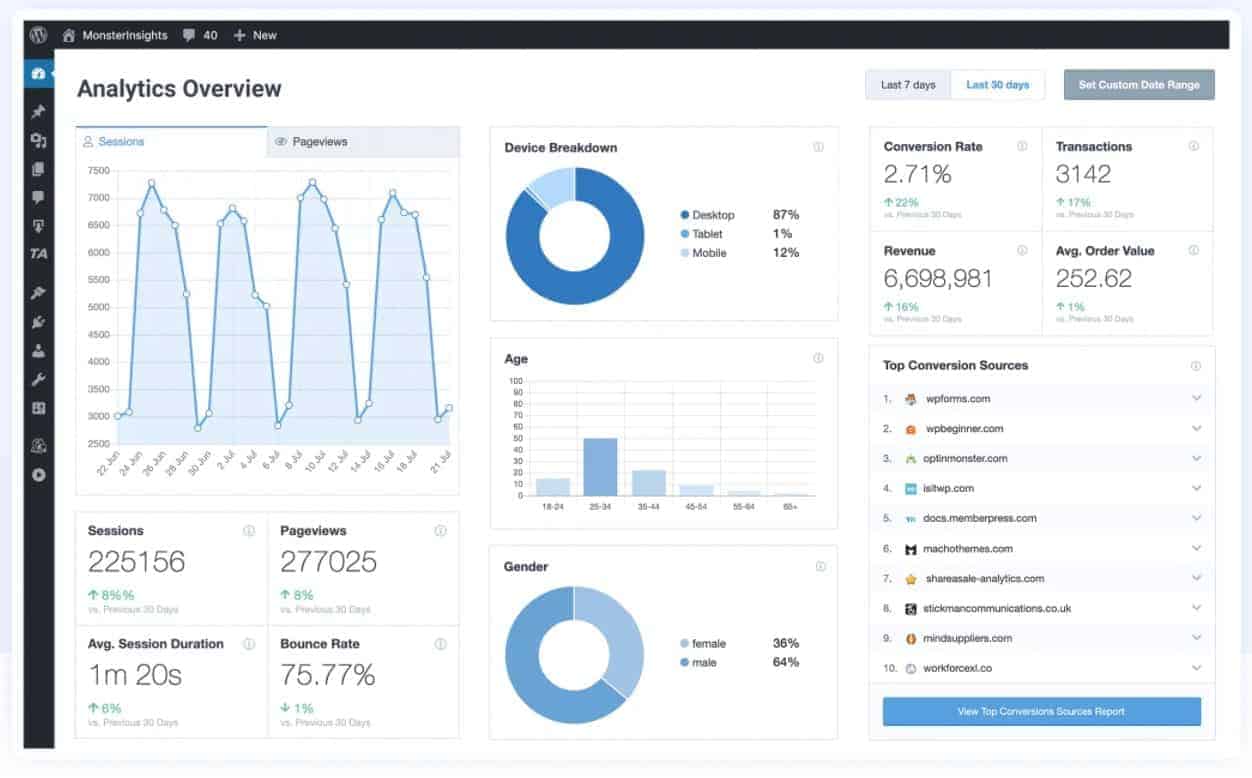 Features:
Universal tracking: Universal website tracking can be tracked across devices including campaigns with just a few clicks (without any code).
Google analytics dashboard: Inside your WordPress your website analytics report can be seen on the right dashboard with actionable insights.
Real-time stats: Get real-time stats inside WordPress to see who's online, what they're doing, and more.
Price plan
Agency
normally 799.00
$399.50/ year
Agency $399.50 (50%)*
Pro
normally 399.00
$199.50/ year
Save $199.50 (50%)*
Plus
normally 199.00
$99.50/ year
Save $99.50 (50%)*
Suited For
Publishers(Bloggers)
Business Websites
Agencies (Developers)
Store Owners(Ecommerce)
Advantages
Easy Installation: it is non hectic and easy to setup
Customizing Options: every option is completely customizable to the needs of yours.
Friendly-Interface: everything is completed within the dashboard
Disadvantages
Limited Free Version: the free version is only limited to basic
The Price Tag: The premium version is quite expensive.
ExactMetrics
It is one of the Google analytics plugins for WordPress. ExactMetrics makes it easy to understand all the insights and reports.
It includes enhanced link tracking, real-time reports, demographics reports, affiliate link tracking, and more.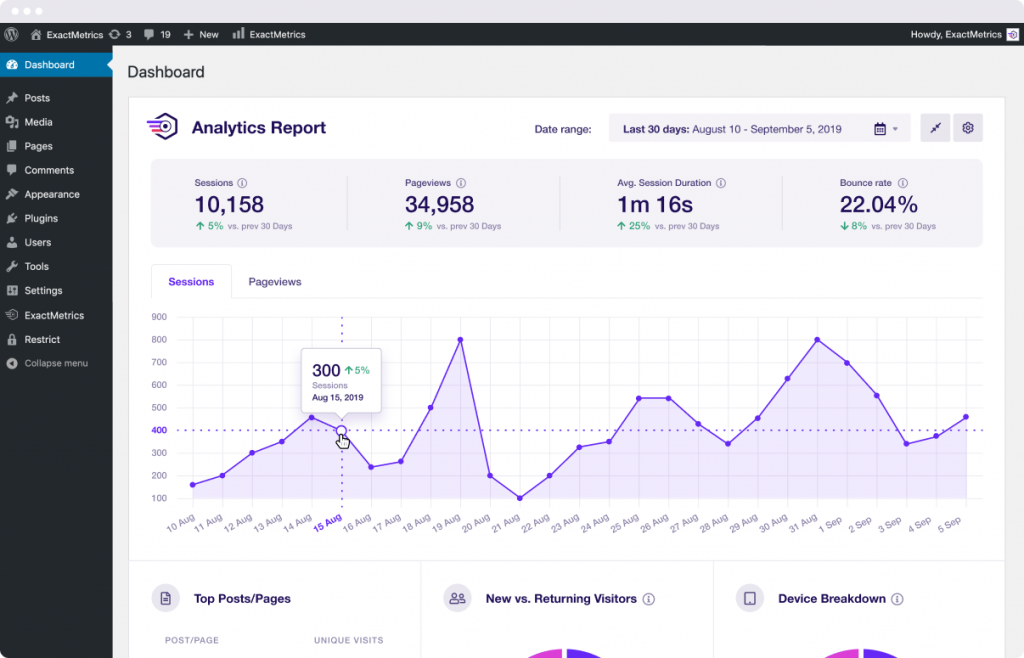 Features:
Most accurate tracking: Properly setup powerful Google analytics tracking features with just a few clicks.
Easy analytics dashboard: You are able to see your Google analytics report inside the dashboard.
Real-time stats: You can get real time insights regarding your website.
Pricing plans:
Agency
$399.50/ year
normally 799.00
$399.50 (50%) savings*
Pro
$199.50/ year
normally 399.00
$199.50 (50%) savings*
Plus
$99.50/ year
normally 199.00
$99.50 (50%) savings*
Need More Sites?
$699.50/ year
normally 1,399.00
$699.50 (50%) savings*
Advantages
Setup Google analytics on WordPress in few minutes
eCommerce Data is simplified to assist you to increase sales
Disadvantages
Price
If you're just starting, in that case I recommend the PLUS plan. Otherwise you might see other pocket-friendly ones listed above.
Review:
At the time of transfer of ownership, there was a backlash, the new owners removed the "free option".
Heap
Heap is a great WooCommerce reporting plugin that enables you to capture data for every click, pageview, swipe, change, and tap.
It includes advanced behavioral data that allows deep analysis of your website traffic.
For eCommerce websites, Heap offers conversion rate optimization, advanced attribution, faster reports, and much more.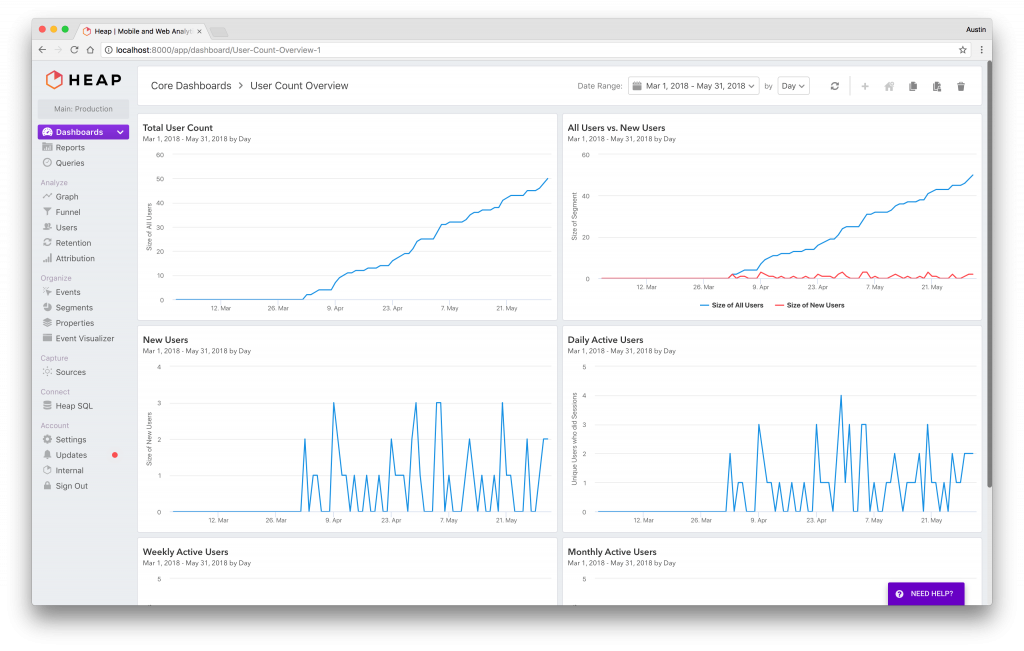 Features:
Event feed: Excellent client-side events will be there in the app's Event Feed.
User activity streams: Use this feature to effectively diagnose any user's usage.
Identity API: You can identify the users with a single line client-side Javascript.
Revamped interface: Key features are more discoverable, also navigating through the dashboard is much more intuitive.
Pricing plans:
Team: Starting at $12,000/year
Business: Custom Pricing
Advantages
Heap has more flexibility than other tools as it allows you to create events in different ways.
Flexible account plans make it simple to get started. It includes free and startup plans.
A live view lets you look at the events as they come in. They are filtered by your events of choice.
Disadvantages
Ad blockers and extensions can interrupt the tool.
Its UI is quite spartan-looking yet it's generally well laid out.
StatCounter
It allows you to connect a WordPress site owned by you to its service. It is a cloud-based website stats counter service that offers service of basic website statistics.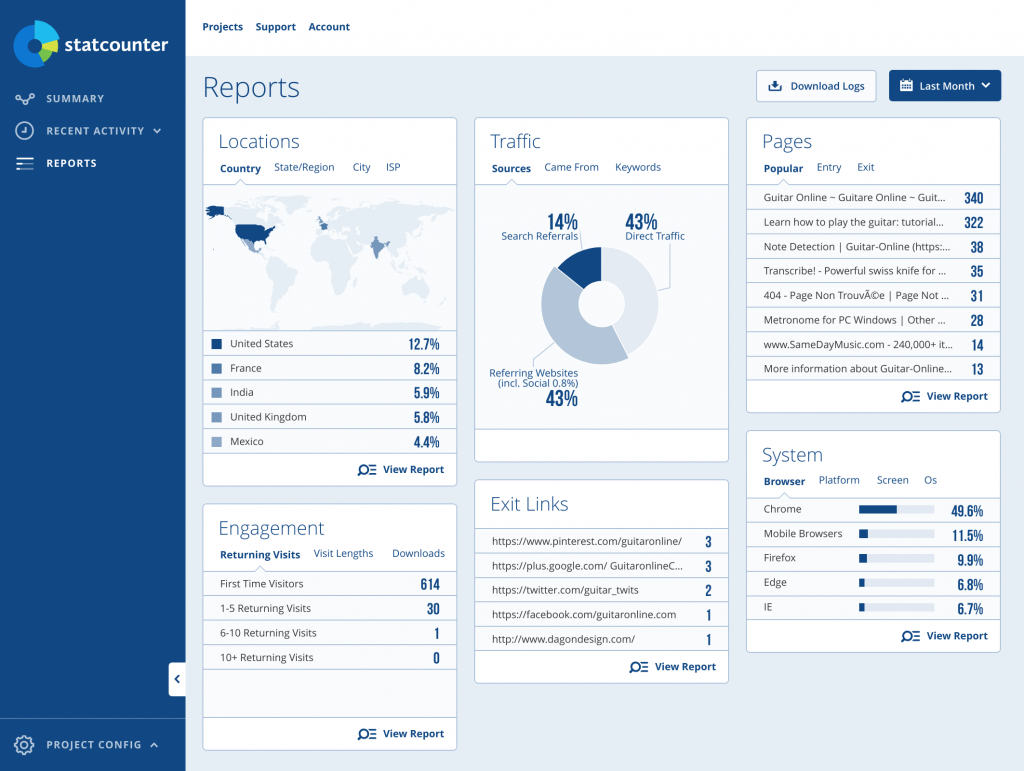 Features
Analyze the traffic trends over time.
Never miss any important visitor.
Track your paid traffic and detect click fraud.
Analyze the Google keyword data.
Pricing plans:
Basic: For hobbyist websites and blogs
Price: FREE
Premium: For professionals and business
Price: $9
Advantages
Easy to use & install
Customized reporting for location & volume throughout
Can track real time custom activity
Disadvantages
Not enough to do advanced analytics like customer segmentation
It wasn't very accurate when traffic on the website gets high
Interface isn't as clear when compared to other tools
Conclusion
In the end, it is pretty much clear that using additional WooCommerce reports plugins would help you accelerate sales and hit the success bar. Where enhanced Google analytics Pro is ideal when it comes to getting basic information, Metorik maps the usability needs and Glew works best as an eCommerce marketing tool.
But if you are planning to invest in software that can cater to all your website tracking and performance needs, Putler serves the purpose best.
Wondering why?
Try Putler Today!
Try Putler – It's FREE